Welcome to the Free Printable Library featuring over 45 freebies: Organization Printables, Printable Wall Art, Printable Activities for Kids, Party Printables, and Printable Gifts.
Welcome! I'm so glad that you're here! The Free Printable Library is a resource for you and a "thank you" for subscribing.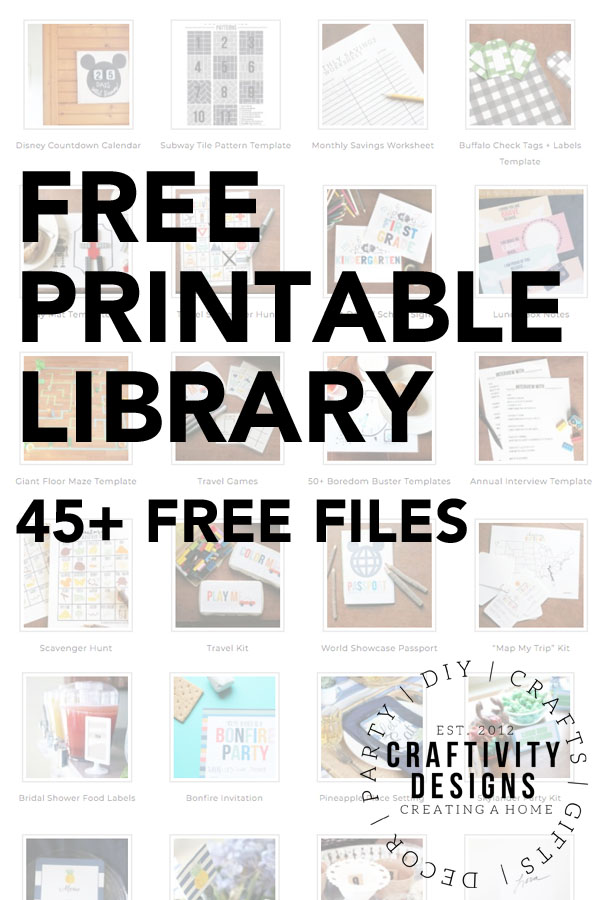 Click to Navigate to a Particular Category:
Oh – and by the way – if you'd like access to over 45 free printables and templates but aren't currently a subscriber, click here to sign up.
**note: a few links will take you to a guest post, of mine, located at another site**
---
Download over 20 free printable activities for kids! Each printable is designed as a boredom buster, to encourage creative play, or to build family relationships.
Printable Activities for Kids
---
Check out 9 organization printables to help with life at home! Meal planning printables, shopping lists, printable labels, and printable templates (for projects, vacation, and saving money) are designed to be stylish and easy to use.
Organization Printables
---
Grab 5 home decor printables for your space! This collection of printable art and printable gift ideas are designed to help you Create a Home that feels personal and meaningful.
Printable Wall Art and Printable Gifts
---
Download 7 party printables and carve out time to gather with friends or family! Whether baby shower printables, or just-for-fun parties — these printable templates will inspire you to host an event.
Party Printables
---
Check out Christmas Printables to celebrate the holidays! Printable gift tags and special Christmas traditions will allow you to celebrate the season with intention.
Christmas Printables
---
Grab 7 more holiday printables to celebrate Valentines Day, Easter, Halloween, Thanksgiving, and more!
More Holiday Printables
Terms of Use: All files are for personal use only, not to be re-sold.
Thank you for subscribing!