10 Home Exteriors with Board and Batten Siding – What is board and batten and why should you choose it for your exterior remodeling project?
If you recall, we are renovating a cottage style home and true fixer-upper. Our goal is to transform our home into a modern cottage, exuding both a cozy warmth and a clean modern style. One of the major decisions we made, in order to accomplish that goal, was selecting board and batten siding for the exterior remodeling project.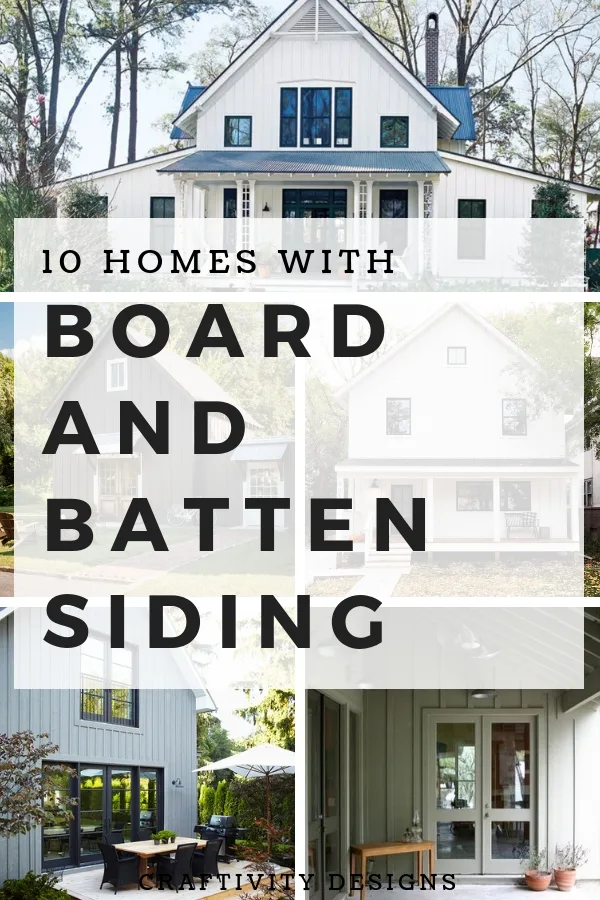 What is Board and Batten Siding?
Board and batten siding consist of alternating wide boards (typically 8″-10″) and thin wood strips (typically 2-3″), called battens. Board and batten siding is, most often, placed in a vertical orientation. The battens are installed over the wide boards, in order to create depth and dimension.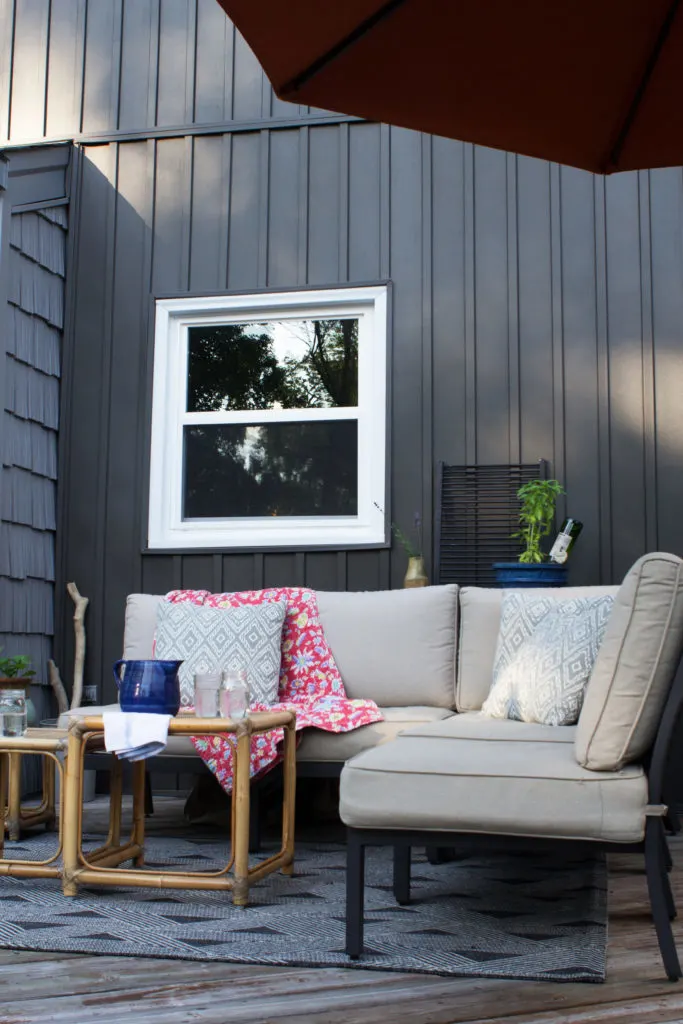 Originally, this type of siding was designed in order to solve a problem. In the colonial days, rain and cool air would seep through the board siding on homes. The batten was added to cover the cracks between the boards and seal the interior of the home from the exterior weather.
Board and batten vinyl siding looks similar to wood board and batten siding, but requires less maintenance. Vinyl siding will not rot and does not require repainting, like wood siding.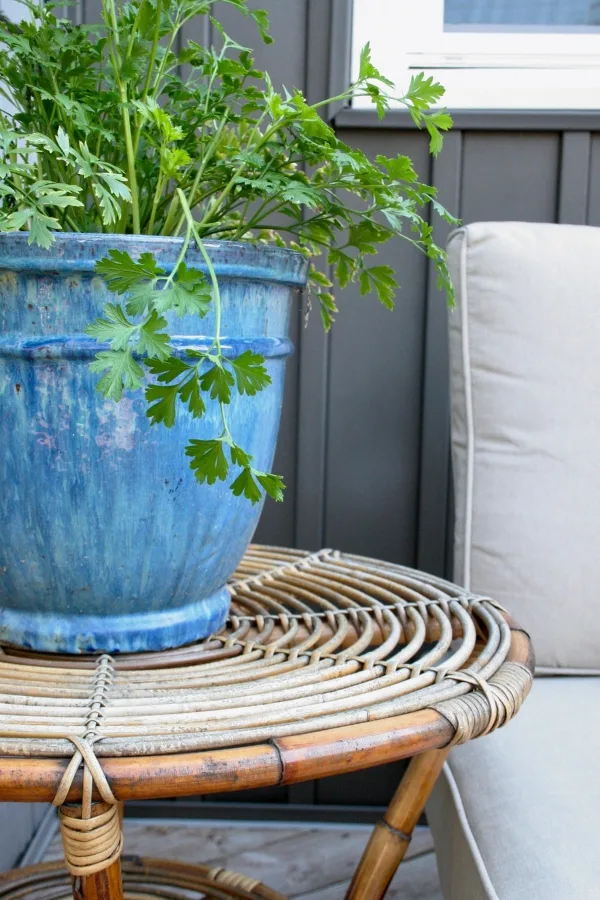 You might also like: How to Decorate a Porch on a Budget
Why choose Board and Batten Vinyl Siding?
#1: If you want a custom exterior design…
When you think of vinyl siding, you most likely envision dutch lap siding. It's the most common and most economical style of vinyl siding, especially in the standard 4″ width.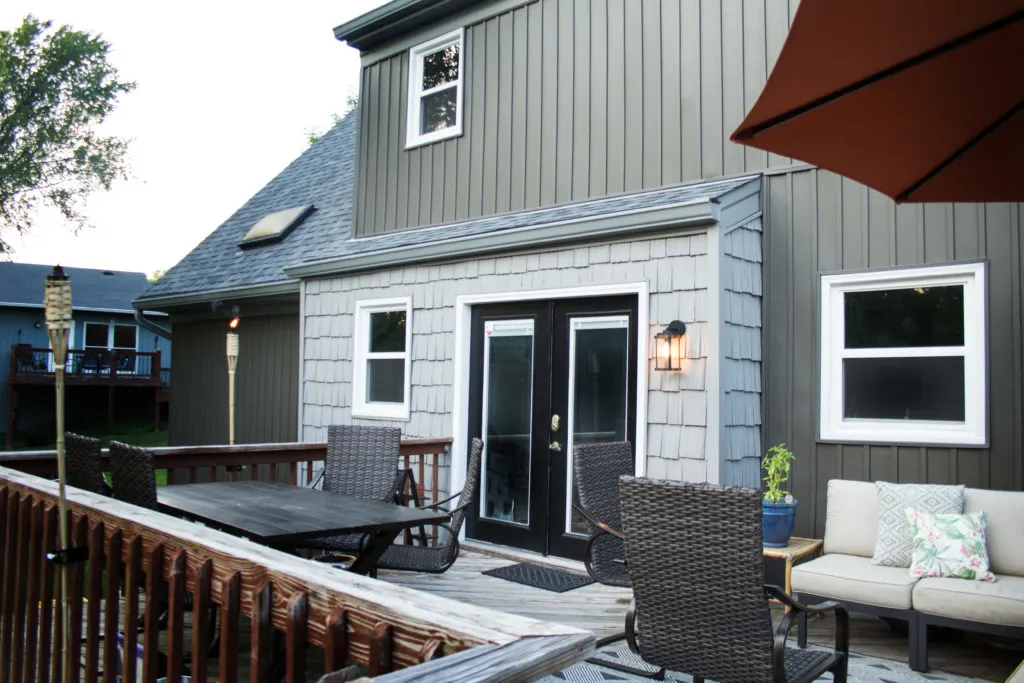 Therefore, this vertical vinyl siding feels unique. Yes, the technique is as old as the colonial days (or older!), but in the current context of modern home design, board and batten is a custom exterior siding option.
Of course, "unique" and "custom" does mean that it comes with a higher price tag. To make board and batten siding more affordable, mix it with dutch lap siding.
Save Your Favorite Ideas & Get Updates
Save your favorite content (from my site and thousands of other sites including: home, DIY, craft, recipe, and travel blogs)
Receive my weekly newsletter
Gain access to my Freebie Library
#2: If it fits within the context of your neighborhood…
Take a walk through your neighborhood. Spend time observing the curb appeal of the home exteriors. Take note of repeated design features, color palettes, and house styles in the neighborhood.
For example, we considered buying one home in a lovely neighborhood. It was a steal, in comparison to the other homes, but it also had a completely different design aesthetic.
In a neighborhood filled with stately brick traditional homes, it was a contemporary style home with wood board and batten siding. The house felt out of place (even though I like the look of board and batten) compared to nearby homes.
A home shouldn't blend in with the surrounding homes, but it also shouldn't stick out like a sore thumb.
So, keep the context of the neighborhood in mind.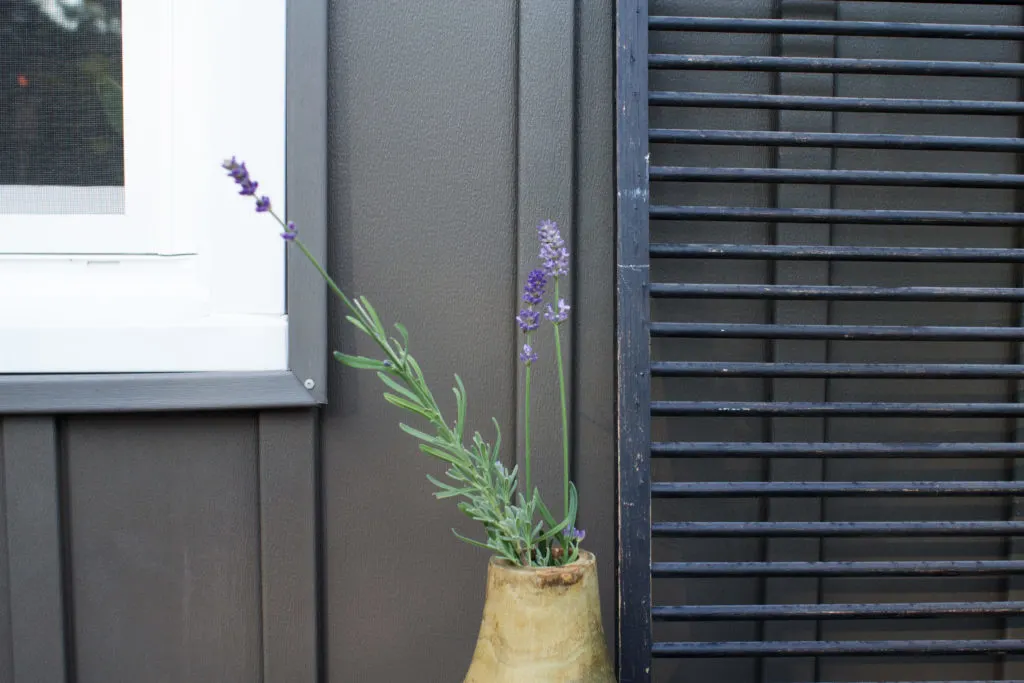 Do you live in a neighborhood with all white lap siding color homes? Choose a white board and batten siding. It will give your home a custom edge, without feeling like an oddball next to the neighbors.
Do you live in a neighborhood with contemporary style homes? Choose a striking board and batten in a dark color.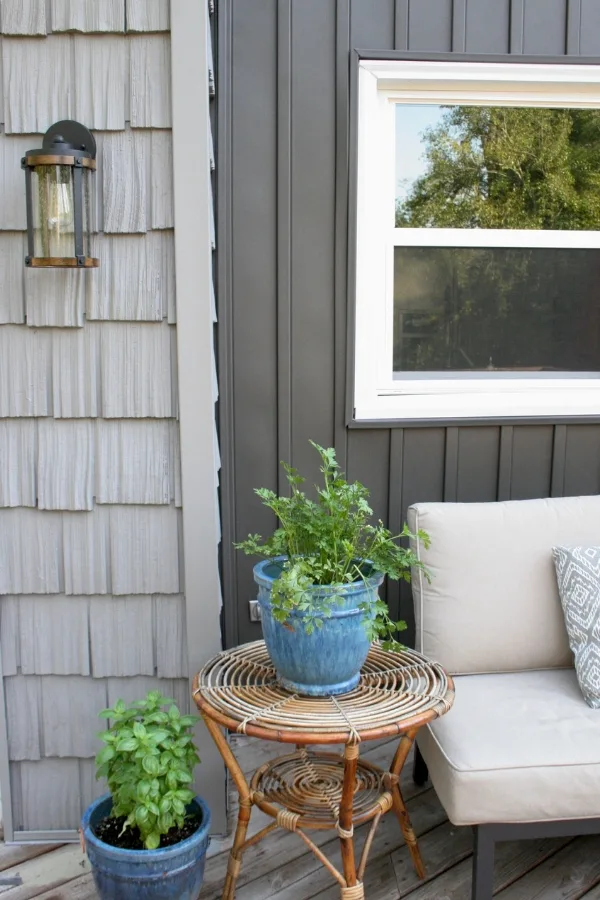 You might also like: Vinyl Shake Siding Accents for an Exterior Renovation
#3: If you like modern design…
While an old technique, board and batten siding has a modern feel, especially in the context of the last 40-50 years. Many new-build neighborhoods have featured either brick or dutch lap siding homes. Therefore, board and batten siding is gaining popularity as a trendy, modern exterior design option.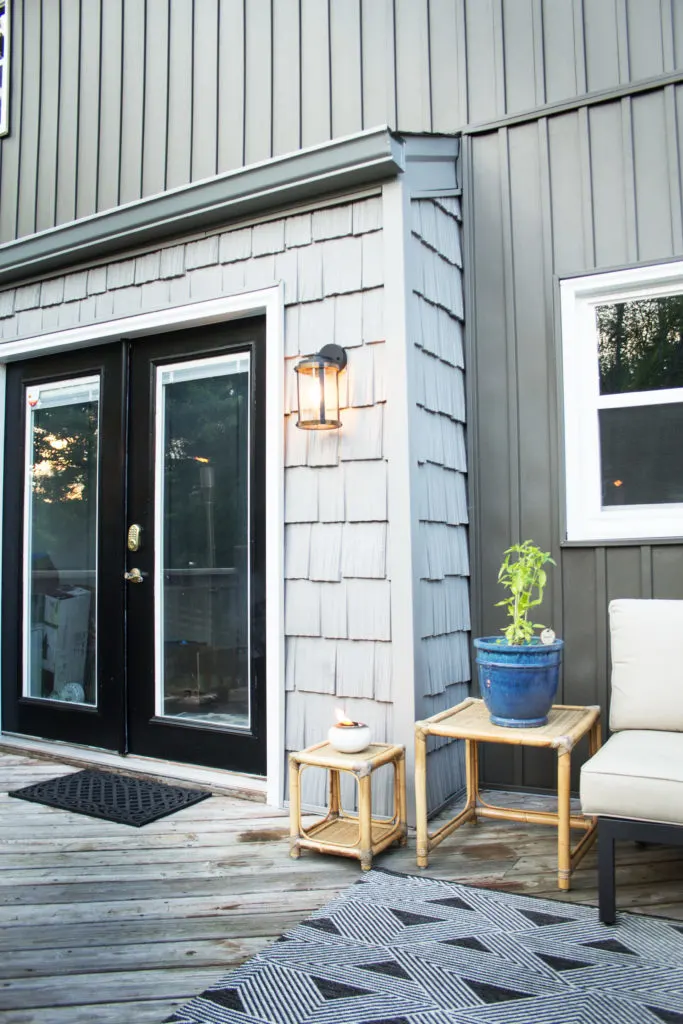 #4: If you want a maintenance-free exterior…
One of the reasons that vinyl lap siding grew in popularity, that it is nearly maintenance-free, is the same case with vinyl board and batten siding. Outside of a potential annual pressure washing, you won't need to do much to the siding. It won't rot and doesn't require repainting. In contrast, wood board and batten — while beautiful — requires regular re-painting to protect it from rot.
That being said, if I had an endless budget, I'd consider James Hardie Siding or "Hardie Board" in board and batten. This durable exterior siding material resembles wood and can be painted like wood siding, while still being rot and decay free.
You might also like: Before and After Photos of Homes with German Schmear Exteriors
10 Examples of Homes with Board and Batten Siding
Now, let's take a look at 10 stunning home exteriors with vertical siding. These homes are a mix of vinyl and wood board and batten, but will provide you the general aesthetic of the technique. Plus, I've included a mix of both dark and light exterior color palettes. Make sure to note how color affects the overall exterior design.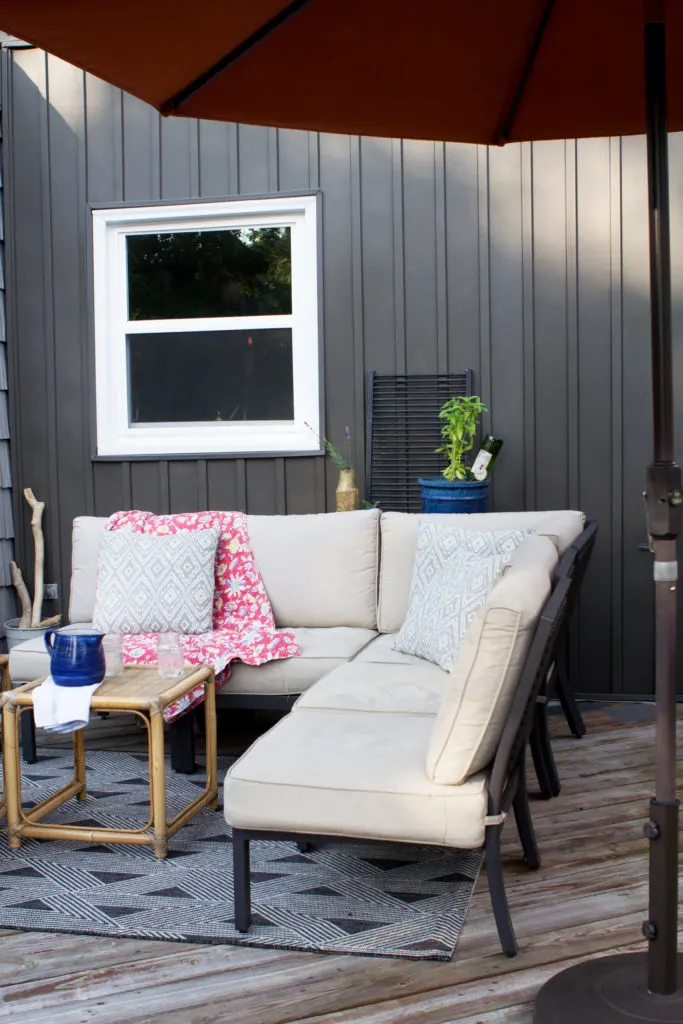 For example:
the dark board and batten often appears modern and industrial,
the white board and batten can provide a modern farmhouse look,
a mid-tone gray board and batten could easily translate to coastal styles,
and warm olive green or brown board and batten communicate a woodsy vibe.
Ready to start an Exterior Remodeling Project?
As part of documenting the full exterior remodel of our modern cottage style home, I'll be collecting all of the corresponding exterior design ideas, here.
If you liked this exterior idea, you might also like:
Want to save these Board and Batten Siding Examples? Pin it!