Vertical Siding, also known as Board and Batten, is a modern option for an exterior renovation. Check out the before and after of this home, which went from horizontal vinyl "lap" to vertical vinyl siding.
When it was time to replace our home's vinyl siding, we knew we wanted vertical siding, also called board and batten. Today, I'll show you the before and after photos of our home's exterior renovation, including a few of the projects that are still in process.
What is vertical siding called?
First off, let's discuss the terminology. The technical name for vertical siding is board and batten. This is because it is made up of alternating wide wood "boards" and thin wood "battens."
Vertical vinyl siding, or vinyl board and batten, combines one board and one batten to create a single panel of vinyl siding (like this).
You might also like: 10 Stunning Home Exteriors with Board and Batten Siding
Exterior Renovation: Before
Let's take a look at our home before the exterior renovation.
Our house is primarily brick on 3 sides. Therefore, the bulk of the siding is on the backside.
When we moved in, the exterior had a beige horizontal lap vinyl siding. It was accented with reddish brown soffits and window trim.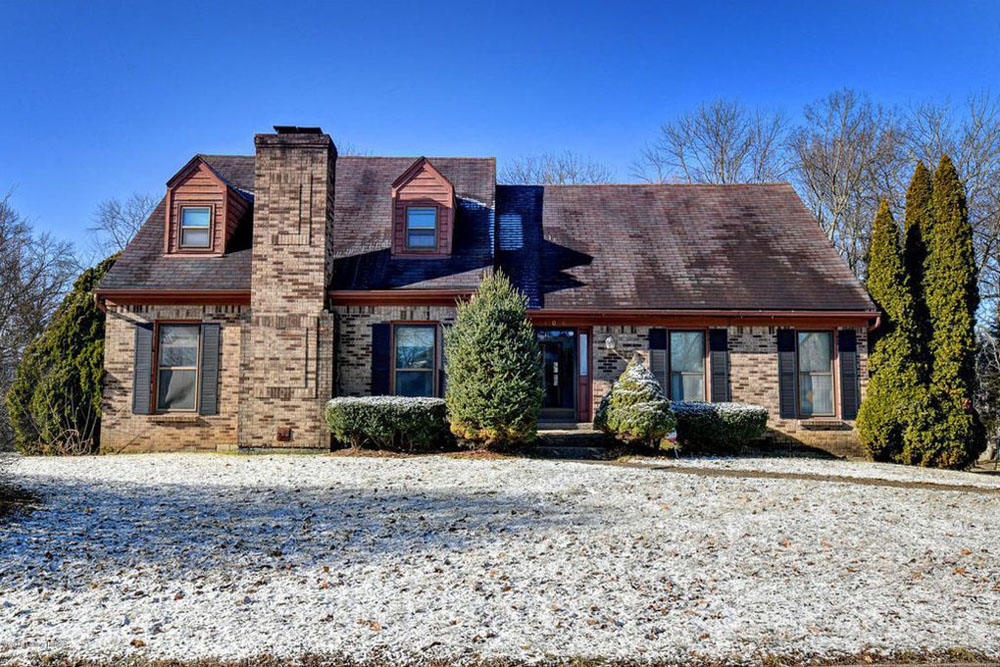 The front of the house only has siding on the dormers. Unlike the beige siding in back, this was horizontal lap wood siding painted to match the reddish-brown soffits.
The wood siding and soffits were water-damaged and the beige vinyl siding was dingy. It was in urgent need of an overhaul and we were excited to get started!
You might also like: Remodeling a Cottage Style Home in Kentucky | Before
Exterior Renovation: After
Now for the after photos! Let's start by taking a look at the front of the house.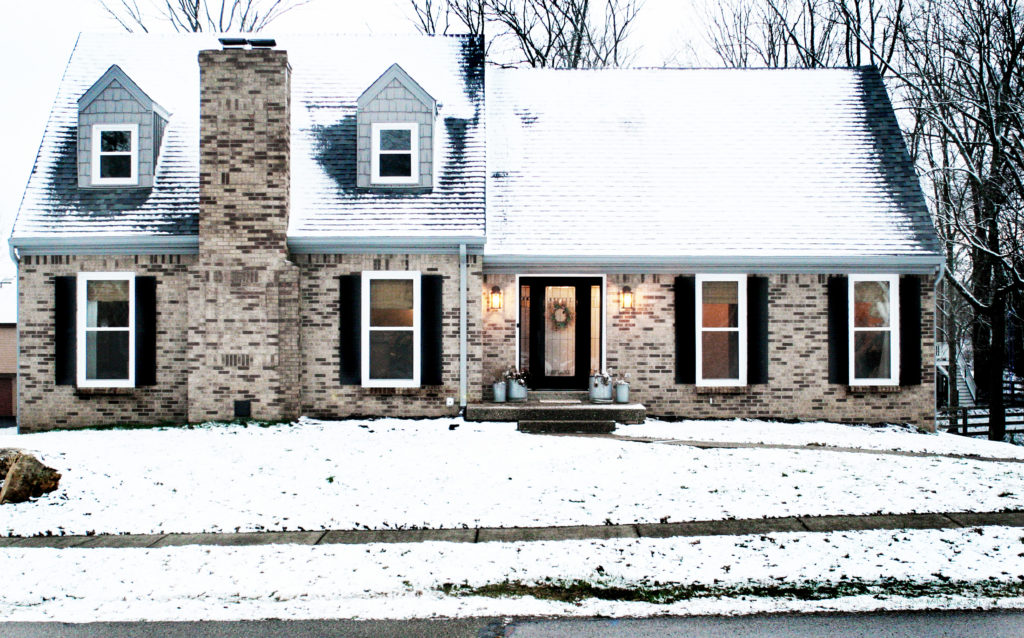 In order to soften the red tones in the brick, we chose a light gray soffit.
You might be thinking – those dormers don't have vertical siding (isn't that what this article is about?!). Of course, you're correct, but the color palette is important for context before we move around to the back of the house.
Our dormers have an accent siding in a gray cedar shake vinyl to match the soffits.
Coming soon: 10+ Homes with Cedar Shake Siding
Now, let's head to the backyard.
A dark gray board and batten vinyl siding runs vertically across most of the back of our home. The dark palette makes the home feel more modern and is less likely to appear dingy from dirt and grime.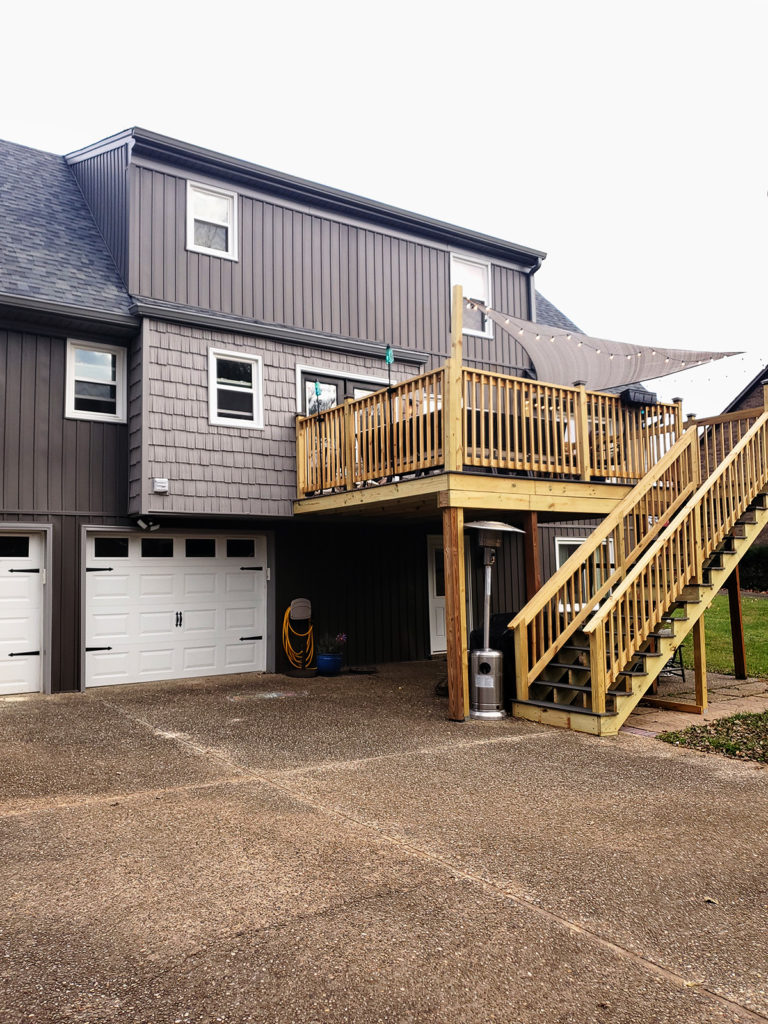 Like the dormers, a jut out from the kitchen was finished in gray cedar shake vinyl siding as an accent.
The gutters and soffits are in a gray similar to the cedar shake. The windows are trimmed in white aluminum to match the window frames.
Our exterior renovation isn't complete yet. We recently built a new deck (using both composite wood and treated lumber) and installed a shade sail.
Next summer, we'll stain the treated lumber. Also on our list of exterior projects:
Paint the basement exterior door
Install permanent patio string lights
Add privacy around our garbage can storage
Install a new mailbox
Paint the exterior in a german schmear treatment
Is vertical siding more expensive?
Yes. Vertical siding is more expensive, both for material and installation.
Material Costs
Board and batten is not the most common type of siding (horizontal lap siding is the most popular) and is manufactured at lower volumes, which typically results in a higher cost.
As an example, Lowes shows that board and batten siding is priced about 35% higher than lap siding (when comparing the same color and brand).
Note: Prices will vary by retailer, manufacturer, color choice, material (vinyl vs wood), etc.
Installation Costs
During installation, furring strips are attached to the house prior to installing siding. For horizontal siding, the furring strips are installed vertically (i.e. perpendicular to the direction of the siding).
Therefore, if you are renovating an exterior that had horizontal siding, new furring strips will have to be installed for vertical siding. This drives the cost of installation up.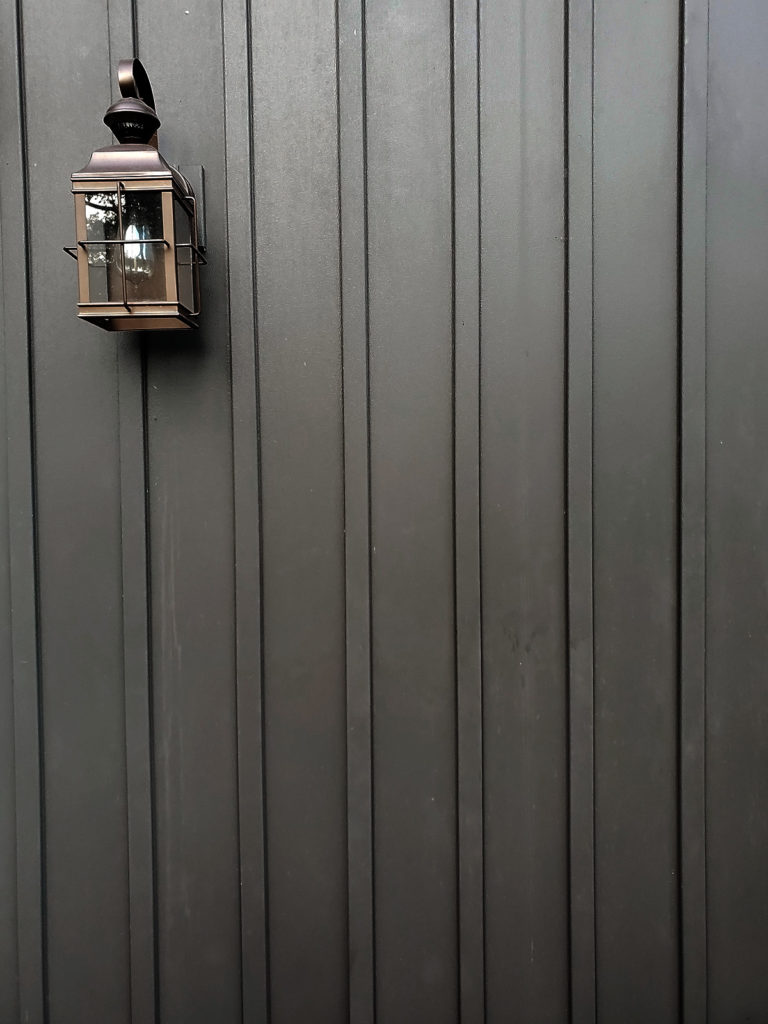 Also, contractors are much more familiar with installing horizontal siding. Therefore, it may be more time-consuming (and more expensive) for contractors to install the vertical siding.
Tip: Make sure to discuss the cost of installing vertical siding (vs. horizontal) when getting quotes from contractors.
Did you like this exterior decor idea? Pin it to save it!