Learn how to decorate a porch on a budget. Whether it's a large deck or a small stoop, these tips will help you transform your porch for less.
Does your home have a large porch, deck, or patio? While space is a blessing, it can be difficult to spend top dollar to decorate a porch or outdoor room. This is especially true here in the midwest because we'll only get to use those spaces during part of the year.
Therefore, over the course of 3 homes, I've learned to decorate a porch on a budget. I want our family to enjoy being outdoors, without paying a pretty penny.
So, let's take a back porch tour and I'll show you how to pull together an outdoor living space on a budget.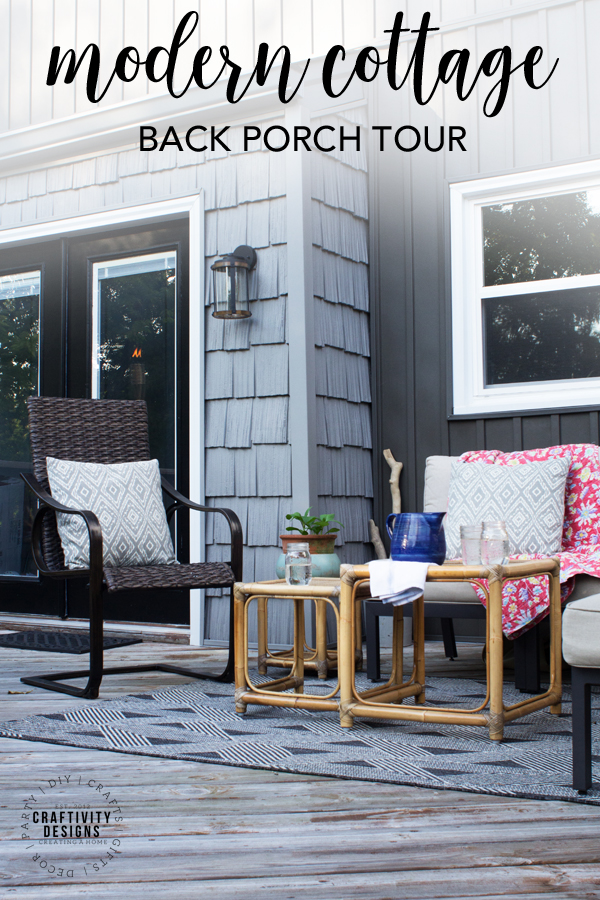 How to Decorate a Porch on a Budget
1. Shop for Patio Furniture at the Right Time
Buy the primary outdoor furniture pieces (such as sofas, dining sets) during end-of-season clearance sales.
Case in point, our 5-seat sectional hails from the clearance section at Lowes. Similarly, our dining set was grabbed during the 40% off end-of-season sale at Kroger (yep, Kroger sells patio furniture!). Neither were steals, per se, but they were much more affordable than retail price (and comparable to second-hand prices).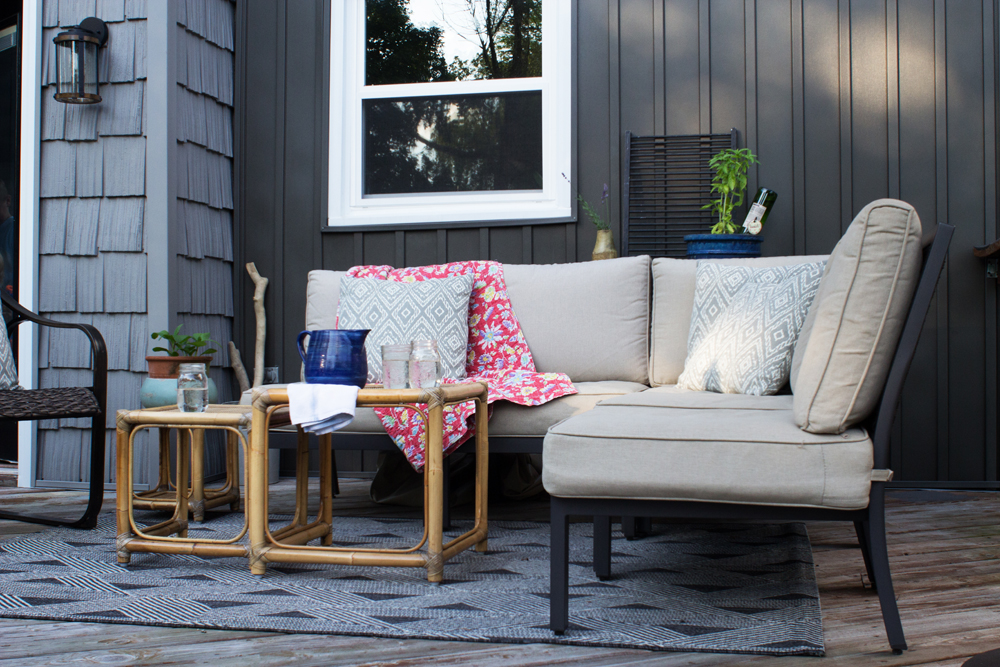 2. Shop for Patio Furniture at the Right Place
Find the secondary patio furniture pieces (such as side tables, small chairs) from second-hand shops and yard sales.
For example, the bamboo stacking tables are one of my favorite recent thrift store finds. At less than $40, I grabbed 3 side tables that perform double duty as an ottoman, coffee table, or plant stand, when needed.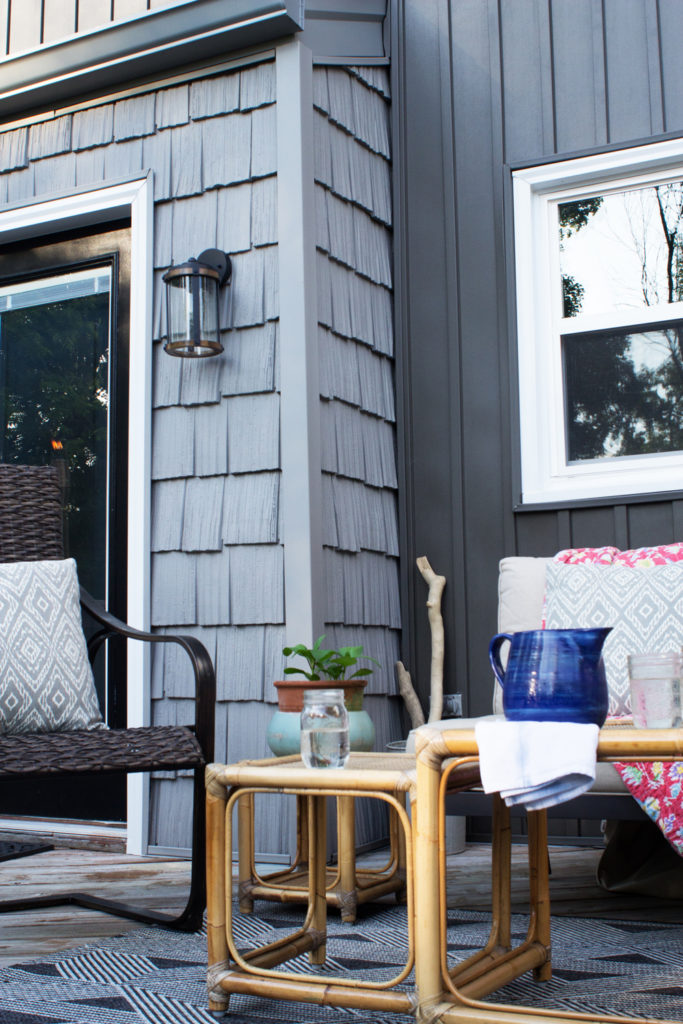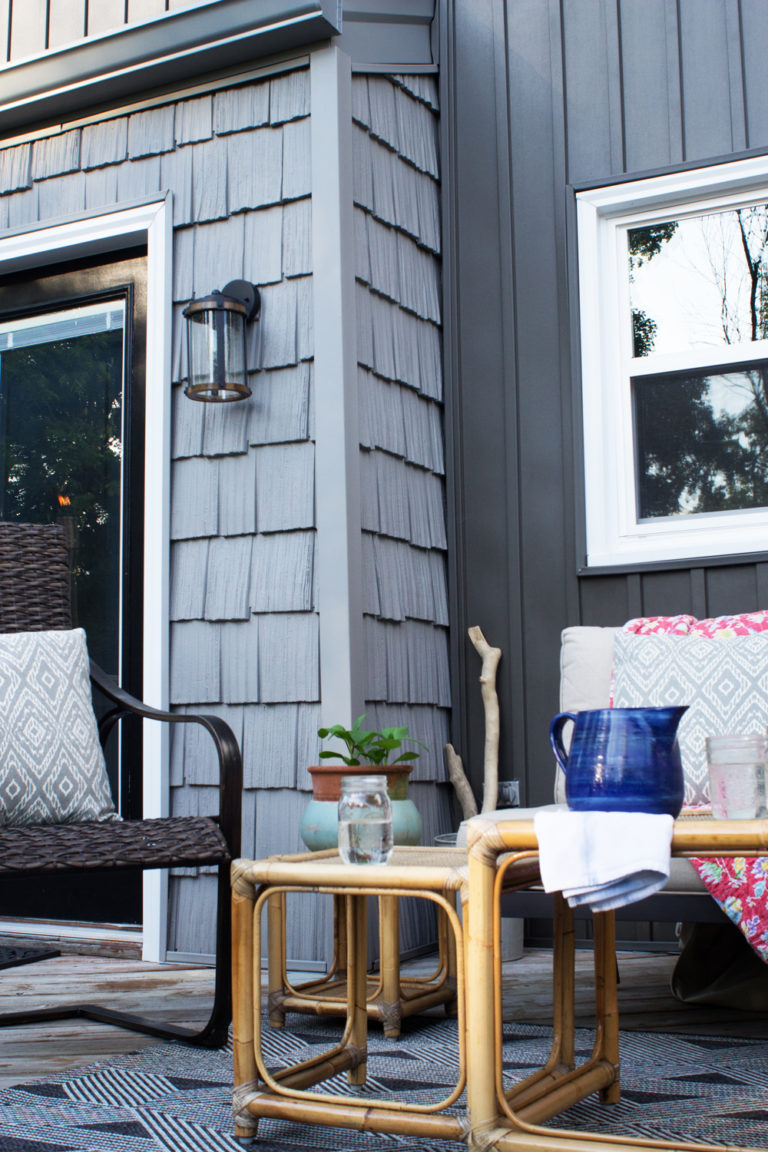 3. Take Inspiration from the Surroundings
Consider the home's exterior design style when choosing accessories and furniture.
For example, our modern cottage is a fixer upper (click here to read more about our cottage-style home makeover) and the board and batten siding is a key component of the exterior design. Therefore, I choose a modern outdoor rug that mimicked the lines of the board and batten.
Of course, not everything in our outdoor space qualifies as clean-lined modern. Vintage pieces such as the side tables and floral throw pull in the nostalgic, collected aspect of our decor style.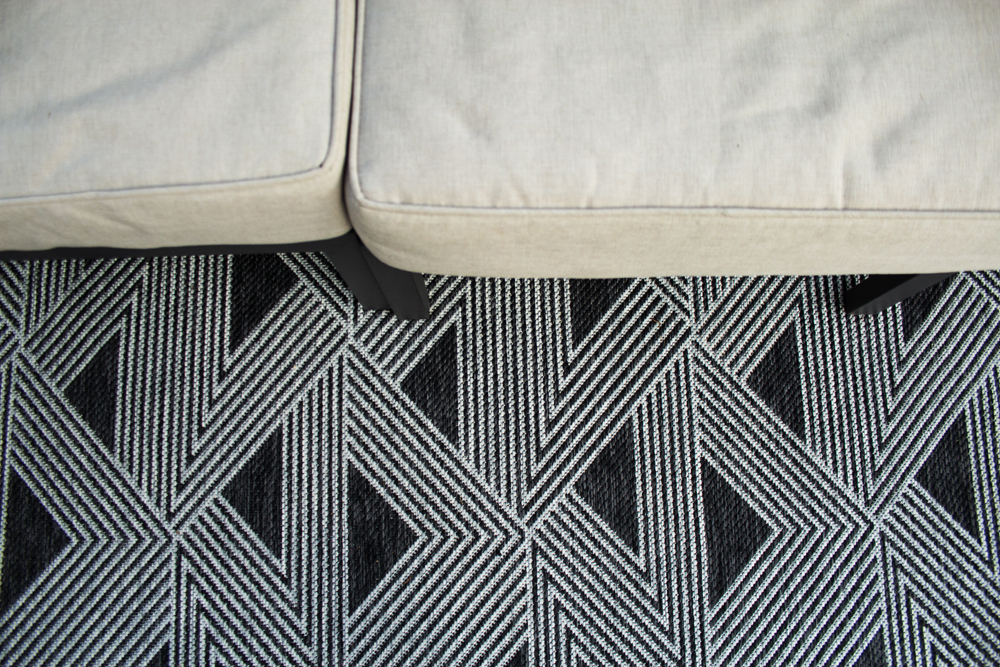 4. Incorporate Nature into the Design
Place plants throughout the space, and at various heights.
No matter the exterior design of your home, all homes are surrounded by the outdoors. While you may have trees and greenery within a few steps of your door, it still makes sense to include potted plants in porch decor.
Why? Well, for one, plants are fairly inexpensive which makes for budget-friendly outdoor decor. And, second, placing plants at various heights connects an outdoor space with nature.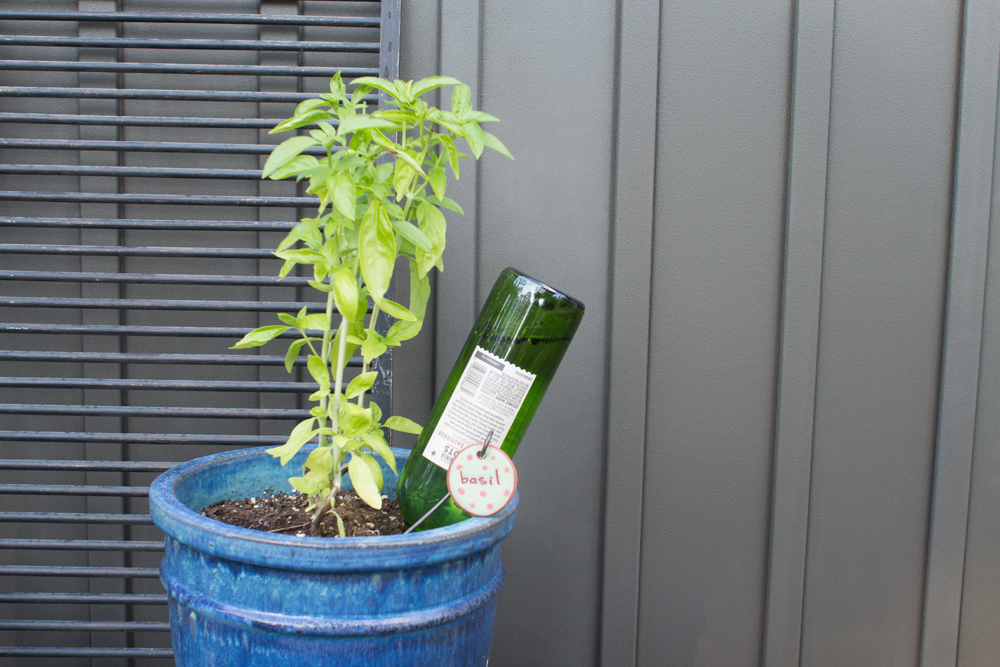 5. Repurpose, Reuse, and Recycle Home Goods
Give cast-off home decor accessories a second life by moving them outdoors.
Most likely, you've got home decor sitting in a yard sale pile, or tucked away in storage. Rummage through those cast-offs in search of potential porch decor. Not made to withstand years in the outdoors? That's a-ok. These home goods are headed to the trash bin, and it's okay if they only enjoy life on the patio for a summer or two.
For example, I grabbed an old wooden bowl, a vintage throw blanket, and sturdy wood vase to bring color and texture to the deck decor. (Oh, and that console table is an old DIY project, as well!)
P.S. My friend, Kelly from North Country Nest, used this same strategy to update her front porch decor.
Porch Decor for a Modern Cottage
Now that I've shared 5 budget-friendly tips for how to decorate a porch, let's chat about the 'why' behind our back porch makeover.
Folks, I love our deck. Were it not for the extreme Ohio Valley humidity and annoying mosquitos, I'd be out here hours every day, all summer long. And – side note – I'm trying to tackle the mosquito issue with deck rail mounted tiki torches.
Similarly, my kids, especially my daughter, love to be outside. While a budget-friendly back porch makeover isn't free, it is worth every penny because it prompts us to go outside and enjoy the outdoors.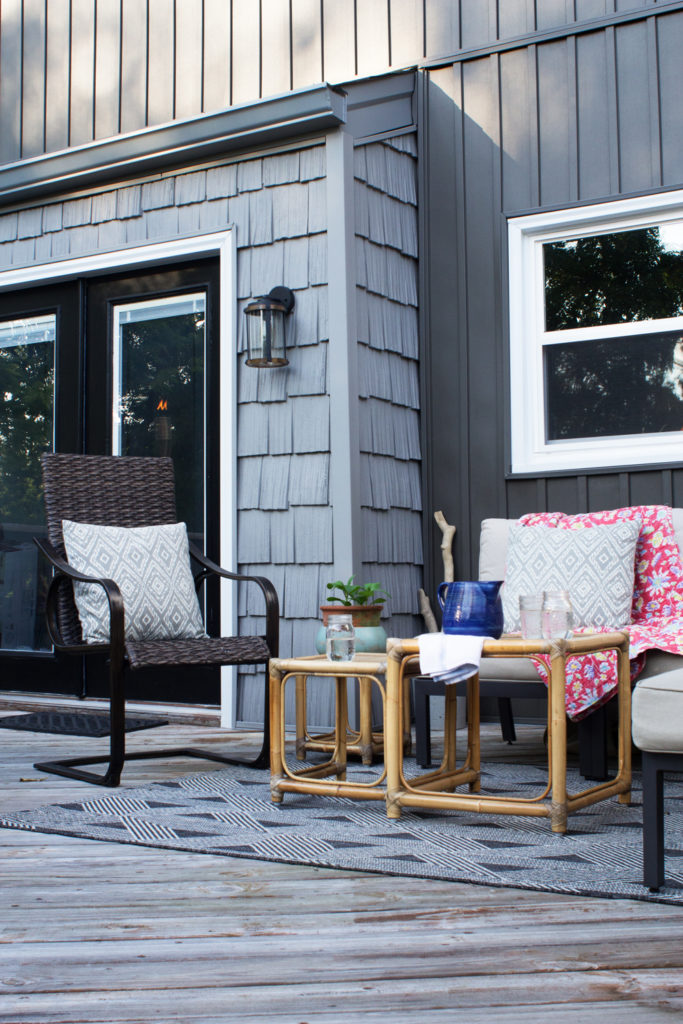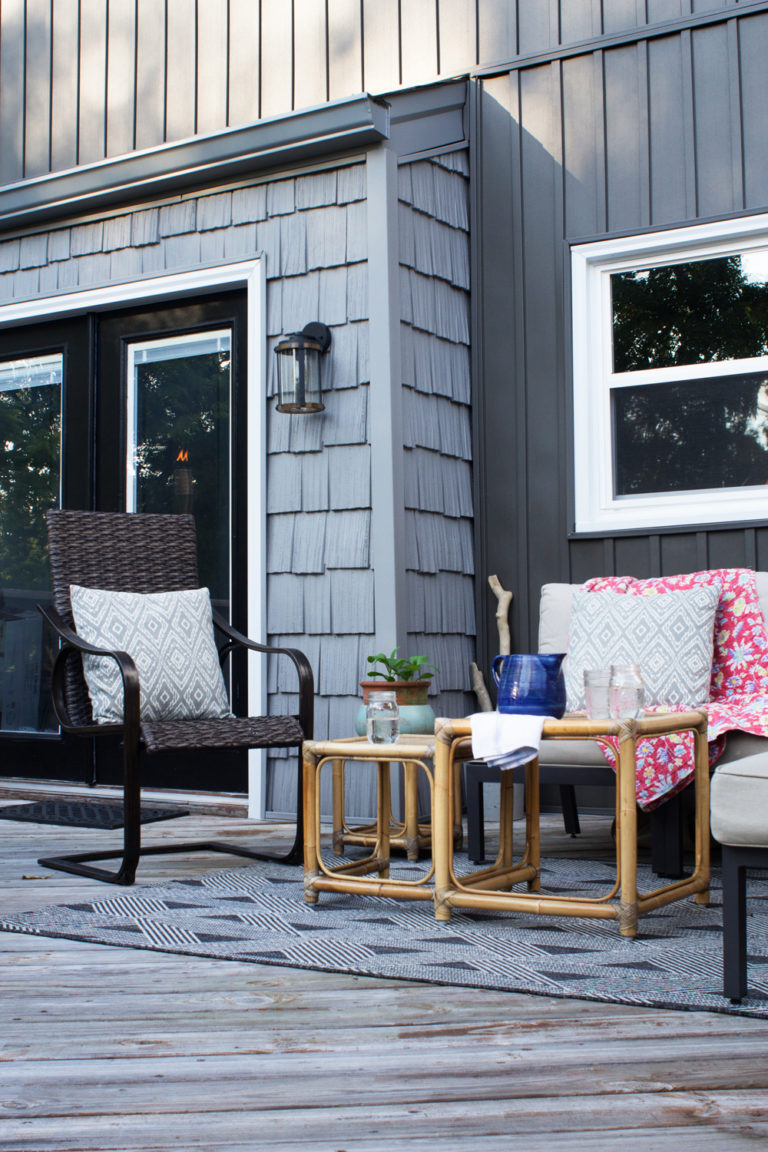 Up next? The deck itself needs a makeover. This won't be our first refinished deck, so hopefully, we can apply lessons learned and the project will go smoothly.
Until then, here are some more porch tours to inspire your outdoor spaces!