Documenting the renovation of a modern cottage style home. Located in Kentucky, our modern cottage is undergoing a wall to wall remodel.
We are quickly approaching the 1-year anniversary of purchasing our cottage style home. It's come a long way over the last 12 months, and today I'm taking you on a tour!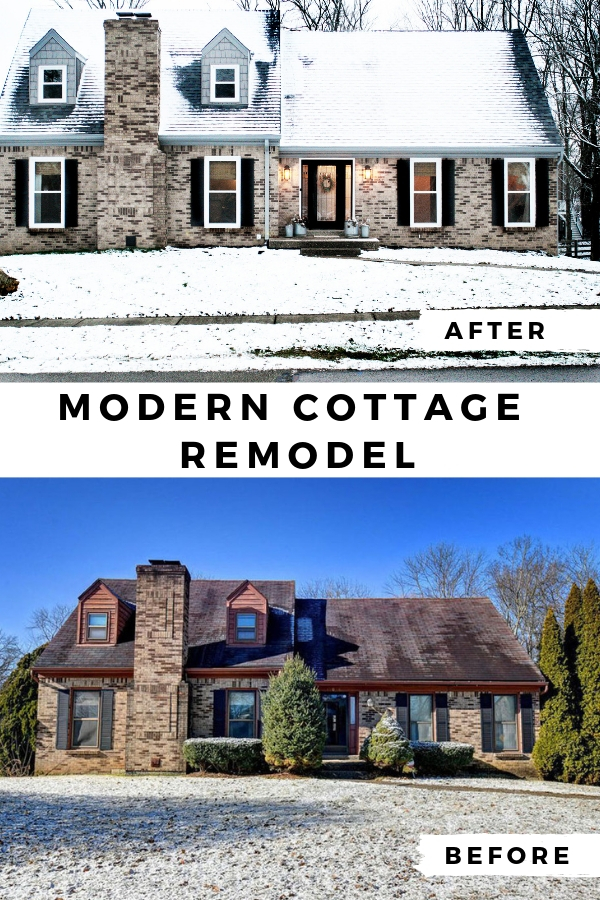 Modern Cottage Style
So, what is Modern Cottage Style? Well, you won't see it listed in Find Your Home Decor Style quizzes. It's not a trending style like "modern farmhouse" or "minimalist." Rather, it's how I best describe my design vision for this cottage style home.
Modern Cottage Style is:
traditional cottage architectural elements (such as dark wood trim, dormers, brick fireplaces, and wood ceiling beams),
eclectic furniture featuring vintage and antique pieces,
modern color palettes (grays and whites) and,
current hardware finishes (antiqued brass and oil rubbed bronze).
Modern Cottage Style Home
Exterior
If you recall, we bought a fixer-upper. The exterior, in particular, was in poor shape. Rotten wood siding, windows with broken seals, warped door frames, and an aging roof… to name a few.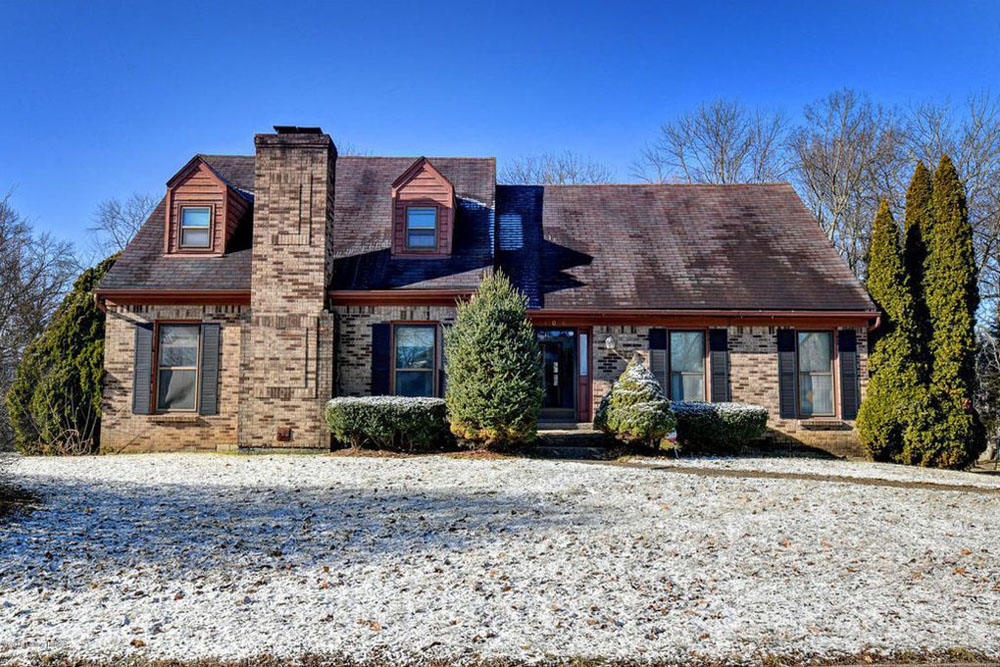 It's come a loooooong way in a year.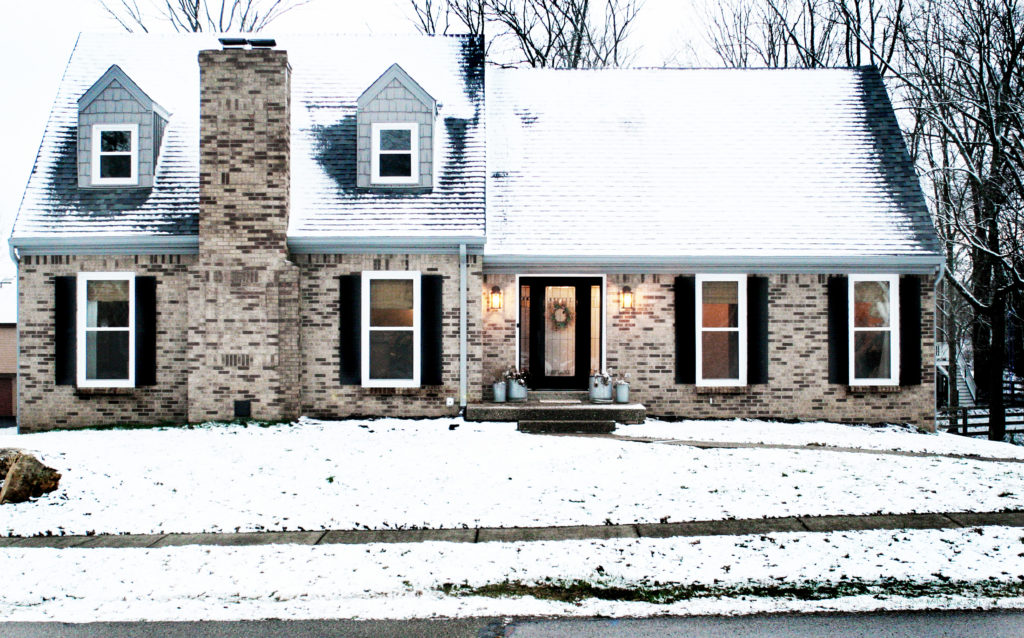 A gray roof and gray vinyl cedar-shake siding transformed the exterior color palette.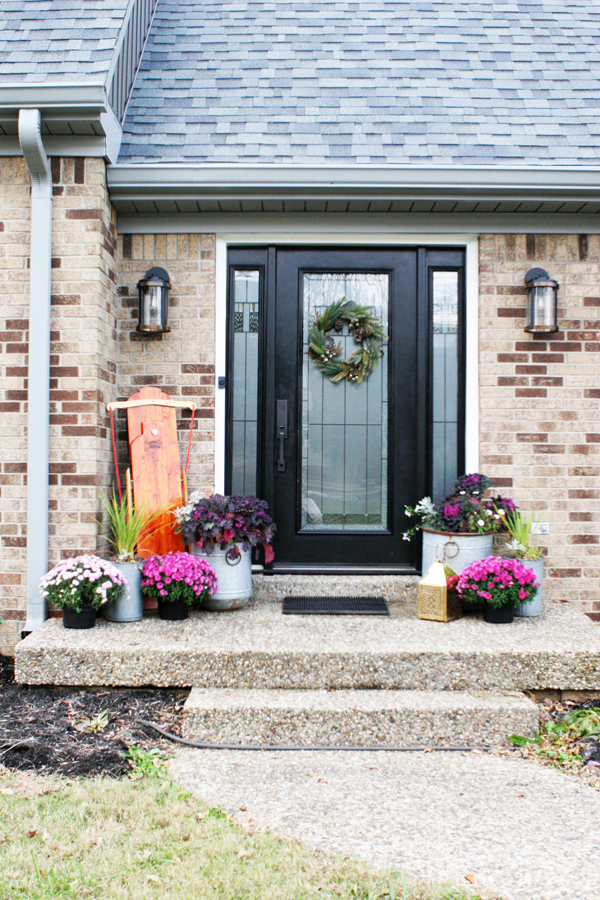 The exterior doors and windows were all replaced. For the front door, we chose a modern leaded glass door, painted black to match the shutters.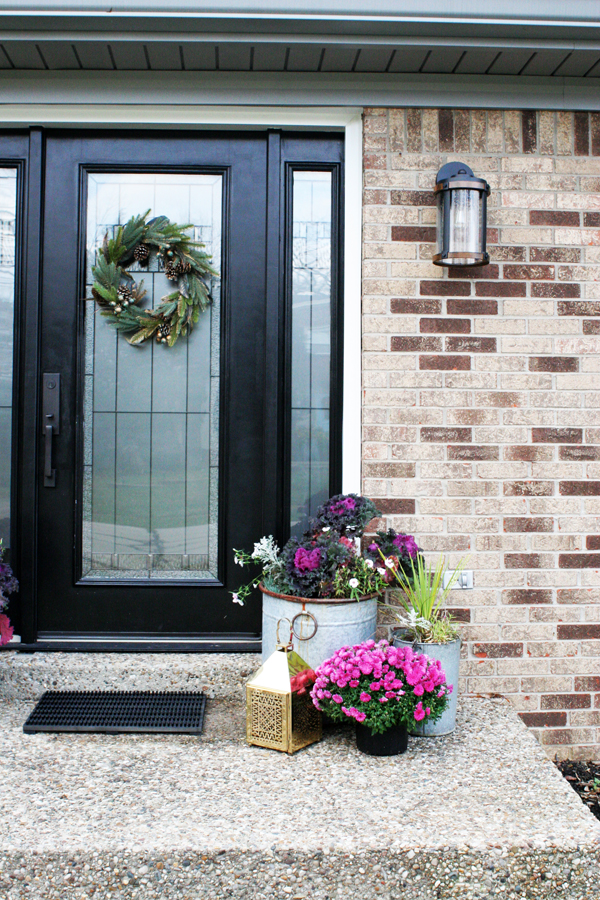 Living Room
Heading inside, the living room was spacious but dark. The dark trim, paired with blue walls and brown brick, absorbs the natural light.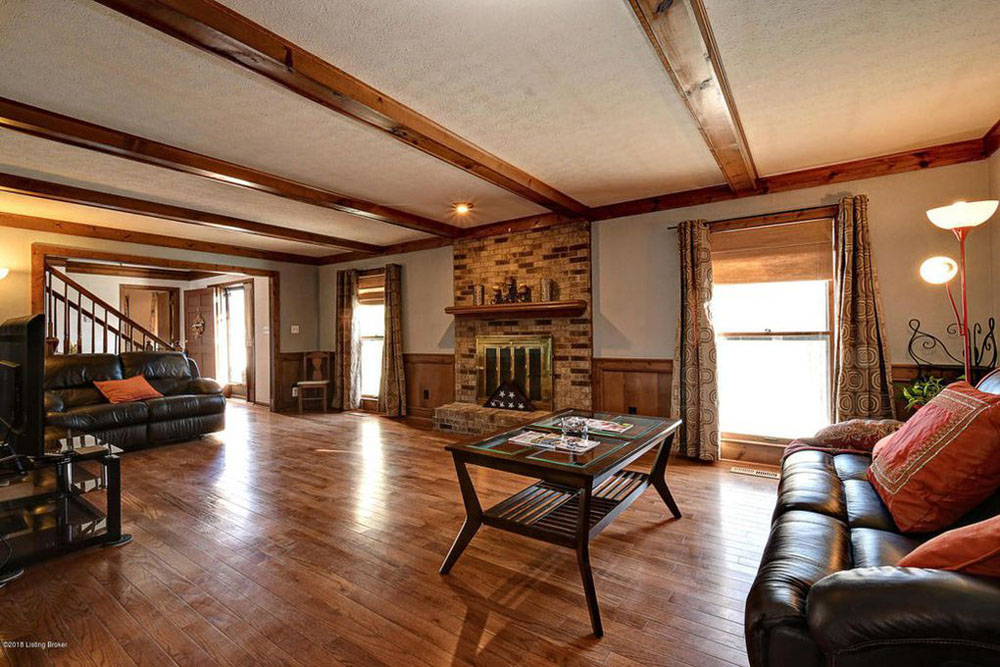 This room is far from complete, but it is much improved. A German schmear brightens the brick fireplace and white walls lighten the space (so far, I've only painted one of the walls white… but all 4 are on the list).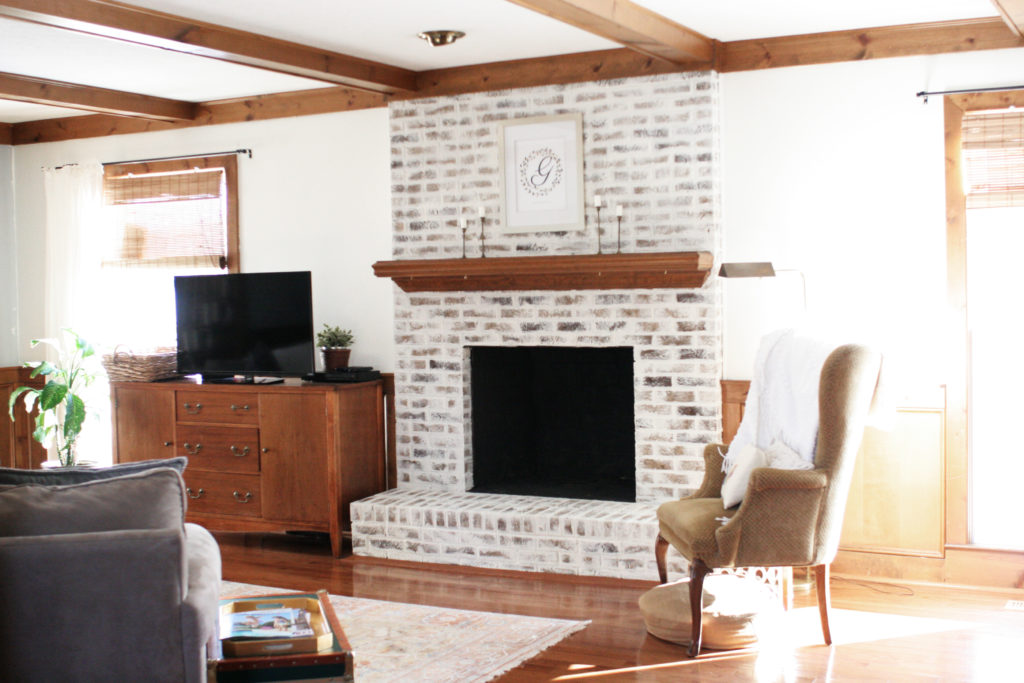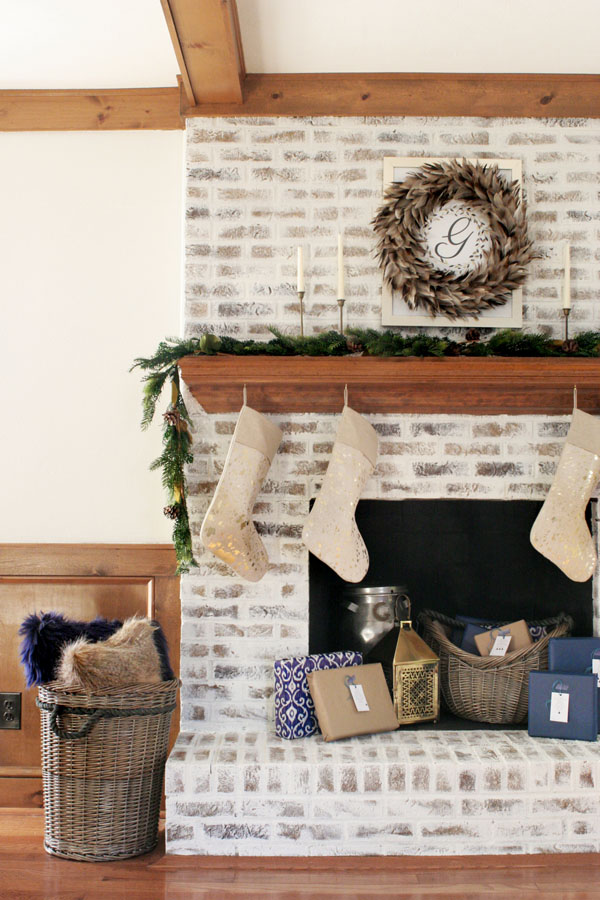 Kitchen and Dining
The dining room hasn't changed much, though white curtains and a new window made an impact. Make sure to peek into the kitchen, on the right (that is where we are heading next).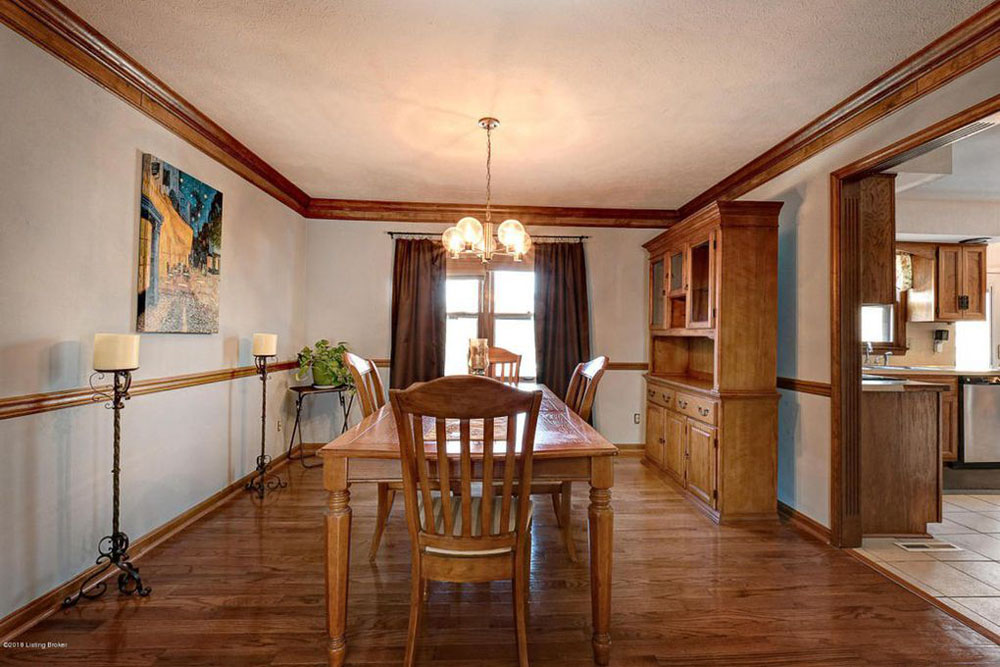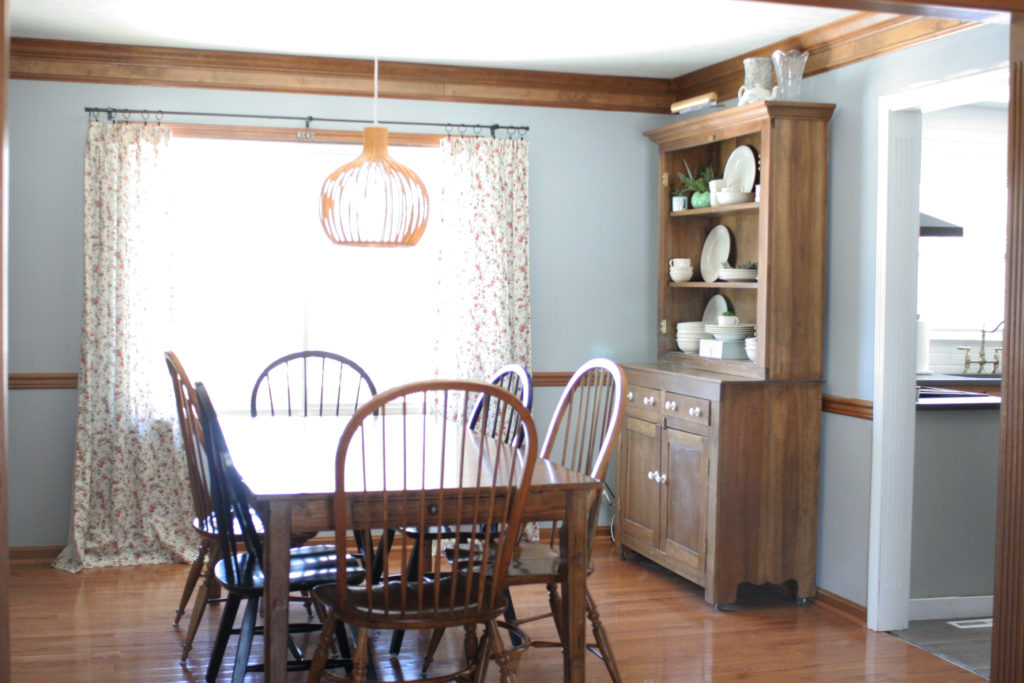 Now, let's walk into the kitchen. When we moved in there were upper cabinets on both sides of the room, a peeling laminate backsplash, and uneven tile floor.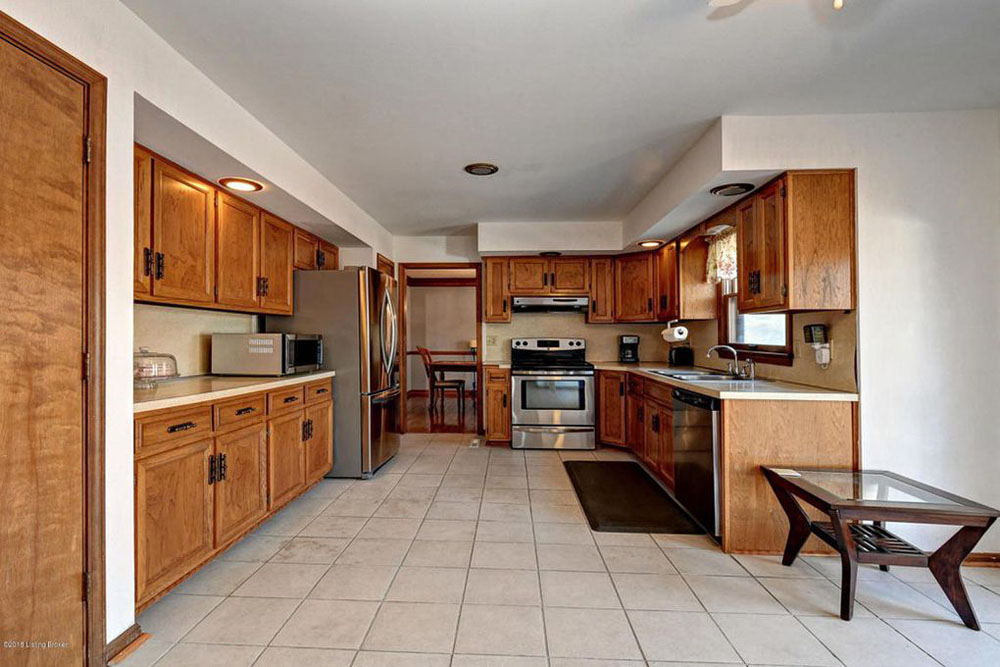 Reclaimed wood shelves and a modern black range hood replace the upper cabinets on the right side of the room.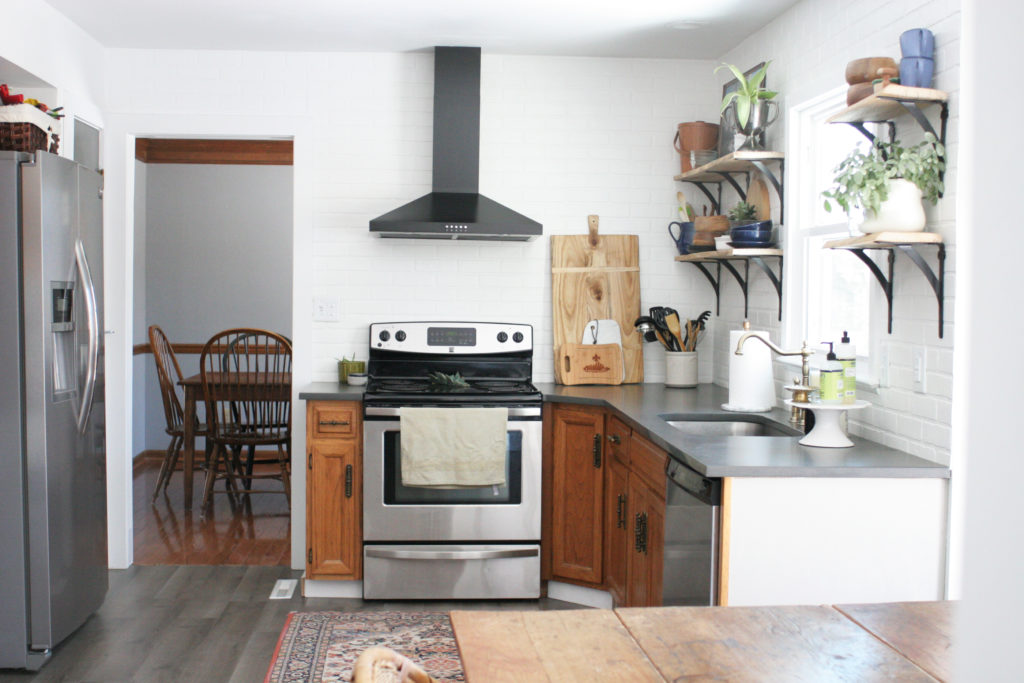 Dark gray quartz countertops and a white brick backsplash make the room bright and modern. Right now, we are working on painting the cabinets SW Mindful Gray and revitalizing the original brass hardware.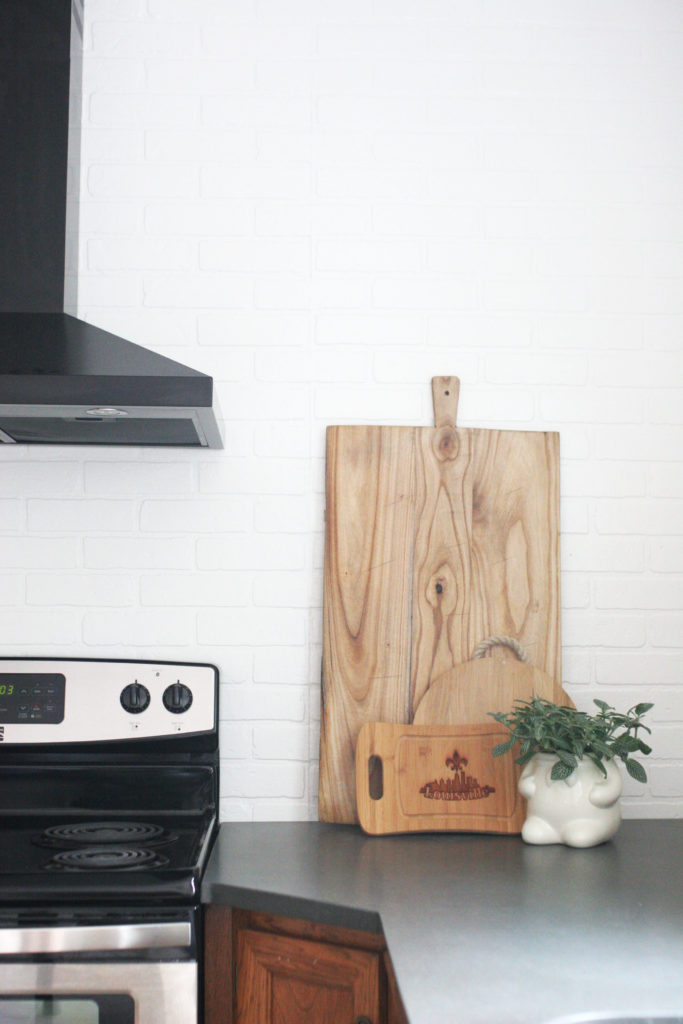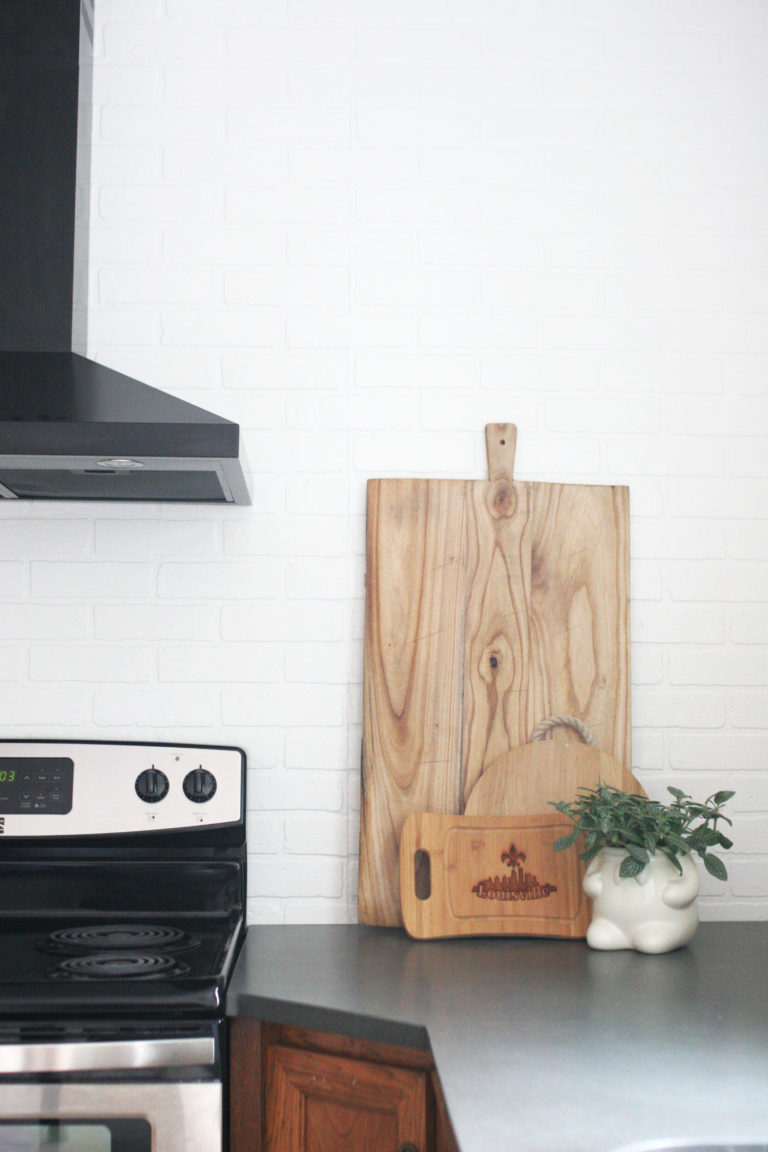 Moving on to the opposite side of the kitchen, there is a breakfast space.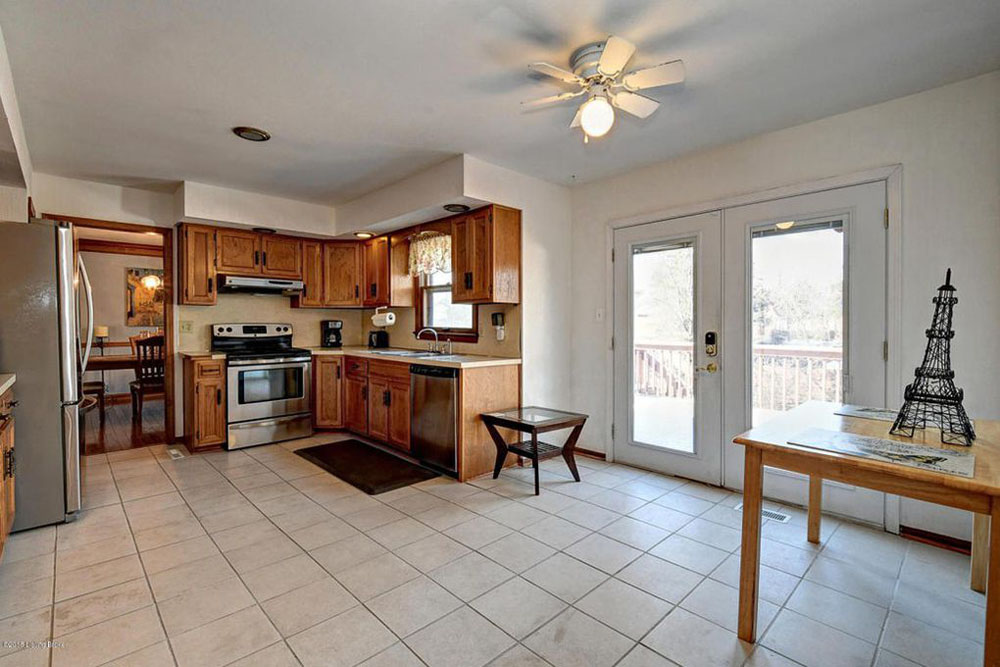 A coat of paint (SW Alabaster), thicker trim, and updated interior doors have transformed the space from dated to modern cottage style.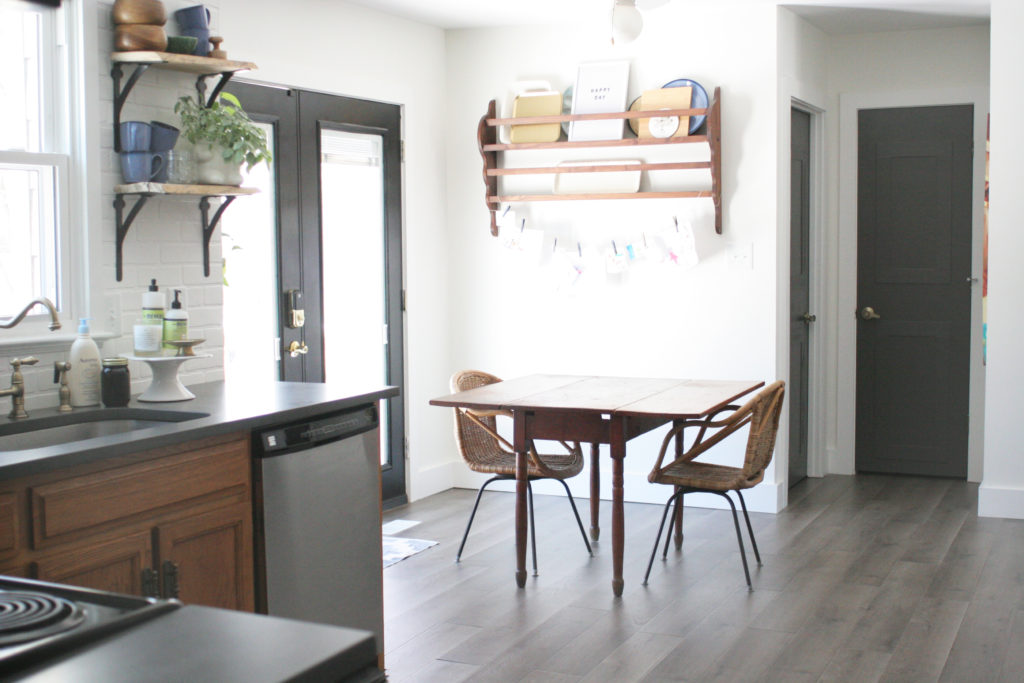 Laundry Room
Directly off the kitchen is the laundry room, originally featuring wood cabinetry and dated wallpaper.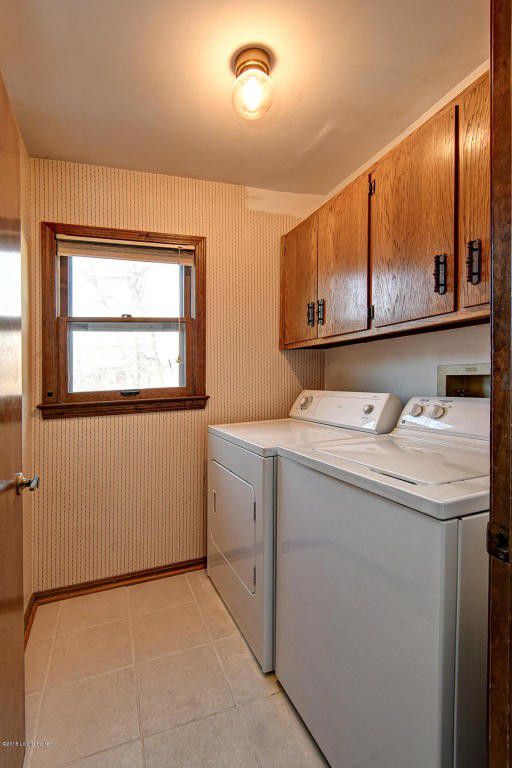 Our first finished space in this home, the vintage laundry room exemplifies the modern cottage vision. It's a mix of modern details, like striking green cabinetry, and vintage charms, such as the floral print and chippy wood shelf.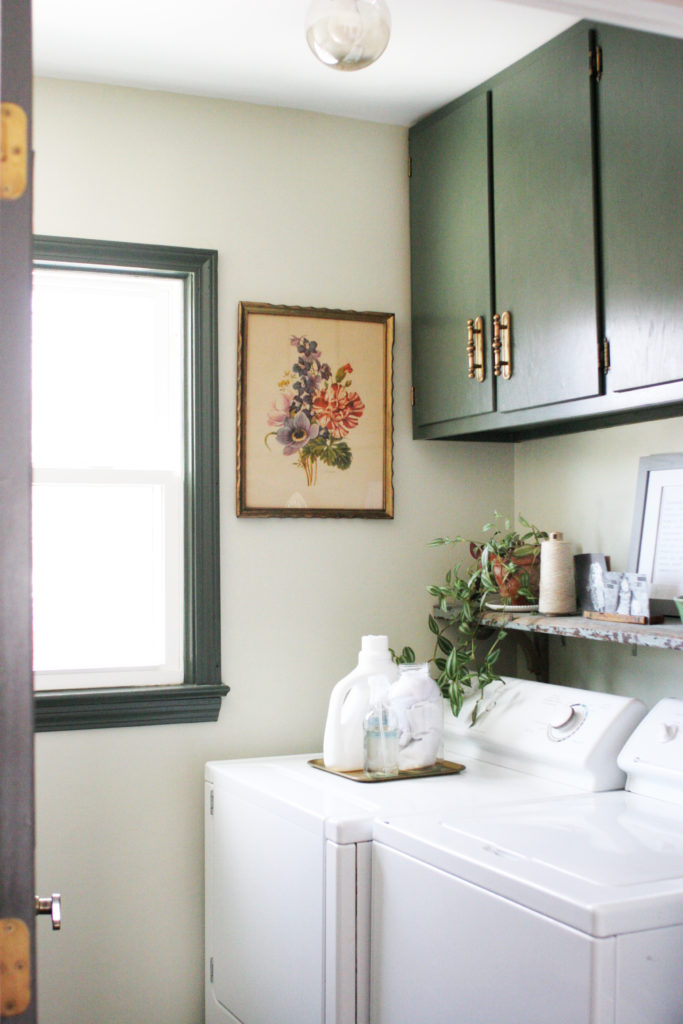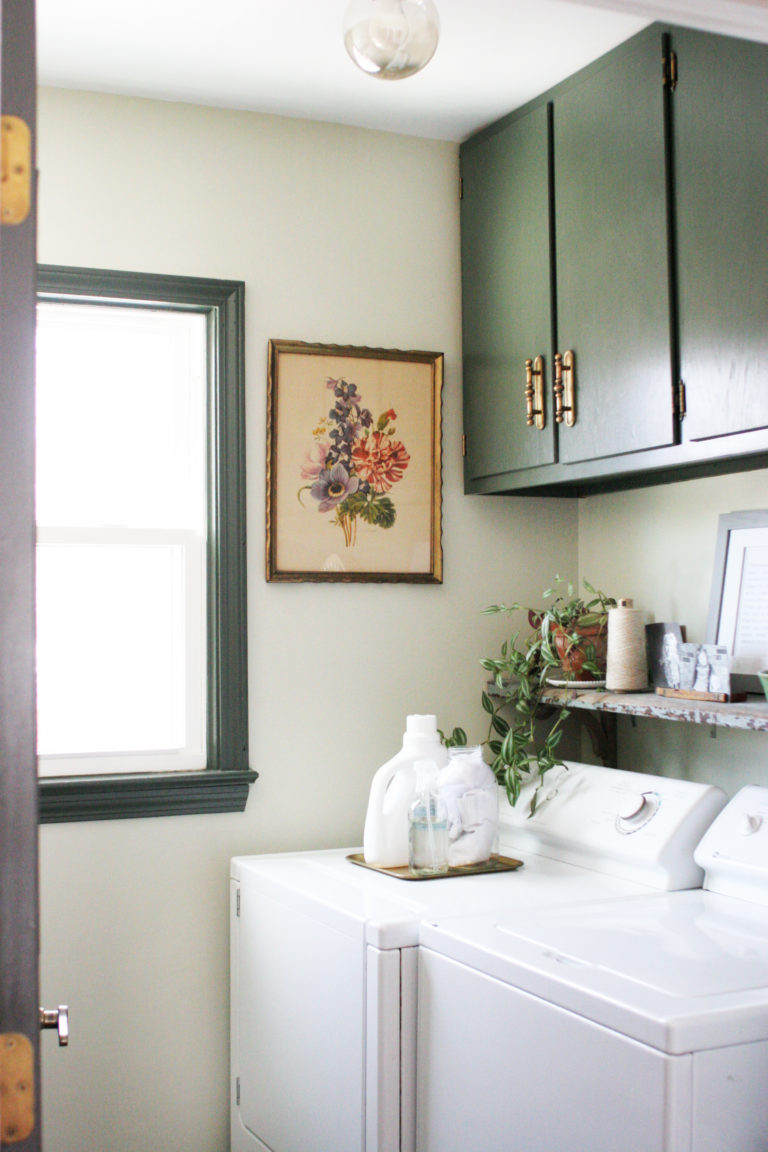 Bedrooms
Like the dining room, not much has changed in the bedrooms. The master bedroom's vaulted ceiling and neutral walls made it simple to update the room with our furniture and decor.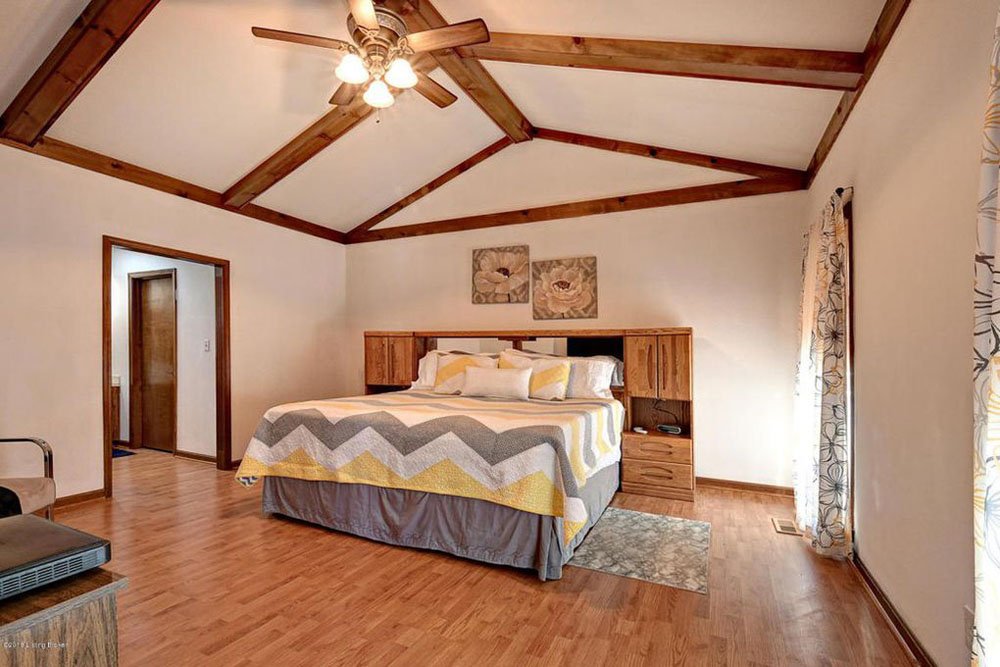 At this point, I don't have a design plan for our Master Bedroom. In the meantime, I've been switching it up seasonally (see our Christmas Cottage Tour and Spring Bedroom Refresh).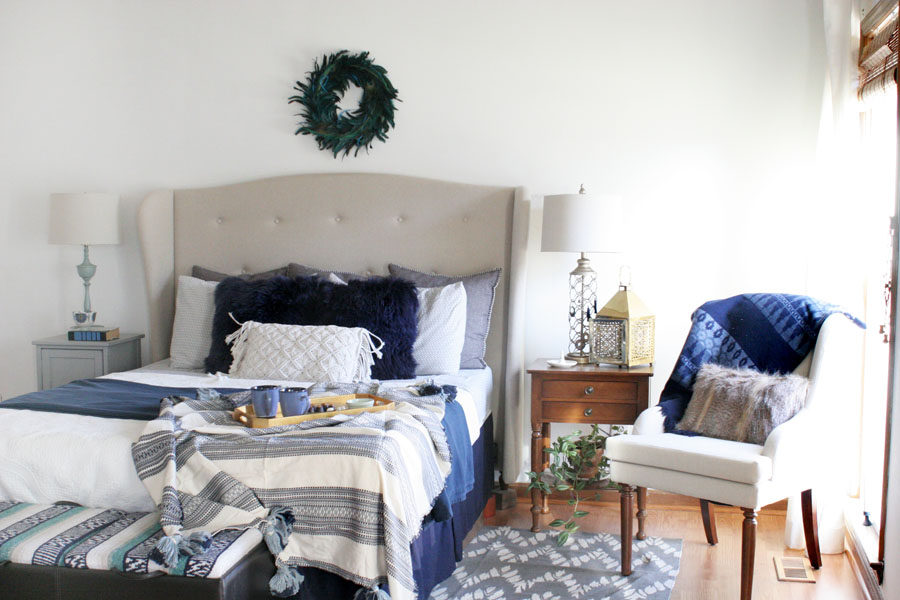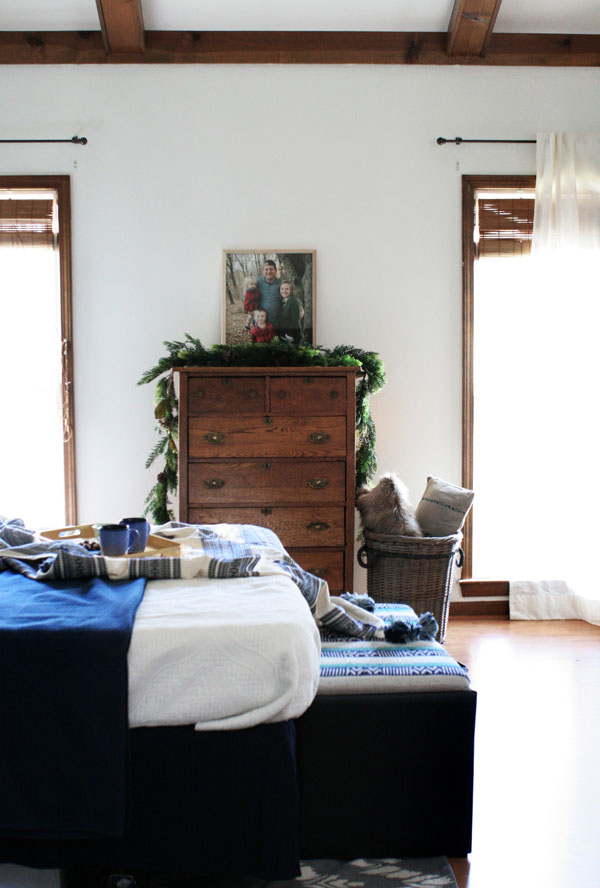 My kids are sharing a bedroom (they had a shared bedroom in our last home, too) and like the master, it has neutral walls.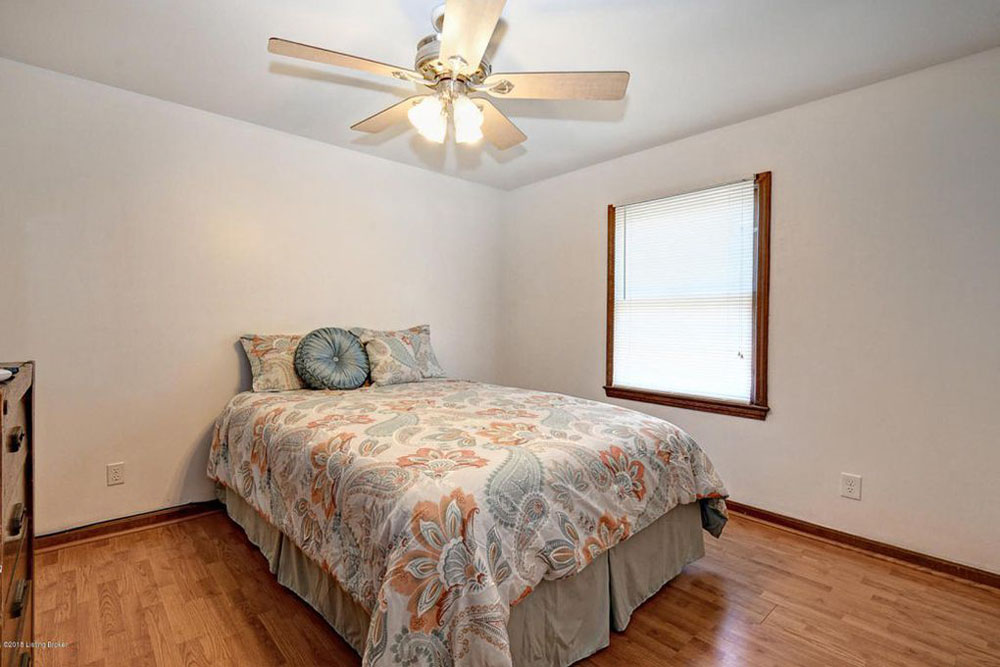 We added portraits, over a set of twin beds, flanking vintage steamer trunks. It will likely be a while before we start updating the kids' rooms, but I'm happy with this setup in the meantime.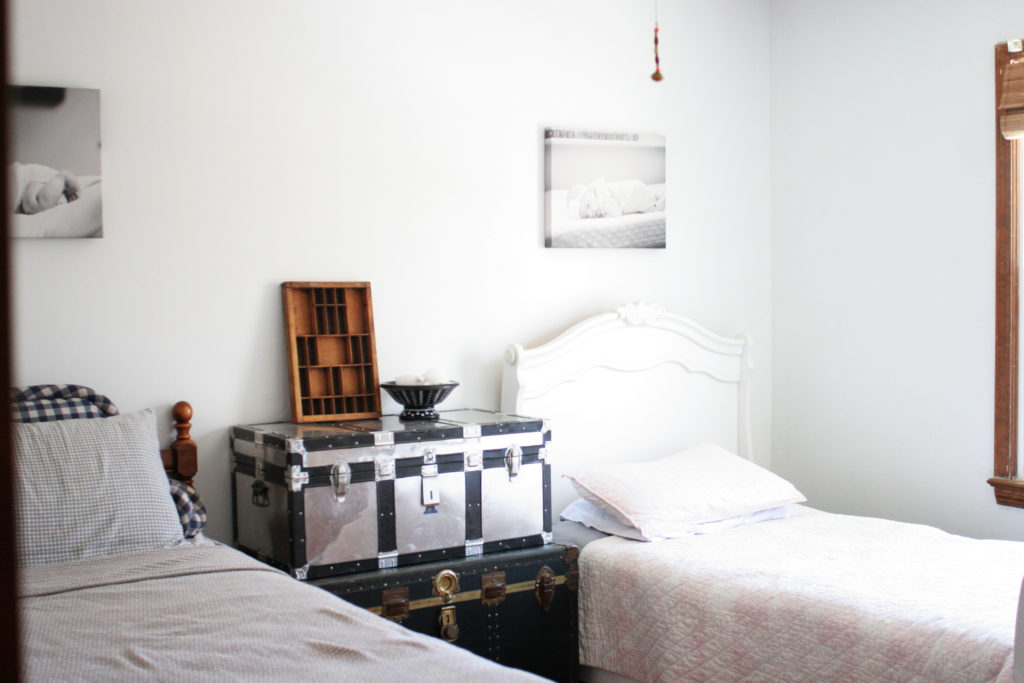 Backyard and Deck
The back of the home was in need of new siding and deck repairs.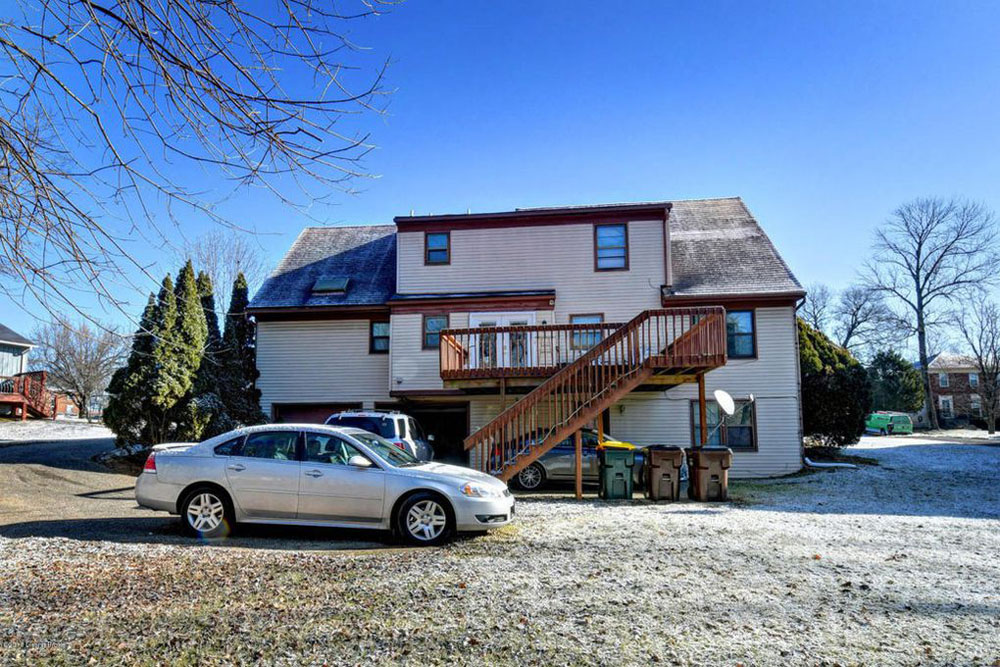 I don't have many photos, but we have replaced the siding with dark board and batten vinyl. The black french doors are surrounded by gray cedar shake vinyl, as a focal feature. The deck is on our late spring/early summer to-do list.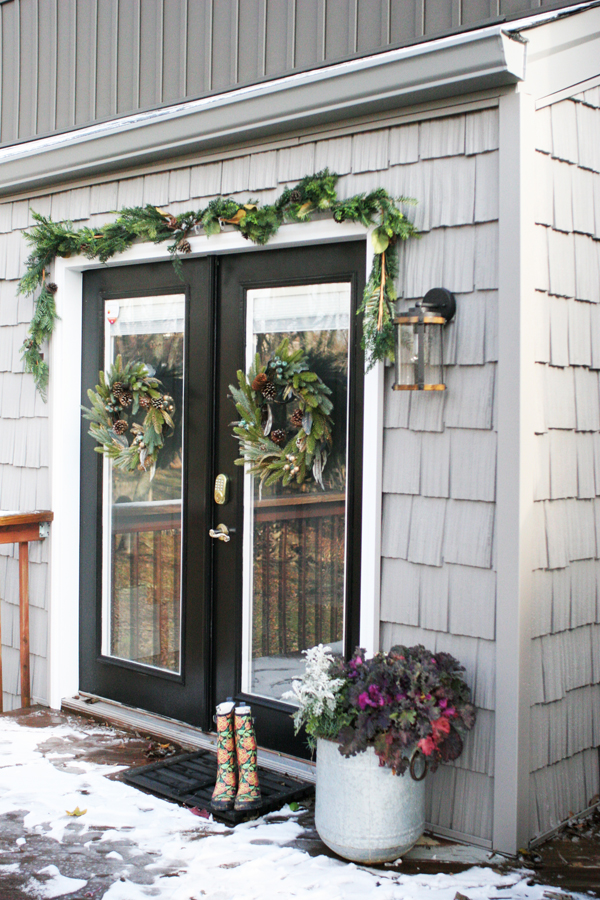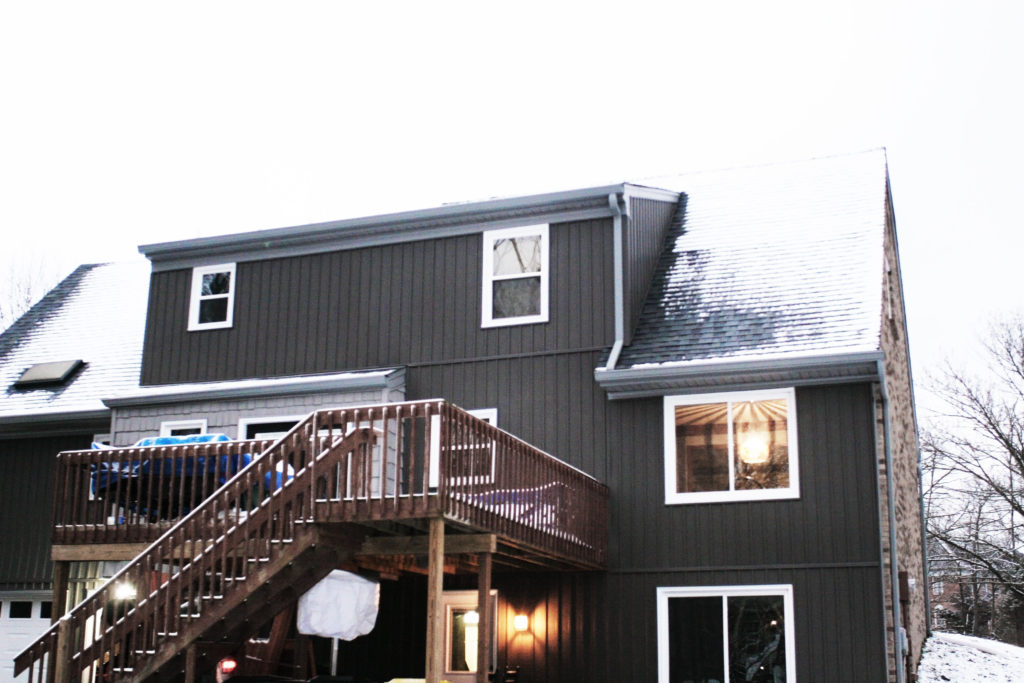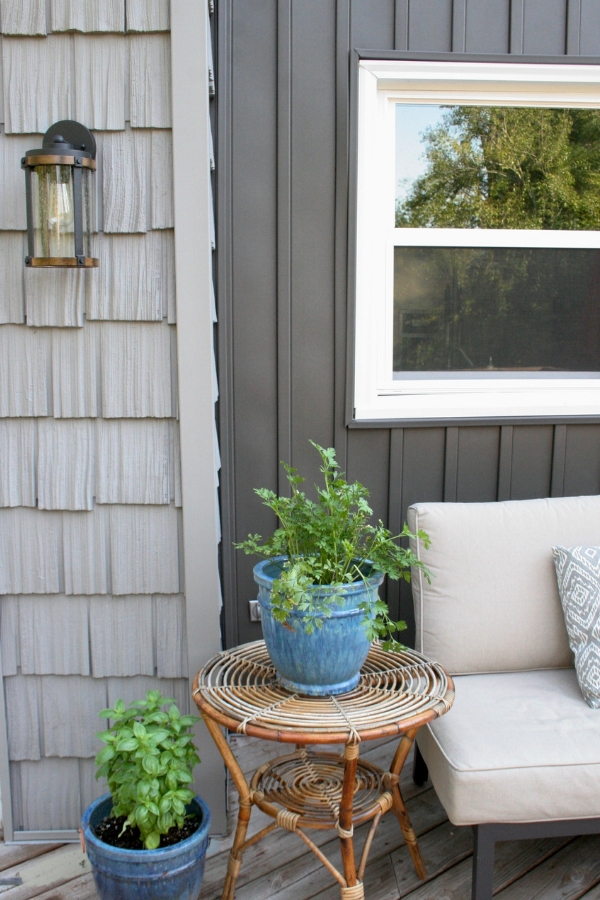 Modern Cottage Style Renovations
When it feels like you are moving at a snail's pace, take a look back at before and after photos. It will remind you just how far you've come, and how much you've accomplished.
I love writing posts like this… it's a mix of reminiscing, dreaming about the future, and a reminder to be content with the present.
After all, Rome wasn't built in a day, and our house won't be remodeled overnight. And you know what? I'm thankful… it's the journey of Creating a Home.
If you liked this home tour post, you might also like: