Are you looking for the best outdoor furniture covers? Look no further! Affordable and high-quality, these patio furniture covers are available in a variety of sizes for everything from sectionals to dining table sets.
What's worse than spending big bucks on patio furniture? Spending big bucks on furniture covers. Still, it's smart to protect your investment.
Luckily, after some research, I found an affordable brand of outdoor furniture covers. I dare say, they might just be the best outdoor furniture covers — both high in quality and easy on the budget.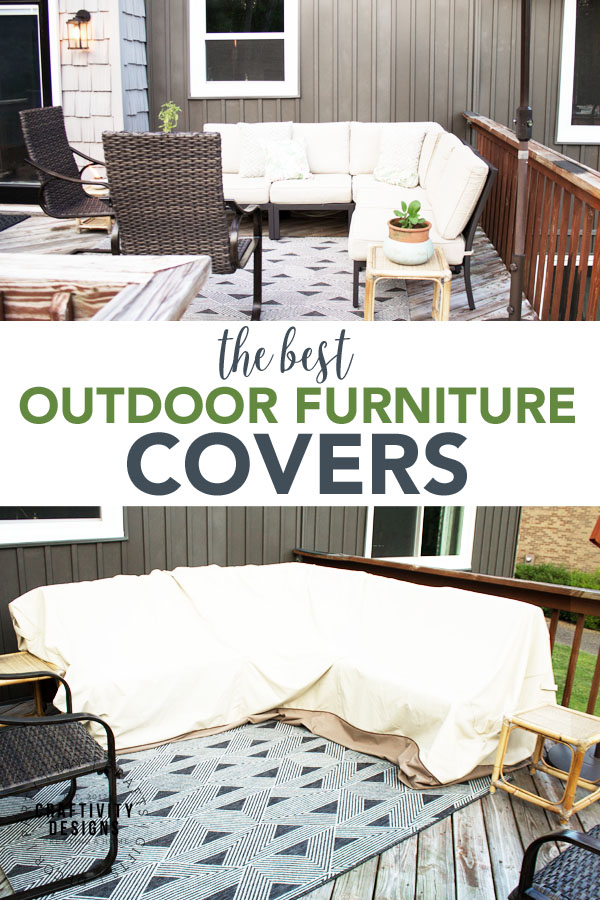 The Best Outdoor Furniture Covers
So, why am I singing the praises of our patio furniture covers? Simply stated,
the price is right and the quality is top notch
.
Oh, and by the way, its important to note that this is not a sponsored post. I paid full price for our v-shaped sectional cover. Then, after living with the sectional cover for several months, I bought a loveseat cover, too. Also on my list?
Now, let's take and look and find out why these outdoor furniture covers are a great value.
1. Versatile
Most products come in several sizes. Take the measurements of your furniture and choose the closest fit. In the case of our sectional cover, it's a little large. However, the size down would have been too small. Since the cover includes clasps and pull ties (see #4, below), I wasn't concerned about sizing up.
2. Water Resistant
The covers seem to be practically waterproof… as in, my patio cushions don't get wet. It's been a rainy spring (and summer), but our cushions have stayed dry. I have only experienced water seepage once and I believe it was due to my error in covering the sectional.
3. Quality Seams and Durable Fabric
These patio furniture covers are made from heavy-duty canvas fabric with a water-resistant layer. The seams are high quality and will not tear easily. In the past, I had only purchased patio covers from big box stores. I was accustomed to wimpy seams and thin fabric… you can imagine how pleased I was when I felt these the first time!
4. Pull Ties and Clasps
In order to help keep the patio furniture cover in place during high winds, it includes pull ties around the base and plastic clasps which attach to furniture legs.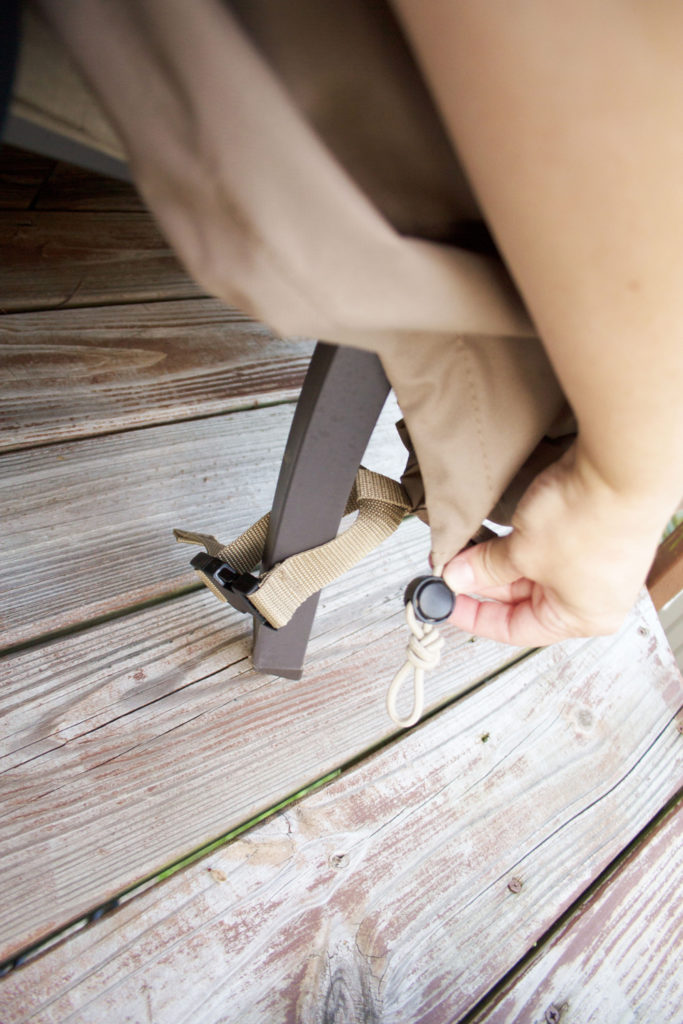 5. Easy Handling
In addition to quality fabric, the covers also include handles to assist in lifting the covers off the furniture. This further reduces the chance you might pull in the wrong spot and accidentally rip the cover. The handles also make it easier to spread out the cover and place it over the patio furniture.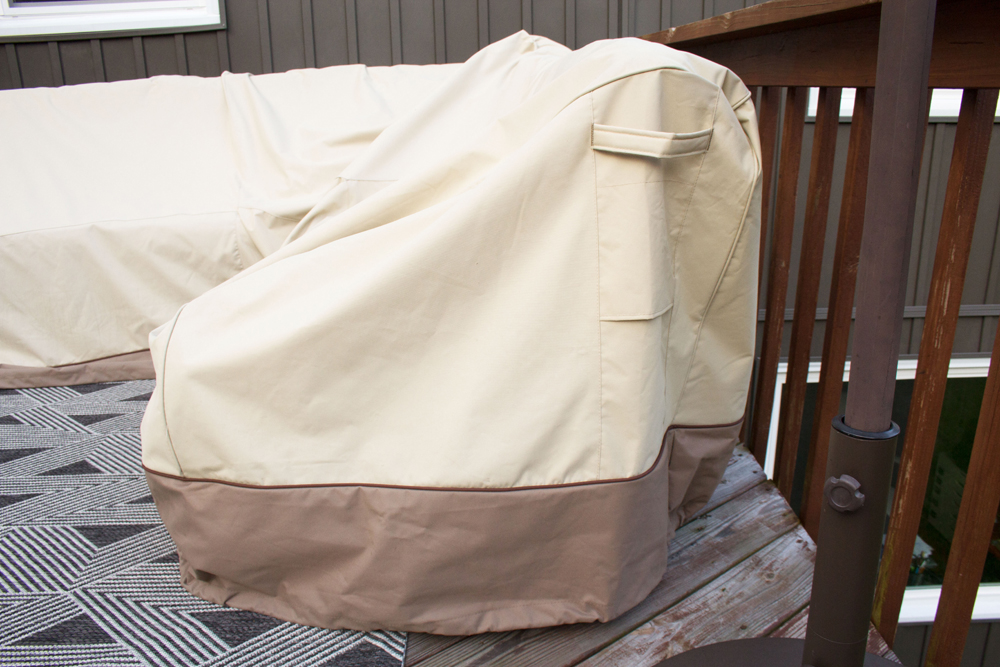 The Best Outdoor Furniture Covers (that won't cost a fortune!)
The Veranda Patio collection is affordable and high quality. It's my go-to solution for protecting our patio furniture without busting the budget.
FAQs about Outdoor Furniture Covers
#1: Do I need to cover patio furniture?
Yes! If you invest in patio furniture, don't skimp on furniture covers. Why?
Convenience – Using a furniture cover is simpler than storing patio cushions. If I have to stow away patio cushions every time I use the outdoor sofa, I tend to be less inclined to use the sofa. However, if I have 20 minutes to sit outside and all I need to do is pull back the cover, I'll do it!
Protection – Likely, your outdoor furniture wasn't cheap (it rarely is!). Therefore, take good care of that investment by protecting it from unnecessary exposure to sun, rain, and winter weather. Patio covers will extend the life of outdoor furniture.
Comfort – Covers keep furniture dry and cool. If a dark chair is exposed to the sun all day, it will make for one hot seat. Similarly, cushions exposed to rain – or morning dew – will become damp.
#2: If my patio is covered, do I still need furniture covers?
While it's not as important, I'd still recommend the covers. Why? Though the furniture won't be exposed to direct sunlight and rain, it may still be exposed to the elements – such as extreme temperatures and high winds.
For example, we left our patio set out year around without covers when we had a covered deck, assuming it would be just fine. However, I found that the painted finish started deteriorating after several years.
Of course, if you don't want to buy outdoor furniture covers, there is an alternative solution: take your patio furniture into a garage, storage shed, or basement during the winter.
If you liked this exterior decor ideas post, you might also like: