Learn how to make an easy Macrame Plant Hanger DIY with this simple step by step tutorial! It's the perfect way to add a little vintage charm to your outdoor area.
There's something peaceful about hanging plants swaying in the wind, but those plastic store-bought planters can really clash with your outdoor decor. This easy Macrame Plant Hanger DIY craft adds vintage charm and a layer of peace and serenity to your outdoor space.
In this tutorial, I will show you how to make a simple macrame plant hanger for your outdoor decor. It's an easy DIY project that can be done even if you're a beginner to the DIY world.
Disclosure: This page includes affiliate links.
Our deck is decorated with tiki decor, and these macrame plant hangers complement that vintage mid-century inspired style. In the space, we've also got a plant stand filled with vintage clay pots, bamboo furniture, and tiki lanterns.
For the macrame, I selected a dark green paracord which ties in with our home's deep gray-green board and batten vertical siding. However, there is no reason you couldn't use white paracord to replicate the look of traditional macrame.
How to Make A Macrame Plant Hanger
This macrame plant hanger is made with paracord so that the plant hanger can be used outdoors. It won't fade or fray from the elements, and it is a simple beginner project that anyone can do.
Supplies
Instructions
1. Measure the length
First, measure the desired length you want for the plant hanger.
Example: On our deck post, I have approximately 24-inches of space available for my plant hanger.
2. Measure and cut the paracord
If you are using a small to medium sized pot, double the length you measured in the first step and cut the paracord at that length. Then, cut 3 more strands at that length, for a total of 4 long cords.
Example: I want my planter to hang 24″. That length doubled is 48″. Therefore, I cut four 48″ cords.
Note: If your pot is wider or taller than approximately 6-8″, you should add some length to your cut measurement. For example, for a 12″ wide pot, I'd add 4-6″ of length. If it is too long, you can trim off cord before step #7.
3. Fold and knot the strands
Fold the paracord strands in half, and tie a knot. Tie a knot several inches from the middle to create a loop (as shown in the 2nd photo, below). This loop will be used to hang the macrame plant hanger from a hook. Below the knot, you now have 8 paracord strands to work with.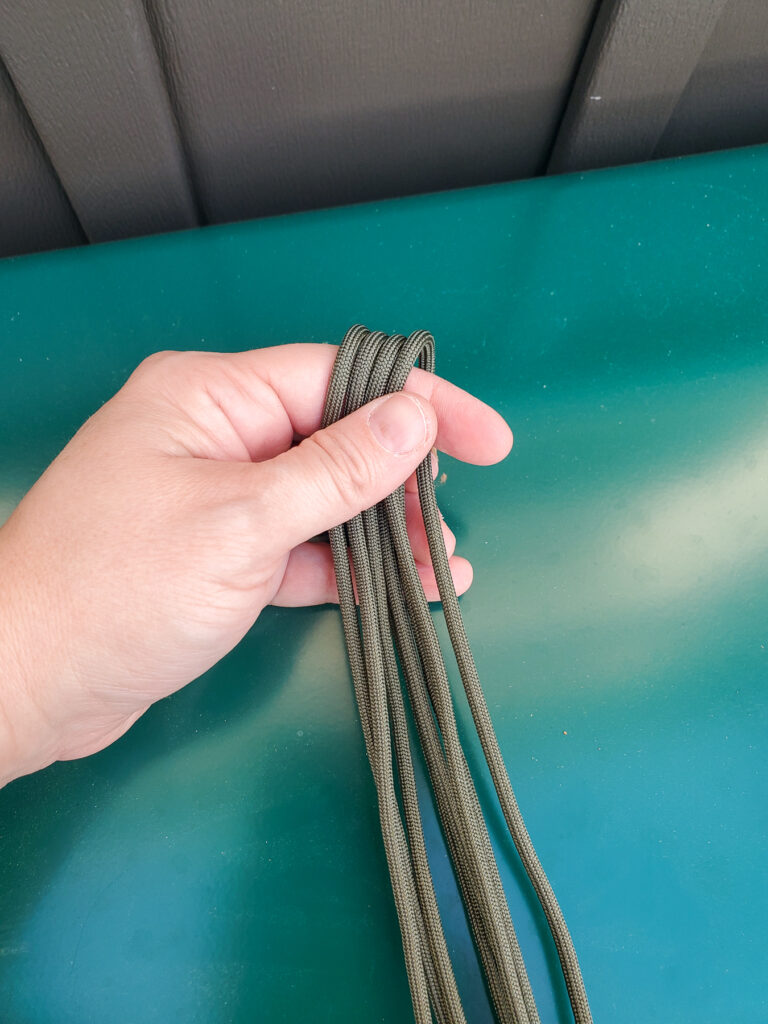 4. Tie 4 knots
Select 2 strands of cord and tie a knot near where the top edge of the pot will hit when the plant hanger is finished. Repeat this step with the remaining strands until there are 4 knots.
Note: To determine the location of the first knot, you may need to hang the cords in place. I wanted my first knot (i.e. the top edge of my pot) to be approximately 10″ below the hook.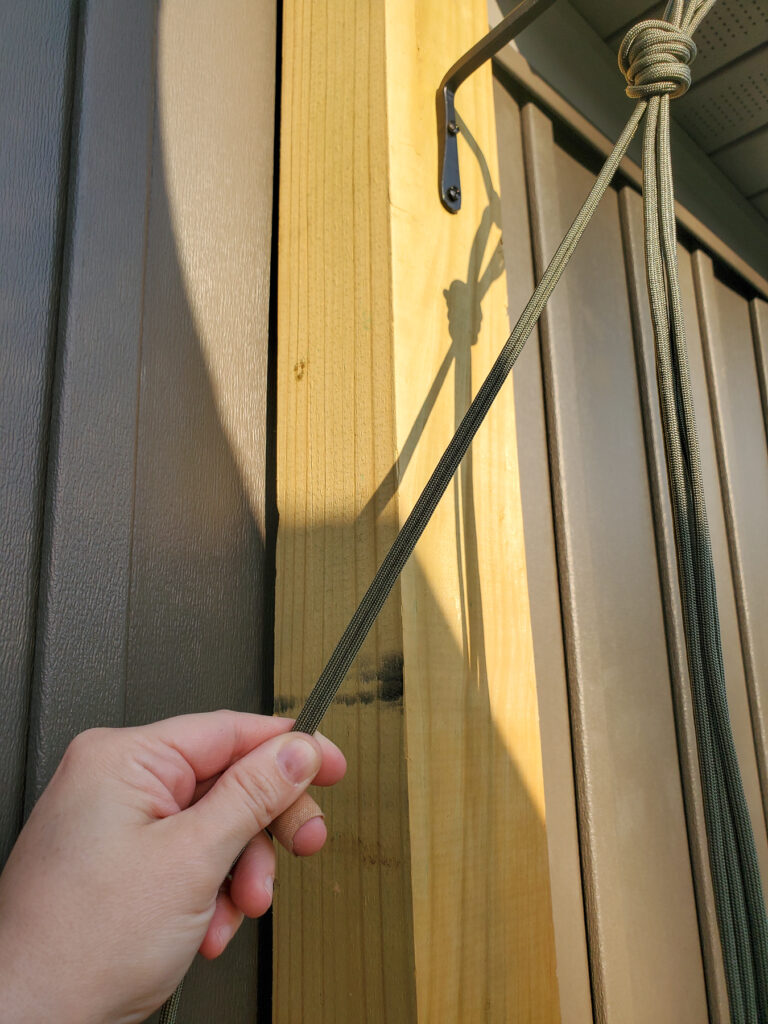 5. Tie 4 more knots
Next, select 2 strands of cord from 2 different knots (this is important! make sure you don't select 2 strands from the same knot). Tie another knot several inches below the first set of 4 knots. Repeat this with the remaining strands until there are 4 more knots.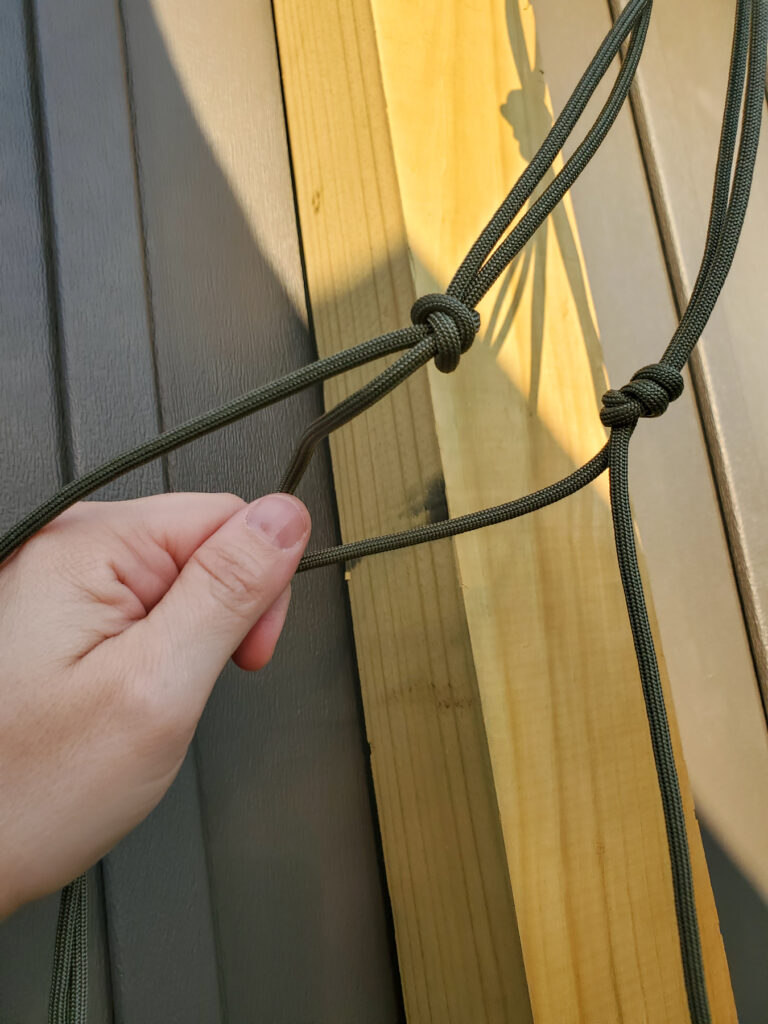 6. Tie all of the cords together
Next, bring all 8 paracord strands together to tie the final knot.
7. Melt the ends of the paracord
To finish off the plant hanger, use a lighter to melt the ends of the paracord. This step will prevent the cords from fraying.
8. Place the pot in the plant hanger
Finally, place your pot inside the paracord hanger and hang it wherever you choose.
Easy DIY Macrame Plant Hanger
Making cute, decorative plant hangers is easy to do, and adds personality to your outdoor decor. If you don't like the dark green paracord that I selected, choose one of many paracord color choices that best fits your style.
If you are making a macrame plant hanger for inside, you can dip-dye the macrame plant hanger any color you would like. The longer you leave it in the dye, the darker the color will be (if you have dye left over, try a shibori decor craft!).
If you liked this outdoor DIY project, you may also like:
Want to save the DIY Macrame Plant Hanger? Pin it!