Over 20 tiki décor ideas for decks, patios, bars, and more! Fans of tiki culture and Disney's Enchanted Tiki Room are sure to find Polynesian décor that will fit their home.
"Welcome to our tropical hideaway, you lucky people you!" Both Jose (of Disney's Enchanted Tiki Room) and I are excited to welcome you to our "tiki tiki tiki tiki tiki room." If you've got a Polynesian-inspired room – you'll love these tiki decor ideas, too!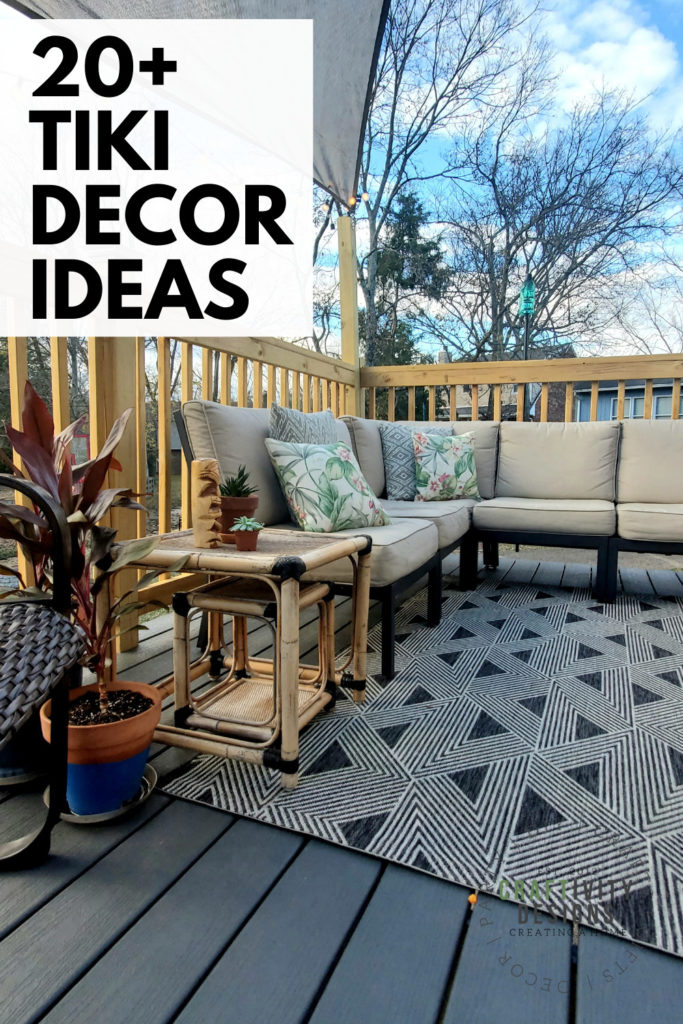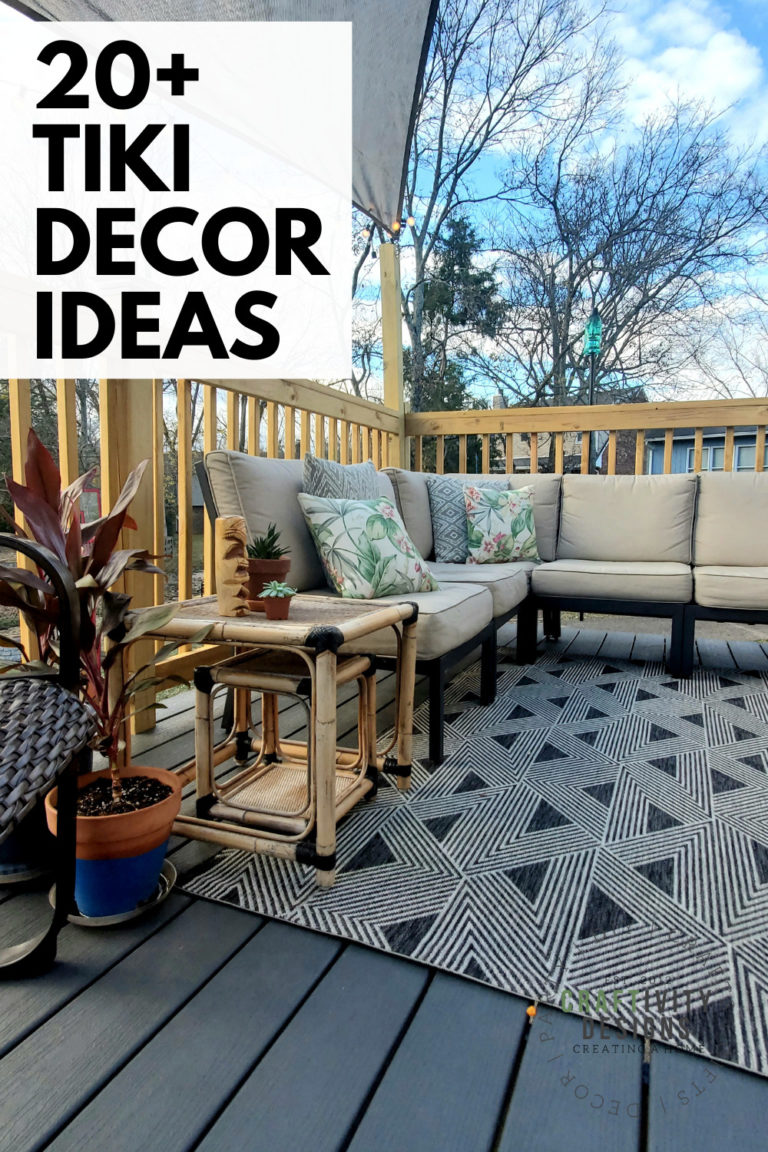 Disclosure: This blog post contains affiliate links for products or services.
Outdoor Tiki Decor
We recently renovated our deck and are injecting tiki culture into the decor. We started with a set of glass "king oahu" tiki torches and it has spiraled from there.
You might also like: 20+ Deck Tiki Torches for your Backyard
Now – while I like a fun, themed space – it often isn't practical. Just like our kids grow out of character-themed bedrooms, we can quickly grow tired of overly themed decor.
Temper themed rooms by choosing understated pieces and focusing on accessories (after all, it's easier to swap out your toucan throw pillow than to replace a palm-leaf print couch).
3 Rooms with Tiki Decor
Whether you prefer warm tones, cool tones, or neutral color palettes – I've got tiki room decor ideas that will fit your style. Let's take a look!
Bold and Bright Tiki Decor (Warm Tones)
Want a space big on color? Embrace the bold colors of the tropics by filling your space with reds, oranges, and yellows.
Use colorful fabrics in large-scale patterns and bright artwork to decorate the walls.
Choose solid color – but bold – furniture pieces that can work in any colorful room. An orange ottoman or emerald green couch would look great in this space.
Note: The full list is located at the end of this post.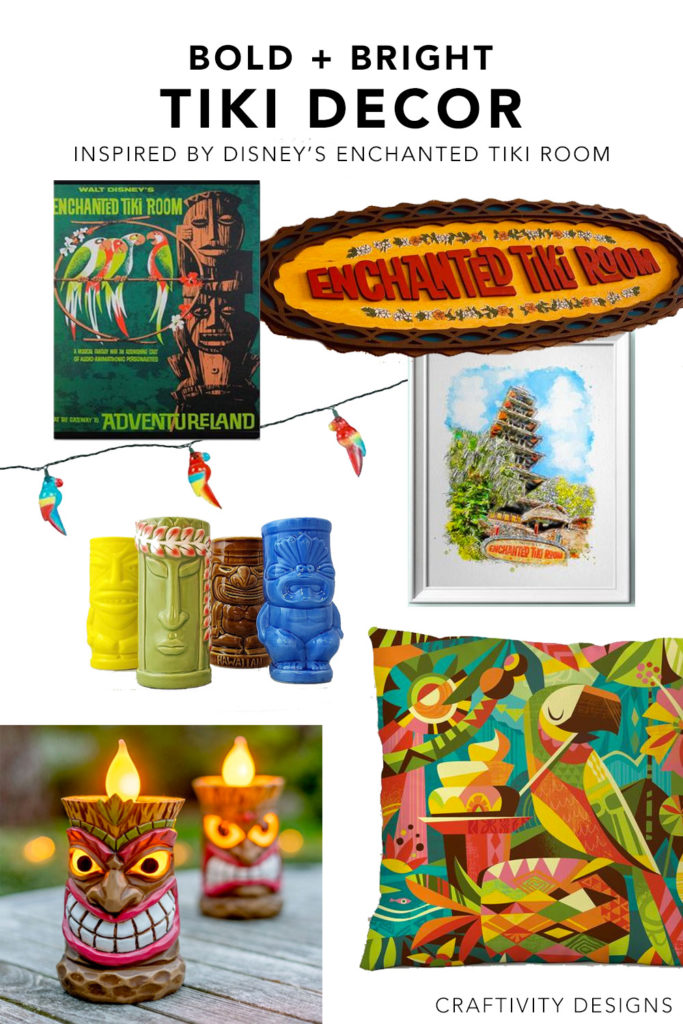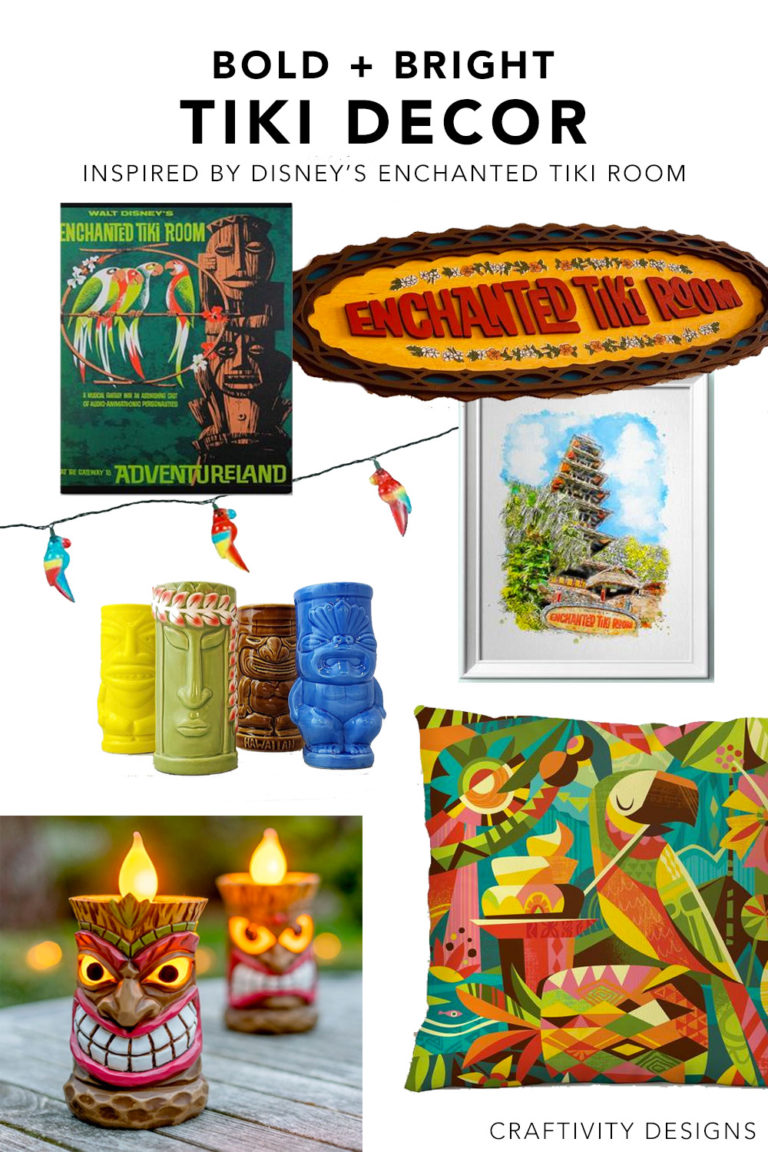 Poster / Sign / String Lights / Art / Mugs / Solar Lights / Pillow
Colorful Tiki Room Decor (Cool Tones)
Like tiki culture, but prefer cool tones? You can still create a stylish Polynesian space.
Choose décor with blues, greens, and pinks for a softer color palette.
P.S. If you like tiki-style, just go follow Mango Manor on IG, you'll find endless inspiration.
This tiki room decor would work well in a poolside lanai, echoing the color of the teal water.
Note: The full list is located at the end of this post.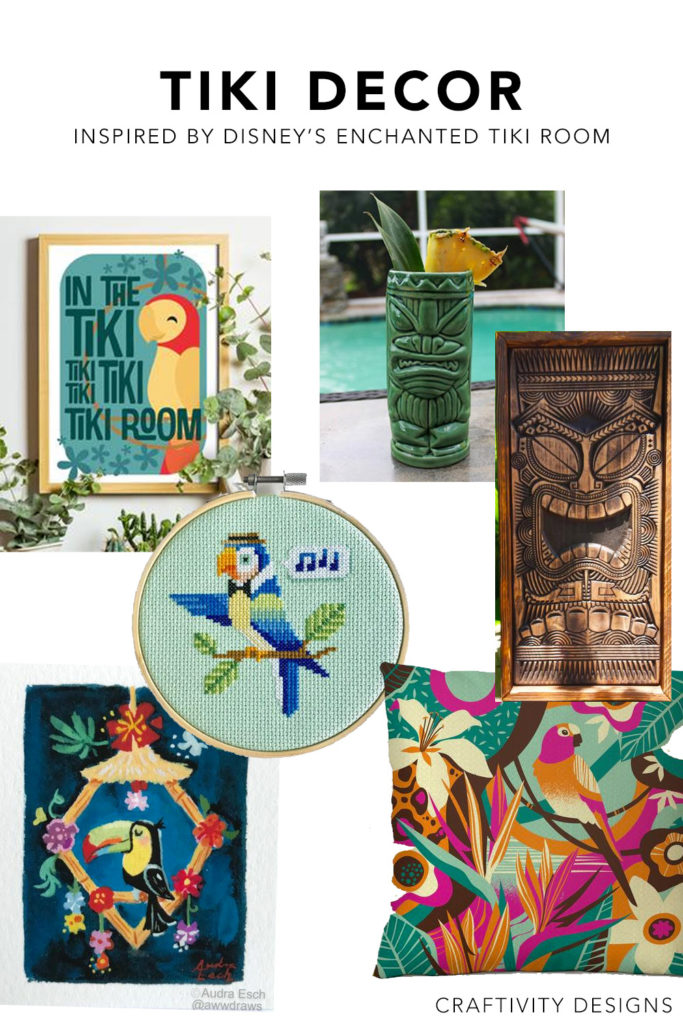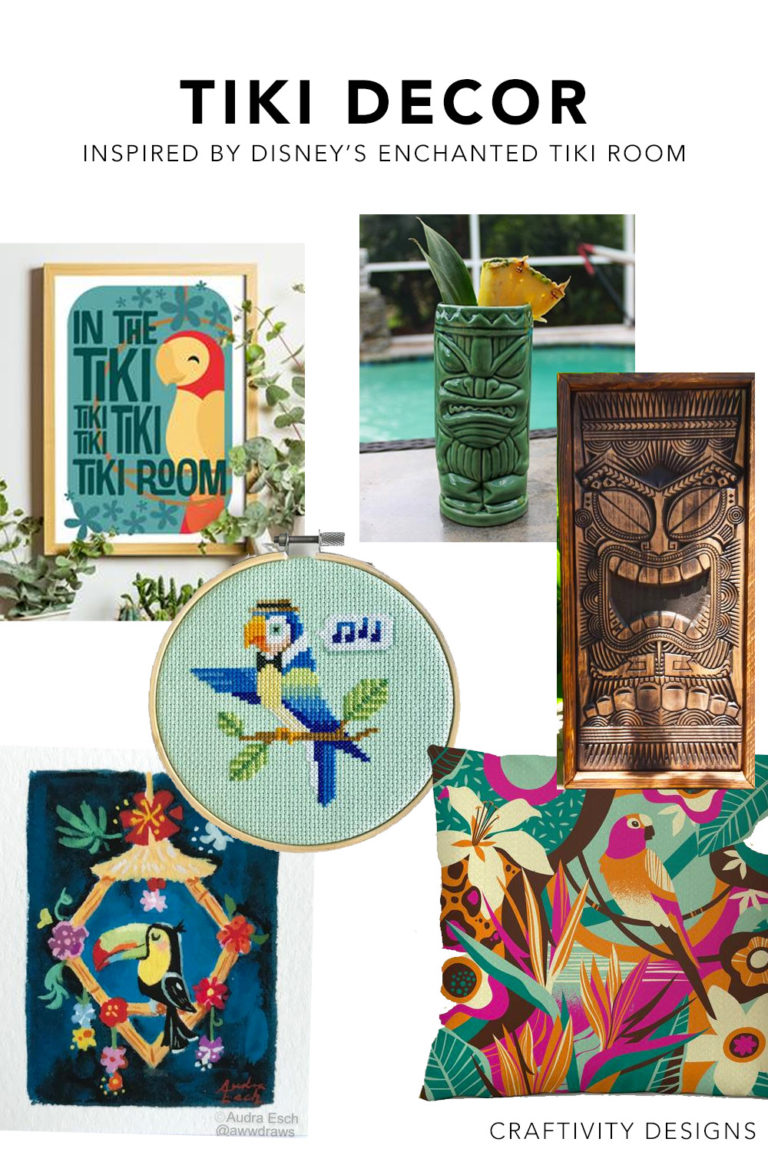 Poster / Mug / Wall Decor / Hoop Art / Print / Pillow
Neutral Tiki Decor
Is your home filled with neutrals? Well, your tiki room can be calm and muted, too.
Choose tiki décor in earth tones, such as greens, grays, and light browns.
Look for tribal prints and tiki statues, which are readily available in a neutral color palette.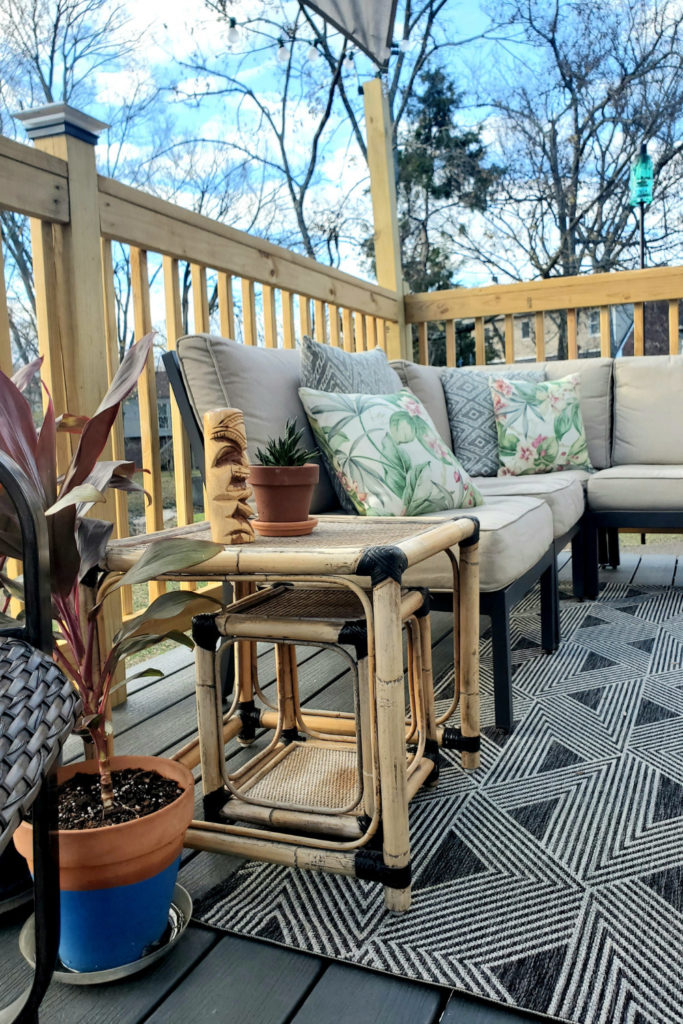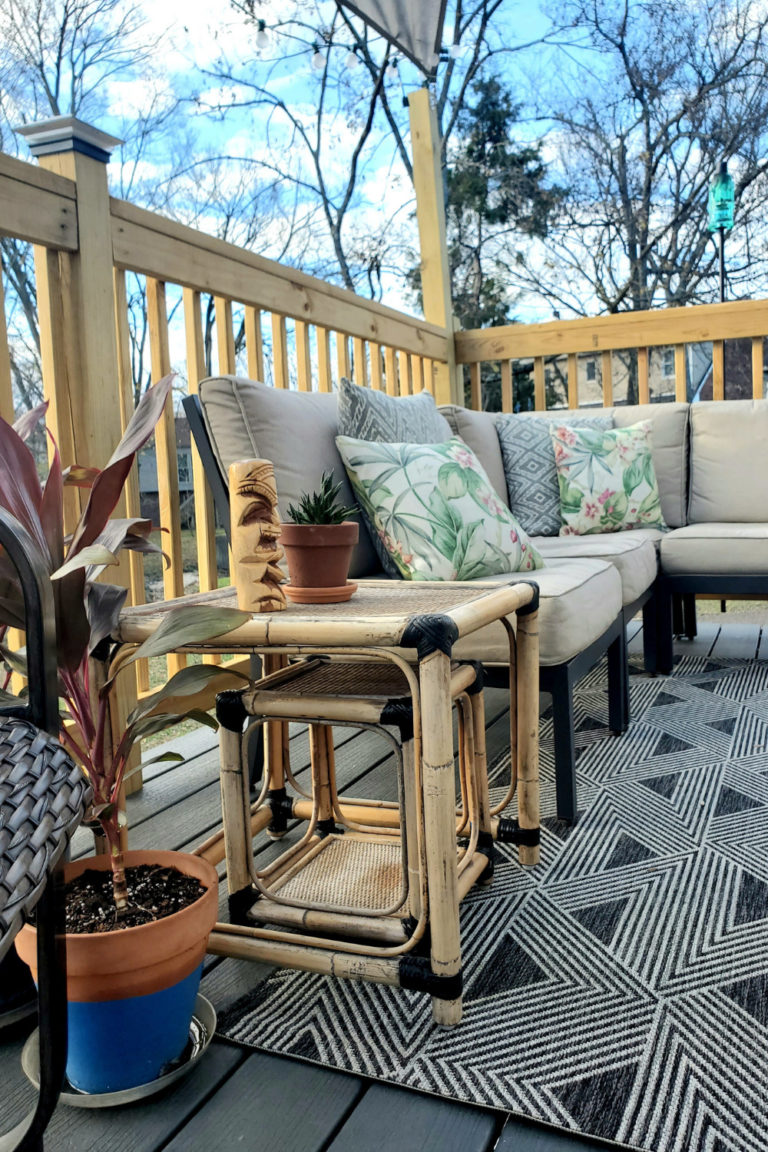 Incorporate natural textures, such as bamboo and seagrass to complete the space (learn how to restore bamboo and rattan vintage furniture).
Note: The full list is located at the end of this post.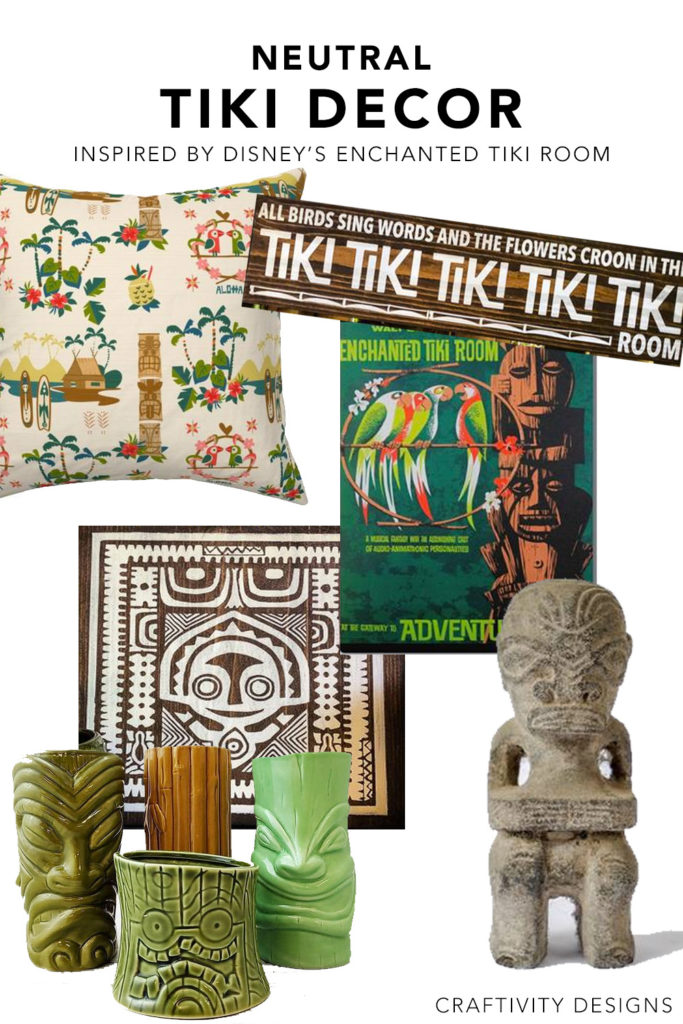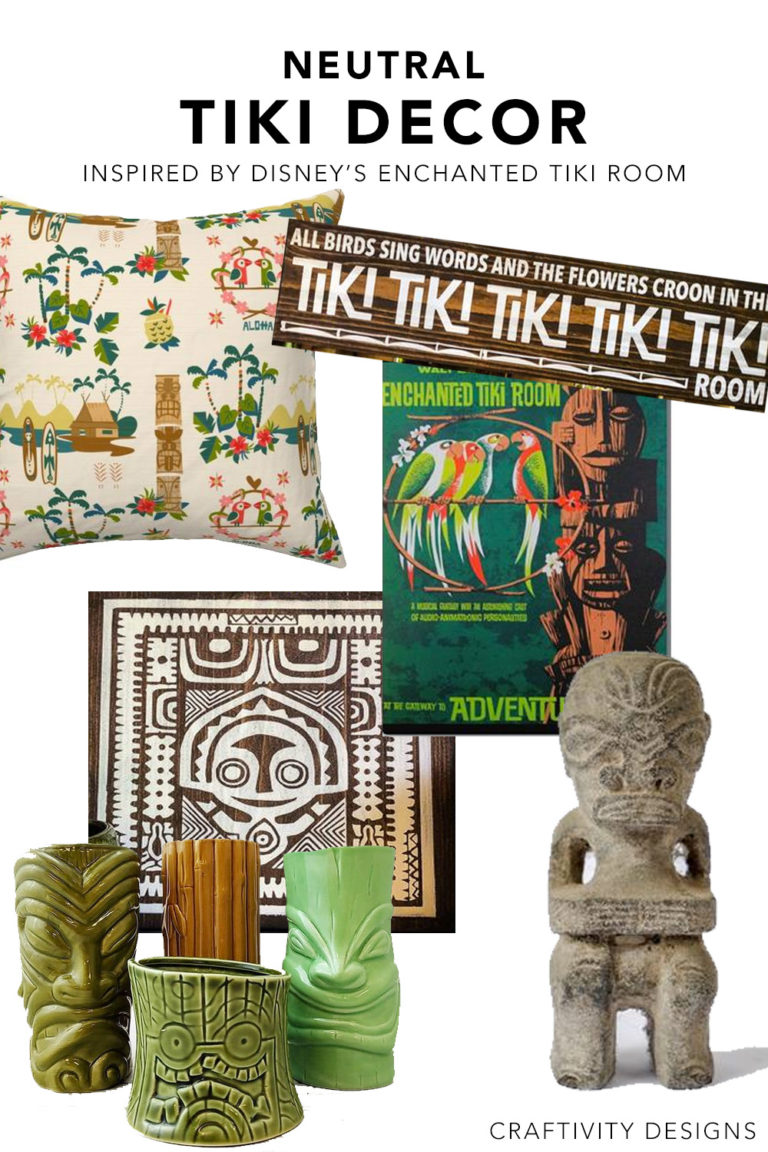 Pillow / Sign / Poster / Wall Decor / Statue / Mugs
20+ Tiki Decor Ideas (inspired by Disney's Enchanted Tiki Room)
Now that we've discussed 3 different tiki room styles – let's take a look at all of the tiki decor ideas. Whether your a huge Enchanted Tiki Room fan, or just looking to inject a bit of tiki culture – you're sure to find a pick!
Tiki Decor Ideas (inspired by Disney's Enchanted Tiki Room)
If you liked these decor ideas, you might also like:
Like this decor idea? Pin it to save it!