This post may contain affiliate links.
This post has been sponsored by At Home, but the opinions expressed are 100% my own.
Finally, we are enjoying cooler weather, here, in Kentucky. How about in your neck of the woods? Last week, I took advantage of the crisp fall temps and finished much of the outdoor decorating. Now, our home is full of rustic and natural fall home decor… and I can't wait to share it with you! Plus, there are 8 other home tours to check out at the end of this post.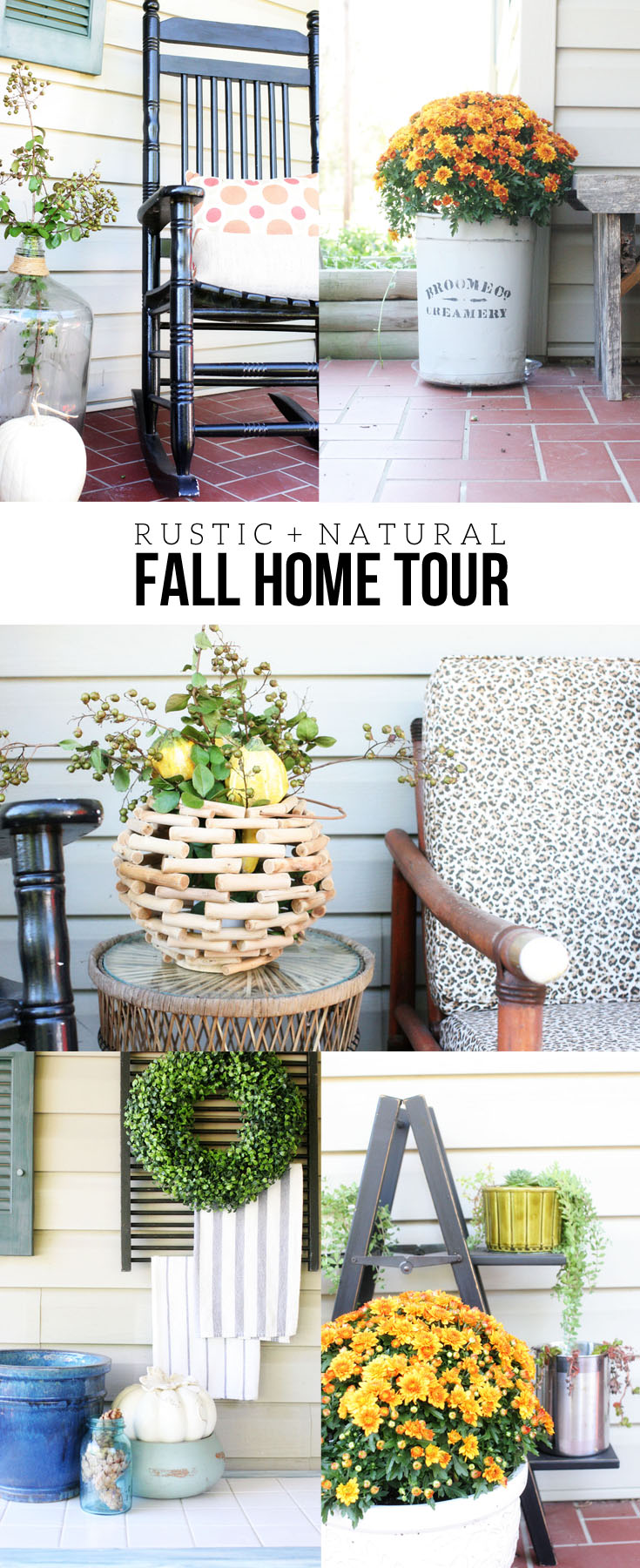 You all must pop over to see the DIY Magnolia Wreath hanging on our front door — compare how it looked two weeks ago versus how it looks now. The leaves have dried into a muted green and the edges of the leaves have curled inward, similar to the trees in our backyard that will be changing throughout the fall season.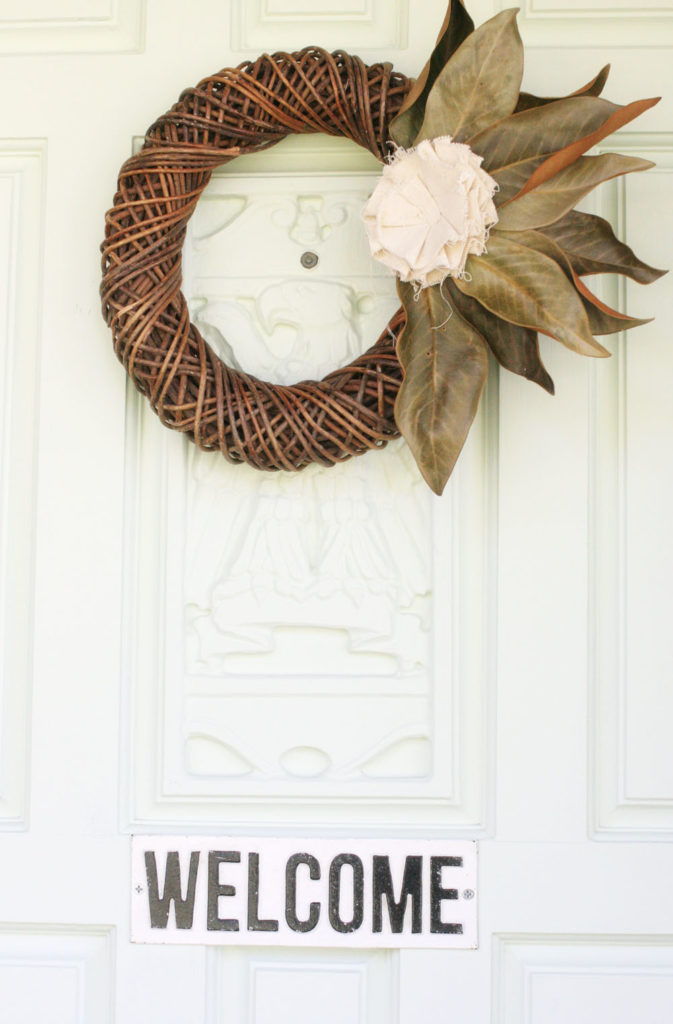 This simple wreath set the tone for our fall decorating. I paired natural items like branches, pinecones, and pumpkins with earth-tone colors and rustic textures. Unlike the summer tour, which was full of rich color, our fall home tour feels quiet, warm, and cozy.
---
PORCH DECORATING IDEAS
Our long front porch is anchored with a seating area. Two black rocking chairs flank a loveseat, typically softened with palm leaf fabric pillows. However, palm leaves don't really fit the autumn vibe. So, I switched out the summery pillows for fall colors and burlap texture. My rule of thumb for pillow shopping is to purchase covers — not entire pillows — because covers are easy to fold and store.
I tossed a knit throw over one of the rocking chairs to add cozy texture. Textiles are one of the most inexpensive ways to decorate for the seasons. This blanket is typically on the back of a chair in our entry way but I brought it outside for cool, fall evenings.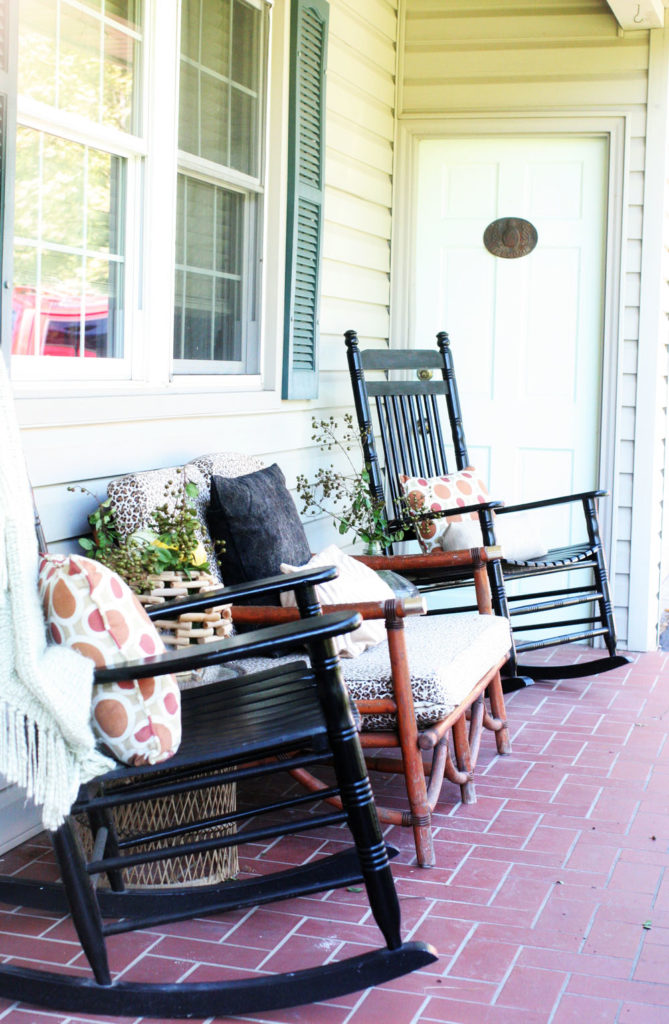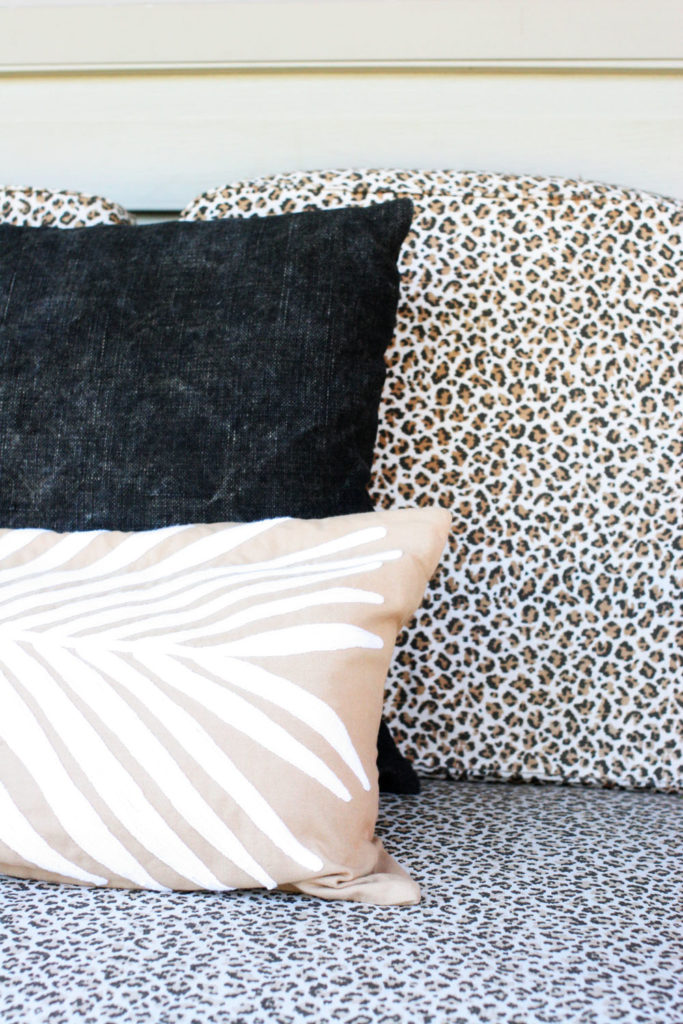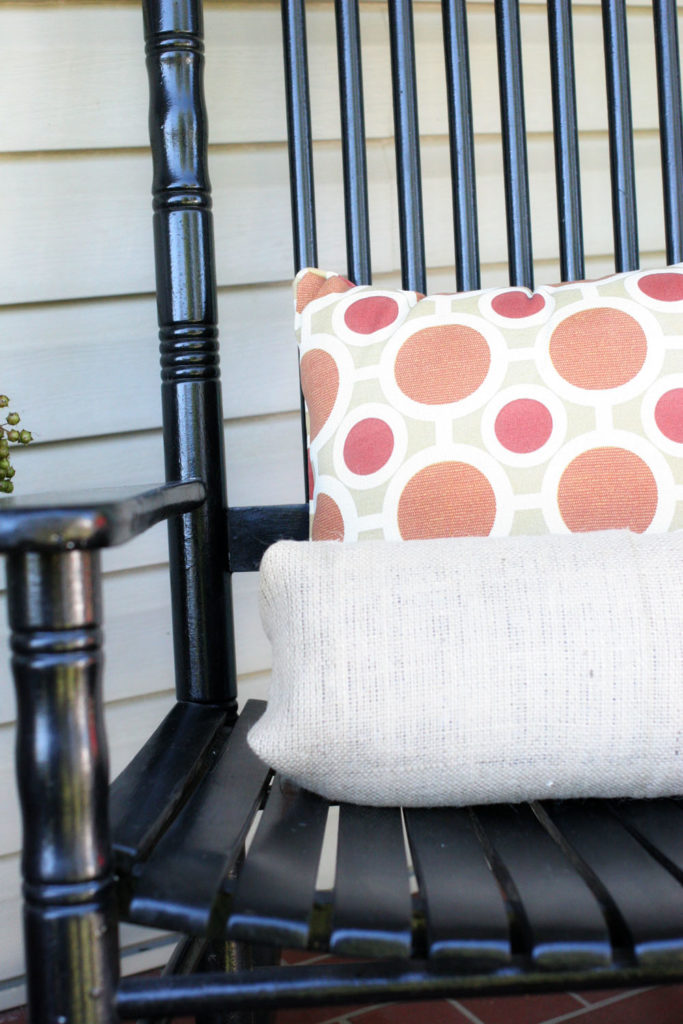 I picked up a gorgeous driftwood lantern from At Home and filled it with clipped branches and bright gourds. It's a floral and fruit bouquet, perfectly placed on a wicker side table set between the loveseat and rocking chair. At the other end of the loveseat is a large demijohn bottle, also filled with branches. Take a walk around your yard and find natural elements to use in fall decorating.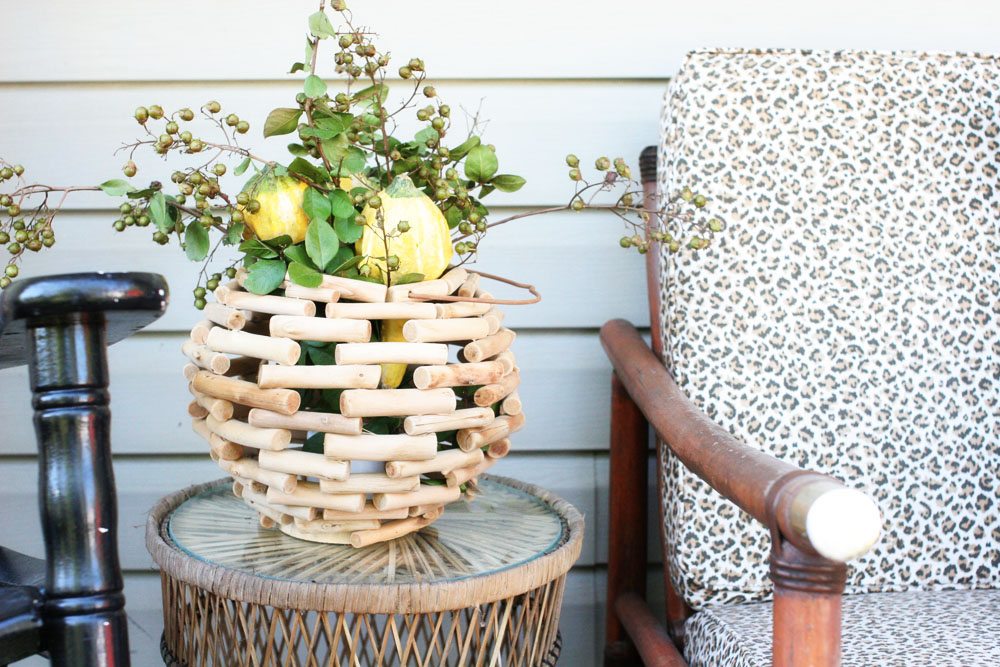 Driftwood Lantern, $30, At Home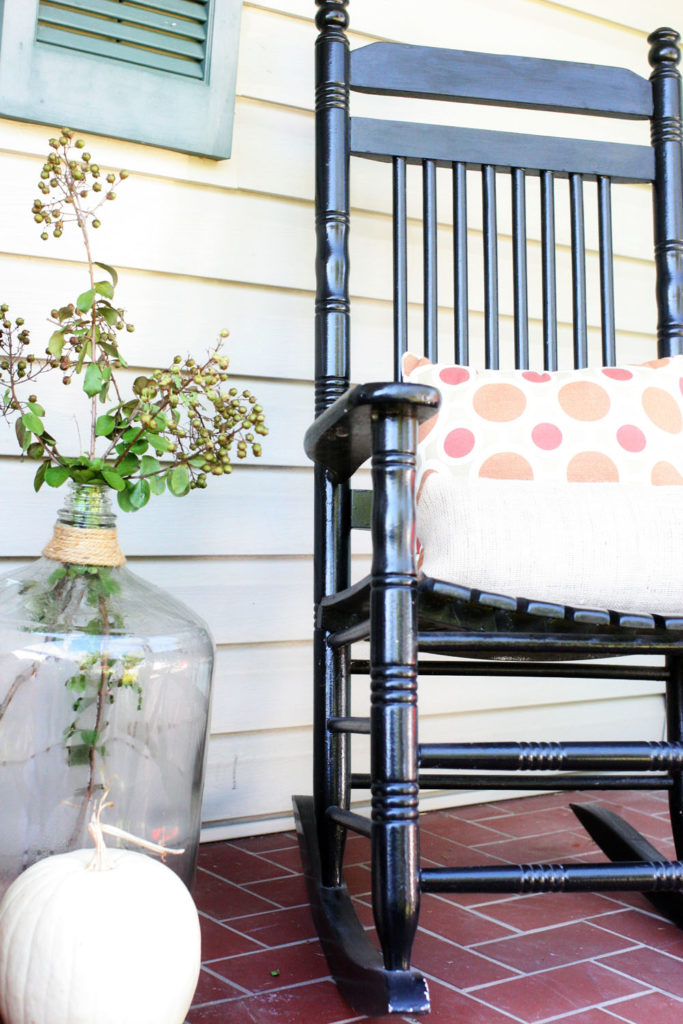 At the other end of the porch, I keep a rustic barn wood bench. It sits left of the door as a spot to slip on shoes. A collection of Mums, succulents, pumpkins, and gourds fill the space. No fall porch is complete without a visit to the local gardening center for an array of colorful pumpkins and Mums.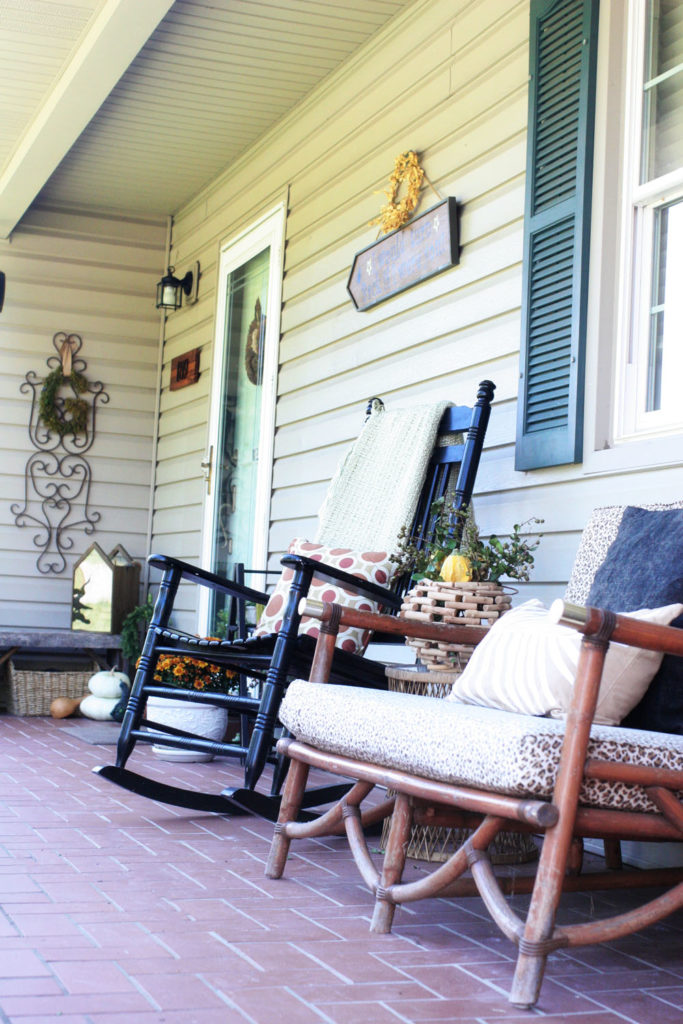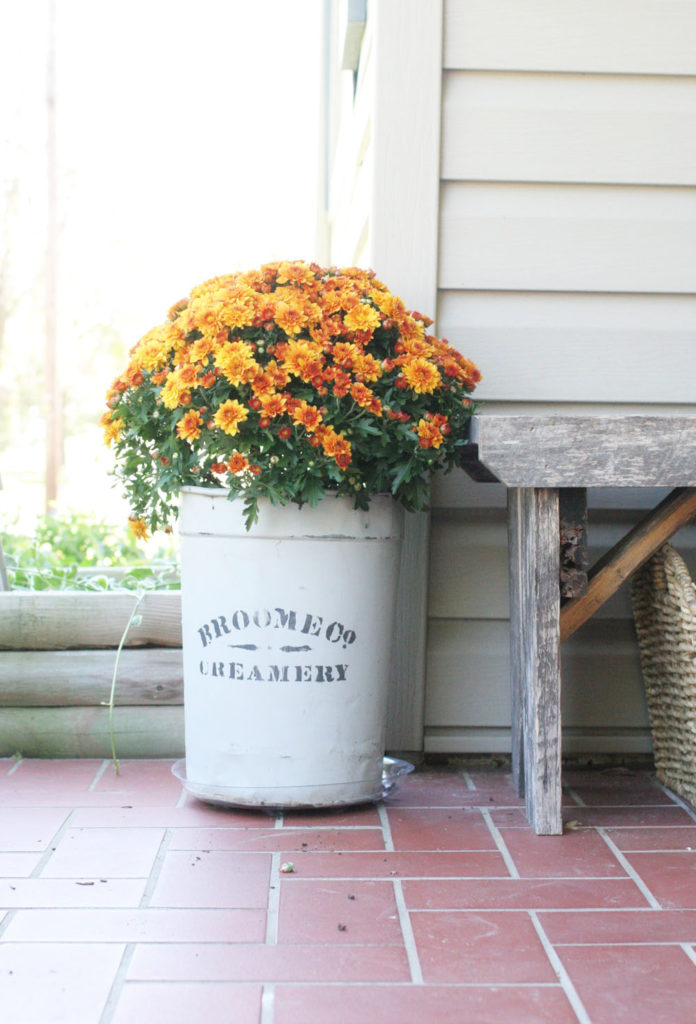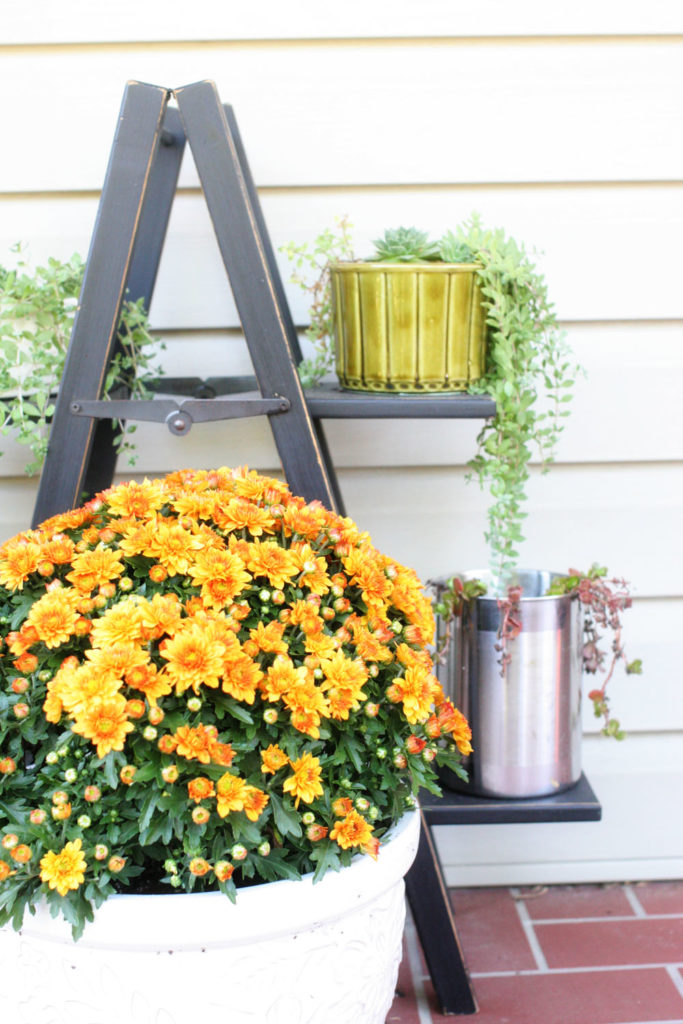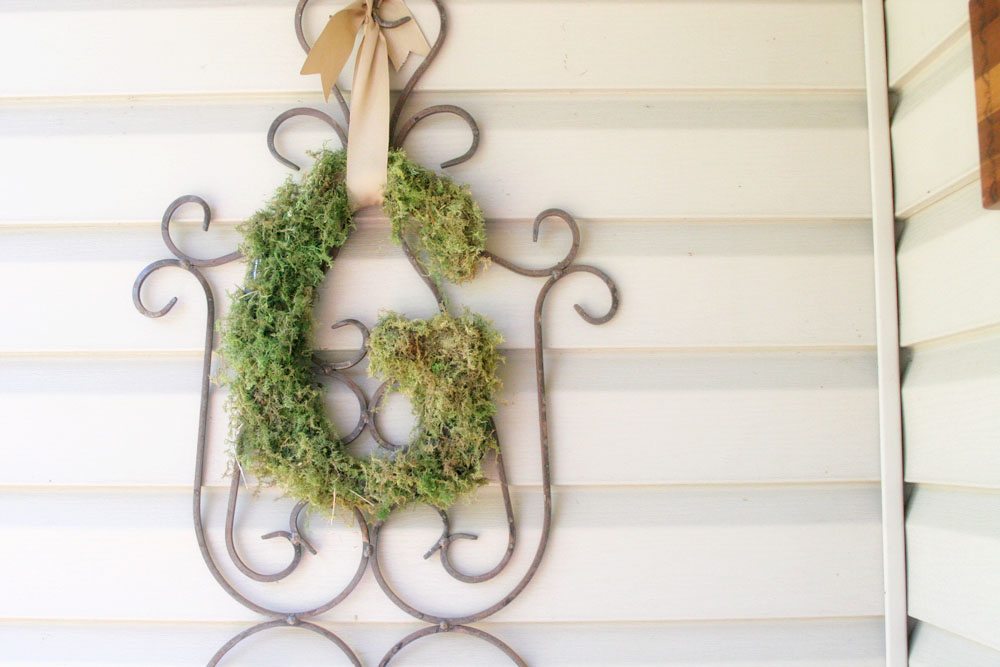 Layer natural elements and don't worry much about matching. I've set a stained wood lantern from At Home atop a gray-toned barn wood bench and wicker basket. A mix of woods, textures, and neutral tones is a reflection of what we actually find in nature, making this autumn vignette warm and organic.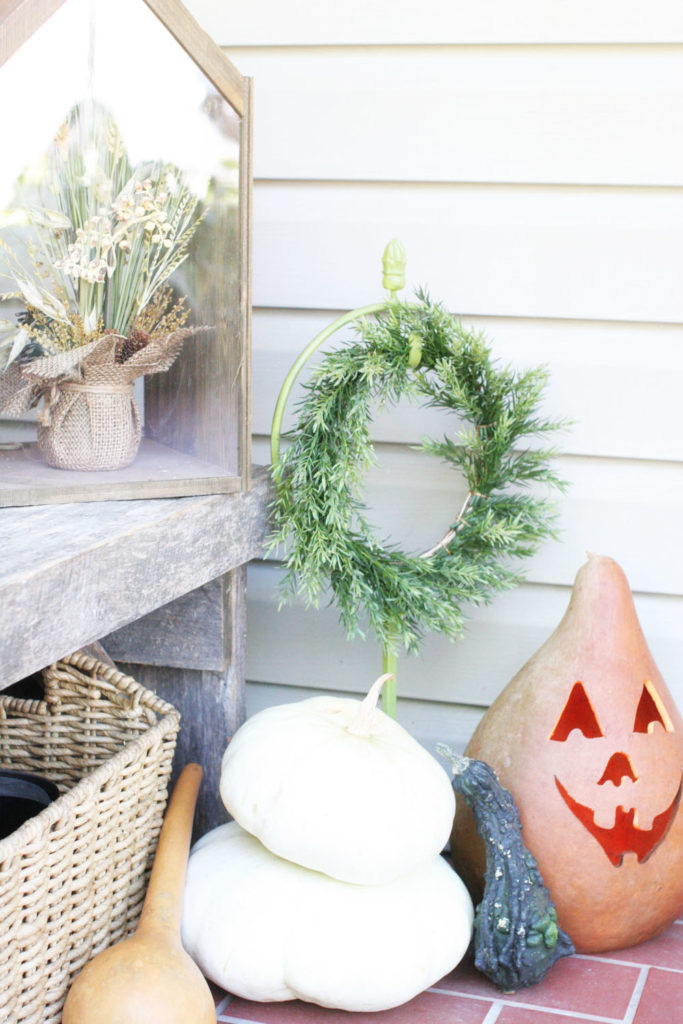 Wooden Lantern, $35, At Home
Fall Florals in Burlap, $6, At Home
---
DINING ROOM DECORATING IDEAS
If you've read my blog long, you've seen the dining cabinet many times — most recently in the summer tour. For fall, I removed the blue accents in favor of a neutral color palette. A set of woven placemats tucked in around the white china was a simple solution to add warmth and texture.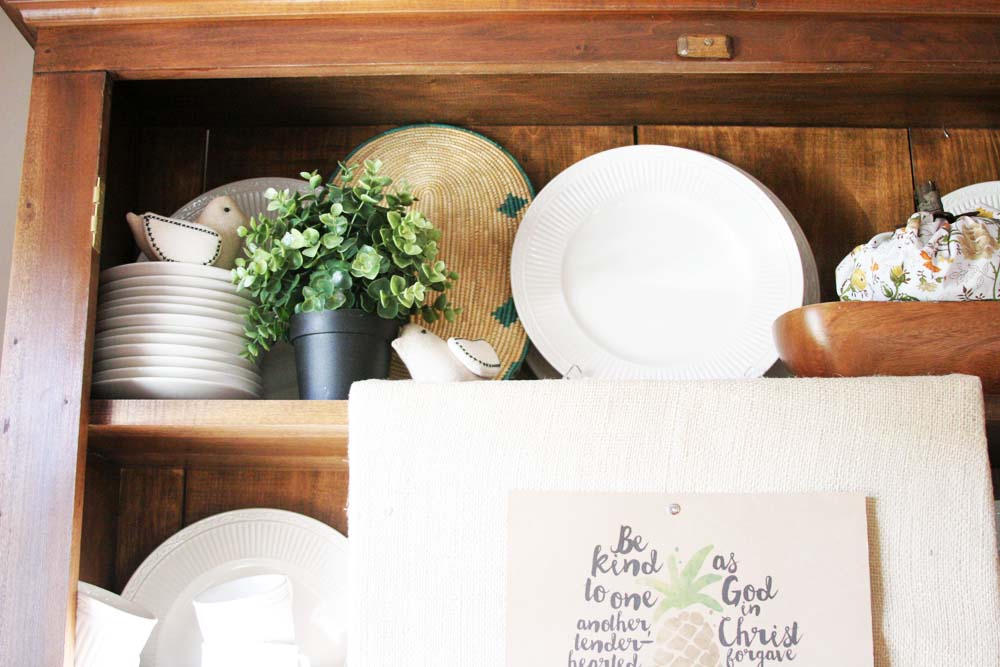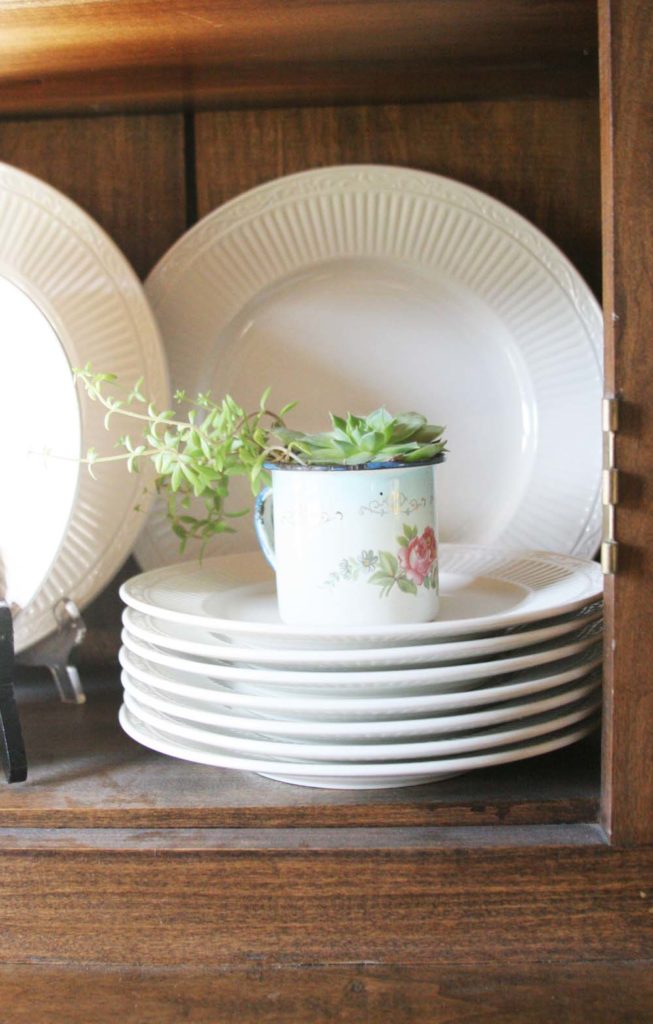 The dining room cabinet, mantel, and table are each home to fabric pumpkins, mixed in with other natural elements like driftwood and succulents. As an easy centerpiece, I filled a bamboo tray with pumpkins and brass candlesticks.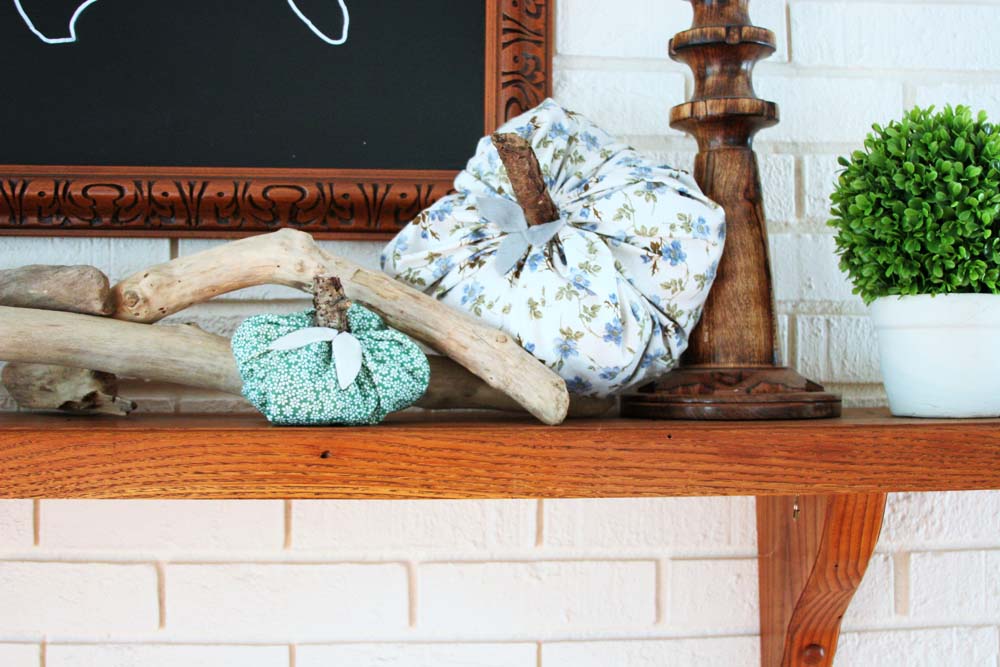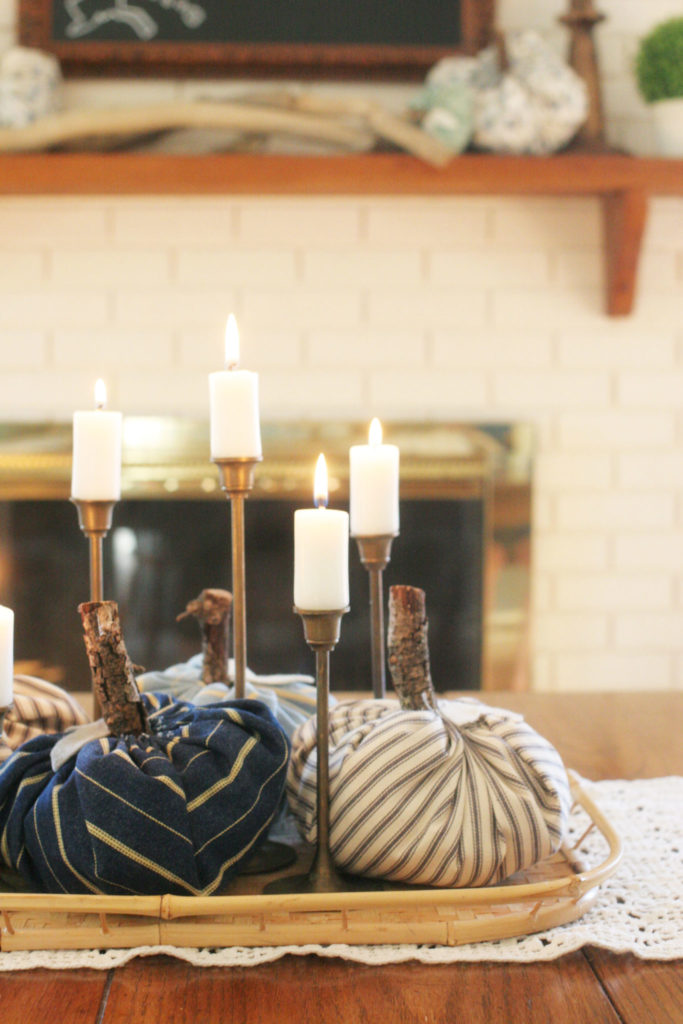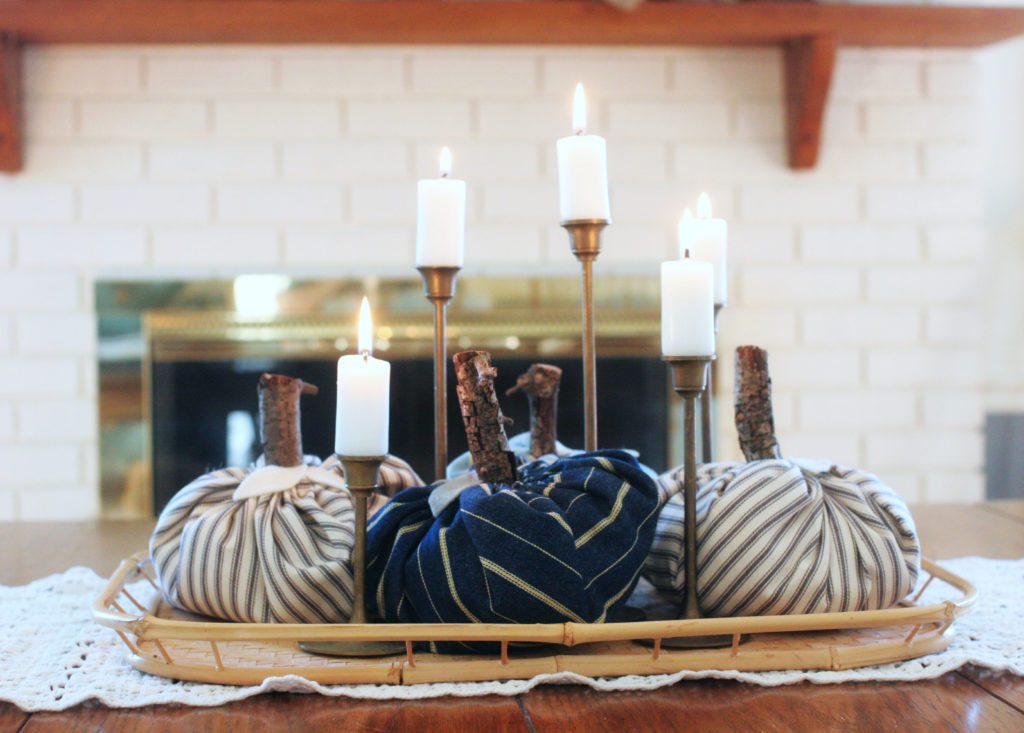 ---
LIVING ROOM DECORATING IDEAS
Fall decorating doesn't have to be complicated, a few simples pieces can make a big difference. In the Family Room, I wanted to pull in some warmth and texture. On one side of the television, I stacked books, a small ceramic pumpkin and a small faux plant atop the DVD player to camouflage it a bit. Next to the stack of books is a woven grass basket from At Home which holds remotes and phone chargers.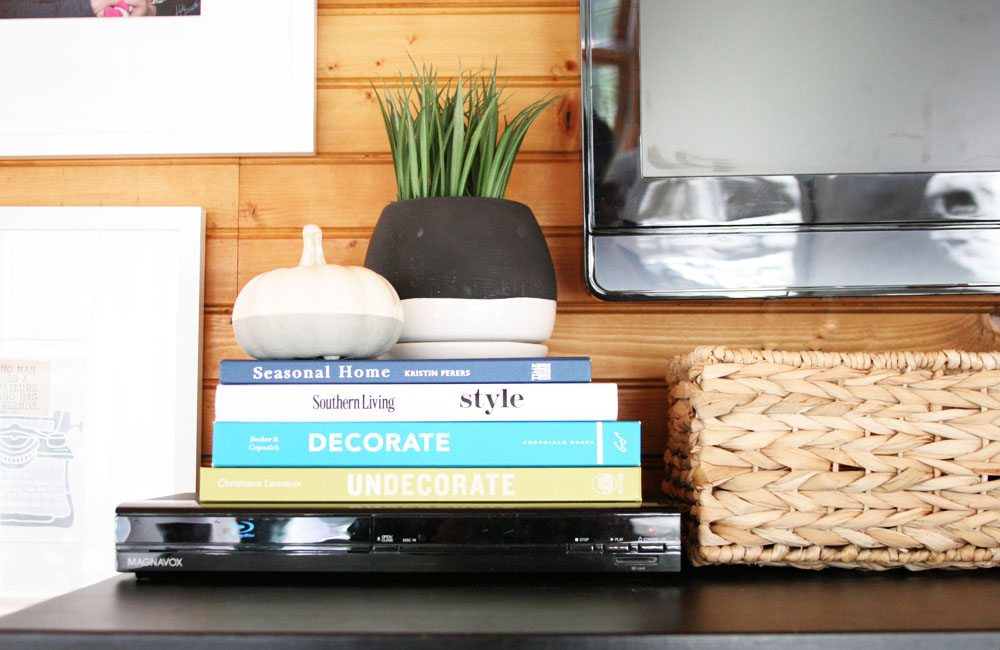 Gray and White Pumpkins, $5, At Home
Black and White Planter, $18 on sale, At Home
Faux Plant, $8, At Home
Woven Grass Basket, $8, At Home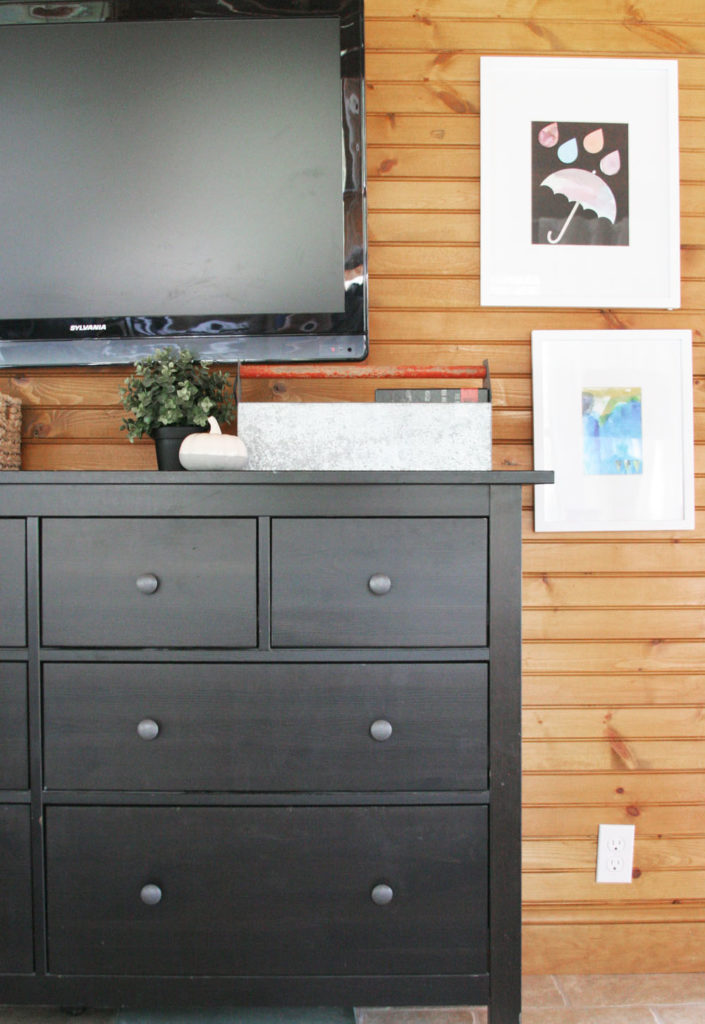 On each side of the couch are gray and white pumpkins from At Home. The small pumpkins give a simple nod toward autumn without decorating an entire room. I also placed a fall picture in the front of our Instagram photo holder.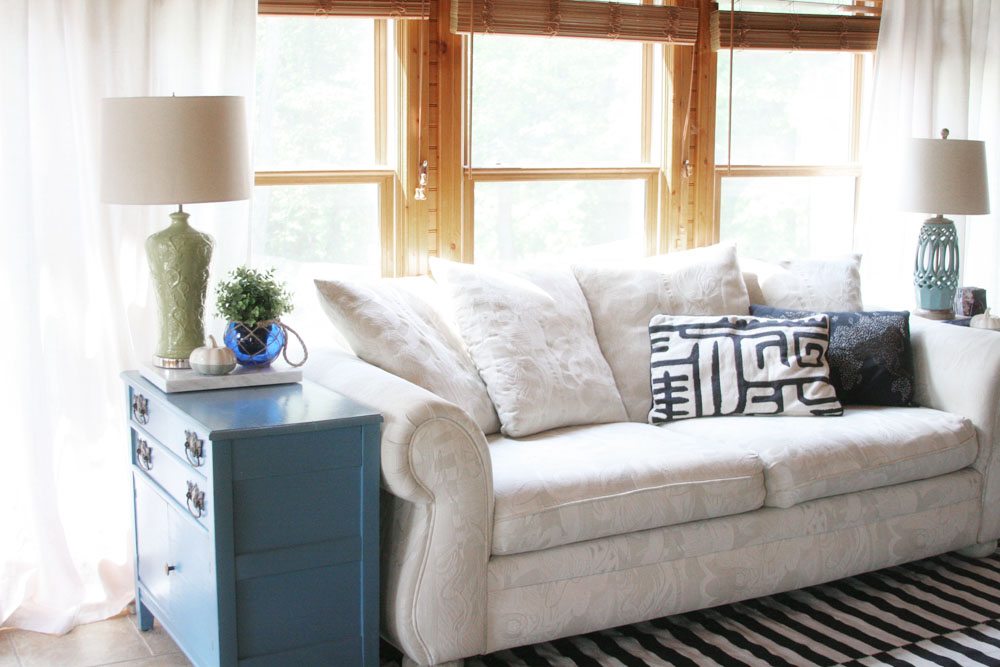 ---
PATIO DECORATING IDEAS
The heat of August has caused me to look forward to being back out on the deck during cooler weather. It seemed fitting, then, that I add some autumn warmth on the deck, too. I picked up two wreaths from At Home; a succulent wreath and boxwood wreath. The succulent wreath seemed incredibly affordable at $20 and I love how it looks hanging on the door.
In front of the door is our patio table, covered with a deep green tablecloth which balances the summery teal tones in this space. If you don't want to swap out the normal color palette in a space, balance it with season-appropriate colors for an autumnal feel.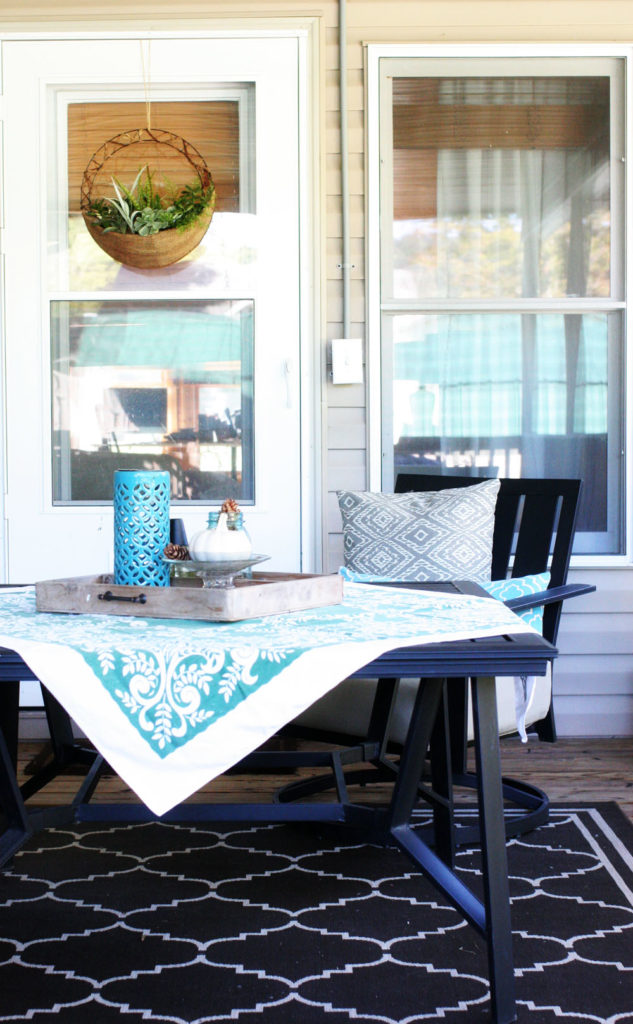 Succulent Wreath, $20, At Home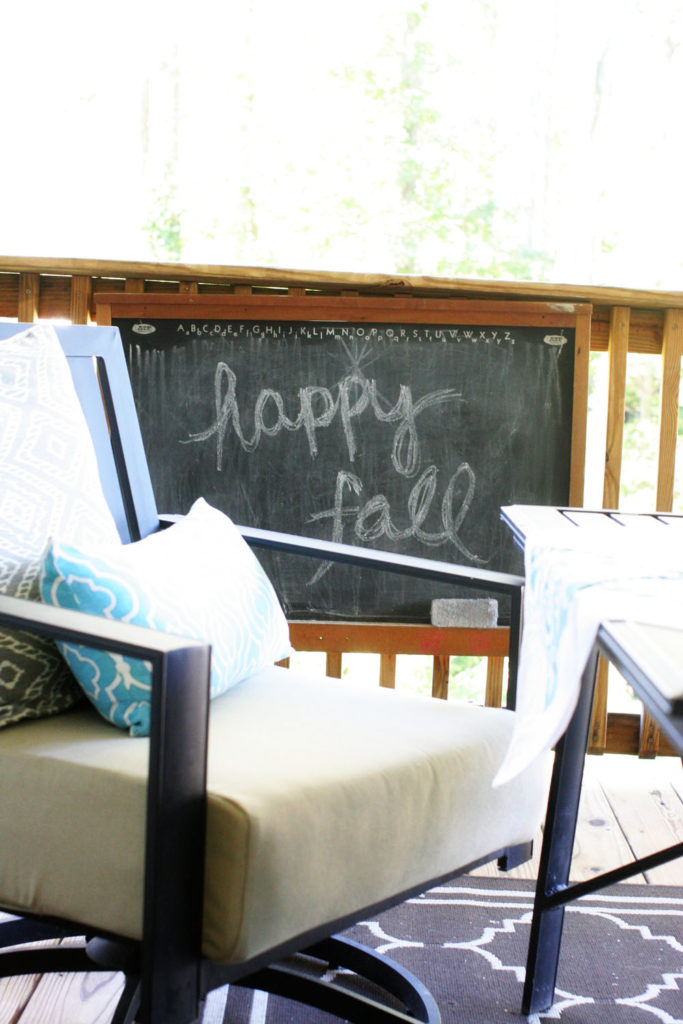 The boxwood wreath helps frame the space above our outdoor serving bar. The natural wreath is paired with a ceramic pumpkin and pinecone-filled mason jar. On the patio table, you'll find more pinecones and another ceramic pumpkin on a warm, stained-wood tray.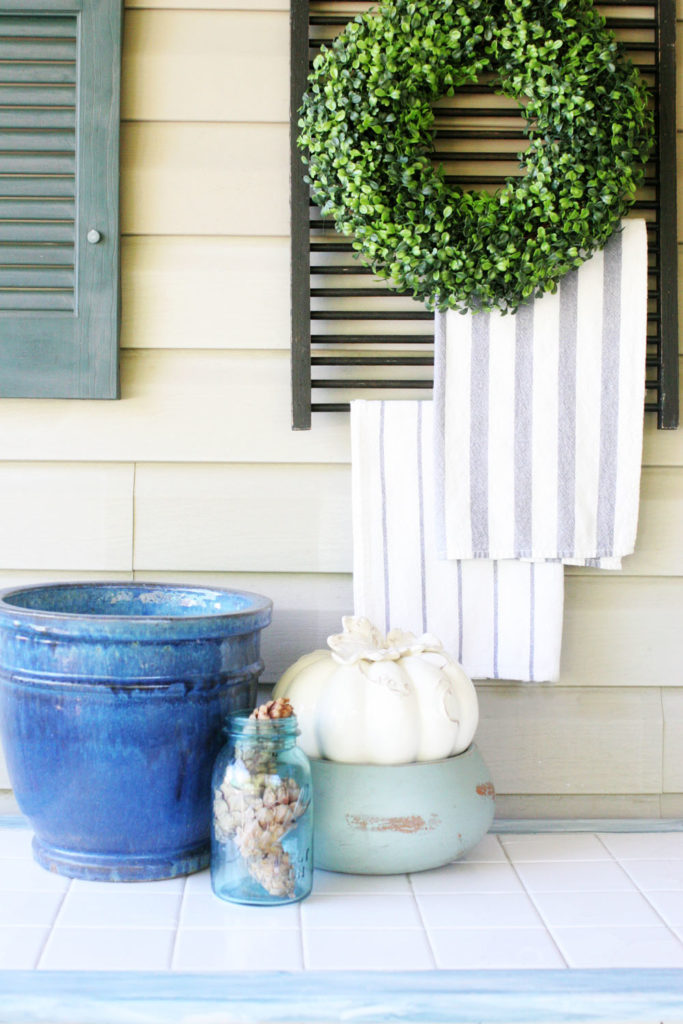 Boxwood Wreath, $15, At Home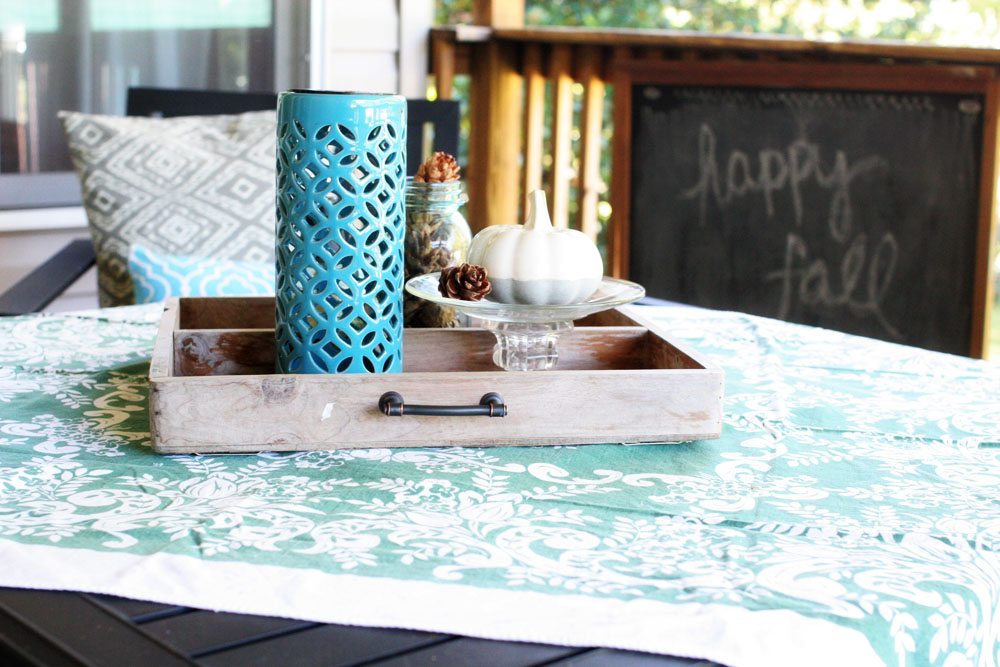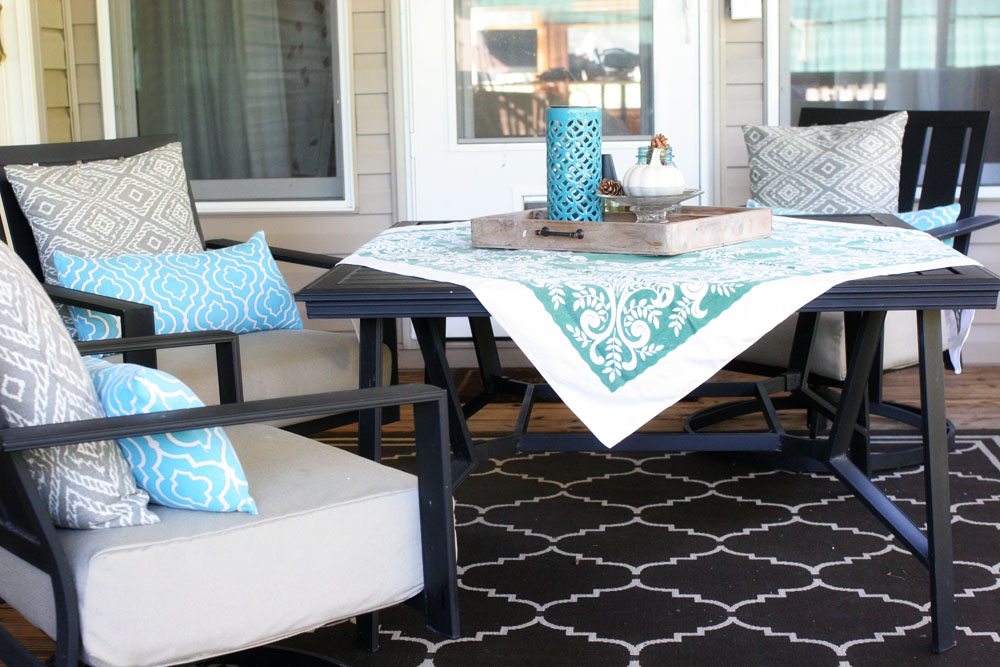 ---
Have you done any decorating for fall? I'd love to hear about how you like your home to feel during this time of year.
Thanks so much to At Home for sponsoring this Fall Home Tour Blog Hop. Our home feels warmer and cozier, filled with rustic and natural elements. Make sure to visit the rest of the homes for more fall decorating ideas.

At Home with Zan // Making Joy And Pretty Things // An Alli Event

Restyle It Wright //  Intelligent Domestications // The Road To Domestication

Thrifty To Nifty // Craftivity Designs // Sunshine And Munchkins