I really like the look of Vintage Botanical Charts but hadn't come across them in thrift stores or flea markets. I love these examples below, but authentic charts are definitely out of my price range.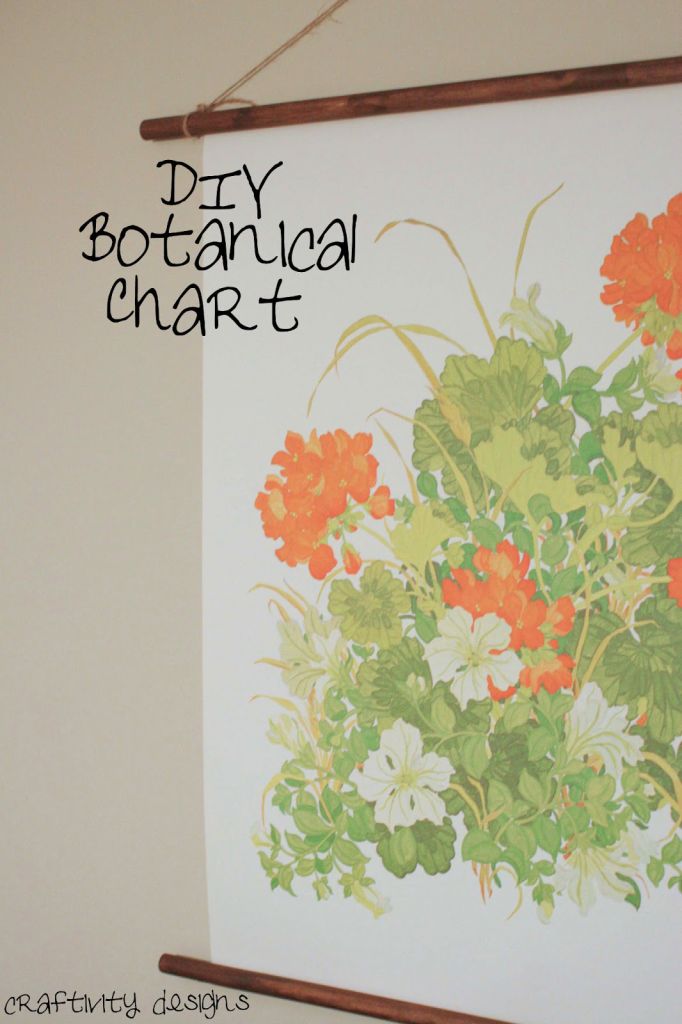 Disclosure: This page includes affiliate links.
However, on a recent trip to a flea market in Lexington I came across this botanical-style poster for $2. I liked the colors and thought it might look nice in our guest bedroom.
Instead of sticking it in a frame, I thought I'd try to turn it into a Botanical Chart. The paper had a nice texture, which I thought would make it even better suited for this DIY project.
To create the chart effect, I purchased 2 dowel rods at Michaels for about $1 each. Mike cut them down to length and then I applied some dark stain (by the way — if you don't have those little red painter's pyramids, you can get them here. they. are. wonderful.)

I reinforced the back of the print with some heavy duty tape prior to stapling the print to the dowel rods. I also used a few thumbtacks to hold the print in place while I stapled.

As a final touch I used some twine to hang it up. I love how it looks hanging in our guest bedroom. I'm not sure if it will stay in this spot yet, I like the scale of the print over my mini-office, but I like my little bird print too.
For less than $5 I was able to recreate a look I love – that could have cost me over $100!
Speaking of saving money – Erica and I are so excited to share that during the month of February we are planning a special series all about recreating items from Anthropologie. We just love that store, but can't afford all the great items that we'd love to have.
What item would you like to have that is out of your price range? How could you recreate it?