Learn how to make a DIY Link Costume with a shield and sword. Perfect for Zelda Breath of the Wild fans, this costume is sure to be a hit!
Embrace the Zelda Breath of the Wild trend with a DIY Link costume. The combination of the tunic, sleeve wraps, waist bag, shield, and sword brings your Link character to life! This is an easy cosplay costume that you can make for Halloween or year round.
Disclosure: This page includes affiliate links.
In this tutorial, I'll show you how to make a cost effective and eco-friendly Link Costume. It's perfect for Halloween, cosplay, or pretend play for kids, teens, and adults alike. Kids and adults of all ages love Zelda Breath of the Wild, and now you can bring this character to life with an easy DIY costume idea.
Link Halloween Costume with Accessories
My son and I enjoyed working together on this Link Halloween costume which includes a DIY Hylian Shield and DIY Master Sword, too!
The leather details are what really bring the costume to life. We took a trip to our local thrift shop and collected all of the leather goods. Here's what we bought:
slouchy-style leather handbag
2 leather belts
pair of leather boots
Buying leather second-hand is both budget-friendly and environmentally-friendly. Rather than buying a cheaply-made costume form a Halloween store, we are repurposing a well-made product.
Plus, my son enjoyed helping pick out these key pieces for his Link Breath of the Wild costume.
How to Make a Link Costume
For this costume, you'll need some leather supplies. Make it cost-effective by shopping for leather belts and bags at a local thrift store.
Once the costume is complete, you can also learn how to make the Hylian Shield and Master Sword, which are each in a separate post.
Supplies
blue t-shirt (purchase a size or two up so that it is tunic length)
white fabric
leather handbag
2 leather belts (1 for the sword holder and 1 for the waist bag)
scrap leather
cardboard (used to stabilize the shirt while painting)
thermal underwear set (for Link's pants and undershirt)
leather boots
Tools
ruler
fabric markers (orange and green)
safety pins
thread and needle
fabric scissors
Instructions
Paint the design on Link's tunic
First, place your scrap cardboard inside the shirt to stabilize it. Then, using the white fabric paint pen, draw Link's tunic design on the shirt. Use a ruler for straight lines. Let it dry.
Cut the sleeve wraps for Link's undershirt
Next, you will need to cut 4-inch strips of white fabric using a rotary cutter and cutting mat.
Decorate the sleeve wraps
After you've cut your strips, draw the green and orange designs using your fabric markers and a ruler.
Wrap the sleeves around Link's undershirt
Next, wrap the strips around the thermal undershirt sleeves. Use a safety pin to secure them to the shirt.
Make the leather waist bag
To make your leather waist bag, cut the strap off your handbag using fabric scissors.
Then, cut three 3.5-inch strips of scrap leather from the strap. Attach the strips to the back of the handbag with a needle and thread to make loops.
Put the waist bag on a belt
Now, slide the loops of your waist bag onto a leather belt. The waist bag is complete for your Link costume.
Measure the sword holder
Using the other belt, place it over the child crossbody style. Buckle it to determine the correct size. Then, place marks in two locations on the back to attach loops for the sword.
Make the sword holder
After you've determined the location of the loops, cut two 6-inch strips of scrap leather. Attach the strips using a needle and thread to make loops. Slide the sword through the loops.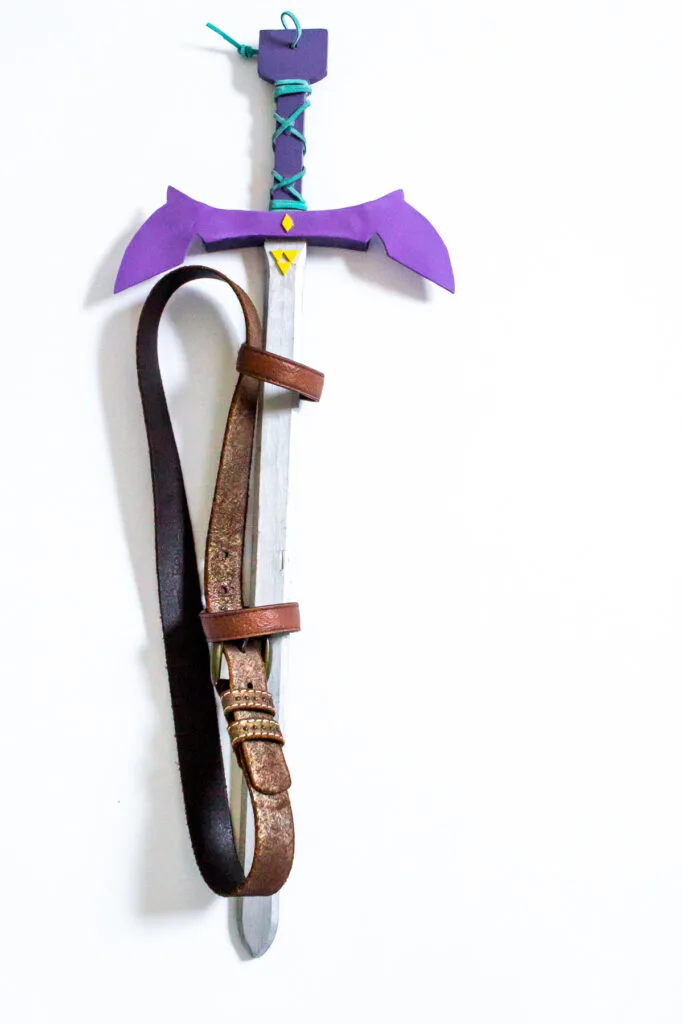 Finish the costume
Finally, have your child put on the thermal underwear set as Link's pants and shirt. Place the tunic on top of the thermal undershirt, attach the waist bag and sword holder, and add a pair of leather boots to make the look complete.
Link Zelda Costume
You could easily run to the store and buy a Link Zelda costume, but the beauty of making your own is that you can use the thermal underwear, boots, and belts for a different time.
Plus, this costume is going to be much more durable than a store-bought option, so you can get multiple uses out of it. It makes a great option for Halloween or for cosplay throughout the year.
If you liked this easy DIY costume, you might also like:
Want to save this DIY Link Costume for later? Pin it!