Learn how to do mermaid makeup for kids. Perfect for a mermaid Halloween costume, this makeup tutorial is quick and easy!
Will you have a little mermaid this Halloween? If so, don't stop with the costume! Your child will love shiny, glittery, mermaid makeup to finish off the costume (and its simple and quick!).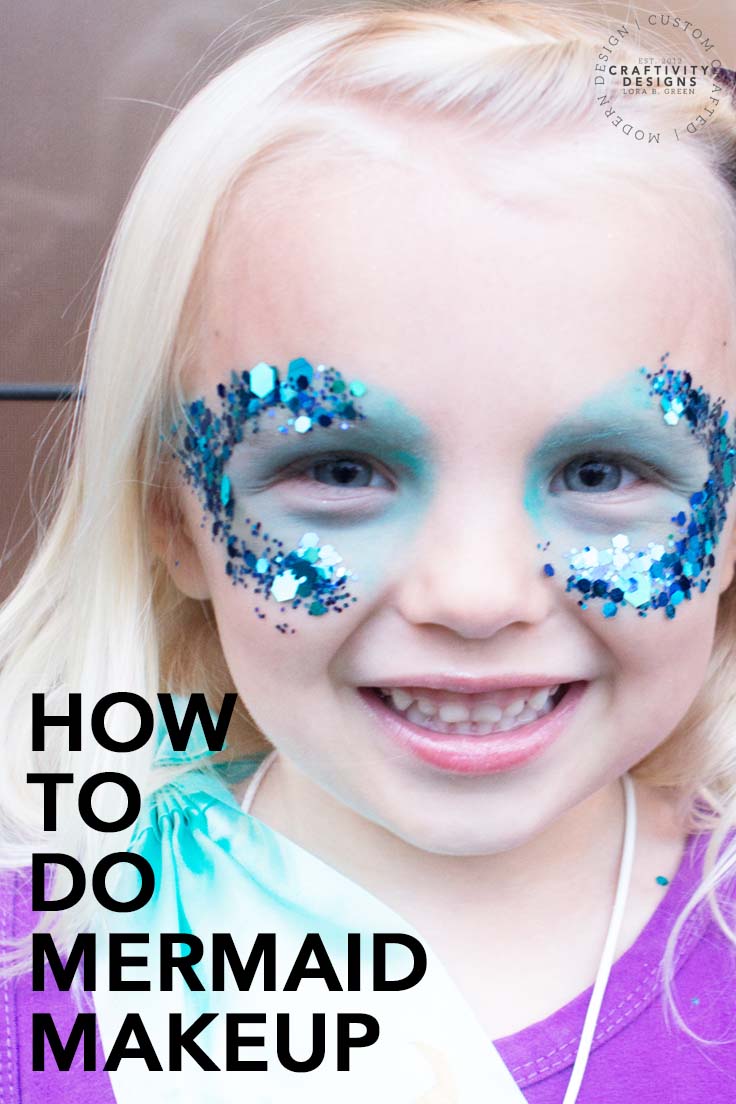 Like many preschoolers, my daughter is a fan of all things shiny and mermaid! When we visited Disney World last year, we took her to the Pirate's League for a Mermaid makeover.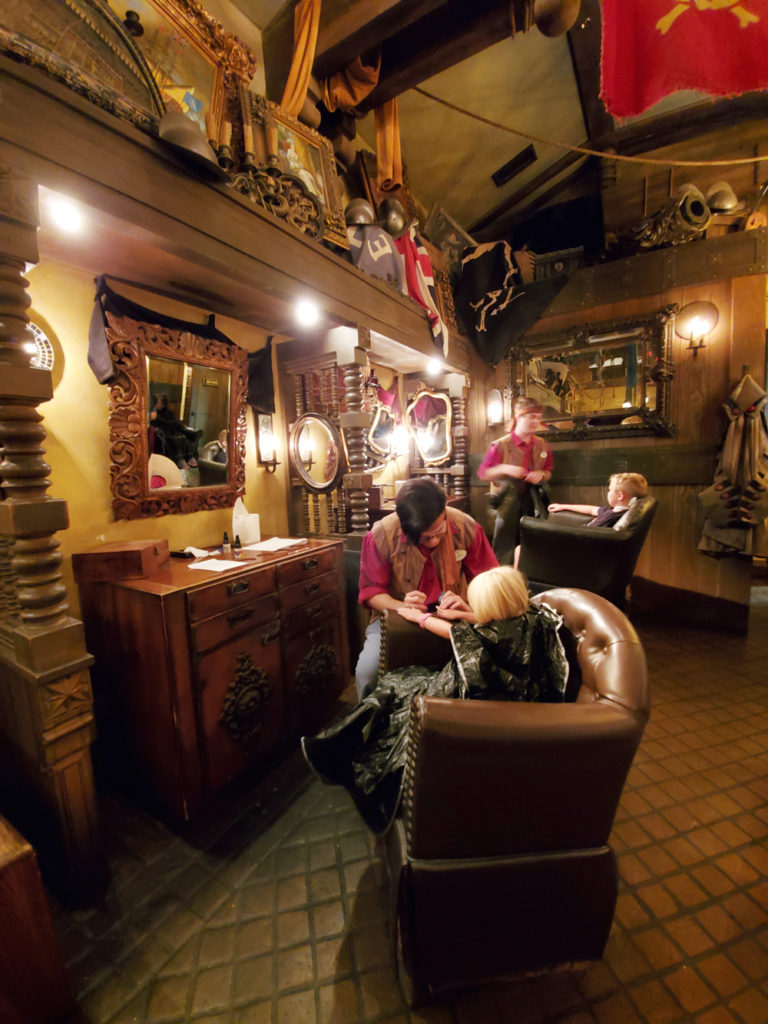 While there, I watched how the Cast Members applied the mermaid makeup to her face. Then – for Halloween – I gave the makeup my own twist for her DIY Mermaid costume.
Disclosure: This page includes affiliate links.
DIY Mermaid Costume
I say this every year… but this DIY costume (paired with her brother's pirate costume) turned out to be one of my favorites! It's the first time we've incorporated makeup, and it really finished off the whole look.
We purchased a comfortable Mermaid Costume Dress as the base component of the outfit.
This was a really practical choice because it is suitable for warm weather. After all, the first time and she would wear it was in Disney in September (aka. it was gonna be hot!).
We were able to tweak the mermaid costume for a cold Halloween by adding a long sleeve purple tee and black leggings (though, these mermaid leggings would have been a fun choice).
Mermaid Costume Accessories
To accessorize a DIY Mermaid costume, include items such as:
How to do Mermaid Makeup
Now, let's get down to the fun part of a DIY Mermaid Costume! We'll create a glittery mermaid face to match a shiny mermaid tail without spending an hour on makeup.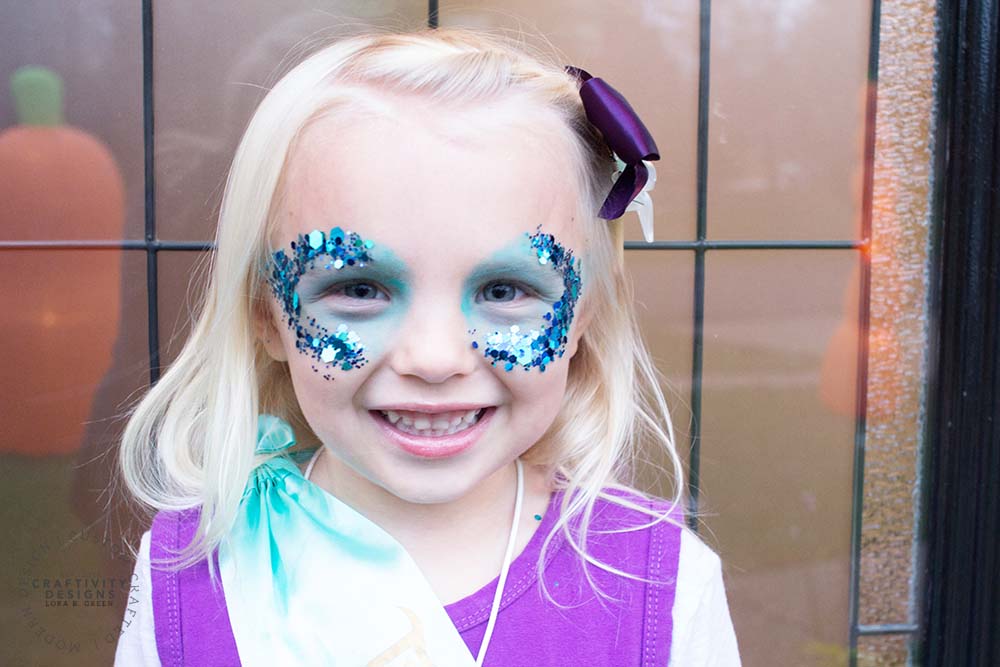 This quick and easy tutorial walks you through how to create a stunning mermaid makeover without any special makeup skills. Let's get to it!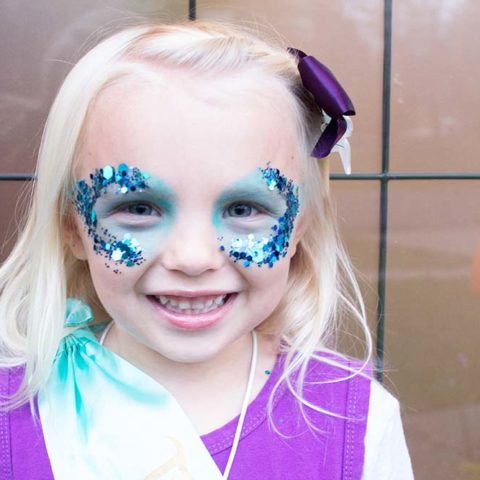 How to do Mermaid Makeup for a Halloween Costume
Learn how to do mermaid makeup for kids. Perfect for a mermaid Halloween costume, this makeup tutorial is quick and easy!
Instructions
First, apply teal eyeshadow around the eye (including the undereye, brow bone, and side of the nose).
Continue to darken the eye shadow, bringing it to a point beyond the outer corners of each eye (the point will be surrounded by glitter, so it doesn't need to be perfect).
Next, apply glitter primer around the eyeshadow. Start halfway across the brow, wrapping the glitter primer around the undereye and stopping at the nose.
Once the primer is applied, generously apply the chunky mermaid glitter. Some glitter won't adhere, which is why it's important to be generous in the application. Otherwise, you will have to add more primer and glitter.
Finally, if the shape isn't exactly how you'd like, repeat steps 3 and 4 until you've created a pretty mermaid scale shape around the eyes.
Notes
Use an eye makeup remover to remove the primer and glitter.
Recommended Products
As an Amazon Associate and member of other affiliate programs, I earn from qualifying purchases.
If you liked this DIY Halloween costume idea, you might also like:
Like this Mermaid Makeup tutorial? Pin it to save it!