Ahoy, Matey! Do you want to be a pirate? At Disney World, the Pirates League offers pirate and mermaid makeovers. The experience is a blast, and I'm sharing all the details!
Is your kiddo an aspiring pirate? Or a wannabe mermaid? They can realize their seafaring dreams at the Pirates League in Walt Disney World. We gave the pirate and mermaid makeover experience a try on our most recent trip, and I'm sharing all the details (spoiler alert: it was a hit!).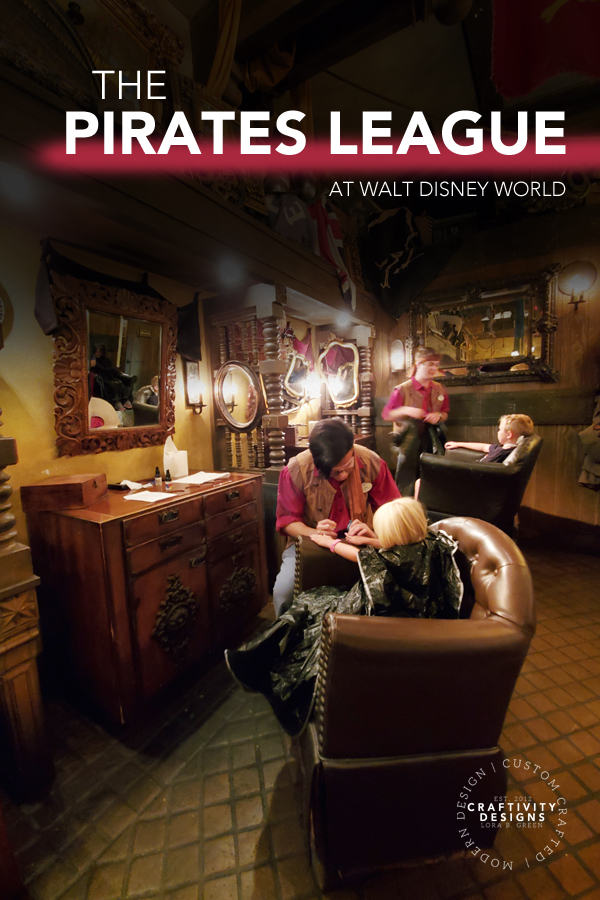 Disclosure: This post has been sponsored by Magical Memories Tours and Travel. This blog post contains affiliate links for products or services. All opinions are mine.
What is the Pirates League?
The Pirates League is a makeover experience at Walt Disney World which is located, appropriately, right next to The Pirates of the Caribbean ride in the Magic Kingdom. Children (or adults!), ages 3 and up, can receive a pirate or mermaid makeover.
Did I just say "mermaid makeover"?
Yes! Despite the name, both pirates and mermaids come to life inside the Pirates League. In fact, it was my daughter's love of Ariel that inspired the search for a mermaid makeover.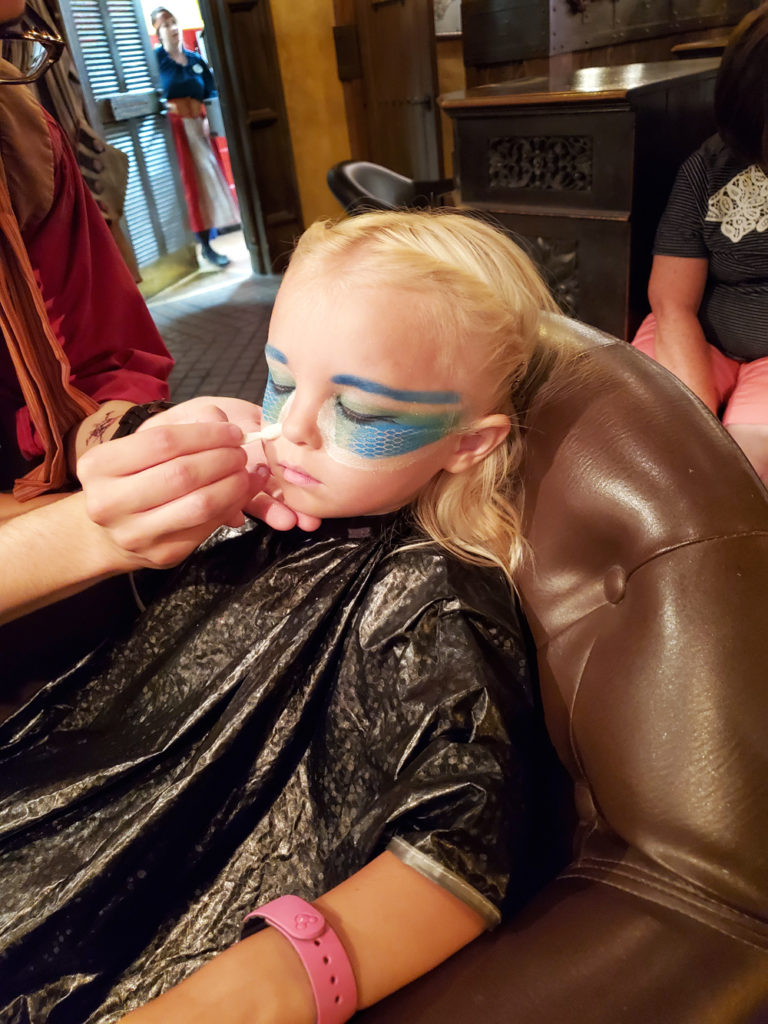 Once we learned about the Pirates League, it was an easy choice. My 4-year-old could realize her mermaid dreams and my 8-year-old son could get the pirate treatment, too.
What is included in the Pirates League experience?
The Pirates League offers two types of makeovers:
standard makeovers which include makeup and accessories
deluxe makeovers which include a pirate or mermaid costume
Within each of those options are variations such as makeup style and character choices (ex: Captain Hook or Uma from Descendants 2).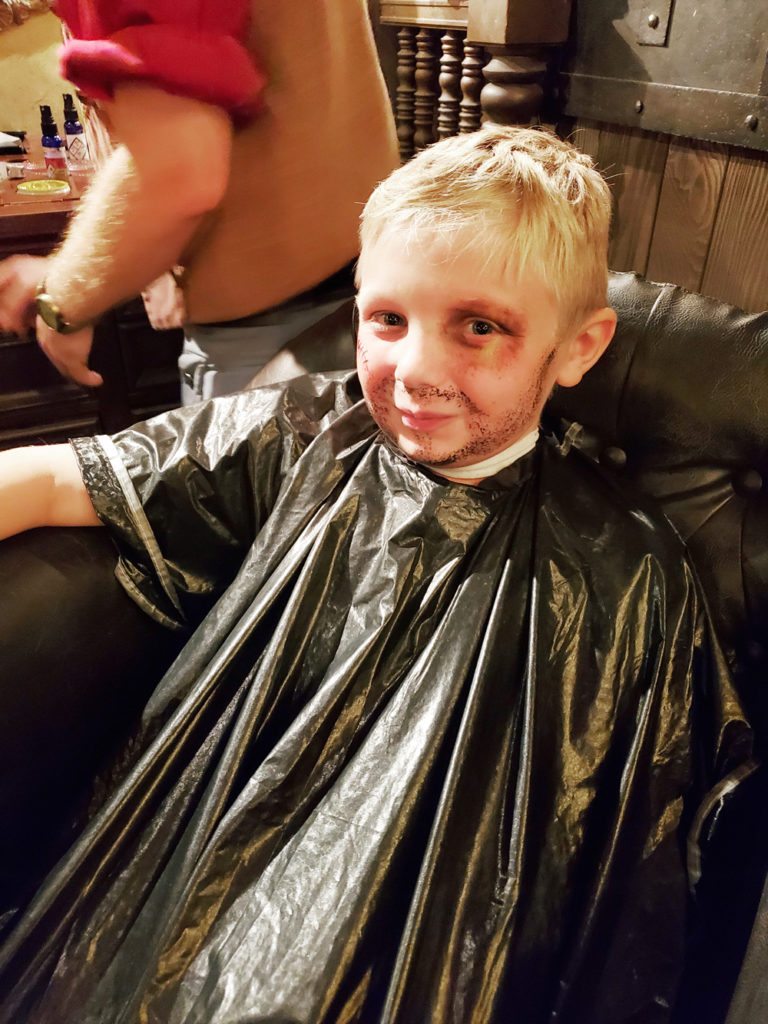 We chose the standard makeover and bought costumes beforehand for our trip. It's an easy way to save a little money (each costume was less than $15), and it allowed us to purchase costumes that were suitable for Florida's summer weather.
For my daughter, we bought a comfortable, sleeveless, mermaid dress. For my son, we found a "dabbing" pirate t-shirt (which made him quite the happy 3rd-grade boy).
The Pirates League Experience
When you arrive, a cast member will set the stage for the story. During the intro, future pirates will roll the dice to receive a pirate name and future mermaids write their name in a special book.
Once inside, the kids are escorted to their seats. Pirates are standing by, ready to make the magic happen… transforming the kiddos into their new identities!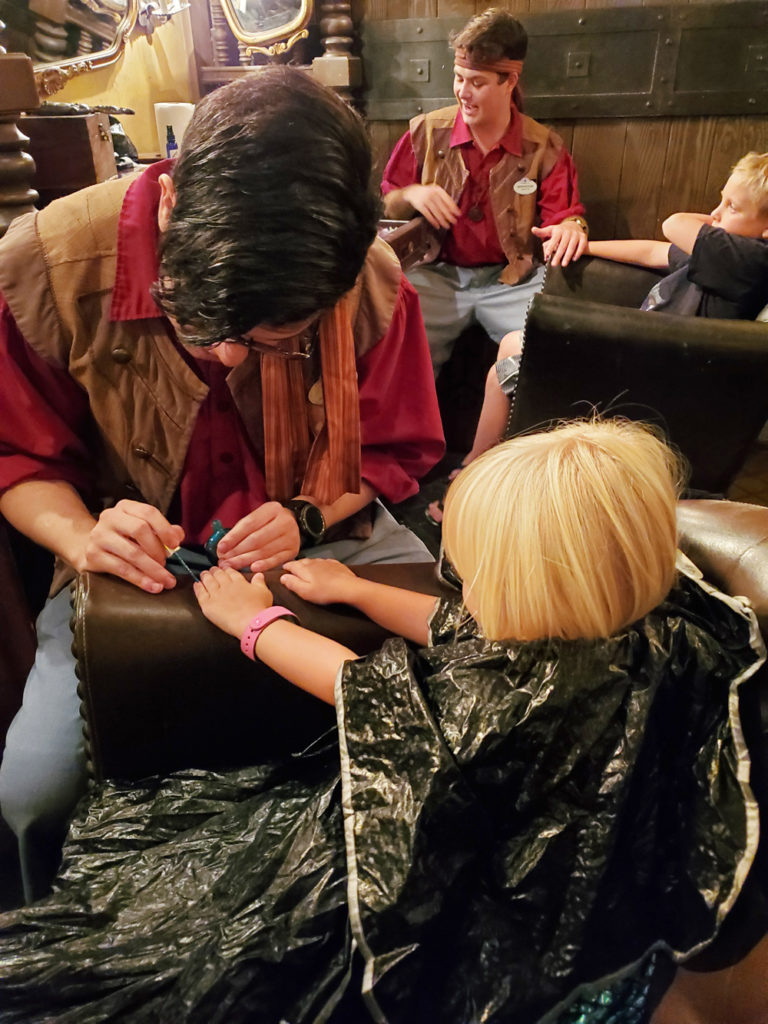 To put it simply, the cast members were superb! Funny and entertaining, all while putting the kids at ease during makeup application, fingernail painting, and fixing hair.
And in standard Disney fashion, the room is filled with details telling the pirate story. It feels like you are inside a ship, with shipping cartons, pirate flags, wood rafters, and more.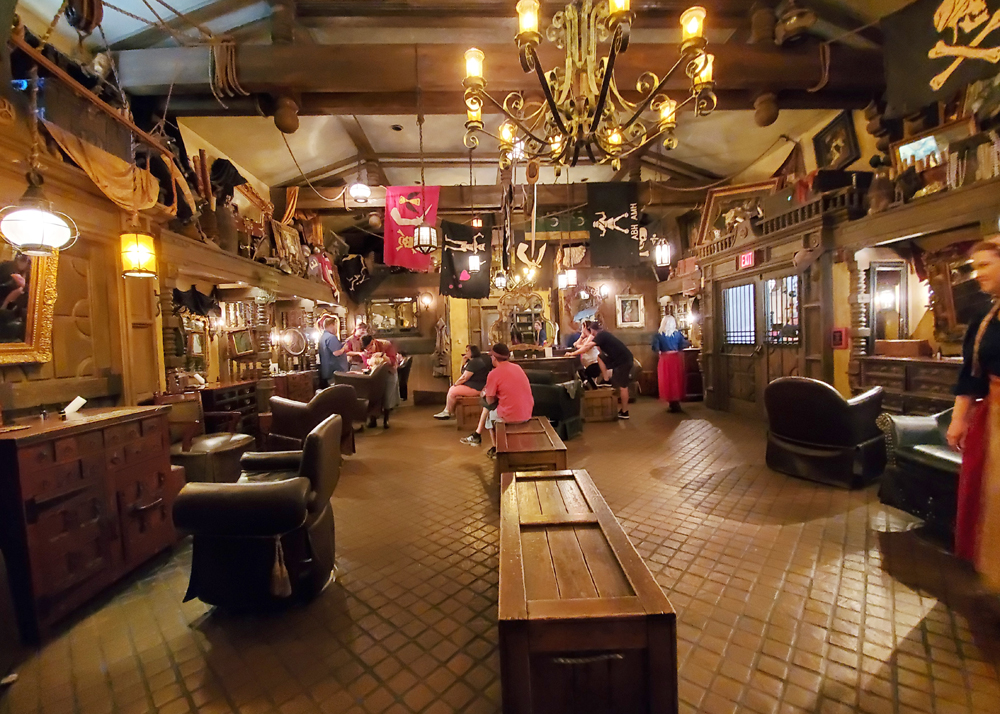 Plus, we even received a visit from Captain Jack Sparrow, himself! In typical form, he was a bit mischevious and the kids were entertained by his antics.
Finally, to close out the story, the pirates and mermaids are taken into a secret room. In that room, the mermaids will find special jewelry (it changes color in the sun) and the pirates will find a skeleton key. Before the pirate unlocks the door to leave, they'll peak through a spy hole to make sure the coast is clear.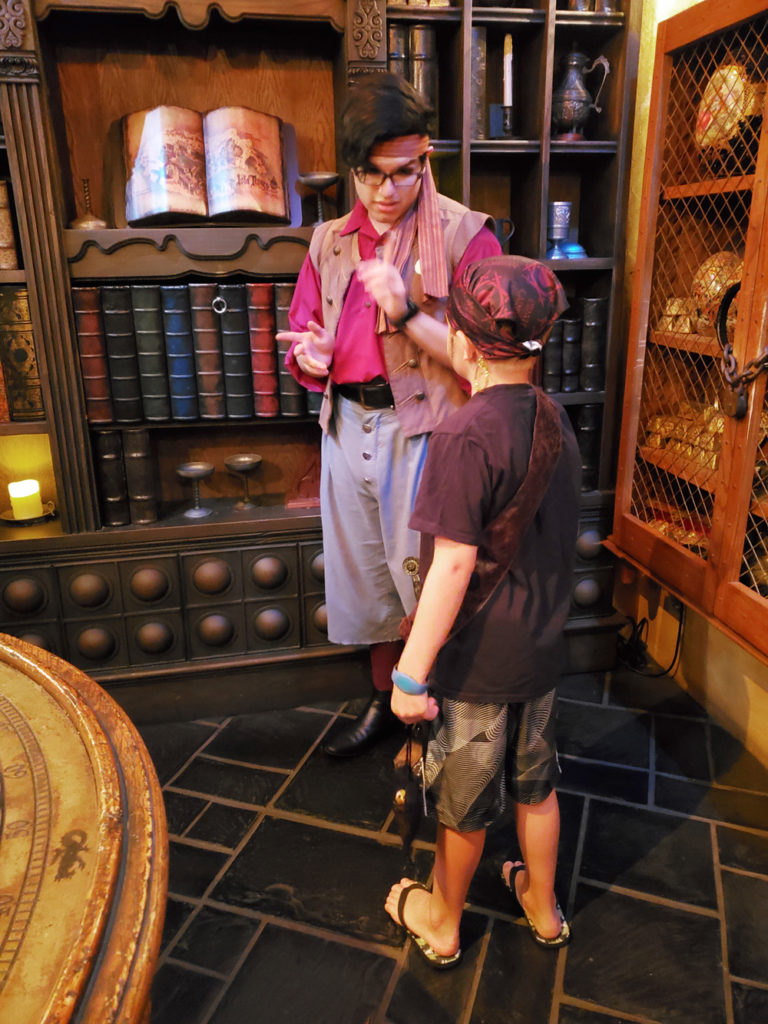 How to Book the Pirates League
There are several ways to book a Pirates League experience:
through a Disney Travel Agent
by calling Disney's reservation line
through Disney's App or website
Personally, we love using a Disney Travel Agent (and have for over 10 years!). If you are new to Disney planning, there is no way I'd go without the help of a travel agent. It's a free service, provided by Disney, so – why not take advantage?!
On our last two trips – both of which ended up coinciding with major hurricanes (yes, both trips!) – our travel agent was invaluable. He sat on the phone, on hold with Disney for hours, in order to work out hotel, ticket, and reservation changes for us.
While we've used Disney travel agents for years, it's only in the last 4 that we started working with Kris of Magical Memories Tours and Travel. As part of his services, he includes a daily itinerary with recommendations on where to eat and in what order to tour the parks.
I second his tip to hit Pecos Bill for lunch after the Pirates League! It was a delicious meal and plenty to eat (after all, with all that swimming and fighting, a mermaid and pirate need plenty to eat!).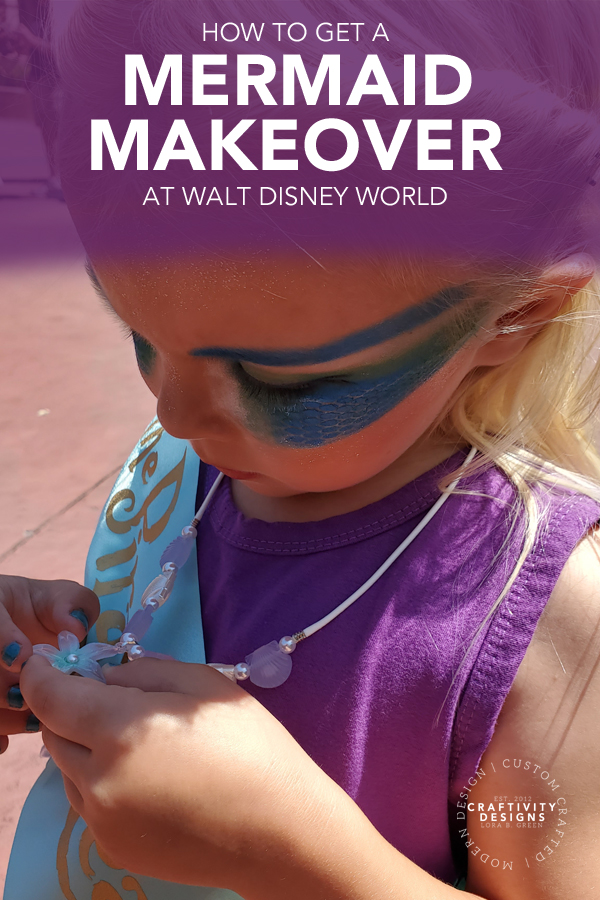 FAQs
Where is the Pirates League?
The Pirates League is located next to the Pirates of the Caribbean ride in Adventureland at the Magic Kingdom. The entrance is located directly to the right of the Pirates of the Caribbean ride queue.
How much is the Pirates League?
The price varies depending on which makeover is chosen. The standard makeovers range from $20-45 and the deluxe makeovers (costumes included) are in $80-100 price range. Of course, prices can change without notice.
How do I book the Pirates League?
Book a reservation at the Pirates League through:
the Disney App/website,
the reservation hotline.
When you book, you are simply booking the timeslot. You will choose which experience (standard, deluxe, mermaid, pirate, etc.) once you arrive.
How long does the Pirates League take?
Plan to spend 45 minutes to 1 hour at the Pirates League, from start to finish.
What is included in the Pirates League Experience?
Items will vary depending on which experience is chosen, but here are a couple of examples based on our visit:
Mermaid Package – Hair, Makeup, and Nails with a Sash, Necklace, Hair Clip, Bracelet
First Mate Package – Makeup and Temporary Tattoo with a Bandana, Faux Earring, Eye Patch, Sword, Sheath, Skeleton Key, Pirate Magnets, and a copy of "The Pirate's Oath"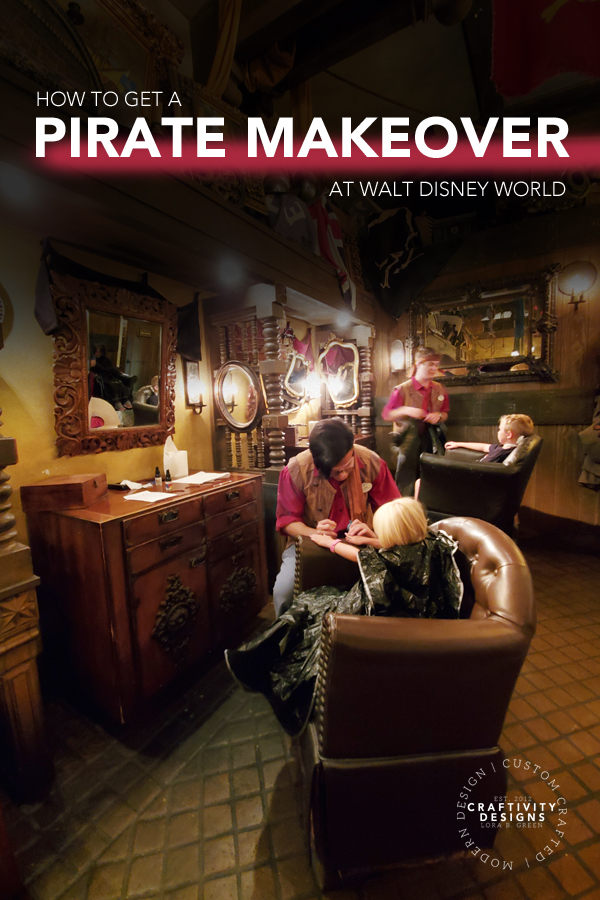 Creative Disney Vacation Ideas
One of my favorite things about the Pirates League? It's a lesser-known, off-the-beaten-path (of sorts) attraction. Everyone is familiar with the Bibbidi Bobbidi Boutique, but this experience is something you might only come across due to a recommendation from a friend, or by your travel agent.
As a creative at heart, I love things that are unexpected, new, and unique! That's why we take time to fill out our handmade World Showcase passport, make our own special Disney countdown calendar, and choose throwback Mouseketeer costumes for Mickey's Not-So-Scary Halloween Party.
Doing something a little different on our Disney trip? That's my definition of "the Disney Magic." Tell me, what is your favorite creative Disney idea?
---
Ready to book a Disney Trip? Contact
Magical Memories Tours and Travel
to get started planning your trip, today!
---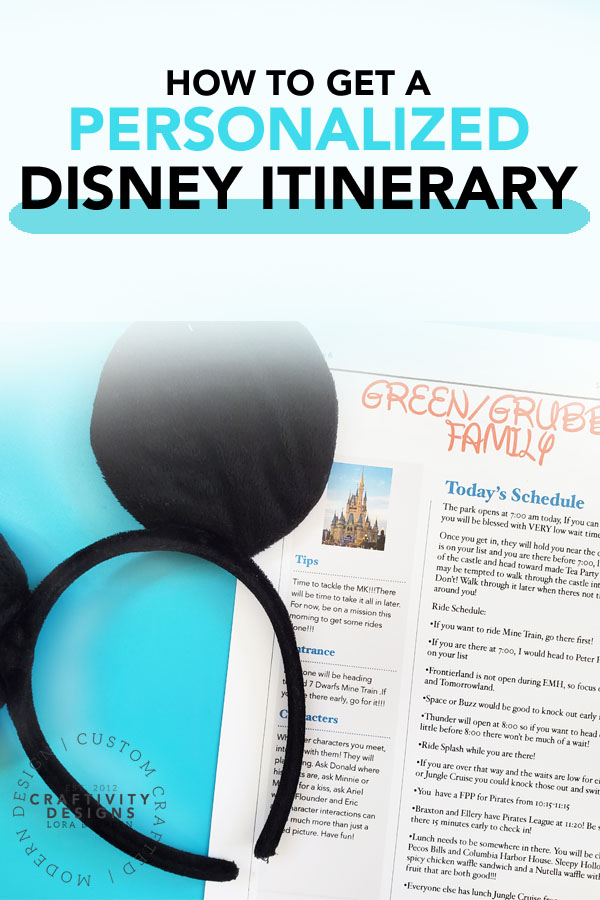 More Disney Travel Ideas