Over 20 faux brick DIY projects to try! Incorporate the beauty of brick (without hiring a bricklayer!) through brick veneer, brick wall panels, faux brick tile, and brick stencils.
Would you like to add architectural character, warmth, and texture to your home? Try brick. Well, faux brick, that is! Faux brick is both DIY and budget-friendly, and available in a variety of styles.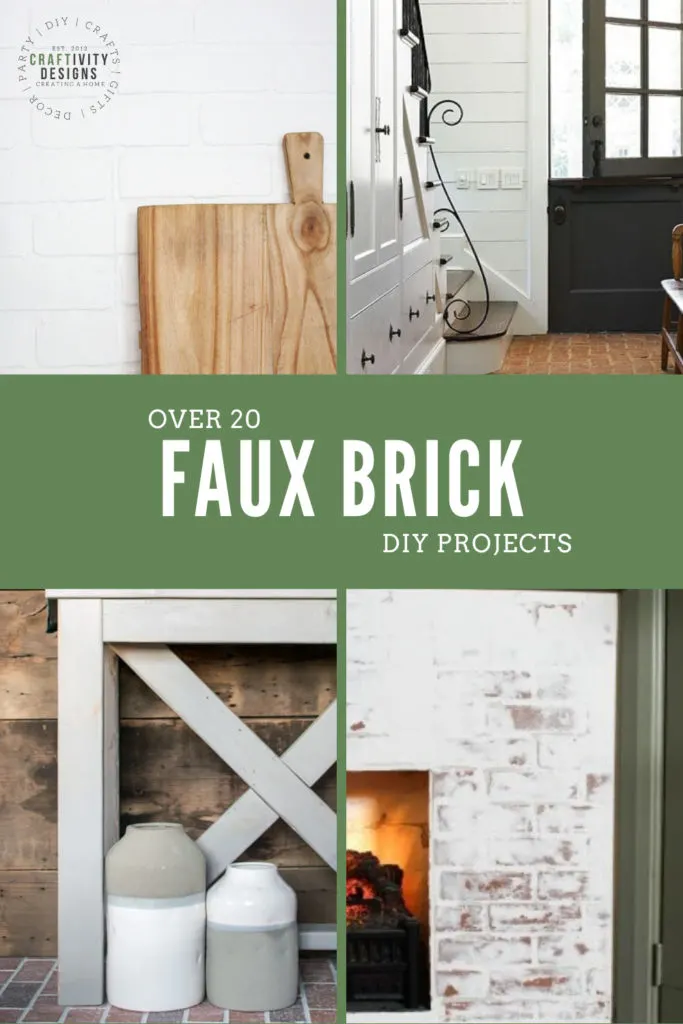 Does faux brick look fake?
No. (and yes). Let me explain…
The faux brick backsplash in our kitchen is quite convincing. In fact, it regularly tricks our house quests. They'll say something along the lines of:
"Oh, wow! Is the brick original to the home?"
We'll reply to explain that, in fact, it is not real brick. Then, point out the hard-to-find seams between each brick wall panel.
As you'll see from the 20+ examples below, there are many ways to disguise the fact that you are using faux brick. We'll review tips such as how to:
choose between various faux brick materials
align faux bricks in authentic patterns
hide seams between wall panels
decide which painting technique to use (such as painting brick, applying a german schmear, etc.)
Types of Faux Brick
In this post, we'll discuss four common types of faux bricks, and the pros and cons of each.
Disclosure: This blog post contains affiliate links for products or services.
Brick Veneer (or Thin Bricks)
What is brick veneer? Brick Veneer is bricks that aren't part of the structural integrity of a wall, fireplace, etc. Rather, the bricks are only decorative and are attached to the face of the structure.
What are thin bricks? Thin bricks are commonly used as brick veneer. Thin bricks are made of the same material as real bricks but are approximately 1/2″ thick. Sometimes, thin brick is available on vinyl mesh sheets, similar to tile.
Often called thin brick veneer, this is the most realistic type of faux brick.
| PROS | CONS |
| --- | --- |
| looks authentic | more difficult to install |
| feels authentic | more expensive than other faux bricks |
| less expensive than real bricks | |
Table 1: Pros and Cons of Brick Veneer
Brick Tile
What is brick tile? Brick tile is brick-look floor or wall tile made from traditional tile materials, such as porcelain and ceramic. Brick tile is installed like an tile, with a combination of thinset, mortar, and grout.
Depending on the design of the brick tile, it may or may not feel authentic. Brick tile is similar to wood-look tile. Sometimes, wood-look tile feels similar to wood, but often the visual appearance is more realistic than to the touch.
| PROS | CONS |
| --- | --- |
| looks authentic | more difficult to install |
| may feel authentic | prices will vary widely by construction and brand |
Table 2: Pros and Cons of Brick Tile
Brick Paneling
What are brick panels? Brick wall paneling is decorative hardboard (high-density engineered wood) wall panels.
Brick wall panels come in lightweight 4'x'8 sheets with a brick pattern printed on one side. The brick pattern does not look realistic, but can be made to appear authentic with various painting techniques.
PROS
CONS
can look authentic
(depends on paint technique)
does not feel authentic
easy to install
inexpensive
Table 3: Pros and Cons of Brick Wall Panels
You might also like: These high-end 3D Brick Wall Panels are more expensive but very realistic. The panels are already white (so, if you're planning to paint the brick white – this would be a very easy install).
Brick Stencils
What is a brick stencil? A brick stencil is a paint stencil with a brick pattern. Use various paint colors and shading techniques to make the brick appear realistic. You can also choose from several patterns, such as herringbone.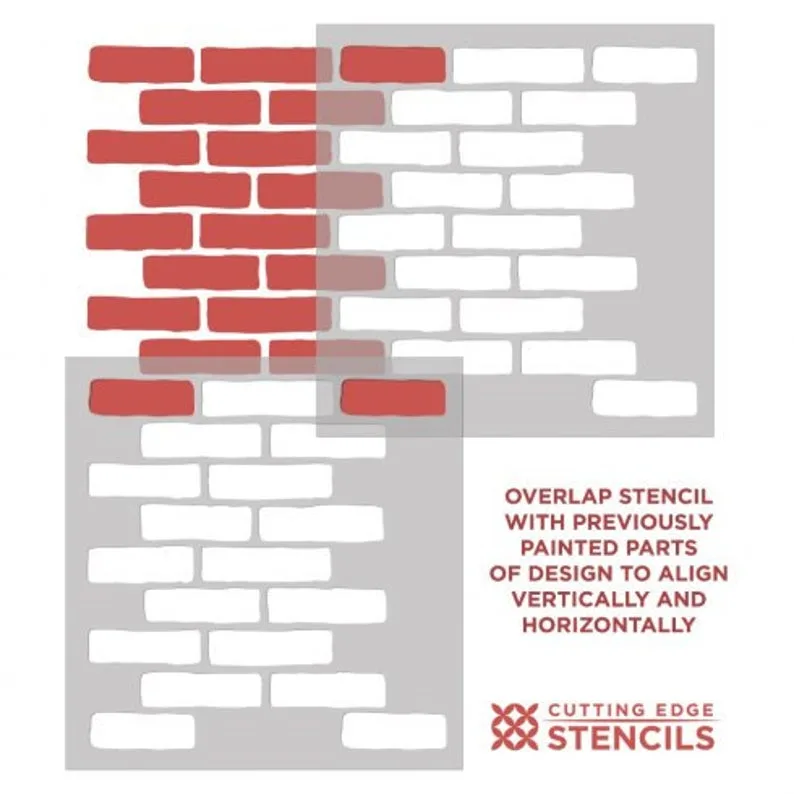 PROS
CONS
can look authentic
(depends on paint technique)
does not feel authentic
inexpensive
shading paint to appear realistic is moderately difficult
Table 4: Pros and Cons of Brick Stencils
20+ Faux Brick DIY Projects
Now that you are familiar with each type of faux brick, let's take a look at over 20 DIY projects that use faux brick. You'll be so impressed – and inspired – to incorporate brick into your home!
Like this DIY project? Pin it to save it!