Learn how to make a DIY house number sign using the lid from a bourbon barrel. Modern black house numbers on rustic wood make a stylish house address sign!
Exterior updates aren't cheap! Lighting, landscaping, exterior finishes… they can all cost a pretty penny. However, your house address doesn't have to be pricey. Make a DIY house number sign to save money and inject a bit of personal style!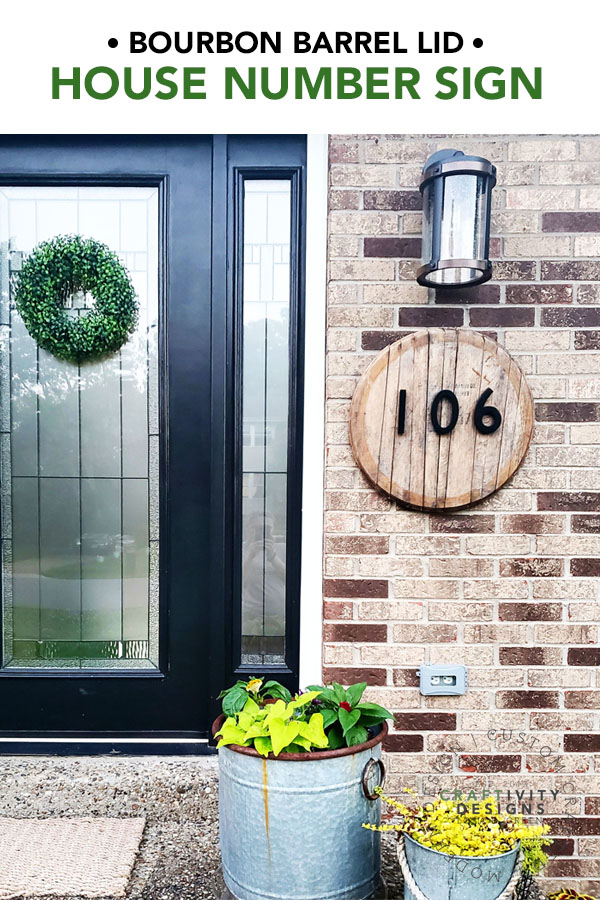 For the last two years, we've been working on the exterior of our home. Already, we have: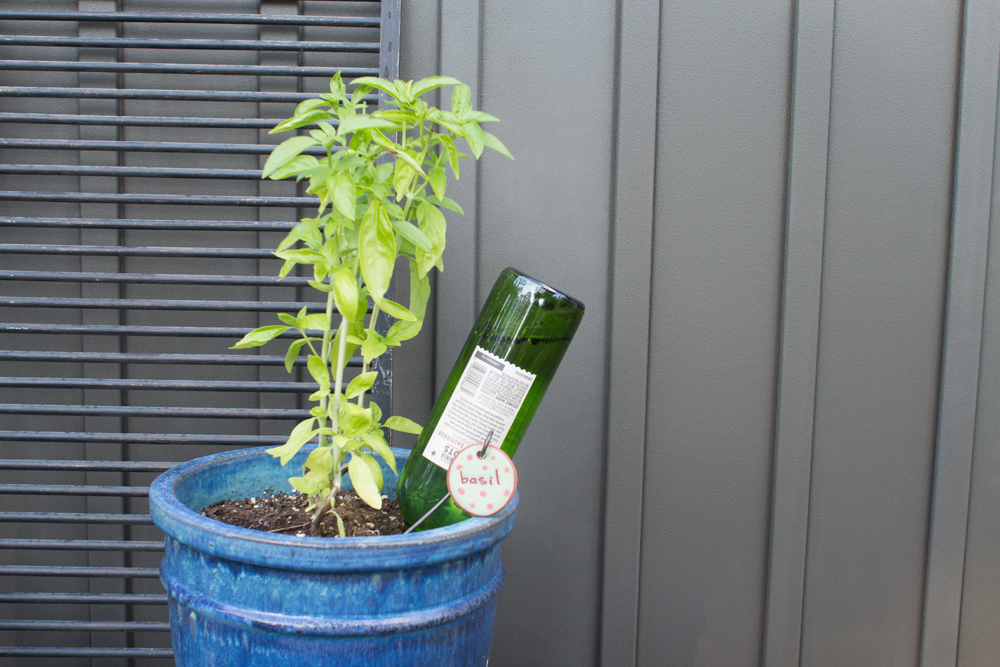 With a modern cottage design style in mind, next on our to-do list is a house address sign. We chose a bourbon barrel lid (to reflect our Kentucky heritage) with black modern house numbers.
TIP: Looking for modern house numbers? Check out this list of 25+ great choices.
Where to Buy Bourbon Barrel Lids
Did you know that Kentucky is home to the bourbon capital of the world? The city of Bardstown is the "official" capital, with 8 distilleries and the start of the Kentucky Bourbon Trail.
In total, the state of Kentucky has over 70 distilleries that produce 95% of the world's bourbon. All that to say… bourbon barrel lids aren't hard to find! In fact, I bought mine from a roadside seller for $5.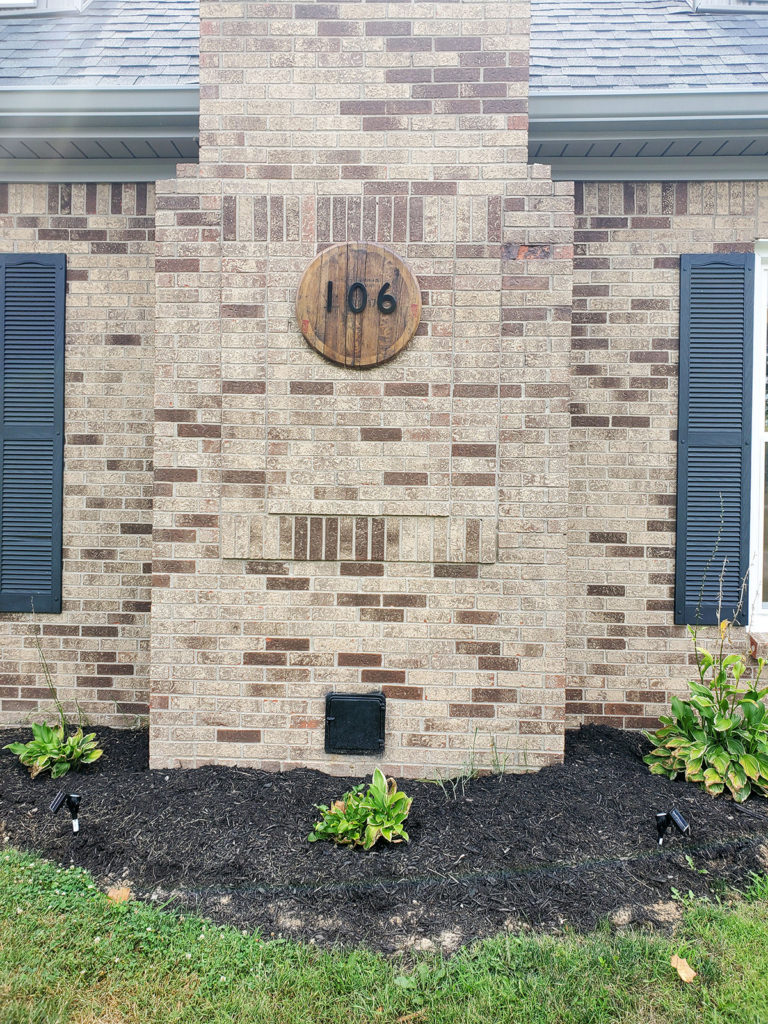 But, if you don't live in Kentucky, where can you buy a bourbon barrel lid (also called bourbon barrel top or bourbon barrel head)? Here are a few options:
Currys Beer Crafts has a wide variety – you can even choose the bourbon label
John's Barrel Crafts sales used bourbon barrel heads which are reinforced on the back (i.e. ready for hanging and art projects, like this!)
Of course, you can shop locally (even if you don't live in Kentucky!) for "wine barrel lids" or "whiskey barrel lids" by:
searching on Facebook Marketplace or Nextdoor, or
contacting local wineries and whiskey distilleries to find out if they resell used lids.
How to Make a House Number Sign
This isn't my first rodeo house number sign! Our last home had a DIY house number sign made from a clearance cutting board (yes, a kitchen cutting board!).
So – if you can't track down a bourbon barrel lid – try a cutting board or one of these 12+ house number ideas.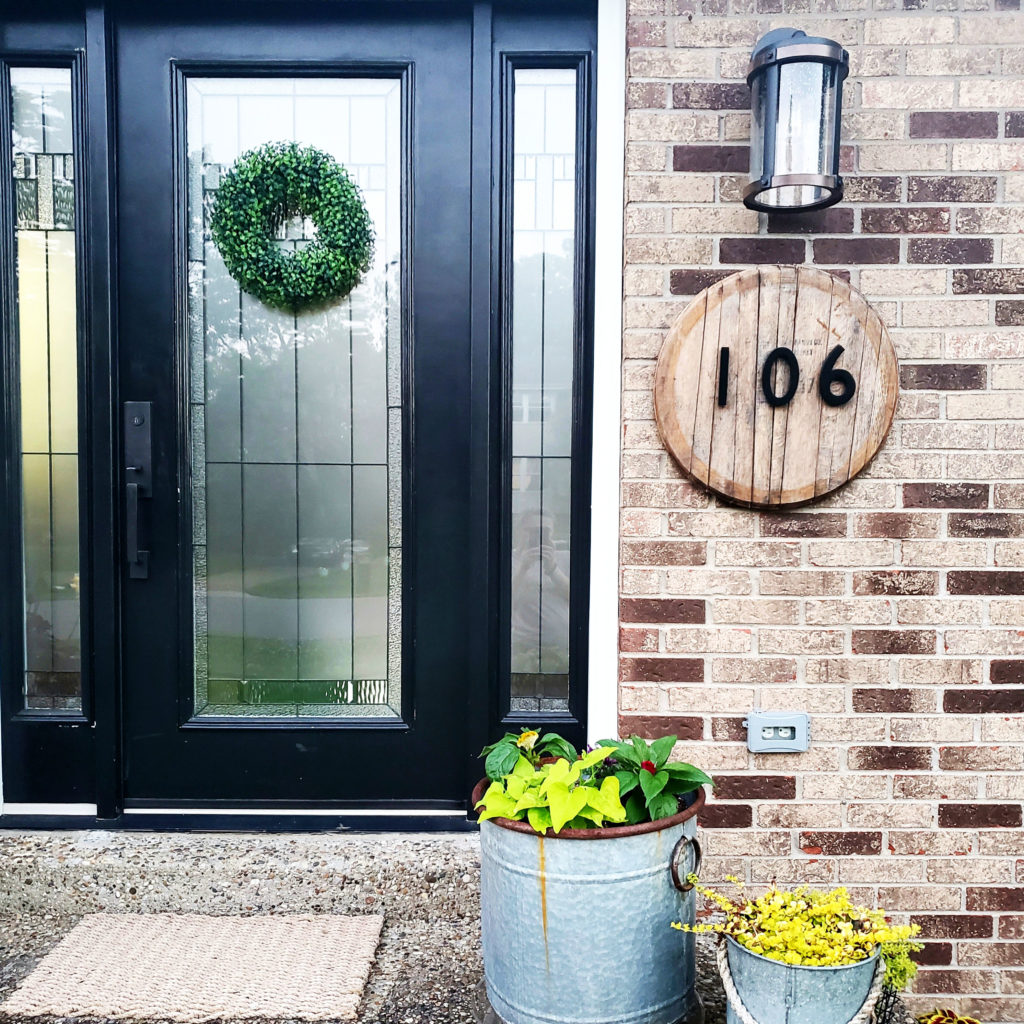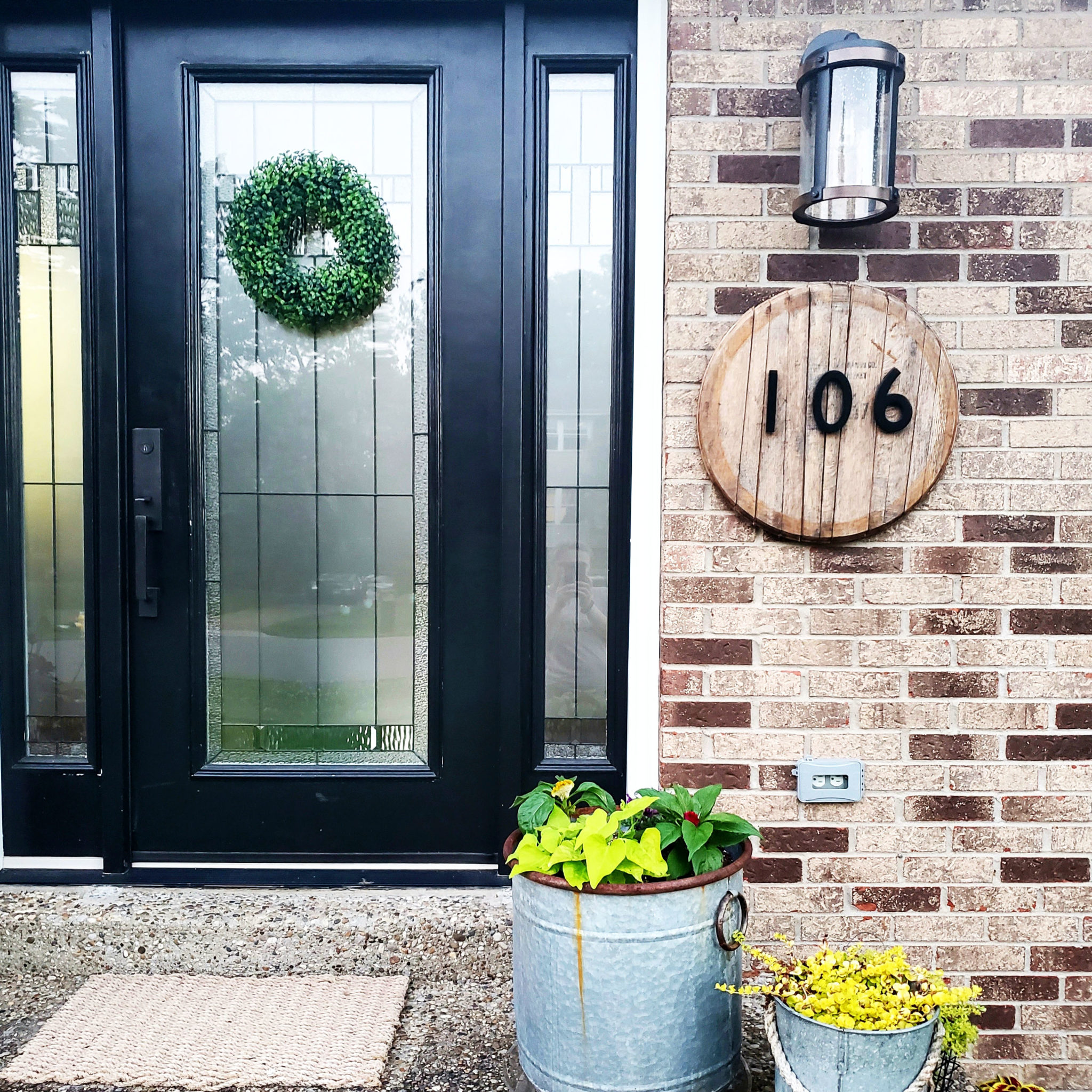 For the actual numbers, you'll need to decide whether you prefer floating numbers or flush numbers. This list of modern house number includes both types, if you need inspiration. For our bourbon barrel house number sign, we chose floating numbers.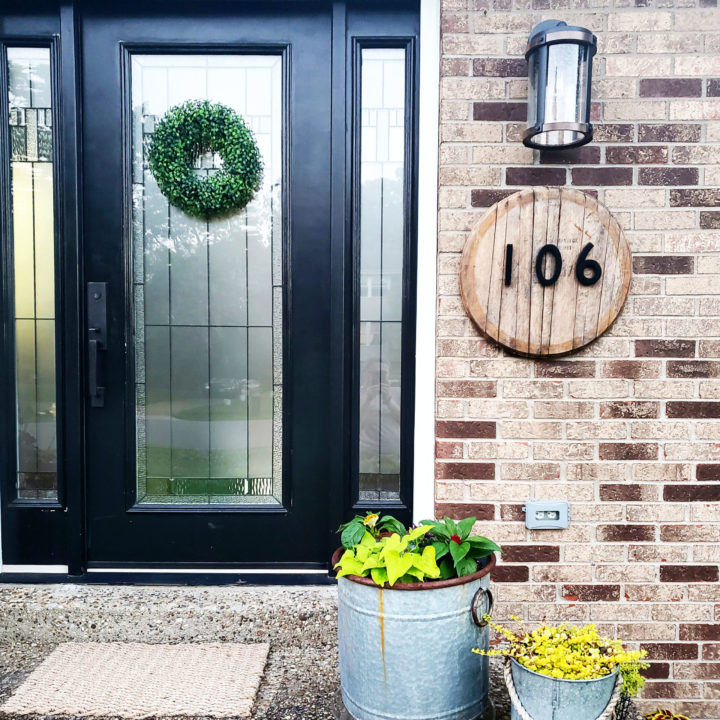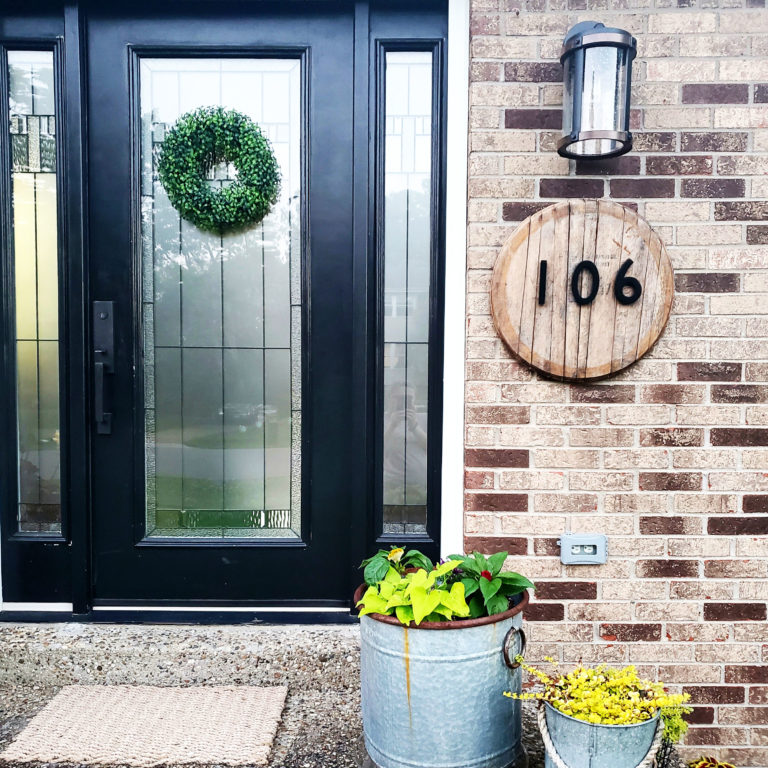 How to Make a House Number Sign (Bourbon Barrel Lid House Address Sign)
Total Time:
1 hour
15 minutes
Learn how to make a DIY house number sign using the lid from a bourbon barrel. Modern black house numbers on rustic wood make a stylish house address sign!
Materials
Bourbon Barrel Lid
Thin Scrap Wood
Small Nails or Screws (for scrap wood)
Rags
Dish Soap
Tools
Measuring Tape
Pencil
Screwdriver
Drill
Instructions
First, clean the bourbon barrel lid with a wet rag and dish soap. You'll be surprised at how dirty it may be (after all, these were actually used to age bourbon!).
Next, you may need to reinforce the back of barrel lid. Use nails or screws to attach scrap wood to the back of the lid. My photo shows a round piece of wood as the backing, because it was included when I purchased it. However, strips of wood will also work.
Next, sand the surface lightly to remove any remaining debris. Sanding will also provide a nice smooth surface for stain.
Before staining, install the heavy duty hanging hardware on the back of the bourbon barrel lid.
Nextd, stain the wood with an inexpensive foam paint brush.
After applying stain, wipe away excess stain with a rag.
Once the stain is dry to the touch, determine placement of the house numbers. Use a measuring tape to ensure that the numbers are centered and aligned.
Once the numbers are in place, mark each with pencil (either the screw hole, or the number outline - depending on how the house numbers are designed).
Next, install the numbers per the manufacturer's instructions. You may want to pre-drill screw holes to make installation simpler.
Finally, once the numbers are installed, apply a sealer to protect the stain.
If you liked this exterior decor idea, you might also like:
Like this exterior DIY project? Pin it to save it!