What a treat I have for you today! I'm so excited to have partnered with 8 other lovely bloggers to bring you a bright collection of creative summer ideas. Use the lazy days of summer to exercise your creative energy and try one of these projects… or just get inspired.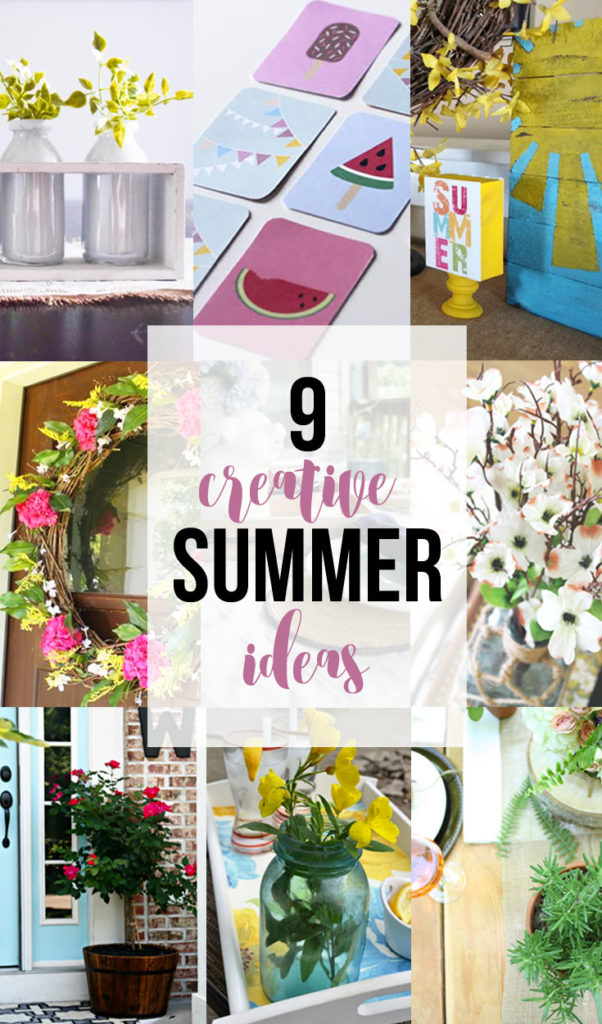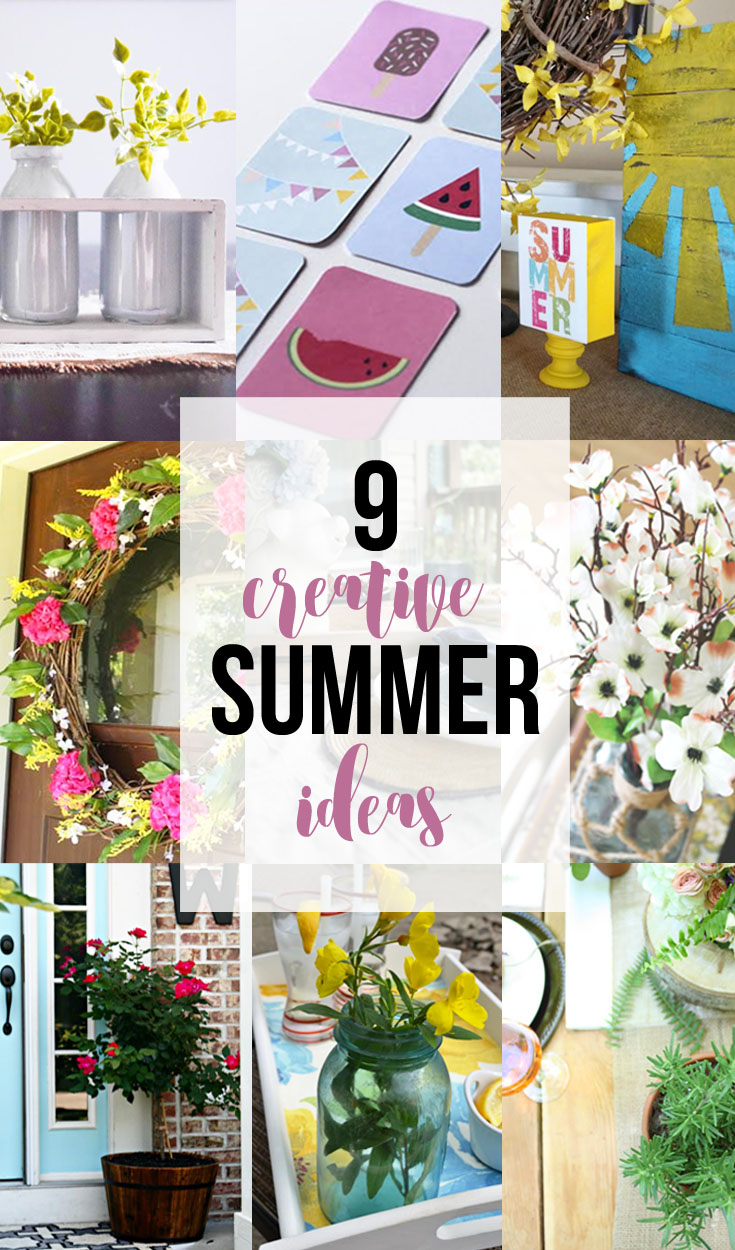 I'm sharing a farmhouse style table setting. It's casual, rustic and simple, perfect for outdoor meals on cool, summer evenings.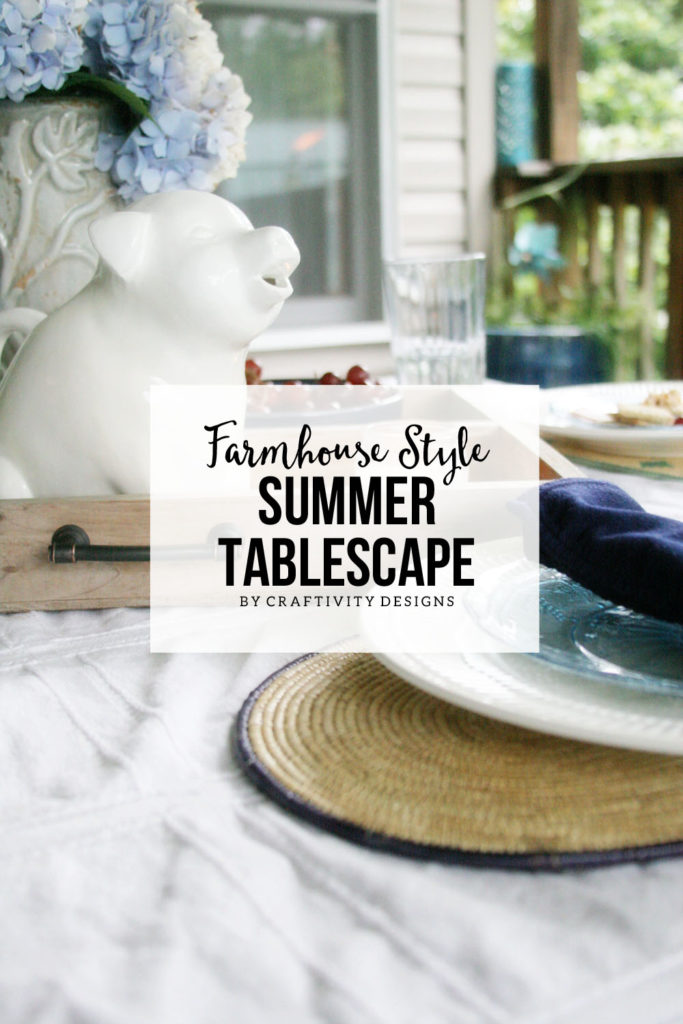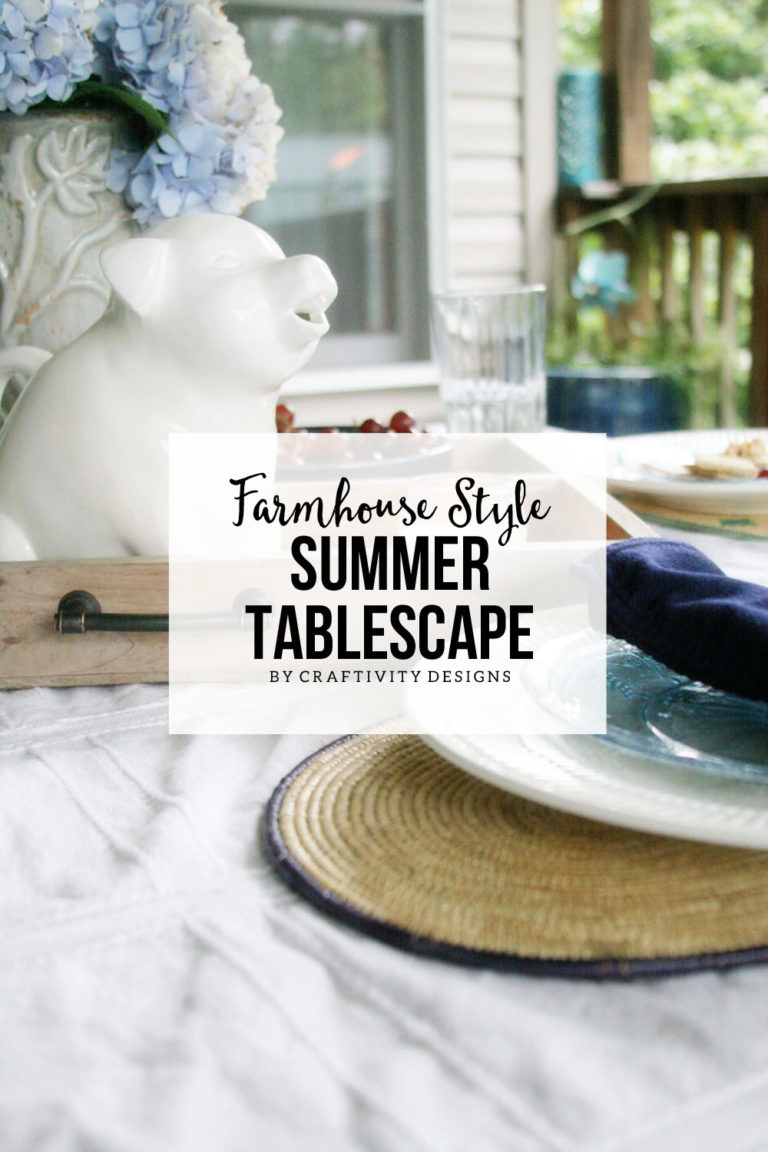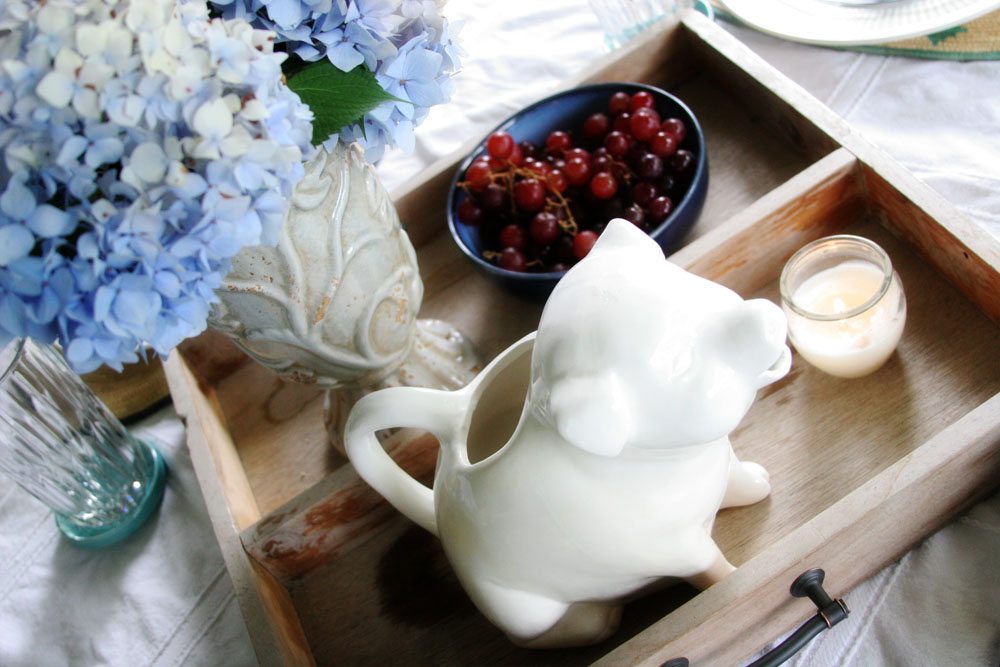 I grabbed the vase of hydrangeas from our breakfast nook to use as a centerpiece and set it atop a rustic wooden tray. This tray was previously a shadow box designed to be hung on the wall. I added oil-rubbed bronze handles, gave it a coat of protective Minwax, and turned it into a serving tray.
[Tweet "Take dinner outside with these simple, farmhouse table ideas."]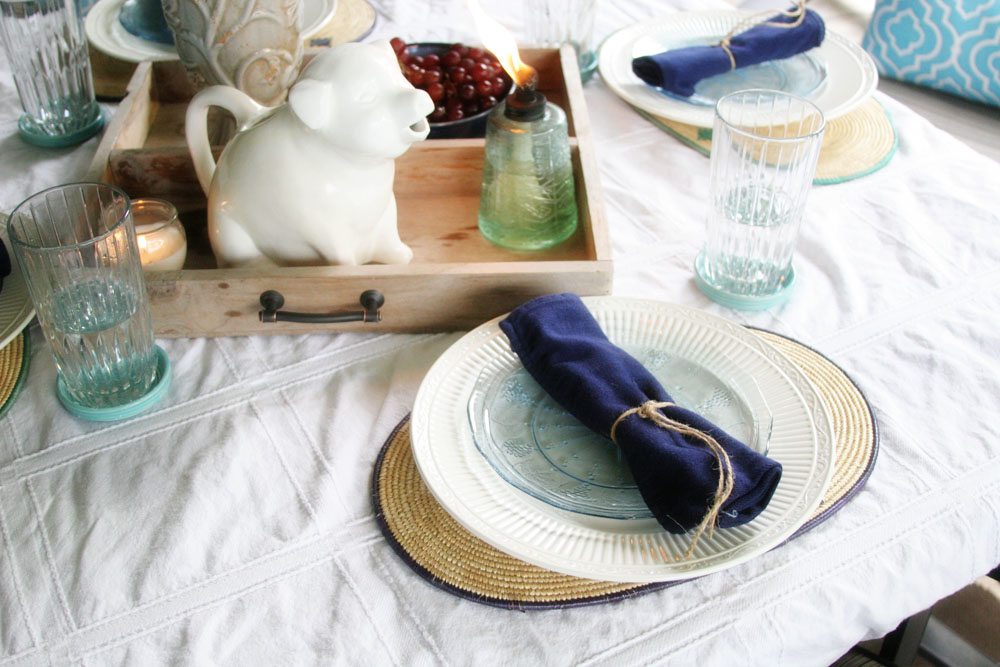 We don't have much space to spare on this patio table, so the tray provides form and function. It feels like a centerpiece but corrals several items including the flower vase, a water pitcher, candle, and fruit.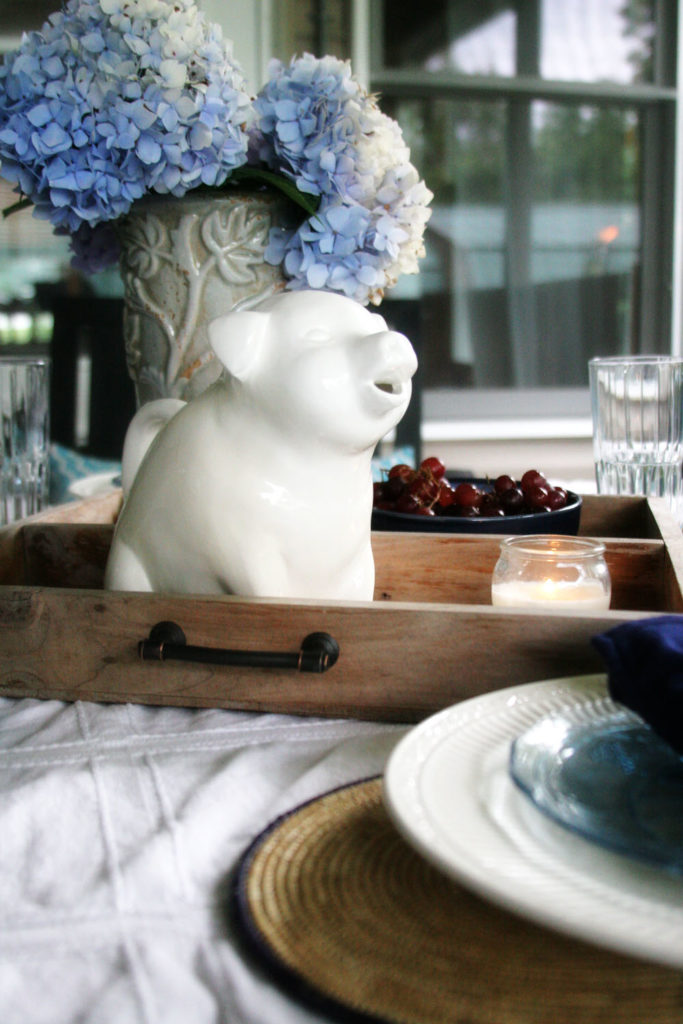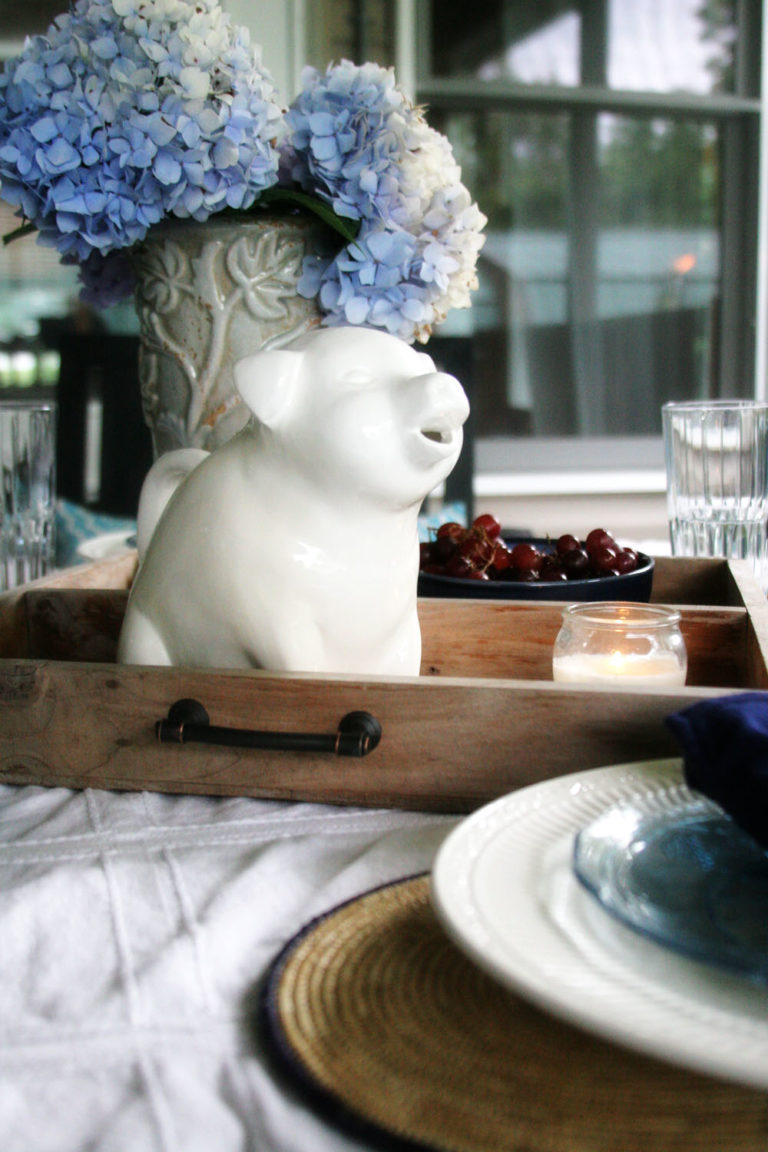 Now, that pitcher, isn't it adorable? I found him at a flea market and he provides a definite farmhouse feel.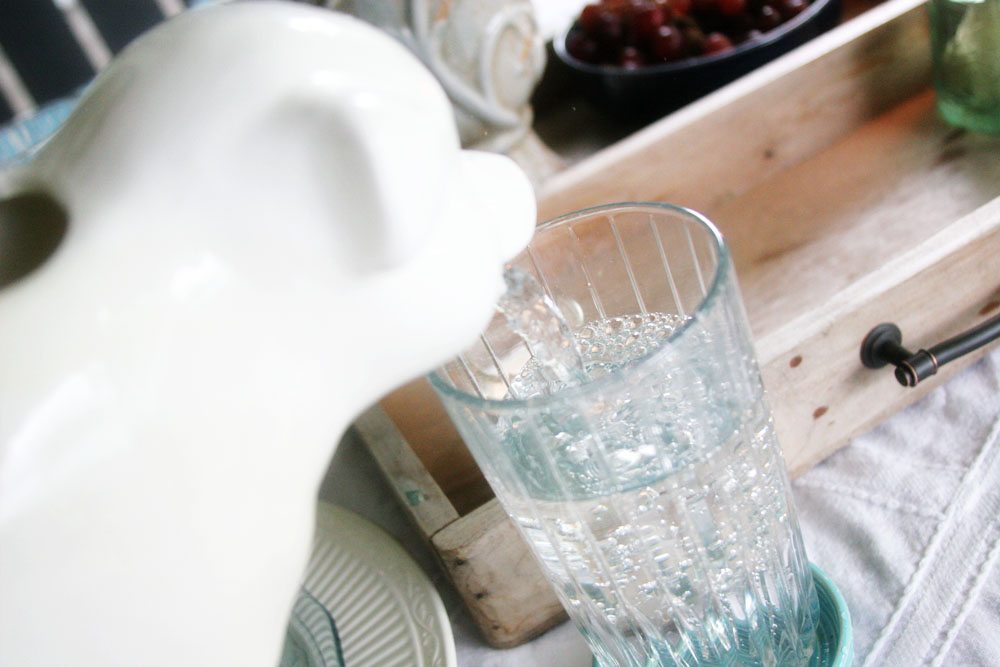 A casual cotton tablecloth plus woven placemats make for a casual base. I rolled up cloth napkins and tied them with twine, then placed the utensils in mason jars on a serving bar nearby.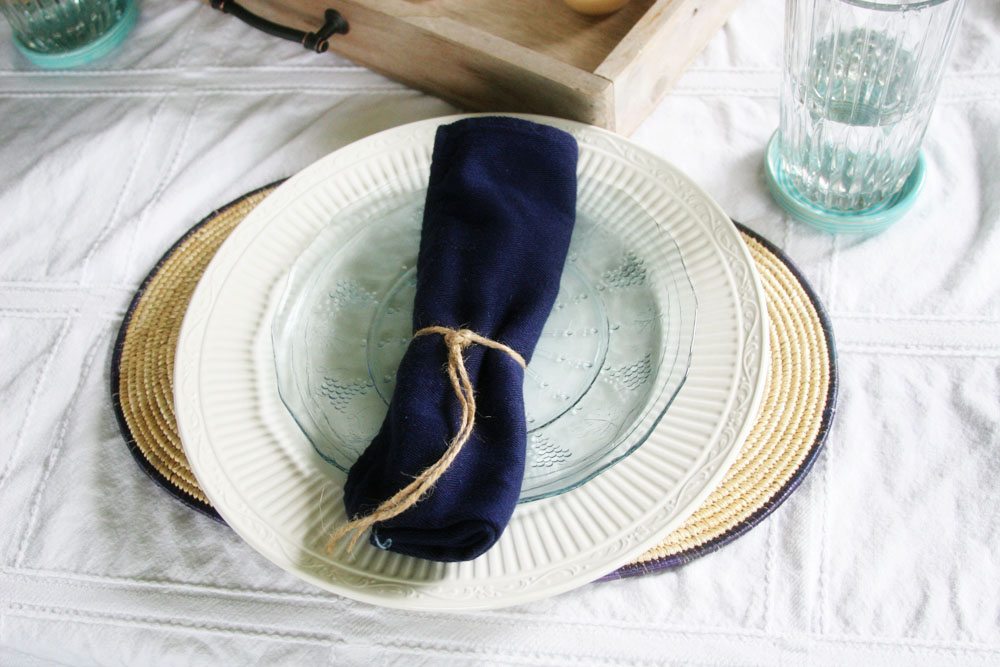 [Tweet "Items from Yard Sales let you mix and match dinnerware for a casual look at an affordable price. "]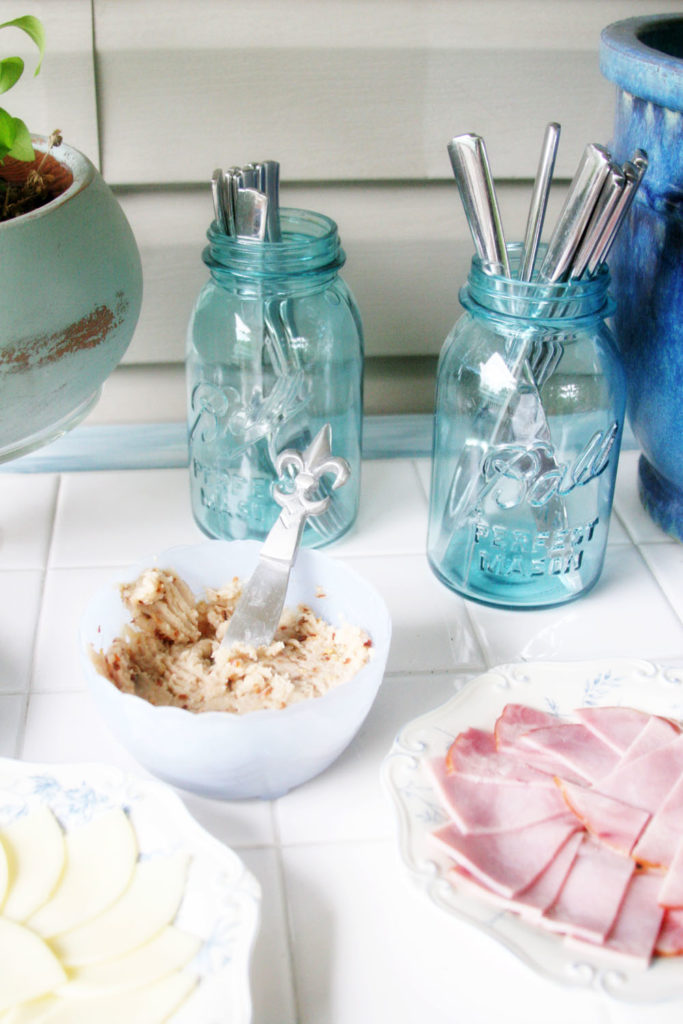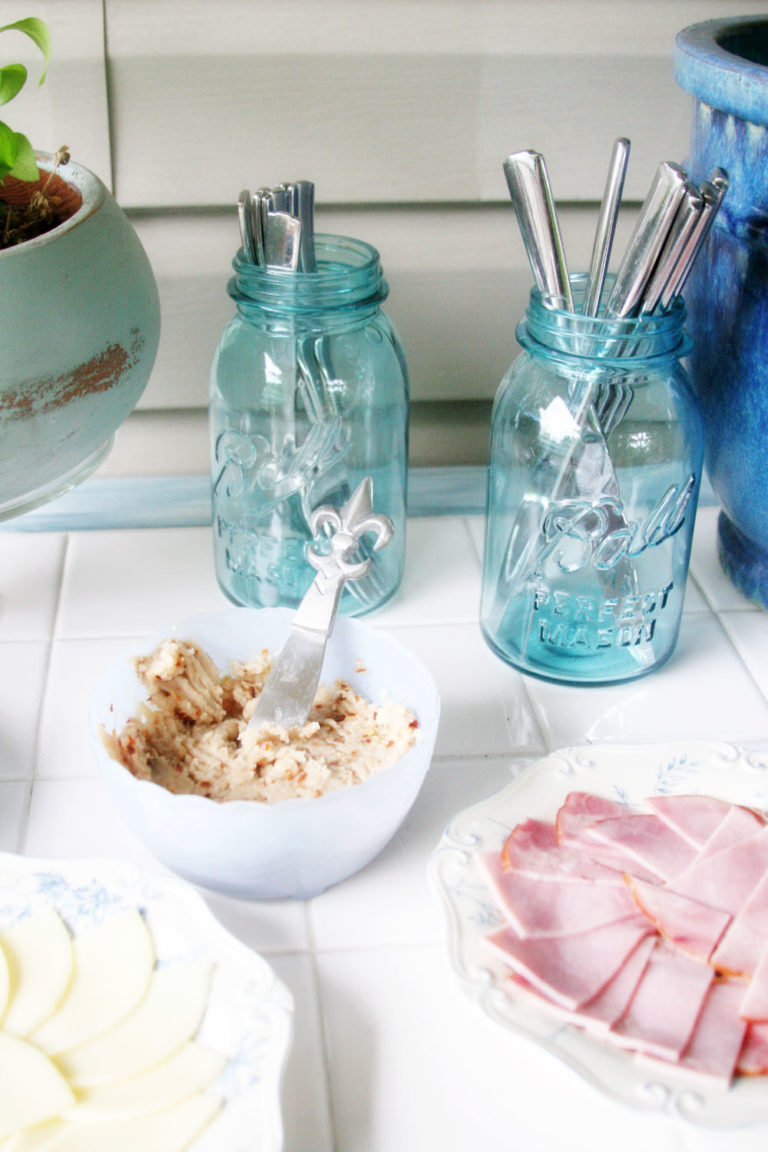 For the appetizers, I used transparent blue plates from a yard sale. I don't buy many dishes anymore, but these were an affordable set that adds a little color to my white dinner plates. If you don't have full sets of dinnerware, or if you like a variety of styles — don't be afraid to mix and match. It makes a table interesting and unique. I'm so glad that we chose a neutral china set for our wedding registry because it makes it easy to mix in other colors depending on the season or holiday .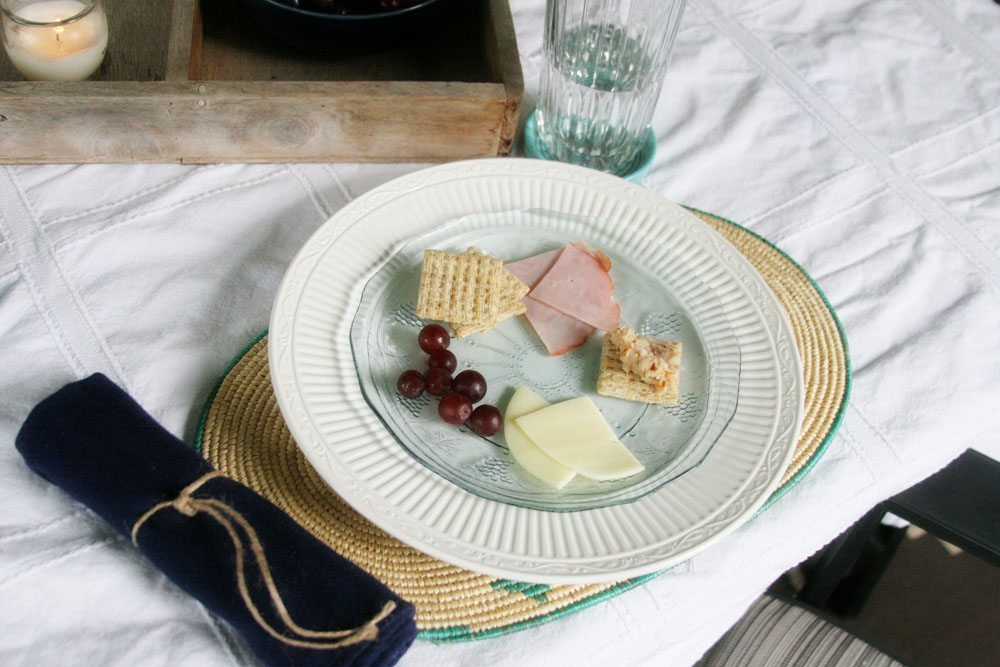 The small turquoise coasters below the glasses were a yard sale find, as well. They aren't needed outdoors, on this type of table; but I like the pop of color — which also ties into the color of our outdoor pillows.
[Tweet "A farmhouse style table + 8 more creative summer ideas."]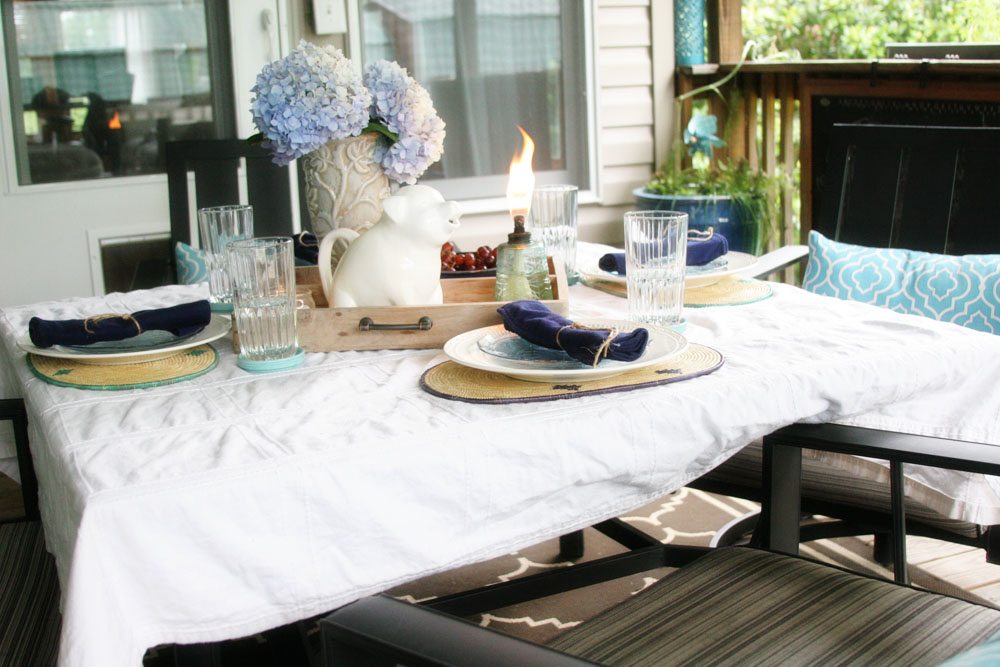 My mom is in town this week — and she can sew — which means we'll be working on more cushion covers for the patio. Our outdoor space is really coming along, and I'm looking forward to sharing more over the next few weeks.
In the meantime, take a visit to each of the other blogs featured in the Creative Summer Ideas Blog Hop. After getting a peek at their project images last week, I've been excited to check out the full posts this morning. I hope you'll spend time visiting each of them and saying "Hello!"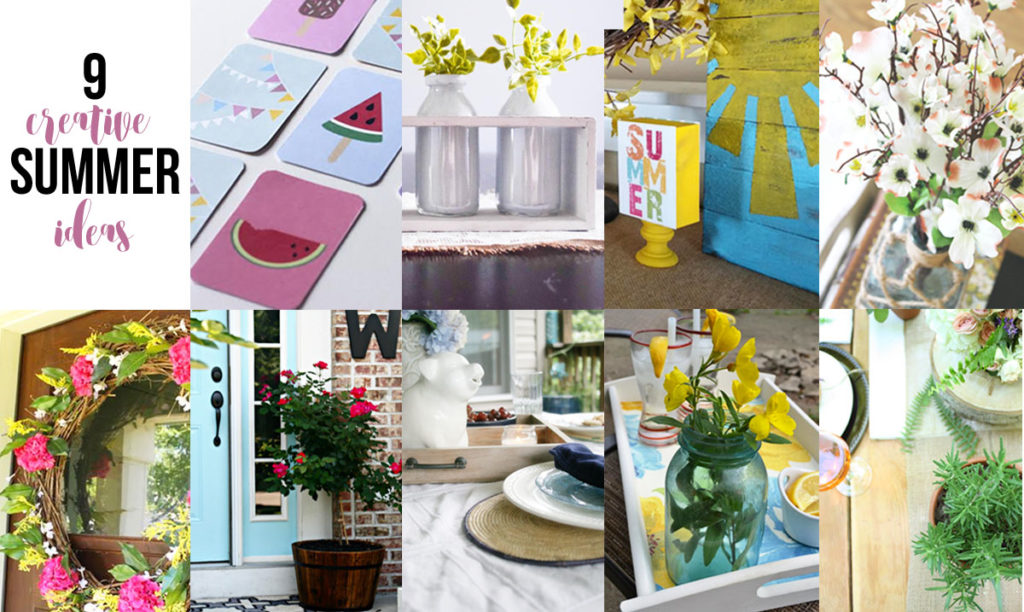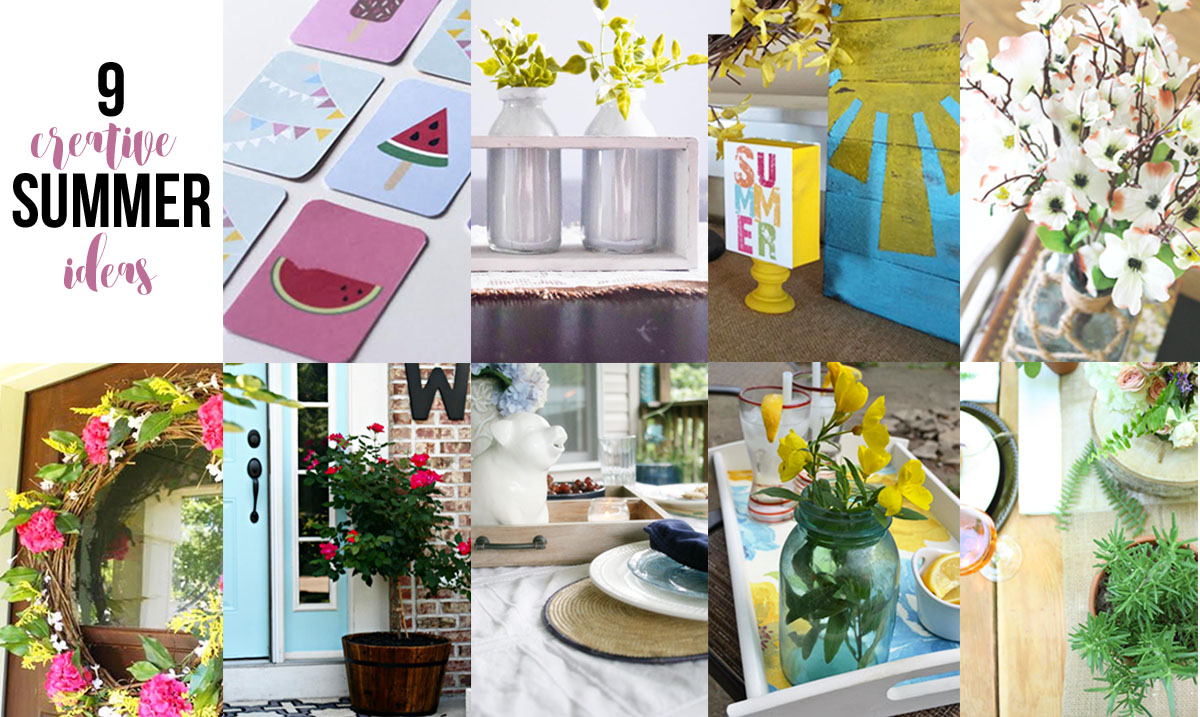 9 Creative Summer Ideas
{from left to right, top to bottom}
Summer Matching Game – Free Printable // Wellies and Lemonade
Simple Summer Farmhouse Centerpiece // Making Joy and Pretty Things
Summer Mantle Inspiration // Sunshine and Munchkins
Summer Coffee Table Styling // Flourishing at Home
DIY Summer Wreath // Checking in with Chelsea
Front Porch Summer Decor // Restyle It Wright
Farmhouse Style Summer Tablescape // Craftivity Designs
Summer Tray Makeover // North Country Nest
Summer Entertaining Tablescape // W. Collective
You might also like: