Is your home filled with nasty, old carpet? Pull it up with 10 tools needed to remove carpet. Learn how to remove the carpet, tack strips, and staples in any home by using the best tools for carpet removal.
My husband and I have gotten pretty good at removing carpet (3 different homes and at least 3600 sq ft of it). Carpet removal is a beginner-friendly DIY project and an easy way to save money when installing new flooring. Once you have the right tools needed to remove carpet, tack strips, and staples, it's a straightforward job.
Since we've completed this DIY project several times, we've honed in on our 10 favorite tools for removing carpet
Using the right tools for the job is half the battle of any DIY project.
The 10 Best Carpet Removal Tools
Tools Needed to Remove Carpet
1. Heavy-Duty Utility Knife
It's fairly easy to pull up an entire room of carpet in one section. However, it's NOT easy to roll, transport and dispose of such a large carpet roll (for example, a 10×10 room would result in a 10′ long section of carpet, rolled… HEAVY).
So, first, cut the carpet in 3-4 ft wide sections. This will make the carpet easy to roll and carry out of the house.
If the carpet is installed over plywood or concrete: Press and drag a utility knife through the carpet and carpet pad. Since the plywood or concrete will be covered with new floors, there is no need to worry about damaging it.
If the carpet is installed over hardwood: Be careful not to puncture the carpet pad. Start in a closet and get a feel for how much pressure should be applied to the utility knife. Then, once the carpet is up, lift the carpet pad off the floor a cut it with the utility knife. This will prevent any damage to the hardwood.
TIP: We like this knife by Stanley which includes a quick-change blade.
2. Pry Bar & Hammer
Once the carpet is removed, locate the nails which attach the tack strips to the floor. At those points, slide a pry bar under the tack strip. Press the pry bar in order to begin lifting the tack strip.
Then, tap it with a hammer until the tack strip pops up. Slide the pry bar down to the next nail and repeat until the strip is loose from the floor.
Plus, the hammer will also come in handy when a tack strip splits, leaving the nail in the floor. Use the claw end of the hammer to remove a stubborn nail.
TIP: Use a solid, heavy hammer so that you don't need to use much effort hitting the pry bar.
3. Heavy-Duty Staple Remover
This tool is perfect for pulling up carpet staples.
In fact, it's so perfect that I've written an entire post about How to Remove Carpet Staples the easy way.
I've used a heavy duty staple remover for carpet installed over hardwood floors and plywood floors. The staple remover will save tons of time (and it's affordable, too!).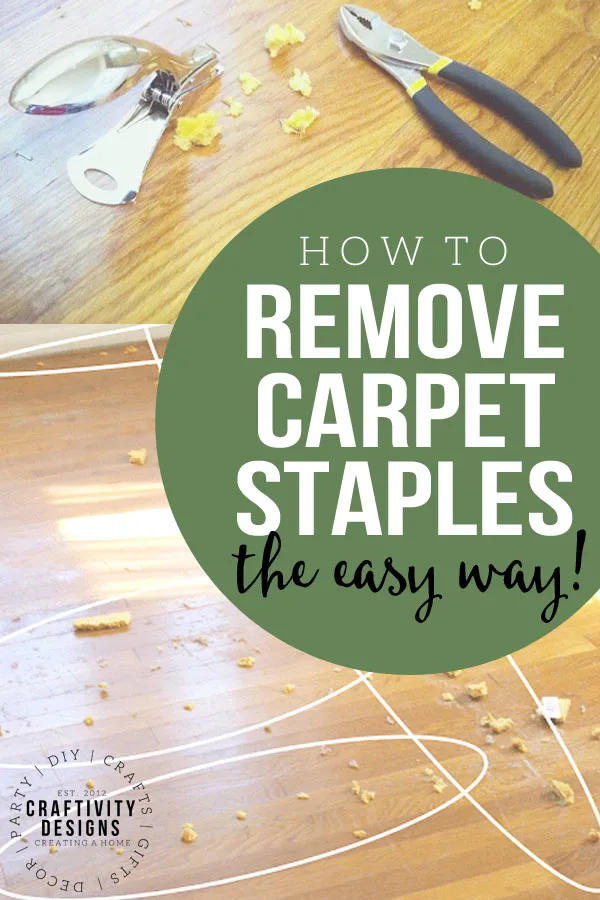 4. Pliers
Periodically, you will find carpet staples that only come loose on one side. Use pliers to pull stubborn staples out of plywood or hardwood.
5. Footstool and/or Knee Pads
Plucking carpet staples out of the floor is tedious work. A footstool will save your back from bending over staples and tack strips. Similarly, knee pads can be used to reduce pressure on your knees, if you aren't using a stool.
6. Gloves
The underside of carpet is tough on hands and repeatedly pressing the staple remover can wear blisters on palms. Plus, tack strips aren't much fun to touch (ouch!).
Therefore, the safest choice is to use quality work gloves for each step.
7. Eye Protection & Dust Masks
Carpet is dusty and dirty (a great reason to switch to laminate, vinyl planks, tile, or hardwood). In order to avoid getting small particles in your eyes – or sneezing and hacking – grab a pair of safety goggles and disposable dust masks.
8. Heavy-Duty Trash Bags
At a minimum, you'll need heavy-duty plastic trash bags. However, we prefer paper "lawn bags" from Lowes for the tack strips. The thick paper won't puncture from the tack strips and nails, unlike plastic bags which are prone to tearing.
9. Screwdriver
Depending on your home, you may need to remove closet doors in order to pull up the carpet. If so, a screwdriver is typically all that is needed to get the door off the rails.
After the carpet is removed, there is a fair amount of dust and carpet debris. Then, as you remove tack strips and staples, it gets worse. A broom is handy to keep the mess under control, but you'll need a shop-vac in order to really clean the floor.
Typically, I'll sweep an area and then repeat with the shop-vac. It picks up stray staples, tacks, and dust that I missed with the broom. I also like to run the shop-vac along the baseboards to get dust that has collected in that gap.
10. Shop-Vac & Broom
If you don't own a shop-vac, a carpet removal project is the time to buy it. Plus, it won't go to waste. We've owned one for 10+ years and have used it for sawdust, standing water, and more.
How long does it take to remove carpet?
For 600 sq ft, we spent about 15 hours (total, between 3 people) removing carpet. This includes moving the furniture in and out of each room.
Of course, the time will vary based on:
how large the room is and
how many carpet staples are in each room.
Typically, removing the carpet is the quickest part of the job. The tack strips can take time, but they are only located along the walls and doorways. The number of carpet staples, however, will depend on the original installation.
Thankfully, there was a normal amount in this house (every few inches along the seams and walls), but there were many, many more in the last house that we completed. Still, with the right carpet removal tools, the job was much easier than it could have been.
Like this post? Pin it for later!

After Carpet Removal
We've never regretted taking out nasty, old carpet in any house. The look and feel of new floors always make the hard work worth it. Interested in how our floors turned out? Check out the Navy Master Bedroom Makeover and Budget Bohemian Nursery to get a glimpse of the finished product.
If you liked this DIY project, you might also like: