Use these 7 Christmas table decorations to set a gorgeous Christmas dinner table! Simple and modern, you might already have several of these items around your home!
Throw a stylish holiday dinner party with items you might already have around your home. Simple and modern, these Christmas table decorations are pieces that you can use and reuse for years to come.
With a non-traditional Christmas color palette, this black and gold Christmas table feels fresh, modern, and unexpected. Whether you decide to go black and gold or white and silver, the key ingredients are the same. In this post, I'll walk you through how to pull together a gorgeous Christmas table in minutes.
Disclosure: This page includes affiliate links.
Christmas Table Decorations on a Budget
Regular readers know that once a month I write a Contributor Post at Beauty in the Mess. For November, I shared How to Throw a Holiday Party on a Budget, and you got a glimpse of my Christmas tablescape.
I pulled together an elegant Christmas table setting for a dinner party… for a grand total of $0.00! A deal, right? I mean, that's even cheaper than a set of paper plates.
To read my tips on throwing budget friendly dinner parties, visit Beauty in the Mess. Those tips will work for any color palette or theme.
7 Christmas Table Decoration Ideas
1. Vintage Crochet Tablecloth
Start with a vintage crochet tablecloth. Yes, this is a modern Christmas table, but mixing old and new is modern decorating. A crochet tablecloth is like the "something old" for a wedding, it adds a sense of history.
In my opinion, a crocheted tablecloth and table runners are a must-have entertaining staple. In white or cream, they match practically every party theme (see my crochet table runners on this rustic Christmas table and at my daughter's ladybug birthday party).
Plus, the delicate and intricate design instantly elevates the elegance of the other Christmas table decorations. Crocheted tablecloths drape beautifully, too (I mean look at the end of that table! Gorgeous, right?!).
2. Modern Gift Wrap
As a wide runner, and a second layer, unroll your favorite modern gift wrap. This black and gold paper is stunning and you'd never guess it was intended to simply wrap presents.
With the gift wrap layer, I've now introduced the main colors in the color palette: black and gold. Not into black and gold? No worries. Select a modern gift wrap in the color palette you prefer for your Christmas table decorations.
3. Cluster of Candles
A general rule of thumb when decorating is that groups will make an impact. Sometimes called the "rule of three," it generally works with any odd number 3 or greater.
Skinny, mid-century brass candlesticks (from my favorite annual "world's longest" yard sale) clustered in the center of the Christmas table are simple and understated – yet strikingly modern.
Like crocheted tablecloths, these are another one of my must-have entertaining staples (see them used in a hot apple cider bar and a simple fall centerpiece).
4. Neutral Dishes
While I can't claim to have planned for Christmas table decorations when I selected our cream dishes, I'm so glad that I chose neutral dinnerware. If you don't have neutral dishes, plan your color palette around the color of your dishes.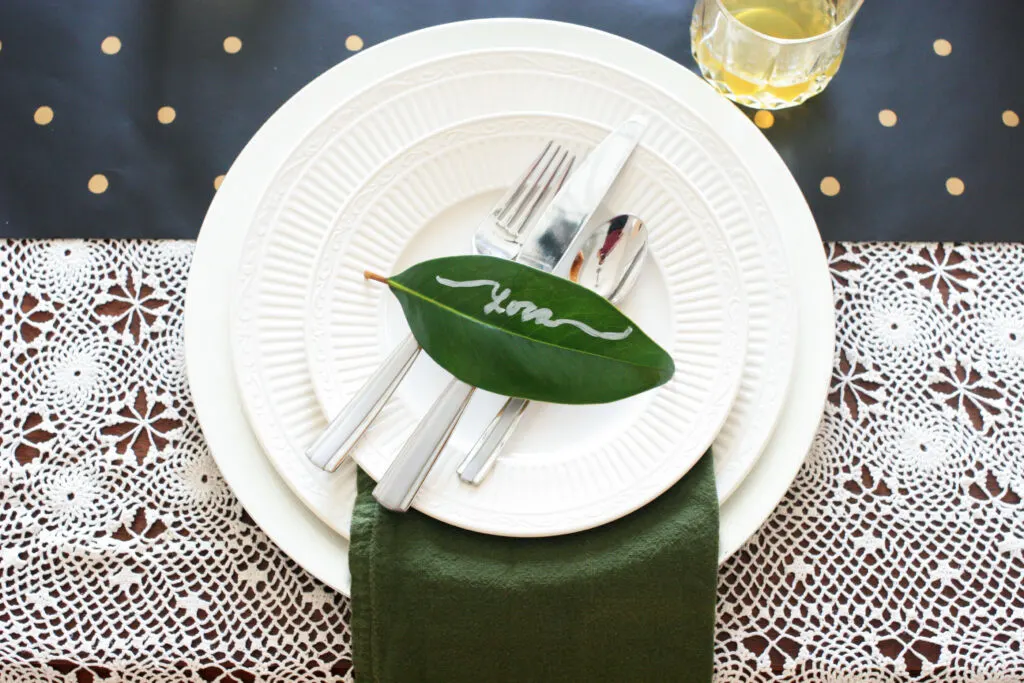 For example, the third color in this table setting is green. If I owned red dishes, red would be the third color in the palette. If I owned navy dishes, blue would be a color in the palette (I'd probably use a blue and gold gift wrap, too). Etc.
But, if you are shopping for a set of dishes, I recommend neutral colors that will provide you years of both daily meals and dinner parties.
5. Fancy Glassware
I've found that a few fancy glasses instantly elevates a table, whether it is crystal low tumblers or a set of basic stemware. So, even though my neutral dishes aren't delicate and are completely suitable for everyday – all of the Christmas table decorations feel fancier due to the glassware.
6. Natural Elements
In this tutorial for an easy Christmas centerpiece, I recommend including a natural element. Since this table's centerpiece doesn't have any natural elements, I incorporated it into the place setting, instead.
As a huge fan of decorating with magnolia leaves, it made sense to incorporate my favorite deep green leaf into this Christmas table setting. Using a white chalk marker, I wrote each guest's name on the green side of the magnolia leaf.
7. Cloth Napkins
Finally, always use cloth napkins as one of your Christmas table decorations. Fabric napkins will add to the elegance of your table, but they'll also continue the color palette.
Since green is the third color in this palette, I used our green cloth napkins. For additional color, I simply folded them in half and hung them over the side of the table, tucked securely between the salad and dinner plate.
Christmas Tablescape Blog Hop
If you're a fan of a pretty table setting, there is more to see! Check out many more lovely Christmas table decorations, today and Wednesday. Find all of the links, directly below the image.
Monday
Craftivity Designs / North Country Nest / 2 Bees in a Pod / My Creative Days
Wednesday
Designers Sweet Spot / Our Crafty Mom / Meet Our Life / Life on the Bay Bush
Want to save these Christmas table ideas? Pin it!