Learn how to make a Dinosaur Costume, Dinosaur Tail, and Dinosaur Hooded shirt. A DIY Dinosaur Costume is a great Halloween Costume for a toddler, preschooler, or child!
Is your child a dino fan? My little guy wanted a dinosaur costume for Halloween – and for play. So we fashioned up a DIY dinosaur costume that included all the key components: a dinosaur tail, sharp teeth, dinosaur feet, and a back full of spikes.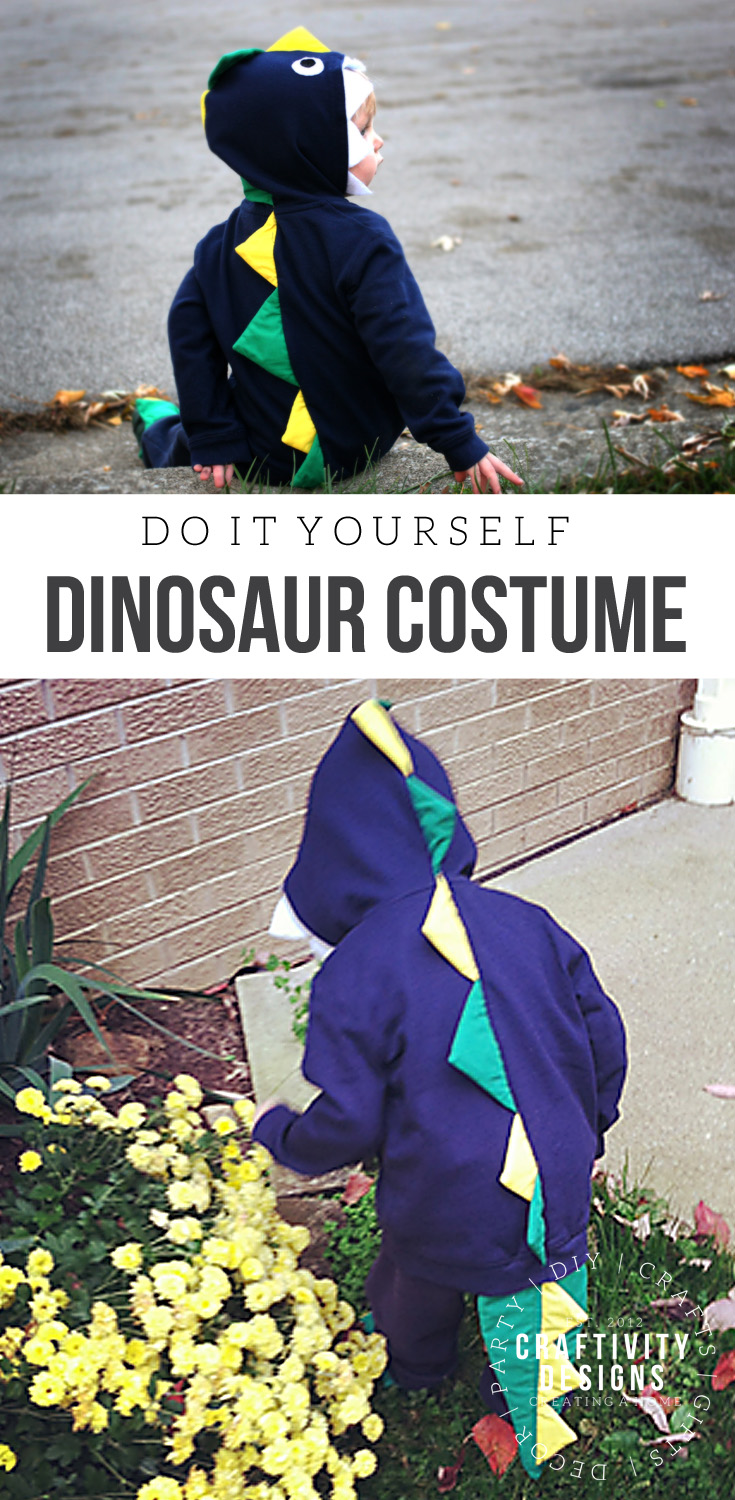 He's been very much into roaring lately (and, no, not because of Katy Perry…) so it seemed fitting he dress up as a dinosaur — a blue dinosaur was his specific request.
P.S. Yes, we've already dressed up once this year, as Mouseketeers; but that was a family costume. Therefore, we still wanted him to have something special for Halloween.
DIY Dinosaur Costume
This tutorial includes a supply list and general instructions. If you'd like fabric templates, I've included links to several sewing tutorials.
Supplies Needed
Dinosaur Hooded Shirt
Dinosaur Tail
Dinosaur Feet
How to Make a Dinosaur Costume
Make a Dinosaur Hoodie with a Sweatshirt, Fabric, and Felt
First, cut yellow and green triangles for the dinosaur spikes.
Once cut, sew 2.5 sides of the triangle.
Next, fill each triangle with polyfill stuffing so that it will stand up.
Then, sew the triangle closed.
Once all of the triangles are complete, sew them to the hooded sweatshirt.
Next, cut 2 white circles and 2 black circles from felt.
Then, layer the felt (black atop white) to create eyes.
Once in place, sew through both layers in order to attach the eyes to the hood.
Finally, cut white triangles from felt for dinosaur teeth.
Once cut, sew to the front edge of the hood.
Make a Dinosaur Tail with Fabric and Polyfill Stuffing
First, cut 2 large green triangles for the dinosaur tail.
Once cut, sew 2.5 sides of the triangle.
Next, fill the triangle with polyfill stuffing so that it is stiff.
Then, sew the triangle closed.
Once the tail is sewn, add spikes by cutting yellow triangles.
Repeat steps 2-4, then attach the yellow spikes to the green tail.
Once sewn, add a loop of elastic to the end.
Then, attach a button to the base of the hooded sweatshirt. This allows the dinosaur tail to hang from the shirt.
TIP: Check out Running with Scissors for a dinosaur tail cut list and measurements.
Make Dinosaur Feet with Fabric and Elastic
Cut 4 green rectangles for the dinosaur feet. The rectangles should be similar in size to the child's foot.
One the end closest to the toes, use scissors to round the corners of the rectangles.
Sew each set of 2 rectangles together.
Next, attach elastic to each of the back corners of the rectangle. The elastic can slide onto the child's ankle so that the dinosaur feet cover the child's shoes.
Handmade costumes are my favorite kind of Halloween costume. As soon as Labor Day passes, I'm scheming up costume ideas! A few of my other favorites have been a no-sew baby bug costume, an easy Luigi costume, and a no-sew ninja costume.
More Dinosaur Costume Ideas
Like this Halloween costume? Pin it!