Like spooky Halloween decor, but have small kids? Check out these 3 tips to create easy DIY outdoor Halloween decorations that are simple and affordable.
If you're like us, we enjoy some spooky decorating at Halloween. However, we've got small children so it can't be too scary. We surely wouldn't want to keep them from sleeping, right?
No parent would EVER want a child not to sleep. Yikes! THAT is scary. So, we found a way to make easy DIY outdoor Halloween decorations without scaring our kids!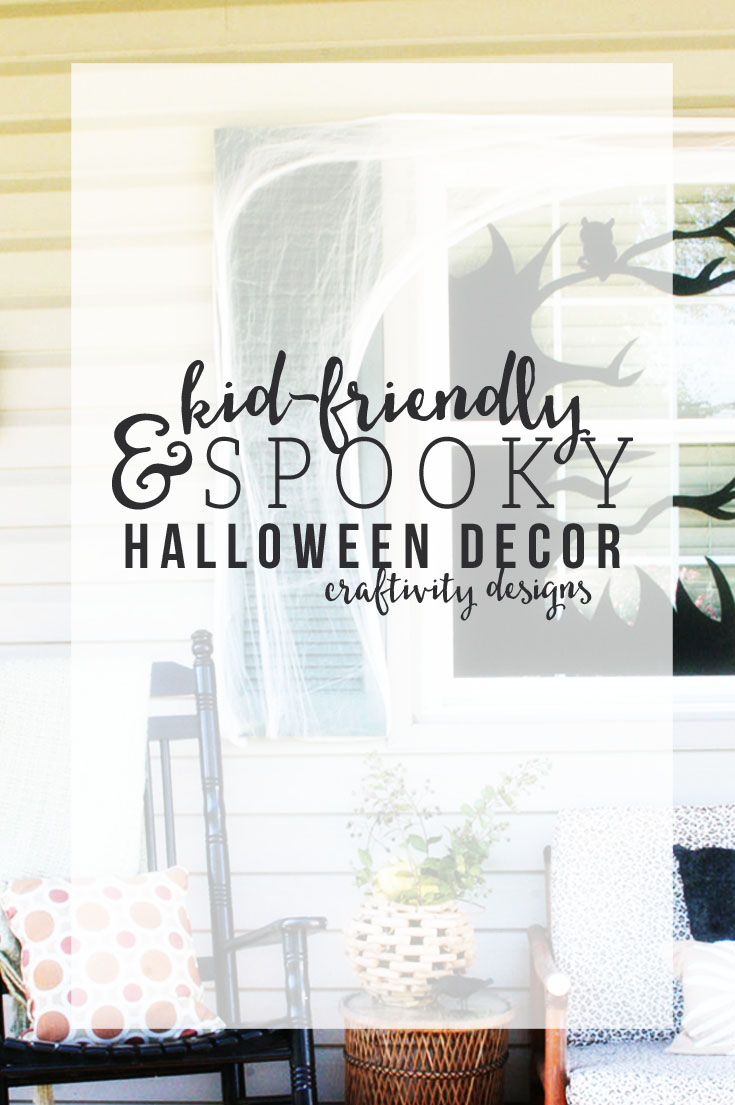 **Amazon Affiliate links are included in this post.
So, how did we mesh spooky with kid friendly? Let's take a tour…
DIY Outdoor Halloween Decorations
TIP #1: Ravens & Spiders instead of Ghouls & Goblins
Skip the scarier Halloween icons for critters like owls, ravens, and spiders. Now, let's be honest, most adults are probably more afraid of spiders than zombies. Spiders are actually real, folks! Eek!
However, for a kiddo, those found-in-nature creatures are already familiar. Even though a black crow might feel a little spooky, it's not an unknown scary goblin. If you do have a ghoul… choose the friendlier types — like our "Halloween" Mummy sign.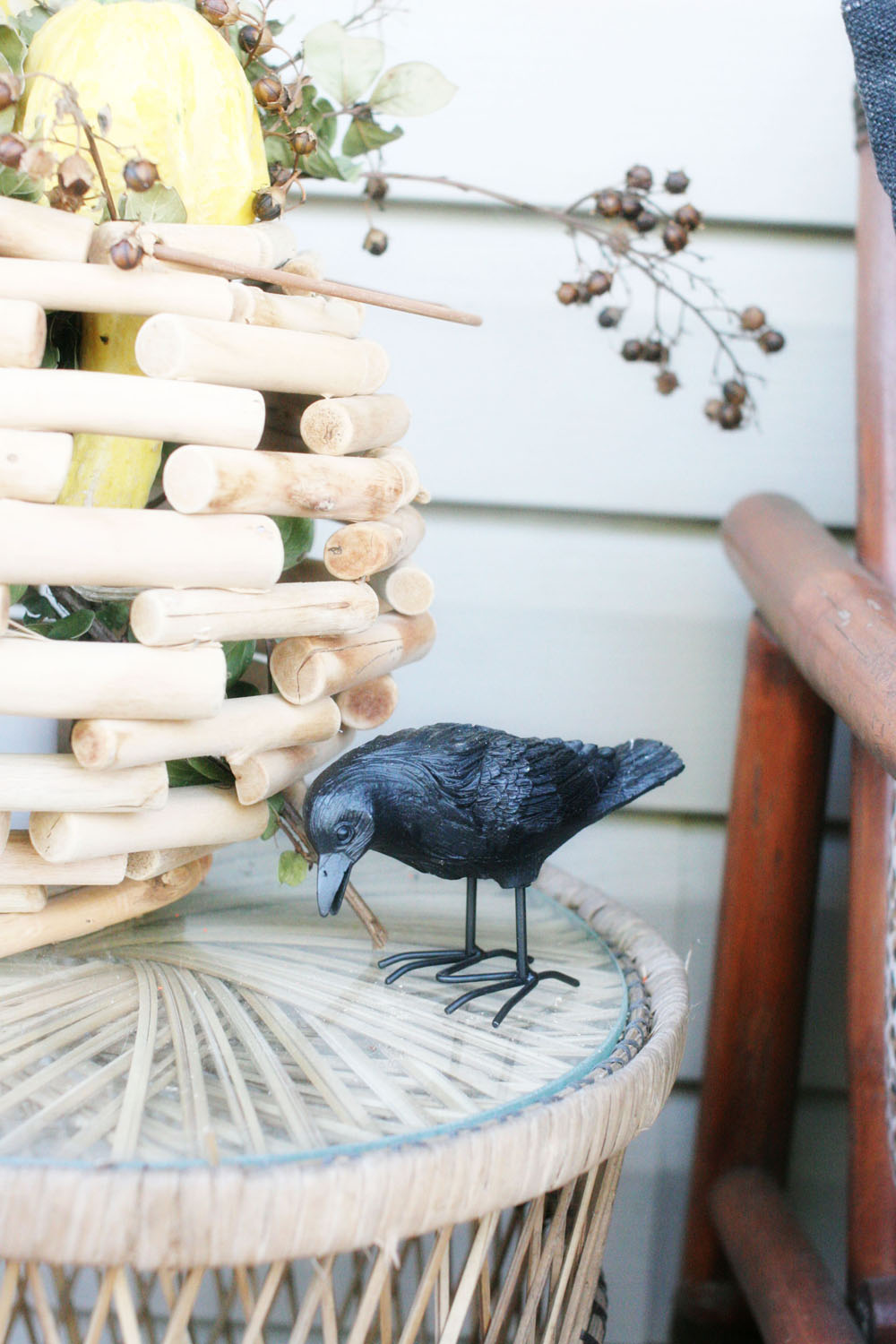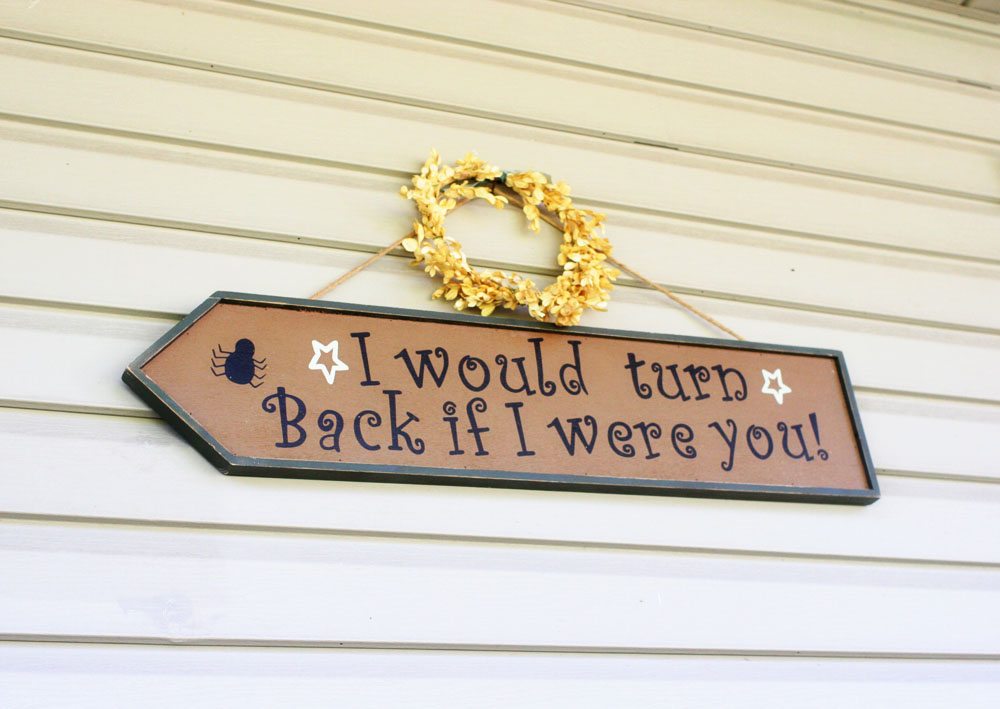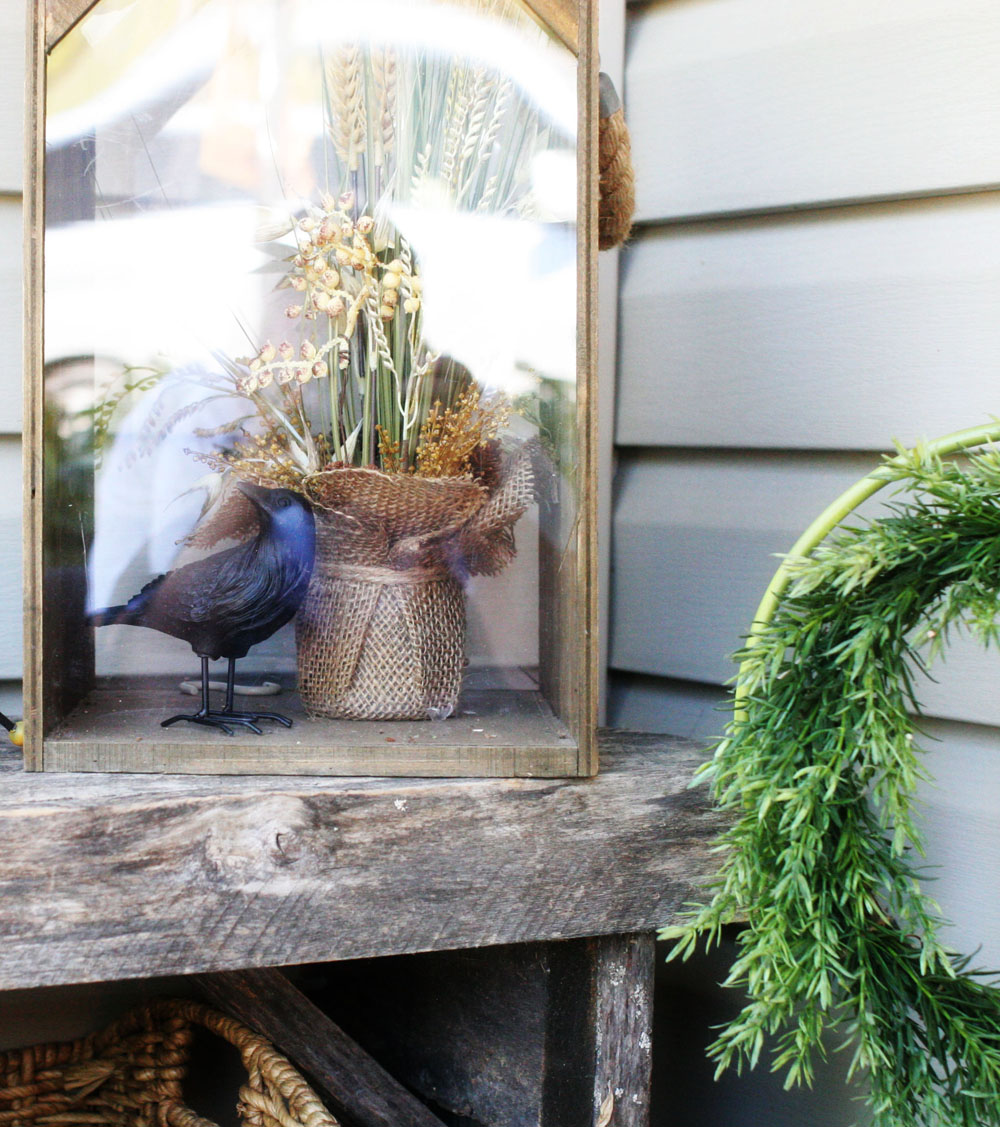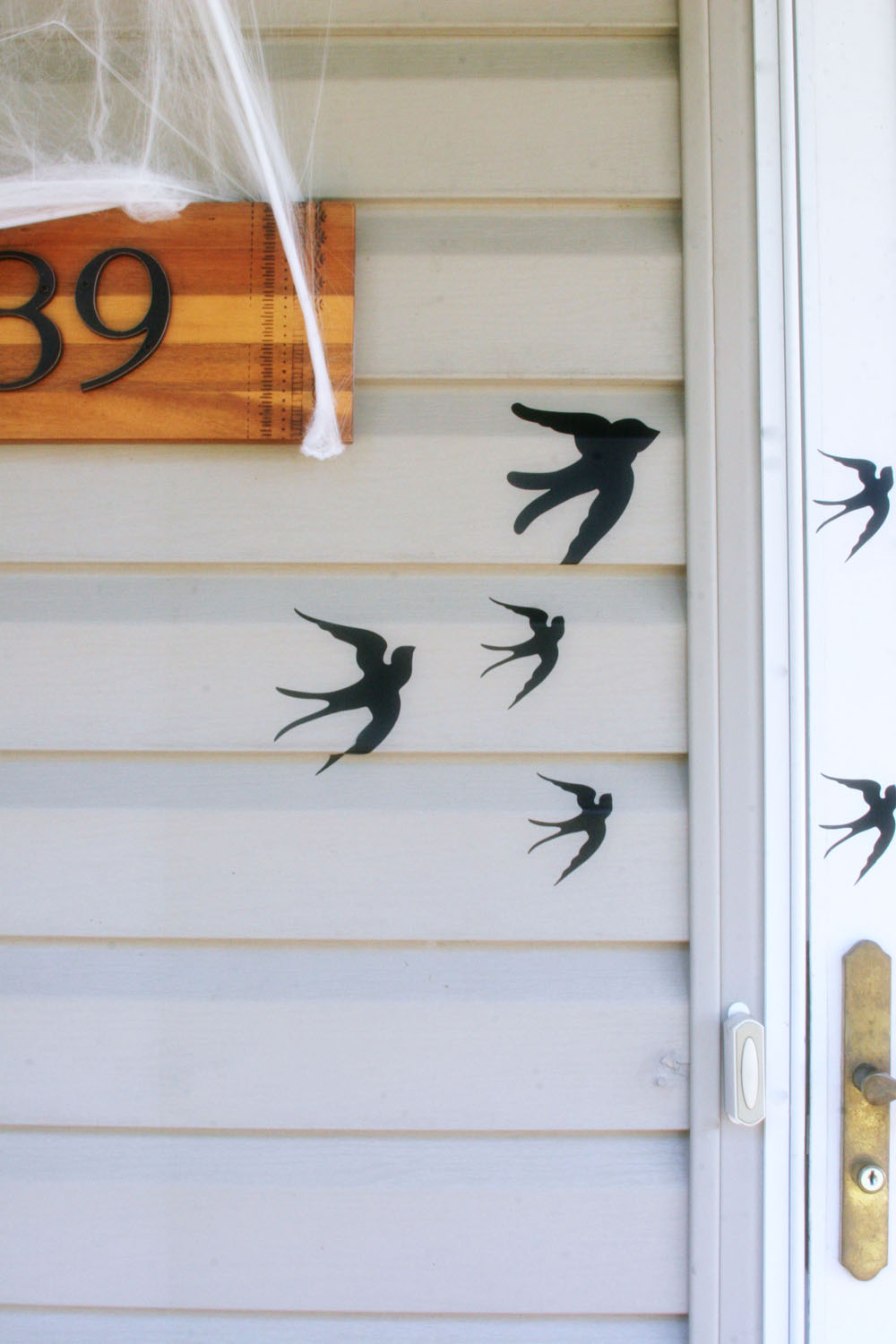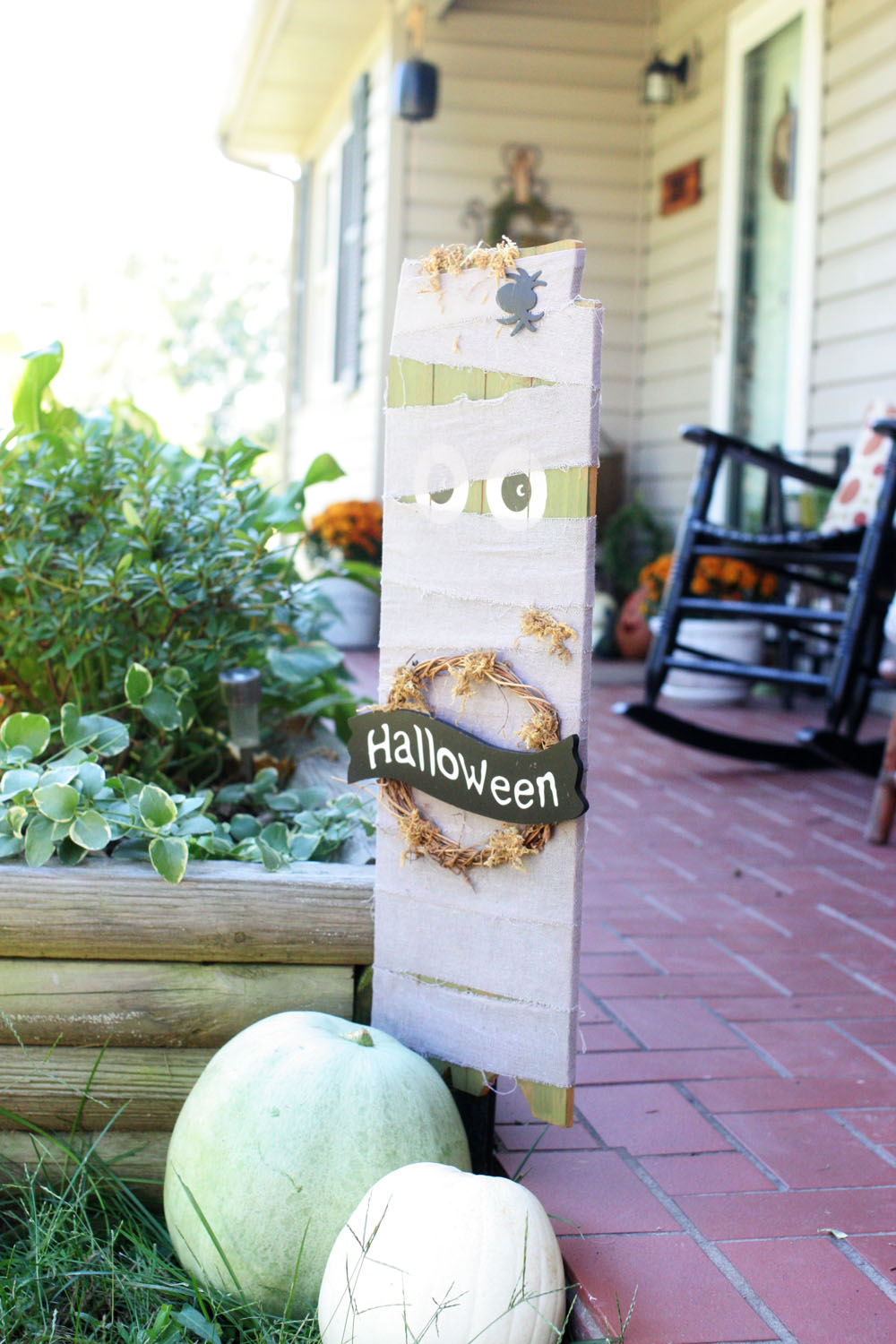 TIP #2: Black Contact Paper is Cheap… & Spooky!
I bought this giant roll (75 ft long!) of black contact paper 4 years ago, and I'm still using it. For Halloween, I cut out trees, ravens, and owls to use on the windows and doors.
Ravens
To make the birds, I used my Cricut in combination with the Sentimentals cartridge (note: if you buy the new Cricut, you don't even need cartridges; but I have an older version).
Tree Silhouettes
The tree silhouettes were too large for a machine, obviously. To make trees:
Measure the size of the window.
Cut sections of contact paper to fit the window.
Tape 2 or more sections of contact paper side by side, if the window is wider than standard width contact paper.
Flip over the contact paper.
Draw the tree outline on the backside of the contact paper.
Cut out the silhouettes.
Grab the kids to help apply the decals onto the windows. We created a spooky scene by placing owls in the trees and ravens flying across the front door. By the way, I love to include the kids when we are decorating the yard for Halloween – they also enjoyed this DIY Halloween Tombstone project.
At night, light shining through the windows gives a dramatic effect to the dark silhouettes. I love that this idea is so versatile… make pumpkin faces, monsters, or ghosts, for example.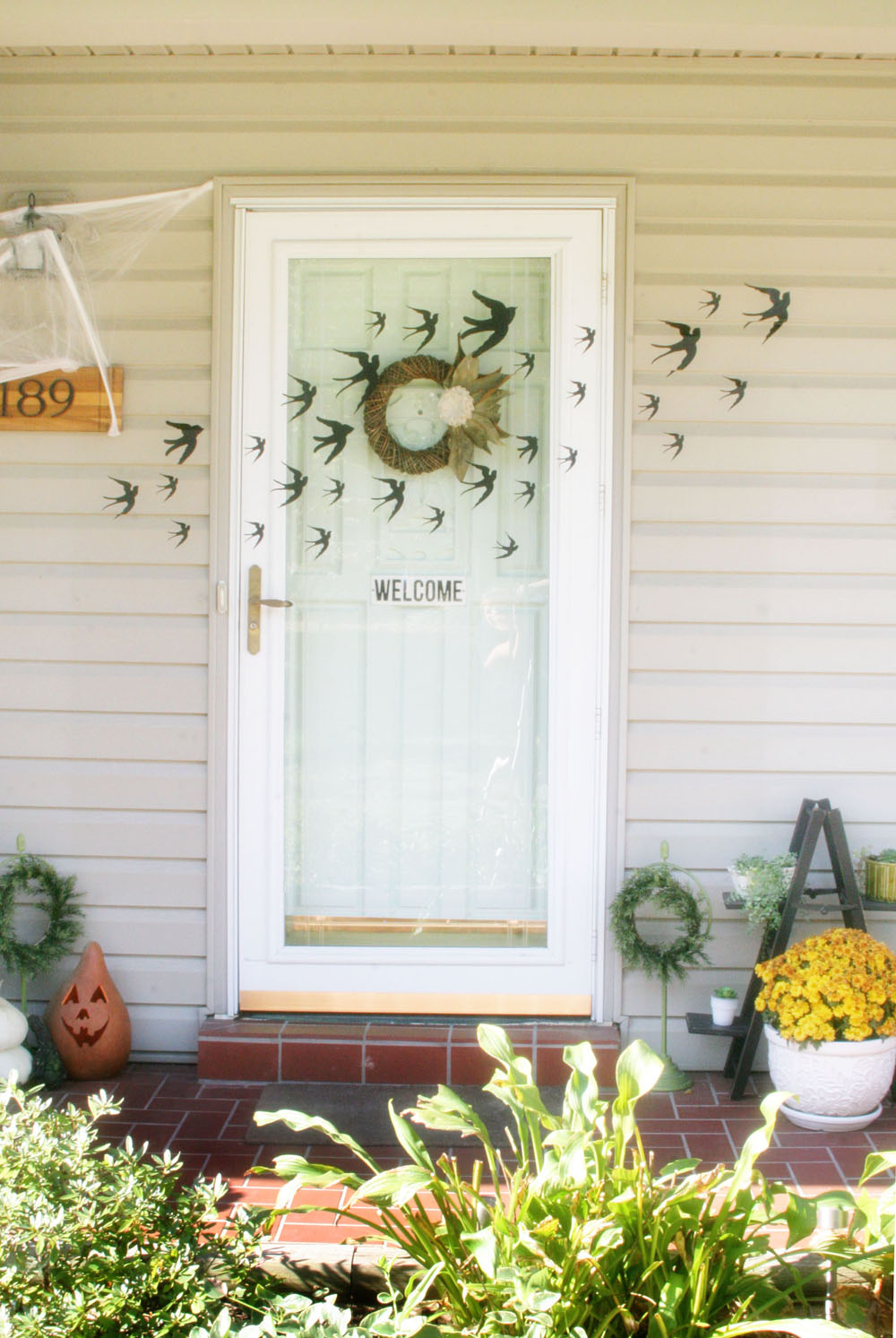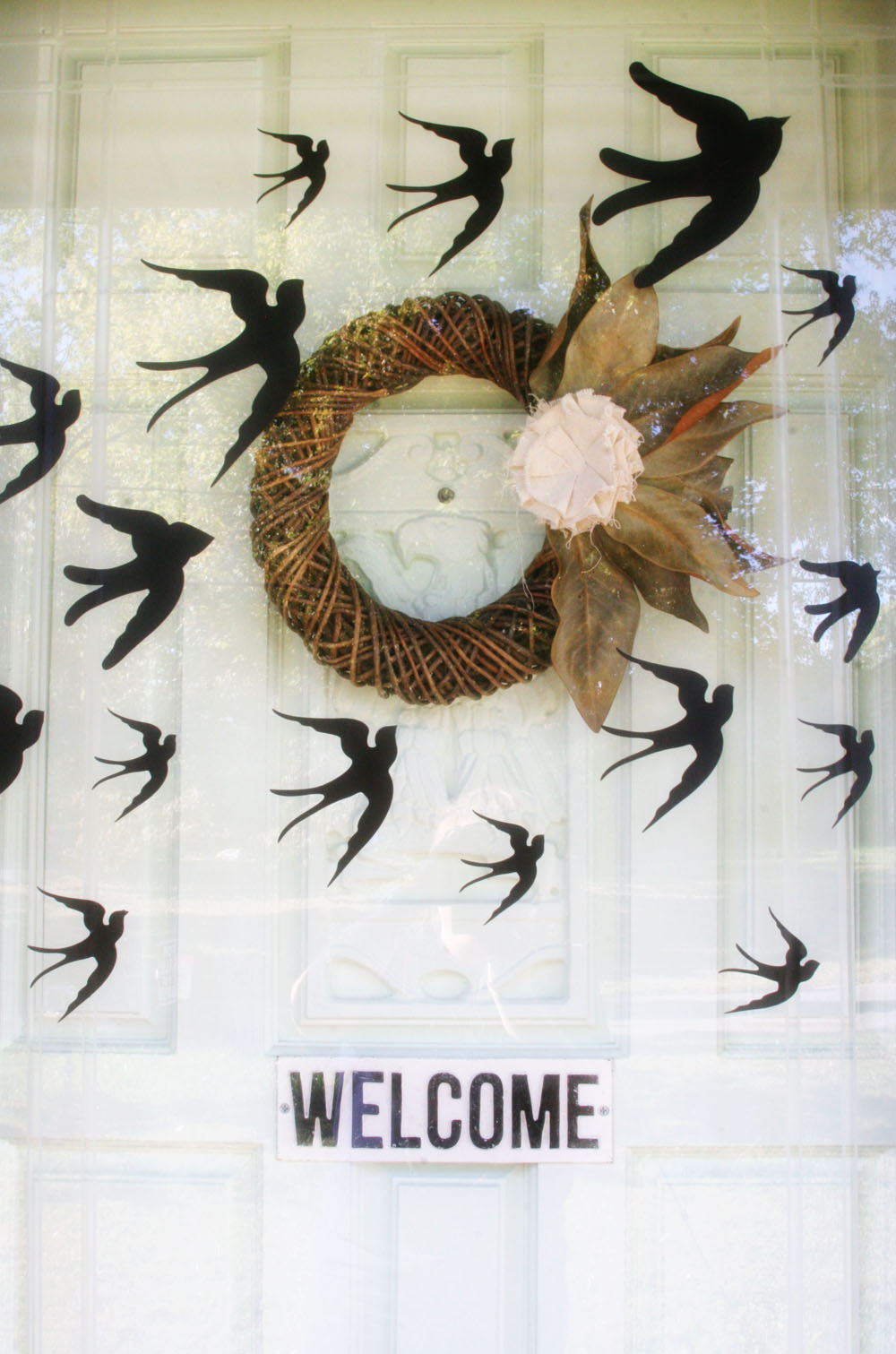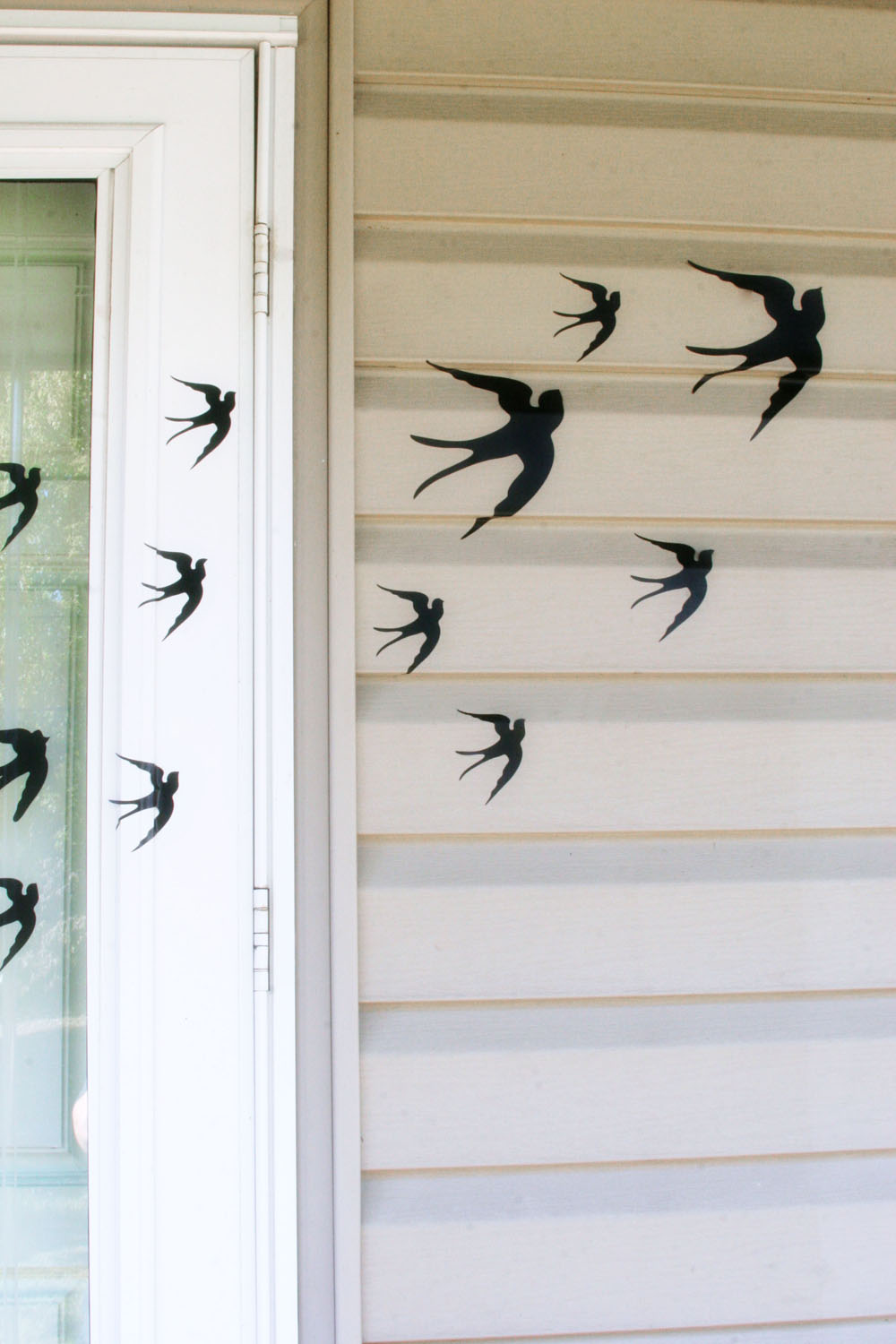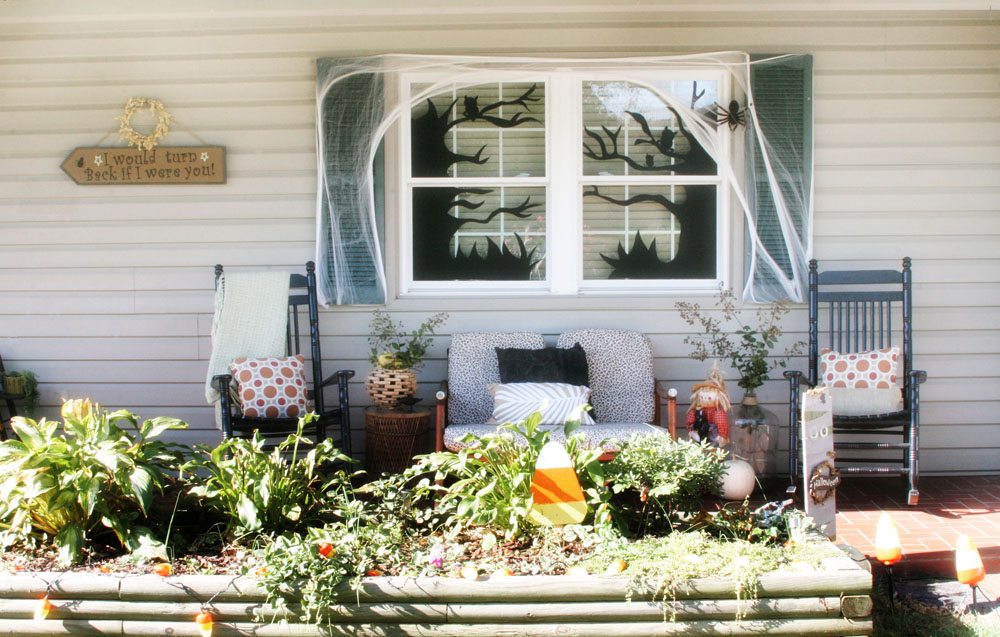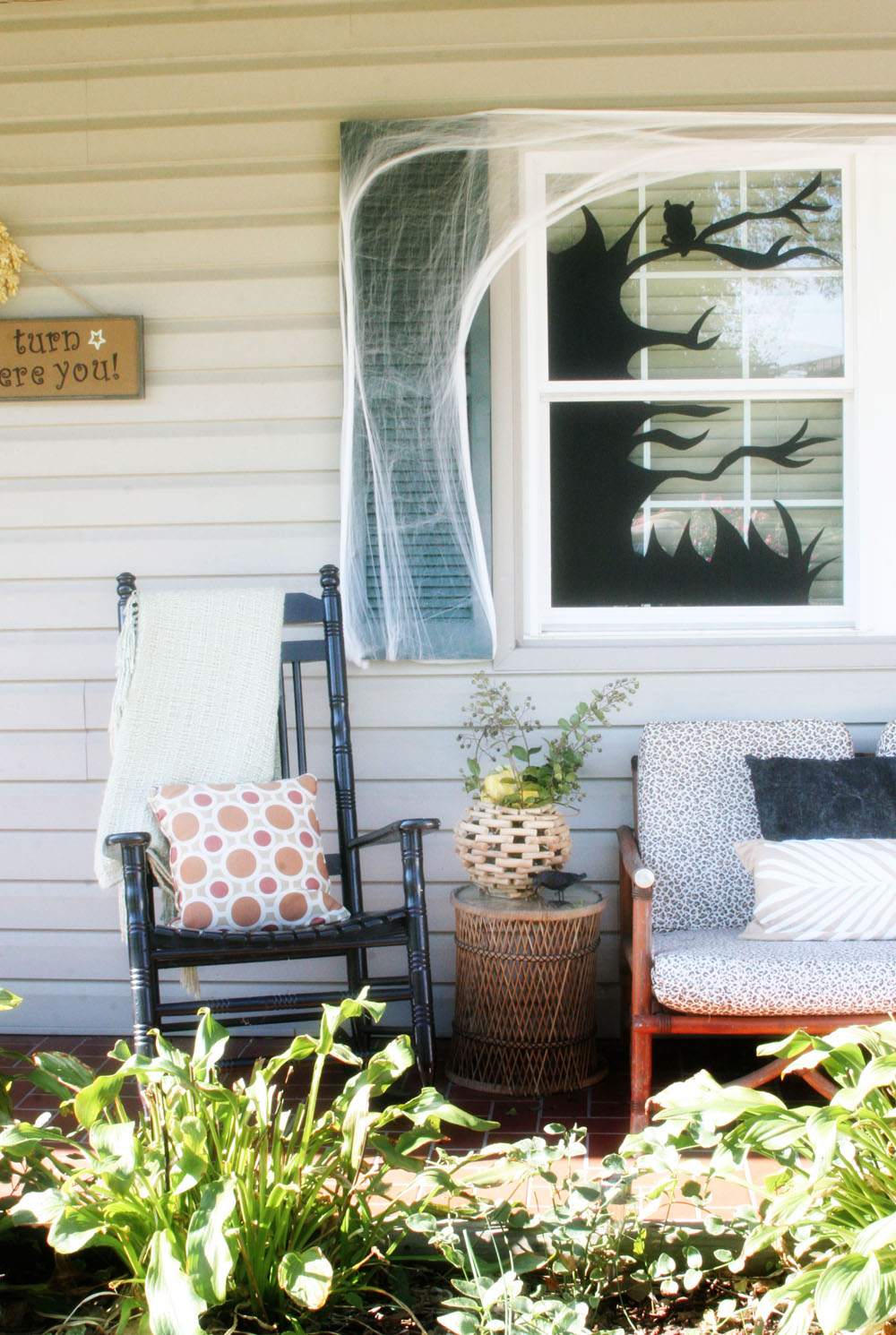 TIP #3: Dollar Store Spider Webs add Dimension
The vinyl decals provide a spooky look, but it's all 2-dimensional. A simple way to add dimension is with nylon spider webs. You can pick the webs up at the Dollar Store and layer them over the scenes created with contact paper.
Stick a few spiders in there, too. The kids will have fun "decorating" the webs with creepy crawlies!
Halloween Home Decor Ideas
If you saw my Fall Home Tour last week, you may have noticed all of the Fall Decor is still in these photos. How do you decorate for Halloween? I like to decorate for fall in September, add in Halloween-y decor during October, then trim it back to just the fall items through Thanksgiving. But, maybe that's too complicated? Or maybe it would be fun to setup a gigantic Halloween display in the yard? I'd love to hear what you do!
If you'd like to see more Halloween Ideas, visit some new blogs and see their creative Dec-O-Ween decor, too! Get all the links below.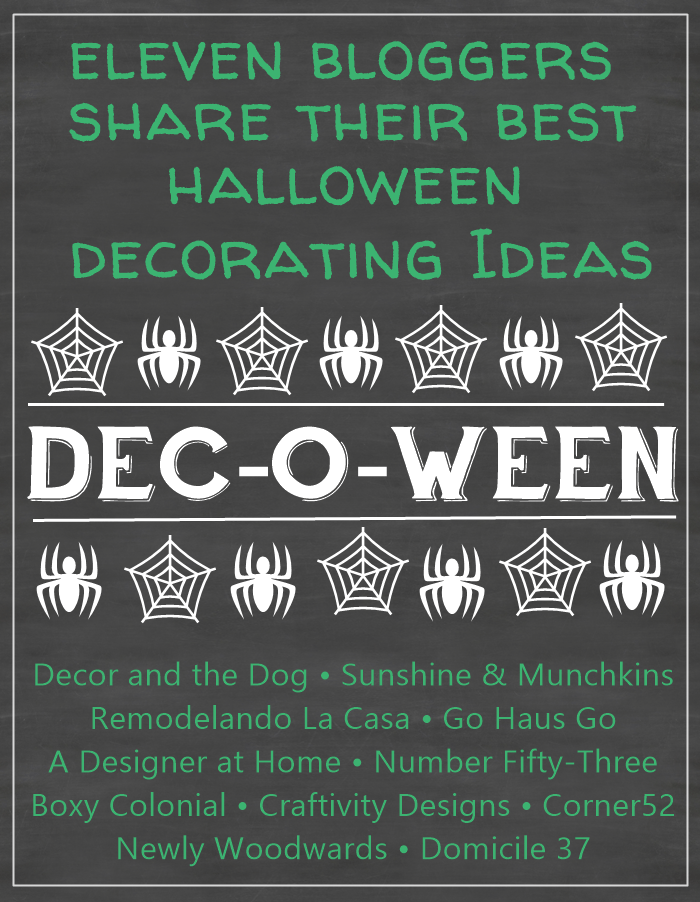 TUESDAY
Decor and the Dog
Corner52
Remodelando La Casa
A Designer At Home
WEDNESDAY
Go Haus Go
Number Fifty Three
THURSDAY
Boxy Colonial
Newly Woodwards
Domicile 37