Learn how to make DIY Halloween Tombstones that are inspired by Disney's Haunted Mansion (including funny tombstone sayings)! Follow this tutorial for a haunted experience that you can easily make at home.
Halloween is the time for tricks, treats, and spooky decorations like DIY Halloween Tombstones. At Disney's Haunted Mansion (one of my favorite rides!) you glide through spooky-but-not-scary scenes before exiting out to a graveyard filled with cleverly written tombstone sayings.
Because I'm such a fan of the Haunted Mansion, it inspired me to make my own ghostly graveyard. You can make one DIY halloween tombstone, or make an entire graveyard that is sure to give your neighbors a chill!
Get ready to get in the Halloween spirit with these DIY Halloween Tombstones!
Disclosure: This page includes affiliate links.
How to Make DIY Halloween Tombstones
Even making one tombstone can really add a layer of spooky fun to your Halloween decor. But, I like to make an entire graveyard with 5-10 tombstones.
This project is a great way to use scrap wood, leftover spray paint, or scrap leather. And, it's a cheap and easy way to decorate for Halloween that allows the kids to join in the fun. Let's get started!
Note: If you'd like download and print these instructions (with links to the supplies, included), click here to jump to the instruction card.
Supplies
Scrap wood
Metallic gray spray paint
Oil rubbed bronzes, blacks, dark gray spray paints
Black paint
Permanent marker
Leather
Wood or metal stakes
Tools
Instructions
#1: Cut out Tombstone Shapes
First, grab scrap wood and a jigsaw to cut out the tombstone shapes.
#2: Spray Paint the Tombstones
Next, add a spotty, uneven coat of metallic gray spray paint to the tombstones.
#3: Darken the Edges of the Tombstones
Then, create a dark edge around the tombstone using a mix of oil-rubbed bronzes, black, and dark gray spray paint. You'll want to apply it to the edges in a spotty, uneven way.
#4: Make the Tombstone Spookier
To make the tombstone spookier, add splatters of black paint with a paint brush.
#5: Write the Tombstone Sayings (Epitaphs)
Write creepy, clever, or funny sayings on each tombstone with a large poster marker.
If you have small children, you can write the saying with a regular permanent marker, first. Then let them go over it with a large poster marker.
#6: Protect the Tombstone
Spray the finished tombstone with clear gloss to protect the artwork.
#7: Cut Leather into Strips
Using pinking shears, cut scraps of leather into strips.
#8: Attach Leather Straps
Using a staple gun, loosely attach the leather straps to the back of the tombstone. When you are finished, you should be able to slide the leather loops over the stakes after inserting the stake into the ground.
Set up your tombstones and enjoy the fun!
DIY Halloween Tombstones
That's it! It's so easy to make your own graveyard inspired by Disney's Haunted Mansion! And, the best part about these easy DIY tombstones is that you can use them year after year.
At the end of the season, stack all the tombstones and store the stakes in a bag for easy storage that doesn't take up much space.
Turns out that a Halloween tombstone graveyard makes for a pretty good photo spot, too!
Psst: Make sure to check out the Cinderella Halloween costume and Harry Potter costume, if your kids are fans of these iconic characters.
If you love the idea of decorating outside for Halloween, consider adding more spooky decorations to your tombstones. Check out this post of Easy DIY Outdoor Halloween Decorations for more fun ideas!
The kids enjoyed watching this spooky tombstone come to life, and you can watch it come to life in this video, too (coming soon)!
Tombstone Sayings
Not sure what to write on your tombstones? Reading the tombstones has always been a favorite activity of mine at the Haunted Mansion. Many of the tombstones are an "insider" tribute to an imagineer who helped make the Haunted Mansion the spooky place that it is. How cool is that?! You can learn more about the Haunted Mansion tombstones on the Disney Parks Blog.
Since this project is inspired by Disney's Haunted Mansion, it's only fitting to add a few of their graveyard tombstone sayings (including a few animal headstones, too!). Here are some to get you started:
Here lies good old Fred – a great big rock fell on his head.
Rest in Peace Cousin Huet – we all know you didn't do it.
Dear departed brother Dave – he chased a bear into a cave.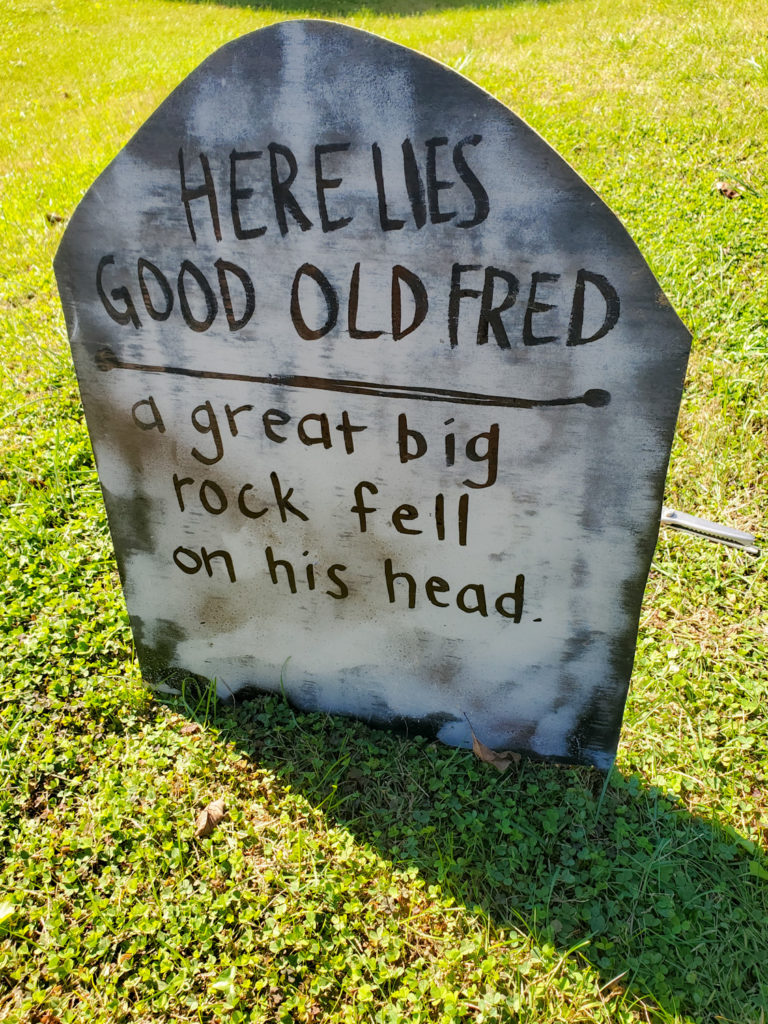 Rust In Peece 1801-1856
Dustin T. Dust 1842-1899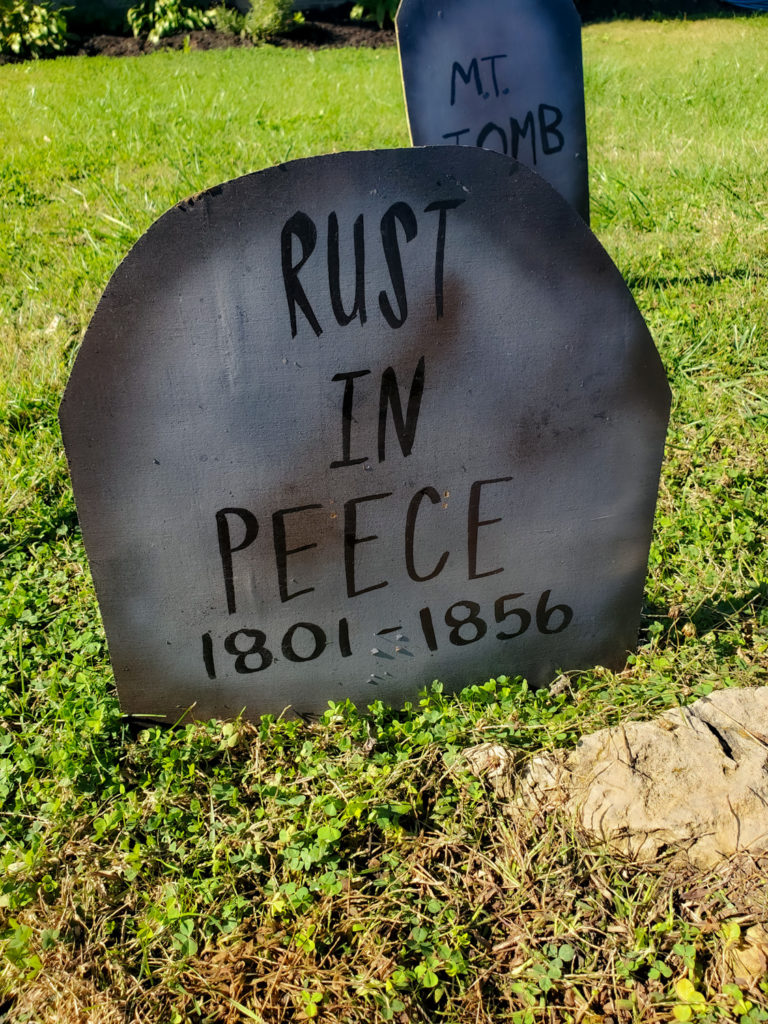 Here lies long-legged Jeb – got tangled up in his very own web.
Pet bat – Freddie 1845-1847 – We'll Miss You (written upside down)
Pet Snake – His fatal mistake was frightening the gardener, who carried a rake.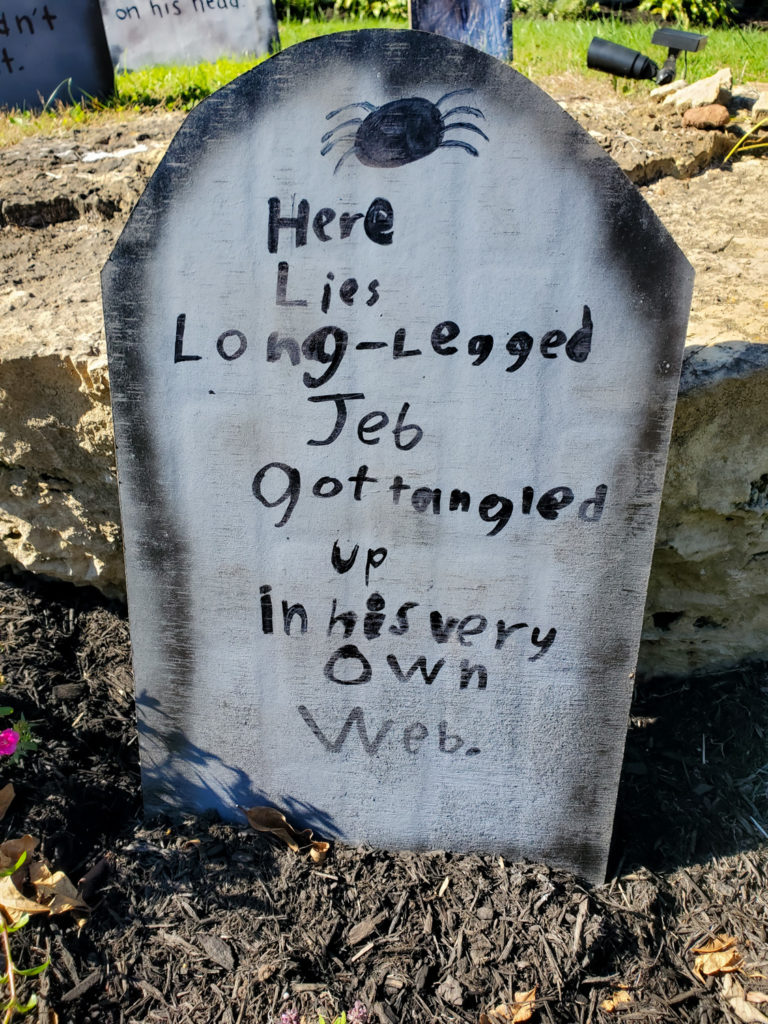 I Trudy Departed
M.T. Tomb
I.L. Bebak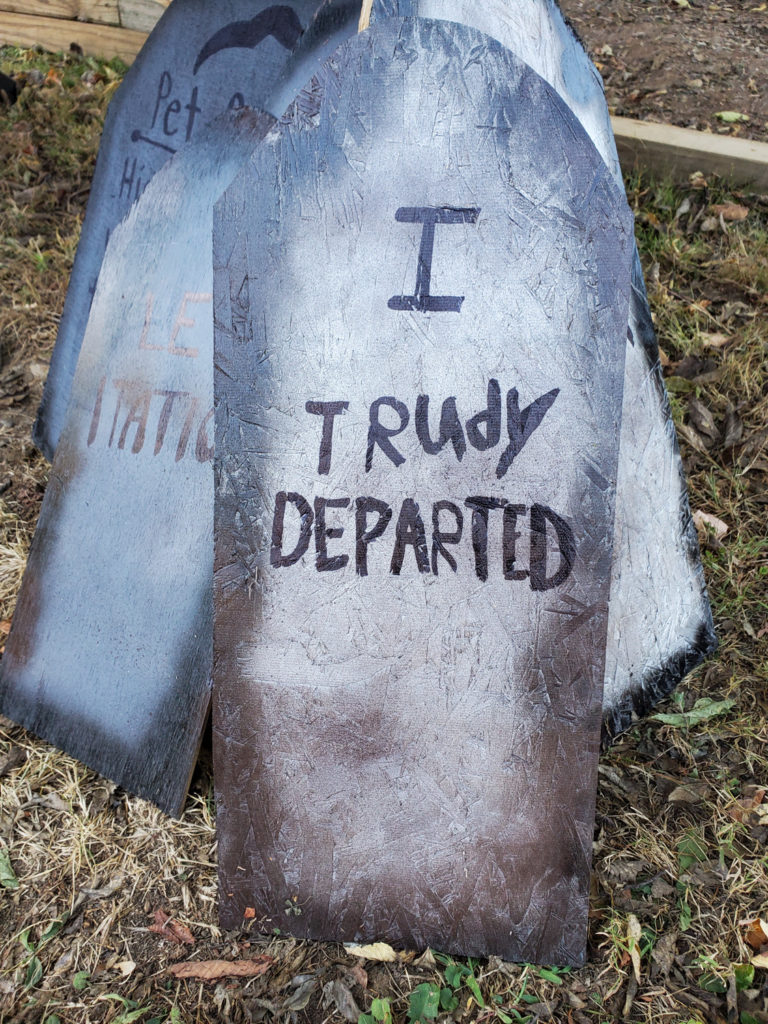 Did you like this creative Halloween idea? You might also like:
Want to save this DIY Tombstone tutorial for later? Pin it!