Embrace green cabinets in your home. Dark green, olive, sage, and kelly green cabinets have been popping up in kitchens, laundry rooms, bathrooms, and more!
The Jan/Feb 2019 issue of Country Living claims that "green is the new neutral." They must have consulted me (yeah, right) because I've been saying that for years! Still, I chose green cabinets for our Vintage Laundry Room way back in the summer (well before CL's issue was released), so maybe I can claim a *tiny bit* of early trend-spotting, right?!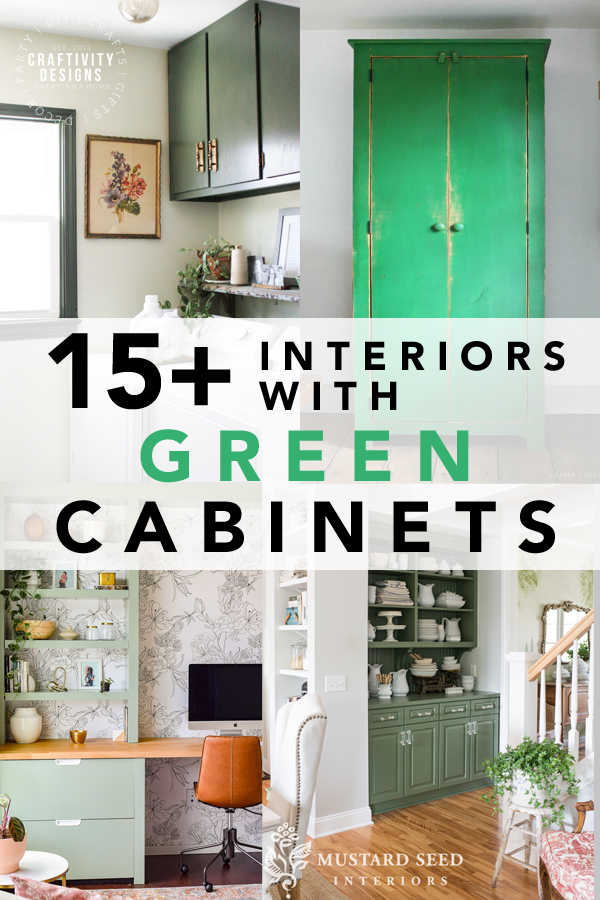 My last name is "Green," so maybe I come by my love for the color naturally, right?! Truthfully, I've loved it since long before I married and became a "Green." Likely, due to its natural appearance throughout nature. Shades of green exude life, freshness, and energy.
In today's post, we'll take a look at dark, mid-tone, and light green cabinetry in a variety of rooms from kitchens to laundry rooms.
Dark Green Cabinets
Hunter green, forest greens, and olive green are all in the dark green category. Some green paint colors are dark enough that they can read deep gray or nearly black in certain lighting.
Mid-Tone Green Cabinetry
Moss green and kelly green are included in the mid-tone green paint colors. If a dark green cabinet feels too intense, a kelly, or moss green is a fresh, lighter choice.
Light Green Cabinets
Sage green and mint green are both included in the light green color range. Sage green is a bit warmer in tone, while mint green leans cooler with hints of blue.
15 Examples of Home Interiors with Green Cabinets
Embrace Green Cabinetry
So, are you ready to embrace green cabinets in your home? Why, or why not? Would you embrace any color – other than wood stain or white – on cabinetry? If, so which color? I'd love to hear your thoughts.
If you like this interior decor idea post, you may also like:
Want to save these green cabinet examples? Pin it!