Learn how to spray paint indoors with a DIY Indoor Spray Paint Booth. No need to depend on weather with an indoor spray tent and indoor paint booth.
Our DIY indoor spray paint booth has changed my furniture-painting strategy. Because, confession, I've never liked spray painting.
It's just been too complicated – and honestly, too risky. It makes me nervous painting a vintage piece while crossing my fingers that nature doesn't mess it up.
All those amazing "before and after" spray painting tutorials on Pinterest? No thanks.
First, I have to wait for the perfect day. Rain, wind, or extreme temps are no good for spray painting. Second, I pray that no bugs land in my freshly sprayed paint… and that not a speck of pollen dust will land on it. In Kentucky, wishing for "no pollen" isn't much different than wishing for a pot-of-gold at the end of a rainbow.
Plus, there is that entire season, where it's too cold for ideal spray painting conditions.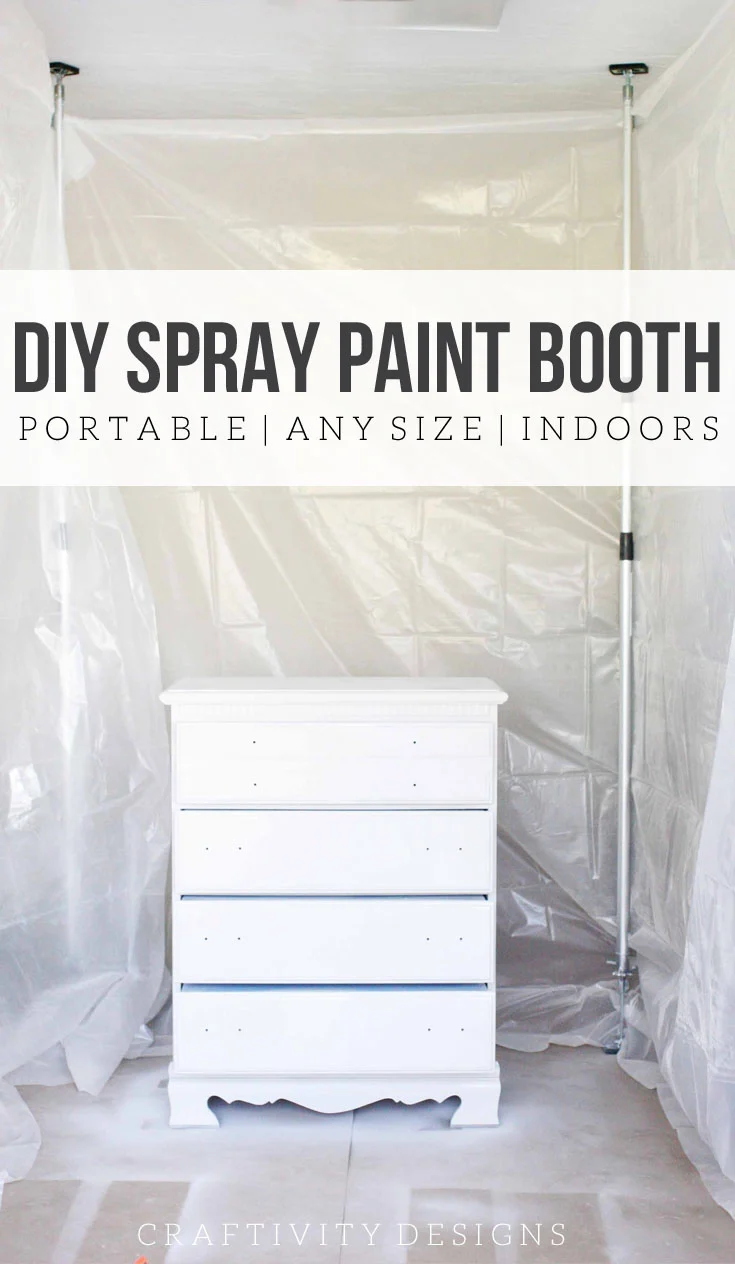 Disclosure: This post has been sponsored by Trimaco. All opinions are mine.
Disclosure: This page includes affiliate links.
How to Spray Paint Indoors
Several years ago, my husband bought me a paint sprayer for Christmas. We intended to eventually paint the shutters on our home, which is how it ended up on my wish list. However, I haven't touched the thing.
When Trimaco contacted me about a collaboration, I knew it was time for me to get the paint sprayer out of the box. For one, I have several pieces of furniture that are waiting for a smooth, professional-finish, paint job. Plus, Trimaco has a versatile product, E-Z Up Containment Poles, that could save me from my spray painting fears.
How?
The containment poles are designed for projects such as remodeling a kitchen. In that case, you can wall off an entire room to protect from paint spray, sanding dust, etc. It's a quick and easy setup, that works in any size room. Take a look at this video.
Supplies
Instructions
1. Clear Floor Space
To begin, clear out an approximate 8'x6′ space in the garage. If you need access to open the garage during the project, make sure to set up the booth beyond the track of the door rails. If not, the containment poles — which reach the ceiling — would interfere with the door when raised.
As I mentioned, we've got several pieces of furniture to paint. Some are smaller, others are larger, some have drawers, etc. An 8'x6′ space is a suitable indoor spray paint booth size for a variety of projects. The drop cloth is 20′ long, which means it could have made a booth up to 20'x20′.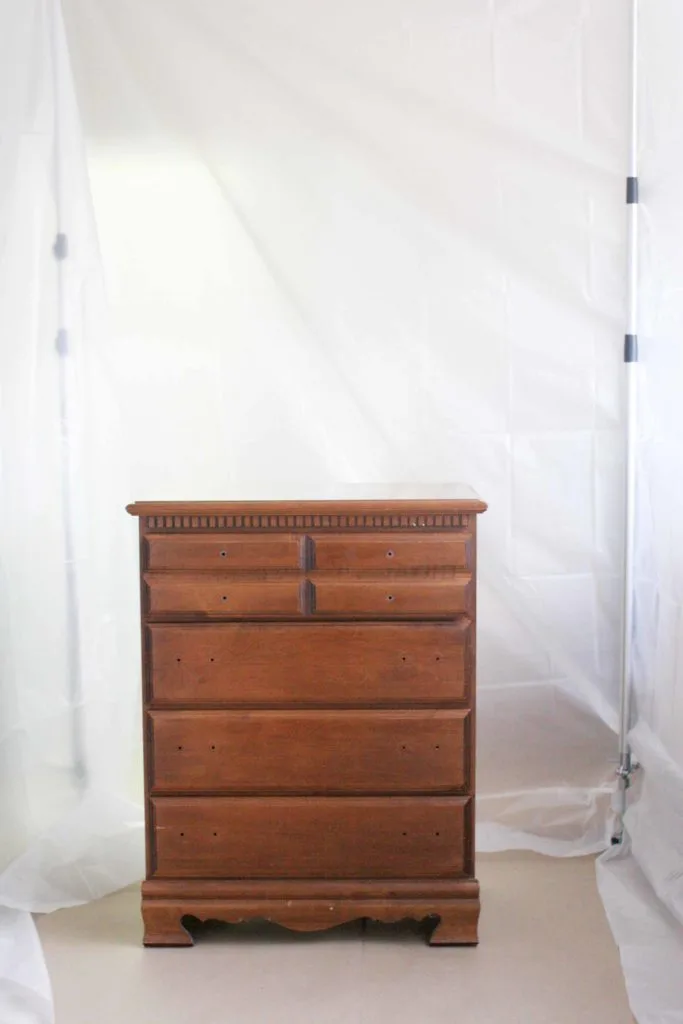 2. Protect the Floor
In order to protect the garage floor and mark the booth space, we laid down X-Board. It's a lightweight, but heavy-duty, floor covering that repels liquids.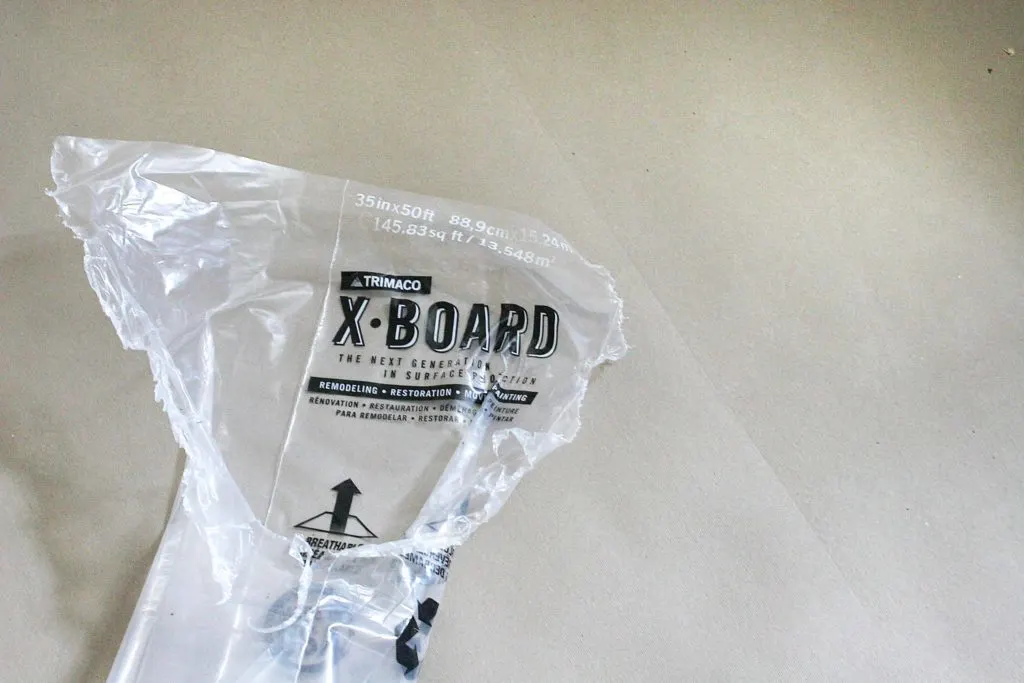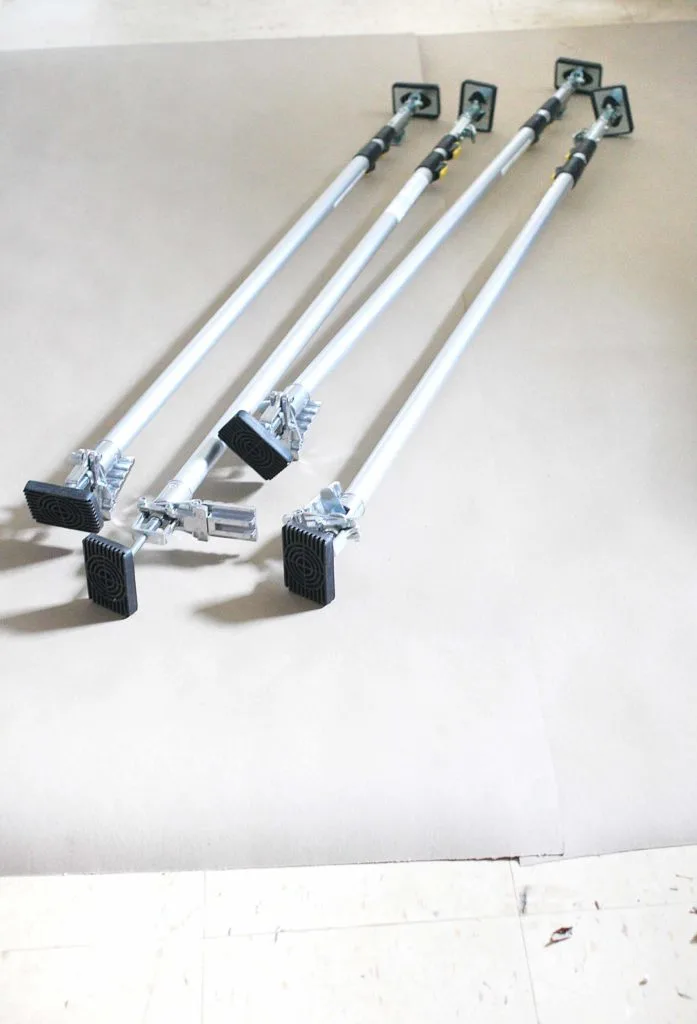 3. Build the Indoor Spray Paint Booth "Walls"
The "walls" of the paint booth are plastic drop cloths.
First, clip the plastic to the top of each containment pole, before extending it to the ceiling.
Next, the yellow tabs make it easy to extend the pole.
Once the black pad is near the ceiling, use the foot pedal to tighten the fit.
Setting up the containment poles is a one-person job (guess that is why they are called E-Z Up, right?). I'm a tall 5'1″, but the poles — before extension — are only 5′ 3/4″, which means I can easily reach the clip for the drop cloth.
Note: If you aren't clear on how to use the poles, watch the video.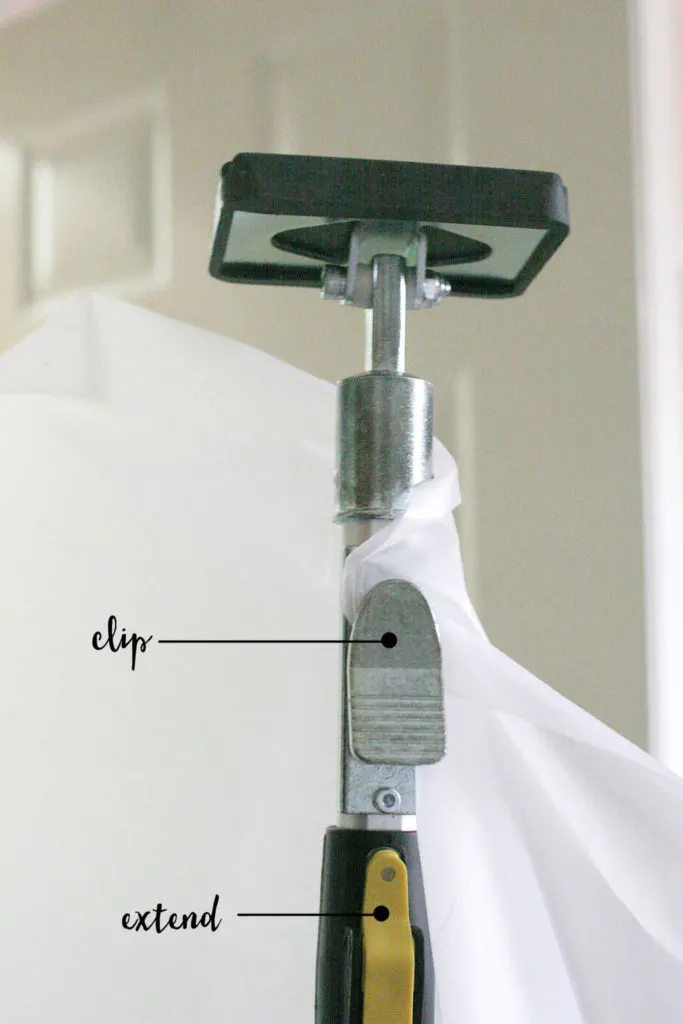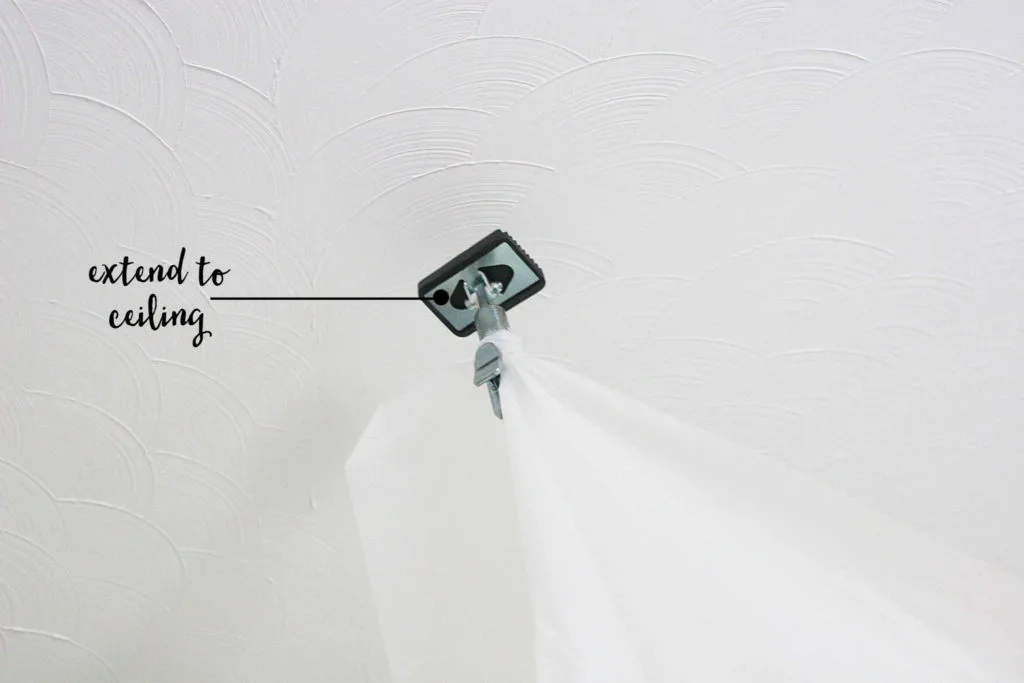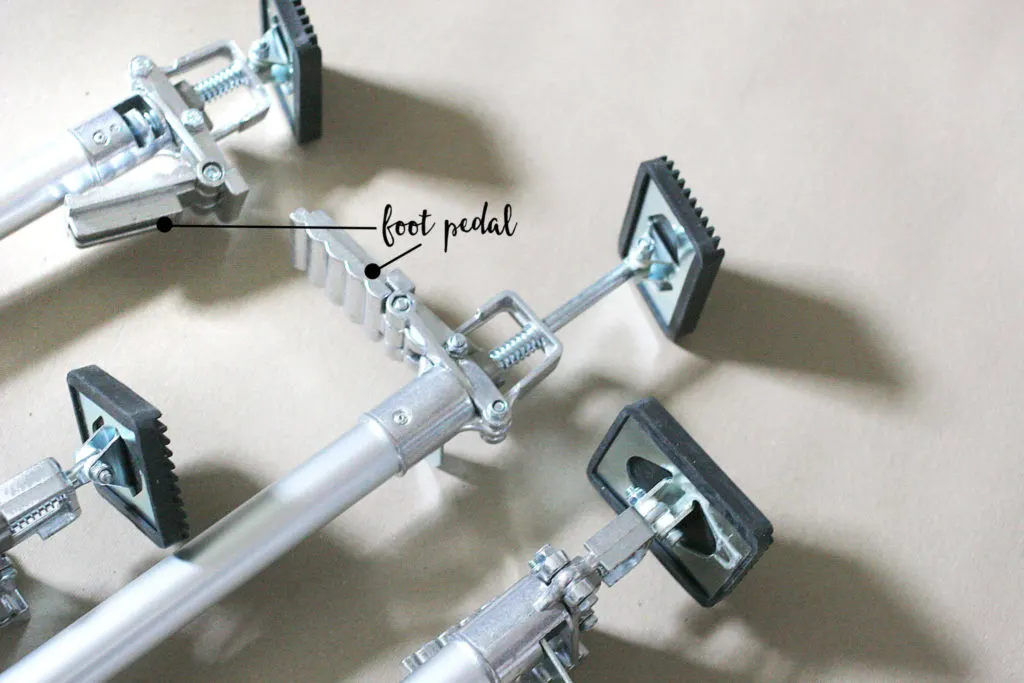 Once in place, the containment poles are very sturdy. I've been working in the space over the period of several days, pulling back the dropcloth as needed to enter and exit and adjusting the drop cloth at times to access other items in the garage. The poles haven't budged.
FAQs: Indoor Paint Booth
Q: How do I get furniture into an indoor paint booth?
A: As a visual, the image below shows the booth layout that I chose. It includes two sets of containment poles and two drop cloths. Make sure to consider from which direction you'll be loading the furniture into the booth.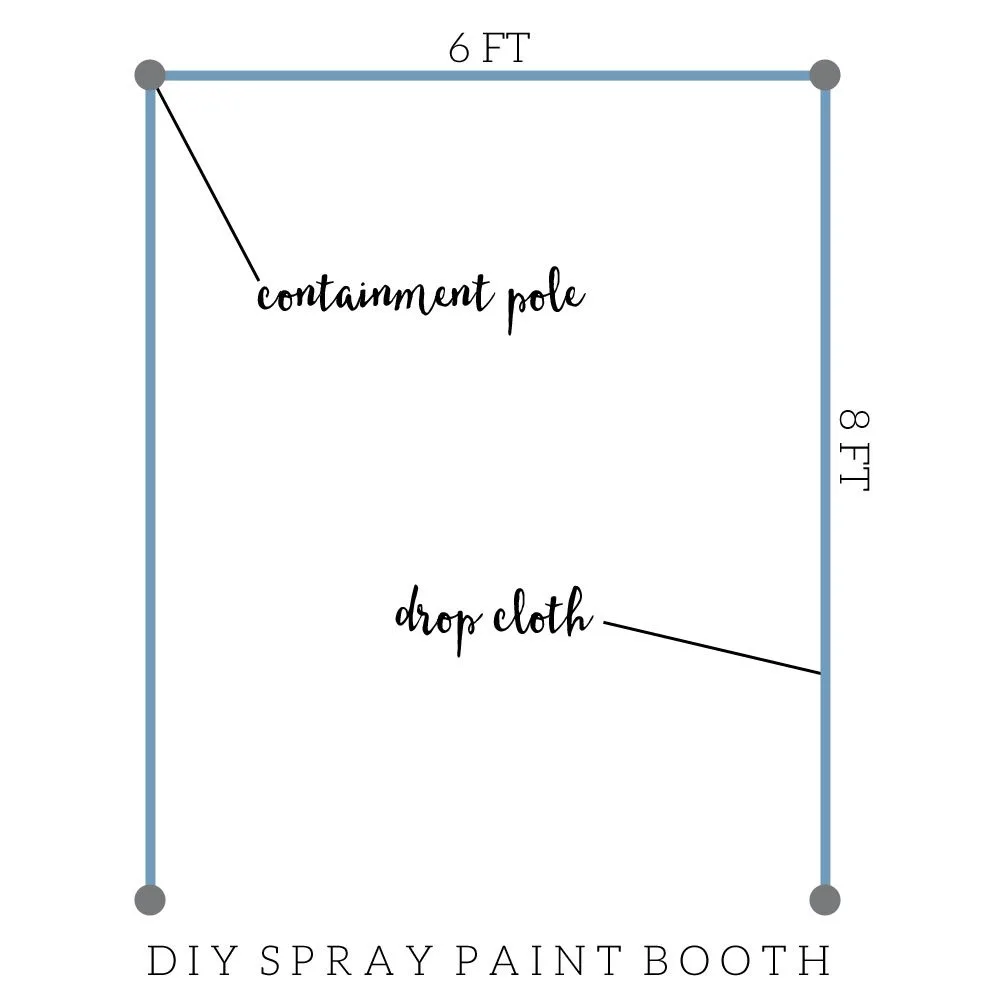 Q: Should an indoor spray booth have 3 or 4 sides?
A: I left the front of the booth open, but it can easily be closed. If you close off the entire booth, use one of the corners (at the poles) where the two drop cloths meet as the entrance and exit point.
Q: Will the booth contain the paint overspray?
A: Yes! Both painting overspray and dust from sanding are easily contained within the booth.
DIY Indoor Spray Paint Booth: Project Ideas
Furniture: Since an indoor paint booth can be so big, you can work on both the piece of furniture and it's drawers or doors. For example, I could pull out the drawers to work on while also painting the chest.
Renovation: Imagine how much easier it would be to paint kitchen cabinets with a spray booth like this? Bring all the cabinet doors and drawers into the booth – and spray them all at once! Yes, please!
Art and Home Decor: Just because the spray paint booth can be large, doesn't mean it's only suitable for small projects. Spray a large group of frames for a coordinating gallery wall, for example.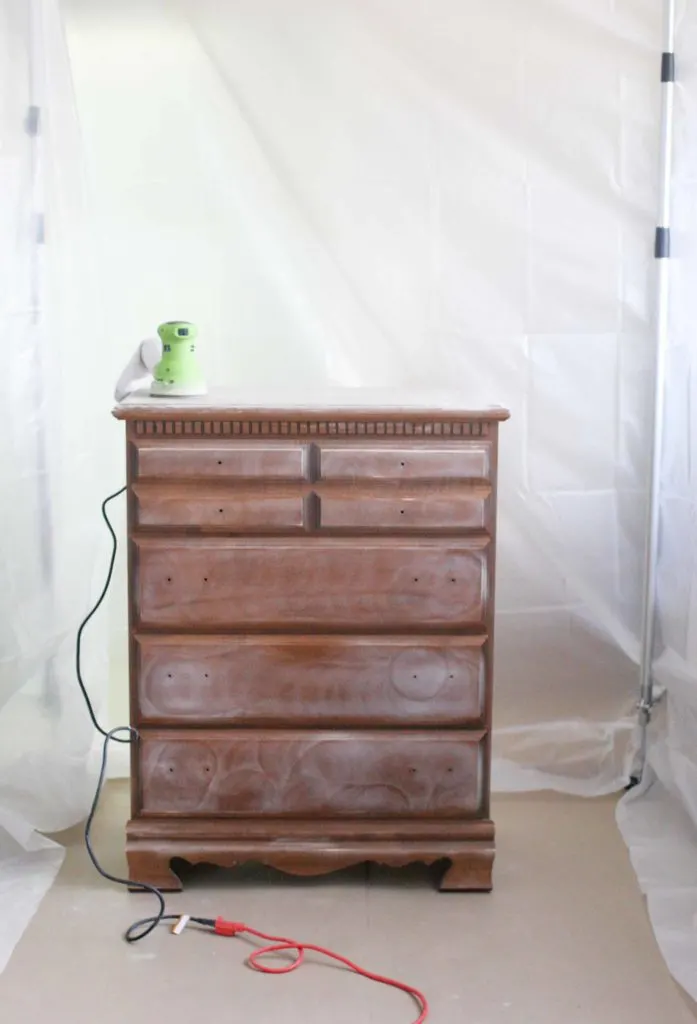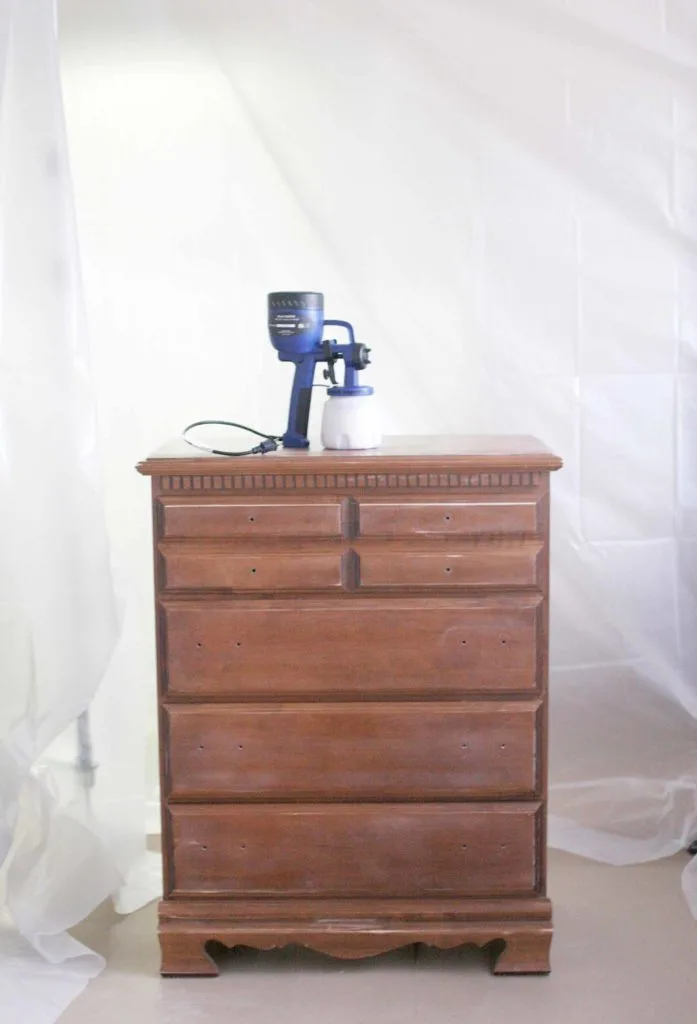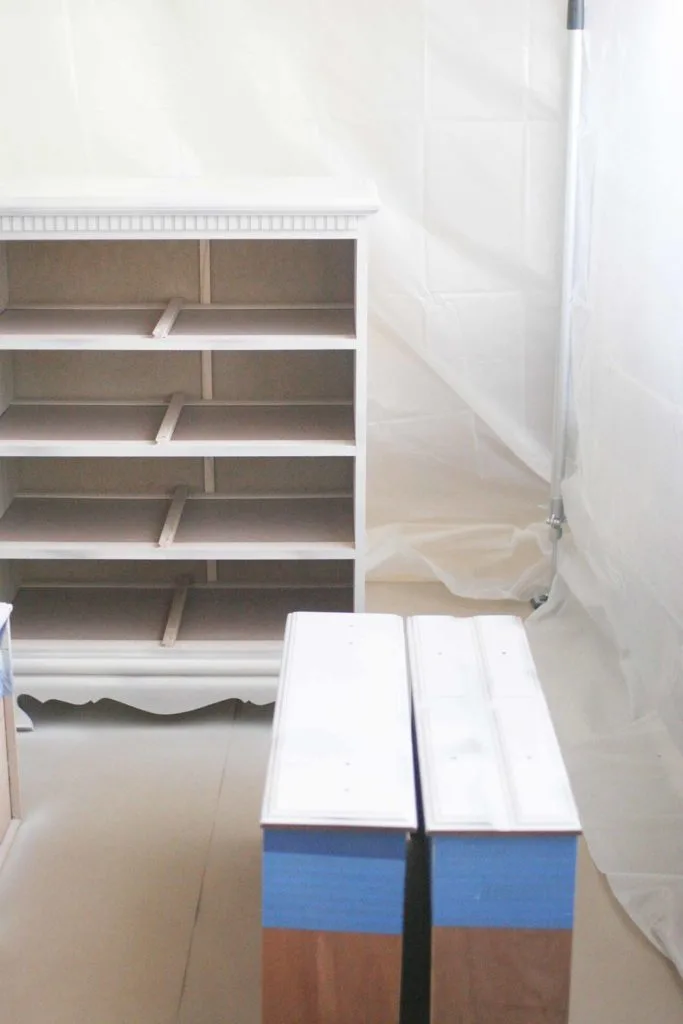 DIY Spray Paint Booth: Safety
When you are working in the spray tent, don't forget to take proper safety precautions. I wore safety glasses and a dust mask while sanding and spraying the furniture. Opening the garage door slightly provided ventilation to the room.
Trimaco offers a variety of safety products, too. When setting up the spray paint booth, make sure to protect yourself — not just the floor and walls.
Spray Paint Indoors
My spray paint fears are officially gone. In fact, I could paint all the things right now. Hold me back. Kidding… sort of. Next up is a tall bookcase in our sunroom. As soon as I settle on a color, it will be heading to the garage.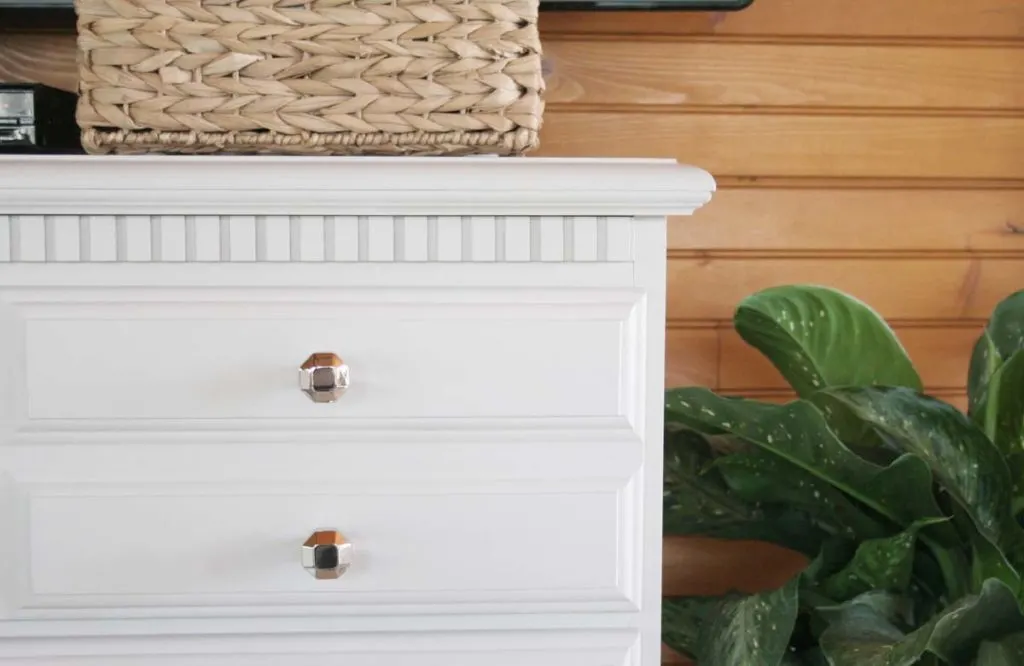 Would you like to see the finished project? Click here to see the full vintage dresser makeover, before and after, along with tips for how to choose a great second-hand dresser.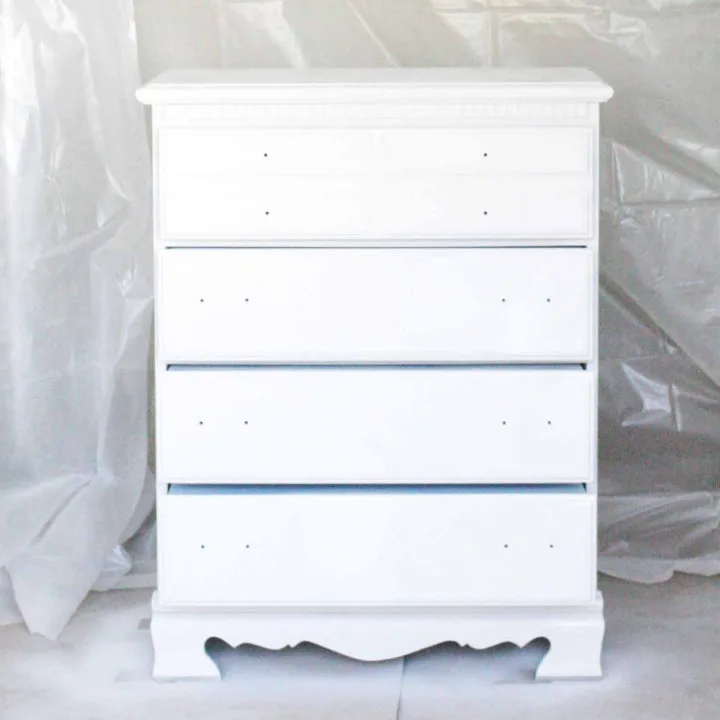 How to Build a DIY Indoor Spray Paint Booth
Learn how to build an easy indoor paint booth. With a DIY Indoor Spray Paint Booth, you can spray paint indoors.
Instructions
Clear floor space to prep for the indoor spray booth.
Protect the floor with a heavy duty, water resistant floor covering, such as X-Board.
Open 2 sheets of plastic drop cloth.
Clip the corners of each plastic drop cloth to the top of the first containment pole.
Press the yellow tab on the E-Z up containment pole to extend the pole toward the ceiling.
Once the black pad is near the ceiling, use the foot pedal to tighten the fit.
Repeat steps 4-7 until 4 containment poles are in place, creating a square/rectangle booth.
Notes
The required number of plastic drop cloths will depend on the size of drop cloths and the size of the paint booth. For example, a paint booth with 5' sides would require 15' of drop cloth (if the paint booth has 1 open side) or 20' of drop cloth (if the paint booth does not have an open side).
Furniture Makeovers
If you liked this DIY project, you might also like: