The holiday season is always a busy one and completing Christmas Cards is just one of the many tasks we try to fit into the short season. Surprisingly, we actually finished our Christmas Card photos in September. Yes, I know that seems super organized, but in fact the whole photo session was thrown together at the last minute. I had two $50 Groupons to Mixbook that were expiring and I needed to come up with something fast!
I pulled out some holiday themed scrapbook paper from my stash and cut 3 large pennants. You can also find templates online (like this one) to cut them from paper or fabric. I added the words "Ho, Ho, Ho" (like I'd seen here) and strung the pennants along some twine.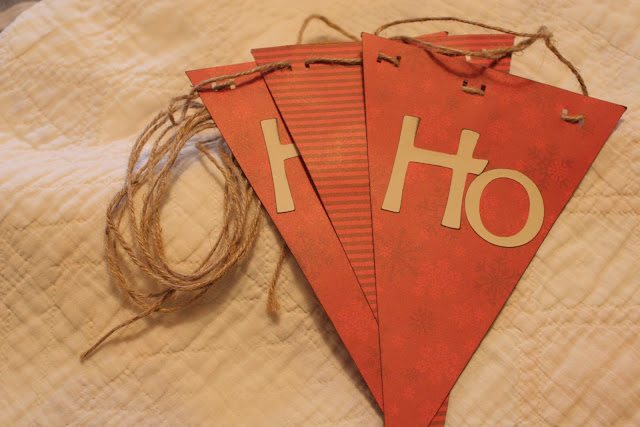 We took the photos outside, in our backyard, for several reasons:
The lighting is better, which makes it much easier to get a good photo.
We were going for a "U-Cut Tree Farm" setting.
Our toddler is much more natural playing outside, than trying to get him to sit still for a staged photo indoors.
To get the "U-Cut Tree Farm" look, we pulled out a small tree that sits on our porch for the holidays. It is actually pre-lit, but you don't even notice the lights in the photos.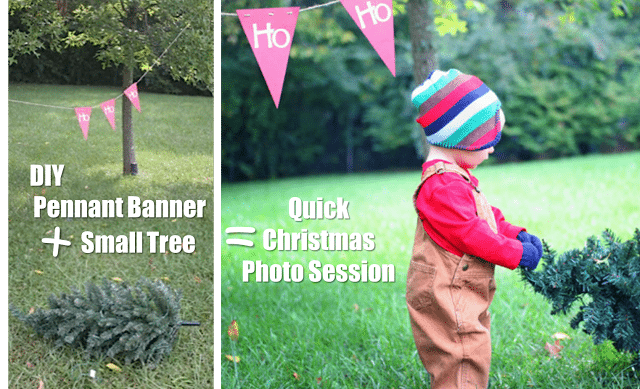 After taking pictures of our kiddo, we set the timer on our camera and got a family photo, too.
And just is case you still think I'm on-the-ball for getting our cards done in September — we've had the cards for months and they still aren't mailed… in fact they aren't even all addressed. So I'm only going to share a glimpse of our finished card: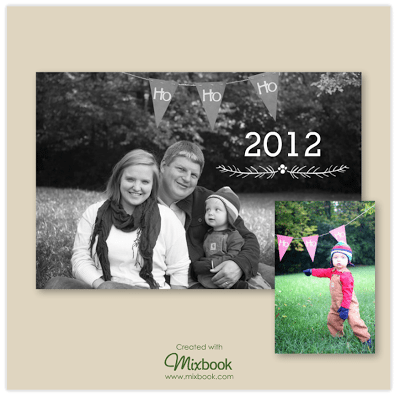 So, what about you? Have you taken your Christmas photos? Or will you be throwing a photo session together at the last minute, too?