Take a tour of a small mudroom and laundry room with navy cabinets. This mudroom laundry combo was completed on a budget, is stylish, and packed with storage!
Stuck with a small laundry room closet in a hallway, it took some creativity to carve out a mudroom laundry room layout. But, it worked, and with a little ingenuity, you might be able to create a mudroom and laundry room in your home, too!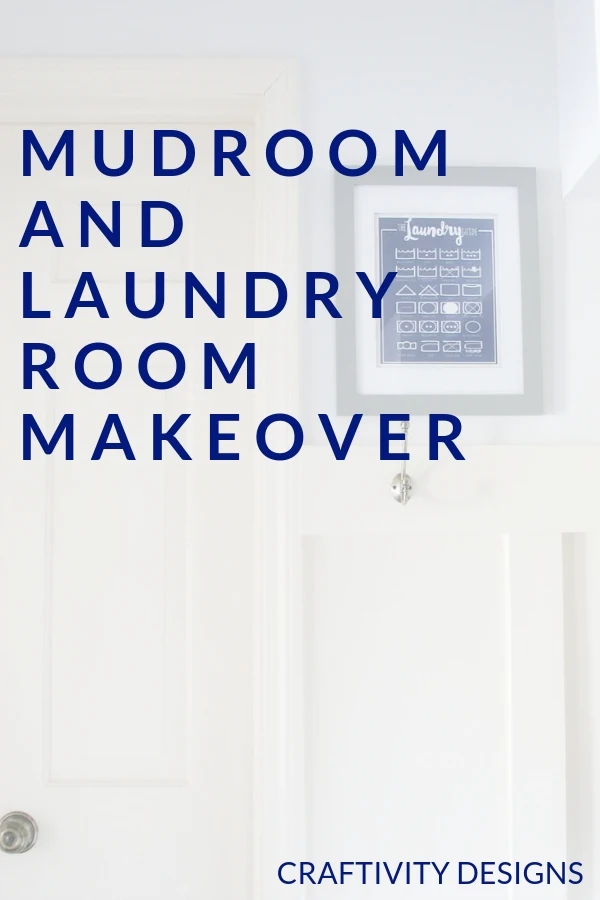 Mudroom Laundry Room Layout
Our washer and dryer are located off the garage, in a closet with bi-fold doors. There is a small entry hall (approximately 4 ft x 5 ft) between the laundry closet and the garage door.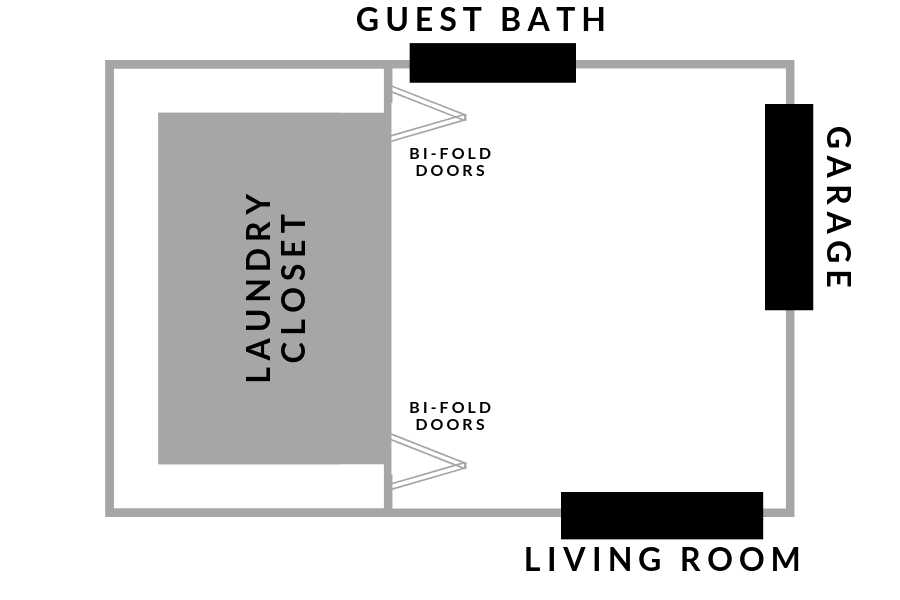 When the bi-fold doors are open, the guest bath door is partially blocked. It's the only bathroom on the main level, so it's used frequently. Therefore, the bi-fold door can only be open when loading/unloading the washer or dryer. The doors must stay closed the rest of the time in order to provide access to the bathroom.
Here's a (very yellow) before photo that shows how the laundry closet doors block the bathroom door.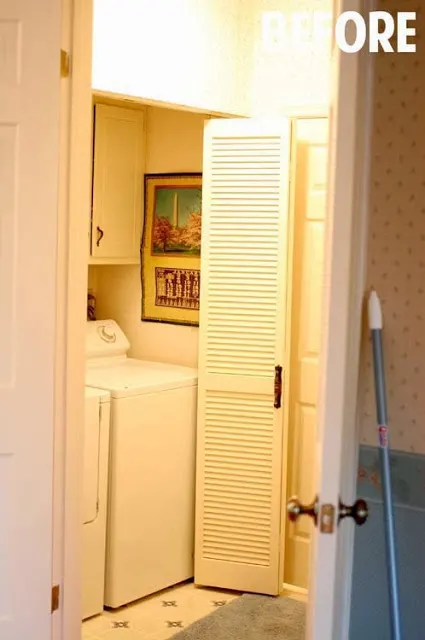 No good, right? So the first decision we made was to remove the closet doors.
Next, we reimagined the space as a mudroom laundry room combo. Instead of simply treating the entry as a hallway, we converted it into a mudroom by surrounding the space with functional double wall hooks.
The below layout shows how the floor plan changed. It may not look that different, but it feels so. much. bigger.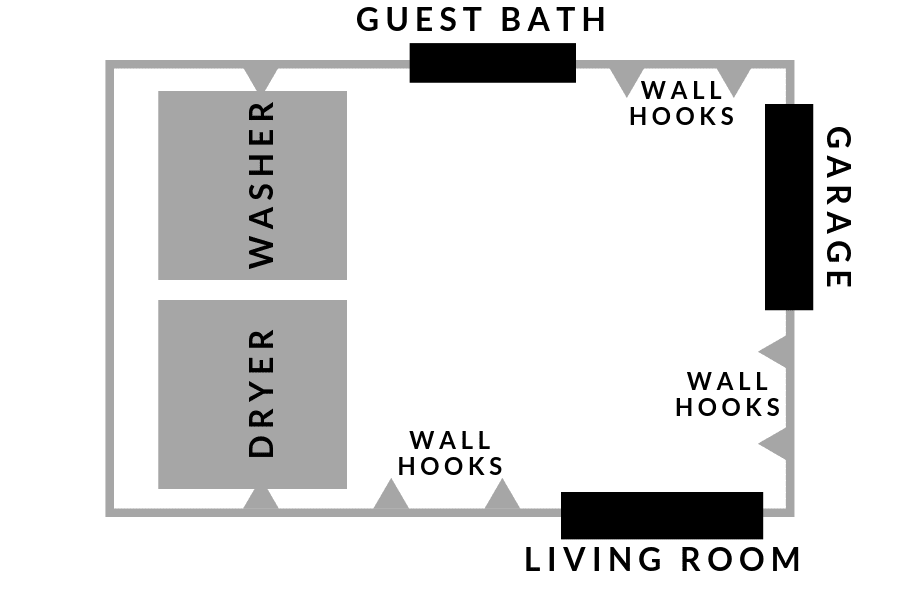 With the layout nailed down, I moved onto the design. The mudroom laundry room combo is visible from the kitchen, living room, and guest bath. It's in a prime location. Therefore, our small laundry room had to be big on style and organization (here are my favorite small laundry room storage ideas).
Small Laundry Room & Small Mudroom Ideas
First, we replaced the peeling linoleum with an affordable wood-look tile and installed a DIY board and batten treatment on the walls.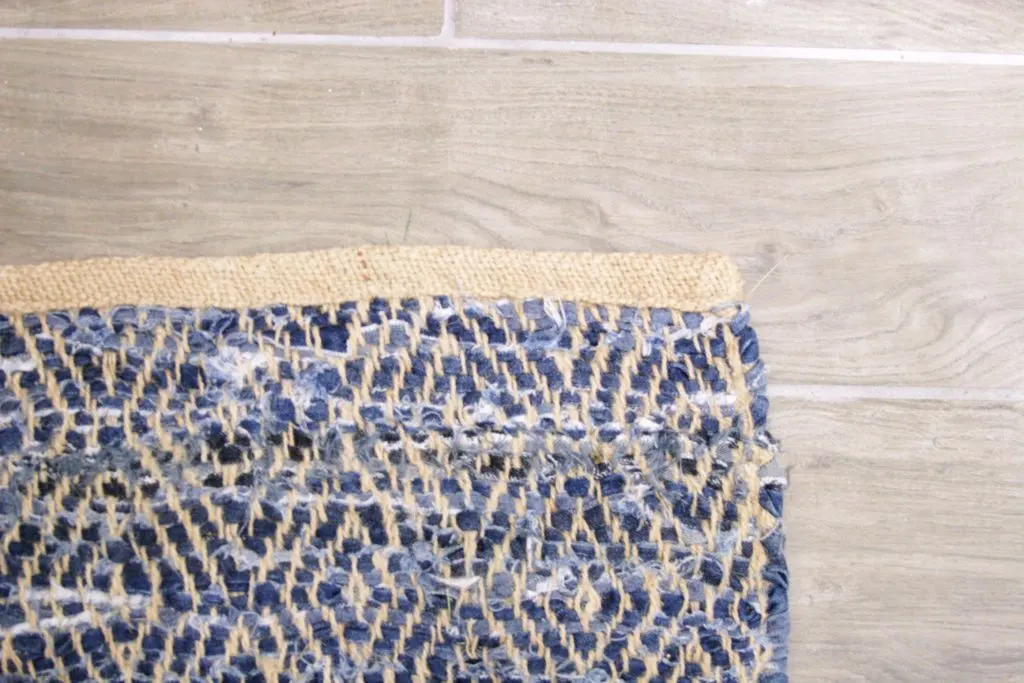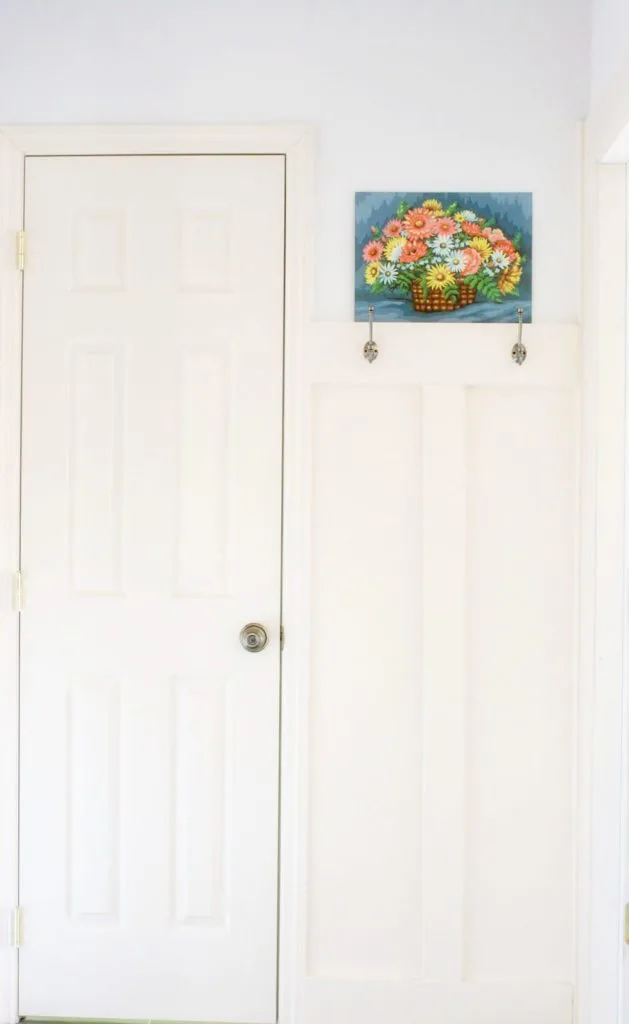 Plenty of antique brass hooks provide ample hanging space. We bring the kids in from the snow, the pool — or any other messy adventure — and have easy access to hang clothes or throw them in the washer.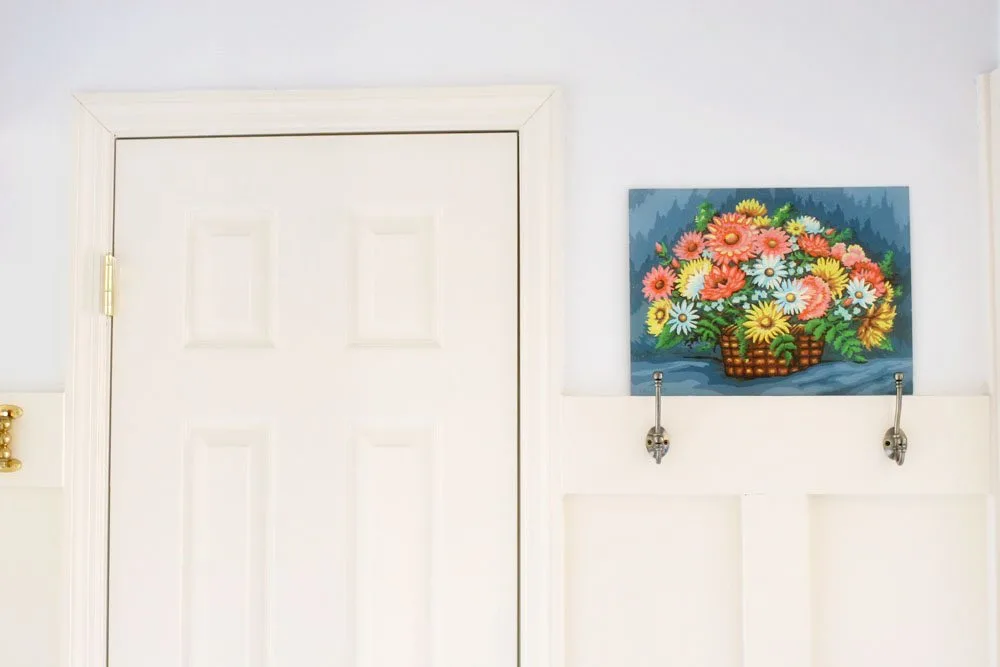 I've said it before, always consider how you will use a space before decorating it.
If the kids' clothes are stained, we've got stain stick in the laundry cabinet.
When their shoes are wet, it won't damage the tile.
If we're loading up for a road trip, the hooks are handy for totes and bags to-go.
Even small spaces can be incredibly practical.
Always consider how you will use a space before decorating it.
Still, "practical" doesn't have to mean "lacking in style." I've filled the room with vintage floral paintings, mixed metals and deep navy to coordinate with the adjacent guest bath. Even though you are walking by a utilitarian washer and dryer on the way to the bathroom, the mudroom laundry room is cohesive with the rest of our home.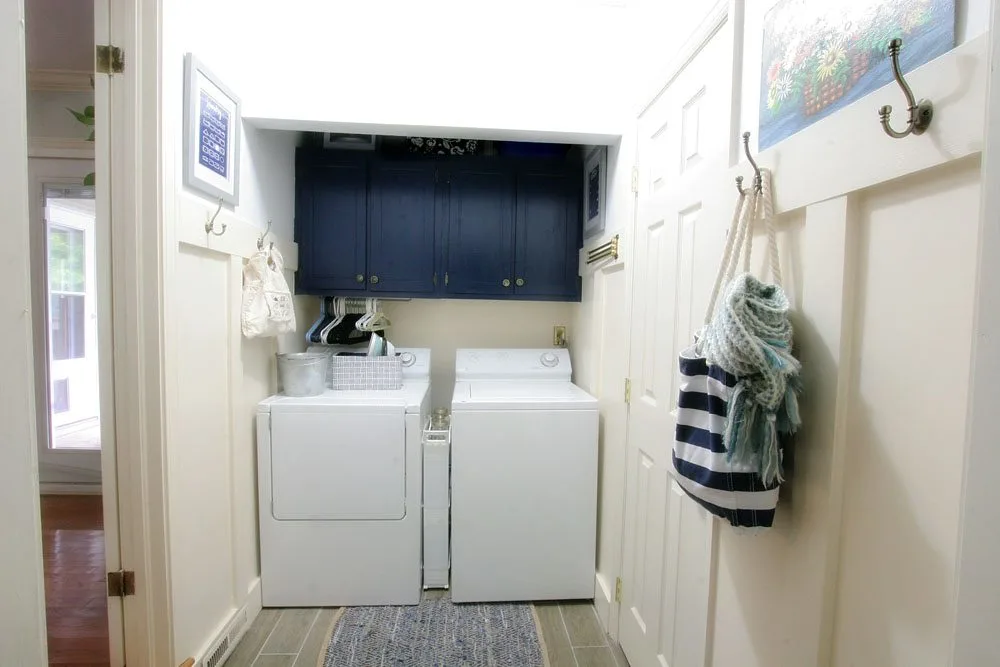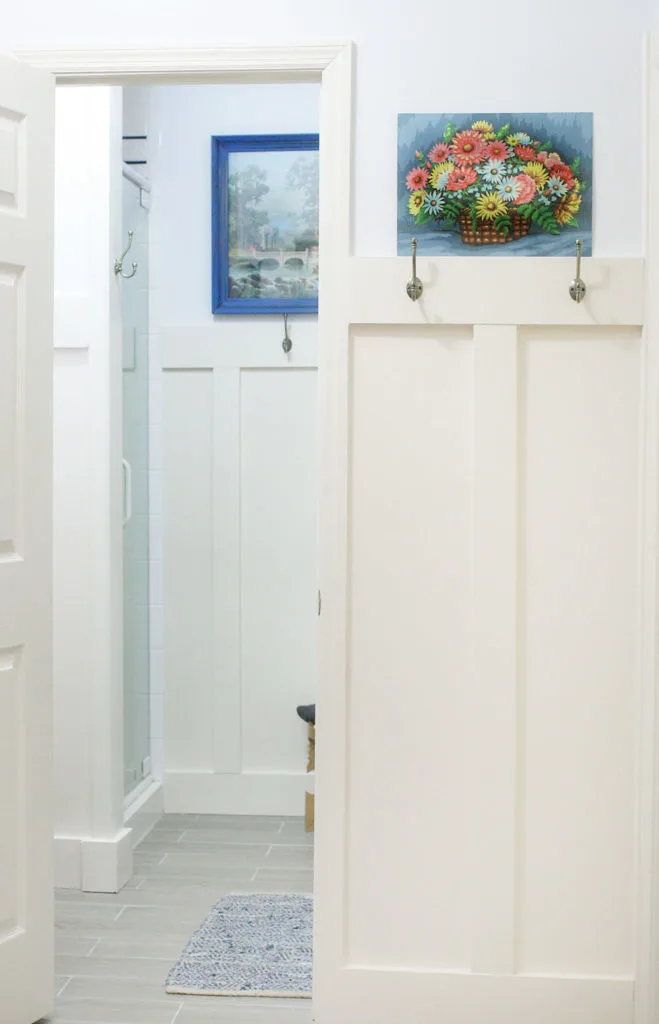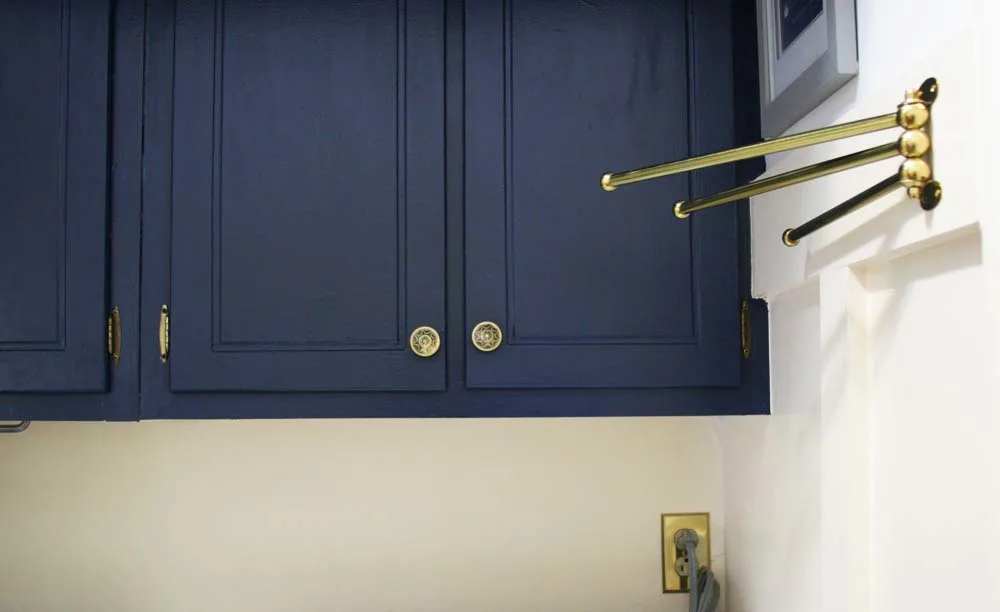 If you've been around here long, you know that I'm a navy girl. From our master bedroom to the guest bath vanity, you'll find navy. It's no surprise, then, that I incorporated the navy version of my Laundry Guide and Stain Removal art prints. I like the mix of modern graphic art, paired with vintage florals. Plus, it provides me an at-hand resource for stains and clothing care.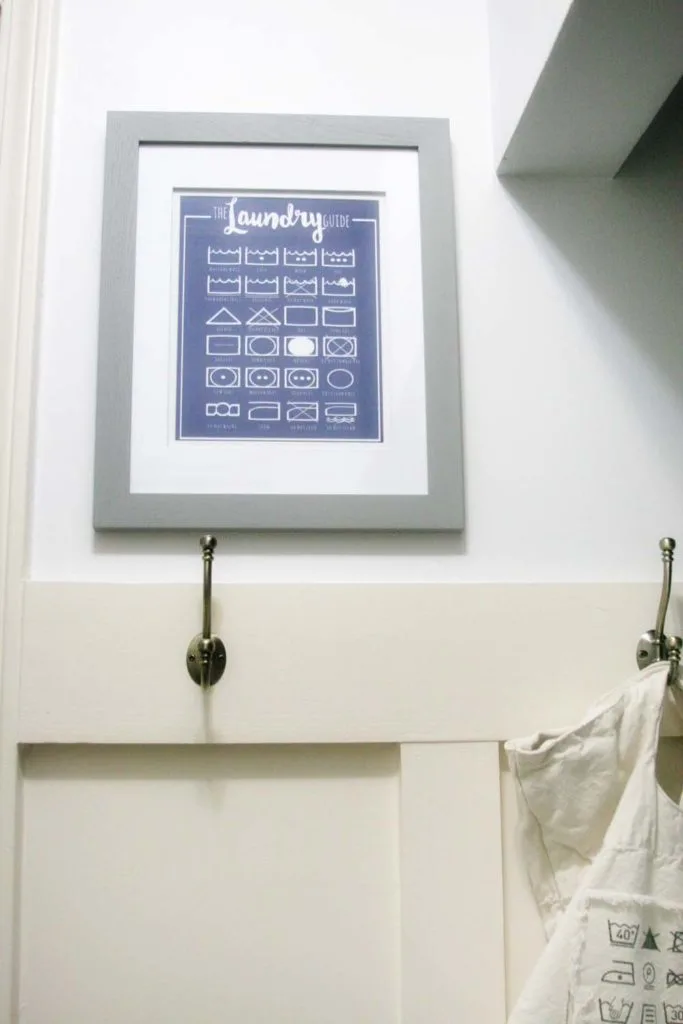 Organizing a Small Laundry Room
A canvas laundry bag, also featuring laundry care symbols, hangs on a hook by the dryer. I stick dirty dishcloths here until I have a load of linens to wash. The bag was a clearance find that I couldn't pass up since it matched perfectly with the Laundry Guide print.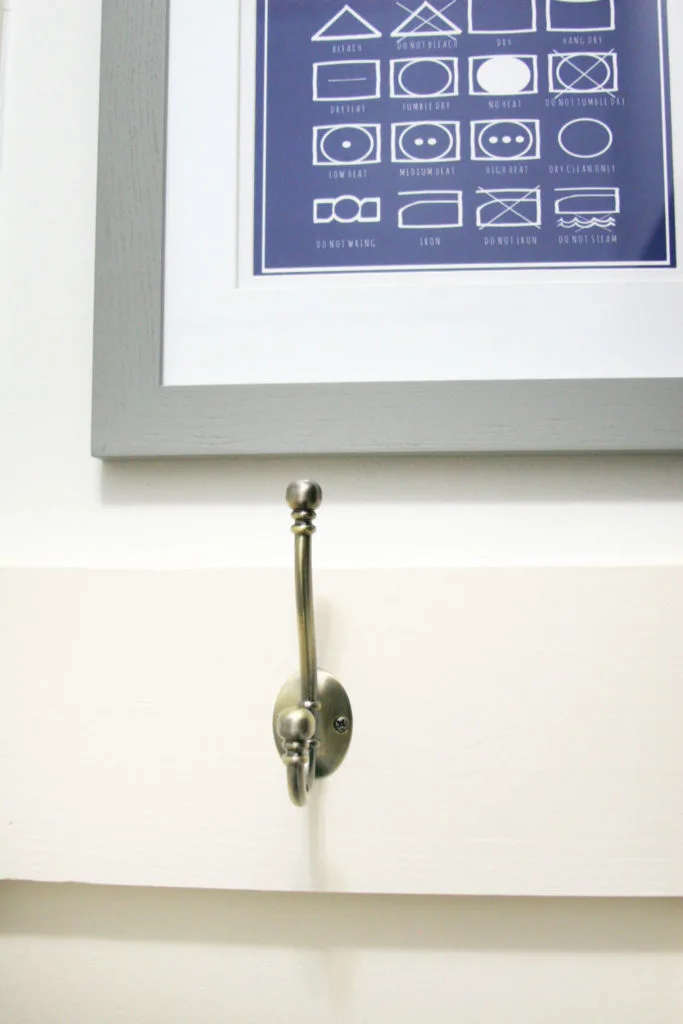 That laundry bag is just the start to the variety of laundry-focused storage in the space.
A swing-arm drying rack (which was still in its vintage packaging!) is handy for drying delicates.
The laundry cabinets are packed full of both laundry and cleaning supplies.
A towel bar, attached to the base of the left cabinet holds hangers and keeps them within easy reach.
We even had enough extra space to tuck in a slim laundry cart between the washer and dryer.
If you'd like to take a closer look at all the laundry room storage ideas, visit this post with 7 laundry hacks and tips.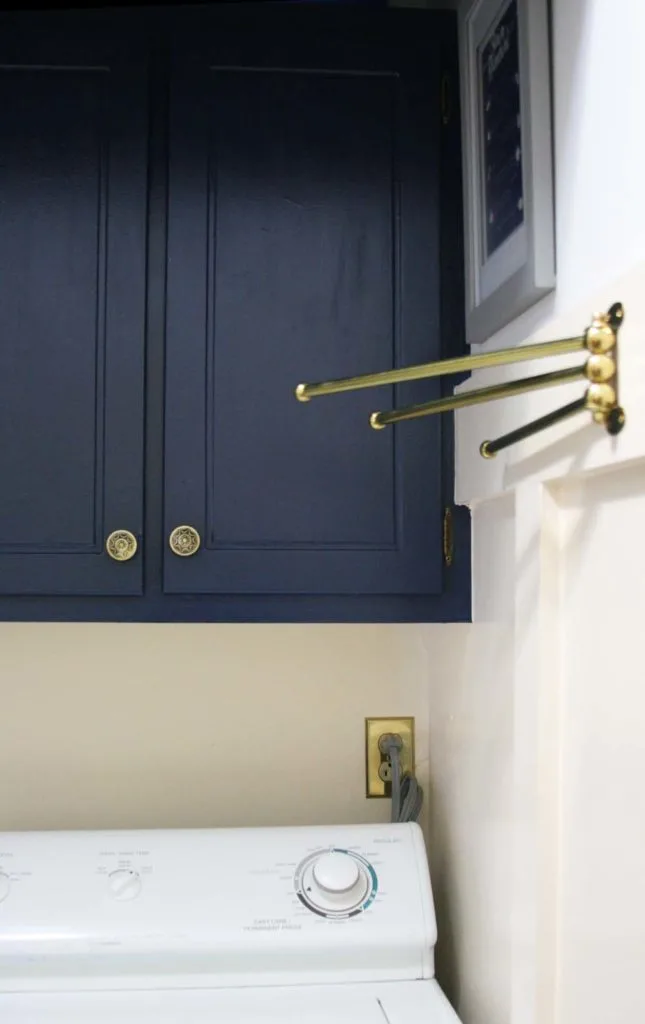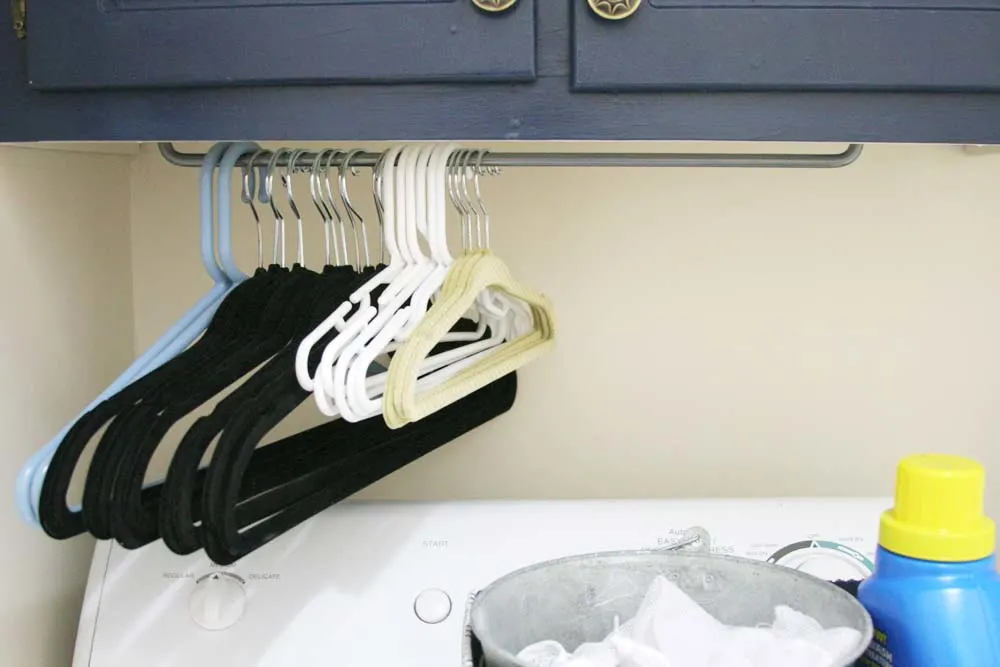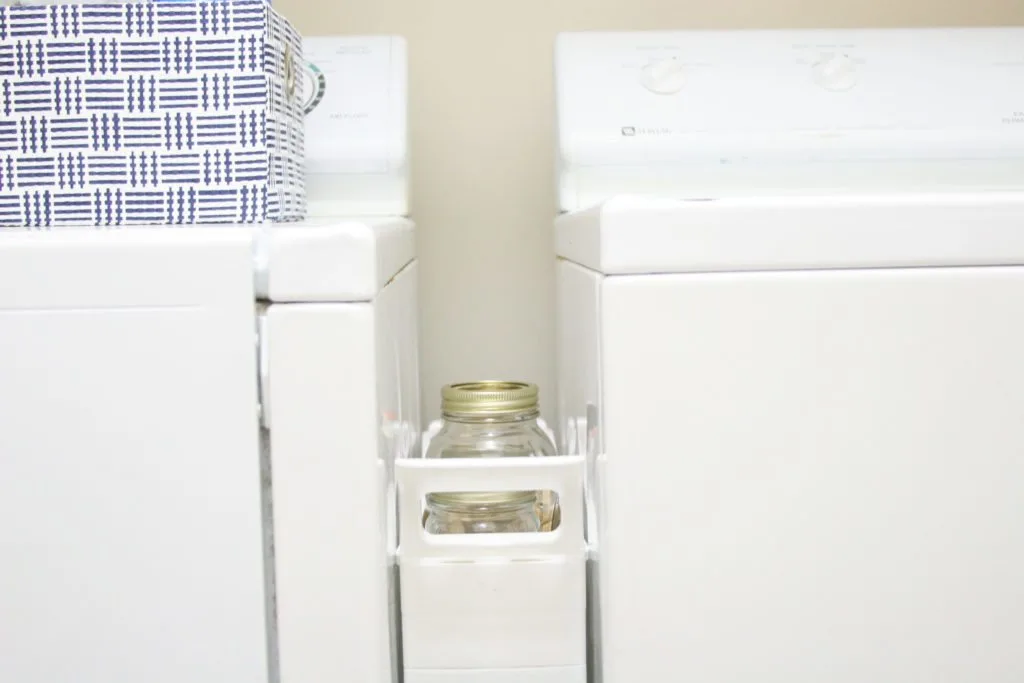 Mudroom Laundry Room: Sources
So, would you like to recreate this look? Here are sources (or similar options) for most items in my mudroom and laundry room combo.
Walls, Cabinetry, & Floors
Decor & Accessories
Renovate a Mudroom and Laundry Room on a Budget
Our mudroom and laundry room makeover was budget friendly. Smart decisions such as:
affordable tile flooring,
DIY board and batten,
painting the original laundry cabinets,
vintage art from thrift stores and,
saved tons of money! Small spaces are great candidates for affordable makeovers. So, if you're itching to redecorate, consider a laundry room or mudroom.
Tell me, do you have small laundry room? Does it feel cramped or packed with style and function? Let me know what you love — or hate — about your laundry room, and maybe we can solve a design problem, together!
If you liked this laundry room post, you might also like:
Like this post? Save it by pinning it!