Dealing with a small closet? Have you ever considered which is best – a Wardrobe vs Dresser? The BEST small closet solutions might be found outside the closet: floor to ceiling wardrobes.
What are the BEST small closet solutions? The answer to that question might actually be found outside the closet. What?! Yes! I can speak from experience. Our relatively small Master Bedroom, with a similarly small closet, is seriously short on storage space. We solved that problem by evaluating two furniture solutions – Wardrobe vs Dresser – and I'll help you solve it for your room, too!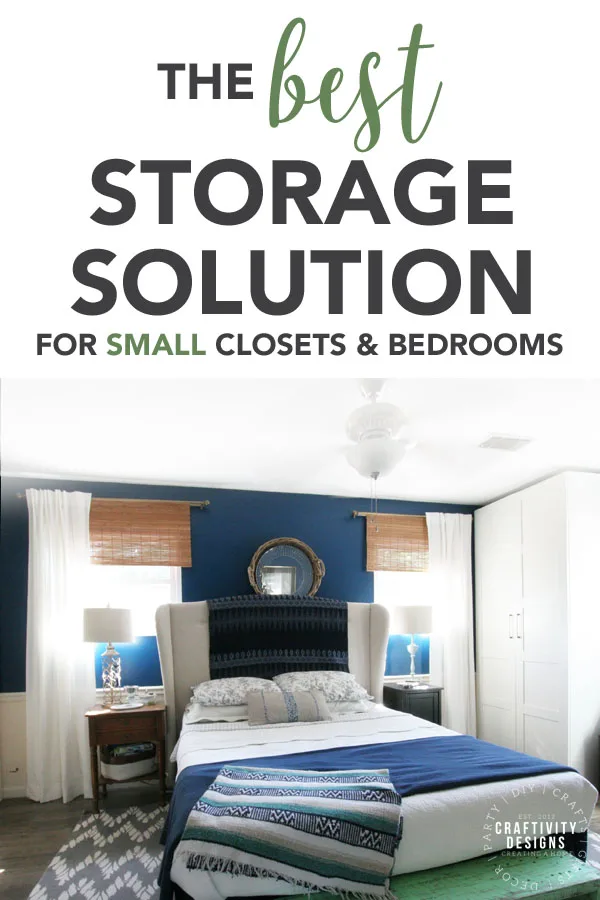 If you own an older home, you are probably lacking grand, walk-in closets. Big closets are, in general, a feature found in newer homes. This is exactly our situation! Our home was built in the 70s and the closets are on the small side, especially in the Master Bedroom. At less than 5′ wide – and featuring only one hanging bar – it doesn't hold much clothing.
Small Closet Solutions
So, let's chat about how we took our small bedroom from:
cramped – and

short

on storage,
to roomy – and

big

on storage.
Isn't that a contradiction? Nope! Smart storage solutions are found in:
how you utilize the existing square footage,
rather than adding more square footage.
1. Cheap Closet Systems
First, maximize the space in a small closet with an organization system. Contrary to popular belief, closet systems are not out of reach for tight budgets. It might not be a California Closet… and you might not get every custom component… but it can be affordable.
Where can you buy cheap closet systems? Check out big box stores like Lowes and Home Depot, or online retailers like Amazon for a selection of affordable closet systems.
In our small closet, we installed: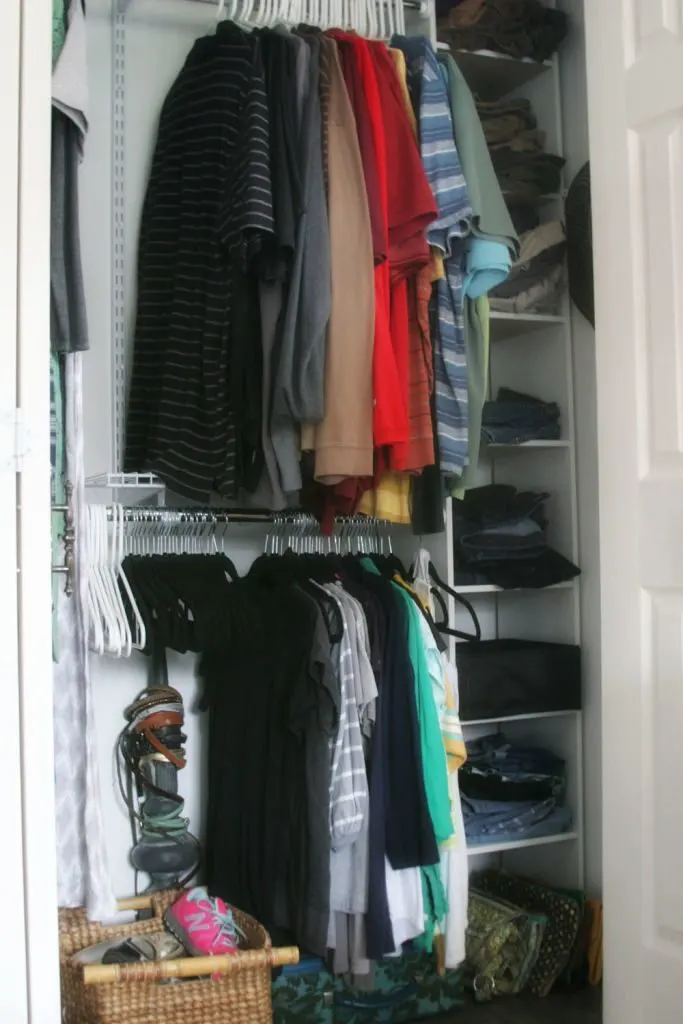 On the upper shelf, we store rarely-used and seasonal items. The rods are hung far enough apart to hold men's shirts on the top level and women's shirts on the bottom level. It's important to measure first, to determine the hanging location for each bar and shelf.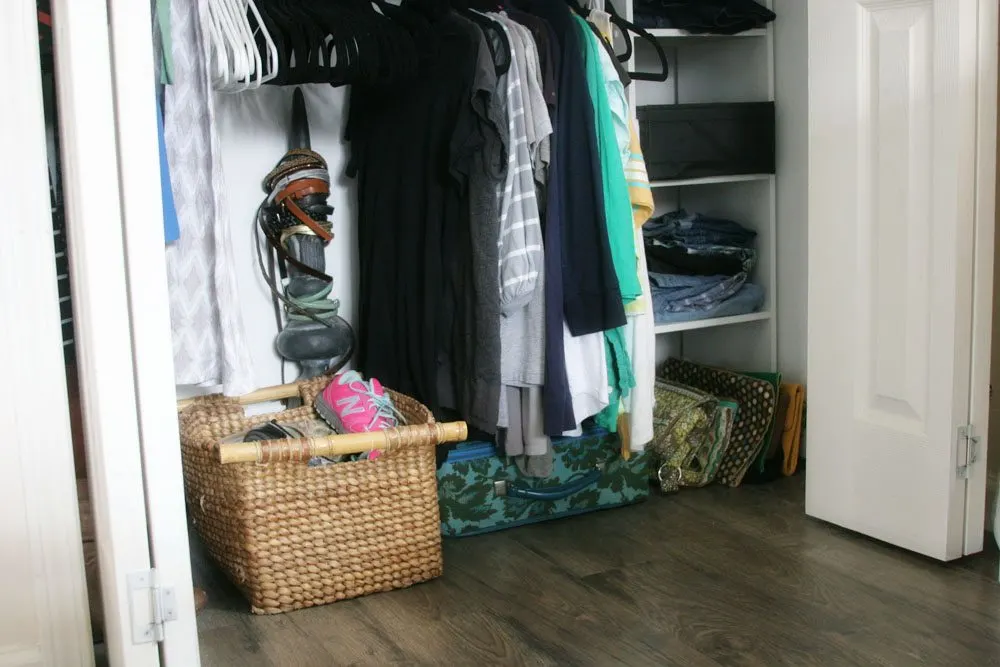 The bottom shelf and hanging bar are about 12″ shorter than the top shelf and hanging bar. This allows long dresses and suits to be hung from the top bar without hitting the lower shelf.
An afternoon project and ~$150 later; we have an inexpensive small closet solution! But, it gets better…
2. Wardrobe vs Dresser?
While I'd love to claim all of our clothing fit in that tiny closet…. it just didn't. We need storage for t-shirts, shorts, underwear, etc. A single storage tower wasn't cutting it for all of our folded items.
Of course, the typical choice for folded clothing would be dressers. However, it's not uncommon that small closets go with small rooms. Can you relate? A couple dressers in our small Master Bedroom quickly cramped the entire space.
Here's a sketch to demonstrate our dilemma:
So, what do you do when you are short on floor space? Build up.
Just like in our small closet (switching from one shelf and hanging bar to two, adding a tall storage tower), it's so important to consider vertical space.
So, for example, which is better? A 5′ long dresser or a 3′ wide wardrobe? The math is simple.
Dresser vs Wardrobe Example #1
DRESSER: 5ft wide x 3ft tall x 1.5ft deep = 22.5 cubic feet of storage
WARDROBE: 3ft wide x 8ft tall x 1.5ft deep = 36 cubic feet of storage
The wardrobe provides over 1.5 times more space than the dresser! Well, what if my measurements are different? That's okay! Just do the math… another example:
Dresser vs Wardrobe Example #2
DRESSER: 5ft wide x 4ft tall x 1.5ft deep = 30 cubic feet of storage
WARDROBE: 3ft wide x 6ft tall x 1.5ft deep = 27 cubic feet of storage
So, in this case, the wardrobe is 10% smaller. However, here is where it gets exciting (for me, anyway, #mathnerd). Even though the wardrobe storage is 10% less, it takes up 40% less floor space in our bedroom! Case in point:
DRESSER: 5ft wide x 1.5ft deep = 7.5 sq ft
WARDROBE: 3ft wide x 1.5ft deep = 4.5 sq ft
Wardrobes will almost always save floor space and provide at least comparable (if not, improved) storage.
Wardrobes are the best solution for small closets and bedrooms.
Want to see our *now* roomy bedroom with wardrobes instead of dressers?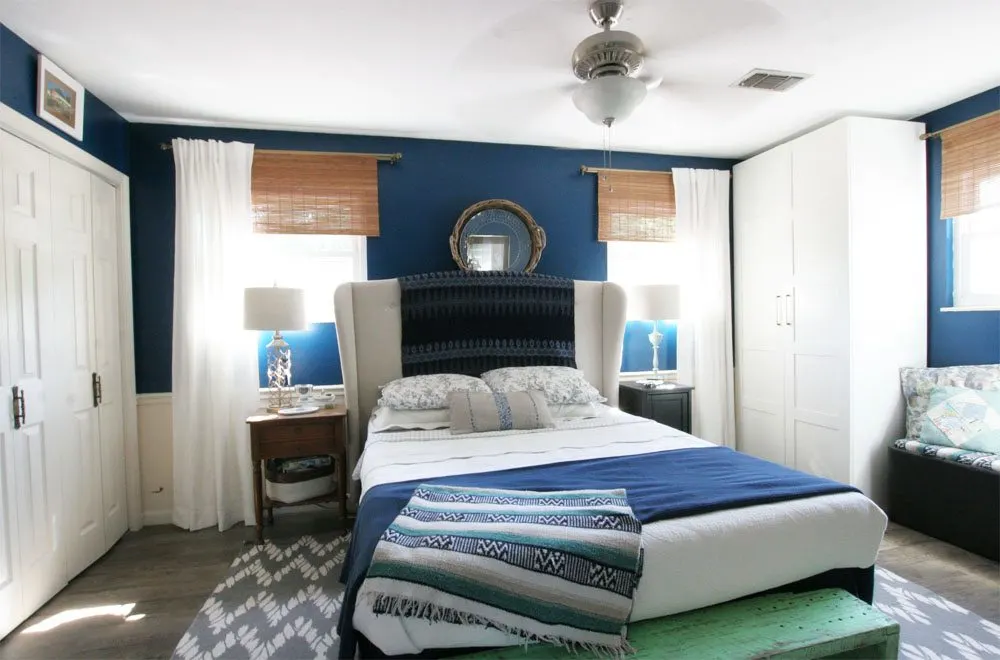 Don't be deceived, this is a small room, folks! That is only a queen bed, and – you see – the headboard doesn't even fit between the two windows. Plus, our nightstands are small, checking in at less than 18″ wide each.
#3 Wardrobes are Better than Small Closets
Once we knew that wardrobes were the best choice to fix small closet dilemma, we started shopping. Space was the first priority, with price a close second.
We landed on the Ikea PAX wardrobes. Reaching to ceiling hight (8 ft), they provided the most space we could get. Though they weren't exactly 'cheap' (each ran around $450 after selecting all the components) they were still affordable, especially considering the level of customization we could select.
Now, I could go on and on about the PAX line from Ikea, but let me just point out a few highlights:
the drawers are huge,
customized slide-outs for belts and scarves are available,
several door options fit various styles and looks,
add large cabinet hardware to make them feel custom,
allocate space for your shoes (or buy the shoe shelf component),
the shelf/drawer/hanging bar combinations are endless.
Not convinced? Try the Pax Planner and design a wardrobe that fits your needs. (p.s. this post isn't sponsored, I just love the product)
So, Wardrobe vs Dresser?
Do you have a small closet? Does your home have a small master bedroom? Though I'm sure a walk-in would be wonderful, how have you solved this dilemma? I'd love to hear your small closet solutions!
If you liked this bedroom storage post, you might also like:
7 Large Cabinet Pulls that make stunning Wardrobe Hardware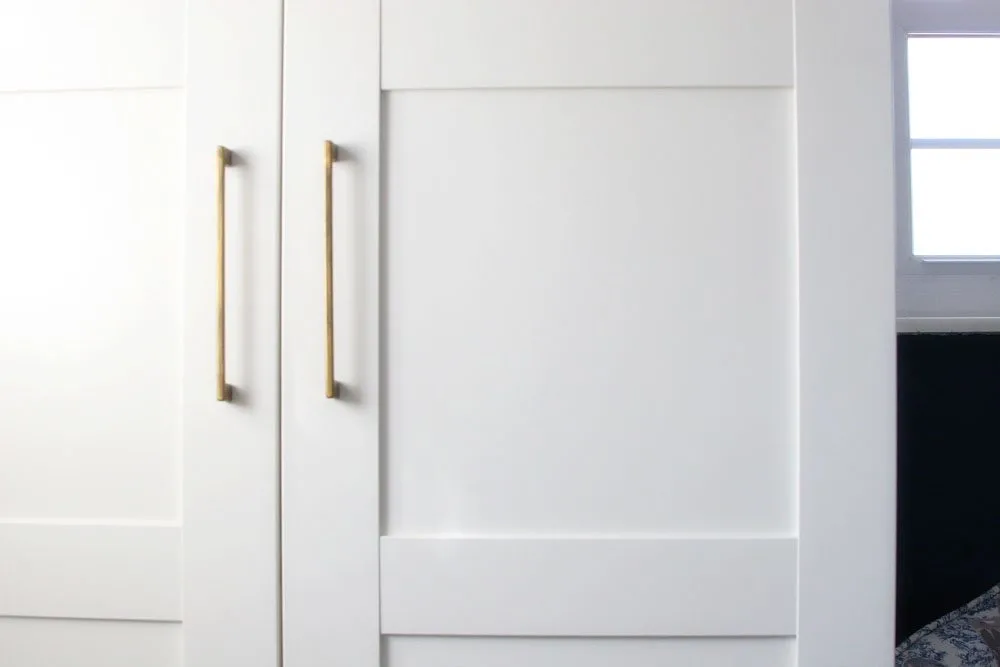 How to Organize a Small Nightstand