These small laundry room ideas prove low-on-space doesn't equal low-on-function. With smart organization (and plenty of style), use small laundry room ideas to make your space feel big!
I've never had a large laundry room. We've owned 3 homes, all with small laundry rooms: a basement laundry, a laundry closet, and a small laundry room off of the kitchen. And you know what? That is fine by me. I'd rather dedicate my square footage to non-laundry spaces.
But, that doesn't mean I don't see the problems with small laundry rooms. They can be a pain. So, you've got to be clever and use your laundry space to its maximum potential.
Over the years, we've honed in on some of our favorite small laundry room ideas. In a utility room that is used ever day, I can assure you that these laundry room organization hacks are time-tested.
To put it another way: if we were to move today, I'd use the exact same small laundry room ideas in our next laundry room.
Disclosure: This page includes affiliate links.
Small Laundry Room Makeovers
We've completed two small laundry room makeovers (one in our colorful farmhouse-style home and one in this modern cottage-style home) and while the makeovers were different – the practical storage and organization tips are nearly identical.
So, I'm confident that you can use many of these ideas in your laundry room, too! These tips aren't dependent on room layout.
For example, in our current laundry room (a vintage style laundry room with green cabinets) we use a slim cart between the washer and the wall. In contrast, in our navy laundry room, we placed the slim cart between the washer and dryer.
Similarly, in our current space, it made sense to install a peg rack on the wall opposite the washer and dryer. In our last home, the laundry room was also a mudroom, so we installed hooks all the way around the room.
So, be creative, and figure out how to make these tips work in your home!
Small Laundry Room Ideas
Alright, let's get to it! Put these small laundry room ideas into practice and start getting big storage from small spaces.
Slim Laundry Carts
Have a few inches of extra space between the washer and dryer? Put that space to work with a slim laundry cart. They are available in a variety of:
We use this handy cart to hold items such as dryer sheets, clothespins, cleaning tools, and more.
Towel Rod or Large Cabinet Pull for Hangers
If you have cabinets or wood shelves, considering giving this trick a try. Hang a towel rod (or a large cabinet pull) upside down. Attach it to the base of your wood cabinets, or to the underside of a wood shelf.
Instantly, you'll have storage for extra hangers and (depending on the available space underneath) a spot to hang clean clothes.
Mason Jar for Clothespins
Fill an unused mason jar with clothespins. I like a wide-mouth 64 oz. jar for this purpose, as the height and width accommodates many clothespins easily.
Shelf over Washer and Dryer
This small laundry room idea might be my favorite. Gain a ton of extra space by installing a shelf directly above the washer and dryer. On this shelf, we store regularly used items such as dryer balls, the iron, clothespins, and twine.
If you have a top load (like me), make sure to check how deep the shelf can be when the lid is open. We opened our top load, then measured the distance available from the wall to the lid, to determine how the maximum shelf depth.
If you have a front load, you could install a shelf or even an entire counter (like this example – or buy one pre-built).
Tray for Everyday Essentials
Place a tray on top of the dryer for everyday laundry products (detergent, fabric softener, dryer sheets, etc.). Even if you don't have a shelf or cabinets, you can put this small laundry room idea to use!
TIP: Add rubber feet to the bottom of the tray to ensure sure the tray can't damage the top of your dryer.
Laundry Care Reminders
This laundry room tip is especially handy when more than one person in your home does the laundry, but it can also be helpful if you are forgetful (me!).
If a start a load with stain treated or delicate clothing, I'll attach one of these laundry care reminders to the top of the washer. That way, if my husband ends up being the one to transfer the load to the dryer, he'll know to check with me first. Then, I can check the stain or hang the delicates.
Mason Jar for Laundry Bags
Fill an unused mason jar with laundry bags. I like a wide-mouth 64 oz. jar for this purpose, as the height and width accommodates several laundry bags easily.
Bowl for Odds and Ends
Place a decorative bowl in small laundry rooms to collect coins, safety pins, and any other odds and ends from pockets. Plus, who doesn't like a pretty bowl to set out, right? Laundry rooms can be pretty!
Hang the Ironing Board behind the Door
When space is tight in a small laundry room, don't forget the hidden room behind the door. Purchase a slim ironing board wall mount (this 4″ mount holds the iron, too and this wall mount is ultra slim) and to hang behind the door.
If you use the ironing board frequently and need easy access, consider a fold out ironing board.
Mount a Peg Rack or Coat Hooks on the Wall
If your small laundry room doubles as a utility room (mine does!), a peg rack is incredibly handy as space-saving storage. When you lack square footage, go vertical!
Hang a wood peg rack, a wall-mounted coat rack, or a row of individual coat hooks, along the wall across from the washer and dryer.
We hang our brooms, mop, and duster along the peg rack. Plus, when needed, we can use the pegs drying damp clothes, too.
If you're open to a bigger project, install board and batten and mount coat hooks along the trim work.
Swing-Arm Drying Rack
Install a swing-arm drying rack to hang dry multiple pieces of clothing at one time. This product is a must in small laundry rooms – such a space-saver and stylish, too!
Cookie Jar for Dryer Balls
Tuck dryer balls into a cookie jar or other large jar. This would be a perfect for a vintage cookie jar, large vase, or large bowl that you haven't been using (maybe it's just been sitting on display or in storage – put it to good use!).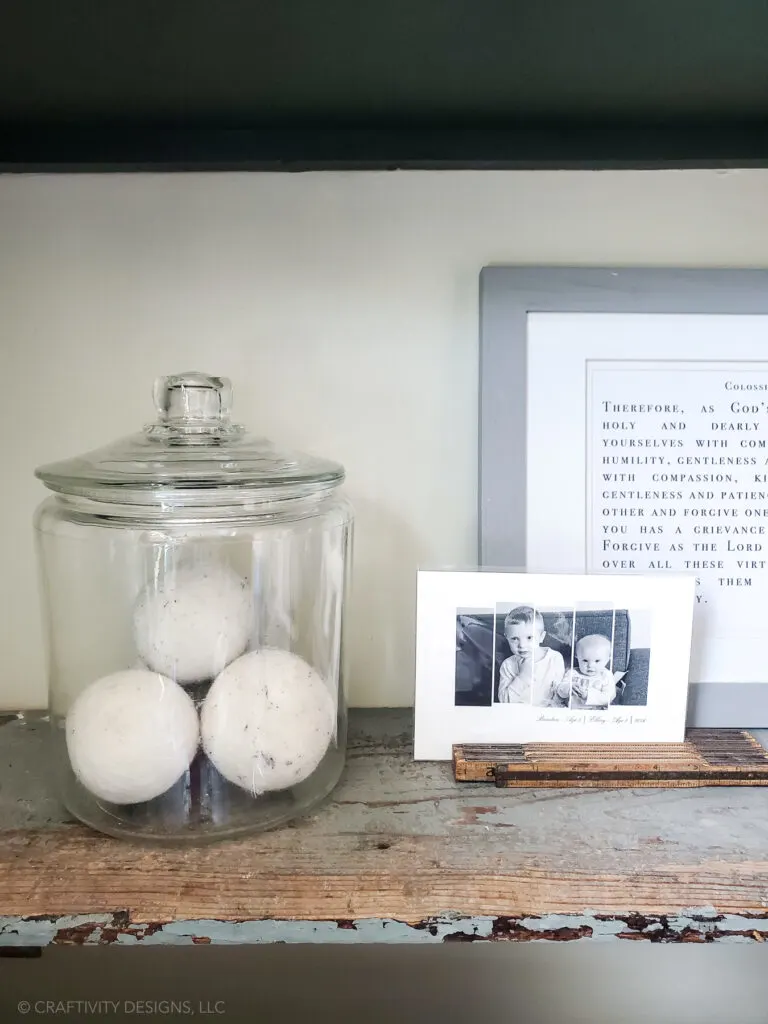 Laundry Room Ideas for Cabinets
Have cabinets in your small laundry room? Make sure to check out my list of tiny laundry room storage ideas (yes, this list includes some duplicates from this list) for a peek inside my cabinets. Find out how we store batteries, cleaning rags, lightbulbs, and more.
If you liked these organization ideas, you might also like:
Want to save these small laundry room storage ideas? Pin it!