Need extra storage in your laundry room? Install a shelf directly over the washer and dryer. Check out 7 examples of shelves over the washer and dryer – with photos!
Just because you have a small laundry room, doesn't mean you have to be short on storage space. One of my favorite ideas for small laundry room storage is to add a shelf over the washer and dryer.
Shelves over washers and dryers can work in a variety of laundry room layouts. So, whether you have a tiny closet laundry, a small laundry room, a laundry/mudroom combo, or a large laundry room; you should consider adding a shelf to improve organization.
And, yes, shelves can work over both top-load and front-load washers.
Today, I'll show you 7 examples of laundry rooms with shelves installed over the appliances. Hopefully, you'll find an example that will inspire you to add a shelf in your laundry room!
Disclosure: This page includes affiliate links.
Laundry Room Storage
It's so important to me that our spaces work for us. When the "stuff" in our house has a designated storage place, it makes it easier to clean rooms (and keep them clean). Plus, it makes being in those rooms more enjoyable (yes, even in the laundry room).
Laundry room storage is something I have spent probably too much time thinking about. We've lived in a home with a tiny laundry closet. Then, we converted that space into a laundry mudroom combo.
Over the years, I've found that there are some laundry room ideas that I use over and over again (see them all here). But, our vintage-style laundry room is the first laundry space we've had with a shelf over the washer and dryer.
My opinion of that added storage? We love it. It's so handy to have everyday-use items within easy reach.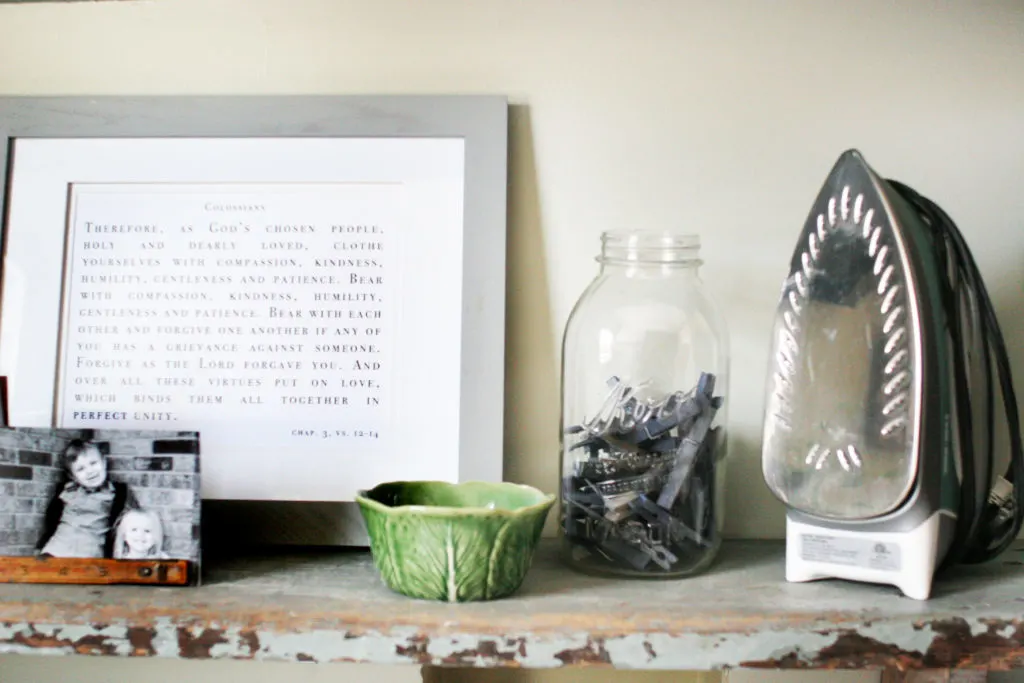 Types of Washer and Dryer Shelves
The most common type of shelf for over a washer and dryer is a basic wood wall shelf. But, don't be limited to this design. There are other options for various home types (own vs. rent), appliance types (front-load vs. top-load), and decor styles.
Freestanding Shelf over the Washer and Dryer
Are you renting? If so, you may not want to install a shelf directly into the wall. Try building a freestanding shelf with plywood or buy a freestanding shelf kit for a simpler DIY version.
Shelf Over a Top-Load Washer
Can you install a shelf over a top-load washer? Yes! Just make sure to account for the space required to open the lid of the washer.
To do this, open the washer lid and let it sit in place fully open. Then, measure the distance to the wall. Use this distance as the maximum depth when selecting a shelf.
In addition to the lid, make sure that the shelf is located high enough that you can still access the hot and cold water valves, if needed. Our shelf is located directly above the cutout in the wall, so we can reach the valve handles easily (see image, below).
Shelf for Top of Front-Load Washer and Dryer
If you've got a front-load washer, you don't need to be concerned about leaving space for the lid to open. However, you still need to be aware of where the hot and cold water valves are located. Make sure you can reach behind the washer to turn off the pipes when necessary.
7+ Examples of a Shelf Over the Washer and Dryer
If you liked this organization idea, you might also like:
Want to save these laundry room shelf examples? Pin it!