No homeschool room? No problem! Learn how to set up a homeschool classroom – even if you're short on space – with 10 Homeschool Room Ideas for small spaces!
Need a homeschool room, but don't have the extra room to spare? No problem! We've been homeschooling for 4 years and have never had a dedicated classroom. Today, I'm sharing our multi-purpose dining room which demonstrates some of my favorite homeschool room ideas for small spaces.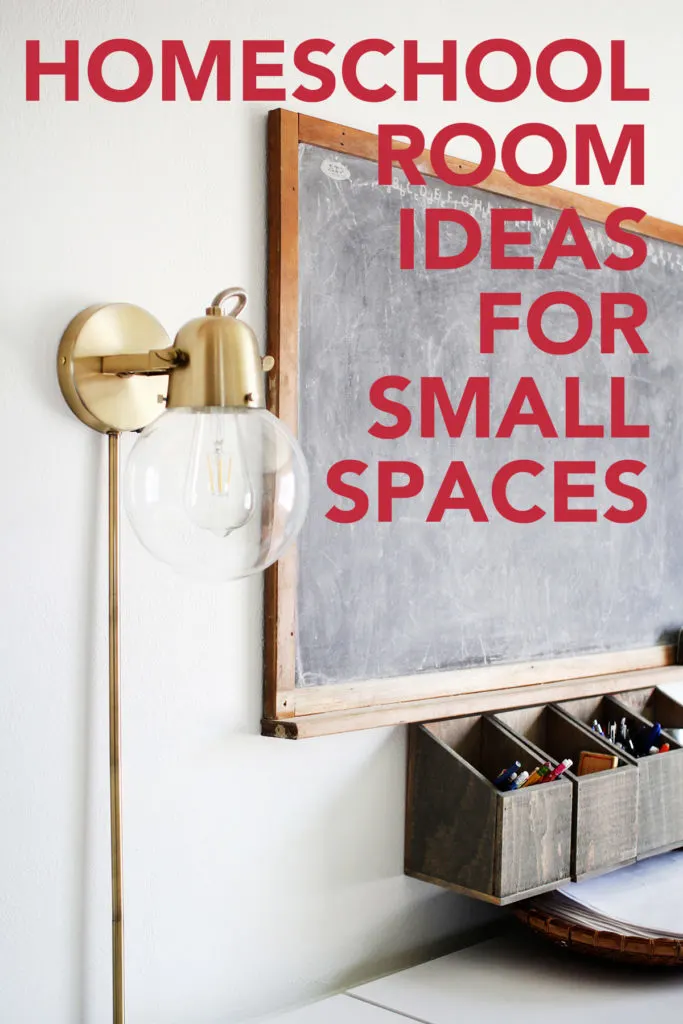 Disclosure: This blog post contains affiliate links for products or services.
Multi-Purpose Dining Room and Homeschool Classroom
Recently, I shared our updated home tour and mentioned that our dining room serves two purposes – both eating and homeschooling. While our home has rooms that could be utilized as a dedicated homeschool classroom, I prefer to use the dining room.
Why? Our dining room is central to the home. Right off the kitchen, it is where we do paperwork, complete schoolwork, eat meals, and play board games.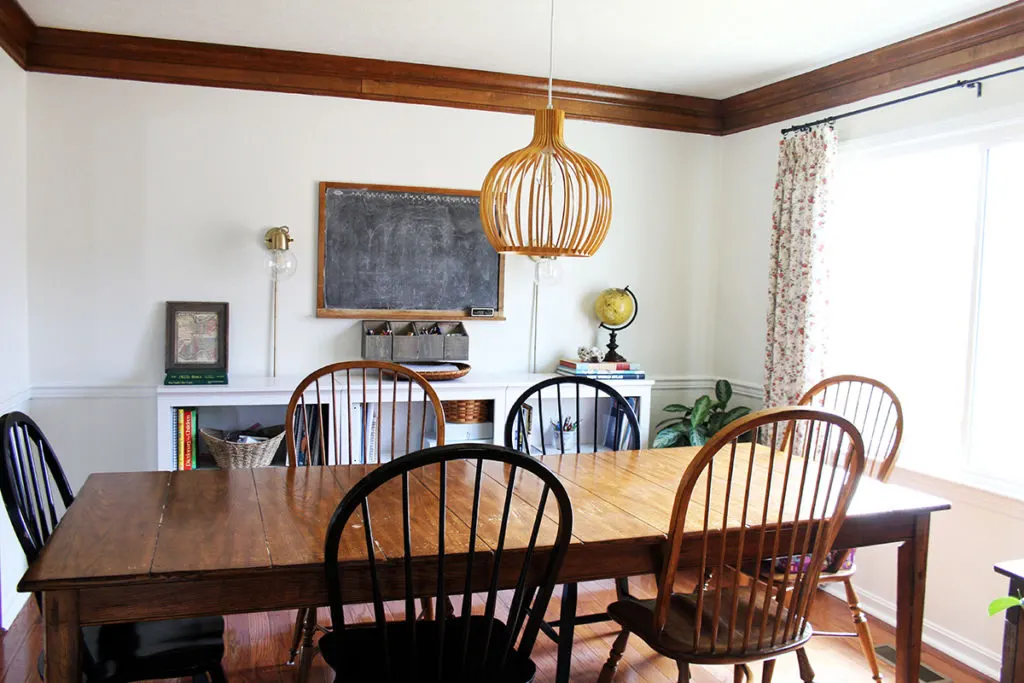 Of course, there are pros and cons to homeschooling in the dining room. For example, unlike the photo above, our table is never clean and empty. Also, when homeschooling in a central living space, you have to minimize distractions.
For that reason, a small desk in my son's bedroom provides a quiet space when needed. Still, the bulk of his schoolwork is completed at the kitchen table.
This year, my daughter has started homeschool, too. With two kids in school, a key goal of the dining room makeover was to set up an organized homeschool room.
Whether you homeschool in the dining room, kitchen, basement, office, etc., these homeschool room ideas will help you make the most of your space.
10 Homeschool Room Ideas
#1 Hang a Chalkboard
Hang a chalkboard or whiteboard in your homeschool room. If you don't want to hang a board, an easel is a great alternative solution (I prefer easels that include a paper roll).
In our dining room, we hung a vintage chalkboard that fits our home's decor. Not only is it functional for school lessons, but we also use it to write messages for birthdays and holidays.
TIP: Buy high-quality chalk for chalkboards. After much research, I chose HAGOROMO chalk which writes smooth, solid lines.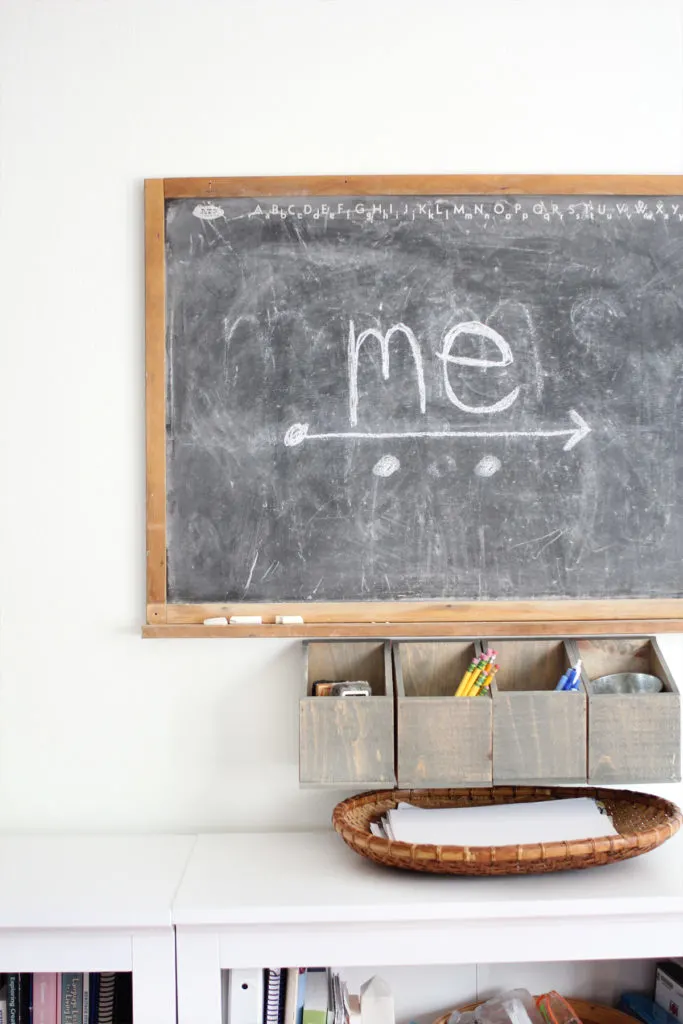 Not into vintage chalkboards? Choose a board that fits your home's style:
#2 Make a Hanging Wall Organizer
One of the key solutions for small rooms is utilizing vertical space. Since homeschool requires office supplies such as pencils, pens, scissors, etc., a hanging wall organizer can help keep your homeschool room tidy.
Learn how to make a hanging wall organizer or buy a pre-made wall organizer: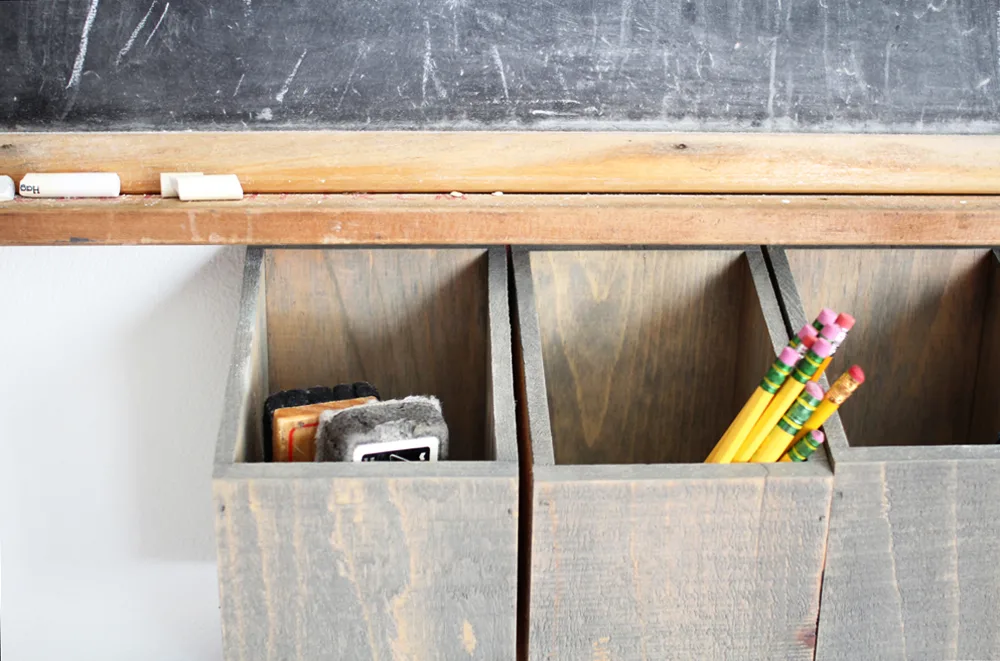 #3 Install Additional Lighting
Hard-working rooms such as kitchens and offices are equipped with ample lighting due to the type of work performed in those rooms. Similarly, the room in which you homeschool should be outfitted with sufficient lighting for task work.
The lighting solution for a homeschool classroom may include a combination of natural light and artificial lighting. In How to Brighten a Room (the Ultimate Guide!), you'll find
3 ways to brighten a room with artificial lighting and
tips and tricks for hanging window treatments that maximize light.
One of my favorite solutions in our homeschool room is a set of plug-in wall sconces that significantly brighten the room and workspace (aka. the dining table!).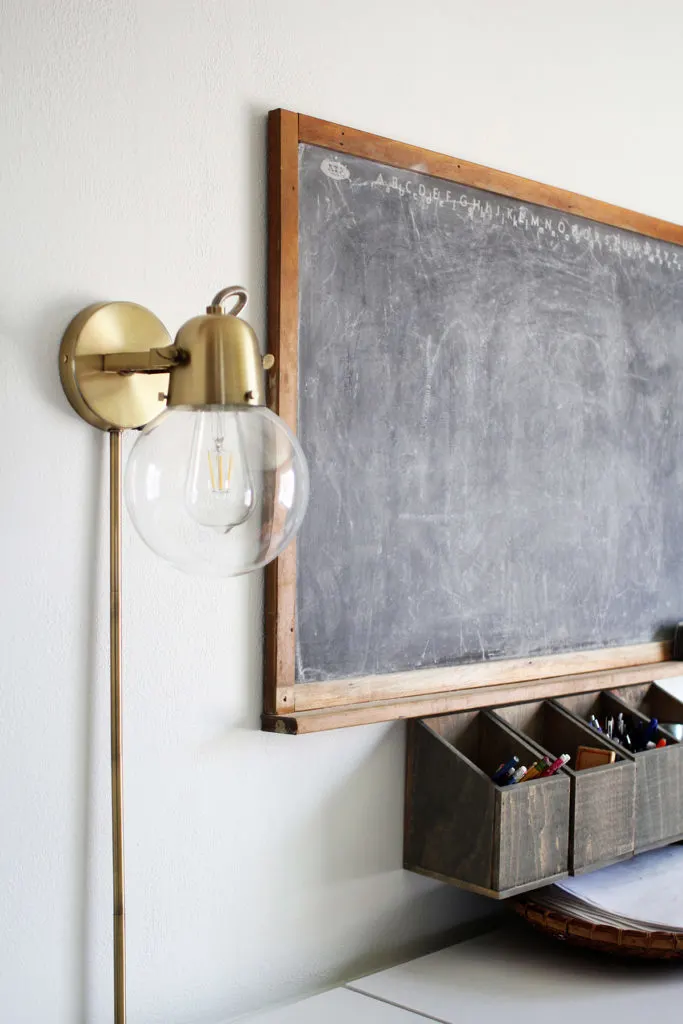 #4 Utilize Bookshelves for Storage
No homeschool room is complete without a spot to store books. Therefore, bookshelves, or wall shelves, are essential to a homeschool room layout.
We use a combination of free homeschool curriculum, textbooks, workbooks, manipulatives, and classic literature. Therefore, we need ample storage space for all of these materials.
In our homeschool room, I chose 3 low bookshelves to organize homeschool supplies. By opting for low bookshelves, we are still able to hang a chalkboard and mount wall sconces.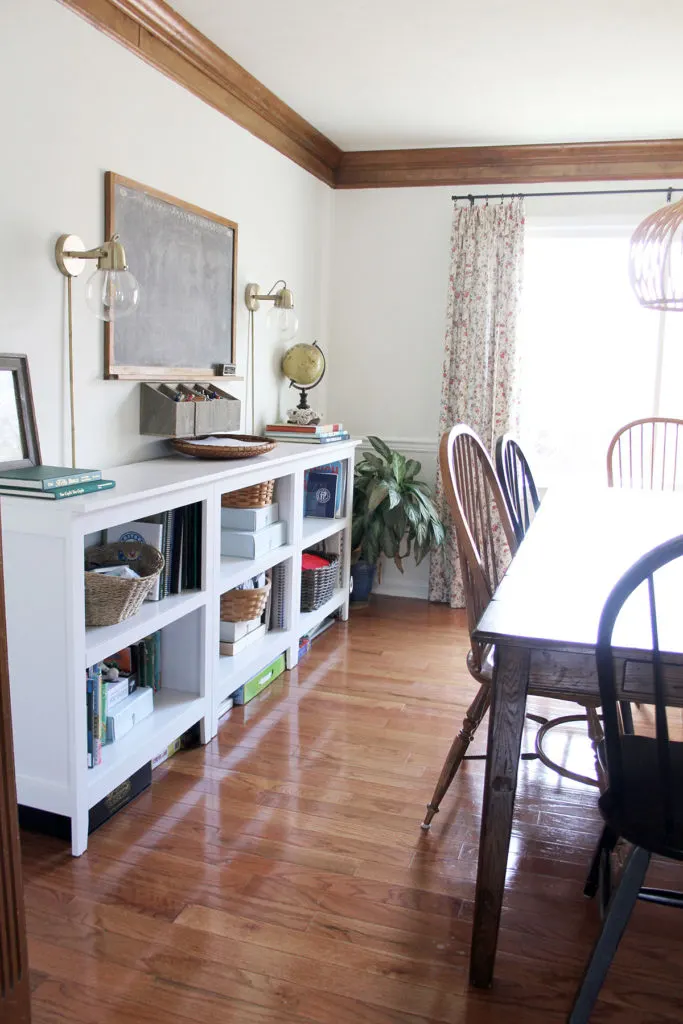 Plus – since the room is multi-purpose – the top surface of the low bookshelves also acts as a serving buffet during parties.
What type of bookshelf, or wall shelf, works in your home? Choose a solution that maximizes your small space and provides ample homeschool storage.
#5 Dedicate a Shelf to Each Child
Once you've placed a bookcase in the room, dedicate 1 or 2 shelves to each child.
By allocating each child a shelf, they can self-serve. Each day my son knows where to grab his textbooks, based on the lesson plans laid out for the day. If it's time for free reading, he knows where to find a collection of storybooks.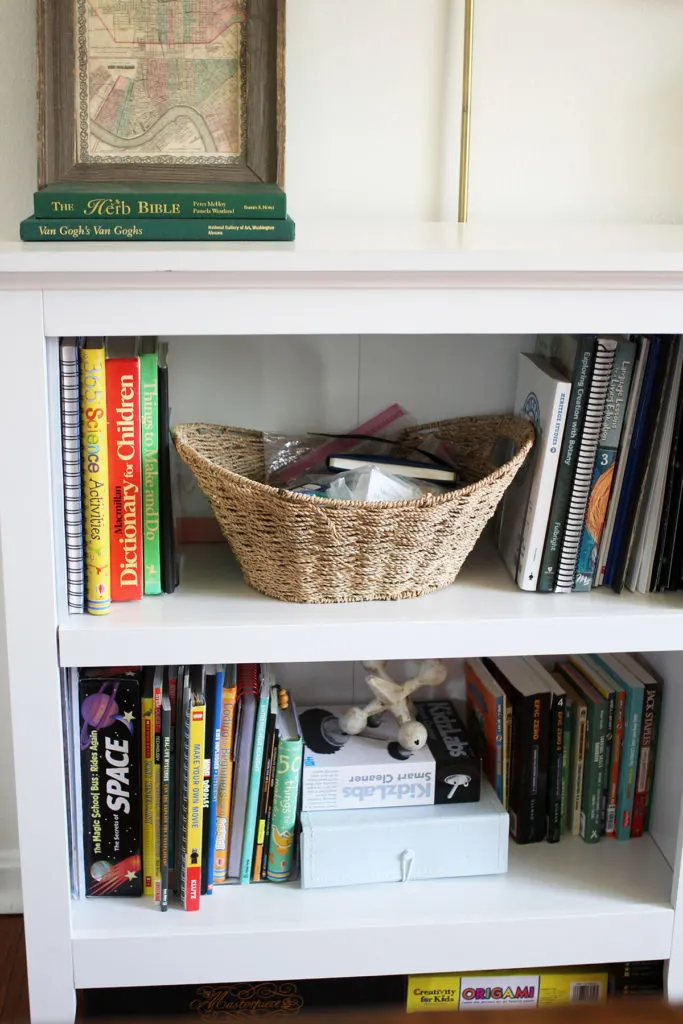 In the same way, my preschooler knows where to find her art supplies, stickers, and puzzles.
TIP: These sturdy, acrylic bookends are nearly invisible while keeping books in order.
#6 Integrate Educational Tools as Decor
In order to keep key resources at hand, integrate educational tools into the homeschool room's decor. Vintage globes, art history books, botanical posters, paintings, etc. are just a few of the educational resources that teach and inspire.
Students will enjoy learning – and you'll enjoy teaching – in a space that ignites creativity and stimulates the desire to learn.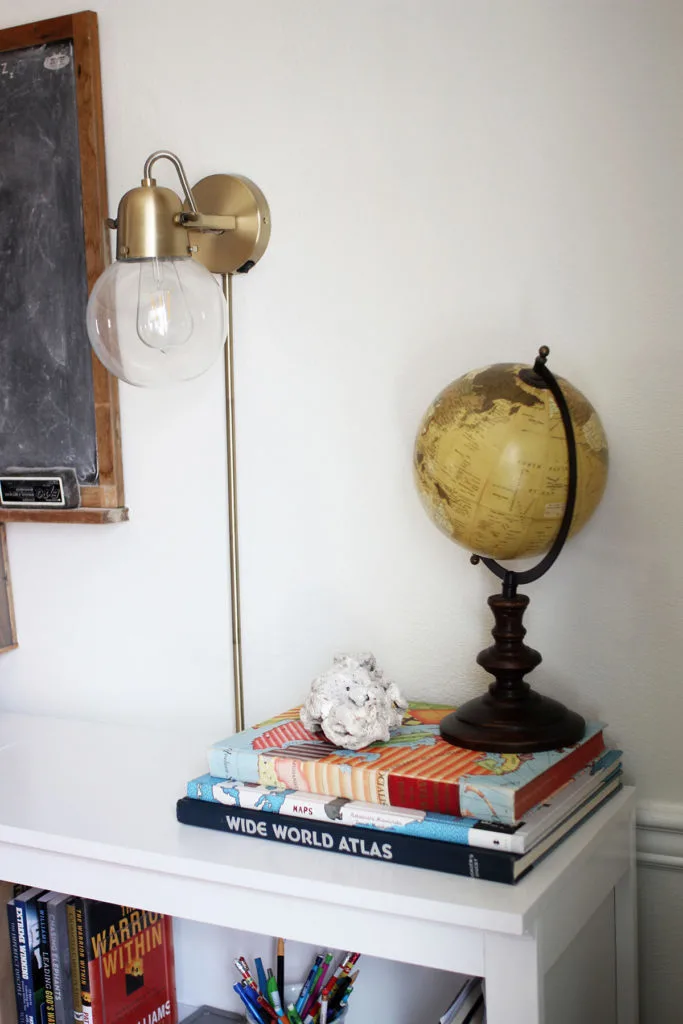 #8 Utilize Baskets and Bins for Supplies
Further organize shelves and work surfaces with baskets and bins. We use a variety of wicker baskets and decorative boxes to store homeschool supplies, such as:
office supplies (pens, pencils, rulers, scissors, etc.)
art supplies (paint, brushes, crayons, etc.)
STEM supplies (science projects, math helps, etc.)
school resources (flashcards, CDs/DVDs, etc.)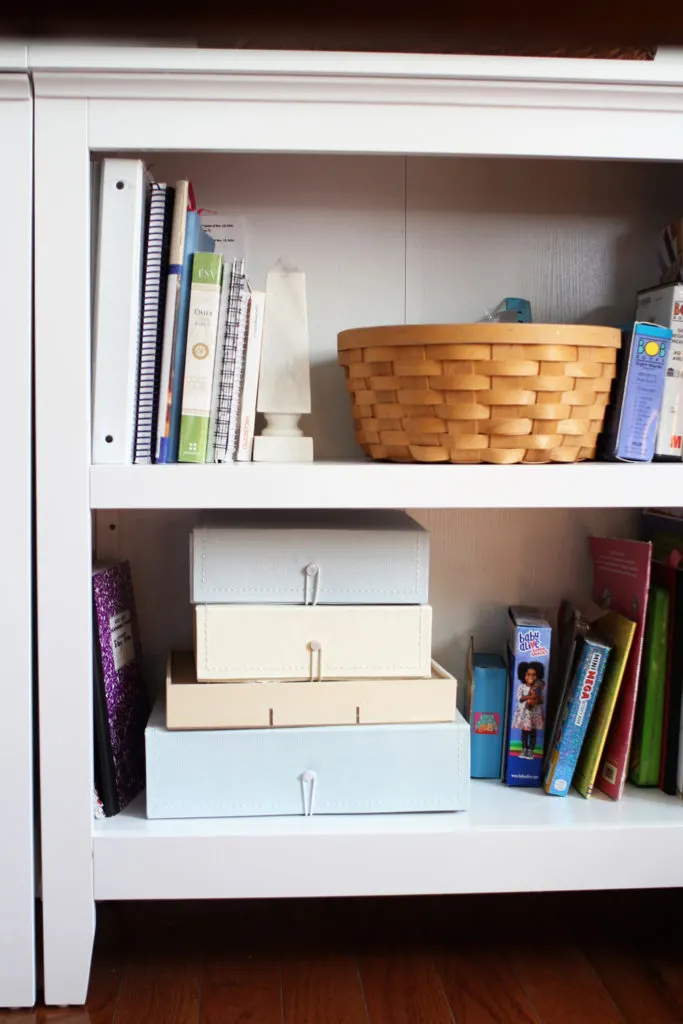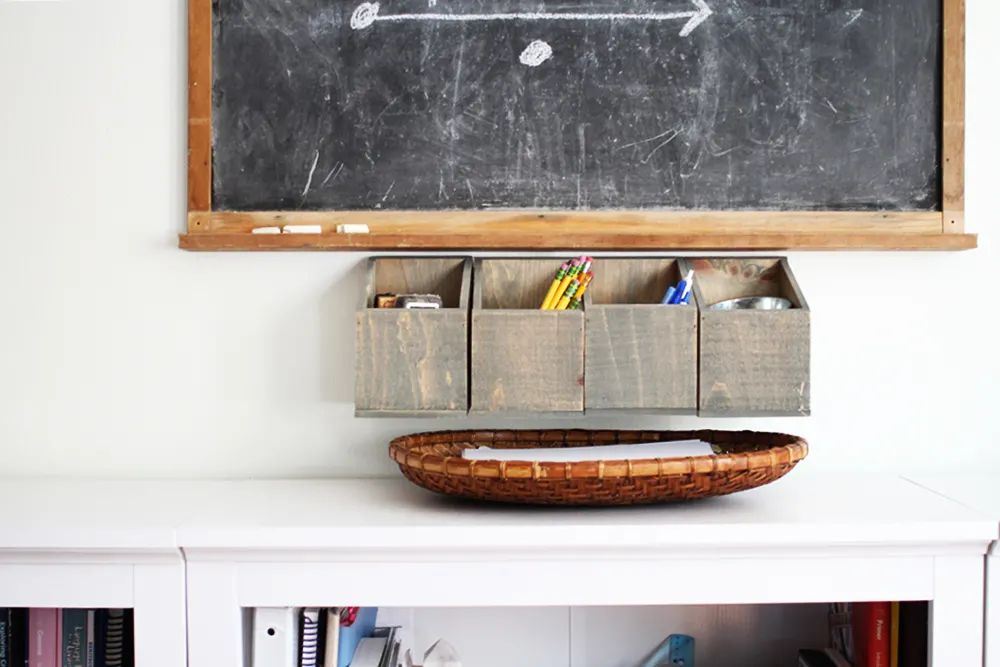 #9 Repurpose Furniture
Utilize a bit of ingenuity and repurpose furniture for your homeschool room.
For example, since our homeschool room is also a dining room, I couldn't give up our dining cabinet. Rather than buying classroom furniture or putting my china dishes in storage, I improvised.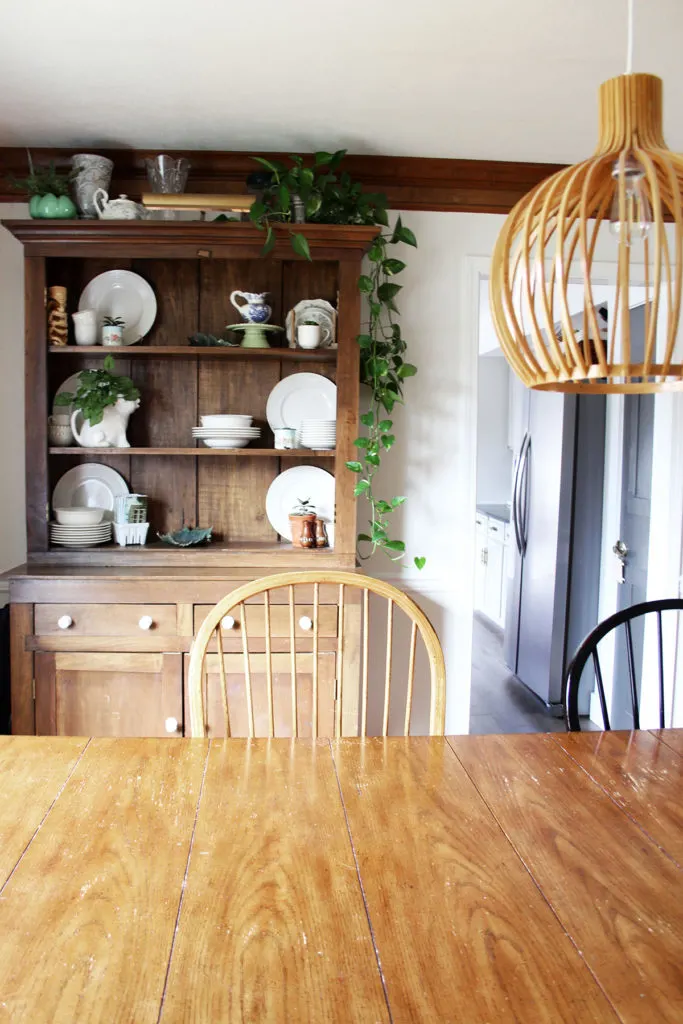 The top of the dining cabinet displays china and the bottom hides additional homeschool supplies.
How can you utilize furniture you already own and repurpose it for homeschool storage? Buffets, dressers, kitchen cabinets, etc. can all be used to organize homeschool supplies.
#10 Hang Clipboards or Corkboard
In a homeschool room, you may need to display posters and teaching sheets on the wall. However, this can be a dilemma if:
you don't want to damage walls or
are homeschooling in a multi-purpose room.
I've struggled with this dilemma over the years, but recently found a solution: decorative clipboards. Similarly, an attractive corkboard or magnet board could serve the same purpose. Here are a few of my favorites: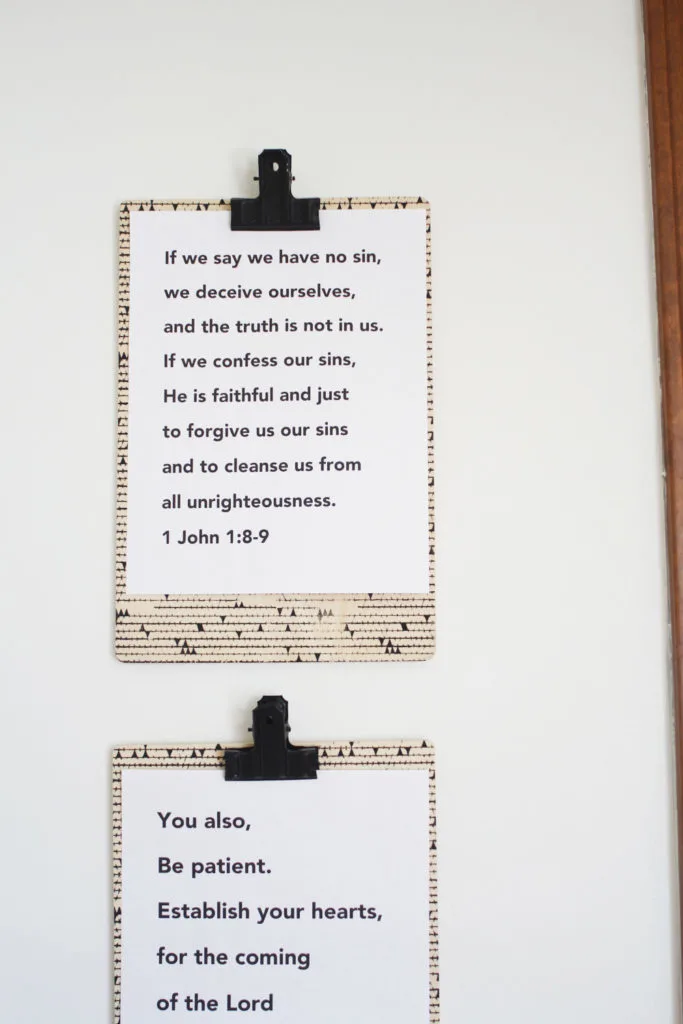 Homeschool Classroom Ideas
So, what is your best tip for homeschool room organization? I'm always looking for new ideas!
After all, our homeschool space – just like my kiddos – is constantly changing. As your kids grow, continue to evaluate your homeschool space, making it effective for your family and home.
Want to remember these homeschool room ideas? Pin it!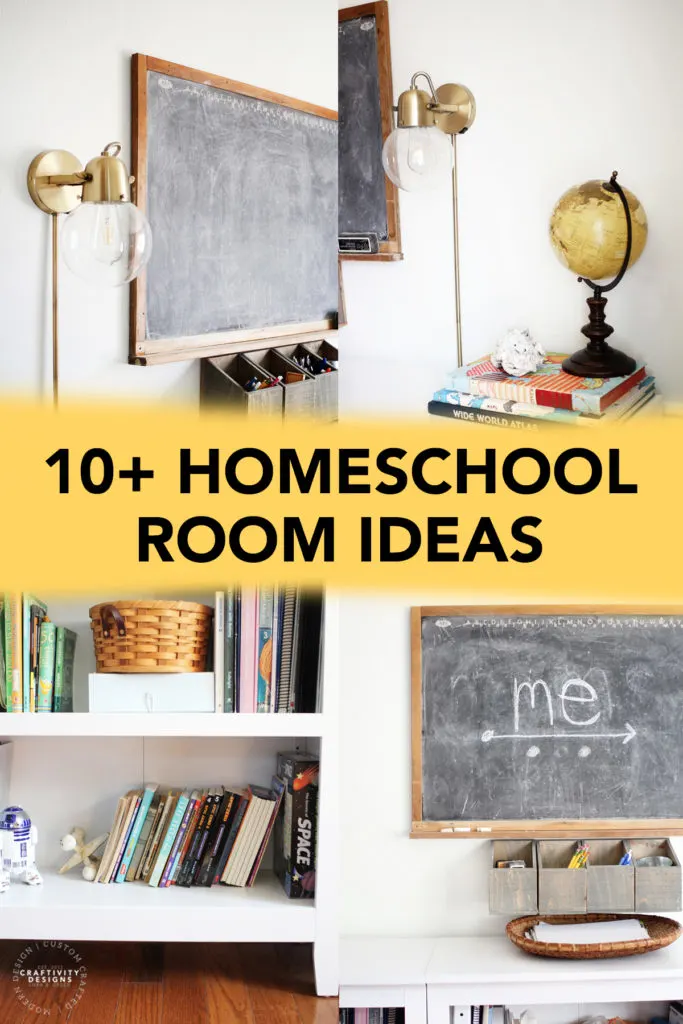 If you like this homeschool organization post, you might also like: