Trying to figure out how to brighten a dark room (or rooms) in your house? With over 17 ideas, you are sure to find a trick that fits your budget.
Over the last 10 years, we have bought and renovated 3 homes. When you buy older homes – and especially fixer-uppers – they generally don't come with white walls, white woodwork, and recessed lighting… all common in new builds. Facing these challenges repeatedly, we've learned how to brighten a dark room.
And truthfully, I like that challenge. Older homes – lacking in modern lighting and current decorating trends – are filled with character. It's through the process of brightening a dark room, that you highlight its best features.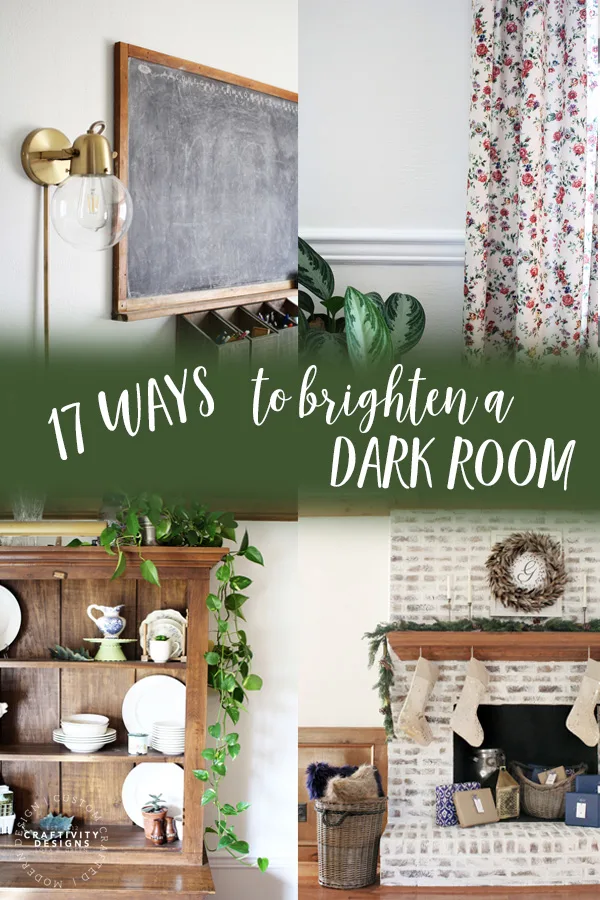 Disclosure: This blog post contains affiliate links for products or services.
The Ultimate Guide: How to Brighten a Dark Room
This post is filled with tons of ways to brighten a dark room. To make it simpler to digest, I've broken it down into 5 categories so you can navigate the content as you please.
Simply click the link to jump to the topic of interest.
How to Brighten a Dark Room with Paint
One of the most inexpensive ways to brighten a dark room is with paint. A gallon of light paint can brighten a space in less than a day's work – and not just by painting the walls.
Let me re-emphasize that: Painting walls is not the only way to brighten a room with paint.
Whether you paint walls, brick, trim work, furniture, etc… it's a tool that can brighten your home. Choose the paint application(s) that best fit your style and personality.
Paint Walls
Light paint colors, white included, can brighten a dark room. However, it's important to understand a few color basics, first.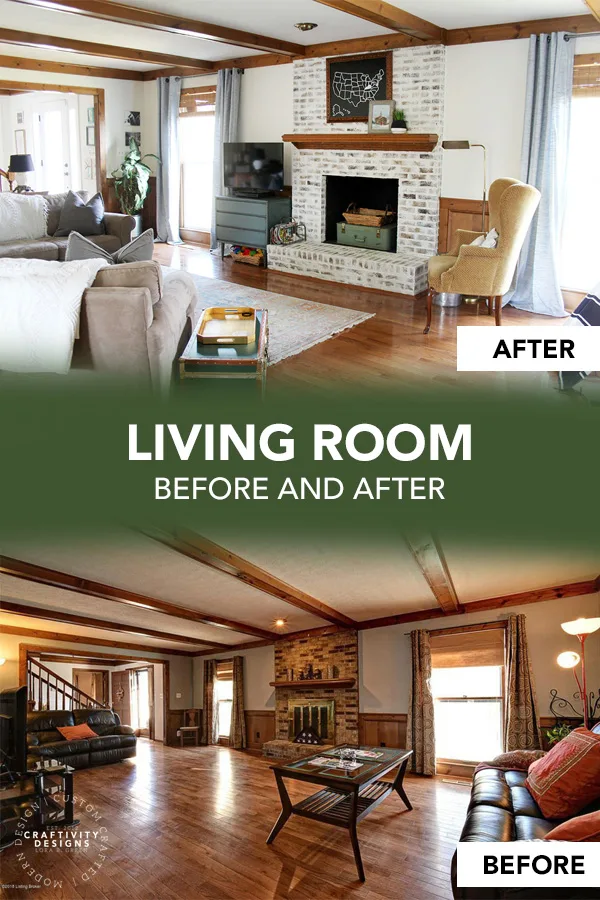 White paint brightens rooms because it reflects natural light. Therefore, if a room lacks natural light, white walls may not help.
In fact, in a room lacking natural light, white wall paint (especially whites with gray and purple undertones) can look flat and gloomy. Plus, without plenty of natural light, white walls are prone to shadows.
Therefore, you can have a brighter home with or without white wall paint.
Paint Brick
Maybe you don't want to paint the walls? … or … Are the walls are already painted in a color that lightened the room, but it still feels dark? Take a look at architectural features such as brick fireplaces, stone fireplaces, and interior brick walls.
Due to their size, brick fireplaces and walls are often the focal points in a room. Therefore, brick can greatly impact how light and bright a room feels.
In our last home, we brightened our dining room by painting the brick fireplace.
TIP: To paint a brick fireplace, color-match the trim work for a seamless look.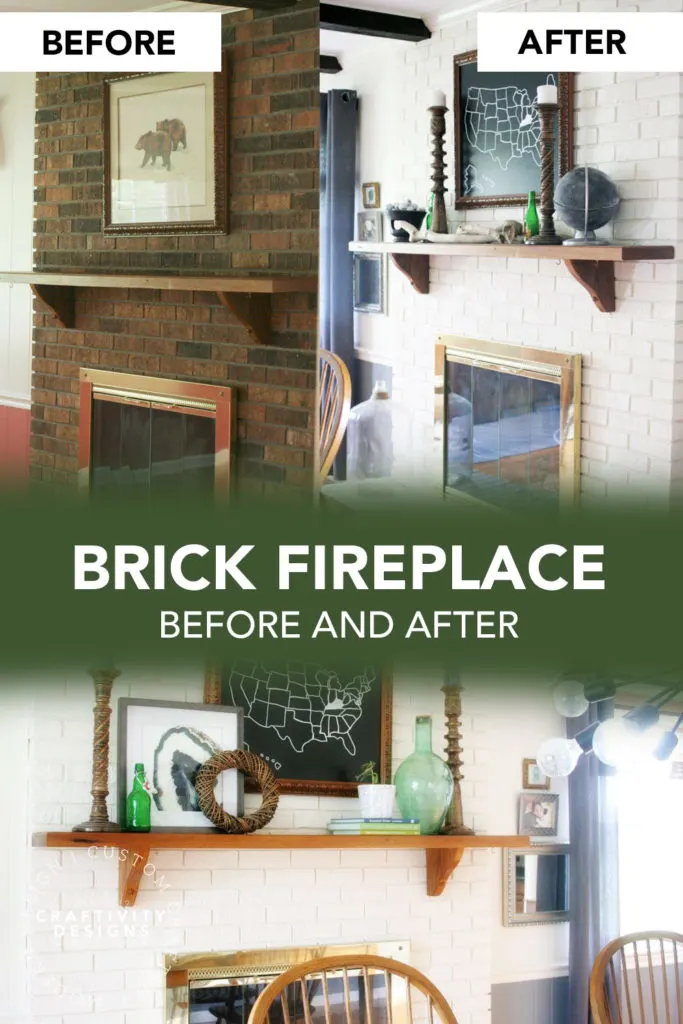 If you love brick, you don't have to paint it completely. Instead try a German Schmear, Mortar Wash, or whitewash effect to lighten it up, while retaining the brick's character.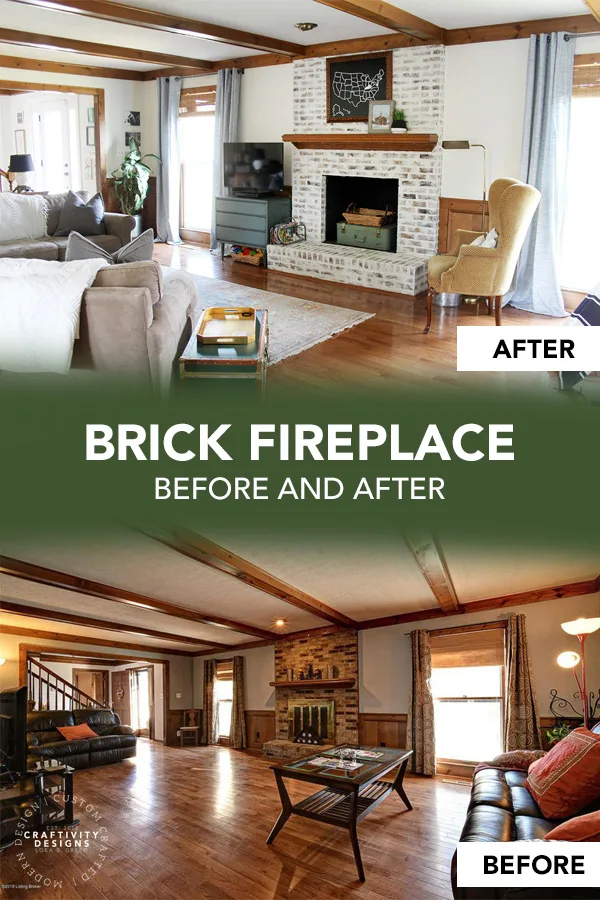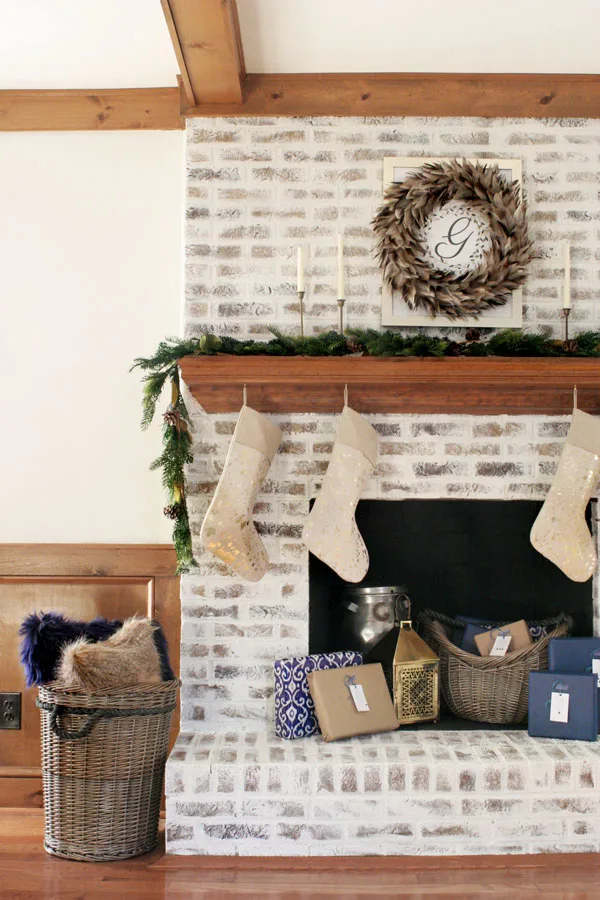 Paint Wood Trim Work
Like brick, wood trim work can impact how dark a room feels. However, I'm not an advocate of the "paint everything white" movement. Rather, I recommend selecting some wood trim work to paint white.
For example, our dining room has pretty crown molding. The wood is of high quality, and the crown molding is a statement piece.
In contrast, the base trim and chair rail are made from inexpensive wood and are standard 3″ trim.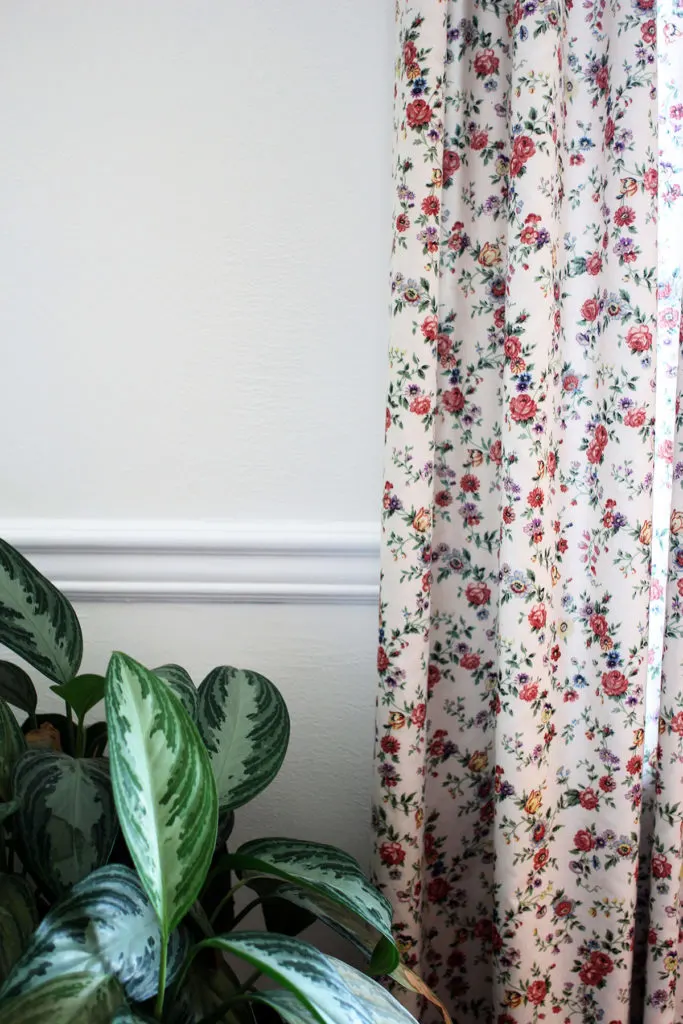 So, we painted all of the trim except for the high-quality wood. This technique actually highlights the crown molding and makes the room brighter (win, win!).
Paint Built-In Shelves
Like wood trim or brick, dark built-in shelving can greatly impact how dark a room feels.
Let's take a journey back to our first home (over 10 years ago!). The living room had wall to wall built-ins. While I loved the storage, I wasn't a fan of the vibe.
It felt dark… really dark. Dark shelving absorbs light both (1) due to its color and (2) due to additional corners and shadows.
We painted the shelves and a DIY window seat in a creamy off-white to brighten the entire room.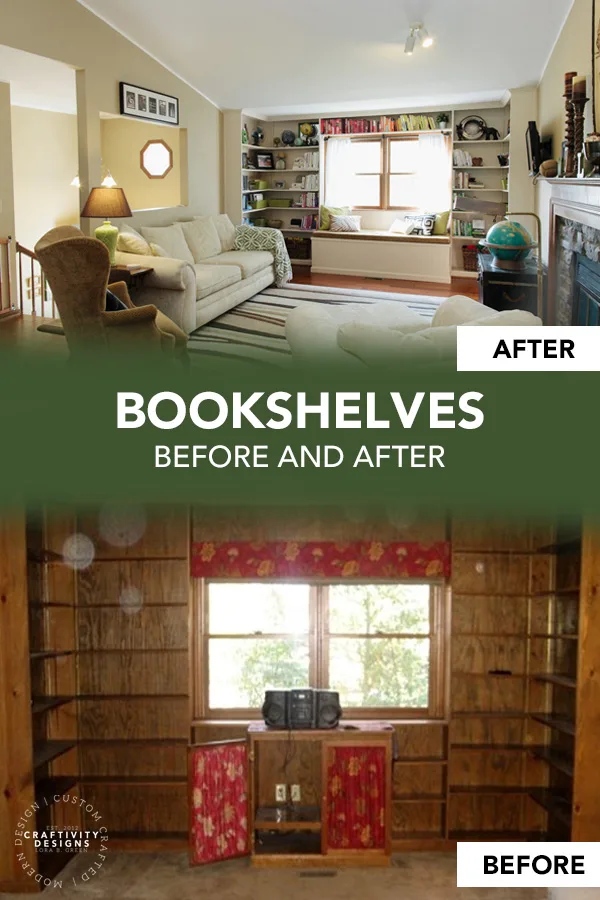 Paint Cabinets
Like built-in shelving, dark cabinetry often impacts how dark a kitchen or bathroom feels.
I'm sure painted cabinetry isn't new to you – it's been a token DIY upgrade for years. And truthfully, the reason it's so popular is because painted cabinetry can transform a dark room.
Speaking of popular DIY projects, white is the most popular choice for a kitchen. However, don't feel limited to white paint. You can lighten a dark kitchen even if you don't want to paint cabinetry white.
In our first home, we chose a mid-tone gray for our kitchen cabinetry.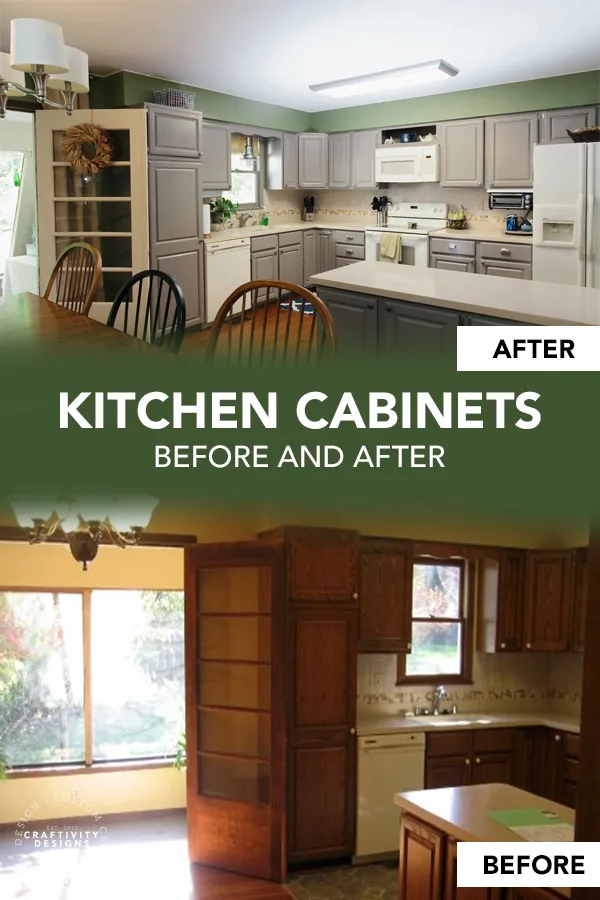 In our current home, we chose a lighter and slightly warmer gray.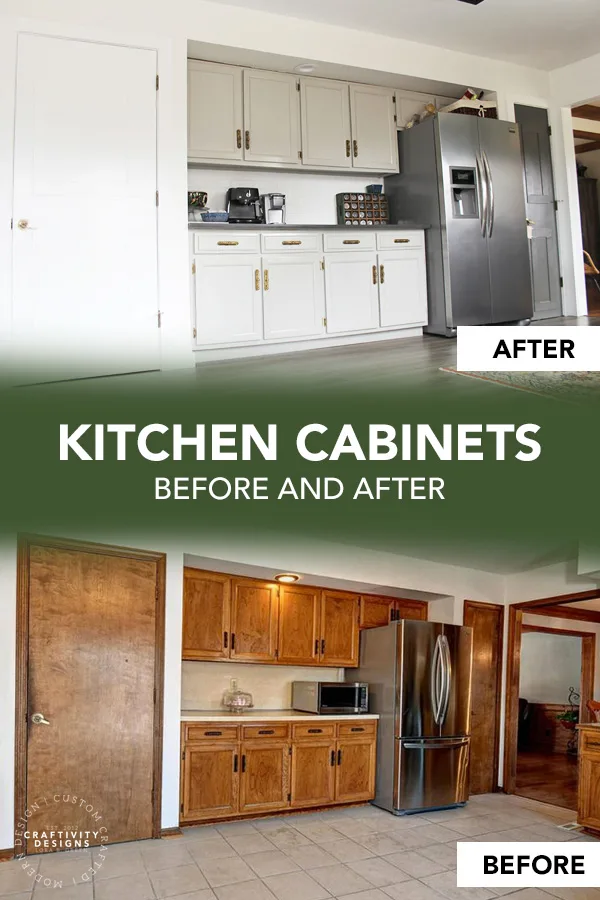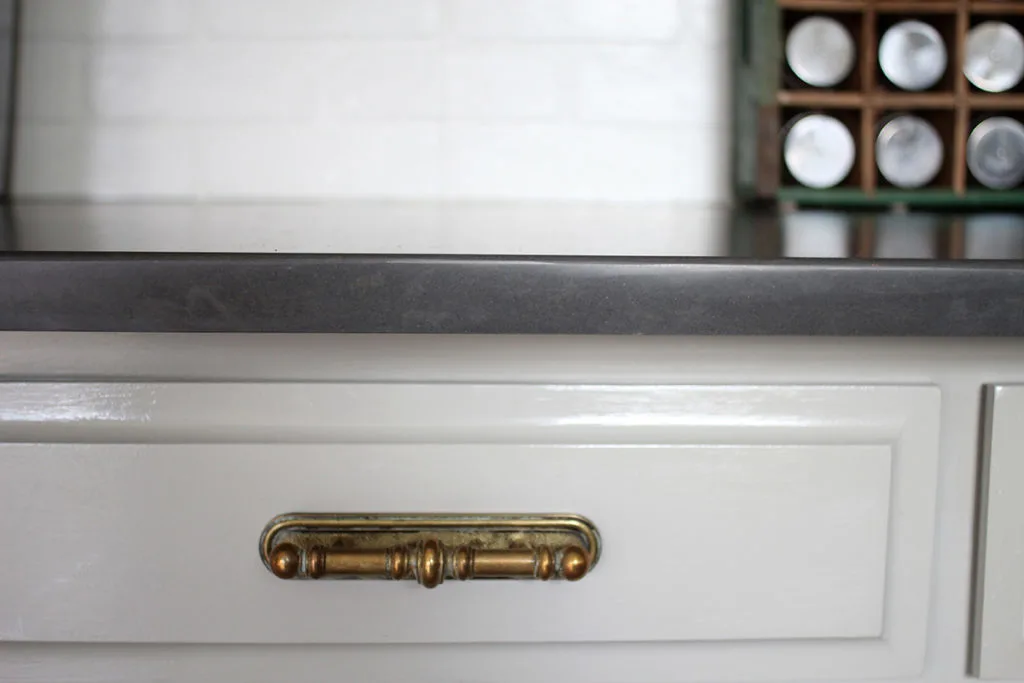 Paint Interior Doors
Much like wood trim work, dark interior doors may need to be painted in order to brighten a room.
Typically, I paint the walls and trim first. If – at that point – the door still seems to be making the room dark, I'll paint it too.
In some parts of our home, we have stained doors with white trim. In other areas of our home, we have painted white doors. There are pros and cons to both options.
For example, in our kitchen, we painted the stairwell door white. It's nearly centered in the room and reflects light to brighten the space.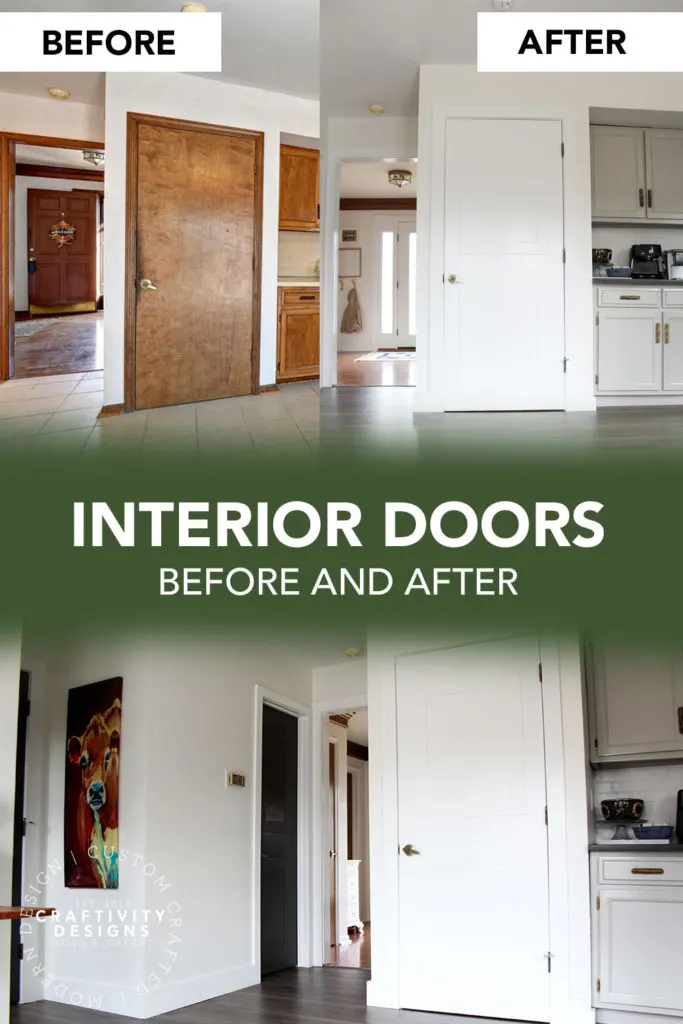 In contrast, the powder room door (on the left in the photo above) is painted a dark gray/near black. Similarly, I didn't decide to paint it until after painting the walls and trim. Rather than going lighter, I went darker.
It's best to take decorating one step at a time (especially when you are painting permanent features in a home). While the process seems slow, we benefit from the time spent making decisions.
I still haven't decided what to do in our entryway… white doors, dark gray doors, or leave as-is (wood). What would you do?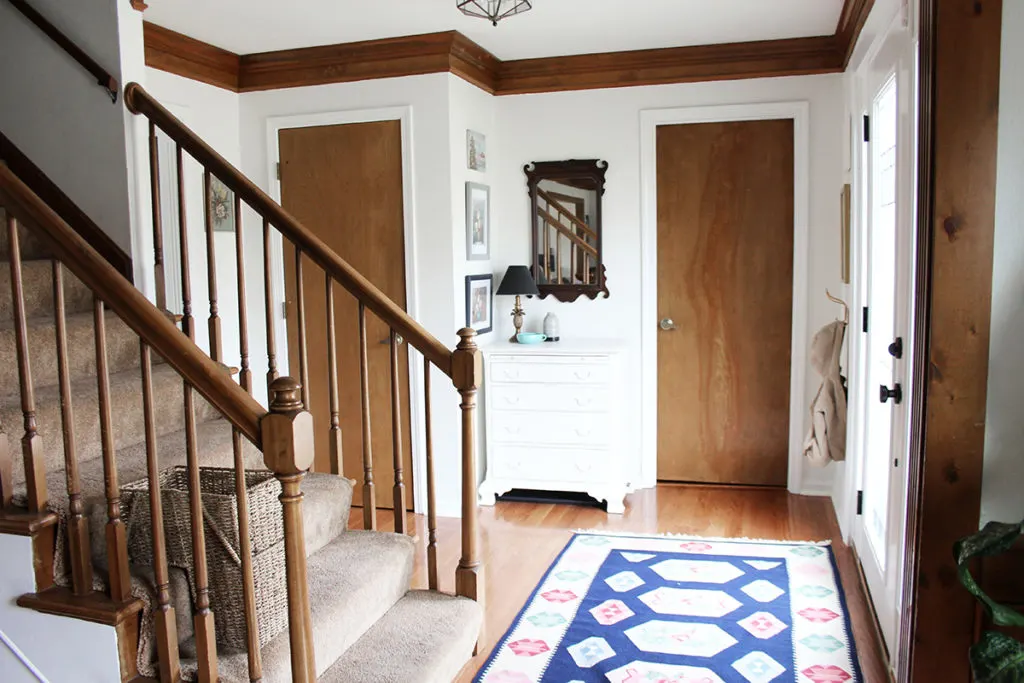 Paint Furniture
Do you live in an apartment? … or … Maybe you don't want to paint the permanent features in a room? Consider painting furniture when you can't paint other surfaces.
This is an especially great option if you don't love your furniture. Is it inexpensive? Is the color boring? Are you tired of certain pieces? Paint furniture, and brighten the room, too!
TIP: Don't let winter stop you from painting furniture. I painted that dresser in a paint booth in the garage!
In our sunroom, we didn't want to paint the walls. The wood paneling felt cozy and lodge-like (not to mention, it would have been a giant job.)
Therefore, I painted a vintage dresser to lighten up the area around the TV.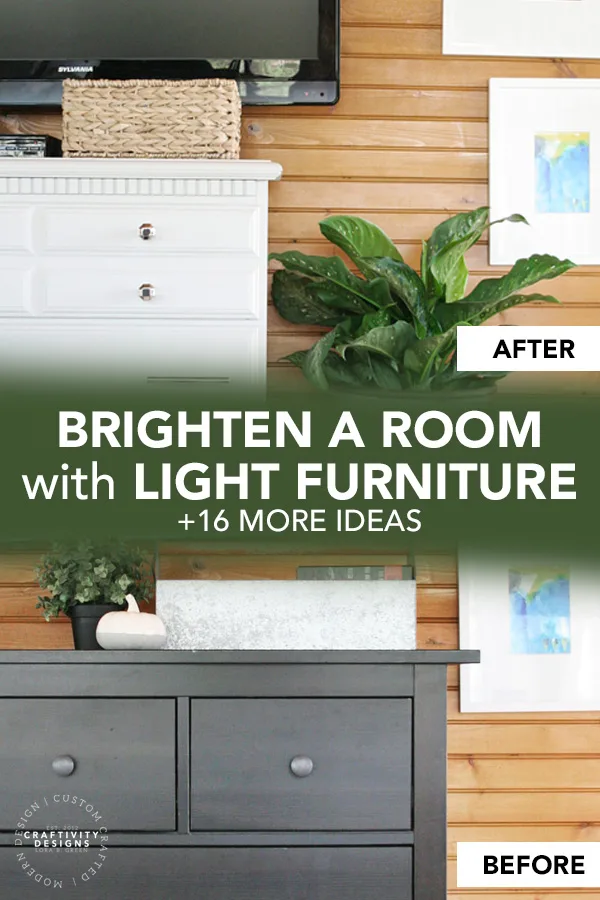 P.S. No, those aren't the same dressers. I don't have a photo of the vintage dresser in that spot – but the photos demonstrate the impact of changing a furniture's color.
How to Brighten a Dark Room with Window Treatments
The wrong window treatment(s) can make a room darker. Of course, curtains and blinds serve several purposes:
privacy
prevent drafts / keep rooms warmer
soften a room with texture
reduce echo
Therefore, brightening a room may not be the first thing on our mind when buying/hanging window treatments. So, let's talk about what to buy and how to install window treatments.
White Curtains
Like paint, white is a simple solution to lighten a dark room. Therefore, white curtains are a great choice.
If you aren't sure how to brighten a dark room (or don't want to accidentally darken a room) and if you don't know which window treatments to choose, buying white curtains is a safe bet.
White curtains look good in almost any room. Plus, you can buy white curtains that are blackout, if needed.
Personally, I prefer to pair wood or bamboo blinds with light filtering white curtains. This combination offers privacy and brightens a room.
In our sunroom, we balanced the dark brown tones with bright white curtains hung on extra long curtain rods.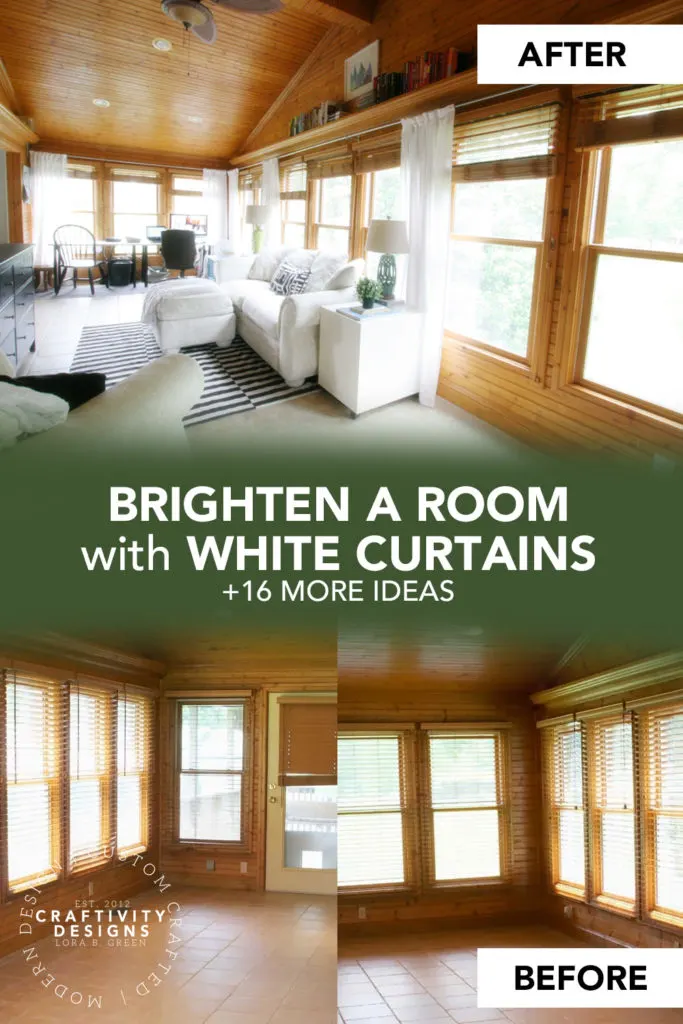 Light Filtering Curtains
While white, light-filtering, IKEA curtains are a surefire choice, light-filtering curtains are available in many colors and patterns.
In the dining room of our last home, we chose grey curtains to contrast with the white walls and white painted fireplace.
In order to keep the room bright, I chose dark gray curtains that filter light. The wood blinds allowed for privacy, if needed.
Curtain Height and Width
Already chose white or light filtering curtains? There is one more trick to brightening a room with window treatments.
No matter which kind you buy, hang the curtains high and wide.
Our last master bedroom had tiny windows (so. small. check out that before pic!). But, you can't tell how small the windows are in the after photo.
Here's the trick: Hang the curtain rod high and wide, so that the curtain barely covers the window trim.
In other words, the curtain is primarily hanging in front of the wall. Of course, buy a curtain panel (or two) large enough to be pulled across the window, if needed.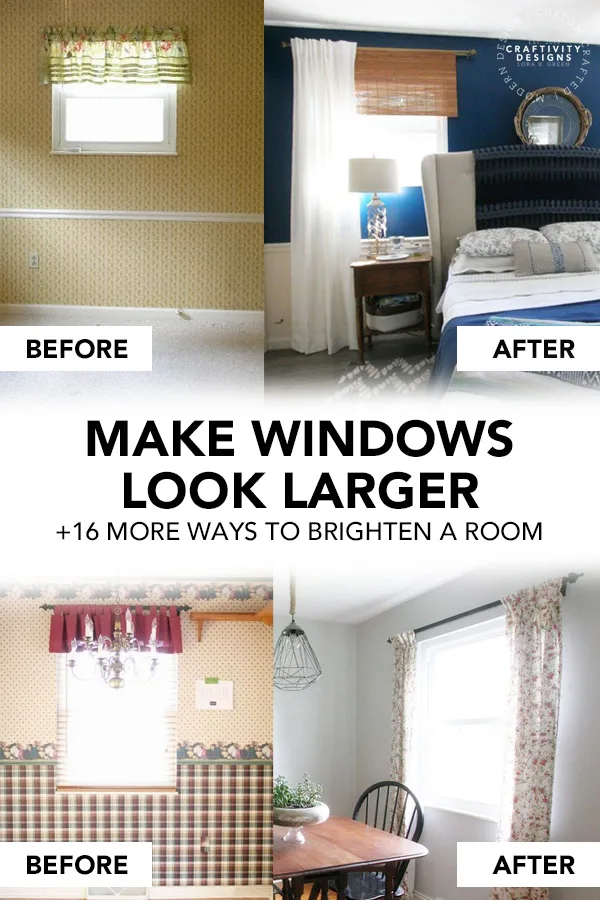 I used the same technique in our breakfast nook. It's hard to believe its the same window… and that's why I've used this trick over and over, in each house we've owned.
How to Brighten a Dark Room with Furniture
At one point in time, the standard practice was to buy furniture in a set. There are some benefits to this: everything matches, less shopping around, completing a room in one fell swoop, etc.
However, one of the negatives is, you might end up with too much of a good thing. What do I mean? Let's talk about how mixing furniture colors and styles can help brighten a room.
Furniture Color
In order to brighten a room, mix light furniture with dark furniture. After all, even the most gorgeous stained wood piece can get lost in a room full of stained wood furniture.
In our dining room, we had a wood dining cabinet, wood table, and a dark gray bookshelf. In order to lighten up the dining room, we swapped white bookcases in place of the gray bookshelf.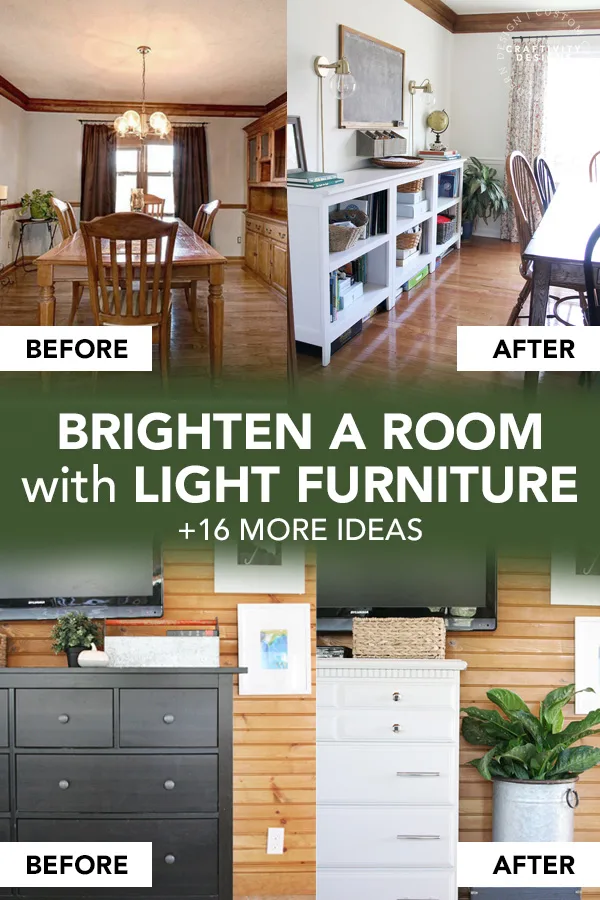 We kept the prettiest pieces (the solid wood table and antique hutch) and moved the inexpensive gray bookcase to the basement. Evaluate your furniture:
move a dark piece out of the room,
swap dark furniture with light furniture, or
paint a dark piece with a light color.
Furniture Height and Scale
When evaluating your furniture, don't consider only the color. It's also important to factor a furniture piece's height and scale into whether it is brightening (or darkening) a room.
Most average-sized rooms can't handle all large-scale furniture. This is another reason it can be risky to purchase a full set of furniture. Therefore, it's best to mix large and small scale furniture in a typical room.
For example, our dining room has a 6-person farmhouse table and a tall antique dining cabinet. Previously, there was a tall bookcase on the opposite wall from the dining cabinet. What I came to realize is that there were too many big – and specifically, tall – pieces of furniture in the room.
Tall furniture can block the flow of natural light, especially when the furniture is near windows. In contrast, low furniture provides plenty of open space for natural light to flow, and at eye level.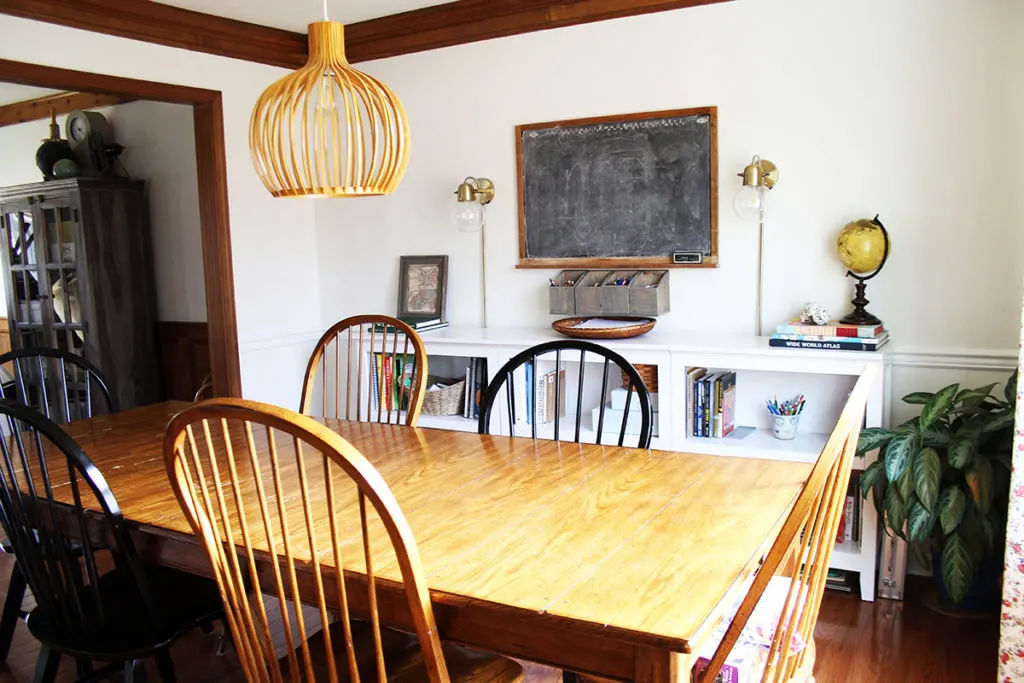 Therefore, when we renovated our dining room we swapped the tall bookcase for 3 low white bookcases. In doing so, we (1) reduced the dark pieces in the room and (2) reduced the number of tall pieces in the room while also (3) increasing the overall storage.
So, it's important to note that introducing lower height and smaller-scale pieces can still increase storage, while also brightening a room.
How to Brighten a Dark Room with Lighting
This might be the most obvious solution, but you can brighten a room with additional lighting.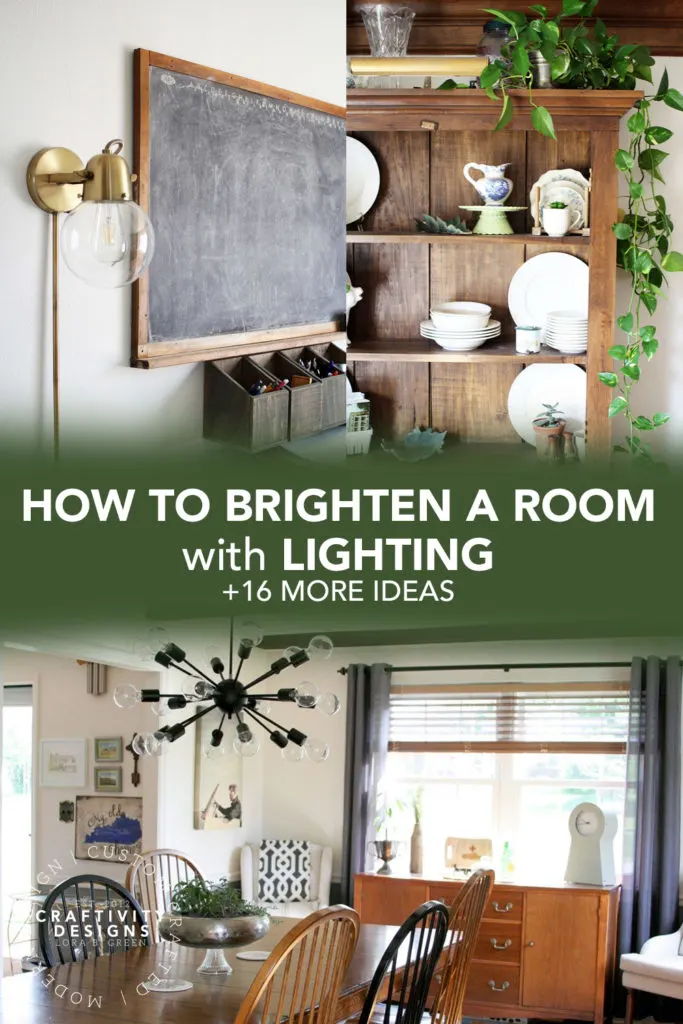 Ceiling Lighting
If you are dealing with a dark room, evaluate the ceiling light. Ask yourself:
How many bulbs does it have?
What type of shade does it have?
Is it large enough for the size of the room?
etc.
For our living room lighting we swapped a single bulb fixture for an 8 bulb fixture. Guess what? It got a lot brighter. Installing a fixture with a higher bulb count is a great way to lighten a room.
TIP: If you install a multi-bulb light that is too bright, use lower wattage bulbs.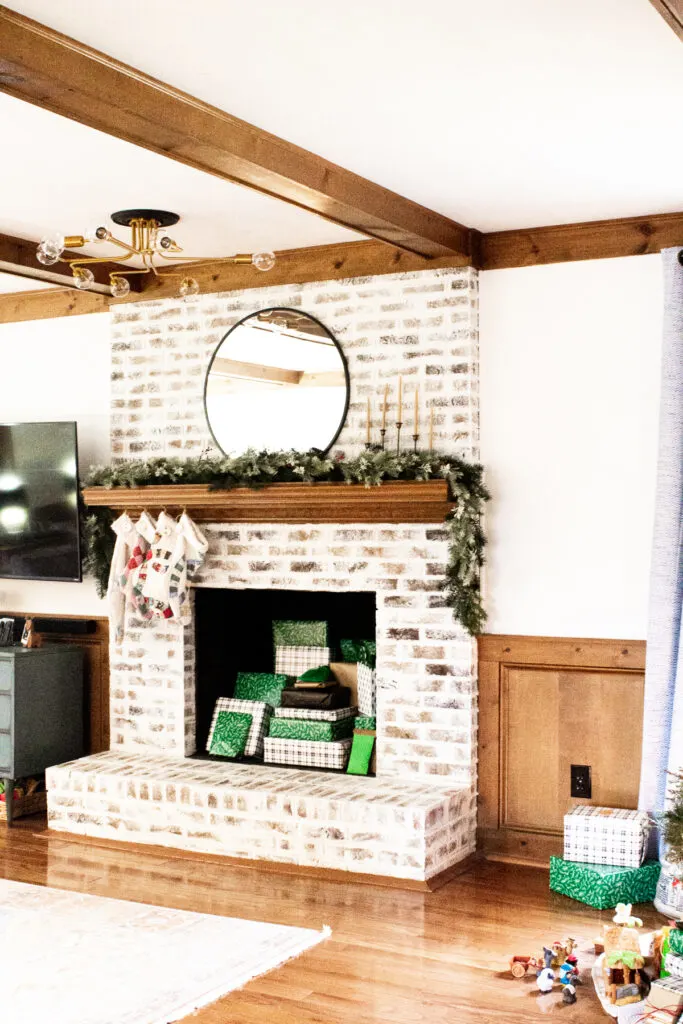 If you aren't able to install a fixture with more bulbs, consider swapping or eliminating the shades. For example, swap frosted glass shades with clear glass shades. You can find standard replacements at any hardware store.
If a chandelier has fabric shades, remove the shade and use fancy bulbs instead.
Wall Lighting
Once you've evaluated your ceiling lighting, look for opportunities to incorporate wall lighting.
Even if you don't have access to an electrician, you may be able to incorporate plug-in wall sconces (hide the cords with easy-to-install cord covers for walls) into your room .
We purchased a set of brass wall sconces for each side of the chalkboard above the dining room's white cabinets (these sconces even include a cord cover!). Since we installed the sconces directly above furniture, the plugs and outlets are hidden.
So, remember to utilize furniture to hide the cords for plug-in wall lights.
TIP: If your primary goal is brightening a room, choose sconces with clear shades as opposed to up-lighting or down-lighting shades.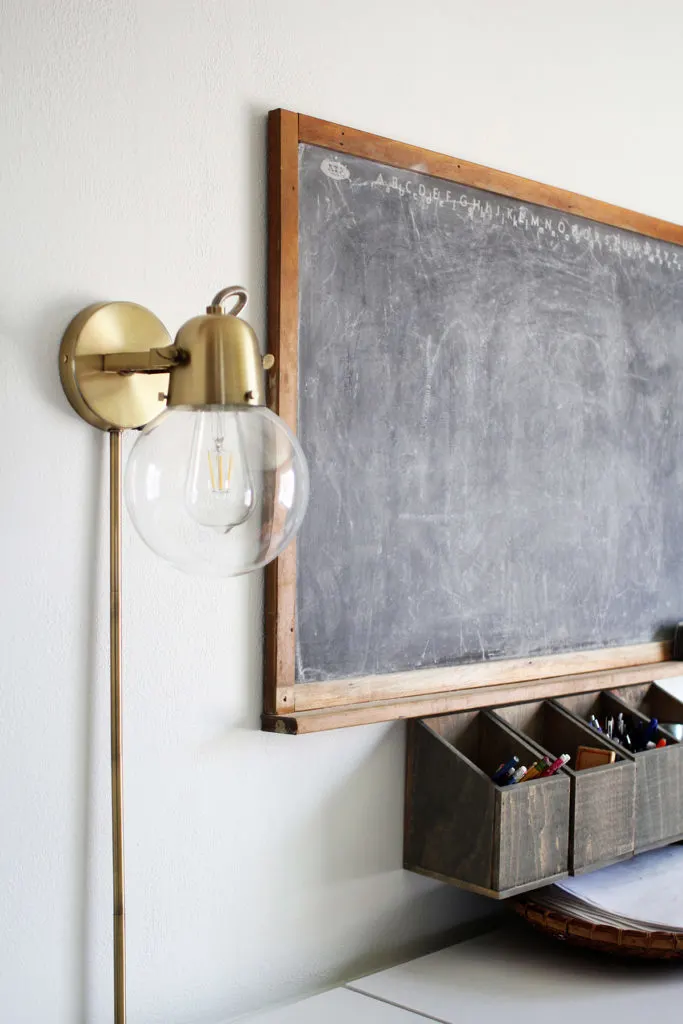 Bookcase and Artwork Lighting
While bookcase or artwork lights aren't going to brighten a dark room on their own, they can aid in brightening corners or dark areas of the room.
A brass bookcase light, mounted at the top of our dining cabinet, brightens the side of the dining room opposite the sconces.
Of course, bookcase and picture lights can highlight pretty collectibles and artwork, too! And, like sconces, you can find them in hard-wired and plug-in versions.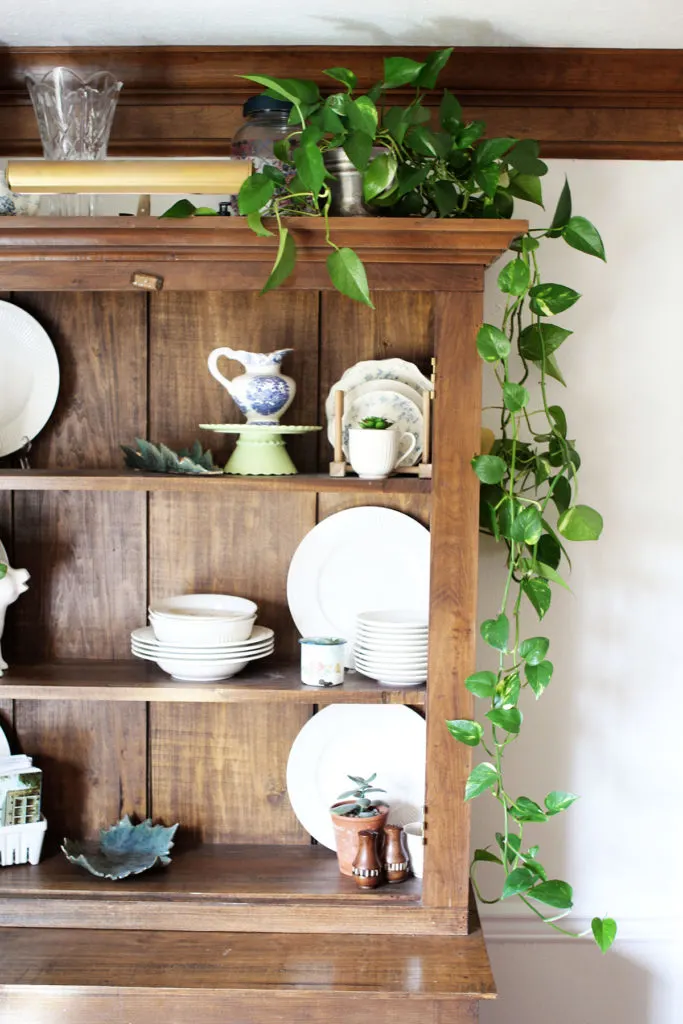 How to Brighten a Dark Room through Renovations
Finally, the last – and often most expensive – way to brighten a room is through smart renovation decisions.
Window Style
Do you need to replace your windows? If so, consider how many lines will cross the new window panes. Both the window frame and mullions will add lines in a window.
When renovating, choosing windows with as few lines as possible will create a feeling of openness from the inside.
In the dining room, we replaced two smaller side-by-side vertical windows with one large horizontal sliding window. This reduced the number of lines across the window pane from 3 to 1.
Of course, if you love the look of mullions from the exterior, this solution wouldn't be a great option for your home.
Cabinetry Renovations
Like reducing window panes, renovating cabinetry is a "less is more" mindset, too. During a kitchen renovation, swap out cabinetry by installing open shelving or install a backsplash (like this budget-friendly painted brick backsplash) to brighten a kitchen.
TIP: Eliminate the cabinets nearest the windows in order to maximize natural light.
When we renovated our kitchen, we removed all of the cabinets on the window-side of the kitchen. In place of the cabinets, we installed counter to ceiling faux brick backsplash, a black range hood, and several open shelves. We sacrificed a little storage, for tons of light… well worth it!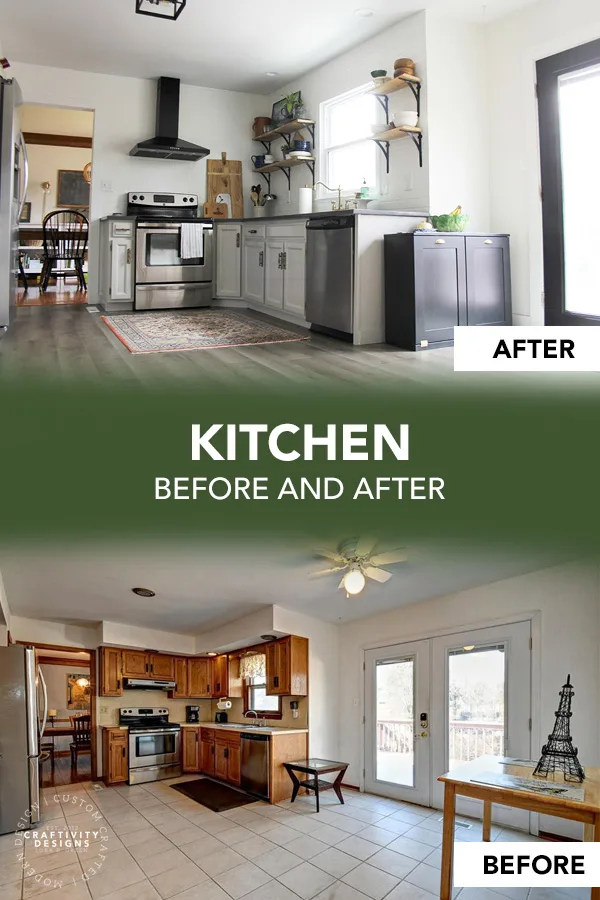 How will you Brighten a Dark Room?
Which room(s) in your home feel gloomy or dark? How can you brighten the room? Whether a gallon of paint, swapping furniture, buying a new light, or installing new windows (or window treatments)… you've got tons of options.
I'd love to hear what you try… and tell me your favorite tricks to take a room from dark to light!