Learn how to install cord covers for wall lights and sconces – without damaging your walls. These easy to install cord covers are a quick home upgrade in under 15 minutes!
Not every home upgrade has to be expensive or time-consuming. Cord covers for wall sconces are an affordable, quick project that makes a big (but understated) difference. It's the type of project you didn't realize you needed to do – but, afterward, are so glad that you did it!
Disclosure: This page includes affiliate links.
We bought these mid-century swiveling sconces with a fabric-wrapped black cord for our dark green master bedroom. For a sconce with an exposed cord, the lights looked quite nice. At least, that is what I thought… I didn't even realize how good they could look with a painted cord cover for walls!
It wasn't until I bought this art lamp, that I started researching cord covers for walls. I love these simple lamps (available in various sizes and finishes) for hanging above family photos or artwork (like our large-scale Hawaiian beach print). Unfortunately, the white cord is an eye sore!
Cord Covers that Won't Damage the Wall
Many cord covers for walls have a major downside: the cord cover requires adhesive. I do NOT like using adhesive on my walls.
Adhesive is too permanent and will damage walls when removed. Take a quick look at the reviews, and you'll see that this cord cover is no exception. However, I installed it differently, so that I didn't have to worry about damaged walls.
This tutorial will explain how to install a cord cover for wall sconces without using adhesive!
You might also like: How to make a DIY rope cord cover in 30 minutes!
Before and After: Cord Covers for Wall Sconces
Installing cord covers for wall light cords is an understated – but impactful – home update. It's the type of project that is incredibly affordable and easy to execute; but elevates the look of your space.
Let's take a look at several before and afters around my home, where we've installed cord covers.
The first, in our dark green master bedroom, covers the cord hanging below a family photo. Painting the cover the same green as the walls causes it to blend right into the background.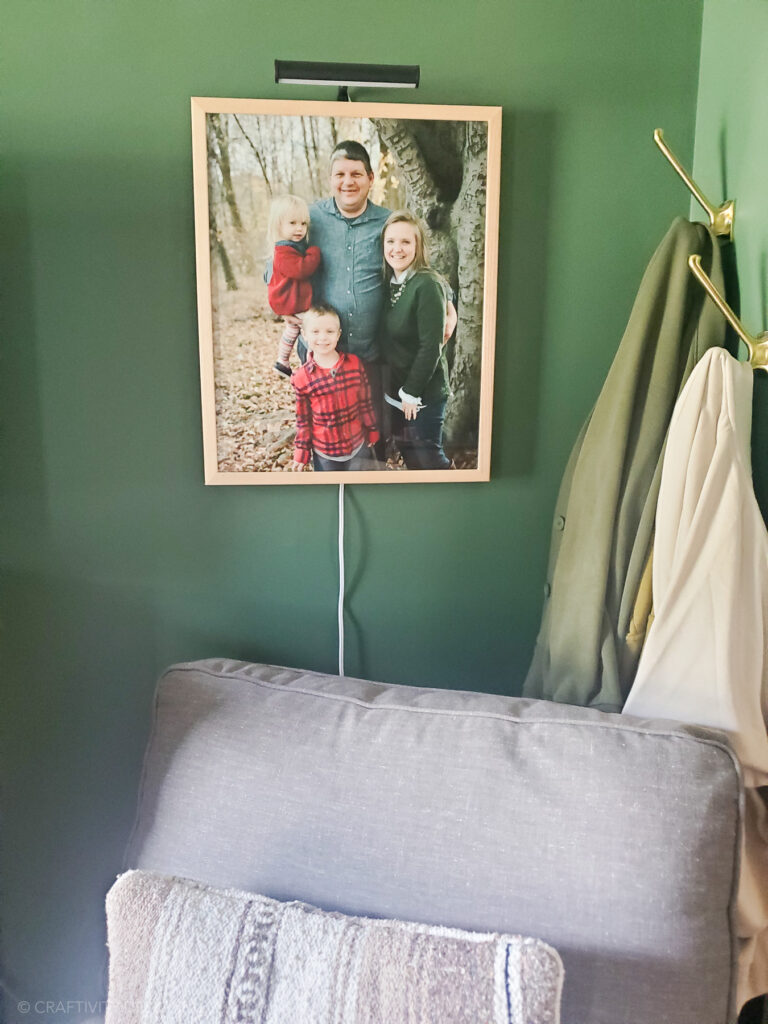 Similarly, above our nightstands, the black fabric cord hides behind a painted cord cover. At first glance, it gives the illusion that the sconces are hard-wired, rather than plug-in.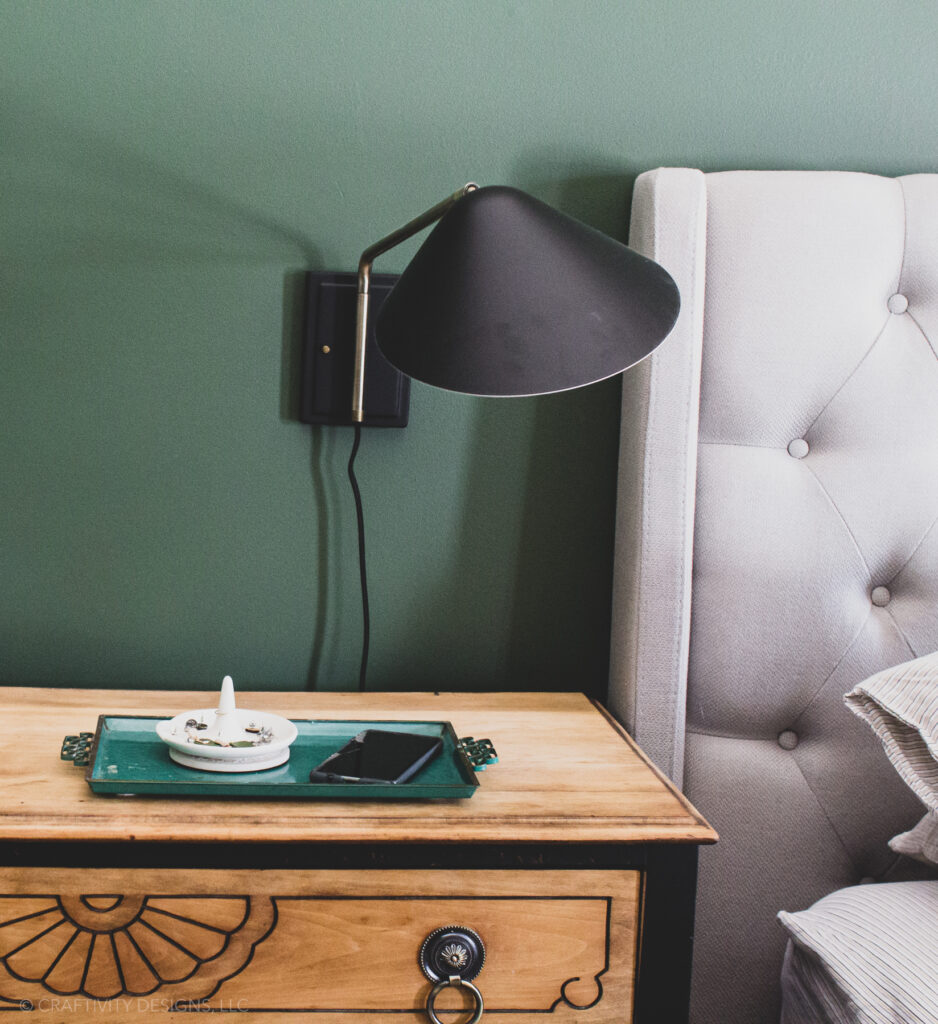 In our living room, the brass sconces have attractive clear cords. Still, the fact that the cords are easily moved – and often crooked – results in regular adjustments.
So, it only made sense to use these inexpensive cord covers above our couch, too. Again, I'm so pleased with how this project instantly results in a cleaner, orderly feel to the space.
Psst: If you are interested in brightening up a dark living room, I have tons of tips plus one of my favorite semi-flush fixtures that still offers a ton of light.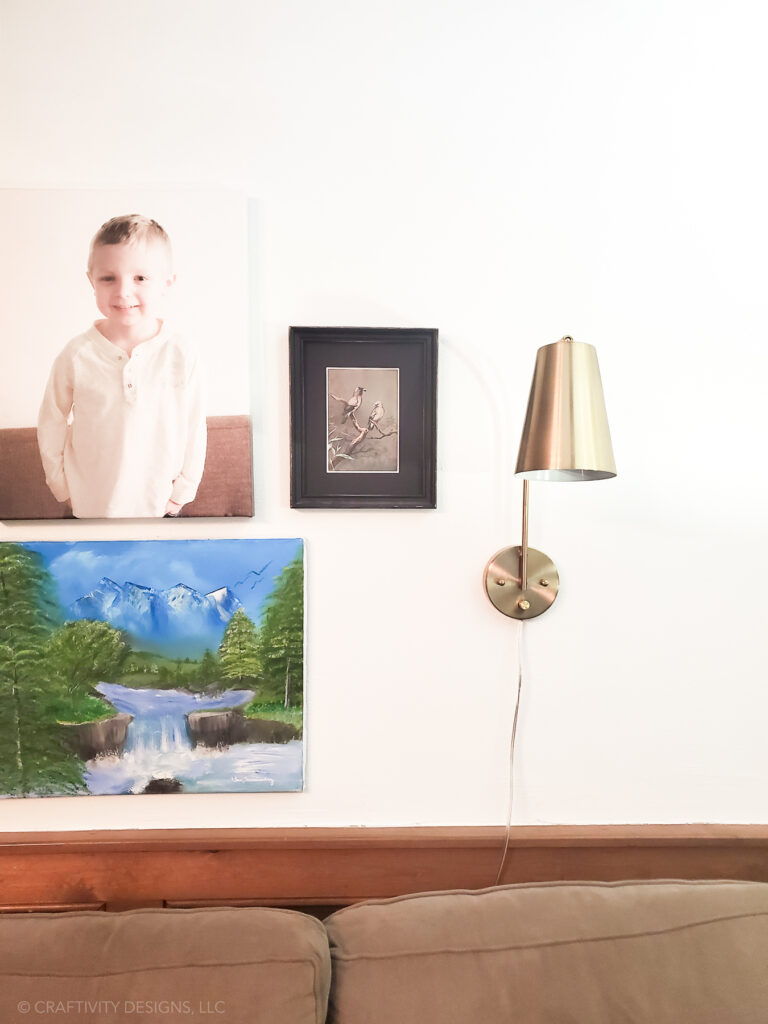 FAQs
If you liked this easy interior home idea, you might also like:
Want to save this cord cover tutorial for later? Pin it!