Are you struggling to find a long curtain rod for large windows or a sunroom? Extra-long curtain rods can come at a pretty penny, but this DIY long curtain rod is a simple, affordable, and stylish solution.
When we are house-hunting, a home full of windows and natural light is at the top of my must-have list. Therefore, it was the sunroom which sold us on our home. It's a large, long room, with vaulted ceilings, and tons of windows. However, there is one downside to plenty of windows… purchasing window treatments. Window treatments don't come cheap; and this sunroom requires 14 sets of blinds, curtains, and extra long curtain rods.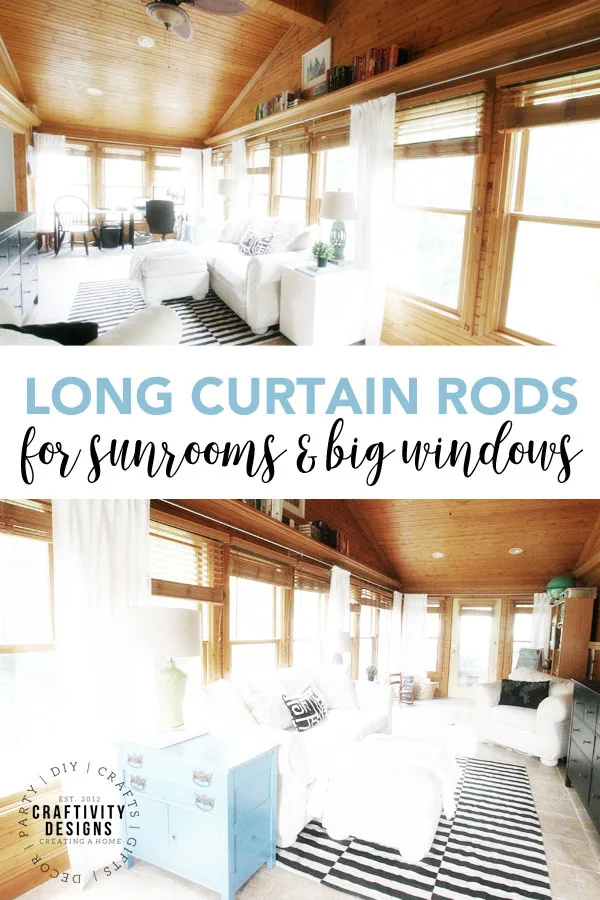 Disclosure: This page includes affiliate links.
Window Treatments for a Sunroom
Thankfully, the wood blinds came with the home (otherwise, that would have been a big investment — 14 sets of wood blinds, $$$!); but the space still needed to be softened with curtains. Everything in the room had straight lines or a hard texture, except for the couch and chair.
It wasn't difficult to choose the curtains. Basic, white, curtains are my go-to window treatment. They offer a casual, breezy look, which is perfect for a sunroom. White curtains frame the windows, drawing the eye out the window toward the scenic view. Sunrooms aren't are a room that needs curtains to become a focal point.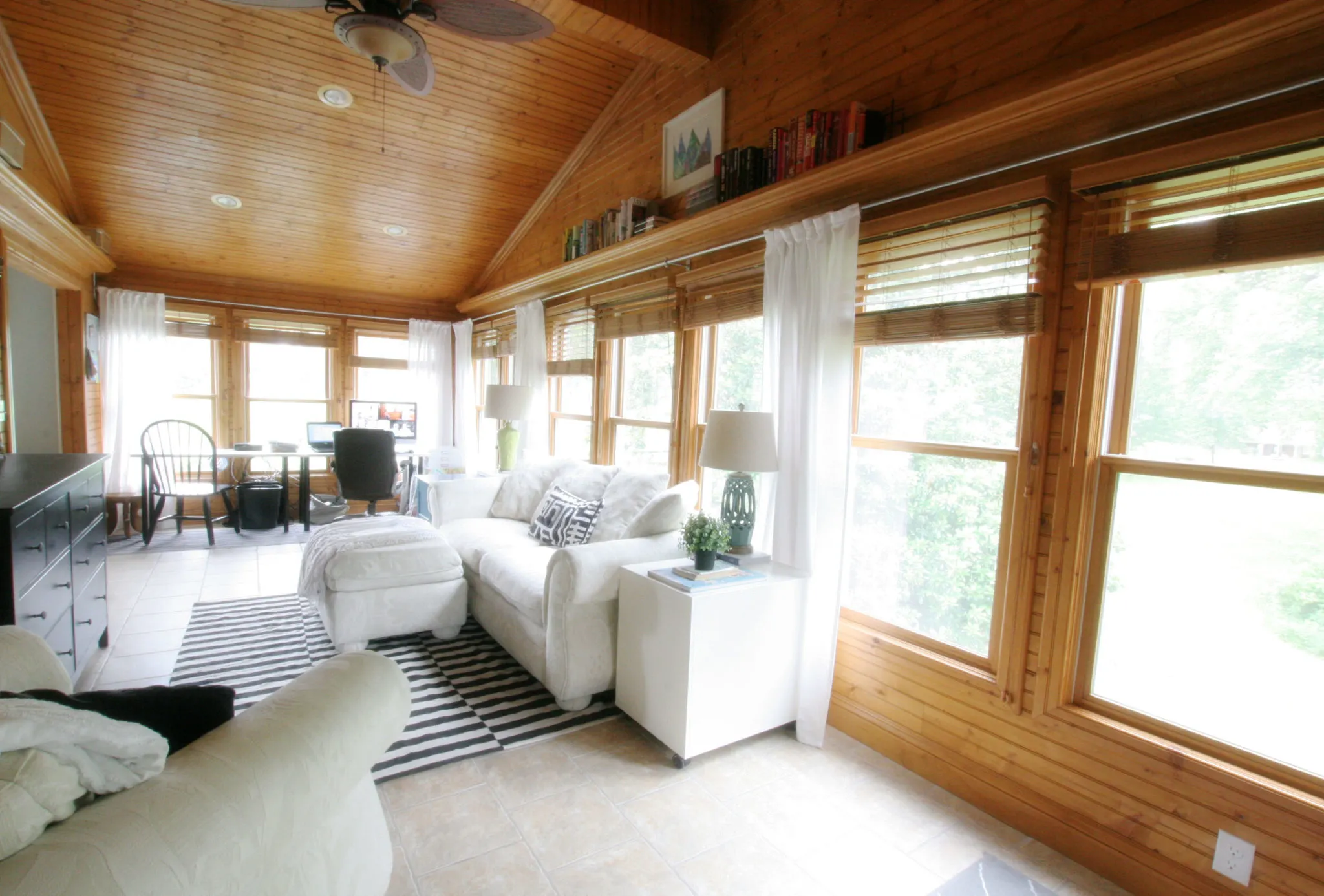 You'll notice that we didn't flank every window with curtains. Privacy isn't an issue since we already have blinds. I used 8 curtains for 14 windows. On each end of the room, there is a set of three windows flanked by two curtains. Across the length of the sunroom, there are 4 curtains for 8 windows. I chose where to hang curtains based on how it looked with the furniture. For example, a curtain on each side of our couch — which equaled 3 windows.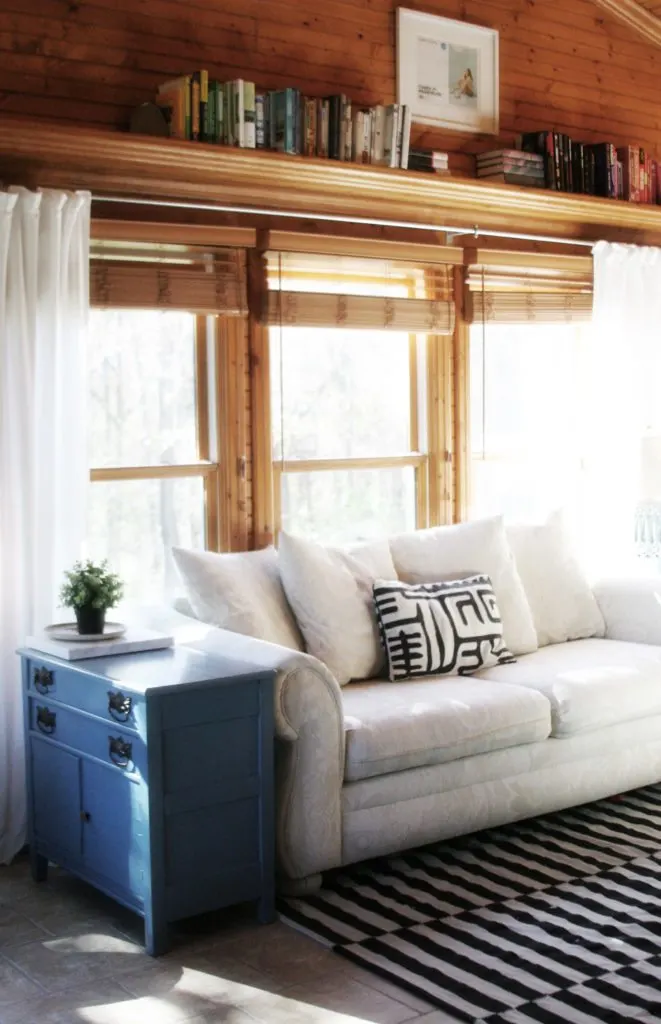 Where to Buy Long Curtain Rods
Before I jump into the tutorial — and in case you aren't interested in a DIY project — let's take a look at long curtain rods which are available online. The selection isn't huge, but here are a few options:
Curtain Rods over 6 feet Long
Curtain Rods over 12 feet Long
Sunroom Curtain Rods
So, how did I hang all those curtains? An assortment of electrical conduit, fasteners, and plumbing hardware.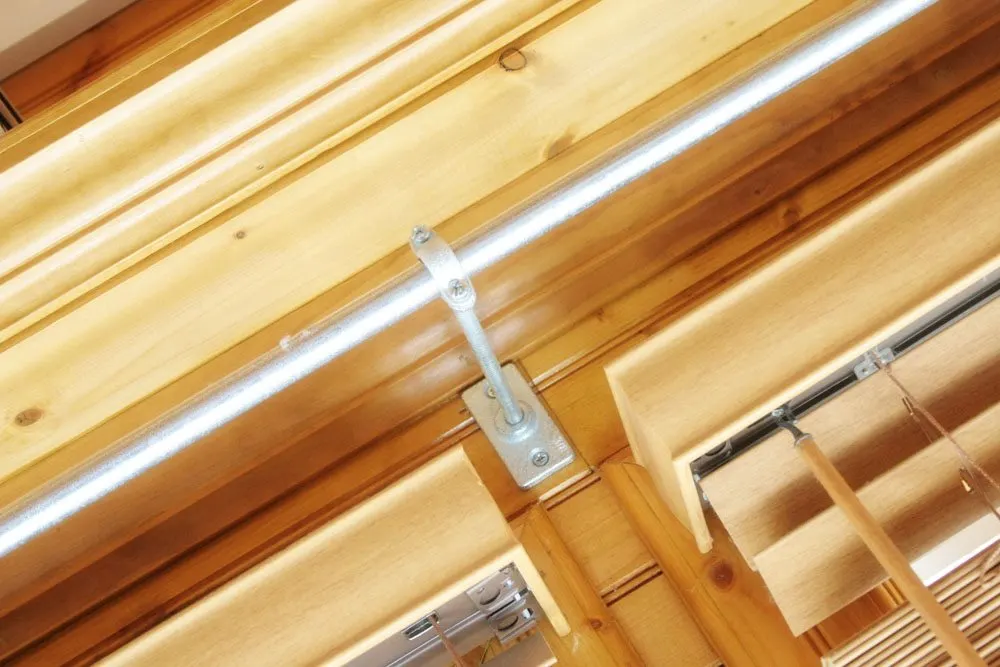 You can search "pipe curtain rods" or "DIY curtain rods" to find a variety of tutorials. This Custom Long Drapery Rod tutorial from Sarah M. Dorsey Designs was one of the most helpful. We didn't follow that tutorial exactly, but it was a good reference.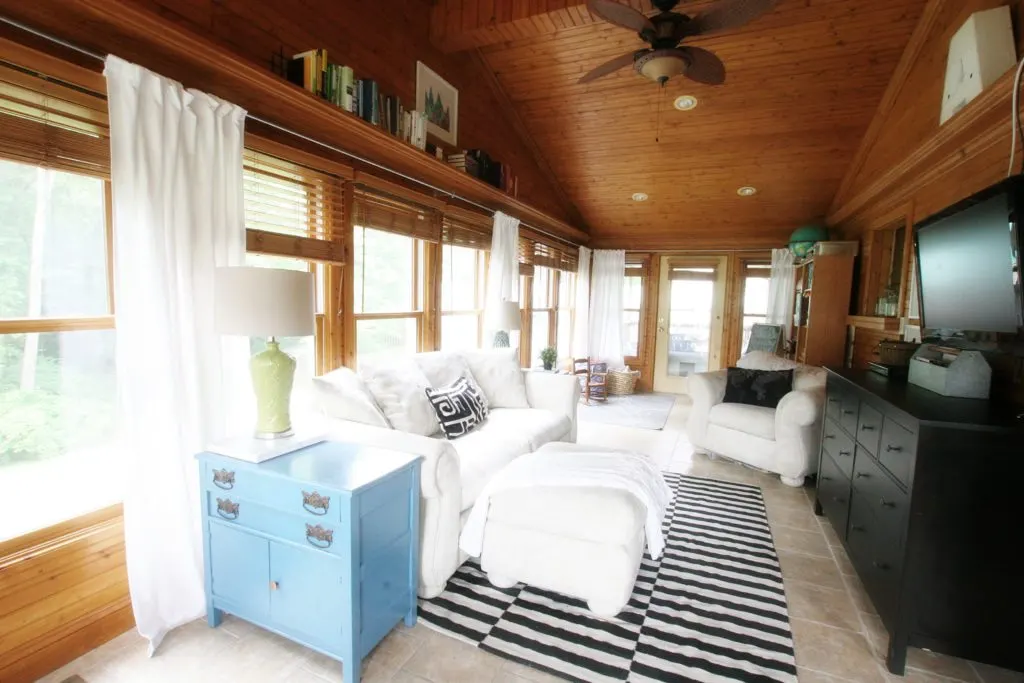 Sarah chose to spray paint her curtain rods black, which really compliments that room and definitely makes this a very versatile project. Essentially, you can easily coordinate the long curtain rods with any existing hardware… all you need is a can of spray paint!
In our Sunroom, we didn't want to draw the eye up or create much contrast. So, in our case, the galvanized steel was great as-is (yay for simplicity!) and just required a little Goo-Gone to remove sticker labels from the conduit.
How to Make an Extra Long Curtain Rod
Supplies
Instructions
1. First, determine how many pieces of conduit you will need, and where they will be located.
We used a single piece of conduit for each end of the room and several pieces across the longest wall. Take time to measure and determine where the braces will be located, so that you can cut the conduit to meet at a brace.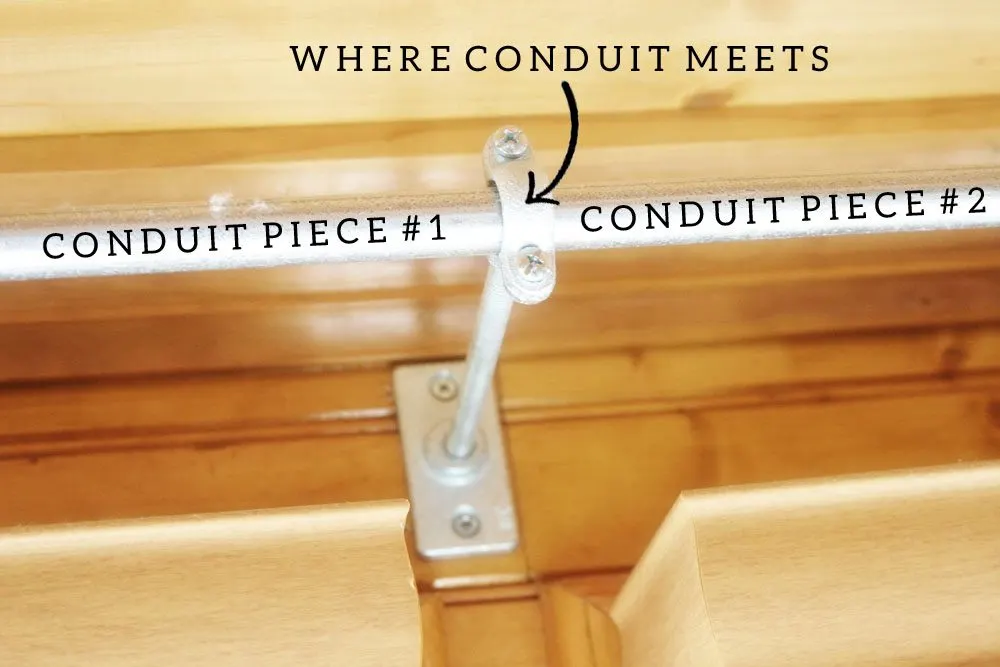 2. Next, determine where each mounting brace will be located.
We placed each brace between window frames to give the long curtain rods a consistent look.
3. Once everything is measured, cut the conduit. Cutting the conduit was amazingly simple with a Rigid Tubing Cutter! I had never used one before, but it was straightforward, quick and easy. The threaded rod, on the other hand, was not so simple.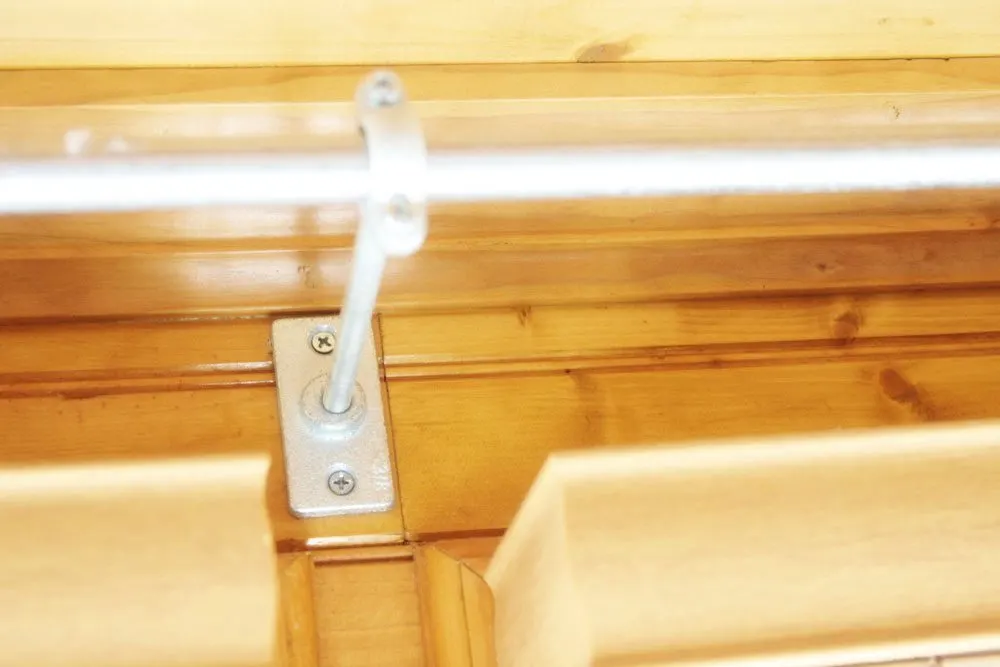 4. Cut the threaded rod to size.
We needed about 5″ of threaded rod per mounting brace in order to hang the curtain rod far enough out that it would clear the wood blinds. My husband ended up requesting the help of a friend to saw the rod into 5″ pieces because we didn't have an angle grinder with a metal cutting wheel.
5. Once everything is cut to size, assemble each mounting brace and attach it to the wall.
6. Finally, remove the fronts of the split ring hangers to add the conduit. Once the conduit is in place, reattach the fronts of the split ring hangers (this will be easiest with two people and an extra set of hands).
FAQs
How do you stabilize 2 pieces of conduit that meet at a split ring hanger?
There are 2 options. One option is to use two mounting brackets (split ring hanger assemblies) side-by-side, one for each conduit end. The other option is to stabilize the conduit "joint" by inserting 1-2 inches of each end of the conduit into 1/2″ vinyl tubing. Then, place the joint, wrapped in vinyl tubing, into the split ring hanger.
Can you paint conduit to match your preferred hardware color?
Yes! Purchase spray paint that is suitable for metal and paint the hardware and conduit before installation.
Extra Long Curtain Rods for Large Windows
Installing DIY long curtain rods really transformed our sunroom. Hanging curtains softened the space and made it feel finished. Plus, the total price was less than $75 for nearly 50 ft of curtain rod!
What an incredible price, right? Even inexpensive 10 ft curtain rods are $35 and up, which would have meant that we'd be spending at least $175. Plus, that is assuming we would have been able to find curtain rods that cleared the depth of the wood blinds. We are incredibly pleased with a custom look for a fraction of the price.

More Long Curtain Rod Ideas
Not everyone has the same style, the same DIY skills, or the same DIY tools. Therefore, I've rounded up a list of long curtain rod ideas that you can make. You'll find a variety of colors, finishes, and construction materials from 11 different home decor bloggers.
Once you've checked out those ideas, here are a few more bonus projects related to curtain rods:
If you liked this DIY project, you might also like: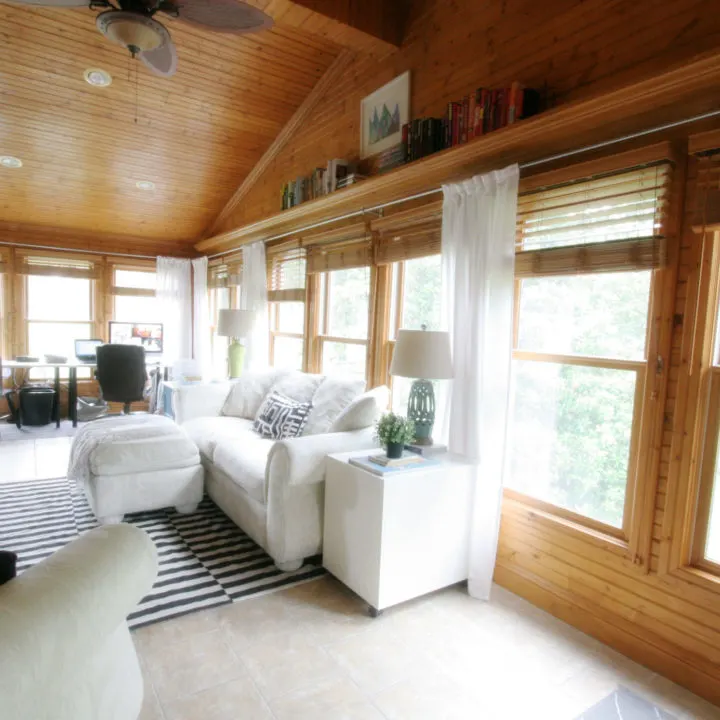 How to Make DIY Long Curtain Rods
Total Time:
2 hours
30 minutes
Are you struggling to find a long curtain rod for large windows or a sunroom? Extra-long curtain rods can come at a pretty penny, but this DIY long curtain rod is a simple, affordable, and stylish solution.
Materials
1/2″ Diameter Split Ring Hanger
1/2″ Diameter Conduit
3/8″ Threaded Rod
3/8″ Ceiling Flange
Tools
Rigid Tubing/Pipe/Conduit Cutter
Angle Grinder with Metal Cutting Wheel
Goo-Gone
Drill
Screwdriver
Measuring Tape
Screws (+ drywall anchors, depending on if you are drilling into studs or drywall)
Instructions
Determine how many pieces of conduit you will need and where they will be located.
Decide where each assembled mounting bracket will be located.
Cut the conduit to size using a pipe cutter.
Cut the threaded rod to size with an angle grinder.
Drill pilot holes for the ceiling flange and attach it to the wall with screws.
Assemble the mounting bracket at each ceiling flange location.
Remove the fronts of the split ring hangers with a screwdriver.
Install the conduit and hang the curtains.
Reattach the fronts of the split ring hangers with a screwdriver.
Did you like this DIY curtain rod? Pin it to save it!