Can you have white trim with wood doors? Yes! See examples of stained doors with white frames and read our tips for executing this combination, beautifully!
We have a mix of painted white and stained wood trim throughout our home. Apparently, many of you do too, because mixing wood and white trim is the most popular post on my site. One of the most common questions I receive in response to that post is: "Is it ok to have stained wood door with white trim?"
So, today, I'm tackling that question specifically. We have wood doors with white trim in several locations in our home. I'll show you those examples, as well as examples in other home. We'll talk about the pros, cons, and what to consider when pairing white trim with wood doors.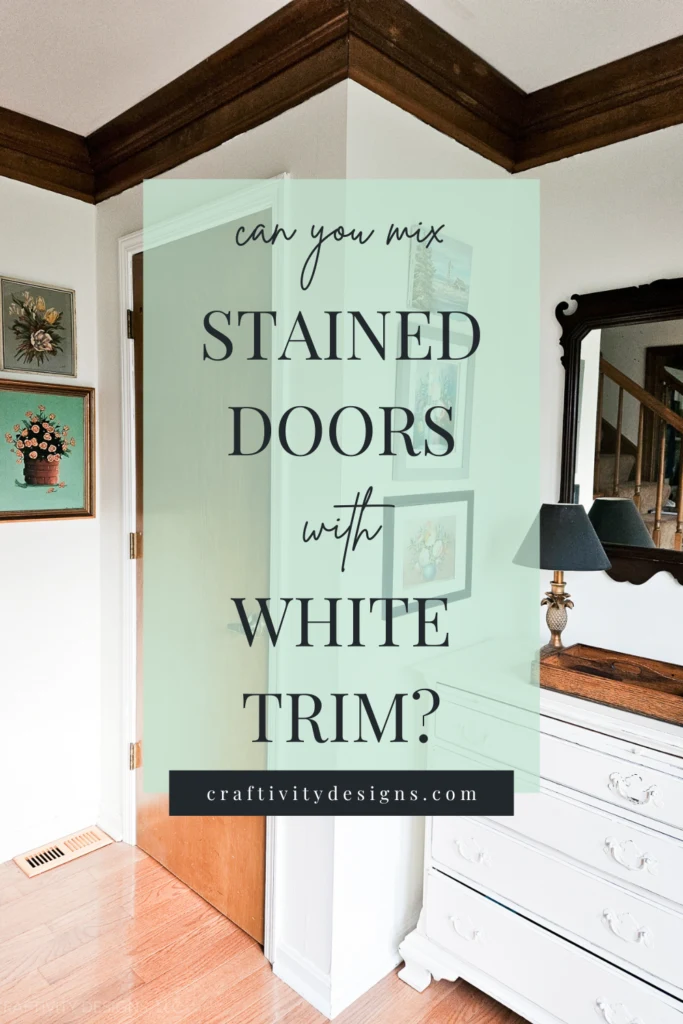 Disclosure: This page includes affiliate links.
I love our home's mixed trim colors. Often times, people are hesitant to mix trim colors, but it can be done, beautifully. I won't go into detail in this post, but you can read "How to Mix Wood and White Trim" for all the tips and tricks.
When mixing trim colors, the doors can get tricky. What if one side of the door (let's say, the hallway) has white trim, and the other side of the door (a bedroom, for example) has stained wood trim. What do you do with the door? Paint it? Stain it?
The answer is: It depends.
Interior Stained Wood Door with White Trim
Our dark green eclectic master bedroom has green painted trim. The bedroom door is located just off the entryway of our home, which has white painted trim.
In this case, there are several options:
Paint the door dark green, to match the bedroom
Paint the door white, to match the entryway
Leave the door stained wood
Paint the door white on one side and green on the other side
We chose the 3rd option. Leaving the door stained wood allows it to complement both the entryway and the bedroom.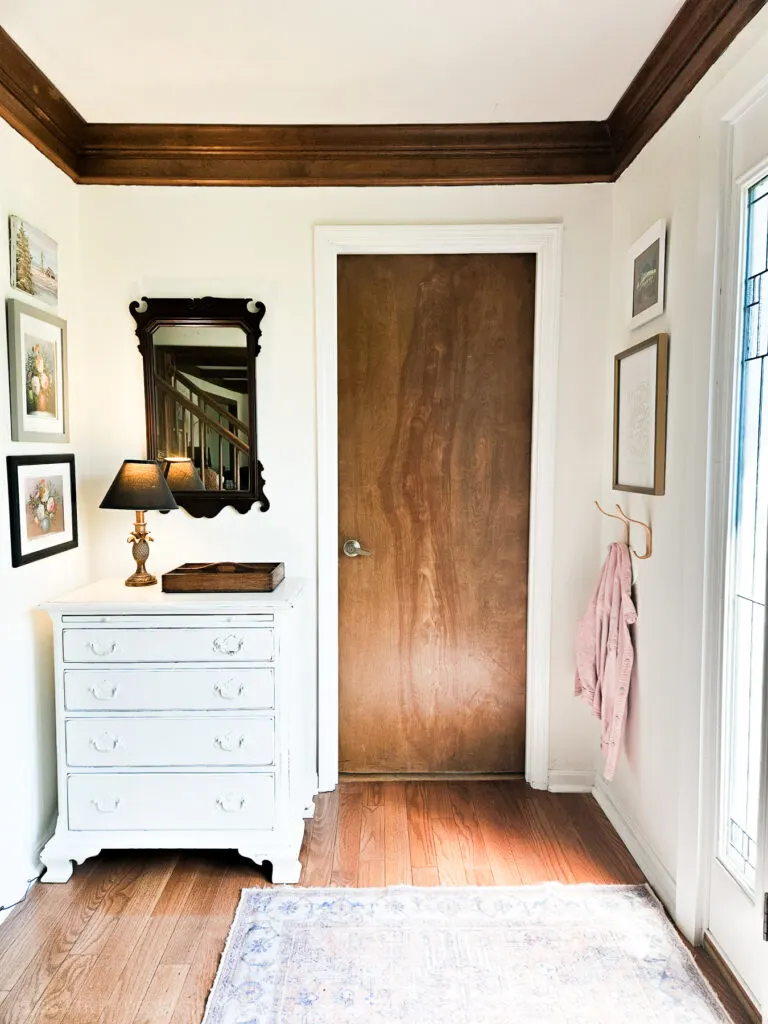 Neither a white door in our green bedroom, nor a green door in our light entryway, would have felt very cohesive.
I do not generally (see note, below) recommend the last option. Painting a door two colors is difficult and typically ineffective. If you leave the interior doors in your home open, it doesn't make much sense to match the side of the door (when closed) to its corresponding room.
Note: I do make exception for exterior doors. For example, our front door is painted black on the exterior side; but is white on the entryway side.
Pros & Cons
So, now you know you can leave your door stained, even if you paint your trim white. But, you could also paint the door white. What are the pros and cons of a stained door – instead of a white door – paired with white trim?
Pros
Cleaning – stained doors don't show dirt and grime like white doors do
Durability – stained wood finishes are more durable than painted finishes which can chip
Effort – if the door is unfinished, staining is (in my opinion) quicker and easier than painting
Labor – if the door is already stained wood, you don't have to spend time or money painting
Cons
Price – if you are buying a new door, primed doors are cheaper than solid wood doors
Examples of Wood Doors with White Trim
Let's take a look at 5 examples of wood doors with white trim. In this list you'll find dark wood doors, light wood doors, solid wood doors, hollow core doors, antique doors, and more!
Dark Wood Doors with White Trim
This dark wood stained door pops against the bright white trim and walls. The wood stain ties in with the dresser and helps give this landing a modern, eclectic feel.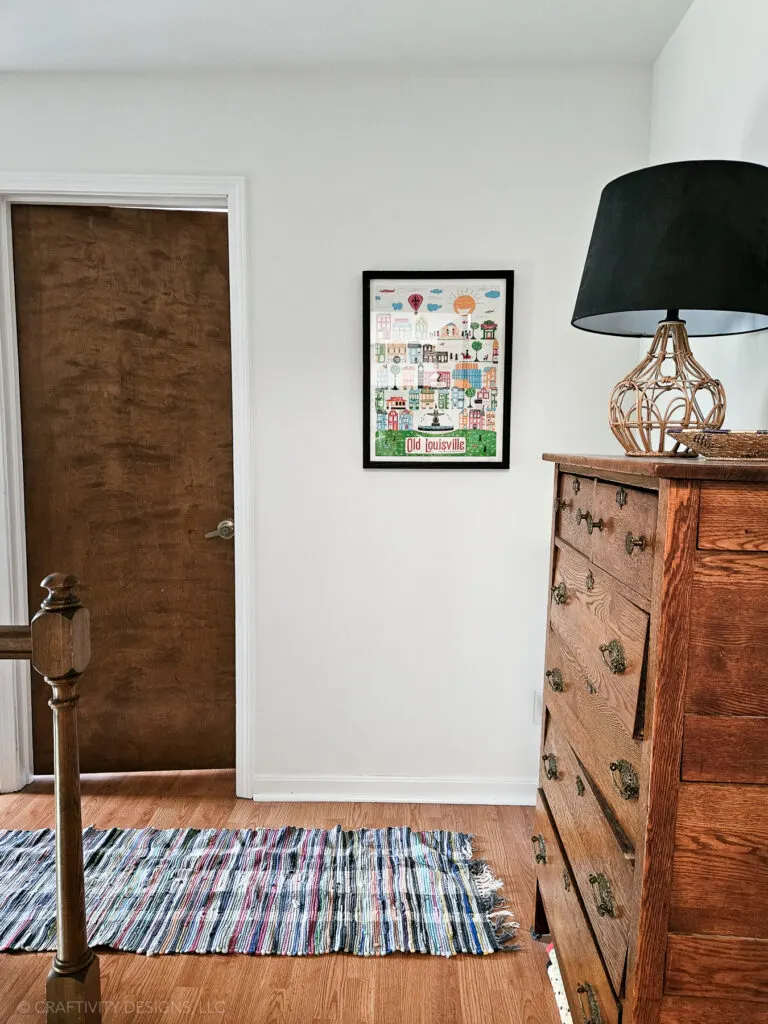 Antique Doors with White Trim
In this photo from Young House Love's beach house, there are tall, light-stained, antique doors with white trim work in a hallway. The wood doors add warmth and character to an otherwise neutral color palette.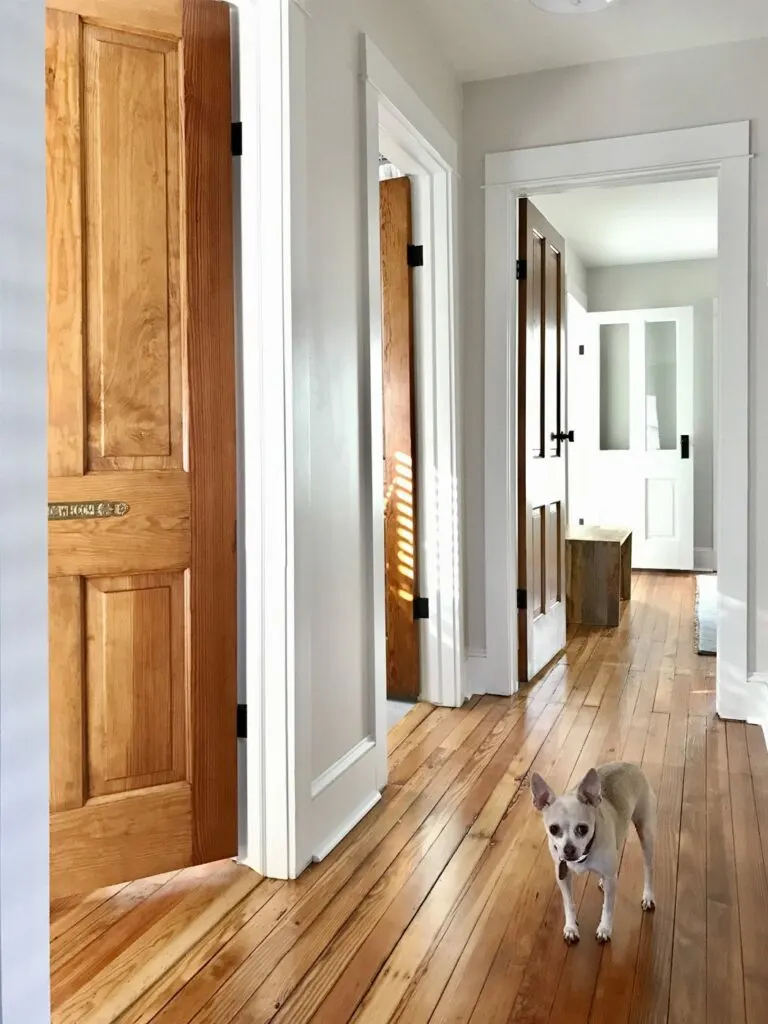 Hollow Core Doors with White Trim
While it would be nice to replace all our hollow-core doors with solid wood, that isn't in the budget. You don't have to install beautiful, solid wood doors in order to pair wood with white – hollow core doors can be paired with white, too!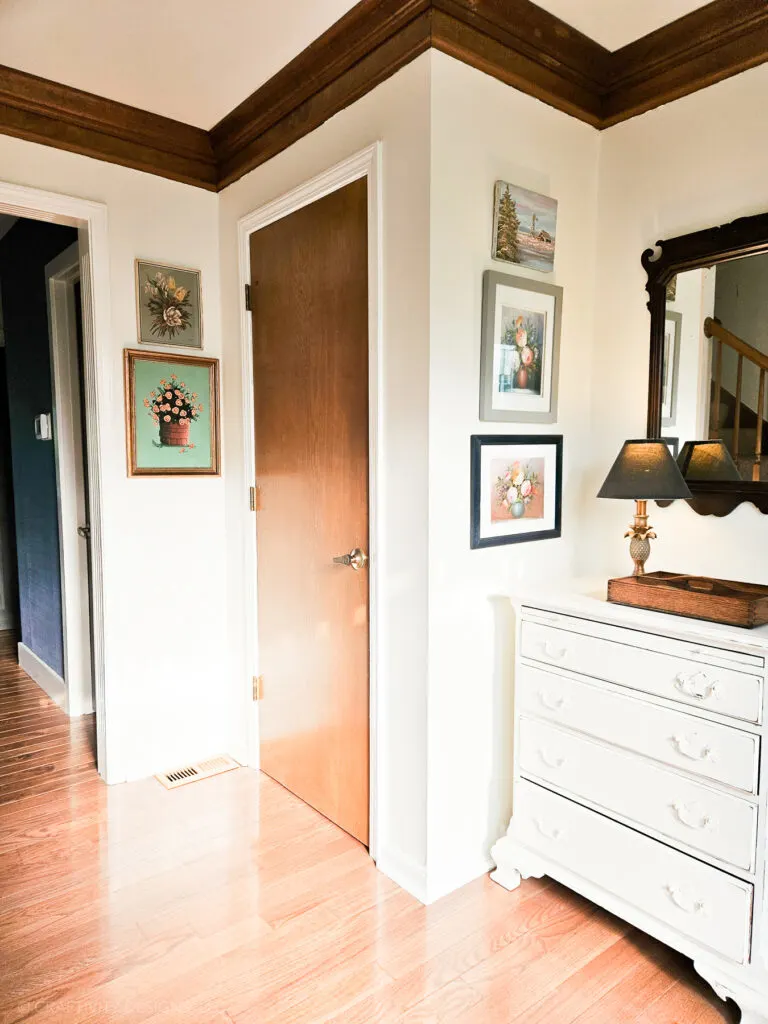 Light Wood Doors with White Trim
Unfinished, light wood doors look beautiful in this airy bedroom by Hello Lovely Studio. Made with alder wood, part of the birch family, the light color keeps the doors from feeling visually heavy – while still adding warmth to the space.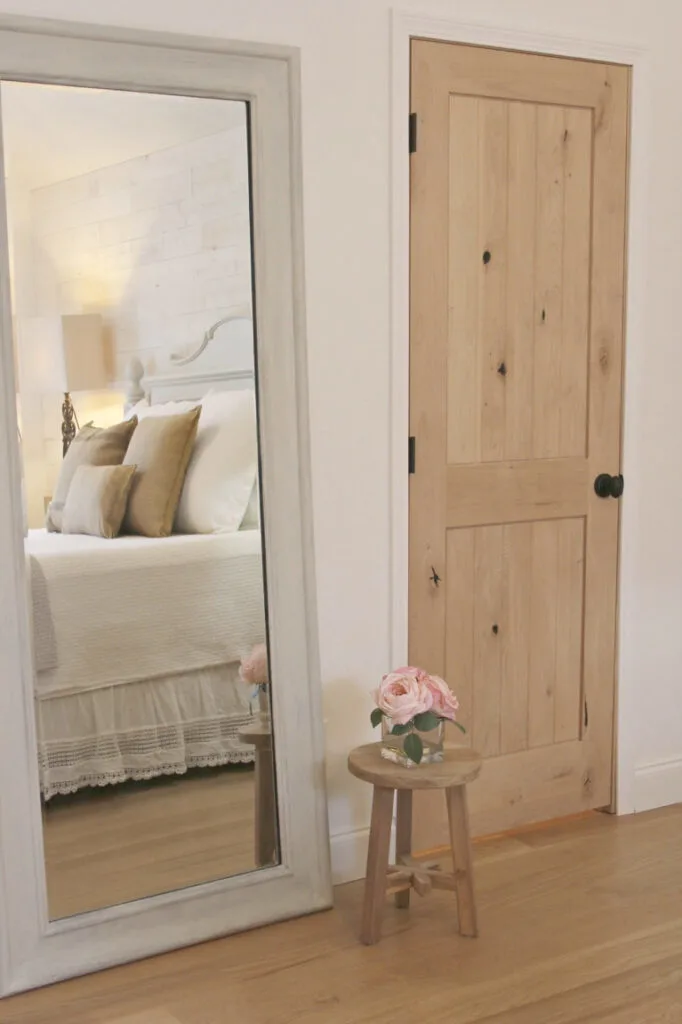 Antique-Style Wood Doors
Not actual antiques, The Minted Vintage, made these unfinished wood doors look aged with her staining technique. The warm mid-tone wood finish looks lovely with black hardware and white trim.
Wood Doors with White Frames
Do you have stained doors with white trim (or any painted trim, for that matter!)? I'd love to see photos to share with my readers.
So often, people want to paint their trim white, but they're hesitant to do so. It's intimidating to paint trim white, when you think you have to paint all of the interior doors, too!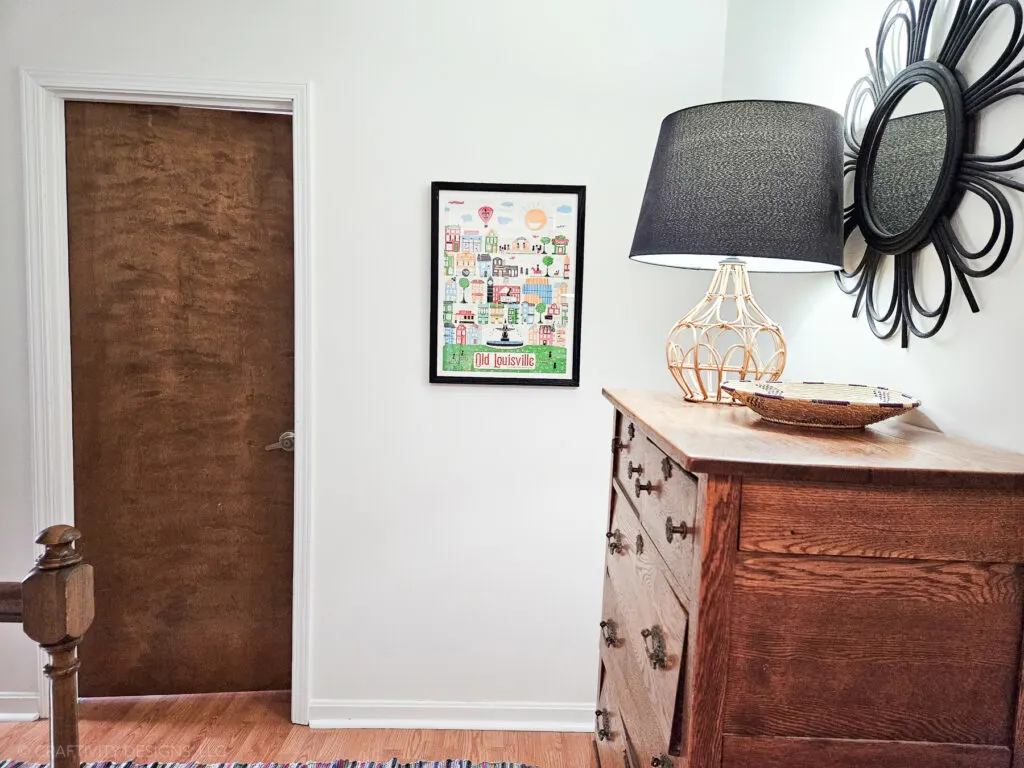 Not to mention, there are downsides to painted white doors (shows dirt, paint chipping, etc.). When you realize you don't have to paint doors to match trim, it makes painting trim less daunting.
So, I hope this post has encouraged you. If you want white trim, but also like stained doors, then embrace wood doors with white frames!
FAQs
Can you have white trim with wood doors?
Yes. Wood doors pair well with white door trim. It is not necessary to pain the door to match the trim.
Is it OK to have white trim with stained doors?
Yes. Stained doors are durable, timeless, and easy to clean. You can paint trim white and leave the doors wood.
Should door trim be the same color as the door?
It can be, but it doesn't have to be. Either is fine! Both white doors with wood trim AND wood doors with white trim are great options. Wood doors look great with most trim colors.
Does white trim go with oak doors?
Yes. White trim goes with oak, pine, birch, walnut, etc. Both dark wood and light wood doors look great with white trim.
If you liked these interior decor ideas, you might also like:
Like this interior decor idea? Pin it to save it!