Trying to select the perfect black paint color? Sherwin Williams Tricorn Black and Benjamin Moore Black Panther are two great black paint colors to consider.
My front door has been two colors: black and black. The first black door was a color called Tricorn Black, while the second black door is a color called Black Panther.
While these are both black paints, they are slightly different shades of black. In this post, I'll compare SW Tricorn Black vs. BM Black Panther to show the similarities and differences.
Let's take a look at each paint color individually, and then we'll compare them side by side.
Disclosure: This page includes affiliate links.
Best Black Paint Colors
In order to select the best black paint color for your home (or any paint color, for that matter); make sure you are familiar with several important paint color terms.
LRV
The LRV is the Light Reflective Value of a paint color. This measures the percent of light the paint color will reflect. The scale ranges from 0 (no light reflected) to 100 (all light reflected).
Therefore, dark paint colors will be closer to zero and light colors will be closer to 100. Just like we learned in grade-school, black absorbs the most light and white reflects the most light.
Of course, this means that the closer the LRV is to 0, the closer that paint color is to a true, absolute black.
RGB
The RGB value represents the amount of Red, Green, and Blue in the paint color. So, for example, if a paint color's red value is higher than green and blue, it will likely have warmer, undertones.
However, using RGB is not a hard and fast way to determine undertones. This is because undertones can be a wide array of colors besides red, green and blue. For example, pink, purple, and yellow are common undertones in paint colors.
Therefore, identifying undertones is a multi-step process. Here is a great tutorial about how to determine the undertone of a paint color. In this article, we use RGB as a reference point to help determine whether an undertone is likely to exist.
The closer the R, G, and B values are to one another, the less likely we are to see an undertone and for it to be categorized as a true black (0,0,0) or a true white (255,255,255). In other words, a neutral paint with minimal undertones.
Tricorn Black by Sherwin Williams
SW 6258 | R:47 G:47 B:48 | LRV:3
Up until several months ago, all of my exterior doors were Tricorn Black by Sherwin Williams. Even though I repainted them in BM Black Panther, it's not because I didn't like SW Tricorn Black.
In fact, I really like this shade of black. Tricorn Black is a great true black, and is a popular choice for good reason. Let's take a look at Tricorn Black in our house's interior and on our home's exterior.
Tricorn Black Exterior Paint
In these photos, our patio door is painted SW Tricorn Black. Our home's dark-gray board and batten and light gray shake siding pairs well with the deep black.
In the photo above and below, you can see how Tricorn Black looks in the evening as the sun is setting. There are no cool undertones from the shadows of the trees, and there are no warm undertones picked up from the warmth of the setting sun. It is a true black paint color.
In the next two photos, you can see Tricorn Black in the warmth of the morning sun. Again, there are no visible undertones, making it a great, neutral black paint.
The front door was previously painted Tricorn Black, too. Our home faces east, so it does not get harsh, warm, evening light. The morning light is soft and by mid-afternoon the entire porch is cloaked in shade.
In the photo below, you can see how Tricorn Black looks on an east-facing home's exterior.
Tricorn Black Interior Paint
Now, let's take a look at SW Tricorn Black on the inside of our home. Here, in our budget kitchen renovation is the inside of the patio door, also painted with Tricorn Black. This west-facing room gets warm light from midday through the evening.
You can see the warm light flooding the kitchen, making the Alabaster walls feel slightly yellow, but making no impact on the true black shade of the patio doors.
The warm sunlight reveals the undertones in the wall color (SW Alabaster), but does not change the appearance of SW Tricorn Black.
Black Panther by Benjamin Moore
BM 2125-10 | R:61 G:63 B:64 | LRV:6.51
Black Panther from Benjamin Moore is, in my opinion, a perfect black paint color. Rather than being a true black, it is nearly black.
When I tackled a budget front porch update last fall, I had to repaint our front door due to chipped paint. Rather than repaint it with Tricorn Black, I sought out a softer black paint and landed on BM Black Panther.
The softness in Black Panther may be due to coolness which comes the from the slightly higher levels of green and blue as compared to red, in its undertones.
Since then, I've used this shade of black inside our home, too. Let's take a look at Black Panther in our house's interior and on our home's exterior.
Black Panther Exterior Paint
Even though Black Panther is not a true black, it is still too dark to be confused with a deep gray. This was important to me, because I did not want a dark gray or charcoal-gray front door.
On it's own, Black Panther seems like a true black, until you place it side-by-side with Tricorn Black, which I've done below.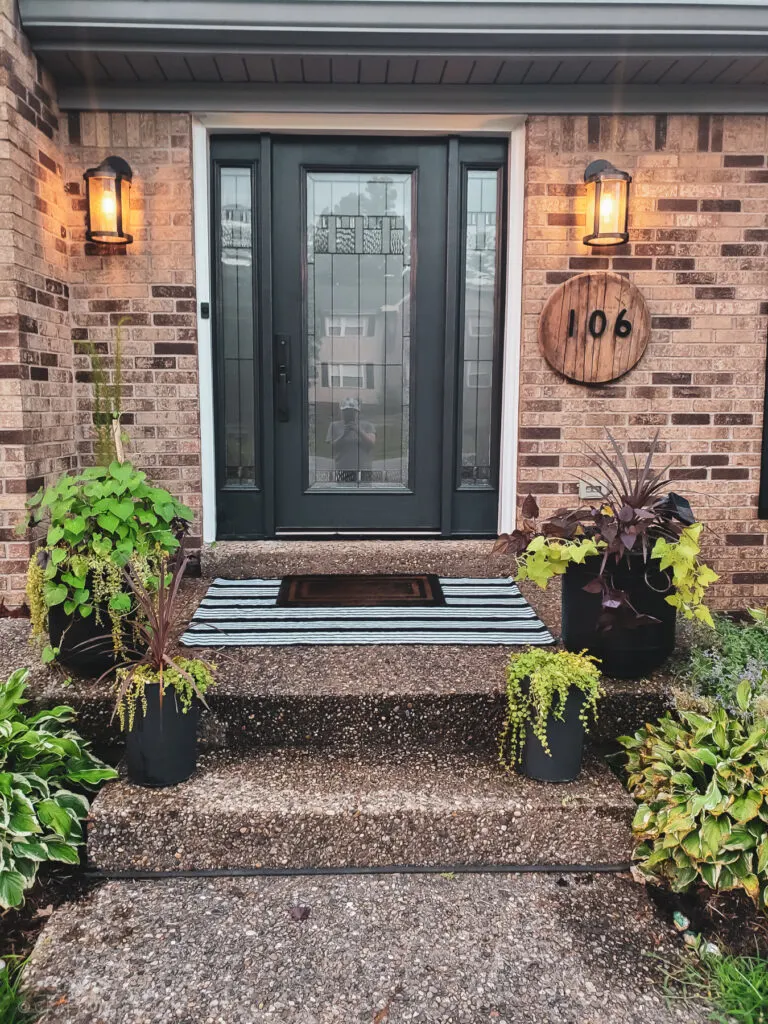 As you can see, Tricorn Black is a starker black, while Black Panther is a more muted, softer shade of black.
Note: One other difference between the Tricorn Black and Black Panther doors is finish. Black Panther is a satin finish and Tricorn Black is a semi-gloss finish.
The reason I chose a softer black is because it is a better match to our home's shutters. Plus, I thought a softer black would pair well with our dark gray-brown board and batten siding.
Black Panther Interior Paint
So far, on the interior of our home, I've used BM Black Panther to paint a piece of furniture. I gave an old display cabinet a makeover with black paint and DIY reeded glass.
The softness of Black Panther makes it the perfect black for inside our home. It's not too stark, harsh, or cold.
What is the best black paint?
There are so many black paint colors to choose from, but Sherwin Williams Tricorn Black and Benjamin Moore Black Panther are two great black paint colors.
For my style and my home, I consider Black Panther to be the best black paint color, due to its softer, muted shade.
However, I really liked Tricorn Black when we had it on our exterior doors, too. The only complaint I had with Tricorn Black was that it felt just a little too stark or harsh.
I'll also give a quick shout-out to Benjamin Moore Black Ink, which was one of the other Tricorn Black alternatives that I strongly considered. It falls between Black Panther and Tricorn Black. So, if Black Panther is too muted for you, Black Ink may be a great option.
If you liked this DIY and decor post, you might also like:
Want to save this comparison of the best black paint colors? Pin it!