Use these 5 small front porch ideas to update curb appeal on a budget. Quick and easy, you can complete this mini-makeover over the weekend.
I'm excited to show you all my "new" front door and porch. It's not a dramatic makeover, just a few budget-friendly, small front porch ideas that freshened up my home's curb appeal.
Our front door was chipping badly and in urgent need of a fresh coat of paint. Plus, I had grown tired of the planters and was aching for more color… I was in the mood for a change.
But, I didn't want to spend much money. Over the last year, I've really challenged myself to repurpose and reuse, rather than buy new.
It's smarter for our budget. But, also, I don't want to be swept up in materialism. If I expect my children to be grateful for what they have, I should also be grateful for what I have.
Small Front Porch Ideas
Our home's porch is fairly small. It's large enough to accommodate several planters (or some pumpkins and pink mums during the fall) and that's about it. I guess we might able to squeeze in a small chair if we liked.
It's also not covered, which limits the decorating choices a bit. Anything I place on our small porch will experience the full impact of hot summer sun and long rainy days.
But even with a small space, no overhead protection, and while sticking to a tight budget, I was still able to refresh our home's curb appeal with these simple ideas.
Front Porch Ideas on a Budget
What looks good on a small front porch? How can you make it a welcoming front porch? Let's take a look at 5 simple ideas that are budget friendly and will work on nearly any front stoop!
#1. Select a Simple Color Palette
We've used shades of black throughout our exterior (such as matte black solar lights, a sleek black mailbox and post, dark board and batten siding, and a black stained deck).
Inspired by the perennials in our landscaping, I've started to lean in to pinks, purples, and deep reds for exterior decorating, too.
For example, I chose a variety of pink and purple mums for fall and I made a fall wreath with deep purple accents.
So, it made sense to use black, pink, and purple as the color palette for our front porch update. Dark sweet potato vines and cordyline brought in this color palette to the planters.
#2. Apply a Fresh Coat of Paint
Since the paint was chipping, and I was going to be painting whether I liked it or not, I decided to reevaluate our front door color.
For one, I wanted to select a higher-durability paint. But, I also wanted to modify the sheen and depth of color.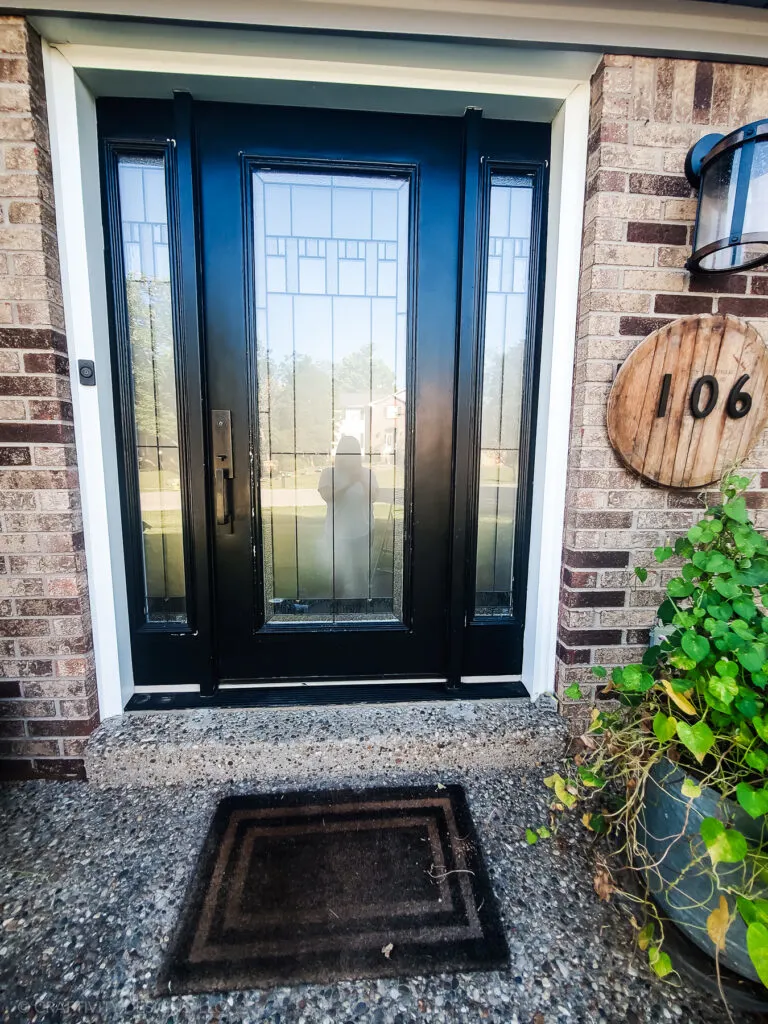 It might be hard to tell in photos, since I went from one black to another black. But the new paint is a softer shade of black and is satin instead of semi-gloss.
Using our shutters as a guide, I selected a muted black called Benjamin Moore Black Panther which echoed the shutter's softer shade of black.
#3. Add Budget Planters
It might be just me, but I have a hard time accepting the price of planters. To get anything on the larger side, you are near or over $100 each. Plus, they are hard to find on sale.
So, I decided to buy an exterior-grade matte black spray paint to update the planters we already owned. They'll still have to be replaced eventually (because the base is starting to crumble), but I'll keep seeking out a good deal.
P.S.: Years ago, I painted planters as a curb appeal trick when we were prepping to stage and sell our home.
If you don't have old planters to paint, building planters from wood is another budget-friendly option. But, don't try to skimp on size. Bigger is better, even on a small porch! Eventually, I'd like to have a set of 30″-36″ tall planters on each side of the porch.
#4. Layer Rugs
This trick isn't new, but it is an effective decorating idea for a small porch. Since there isn't a lot of space on a small porch, layering rugs allows you to incorporate two textures and several colors.
I really like this striped rug that I grabbed on Prime Day. Unfortunately, I had to replace our coir rug (it was falling apart) and the new seagrass rug stained the black and white rug when it rained! I'm not really sure why… maybe the seagrass rug is a fake fiber dyed to look natural, and so the color bled when it rained. Anyhow, a big bummer…
Note: There are two different rugs in this post (the coir and the seagrass). The coir was old and falling apart, and was not proportionally sized to the door or the striped rug.
Therefore, I bought a seagrass rug that is over 36″ wide. The striped rug is 3'x5′. That combination is a much better option, if you decide to layer rugs. Here they are side by side: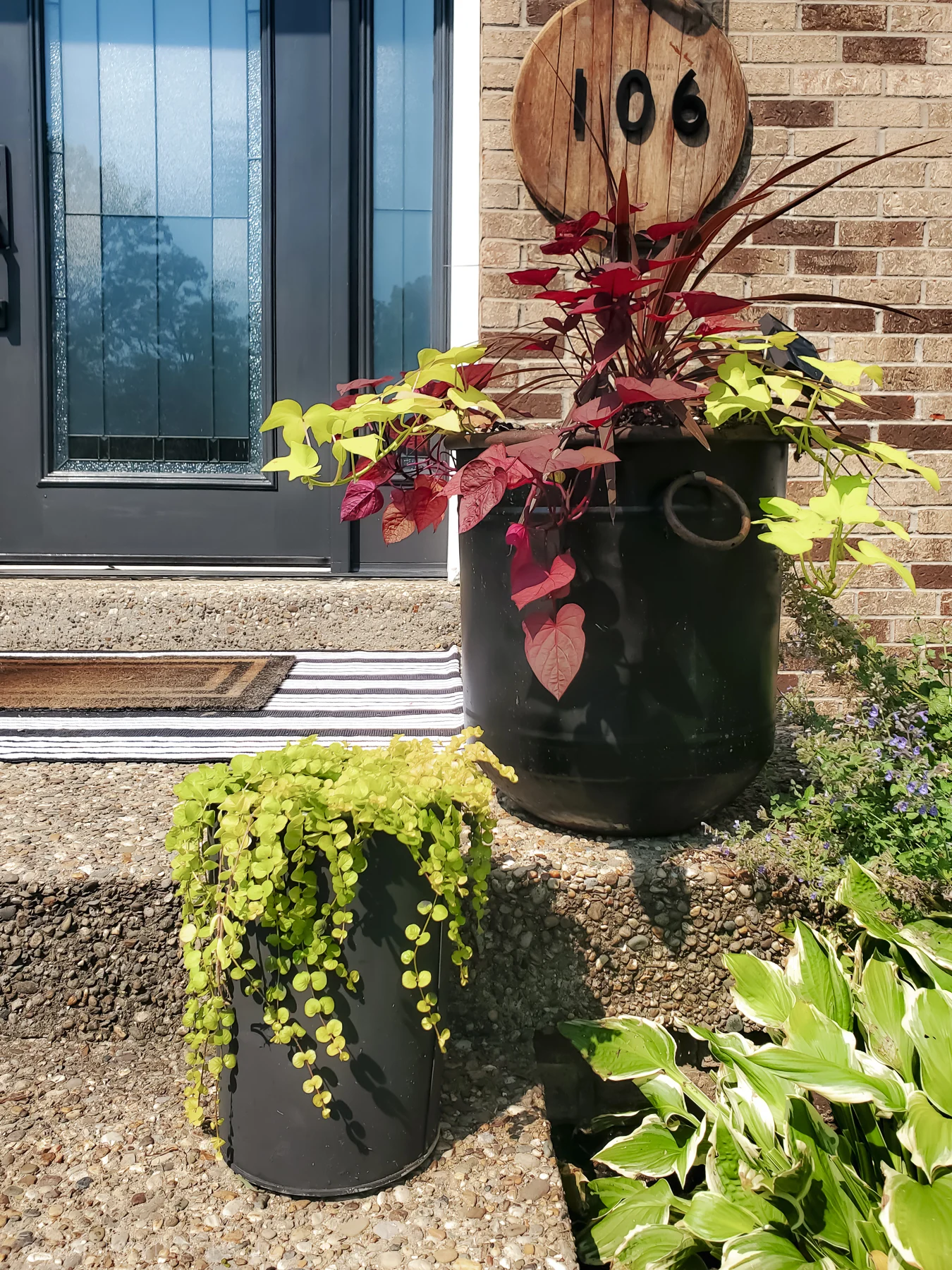 #5. Rearrange Planters
Finally, pull your planters forward and inward. This might seem counter-intuitive, but pulling planters closer to the front and center won't make your porch feel smaller (even though, technically, you are making the standing space a little smaller).
It's essentially a trick-of-the-eye, changing where your eyes focus, and making the entry feel more welcoming and cozy.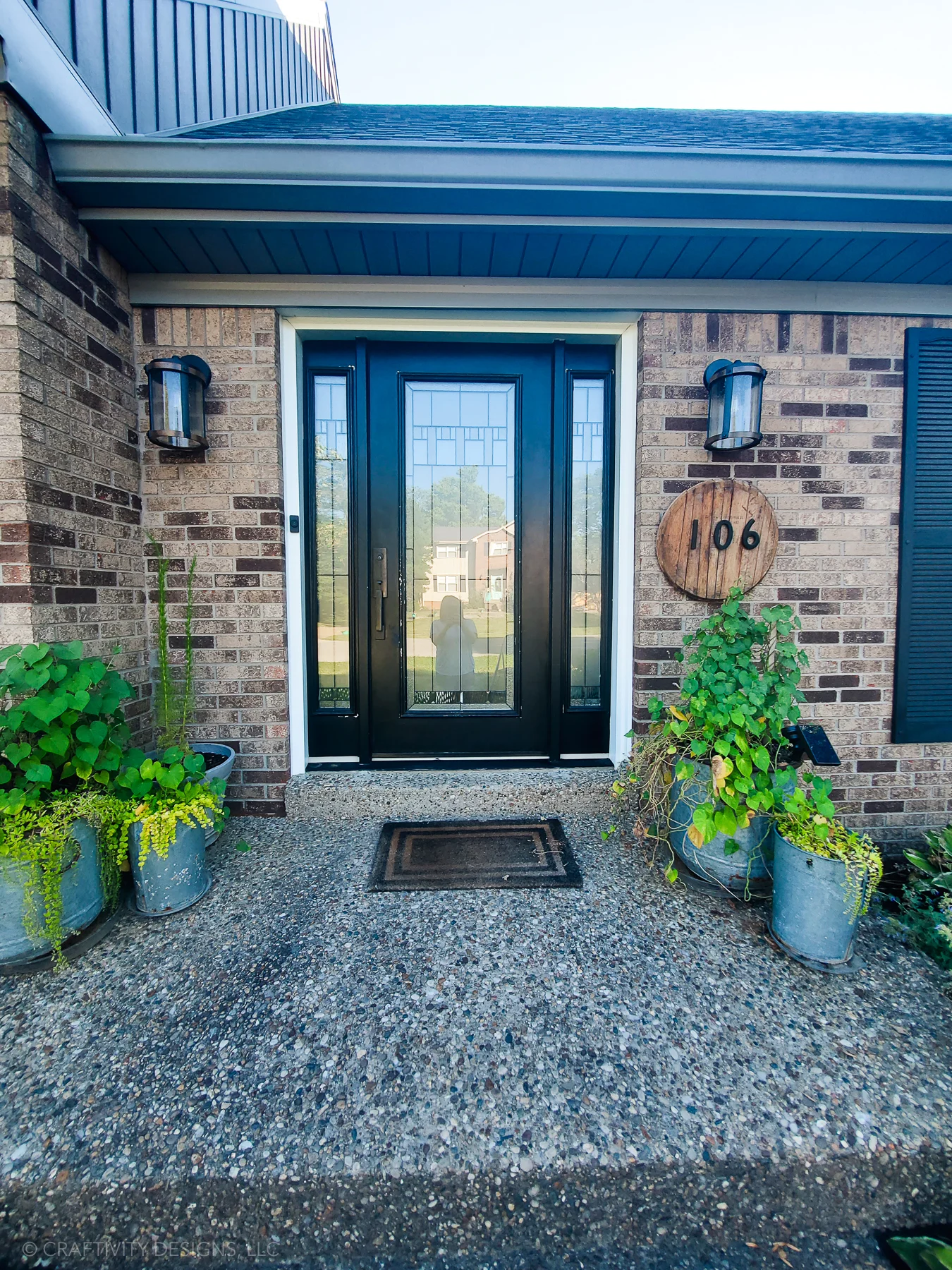 Small Front Porch Makeover
Completed just in time for the start of school, it was the perfect spot for our first-day of school photos. It'll be fun to see how these kids (and my porch!) have changed by next August. Homes are always a work in progress, right?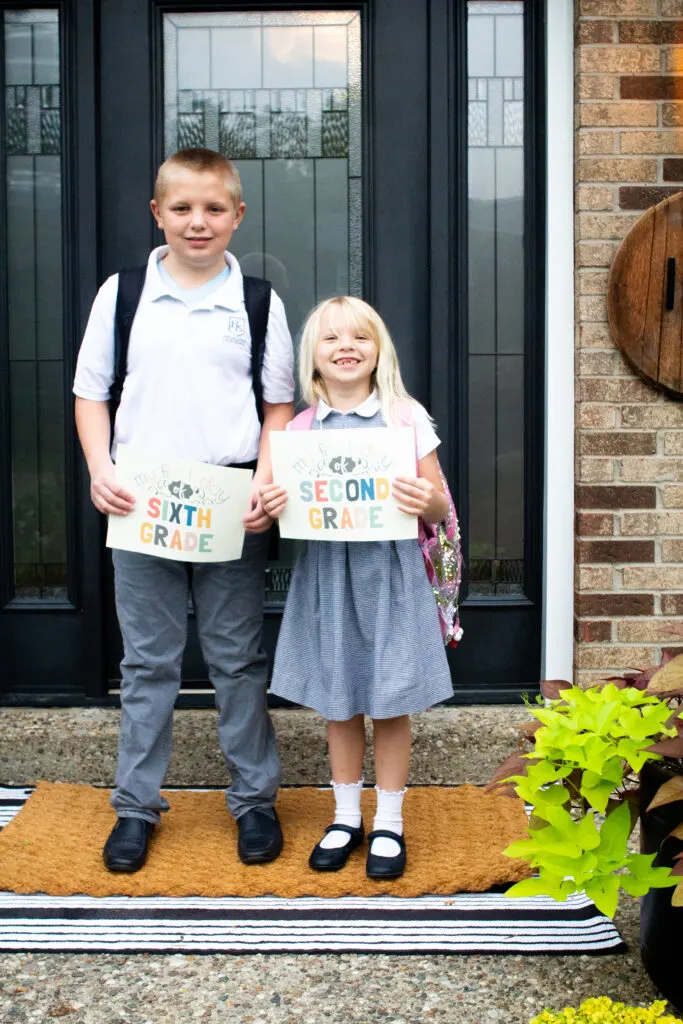 You can learn more about our exterior renovation by visiting our home tour or by checking out the following posts:
Want to save these small front porch ideas? Pin it!