Make your home glow in the evening with these solar landscape lighting ideas. Affordable solar lights highlight your home's exterior at night.
Did you know you can install exterior lighting without wiring? Yep! We've embraced these solar landscape lighting ideas to brighten our home's exterior after dark.
I love pulling into our driveway after dusk to see our home lit up in the evenings. It's such a welcoming feeling to see the pathways, porch, and landscape highlighted with warm solar lights.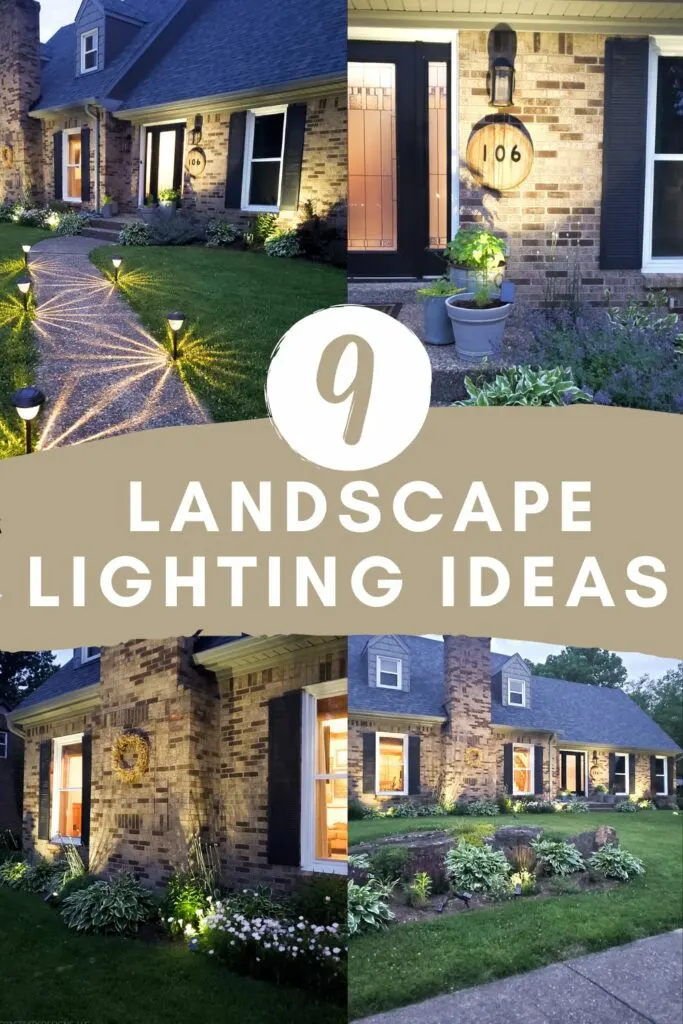 Disclosure: This page includes affiliate links.
Solar-Powered Landscape Lights vs Wired
There are pros and cons to both solar-powered and wired landscape lights. For our home, we've generally chosen solar-powered landscape lighting (we're loving the solar deck lighting ideas we implemented last summer), but there are some instances in which wired lighting may make more sense.
Cost
The initial cost of wired exterior lighting is generally more expensive than solar lighting. This will be especially true if you pay for the installation of wired lighting. Still, even if you install the lights yourself, wired is typically more expensive than solar.
You might also like: How to Install Deck Rail Lighting
Of course, wired landscape lighting incurs an ongoing electricity cost. While this cost is fairly negligible, it is something to keep in mind. Solar lighting has no ongoing costs because the sun is free, after all!
Over time, solar landscape lights do seem prone to needing replacements. So, while the up-front cost of wired lighting may be higher, they are more durable. This means that the cost difference between solar and wired lights will get smaller over time.
Finally, with solar lighting, I find it easy to spread the investment out over several years. In other words, I don't have to buy every light I may need right now. I can buy a set this year, several more next year, etc.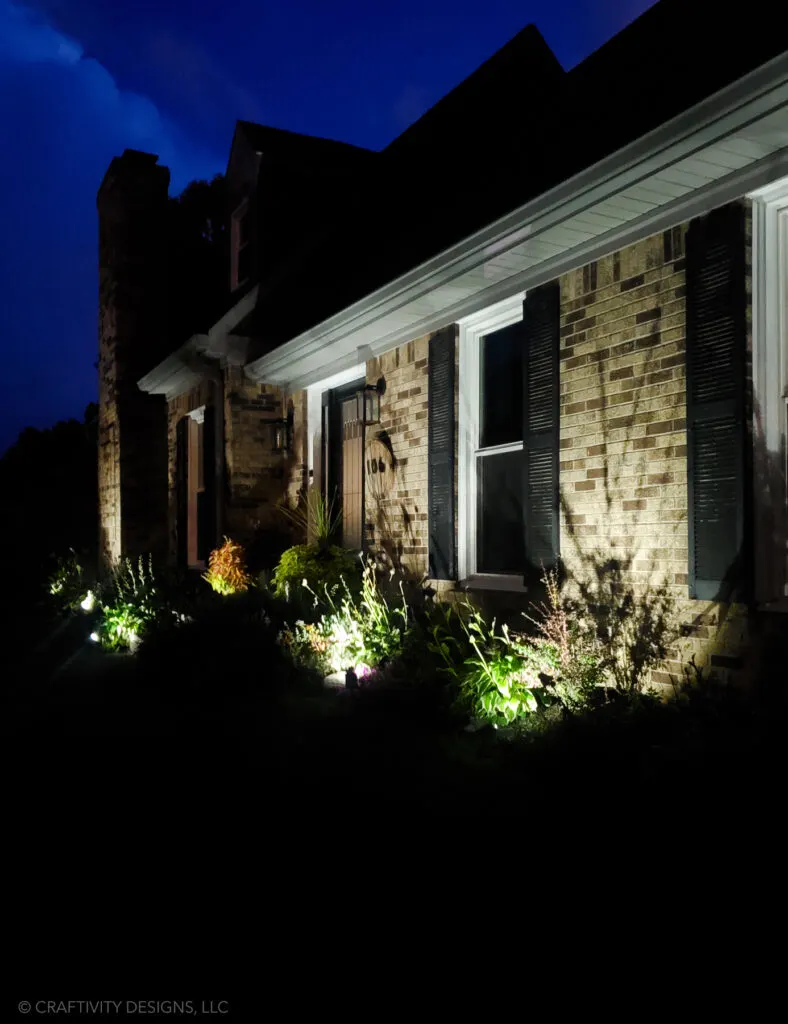 Installation
Wired landscape lighting requires much more planning before installation. Plus, the installation itself is much more complex.
In contrast, solar lighting requires nearly no planning and installation is simple, too (just stick the spike in the ground, and check the lighting when it gets dark!).
Flexibility
An advantage to exterior solar lighting is flexibility. Solar landscape lights can be moved around to new and different areas of your yard, landscape, and home exterior.
You might recall that our home is a fixer upper and we have a long list of renovation projects to tackle. When we moved in, there was no landscaping in the front of the house. Since then, we've been expanding the flower beds little by little each year. If we had installed wired lighting, we'd have to keep that in mind as our landscaping grows.
Performance
In the area of performance, wired landscape lighting wins. Since solar lights are dependent on the sun, their performance is affected by the weather and season. During the winter (shorter days) they won't receive as much sun-exposure and therefore, won't stay lit as long at night. Similarly, if it is rainy and cloudy all day, the lights will be dimmer in the evening.
For us, this isn't a deal breaker. Our solar lights still light up year around. For context, we are in Kentucky and receive morning sun on the front of our house. The afternoons are shaded due to the sun's position in the sky, but we don't have any trees in the front yard.
In other words, if our front yard was shaded all day from tall trees, solar lighting would not work as well. So, if you have a lot of shade, wired lights may be a better option.
Solar-Powered Landscape Lights Pros and Cons
This chart summarizes the pros and cons of Solar Landscape Lights vs. Wired Landscape Lights.
Pros
Cons
Solar Landscape Lights
– lower initial cost
– no ongoing cost
– no planning necessary
– simple installation
– easy to change
– lower durability
– low performance in shade
– low performance in cloudy/rainy conditions

Wired Landscape Lights
– higher durability
– high performance
– higher initial cost
– ongoing electricity cost
– planning required
– more complex installation
– change is limited
Pros and Cons of Solar Landscape Lighting vs. Wired Landscape Lighting
Solar Landscape Lighting Ideas & Tips
Have you decided to give solar lighting a try? Let's discuss some of my favorite ideas for using solar lights around the landscape and exterior of your home.
1. Light Pathways and Sidewalks
When it comes to exterior lighting, start with safety! Brighten up paths and sidewalks with solar pathway lights so that nighttime trips to and from the driveway are well-lit.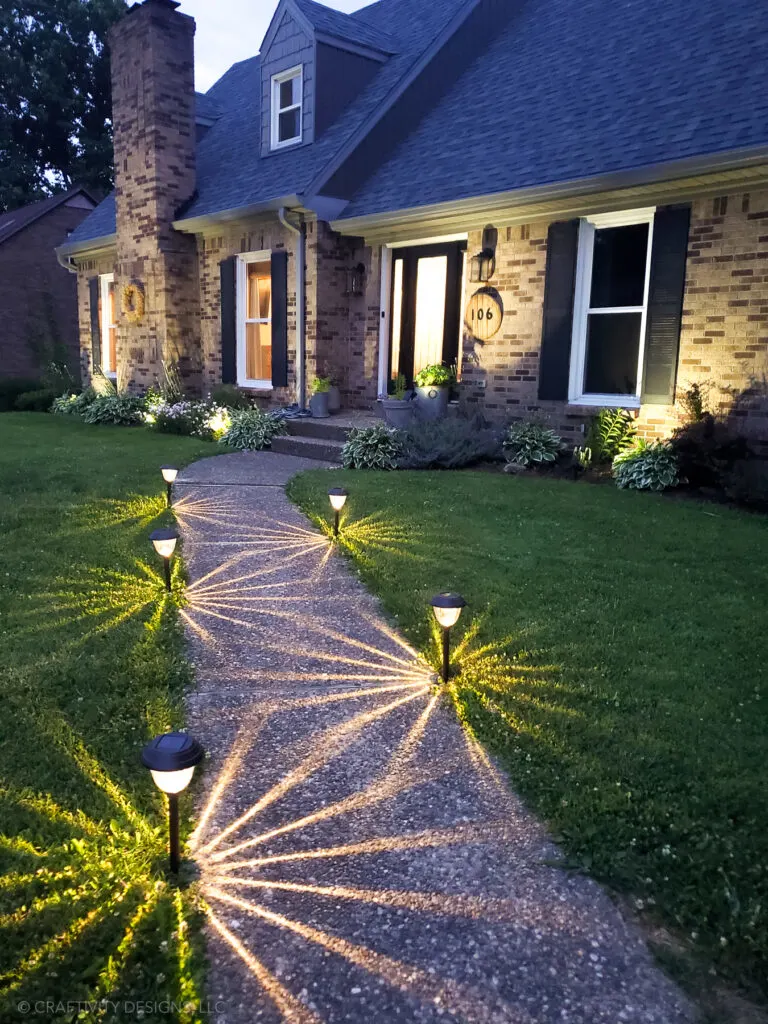 2. Spotlight House Numbers
It's important that your house address can be seen during the day and at night. We use spotlight solar lights to highlight our home's house numbers (you can learn how to make that bourbon barrel lid house number sign, too!).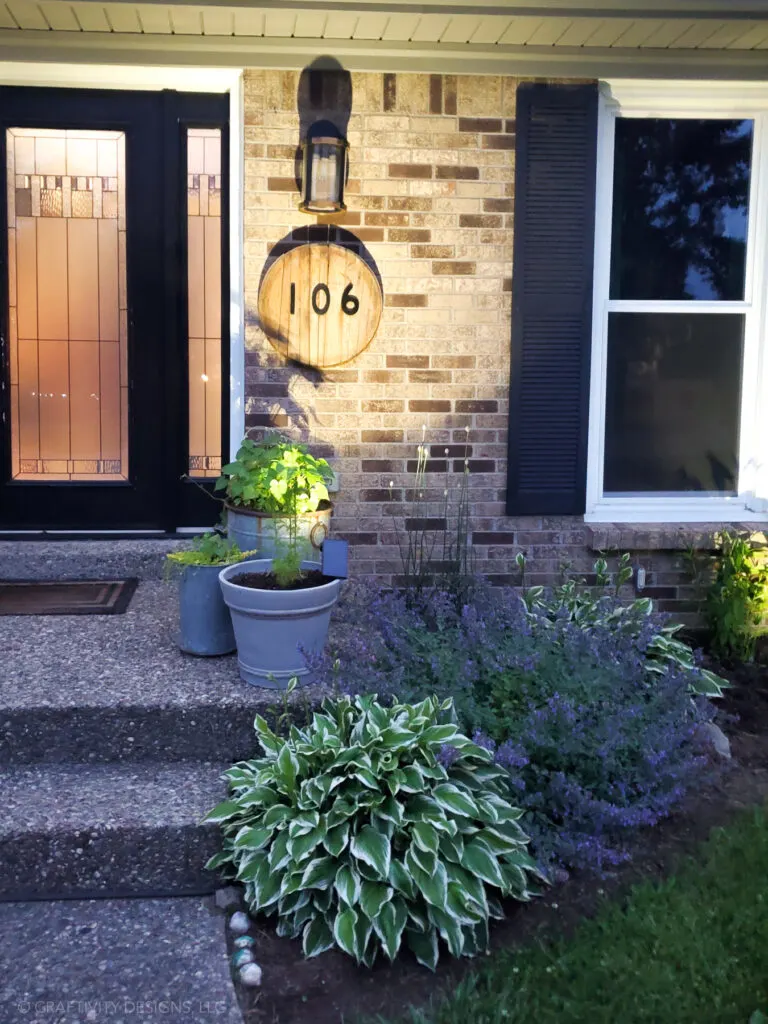 You might also like: How to Make a DIY House Number Sign (in minutes!)
3. Highlight Architectural Features
Brighten the best architectural features of your home's exterior. We love the center chimney of our cottage style home, and have two spotlight solar lights facing it.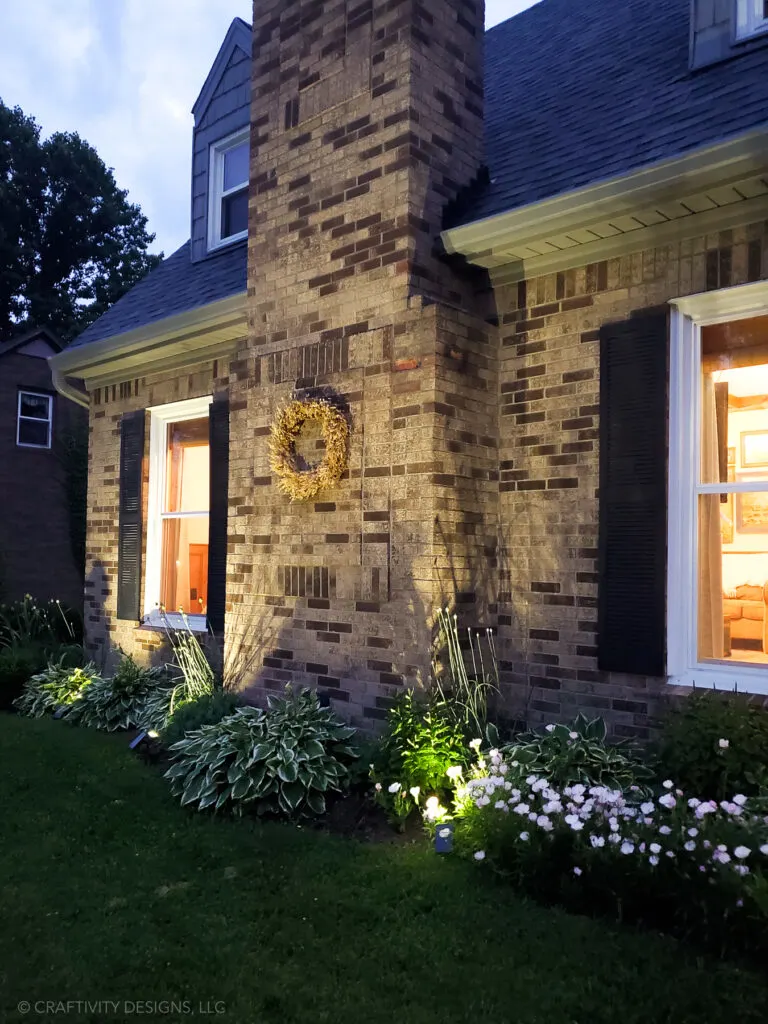 4. Spotlight Unique Landscape Features
What landscape features are unique to your home? Highlight those details to make them a focal point in the evenings. We have a small flower bed surrounded by large rocks which looks lovely lit up at dusk.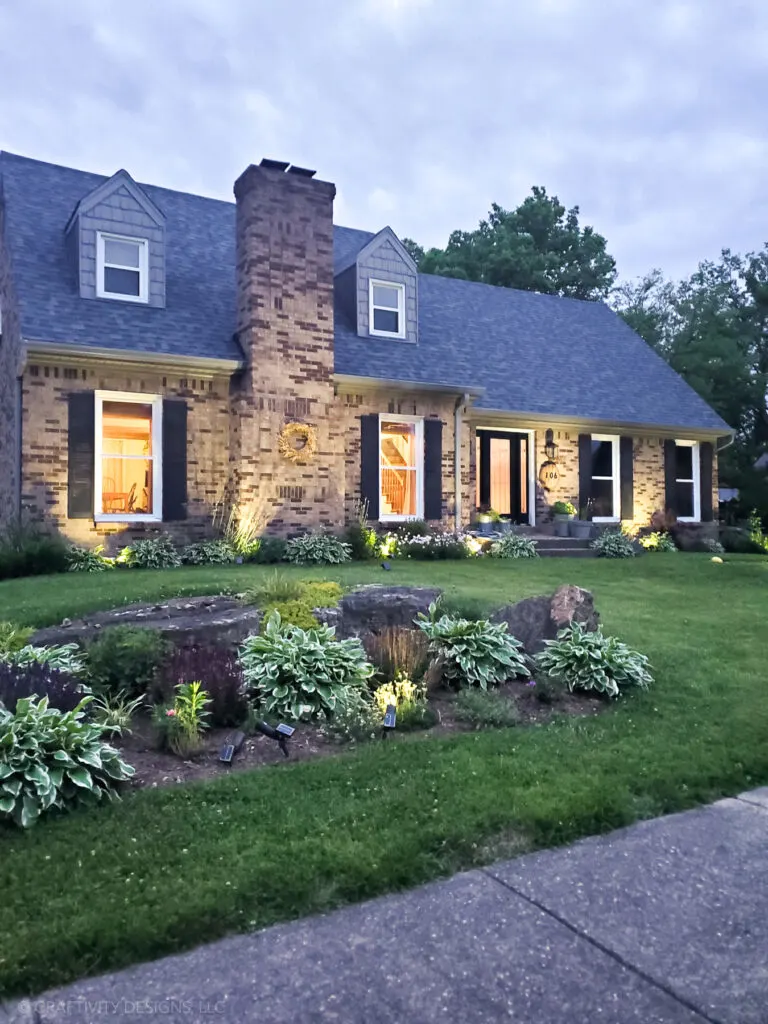 5. Light the Mailbox and Mailbox Numbers
In addition to lighting your house address sign, you can also shine light on the mailbox numbers. We just installed a composite wood mailbox post with modern house numbers and will shine a spotlight solar light onto the house number.
6. Keep the Light Temperature Cohesive
When selecting landscape lights, I prefer warmer temperature lights. Warm lights just feel cozier and more welcoming than cool lights. Our lights aren't all the exact same temperature, but none of them are cool.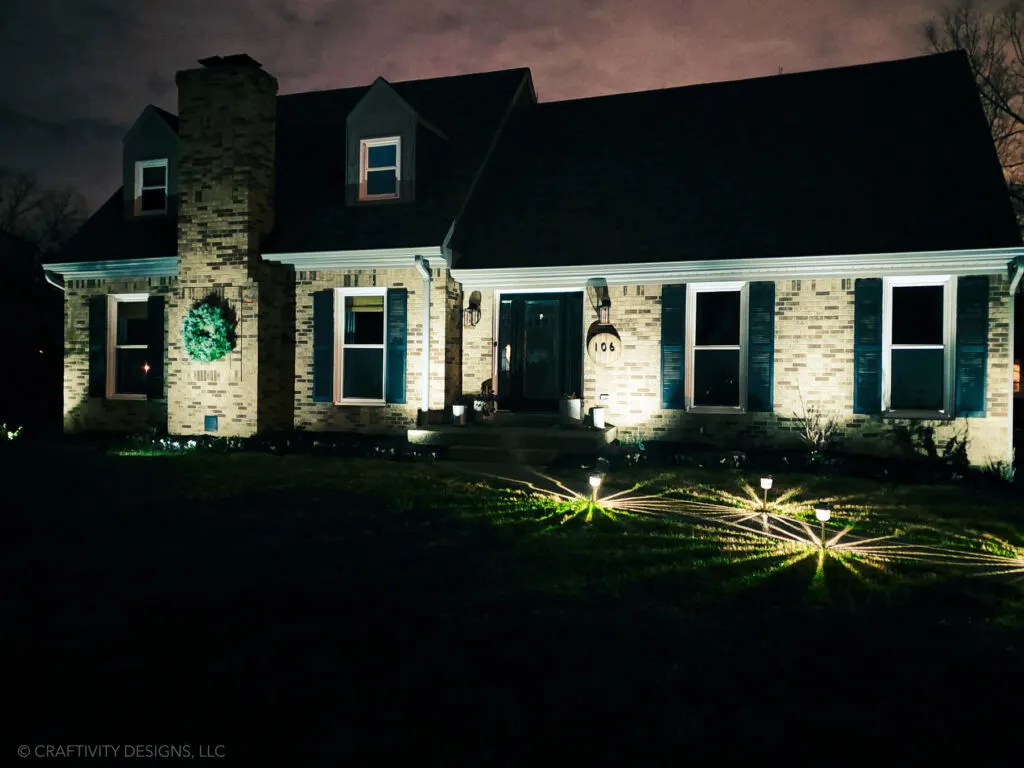 7. Combine Lights when Necessary
Lighting a large feature or need brighter lights? Use two or more solar landscape lights in combination. For our large wreath, we use two spotlight solar lights, one shining from each side.
8. Light Flower Beds
Line the edges of your flower beds with small solar ground lights. These flat disc-shaped lights are unobtrusive and discreet, since they sit at ground level.
9. Railing and Post Lights
Do you have a fence in your front yard, or railing leading up the steps to your porch? Install deck rail lights and post lights to brighten those landscape features. Rail lights are a great safety feature for steps, too!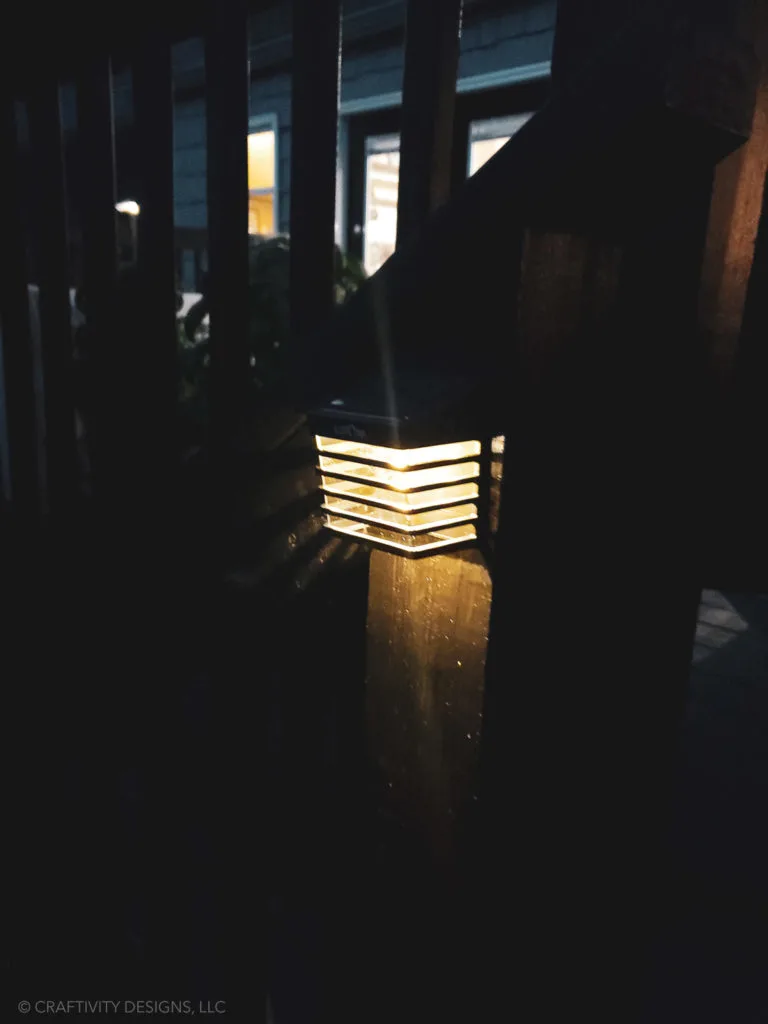 Exterior Solar Light Ideas
Looking for your backyard, deck, or patio? Check out 5 solar deck lighting that will brighten your outdoor living spaces (and provide ideas to add a little personality – like my tiki decor!).
Frequently Asked Questions
Are solar landscape lights any good?
Yes! Solar lights have significantly improved over the years (and are still getting better and better). We've been using ours for several years and are pleased with their performance.
Do solar lights work in shady areas?
Solar lights will work in shady areas as long as they get some sun. However, their performance will be diminished due to lack of sun-exposure and a reduced charge. This results in a dimmer light and shortened period of light in the evening.
Do solar lights need direct sunlight or just daylight?
For optimal performance, solar lights need direct sunlight. Reduced sunlight results in diminished performance.
Do solar lights work in winter?
Yes, solar lights work in the winter. However, if you live in a location with very cloudy, rainy, or overcast winters, the lights performance will be reduced.
If you liked this exterior decor idea, you might also like:
Want to save these solar landscape lighting ideas? Pin it!