Refinish an old glass display cabinet with the perfect black paint color and reeded glass doors. This black cabinet makeover took an old cabinet from basic to stunning!
Looking for a way to update an old glass display cabinet? Look no further! This stunning black cabinet is a great weekend makeover that will create an eye-catching furniture piece for a room.
With several coats of the best black paint color, the proper technique for painting furniture, and DIY reeded glass, you can create a gorgeous display cabinet for your home.
I've been eyeing black curio cabinets like this one for several years. They've been popular online, often completed as intensive up-cycles with arched tops and rounded fronts. Or, under the requirement that you are able to find a very unique used piece of furniture.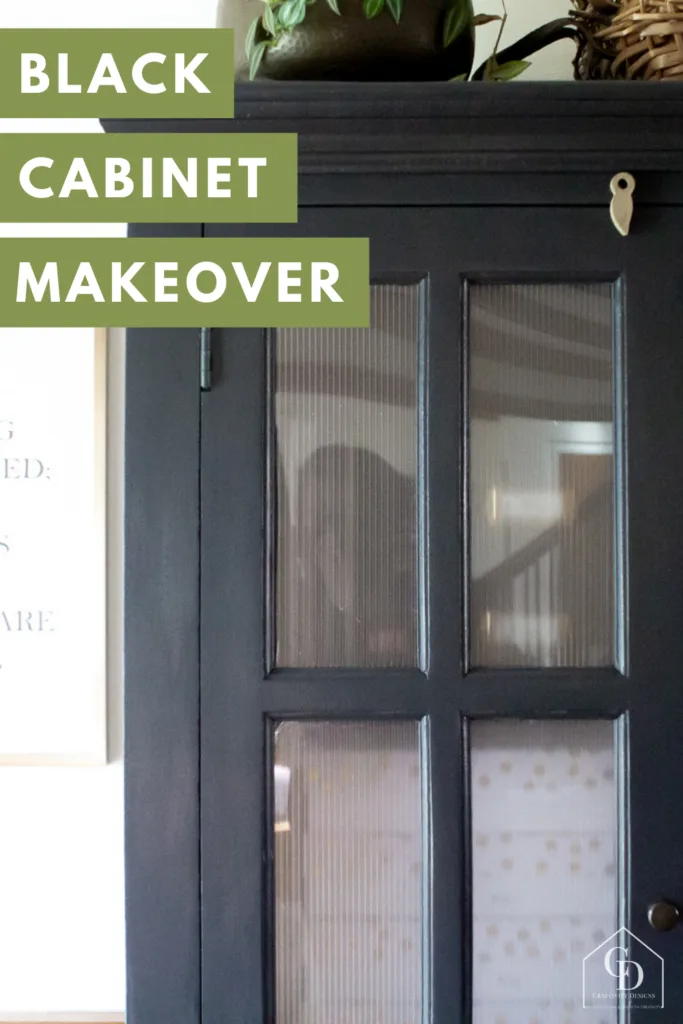 Disclosure: This page includes affiliate links.
After scouring Facebook marketplace and consignment shops for several months, I realized it didn't have to be that complicated. I already had a great option, sitting right in our living room.
While I didn't hate the finish of our glass cabinet (we only bought it about 8 years ago, so it wasn't necessarily outdated), it didn't really do anything for our living room. The light rustic gray finish just kind of faded into the background. I felt like the cabinet had much more potential.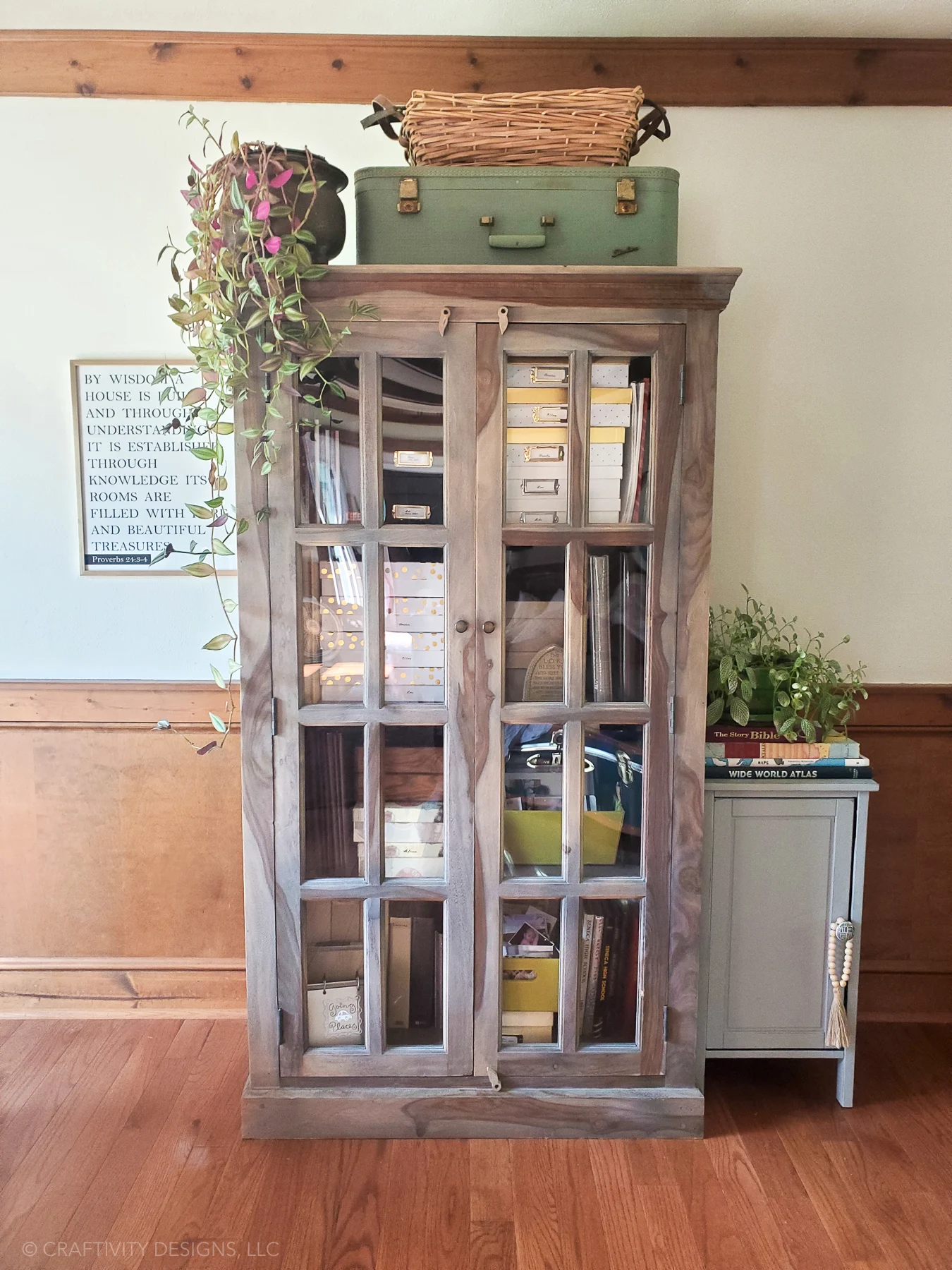 And, boy, I was right. Now, when I walk into our living room, my eye is instantly drawn to the display cabinet. The black cabinet is a statement piece in the space because it pops against the white wall and wood trim.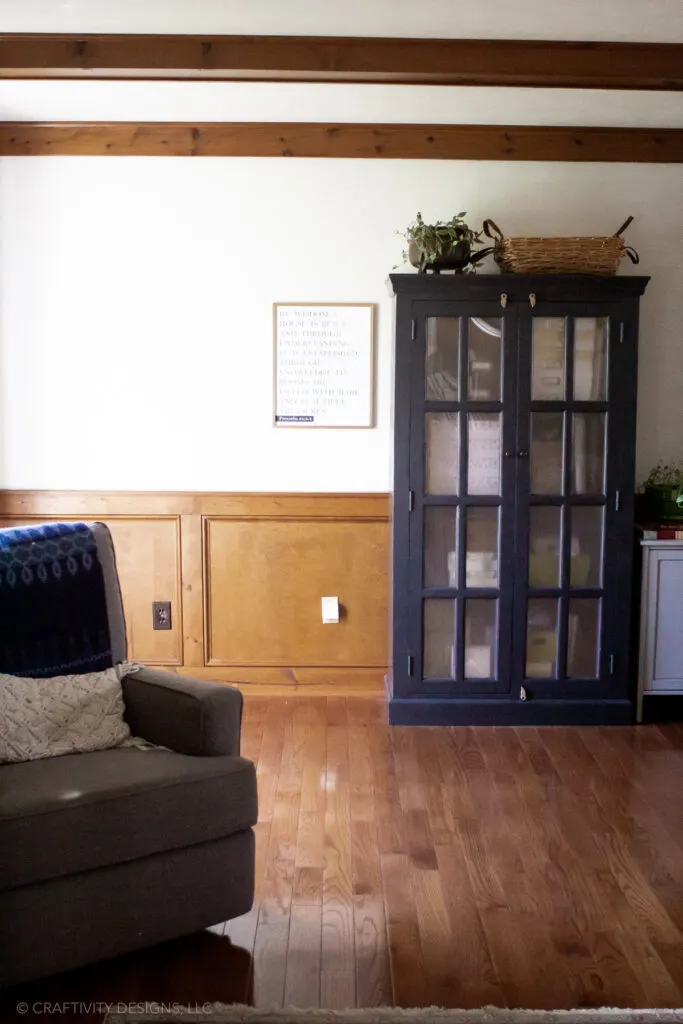 Black Panther by Benjamin Moore
Black Panther from Benjamin Moore is, in my opinion, a perfect black paint color. Rather than being a true black, it is nearly black.
But, even though it it is not a true black, it is still too dark to be confused with a deep gray. This was important to me, because I did not want a dark gray or charcoal color piece of furniture.
If you are interested in selecting the best black paint color, make sure to read about the difference between two great black paints: SW Tricorn Black vs BM Black Panther.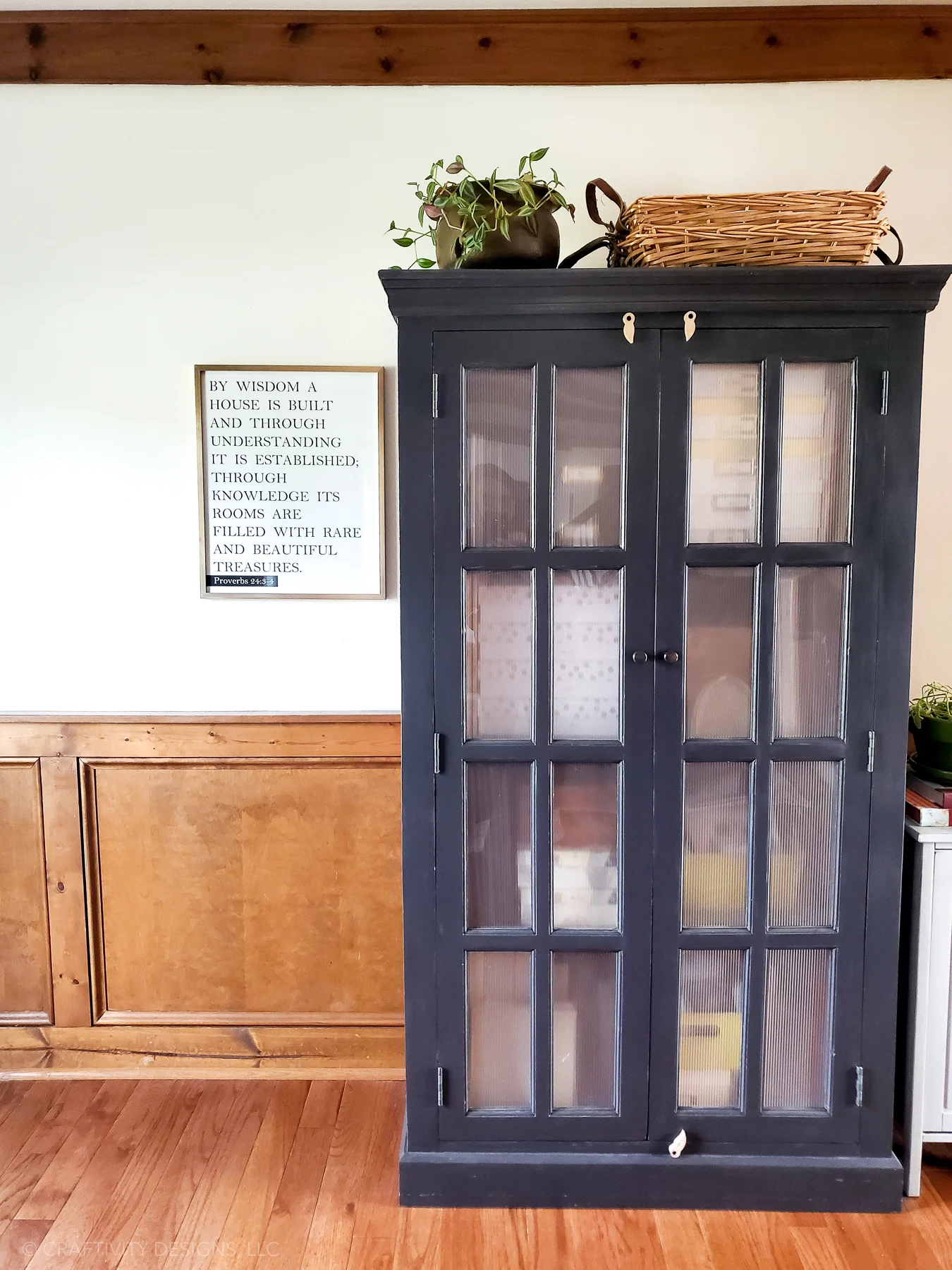 Choose the Right Paint for Furniture
When I bought Blank Panther for our door, I chose exterior-grade Aura Grand Entrance paint. Our door is not covered and is exposed to the elements year-round.
Since I already had a partially-used, expensive can of paint, it didn't make sense to buy new paint for our black cabinet. This, however, may have been a mistake.
Aura Grand Entrance paint left bubbles and brushstrokes when painting with a foam roller or brush, respectively. I worked through these issues by sanding between coats, but I was surprised that I even had to deal with it.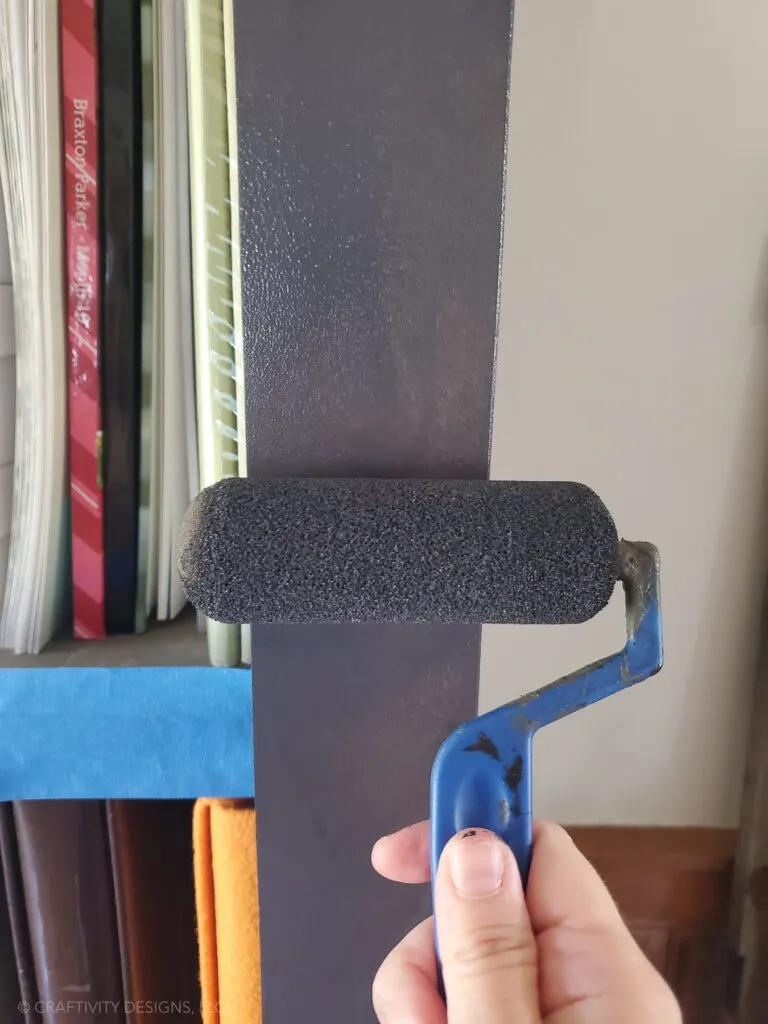 In our Master Bedroom, I used Emerald Urethane Trim Enamel for our dark green trim and had zero issues with brushstrokes or bubbles. This high-quality (but pricey) gallon of paint levels to an incredibly smooth finish.
Therefore, if I were doing this project again, I'd purchase the trim enamel. It is designed for cabinetry, trim, and doors.
How to Make a DIY Black Cabinet
Materials
Zip Lock Bags
Painter's Tape
Black Panther in Satin
Foam Brushes
Sandpaper
Tack Cloth or Rags
Tools
Screwdriver
Tarp
Utility Knife
Paintbrush
Instructions
1. Remove the Doors and Hardware
First, remove the doors and hardware from the cabinet. Place the hardware in zip lock bags to avoid losing any pieces, and to keep the correct screws with each piece of hardware.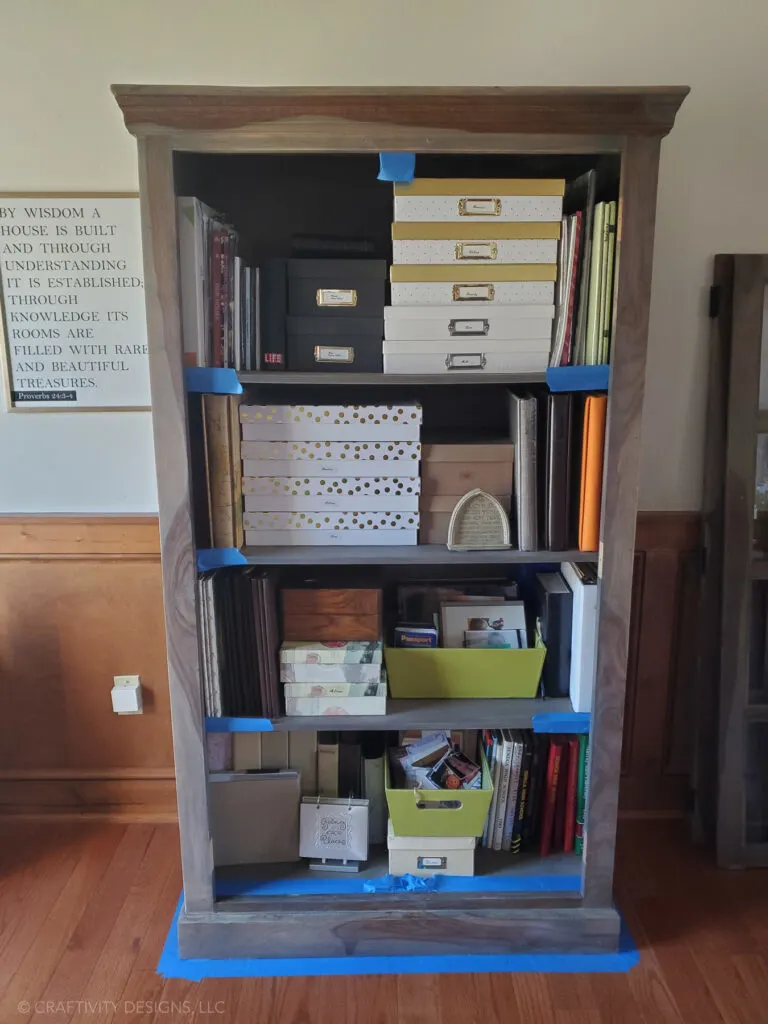 2. Prep the Doors for Painting
Lay the doors onto tarps and place painter's tape along the edges of the glass.
No matter how well you tape, there is a chance some paint will still get on the glass. If that happens, gently use a utility knife to scrape off the paint after the tape is removed.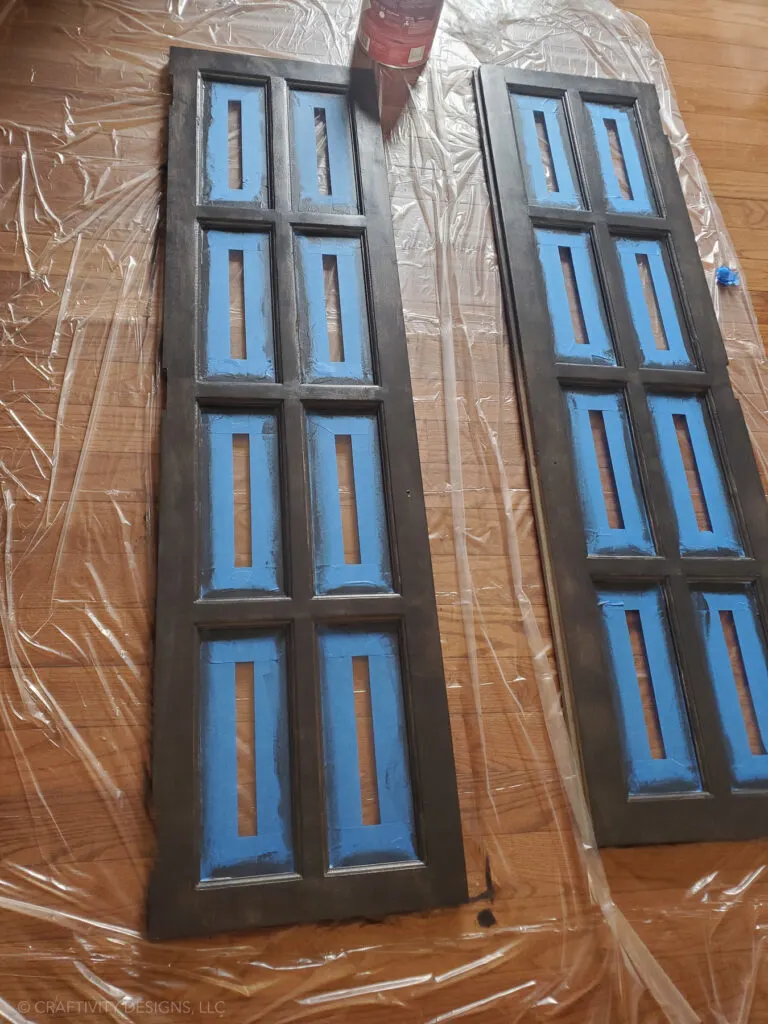 3. Paint the Cabinet
Paint the cabinet with a paintbrush. I tried both a foam roller and a brush, and was more pleased with the finish from the brush. The foam roller left small bubbles (even though it is designed for furniture and smooth surfaces).
This could have been related to the paint. Make sure to read the section, above, titled "Choose the Right Paint for Furniture", for recommendations on selecting paint type.
When painting with the brush, apply thin, light coats.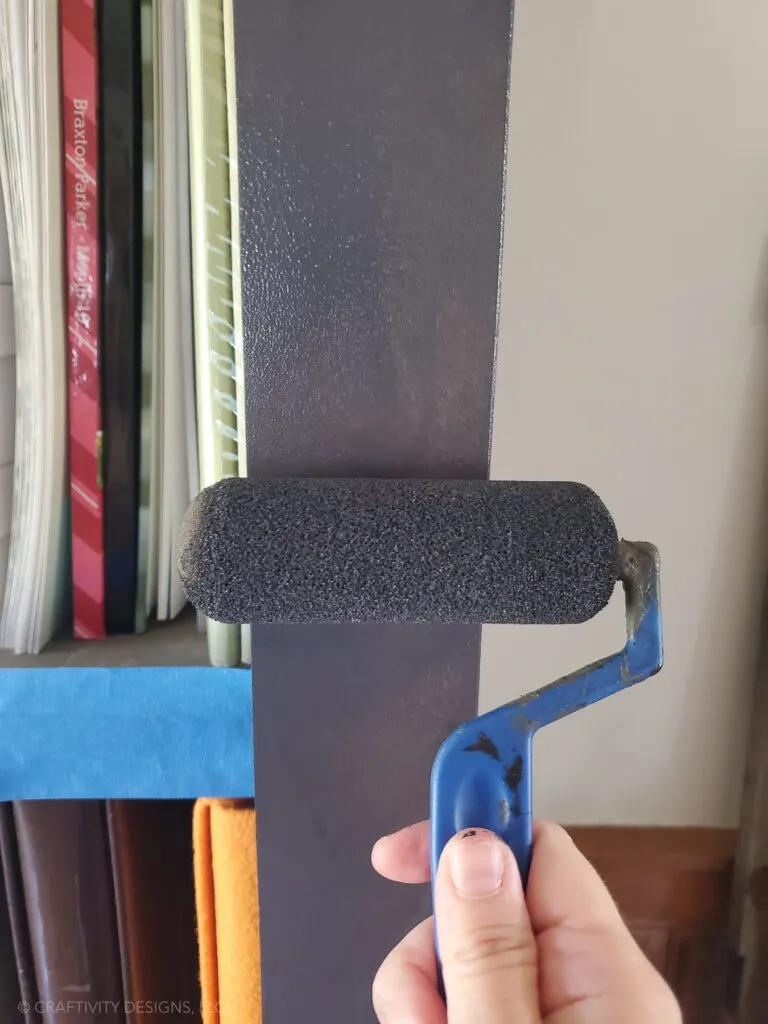 4. Sand Between Coats
Lightly sand between coats, specifically focusing on areas with bubbles or brushstrokes. Wipe away dust with a clean rag. Sanding between coats will result in a smooth finish.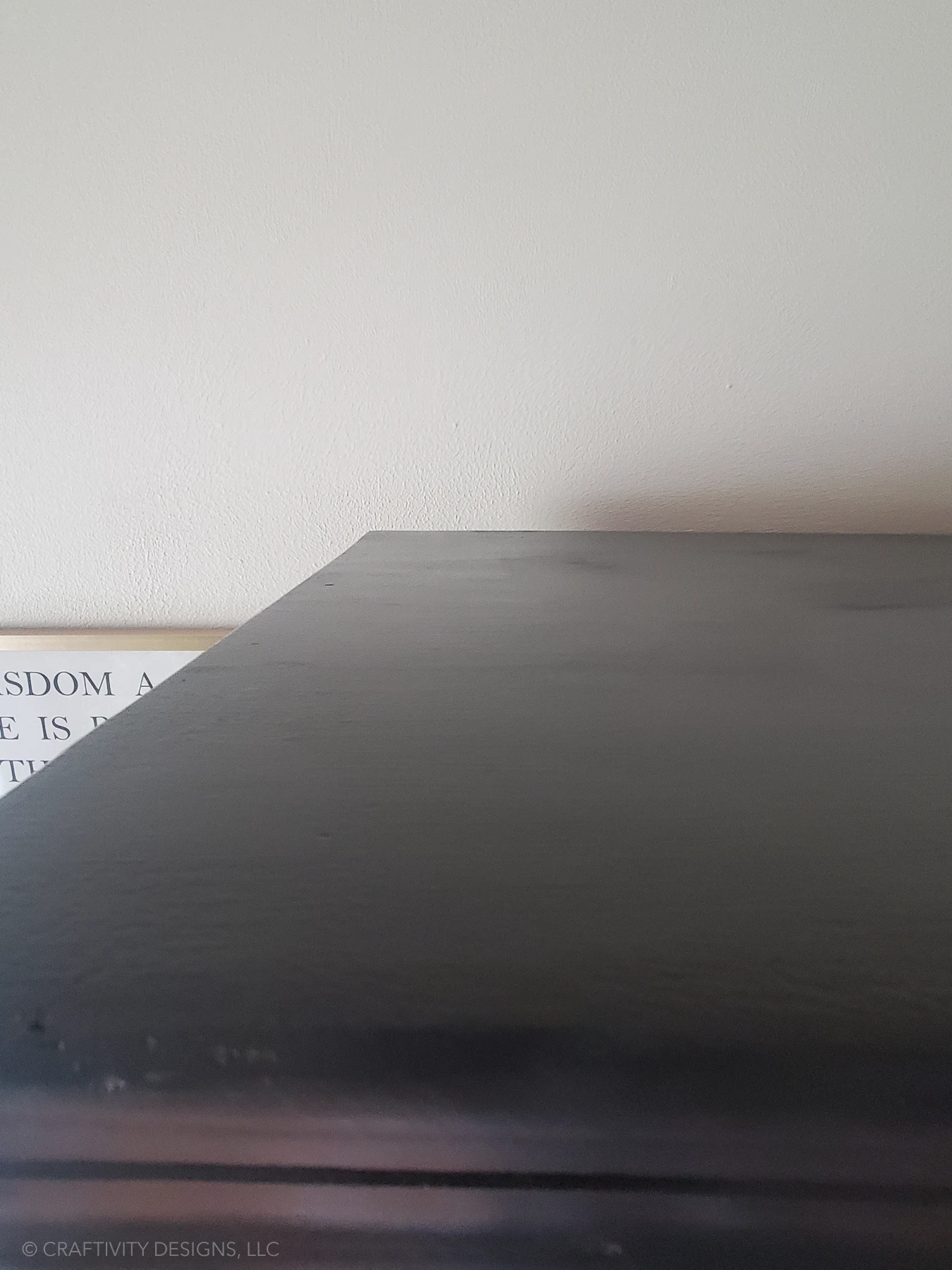 5. Paint Additional Coats
Once the sanding dust is removed, paint an additional coat. Repeat steps 3-5 until you have a smooth finish. You'll need to paint at least two coats.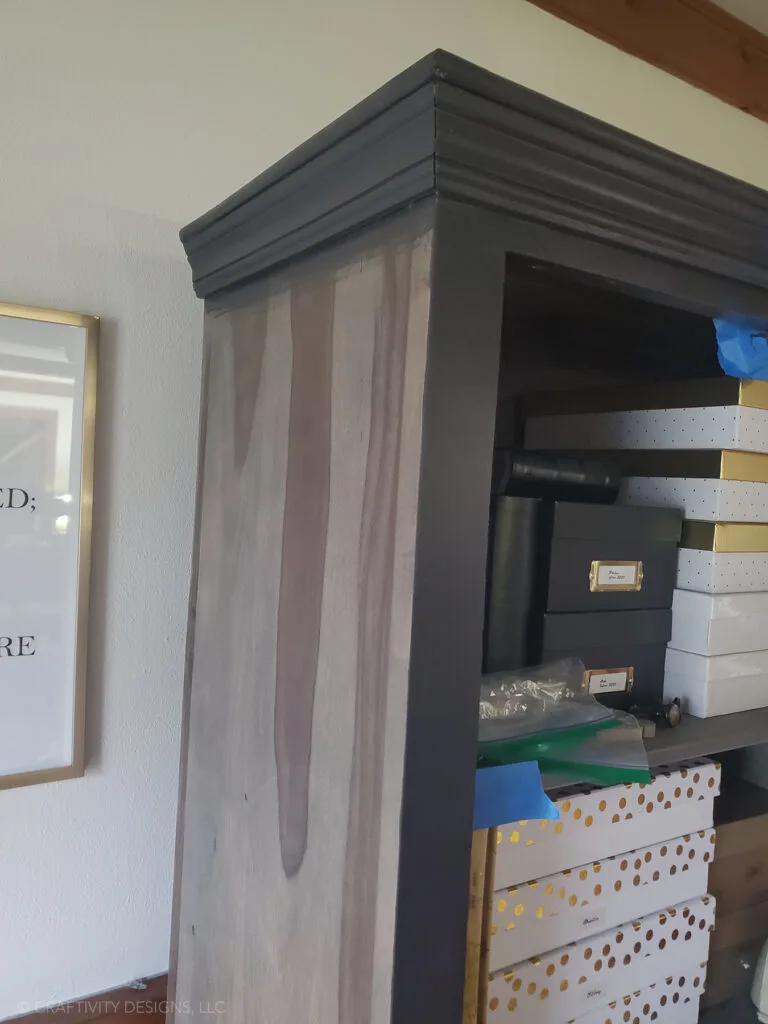 6. Remove Painters Tape
After the paint dries to the touch, remove the painter's tape from the doors.
Before pulling the tape, slide a utility knife blade along the seam between the paint and tape. This will prevent the tape from pulling off the paint.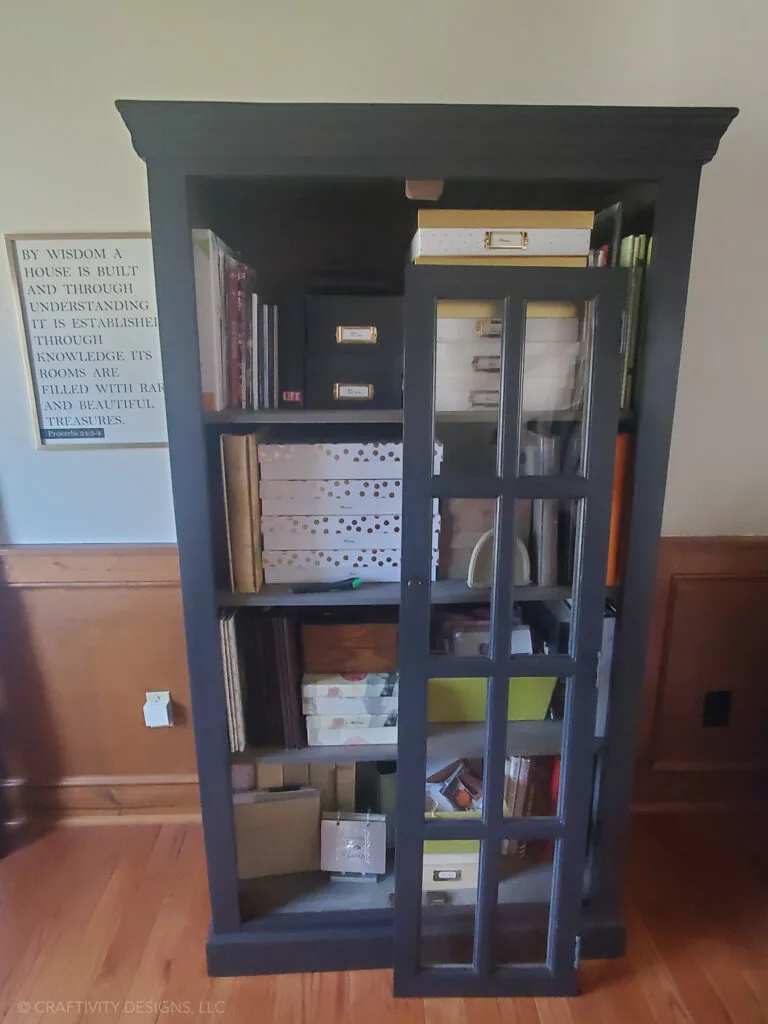 7. Reattach the Hardware
Wait at least 24-48 hours, then reattach the hardware.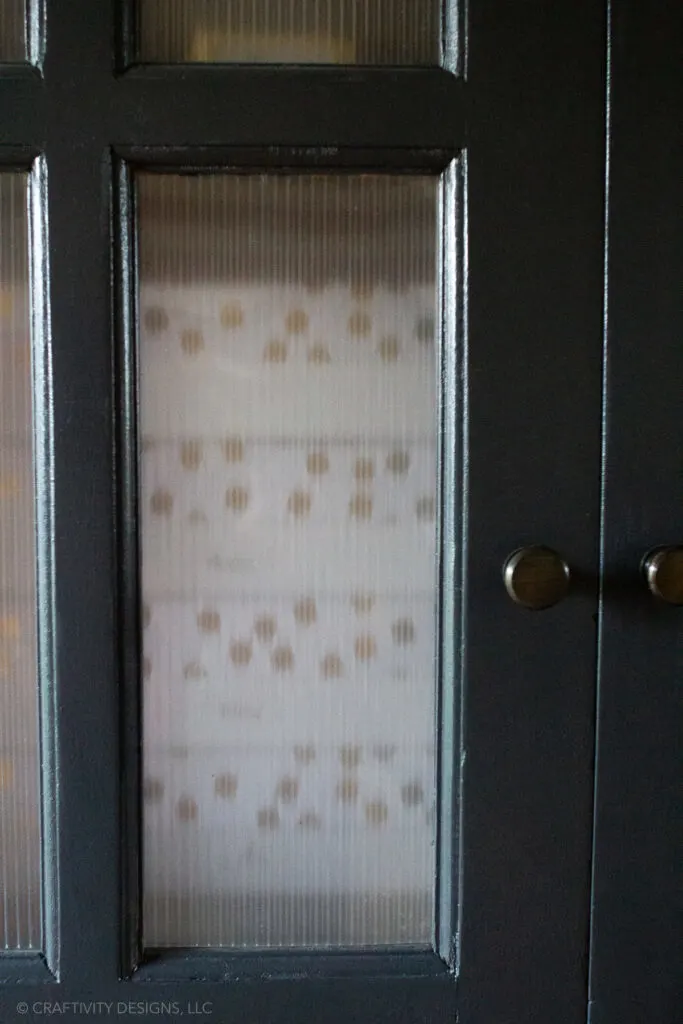 Black Display Cabinet with Reeded Glass Doors
Finish the black cabinet off with modern reeded glass. It's so simple to install, and can be used on a display cabinet, glass kitchen cabinets, windows, or glass doors.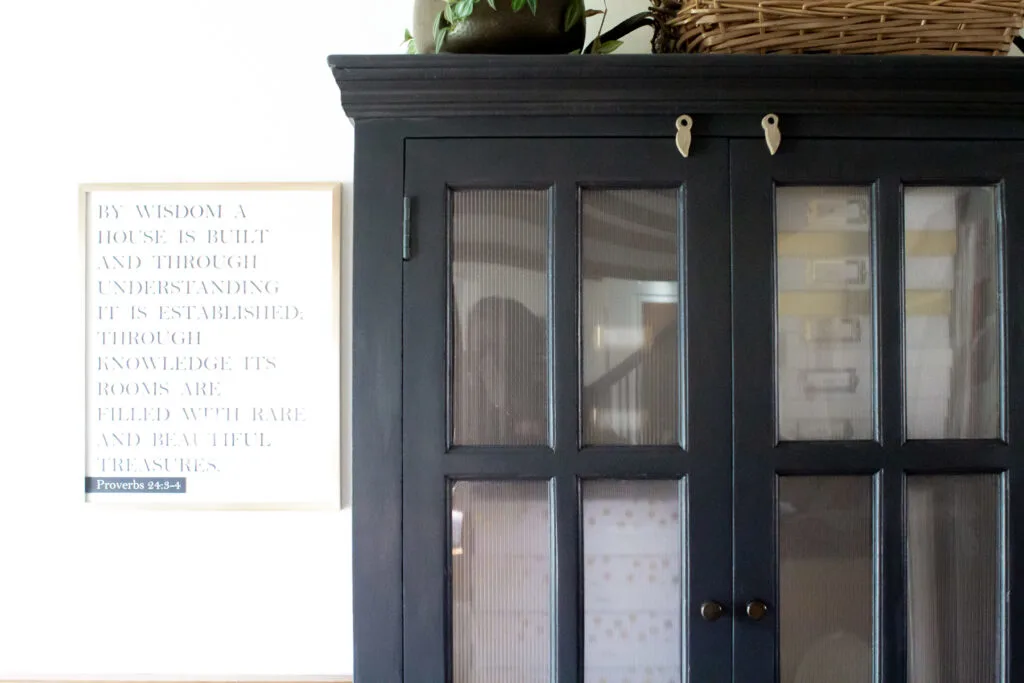 Want to know what's inside? I've filled this cabinet with our family's keepsakes: cards, photos, albums, scrapbooks, children's artwork, and more!
If you'd like to learn more about how I store our keepsakes, check out this post where I'll cover what is stored in each memory box and how I determine what to keep (and what to throw out).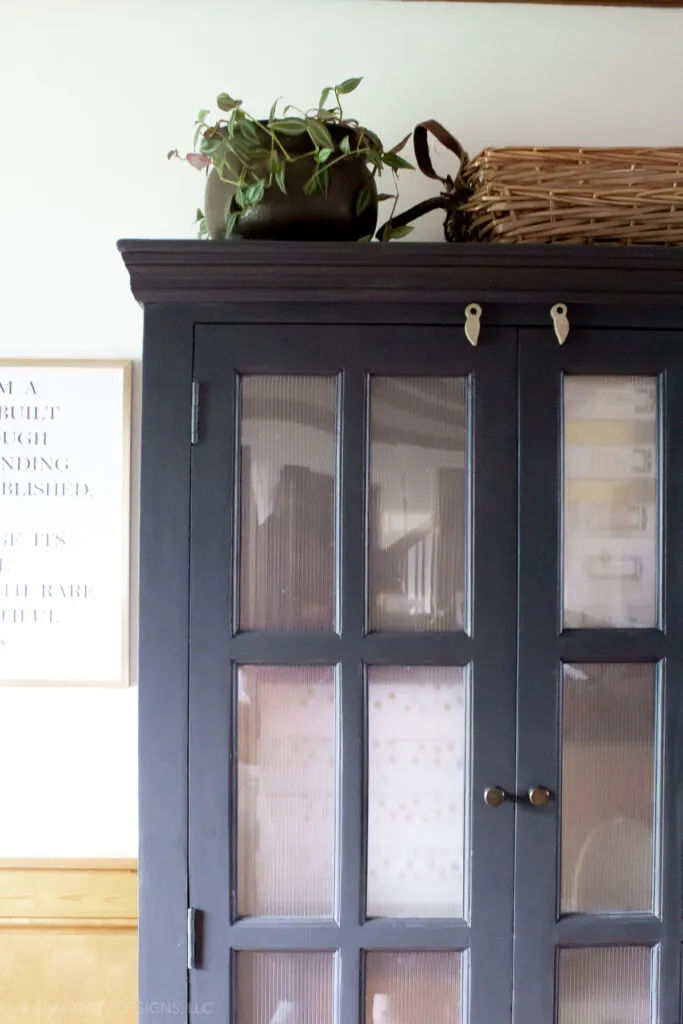 If you like this furniture makeover, you might also like:
Want to save this display cabinet makeover? Pin it!