In this Post: Design a nursery on a budget with 10 quick and easy DIY Projects, all made by upcycling affordable thrift store finds!
It's the sixth edition of the Thrift Store Decor Upcycle Challenge for 2017. As a quick reminder, we each take a second-hand item, and upcycle it into something new and fresh for the home. This month, I'm bringing you a bonus… instead of one project, I've got 10 projects! What?! Well, each upcycle is quick and easy, and didn't seem to warrant an entire post.
Last month, I revealed the makeover of my daughter's budget nursery. The makeover was completed for $110, due in part to these 10 affordable thrift store upcycles.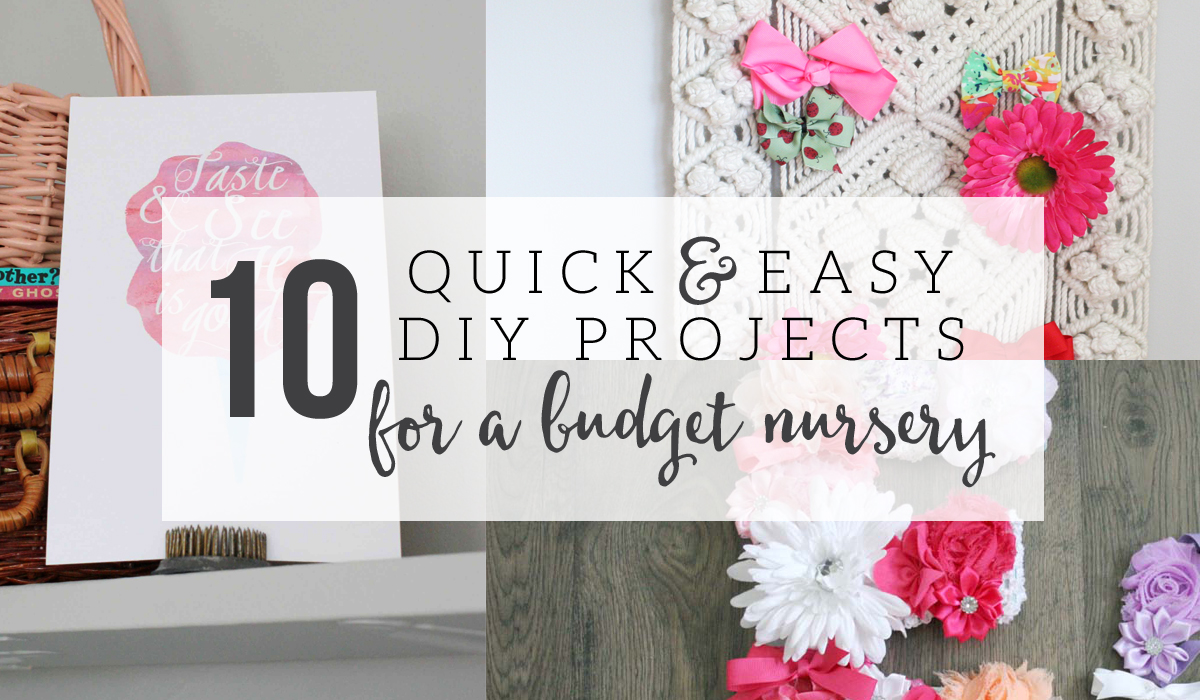 In addition to 10 ideas from our nursery on a budget, there are 18 bloggers participating in this month's Thrift Store Decor Upcycle Challenge. Make sure to click through and check out other projects.
Upcycle an item(s) from a thrift store, resale store, or garage sale into a new piece of decor.
There's no monthly theme.
There's no budget to stick to.
Meet the Hosts
Amanda | The Kolb Corner    Kim | Made in a Day
Maureen | Red Cottage Chronicles    Pili | Sweet Things
Debra | Shoppe No. 5    Jeanie | Create & Babble
Kimm | Reinvented    Kathleen | Our Hopeful Home 
Shirley | Intelligent Domestications    Angela | Simply Beautiful by Angela
 Michelle | Our Crafty Mom    Ali | Home Crafts by Ali
Michelle | Michelle James Designs     Kimberly | Farmhouse Made
Molly | Just a Little Creativity    Lora | Craftivity Designs
Colleen | Life on Kaydeross Creek     Toni | Small Home Soul 
Make sure you follow our board on Pinterest for more upcycled decor inspiration!
---
10 DIY Projects for a Nursery on a Budget
#1: Upcycle Empty Frames
Old frames are a thrift store staple. I especially love to search for unique shapes, like small oval frames. Give the frames a quick coat of paint, and fill them with art — or anything else. In my daughter's nursery, I used a wooden letter "E" for her first name and a heart from an old quilt.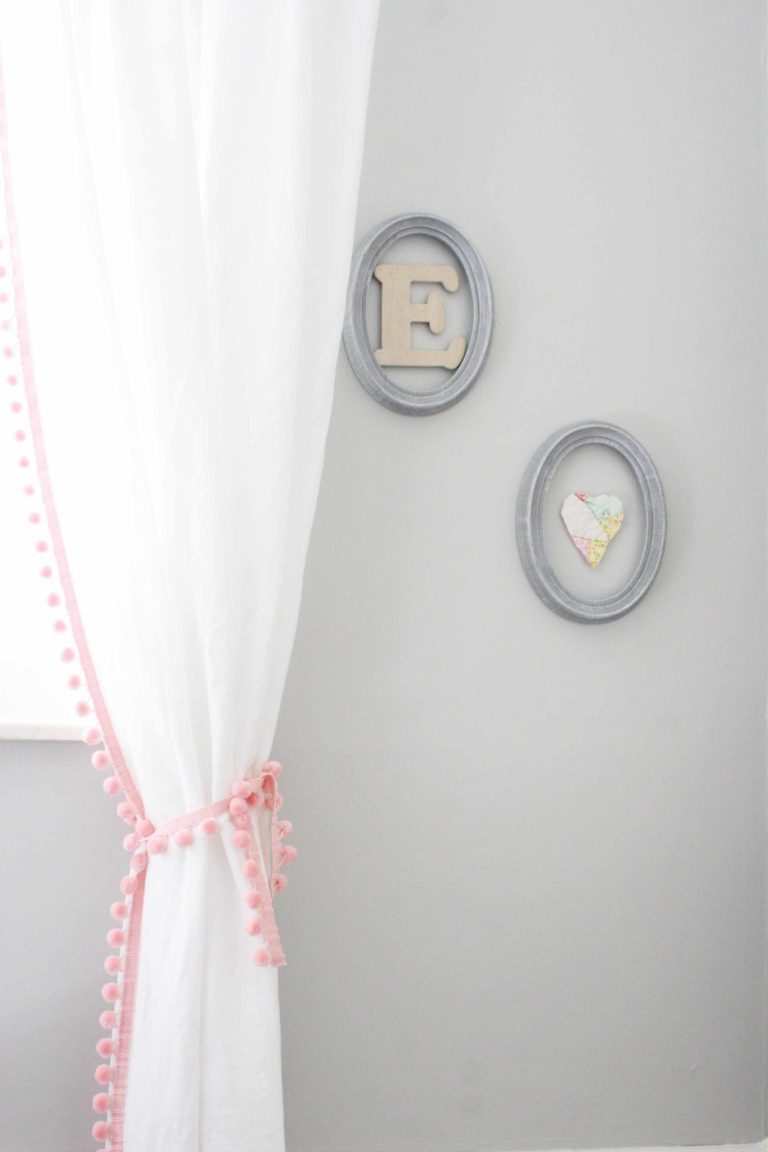 #2: Upcycle Old Quilts
Speaking of old quilts, they are another great Thrift Store find. Worn, raggedy quilts are much cheaper than quilts in mint condition. Why would you want a worn quilt? They are the perfect choice for DIY projects. Cut out pieces from the quilt to make bunting, small pillows, and more. I used quilted hearts throughout my daughter's bedroom.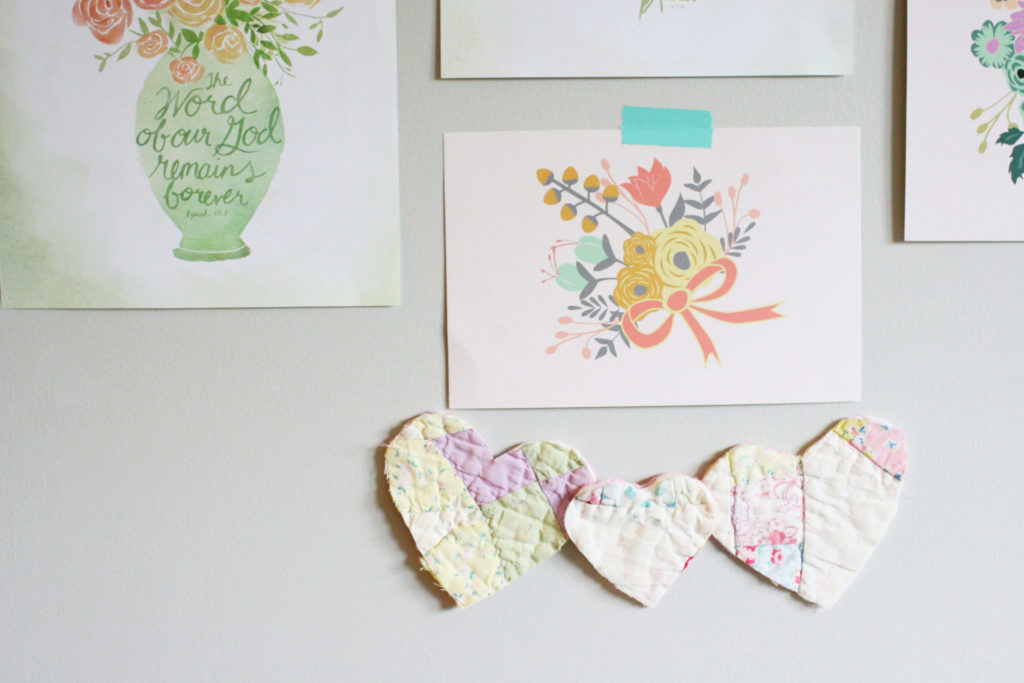 #3: Upcycle Flower Frogs
I love to display artwork and photographs in unique ways. At the Nashville Country Living Fair, I found a selection of vintage flower frogs and grabbed one from my daughter's room. An incredibly easy upcycle, just stick art or photos in between the flower frog prongs.
#4: Upcycle a Macrame Wall Hanging
You know those Macrame Wall Hangings that make you think of the 70s? Well, they're back — and they're on trend. If you're not convinced, think of the macrame as functional — not just decorative — for holding hair clips, Christmas Cards, and more.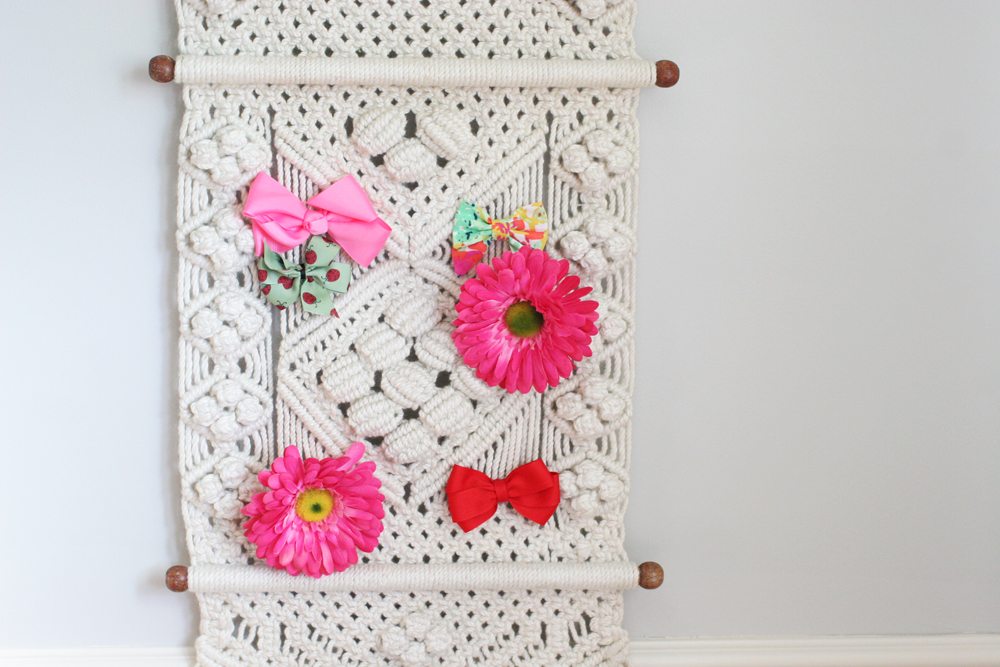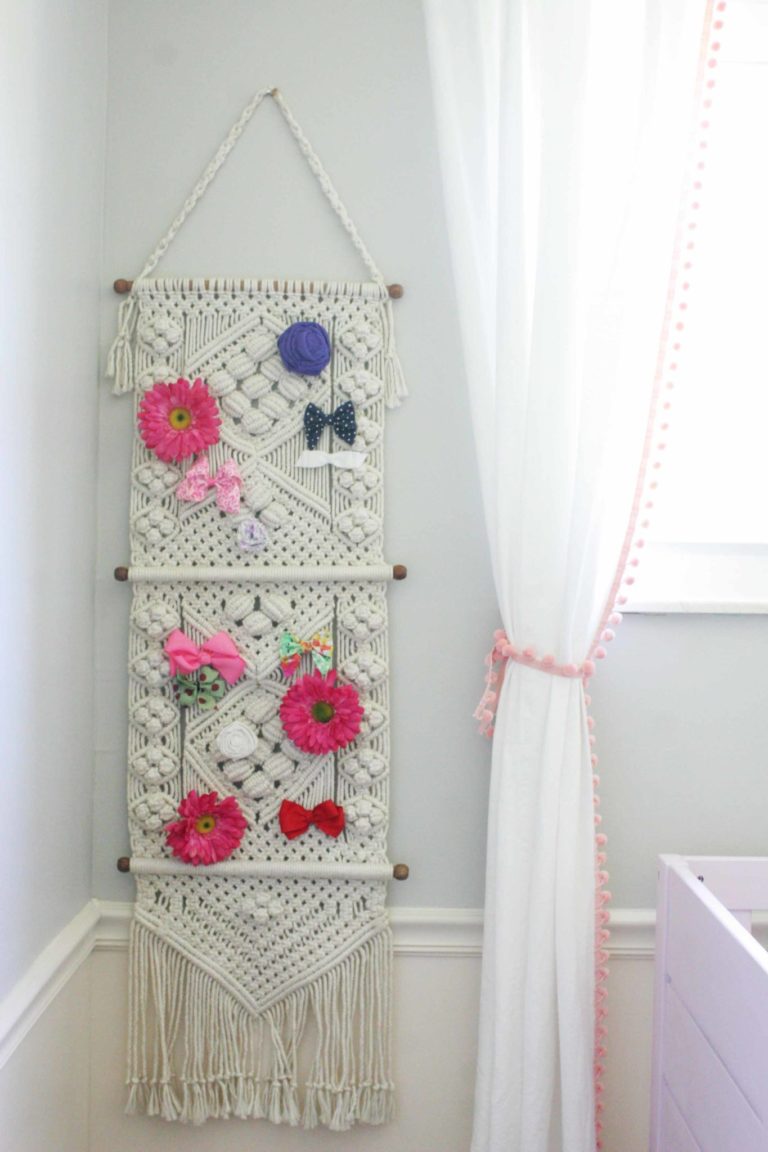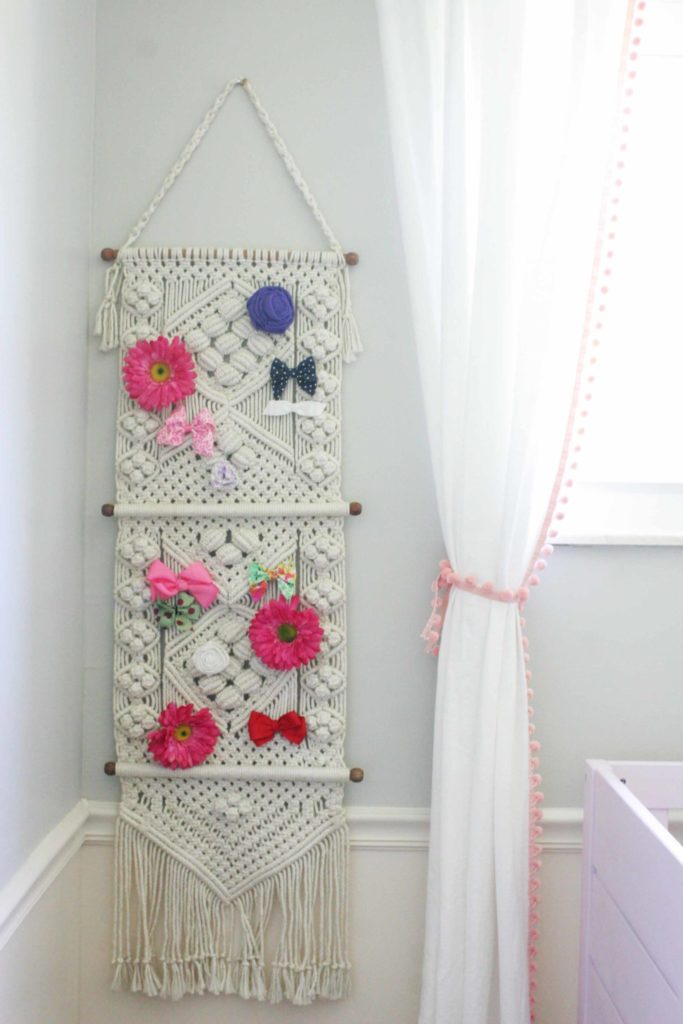 #5: Upcycle Salvaged Architectural Pieces
Also at the Nashville Country Living Fair, I grabbed a salvaged architectural piece for a few bucks. It's small, so I attached a single cup hook into the wood to hang one of my daughter's necklaces. If you find a larger architectural piece, attach several hooks and hang more jewelry.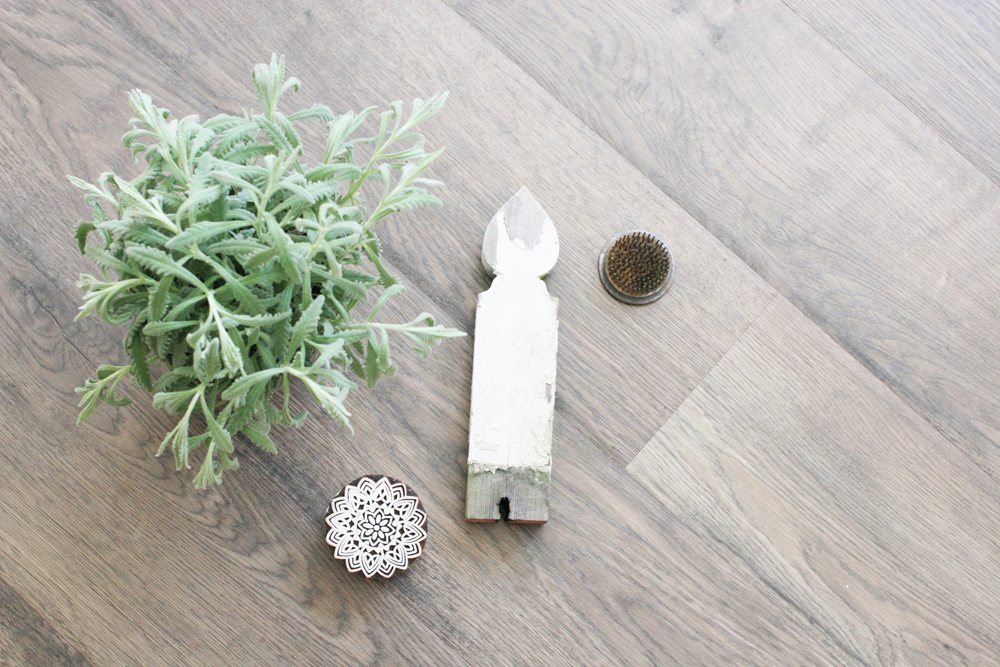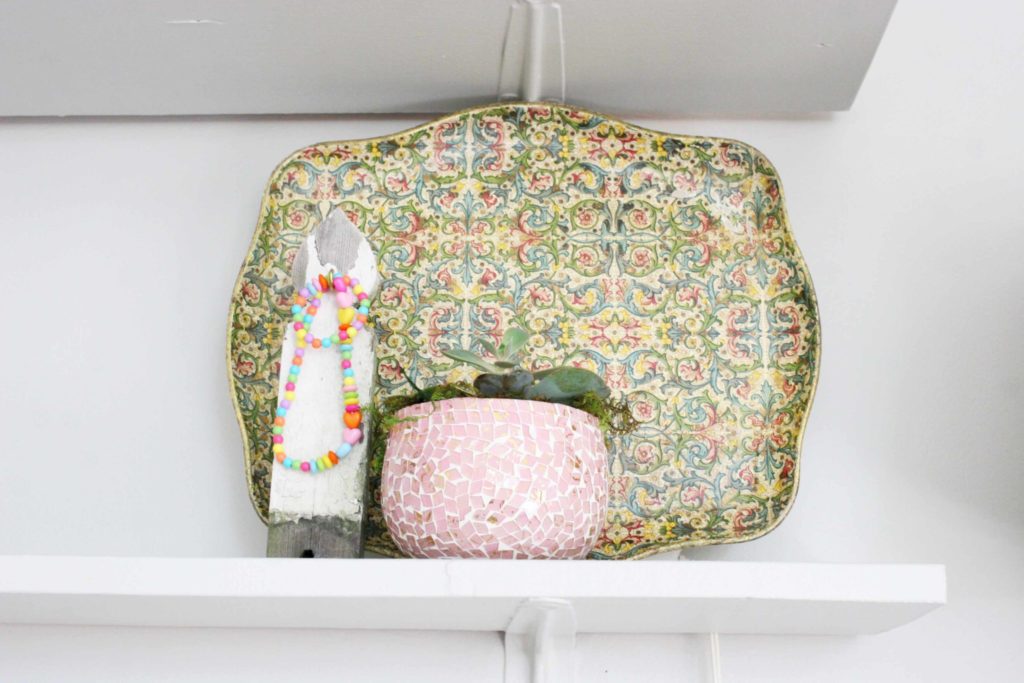 [Tweet "10 Quick and Easy DIY Projects for a Nursery on a Budget #creatingahome"]
#6: Upcycle Pages from an Old Calendar or Book
The focal point of one wall in my daughter's bedroom is a gallery-style display of prints from an old calendar. The floral print on the calendar worked perfectly with the decor in her room. Though calendars may be harder to come by in a Thrift Store, you can always find old books. Search for books filled with maps, botanicals, art, or animals… and any other pictures that may work in your home.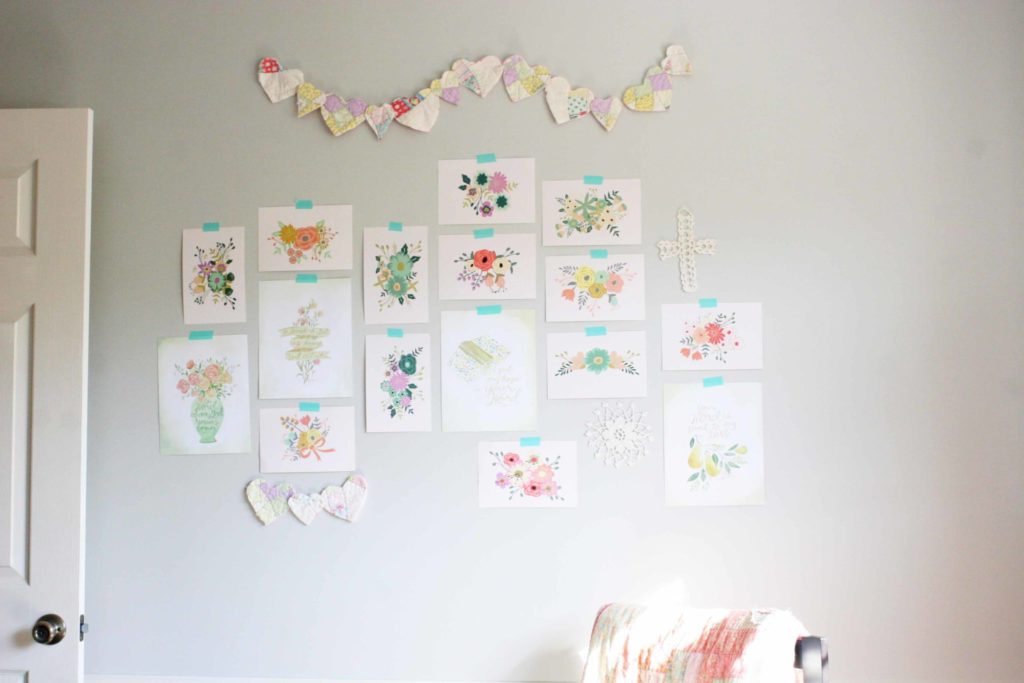 #7: Upcycle Vintage Doilies
Dainty Doilies aren't just for sitting on dusty furniture, and like macrame, they don't have to feel old. Mix it up, and hang a doily on a wall, or in a frame, instead.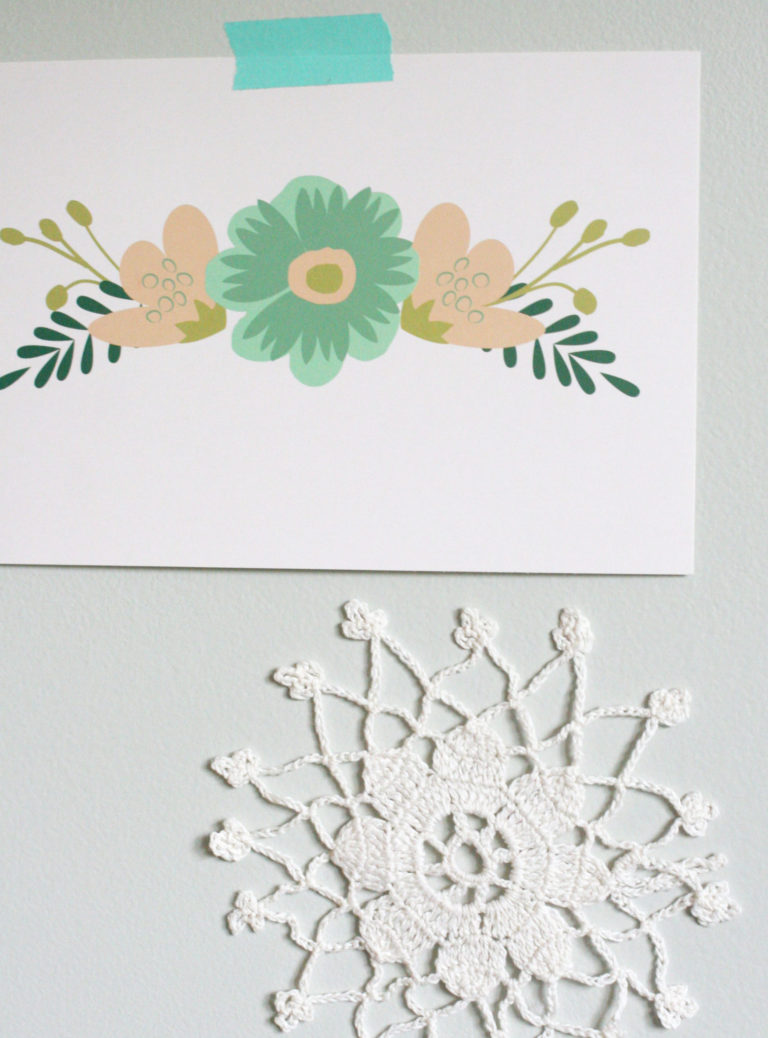 #8: Upcycle Wood Stamps and Letters
Wooden stamps or wood letters from a letterpress can often be found in antique malls and vintage consignment shops. I grabbed a mandala-style wood stamp at the Country Living Fair, with the intention to just stick it on a shelf. Instead, I attached a few dots of sticky tack and hung it in a small vignette around the light switch.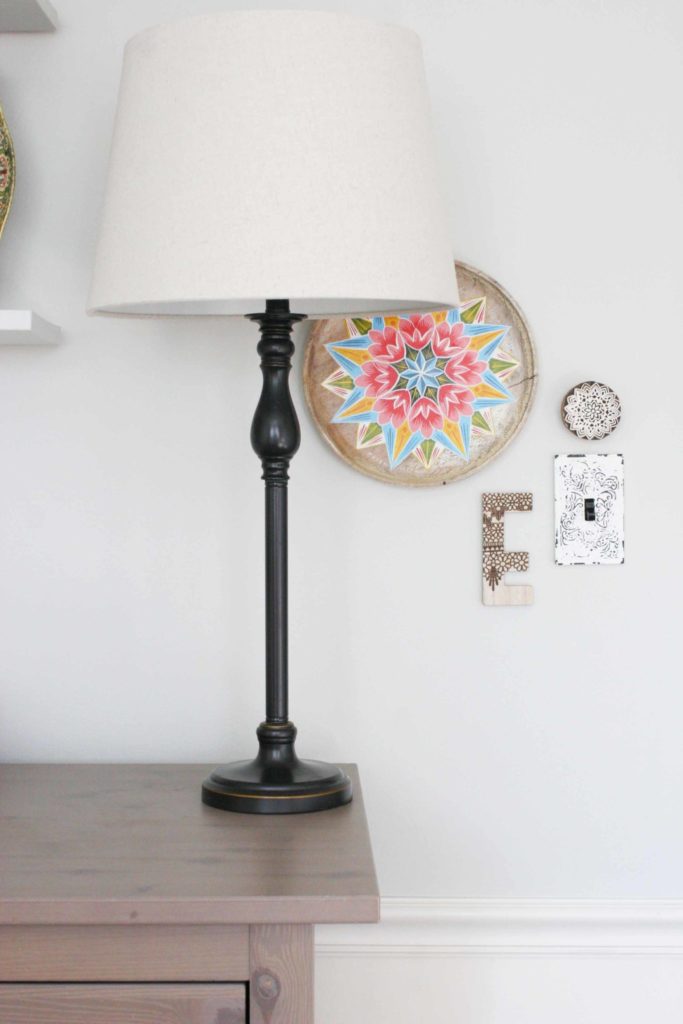 #9: Upcycle Oversized Plastic and Metal Letters
It's hard for me to pass up an affordable letter from an old metal or plastic sign. Hang old letters directly on the wall, or use them as the base for a DIY Project, like a floral initial made from hairbows. This actually warranted a small step-by-step tutorial, but I couldn't leave it out of this roundup.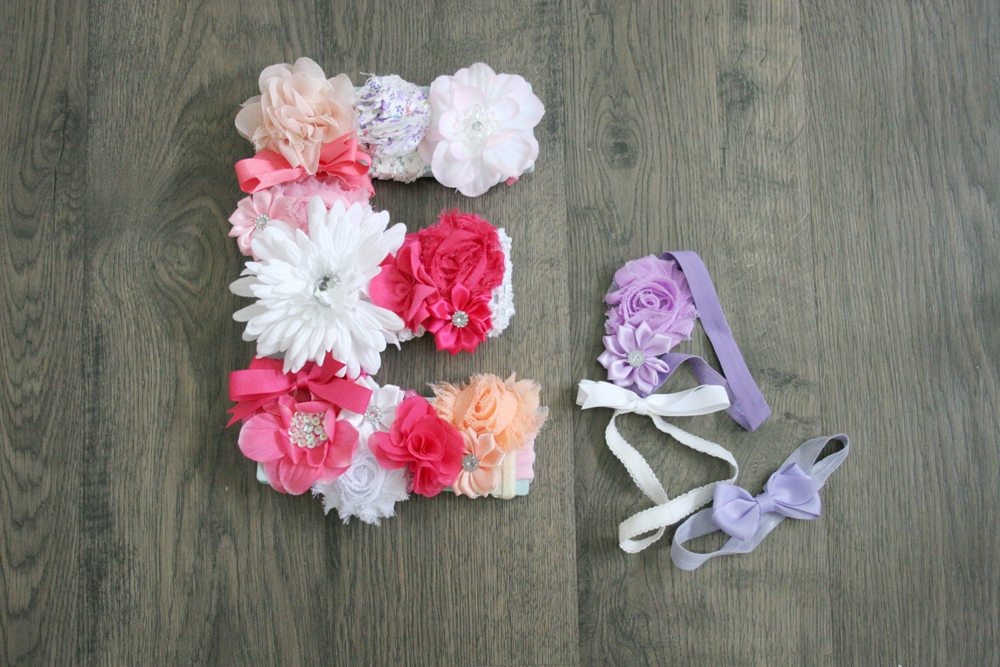 #10: Upcycle Decorative Vintage Trays
Finally, one of my favorite thrift store items, vintage trays can be both functional and decorative. Of course, trays can be used to corral items on furniture; but they can also hang on a wall or lean against the back of a bookshelf.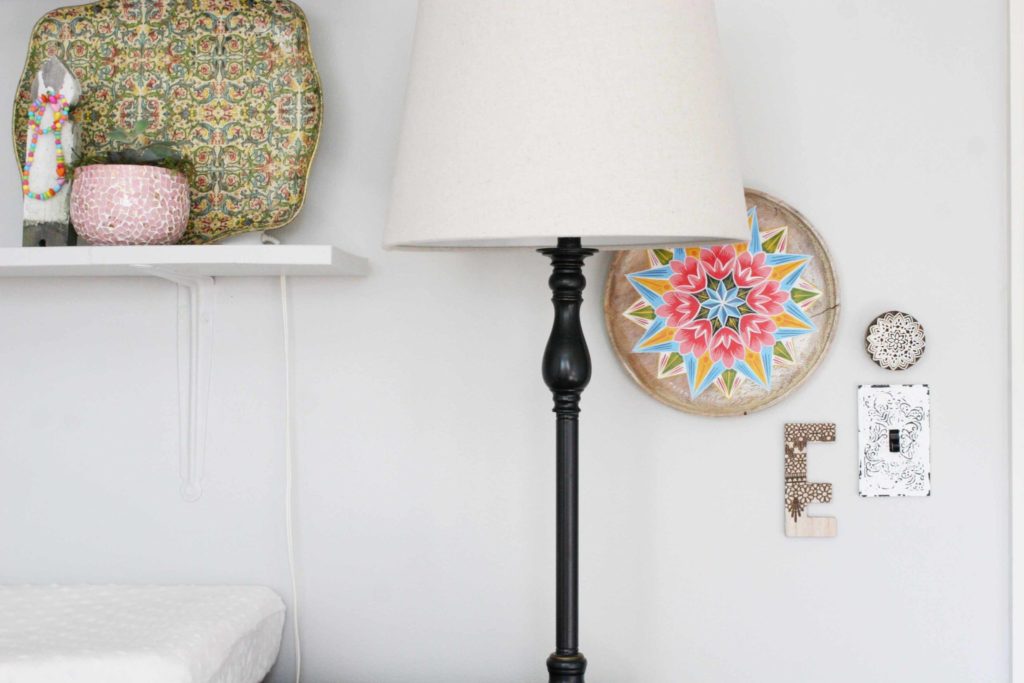 Do you want to remember 10 Quick and Easy DIY Projects from Thrift Store Items?
Are you trying to decorate a Nursery on a Budget?
Pin this Image!

---
And now for more thrifty goodness!
Check out what my fellow upcyclers created below!