Are you trying to decide whether to hike Red River Gorge trails with kids? This 2-day Red River Gorge itinerary is a great family trip within a short drive from Louisville, Lexington, and Cincinnati.
To celebrate the end of the school year, we took a quick 3-day trip to the Red River Gorge (RRG). Only a short 2 hour drive from Louisville, the Gorge and Natural Bridge made for an easy weekend getaway. Our family and friends (with kids ages ranging 7 to 11) completed several Red River Gorge trails of varying difficulty. I'll share those trails, other things to do, where we stayed, and where we ate in this family-friendly 2-day itinerary.
Disclosure: This page includes affiliate links.
Red River Gorge or Natural Bridge State Park?
Both.
The Red River Gorge Geological Area is a popular destination for hikers, campers, and rock climbers with approximately 150 natural arches (only Arches National Park has more!) to explore. With over 60 trails in the Red River Gorge, you can find beginner to advanced level hikes.
Adjacent to RRG is Natural Bridge State Park (download this map for reference) which is a must-do when visiting the Gorge. Natural Bridge State Park is home to a 78 foot long sandstone arch – or bridge – that you can hike to and walk across.
Where to Stay: Red River Gorge Yurts
Have you ever stayed in a yurt? We hadn't. But, Red River Gorge has 3 yurts and it seemed like one of those things you just have to try, right? Kind of like staying in wigwams or glamping (which are also on our list), do it so you can say you did.
So, what is a Yurt? A yurt is a soft-sided, cylindrical, structure that lands somewhere between a tent and cabin. Traditionally, yurts were portable housing used by nomadic people groups in Central Asia, but modern yurts are manufactured to be waterproof and permanent (learn more here).
We stayed in what is dubbed a "luxury yurt" by Red River Gorge Cabin Rentals. Equipped with plumbing, electricity, heating, air conditioning, and a hot tub, we certainly weren't roughing it like the ancients. However, the window at the crown of the roof, the lattice structure, and soft walls made for a memorable, unique, place to stay.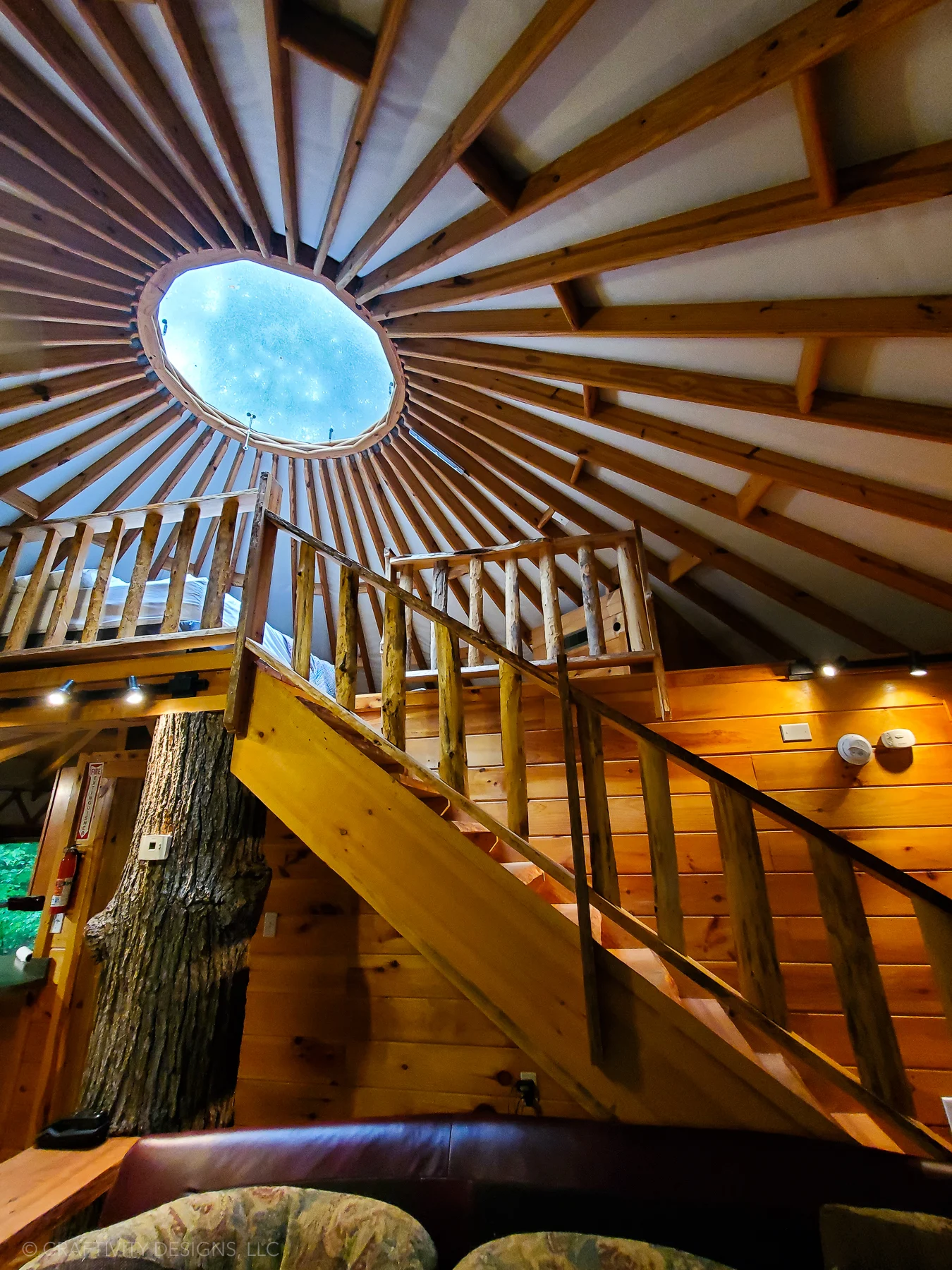 Red River Gorge Yurt Review
We stayed in the Cliffside Yurt. Overall, we were pleased with our stay. Most importantly – the yurt was tidy, we had clean towels and sheets, and the beds were comfortable.
Our kids loved the open loft and their nighttime view through the skylight. The wi-fi was good (this was a bit of a surprise to me because phone service is hard to come by in the Gorge) and we had no problems watching TV.
On the negative side, we couldn't figure out how to work the gas fireplace. This wasn't a big issue, but had it been colder, I would have called to ask for help.
Also, the hot tub was in a bit of disrepair. The speaker covers were missing, the spa lights didn't work, and the spa filtration cover was gone (leaving the filters exposed). Still, we used it both nights.
During heavy rain, a couple windows leaked (yurts, being soft-sided, might be prone to leaks?). The owners responded immediately and offered to send someone out to fix it. We declined, as we had already wiped up the water and it wasn't much of an inconvenience.
So, in summary, we definitely enjoyed our yurt experience. But, to give it a 5-star review, I'd want the hot tub in good condition and be able to enjoy the warmth of a fireplace.
Other Places to Stay in Red River Gorge
Where will we stay next time? I'd love to give the Hemlock Lodge a try. Located in Natural Bridge State Park and built in the 1920s, the lodge is full of history with spectacular views. We visited twice while we were in Red River Gorge, and my kids were eyeing the large swimming pool (what kid doesn't like a pool vacation?).
Plus, the trailhead of the Original Trail is located in parking lot of the lodge. This trail to Natural Bridge is one of the most popular hikes in Red River Gorge.
What to Do in Red River Gorge with Kids
Alright, let's get to the fun stuff! We arrived late-afternoon and stayed two nights in the Gorge, allowing us about 2.5 days of touring. However, heavy rains the first morning kept us inside the yurt until lunchtime. With that in mind, you could easily accomplish these Red River Gorge trails and additional activities in 2 days.
Day 1 Itinerary
Hemlock Lodge
Stop by the Hemlock Lodge to check out the gift shop, pick up trail maps, and grab the weekly park event schedule. On the schedule, you'll find activities and Ranger Talks for kids and families. Pick at least one activity to include in your 2 days of touring the Red River Gorge. We chose "Turtle Talk" at the Woodland Center. While you're here, hit the bathrooms before heading out on your first hike.
Price: Free | Time: 30 minutes
The Original Trail
Once you've grabbed the event schedule, head out the back of the Hemlock Lodge to the end of the parking lot. Here, you'll find the trailhead for The Original Trail, an out-and-back hike which takes you to Natural Bridge. You can view the bridge from below the arch, or climb to the top and walk across.
Length (miles): 0.75 | Difficulty: Moderate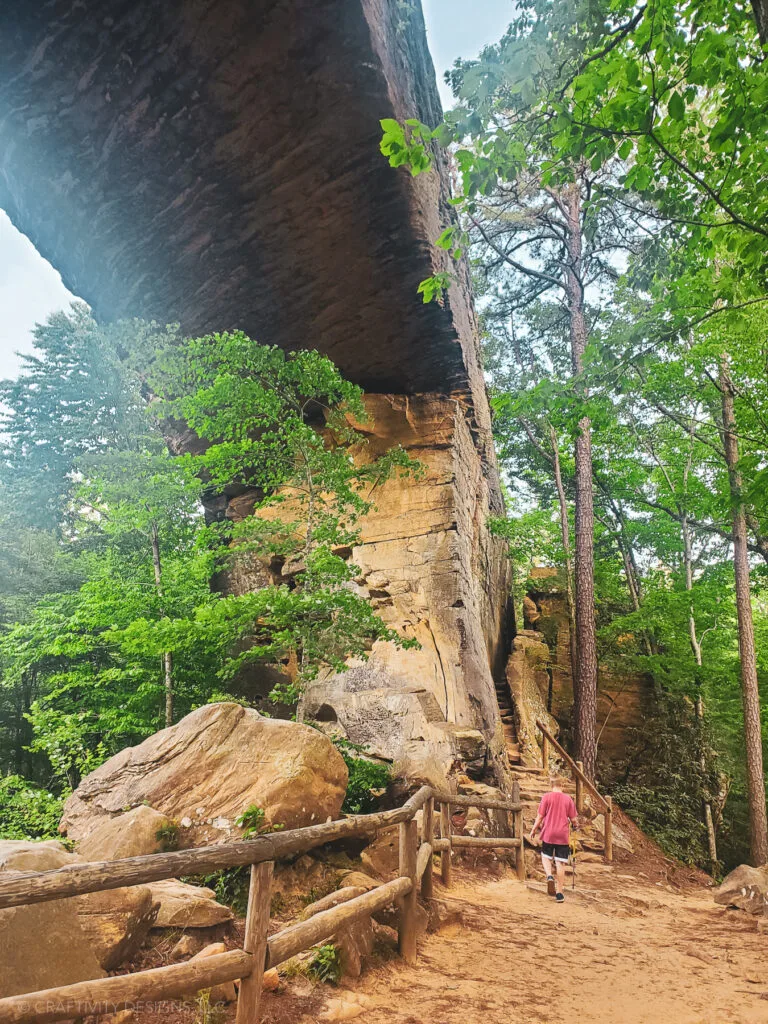 Swinging Bridge
Once you've finished The Original Trail, hop back in the car and drive (less than 5 minutes) to the pool and Nature Gift Shop. Next to the parking lot is a swinging bridge (and trailhead to the Lakeside Trail, if you're interested). The bridge is a fun stop for the kids and a great photo spot. Also, grab candy or ice cream in the Nature Gift Shop if you're in the mood for a treat.
Price: Free | Time: 30 minutes
Natural Bridge Skylift and Gift Shop
From the swinging bridge parking lot, get back into the car and follow signs to the Skylift. We actually skipped this attraction due to mine and my daughter's fear of heights. However, if your group can handle the heights, it would provide some incredible views. Even if you don't ride the Skylift, this was my favorite gift shop. Also, there is mini-golf course next door. It wasn't open while we were there, so call to check the hours.
Note: You could also start your trip here. In that case, purchase a 1-way ticket ($11). Then, hike down The Original Trail to the Hemlock Lodge.
Price: $17 adults, $14 child round-trip | Time: 1 hour
Miguel's Pizza Restaurant
Hungry yet? Now that you have the lay-of-the-land, head over to Miguel's for lunch. Yes, it's a Pizza Restaurant, but they've also got sandwiches, salads, and pasta (as well as a wide array of bottled colas – try the Blackberry Ale-8-One). While waiting for your food, the kids can play on the basketball court or in the grass. At the outdoor tables, you can chart the hikes that you'll tackle in the afternoon.
Price: $ | Time: 1 hour
Angel Windows
From Miguel's, set out for your afternoon hike(s). We were tight on time due to rain and selected Angel Windows. This short, easy trail is an out-and-back hike that leads to window-like rock formations. If you've got more time, head over to the nearby Whistling Arch Trail, next.
Length (miles): 0.6 | Difficulty: Easy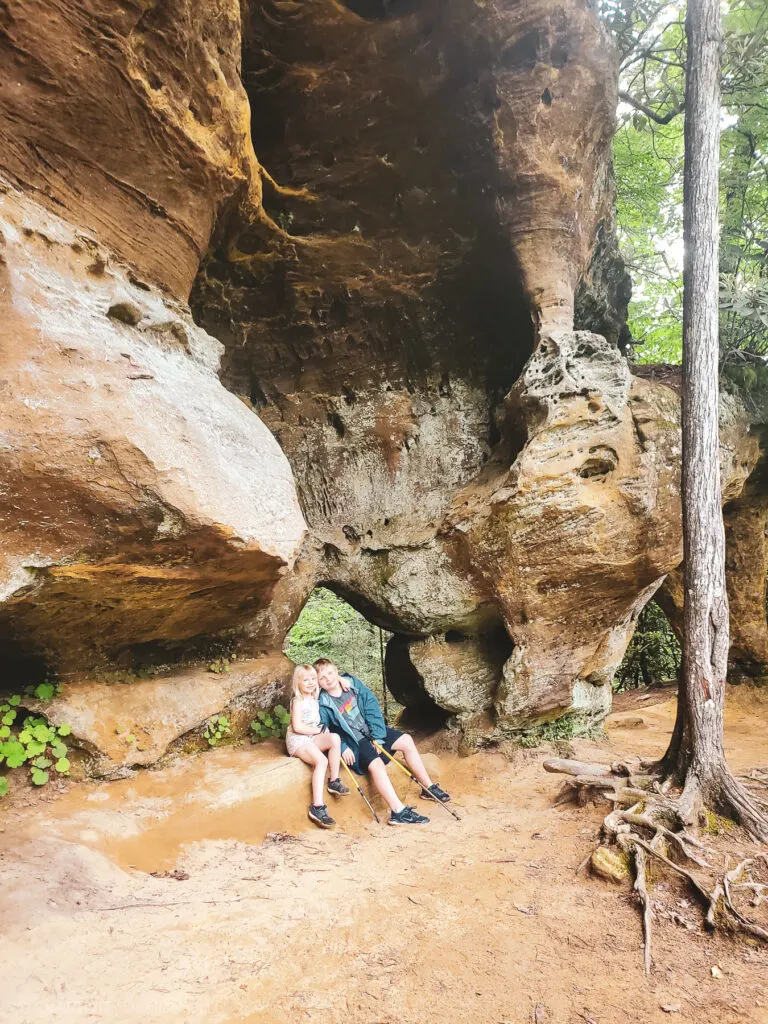 Tunnel Ridge Road Lookout
Once you're done hiking for the day, head to Tunnel Ridge Road. Drive 1.2 miles along Tunnel Ridge Road to the Tunnel Ridge Road Lookout. Enjoy the scenic view of the Gorge, and grab a few photos, too!
Price: Free | Time: 30 minutes
Nada Tunnel
Next, drive 15 minutes to Nada Tunnel (IMPORTANT: You'll have to get back on Campton Road – Tunnel Ridge Road does NOT go to Nada Tunnel). This single-lane tunnel is a quick "stop", but it's a must-do! Turn on the headlights and drive through this dark, rocky tunnel. The kids will love this unique site (and you will, too!).
Price: Free | Time: 5 minutes (it's a short tunnel!)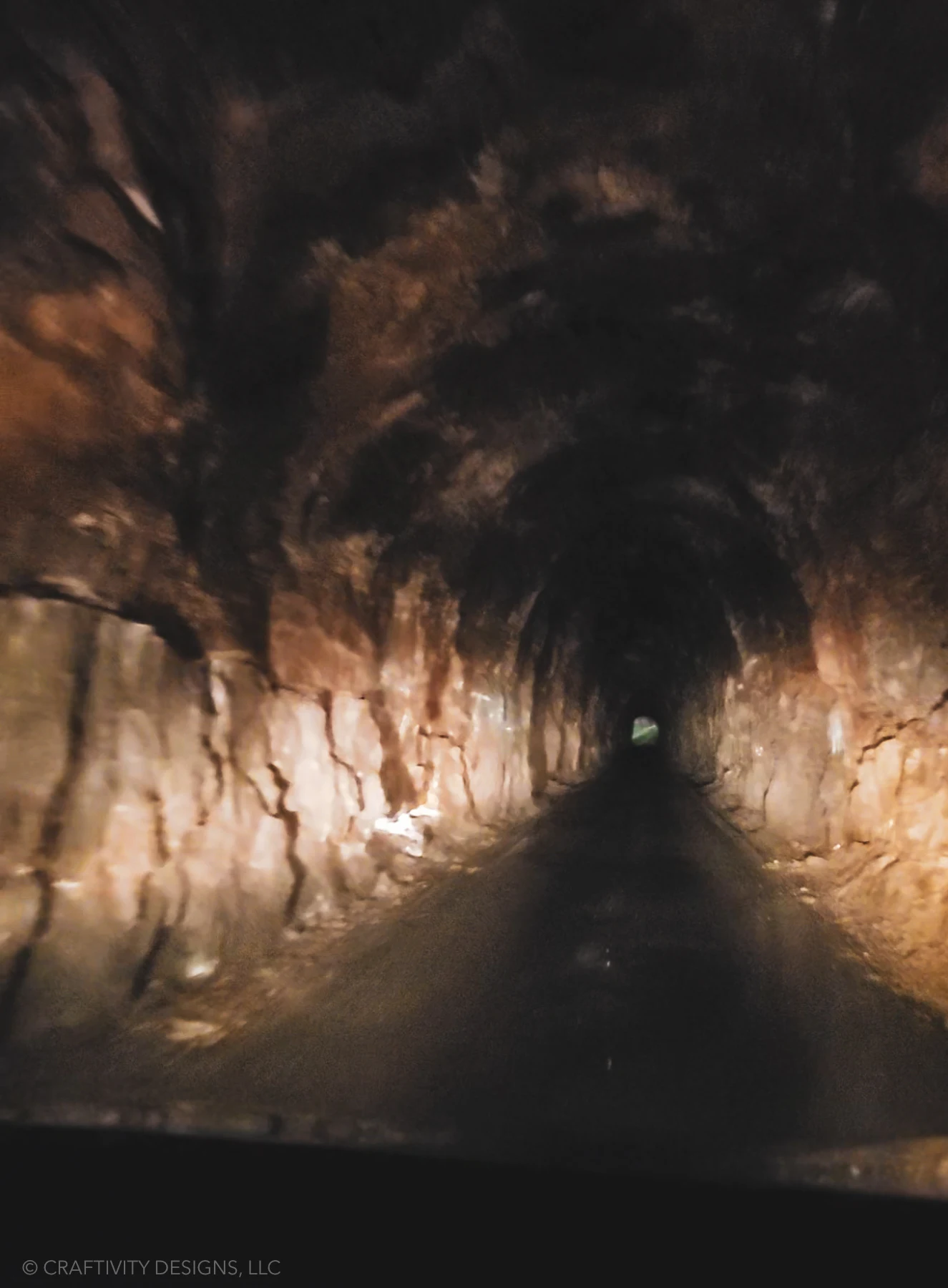 Thatcher BBQ Company
For dinner, try the Thatcher BBQ Company. The menu prices are higher than what you find at Miguel's, but not more expensive than ribs would be anywhere else. We tried the ribs, brisket, green beans, mac-n-cheese, and cornbread muffins; and liked it all!
Price: $$ | Time: 1 hour
Ice Cream at Brandenburg General Store
Finally, wrap up day one with a stop for ice cream. The Brandenburg General Store has gifts, fudge, and bathrooms; with a walk-up ice cream window located out front. Vacation days should always end with ice cream, right?
Price: $ | Time: 30 minutes
Day 2 Itinerary
Daniel Boone Coffee Shop
Price: $ | Time: 20 minutes
Start day two with a visit to Daniel Boone Coffee Shop for your morning brew. If you need breakfast, they've also got an assortment of muffins, baked goods, and pastries.
Gorge Underground Boat Tours
Price: $49+ Adults, $25+ Youth, $10+ Child | Time: 1 hour
After you grab coffee, head over to Gorge Underground for a morning boat tour (make reservations in advance). Our kids thought this was cool and the tour guide did an amazing job (he happily answered all my son's questions, too!). It's dark in there…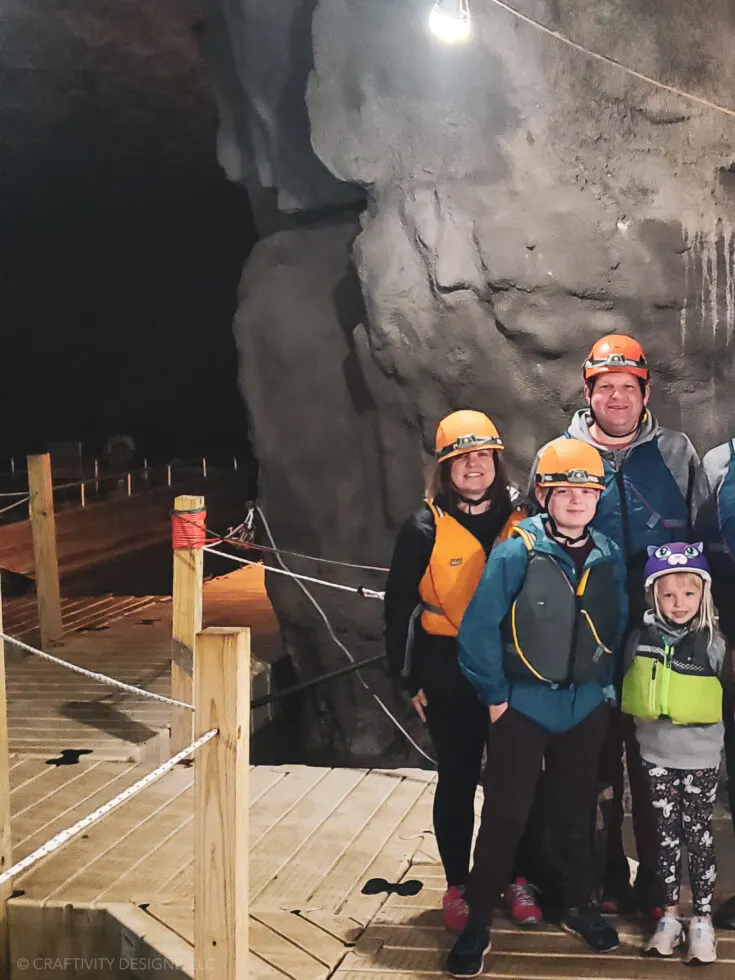 Creation Falls via Rock Bridge Loop
Length (miles): 1.4 | Difficulty: Moderate
After your boat tour, grab lunch to-go or pack a picnic, and head to the Rock Bridge Loop trailhead. This trail is one of the most popular in RRG, and for good reason. The loop includes views of a waterfall, including a great place to play in the water at the top of the falls. Take a break along the route to enjoy lunch, or use the picnic tables by the trailhead.
Hidden Arch Trail
Length (miles): 2.0 | Difficulty: Moderate
A short 10 minute drive from Rock Bridge Loop, the Hidden Arch Trail was our last hike for the trip. It begins flat, but don't let that mislead you. There are some small paths along steep declines, rocks to climb over and up, several wood staircases, and elevation changes. We easily did this hike with kids ages 7-11, but be aware it is more difficult than the 3 previous hikes.
If you'd like to hike more, the Silvermine Arch Trail begins from the same parking lot.
Dinner and Ice Cream
We weren't quite ready to eat when we finished Hidden Arch Trail, but we didn't have enough time for another hike, either. So, we headed back to Miquel's. There is generally a wait after you order, anyhow, and the kids could play while we enjoyed the outdoor seating. By the time the food was ready, we had an appetite.
To close out our trip, we stopped back by the General Store for ice cream. Then said goodbye to the Red River Gorge, until next time!
Must-Do Red River Gorge Trails (and Activities) for Families
So what were our favorite, can't miss, things to do in Red River Gorge? Do you only have time for a daytrip? Need a 1-day Red River Gorge itinerary? Here is what would go on my must-do list.
Best Red River Gorge Trails with Kids
The Original Trail to Natural Bridge
Creation Falls via Rock Bridge Loop
Top Things to Do in Red River Gorge with Kids
Visit the Hemlock Lodge to find times for the Ranger Talks
Take photos on the Swinging Bridge
Eat at Miguel's Pizza Restaurant
Drive through Nada Tunnel
Eat Ice Cream at Brandenburg General Store
If you liked this creative travel idea, you might also like:
Want to save these Red River Gorge trip ideas? Pin it!