Is there a hole in your vinyl siding? Learn how to patch a hole in vinyl siding with these simple tips. You'll be able to repair holes in vinyl siding in minutes!
Recently, we painted our front door mint green and removed the shutters that were flanking each side of the door. While our curb appeal was much-improved, we were left with small screw holes in the vinyl. Therefore, it was necessary that I learn how to repair holes in vinyl siding.
Each shutter had 6 screw holes, amounting to a total of 12 very visible holes in our vinyl siding – right at our front door. In such an obvious location, we needed to patch the holes in vinyl siding and camouflage the repair. Hopefully, the prior damage would become nearly indistinguishable.
Disclosure: This page includes affiliate links.
How to Repair a Hole in Vinyl Siding
Vinyl adhesive caulk is the best product to repair holes in vinyl. In some cases, caulk can be purchased directly from the manufacturer of the vinyl siding so that is an exact color match.
In our case, we didn't install the siding on this house. I'd expect that most of us "inherit" our siding when we purchase a house. Therefore, specific information about the vinyl siding isn't available.
So, what can be done if you don't know the manufacturer or exact color? In that case, you'll need to utilize a process of trial and error to color match the vinyl siding.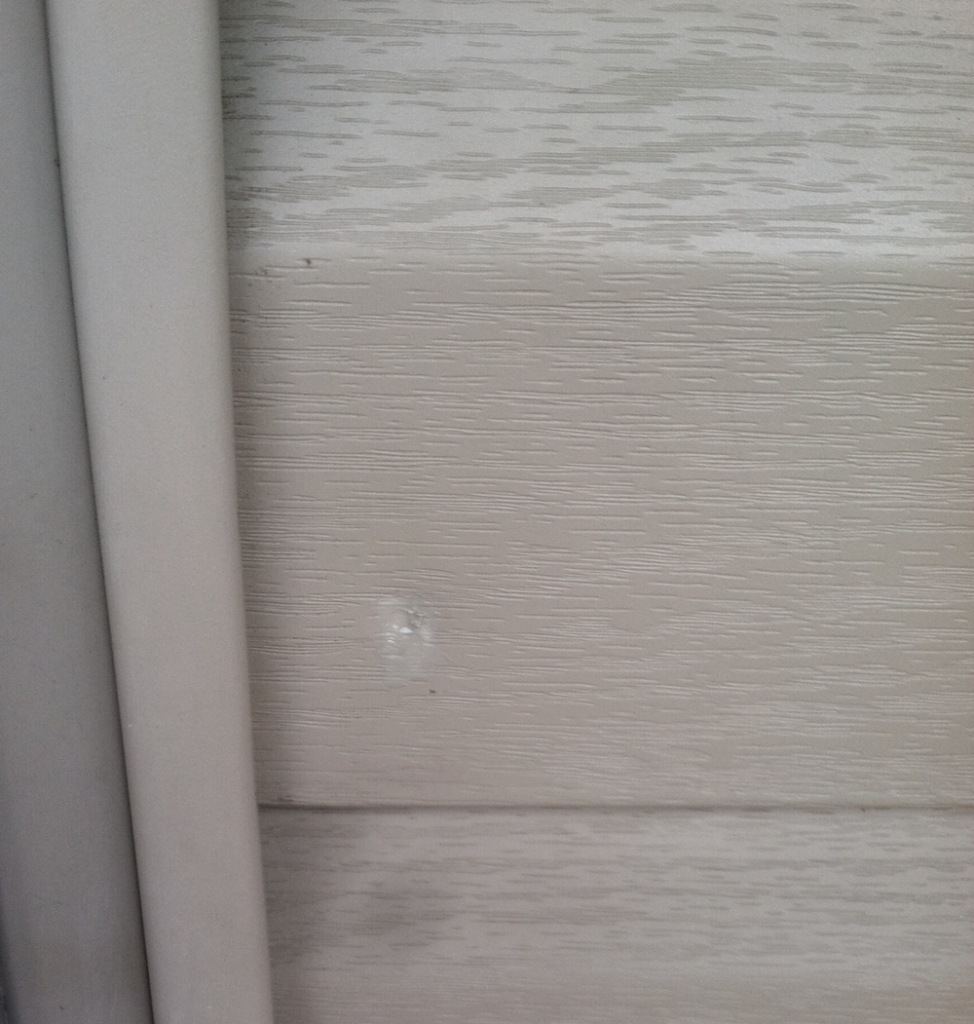 Supplies
Instructions
1. Select a Vinyl Adhesive Caulk
There are several standard shades of vinyl adhesive caulk. Select the caulk color which is closest to your vinyl. In our case, the almond color was the closest match.
If you can't find a vinyl adhesive caulk color that is similar, select it by color depth. For example, if you have dark green siding, choose a deep tone (such as gray caulk).
2. Apply the Caulk to the Vinyl Siding
Once you've selected a color, apply the caulk to the siding. Squirt the caulk into each hole and make sure to fill the hole completely. The caulk is what will prevent water from seeping behind the vinyl.
3. Wipe the Excess Caulk
After applying the caulk, use a plastic putty knife to wipe off any excess leaving a smooth surface.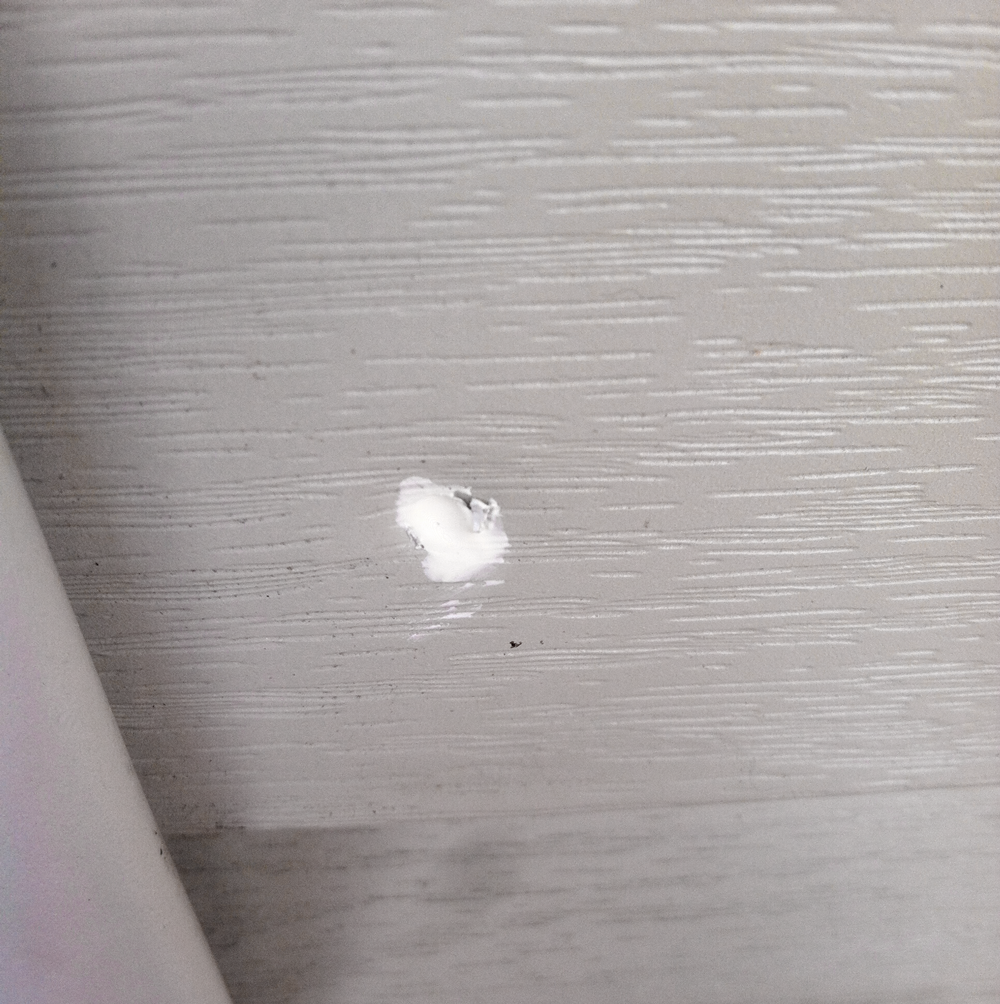 Note: In the image above, you can see how different the almond caulk color is than the siding color.
4. Let Dry
Before painting, it is important to let the caulk dry. Read the instructions on the caulk bottle to determine the recommended drying time.
5. Use Exterior Craft Paints to Color Match
Now its time to make that caulk disappear! Use a process of trial and error to match exterior craft paints to vinyl siding. Before applying, test the color match in an inconspicuous area on your home's siding.
If you can't find a close match, try mixing a few craft paints together in order to create a color match.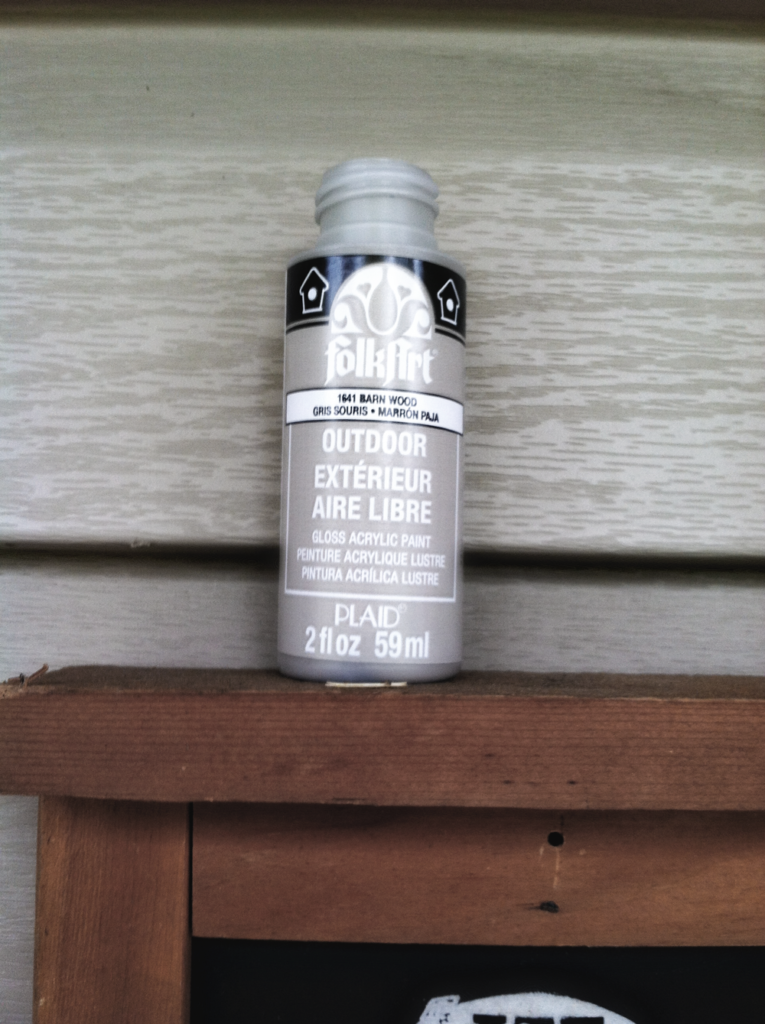 Color Match Vinyl Siding with Paint
For our siding, I purchased several exterior craft paints until I found the right match (we went with a color called barn wood). It's not a perfect match but is close enough to make the repair discreet.
You can get a near-perfect match if you remove a piece of siding and take it to the paint store. This was an option we discussed, but we didn't want to risk the damage to our siding. However, if you have the ability to remove siding (or have an extra piece lying around) a paint store match is a great option!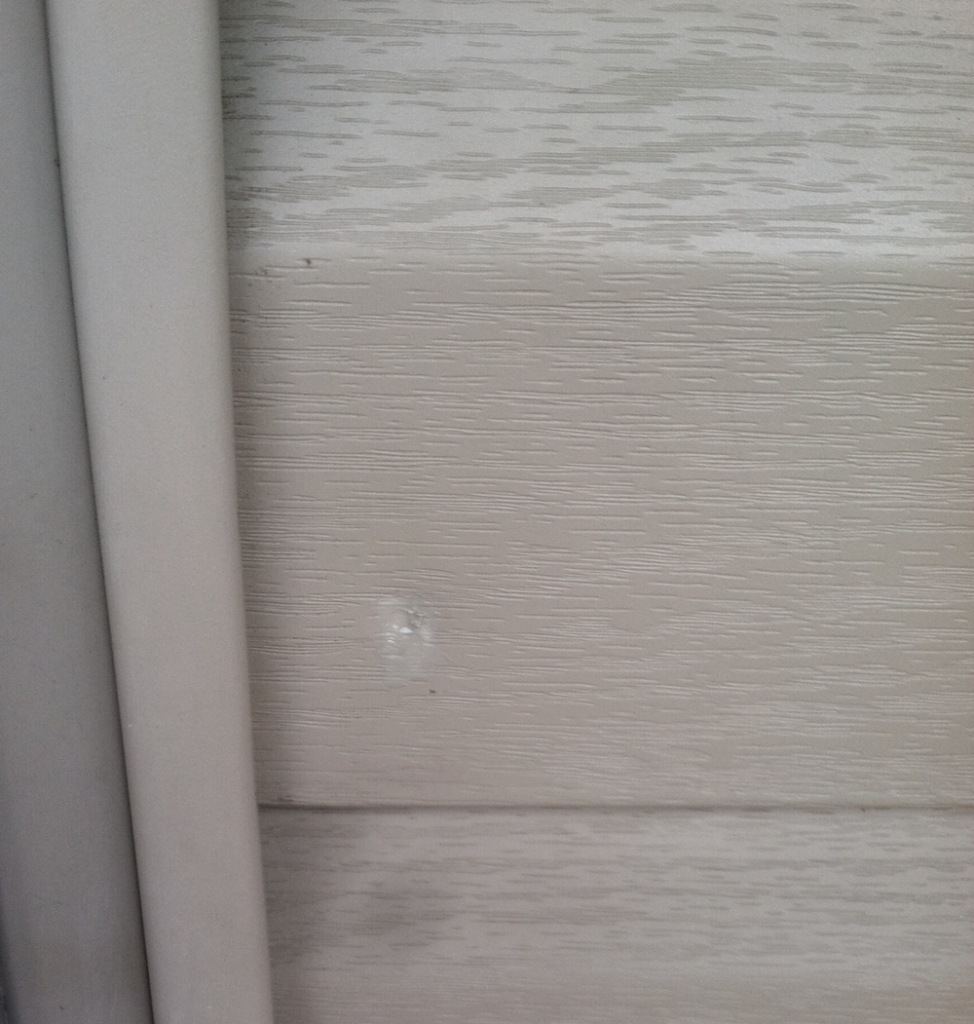 Home Maintenance: Fix Holes in Siding
This small project was one of those annoying little maintenance "to-do" items, but I'm glad we took a few minutes to complete it. It really didn't take that long (outside of a couple trips to the store for craft paint) and it will prevent moisture from seeping behind the siding.
If you liked this exterior DIY project, you might also like:
Want to save this exterior DIY project? Pin it to save it!