A colorful, painted dresser makeover with Arles Yellow. Plus, a review of Annie Sloan Chalk Paint from a first-time user of chalk paint.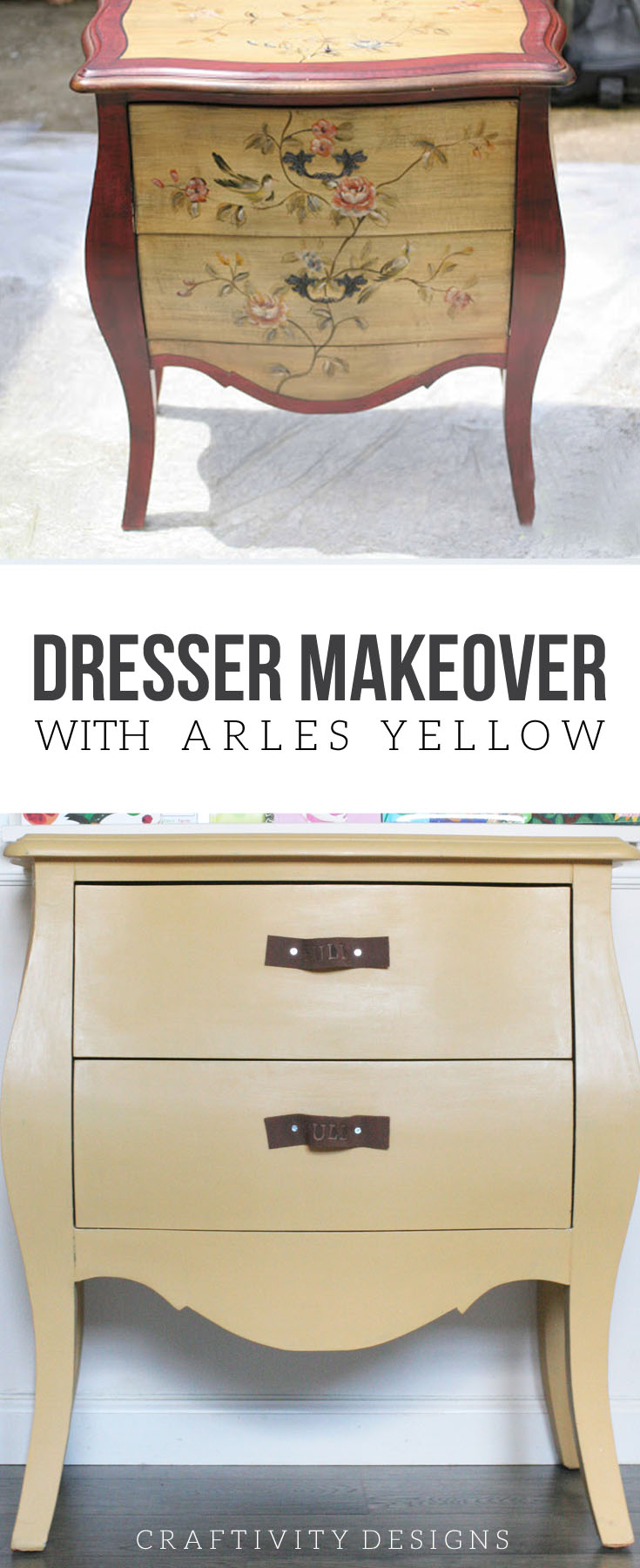 My brother and his wife got Mike and I this small dresser about 6 years ago for Christmas. I have always loved the shape and size of this dresser.


The curves make it delicate and feminine and the size makes it perfect for a nightstand. Mostly it has lived next to the bed in our guest room and the drawers are so nice and big that I keep extra bed linens inside them.
We've been slowly updating our Guest Bedroom (and added a mini-office) so the color scheme has been changing and our curvy nightstand just wasn't fitting in.


I've read so much about Annie Sloan Chalk Paint (ASCP) from other bloggers. Essentially, it's a chalk-y paint — not a chalkboard paint — that will adhere to just about any surface without priming or painting.
So what is the catch, you ask? It is PRICEY — as in $35 for a quart of paint (yes you read that right – a quart). Then, in order to seal the paint, you have to use Annie Sloan Wax which costs another $25.


So I had been a little hesitant to try out this paint that everyone was so crazy about. There is a shop here in Lexington, Liz Douglas Designs, that sells the paint so I decided to stop in and check it out. The owners were incredibly helpful and answered a lot of my questions. They affirmed much of what I'd read about ASCP such as:
a quart of paint goes a long way — depending on the size, you should be able to paint several pieces of furniture
the wax should be used sparingly (it seems that one of the most common mistakes is using too much wax) and will last through several projects also
The color of the paint will deepen a bit when the wax is applied
The owners not only sold the ASCP but they redo Furniture and Cabinetry with the product as well. That was a positive in my mind because they were avid users of the product and not just trying to sell it to me. So that day I left with a quart of paint and the clear wax.


I did do a tiny bit of sanding on the top of the nightstand where it had been damaged and I didn't want that to show through the paint. It took 3 coats to get the right coverage which amounted to about 1/3 of the can.


I was working outside in the sun and the paint dried really quickly. This was nice because I could pretty much go straight from one coat to the next and got the entire project (including the wax) done in one day.
The color I chose was called "Arles." But if you go looking for the color and can't remember the name, it is pretty much the only yellow that Annie Sloan offers (there are only about 30 colors total). **UPDATE: There is a new ASCP yellow called English Yellow.** For many people this is a negative, but honestly I kind of like that the color choices are simple. I've never seen a finished piece in ASCP that I didn't like so I felt confident that I was getting a great color paint.
As opposed to walking into Lowes or Home Depot and having to make a decision between all of these.


So overwhelming.
When it came time to apply the wax, I was nervous. The only wax I've ever applied is to tame flyways where I part my hair. Not the same?
I read a lot of tips online and watched a few tutorials on Youtube and it ended up going really well! Like I'd seen online, I used a plastic spoon and a paper plate.


Simply scoop out a spoonful, smear it onto the plate and dip your brush or rag to spread it over the paint.
There is a special ASCP wax brush that many of the bloggers seem to use. However, it cost another $30 and I just wasn't ready to make that purchase yet. I just used a plain white rag and it worked fine.
I gave the legs and back of the dresser only one coat of wax. The top and the drawer fronts got 3 coats. You can see in this photo how the color deepens with the wax.


I think she turned out just lovely. The yellow is modern and clean, while the curvy shape gives the piece character. Here she is all dressed up in our guestroom.


What do you think?
Check out these other projects for our Guest Bedroom:
– Creating a Mini-Office
– DIY Botanical Chart
– Anthro Inspired Vintage Pillow