In the spirit of the season, today I'm going to share some of the Christmas traditions (both new and old) that I've been a part of this year – and the blessings in each.
Christmas Traditions
1: Our Advent Tree
A few weeks ago I shared a DIY Advent Calendar Tutorial. It has been such a blessing each day — reading scripture as a family and sharing a new Christmas tradition.
It has been a little game of "seek and find" to look for the numbered bag that corresponds to the day. Our little boy is only a toddler, but even though he doesn't know numbers yet, he loves finding the bags on the tree.
2: Sharing with Friends
Some dear friends of mine from high school got together this past weekend for a "My Favorite Things" gift exchange (the Nester blogged about this type of party just a few days ago, here).
I love these girls and only get to see them several times a year. We ate dinner potluck-style and then exchanged gifts that represented some of our favorite things, stuff we can't live without. We set the limit at $5 and I thought it was such a fun, inexpensive way to be able to share our lives through gift-giving.
If you are looking for ideas for a similar gift, here are some of our Favorite Things:
Tide "To Go" Pens
Bath and Body Works Hand Lotion
Bottled Frappuccinos
Burt's Bees Chapstick
Fun Socks
3: Crafts at Christmas
I work as an engineer, but I love to let out my craft-i-ness, and Christmas is the prefect time! My mom (who loves to quilt & sew) and I have been working on a special gift, that I can't wait to share, but I won't spoil the Christmas surprise.

My son has a chalkboard in his room, where he and I get to let out our artistic side. Right now, his is more "modern art" 🙂 but I love to draw with him.
4: Baking, Decorating (& Eating) Together
A friend of ours hosted a Cookie Decorating Party for several families and it was so. much. fun. Our toddler was a little generous with the sprinkles and we had flour everywhere, but it was a blast.
What a great way to spend time with friends and families at Christmas and both the little kids and the big kids enjoyed it. We got some special pictures with our kiddo and some sweet memories.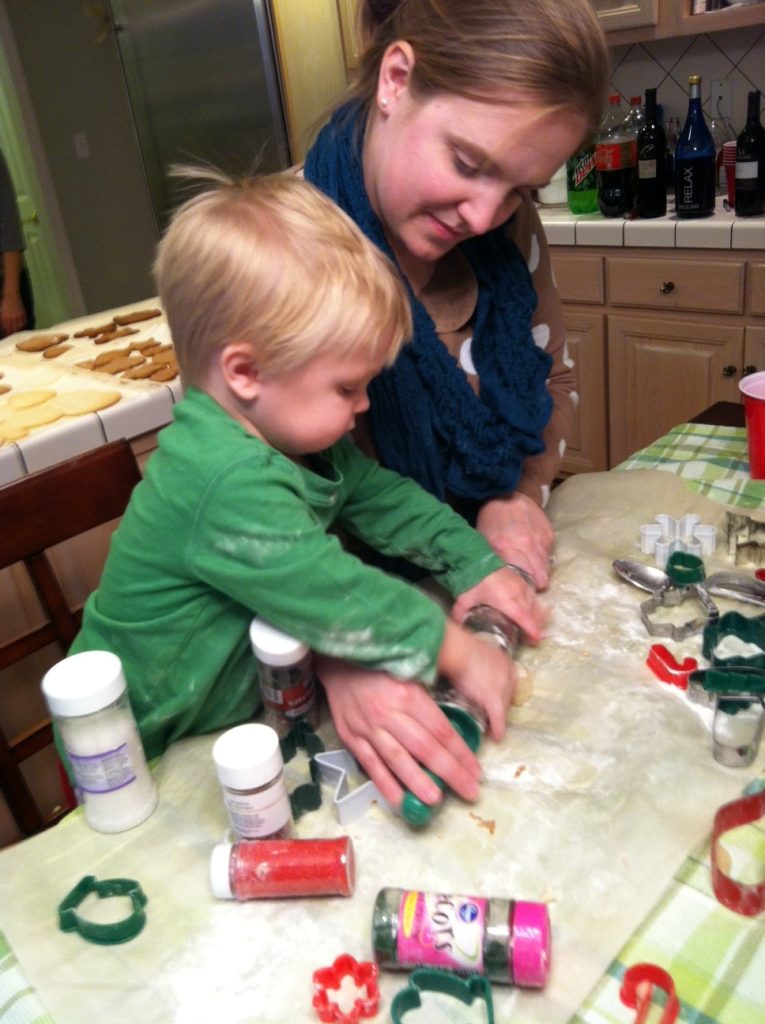 5: Christmas by Candlelight
This may be my most favorite tradition. If we've gotten too busy with everything else, the Christmas Eve Candlelight Service centers us back on Jesus. Knowing Him is the blessing in Christmas.
One of my favorite bloggers, Britt from Gus and Lula, shared a free printable last week. She has an Etsy Shop and I love her artwork. I own a few of her prints and am giving one as a gift this year, too.
She created this printable invitation as a way to invite her neighbors to the Christmas Eve Service at her church.
What Christmas traditions have you been a part of this season?