Store (and display!) all of your books on these heavy duty wall shelves. With these heavy duty shelf brackets, you can install an attractive and sturdy storage solution in a few hours.
Installing wall shelves for books can be tricky, because books are heavy! You need heavy duty shelf brackets to build the shelves. But, of course, you also don't want to sacrifice style in the name of function. There has to be a balance.
When I designed our dark green master bedroom, I knew it had to include storage for books. I do most of my reading in bed, before I go to sleep. Therefore, it makes sense to store our favorite books close at hand.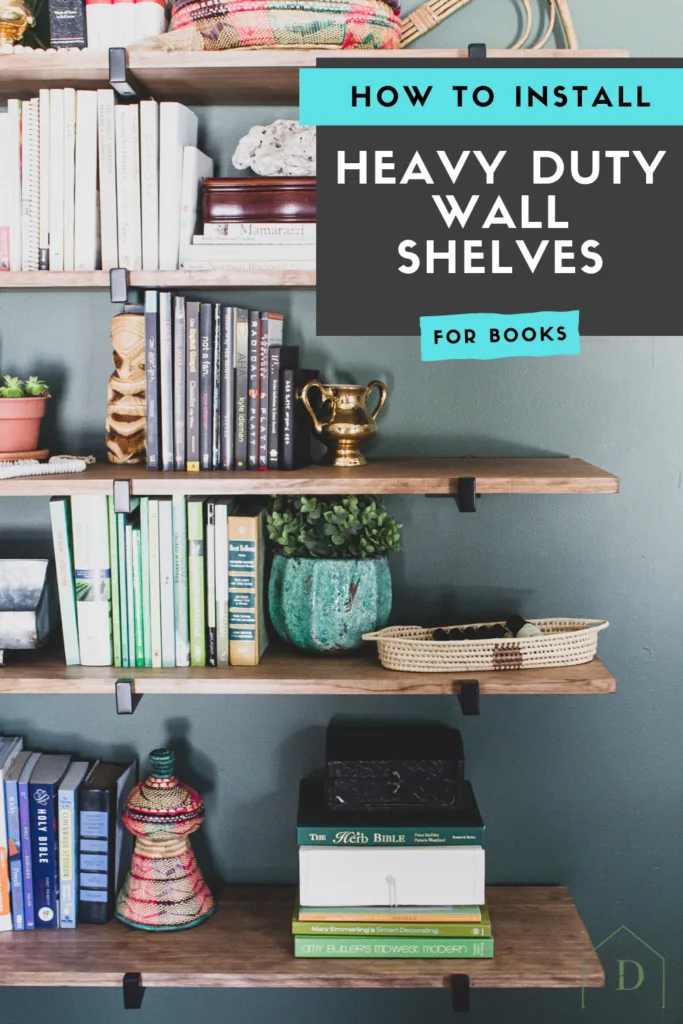 Disclosure: This page includes affiliate links.
As much as that is a practical solution, it also has to be pleasing to the eye. The wall shelves have to blend in with our eclectic bedroom design, grasscloth wallpaper, and dark green trim.
For this DIY project, I sought out the best heavy duty wall shelves that would work with our home's decor. They turned out to be very versatile because I've now used these shelf brackets in 3 different rooms throughout our home.
Heavy Duty Wall Shelves for Books
In order to plan for the installation of wall bookshelves, you must understand how much books weigh and how much weight heavy duty shelf brackets can support.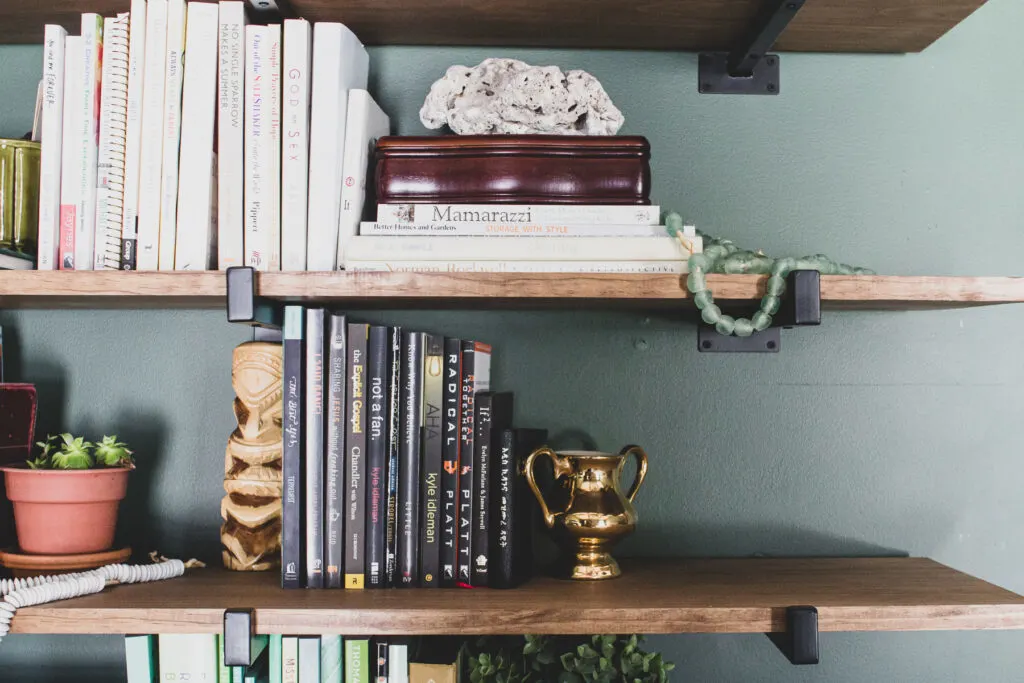 How heavy is a shelf of books?
According to Chilkibo Publishing, A typical paperback is 15.6 oz and a standard size hardcover weighs 1 lb 2 oz. Or, put in simpler terms, 12 inches of standard-size books weighs approximately 20 lbs. Therefore, you can estimate as follows:
| Length of Shelf | Minimum Weight Supported |
| --- | --- |
| 1 ft | 20 lbs |
| 2 ft | 40 lbs |
| 3 ft | 60 lbs |
| 4 ft | 80 lbs |
| 5 ft | 100 lbs |
| 6 ft | 120 lbs |
To store books, depending on shelf length, the minimum weight that a shelf and brackets should support.
How much weight will a shelf bracket hold?
According to the seller, each pair of these brackets can hold 66 lbs, or 33 pounds per wall bracket when mounted using anchors. This weight limit will vary depending on:
How deep is the bracket? Greater depth distributes book weight over a larger space.
What material is the bracket attached to? Wall studs can hold up to 100 lbs. Drywall will hold less.
What hardware is used to install the bracket? Screws should go 1″ or more into the wall stud. Drywall anchor weight limits vary by product (I like this self-drill style which can hold up to 75 lbs).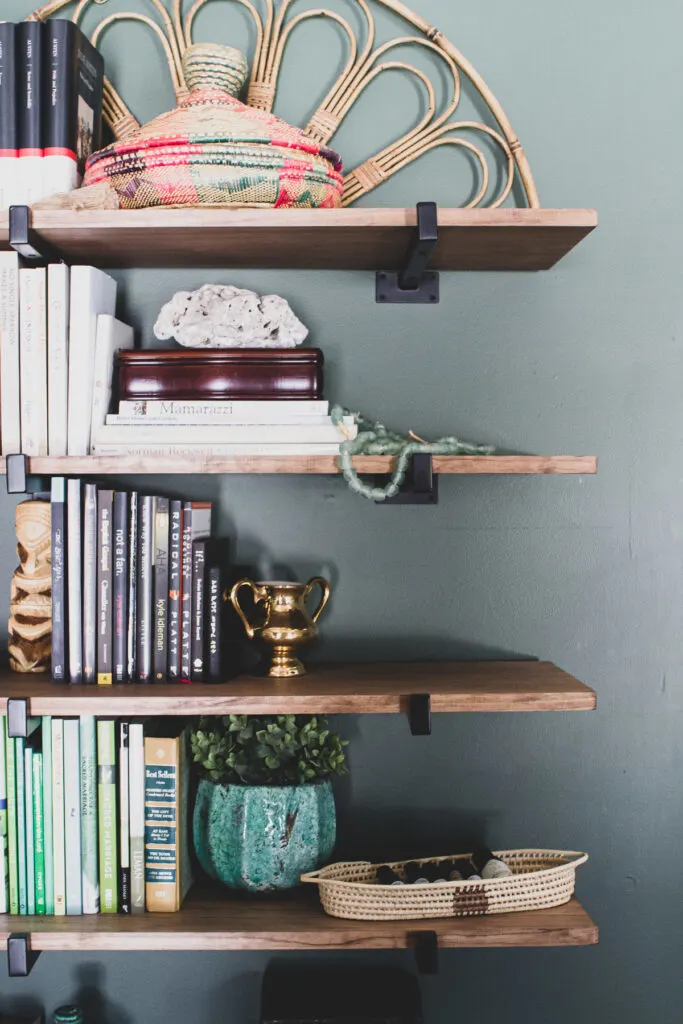 Generally, I use the following line of logic when installing shelves:
I assume that the manufacturer's weight limit is the shelf limit (no matter the depth or material it is installed into).
For example, if my shelf has 3 of these brackets, it can hold 99 lbs.
To add extra support, beyond the 99 lbs, I install each bracket into a wall stud.
I don't fully-load shelves – for both aesthetic reasons and due to shelf weight limitations.
How much Space should be between Wall Shelves for Books?
Before installing your heavy duty wall shelves, it is important to determine how much space will be between each wall shelf. In order to make that decision, you should consider several things:
Standard Book Heights
The most common book size is a 6×9 paperback. Therefore, 9 inches is the smallest distance you'd want between shelves for books. Similarly, shelves should be at least 6 inches deep.
Of course, if you have many larger books, you'll want to make sure you have shelves with more space between them.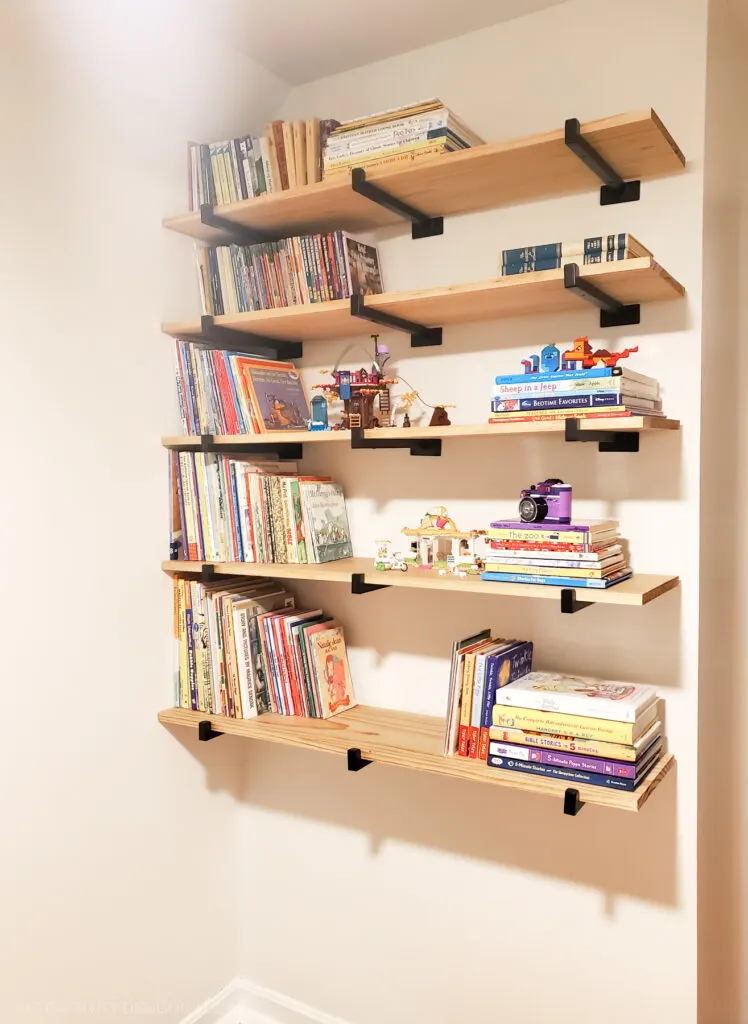 Display Items
Are there any special display items you want to include on the shelves? If so, measure the height of the tallest item. At least one wall shelf will need that much space above it.
Height Allocation per Shelf
I recommend placing the shelves with the most height between them on the bottom. For example, let's say you want a 14″ shelf and and a 12″ shelf, but everything else can be 9″. I'd order it like this:
14″ – 12″ – 9″ – 9″ – 9″ (bottom to top)
If you want more large shelves, such as 3, you can put one on top, like this:
14″ – 12″ – 9″ – 9″ – 12″ (bottom to top)
In other words, the smaller shelves should be located in the middle of the wall shelves.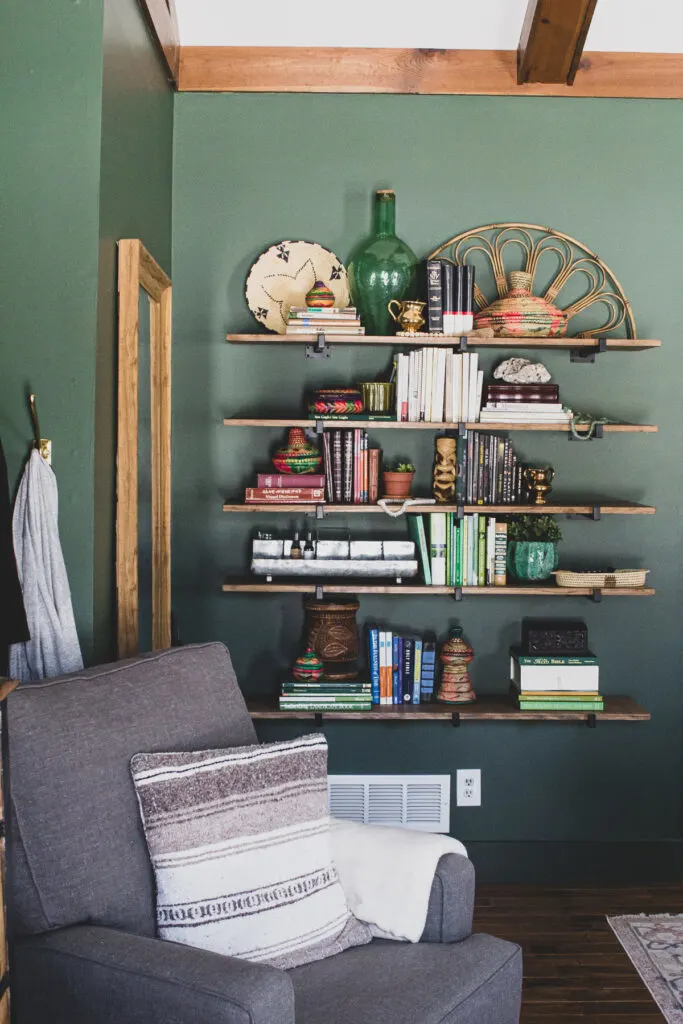 For my shelves, I went with 14″-9″-9″-9″-9″ (bottom to top). The ceiling is high, so our top shelf has plenty of space to display tall items.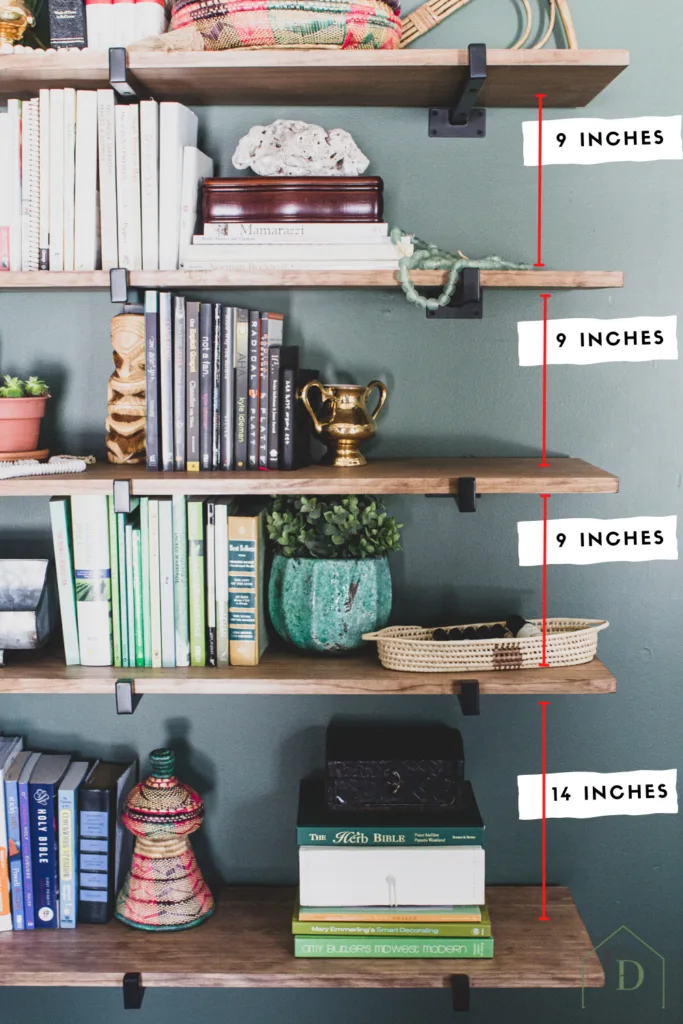 FAQs
Do shelf brackets have to be centered?

No. It is important to install shelves for books into wall studs. Therefore, often, brackets won't be centered. However, focus on centering the shelf on the wall and the bracket locations will not be noticeable.

Also, plan the length of the wall shelf based on the bracket locations. Even though it may not be perfectly centered, you can trick the eye by keeping them approximate.

Our shelves are not centered: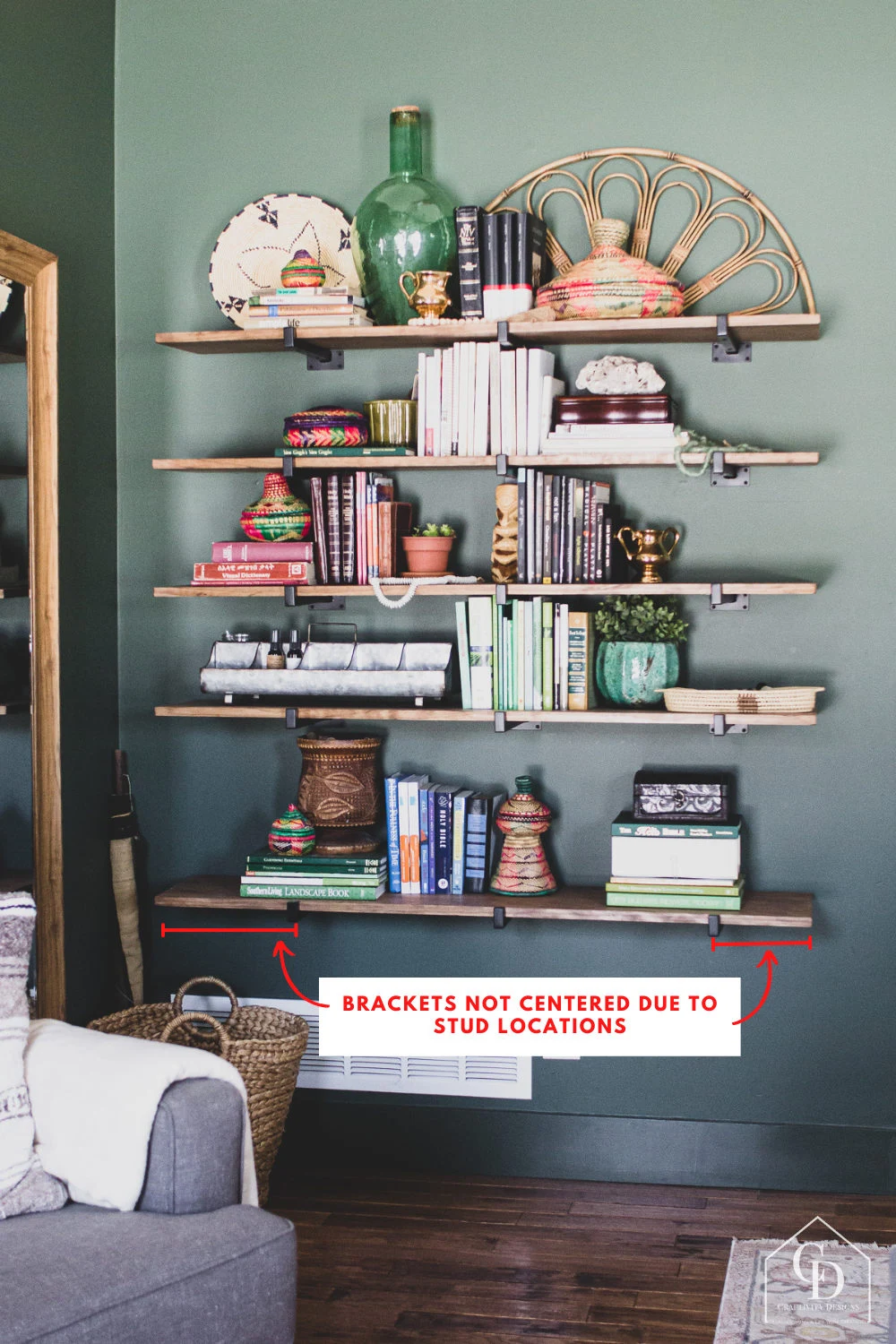 How deep should wall shelves for books be?

I recommend at least 8 inches deep because a standard paperback is 6×9. However, if you have larger books or display items, 10 or 12 inches will be better.
How to Install Heavy Duty Shelf Brackets and Wall Shelves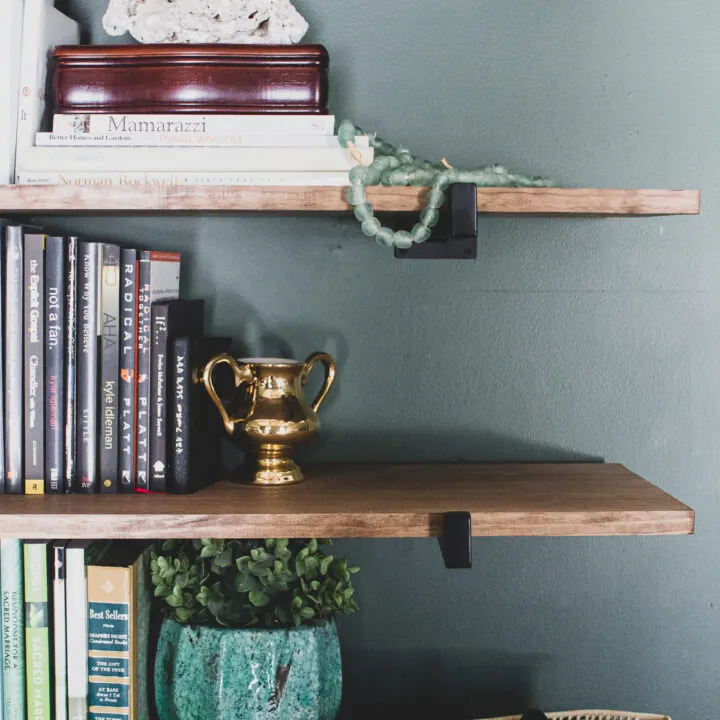 How to Install Heavy Duty Shelf Brackets
Total Time:
2 hours
30 minutes
Store (and display!) all of your books on these heavy duty wall shelves. With these heavy duty shelf brackets, you can install an attractive and sturdy storage solution a few hours.
Instructions
Use the stud finder to locate wall studs for the first shelf.
Mark the wall stud locations with a pencil.
If installing more than one shelf, determine the distance you want between each shelf.
Using the measuring tape and a stud finder, mark wall stud locations for each additional shelf.
Place a level on the wall to check levelness between stud marks (both vertically and horizontally).
After completing steps 1-5, you should have a grid of marks on the wall noting where brackets will be installed. See image (red dots are located where the pencil marks were drawn).
Next, select the starting bracket location. Start on the top row of marks and a center bracket (if more than 2 brackets, otherwise choose right or left). It is best to work from top to bottom in order to give yourself working space.
These heavy duty shelf brackets are wider than a stud. Therefore, only one side of the bracket will be screwed into a stud. Start with that side, and drill ONE HOLE for the first bracket. (If your bracket is narrower than a stud, insert all screws into the stud.)
Once the hole is drilled, insert the screw. Then, place a board atop the bracket to ensure it is level. Adjust the bracket until level, if needed.
Once the bracket is level, mark the other 3 holes with a pencil.
Drill the 3 additional holes. Since the 2 holes on the left are in drywall (versus a stud), drill larger holes to accommodate the anchor.
Slide the bracket over and insert the anchors. Hammer with a mallet if needed.
Move the bracket back into place and screw in the remaining 3 screws.*
Repeat steps 8-13, but add an additional level check during step 9. Check BOTH that the bracket itself is level AND that it is also level with the adjacent (already installed) shelf bracket.
Once all shelves are installed, place the boards on top of each row of heavy duty shelf brackets. Screw the shelves in place, proceeding from the top shelf to the bottom shelf.
Notes
*For inserting screws: A drill with screwdriver bits, a ratcheting screwdriver, or a power screwdriver, will make this process faster and easier on your hands.
Want to save this tutorial for installing heavy duty wall shelves? Pin it!