It's time to freshen up the home with a beautiful spring floral arrangement. You'll want to try each of these gorgeous spring floral arrangement ideas!
Spring is in the air. Bring the fresh scents indoors with a bouquet of flowers. Whether you have blooms in your garden or you grab them at the grocery store; this list of spring floral arrangements will inspire you.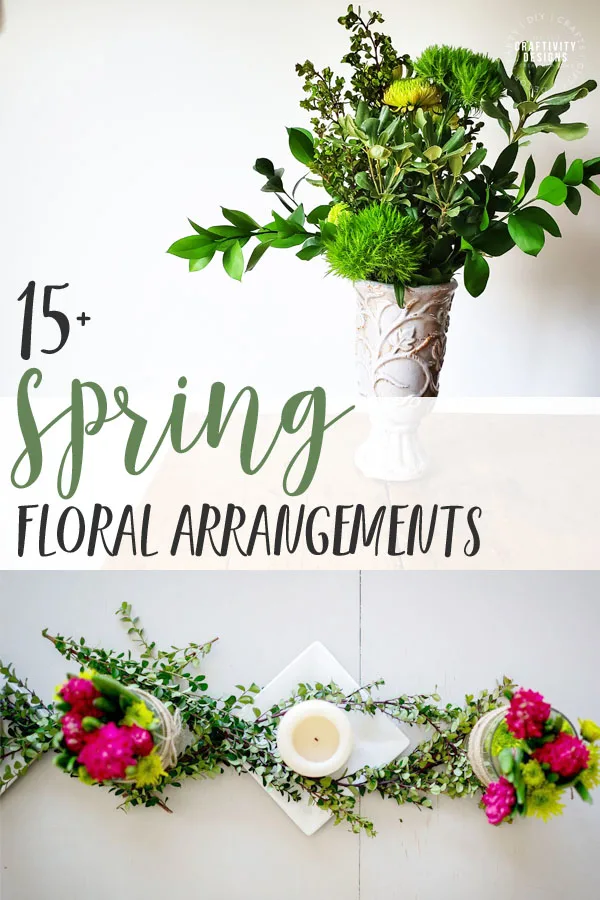 Spring Floral Arrangements
There's no need to schedule a fancy party in order to create a spring centerpiece; just bring flowers into the home for you. Open the windows. Enjoy the fresh air. And breathe the aroma of fresh flowers.
Selecting Spring Flowers
Source spring flowers from you garden, a local store, or a combination of both.
An all-green flower arrangement (#1 in the list below) could easily be collected in your garden. Snip clippings of bushes, trees, and plants to create a fresh green bouquet.
A mix of roses and succulents (#10 in the list below) could be grown in your garden. We have two knockout rose bushes sitting right in our front yard. If I grow some hens and chicks this year, I can create an arrangement of the two.
Also in our front yard are white and green hydrangeas. They'd look lovely mixed with some sprigs of boxwood for a monochromatic arrangement.
15+ Spring Floral Arrangement Ideas
P.S. Once you've read through this list, go check out 13 spring flower centerpiece ideas, too!
If you liked this spring idea, you might also like: