Decorating a room for your daughter? These 15 little girl bedroom ideas will help you plan a room that's practical, affordable, and pretty!
It wasn't long ago that I decorated a room for my baby girl. Shortly after we finished her bohemian bedroom, we sold our house and moved to our current cottage-style home. Now, 2 years in, we've wrapped up my daughter's pink bedroom. I can't wait to show you all of the little girl bedroom ideas from her pink room.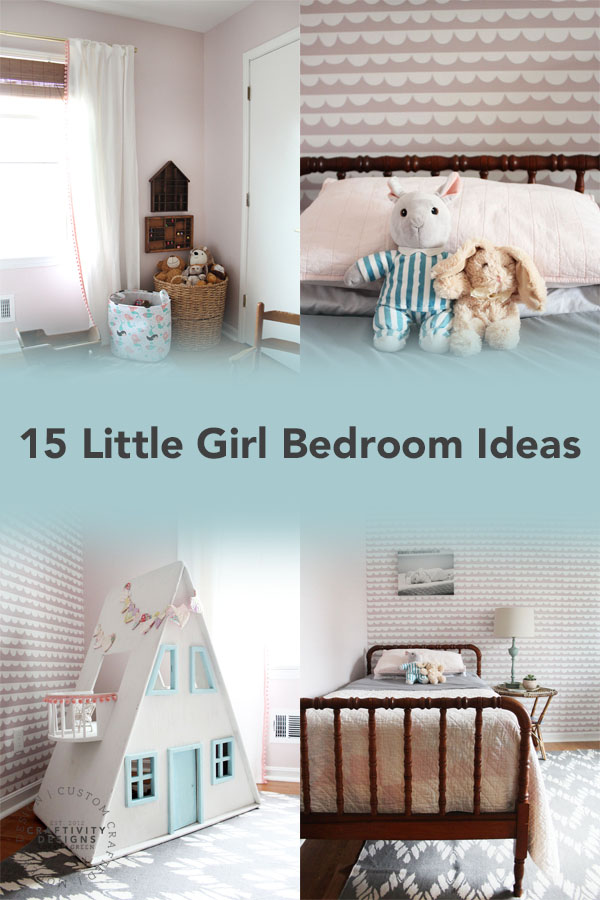 "I want a Pink Bedroom"
Since moving in, my son and daughter have been sharing a room. The second bedroom has been a playroom, but now they are both ready for their own space.
Before we take a look at her pink bedroom, let's take a look at the space beforehand. When we bought the home, the entire house had recently been painted in a neutral white.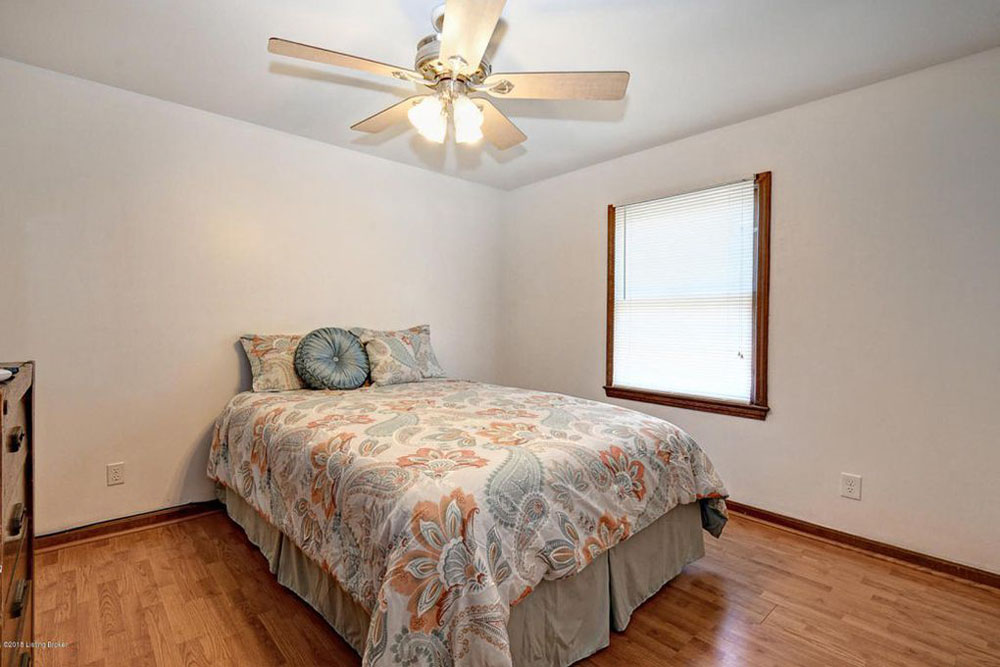 For the first two years, we left the walls as-is, simply adding a bit of personality with bedding, trunks, and a couple of canvas prints.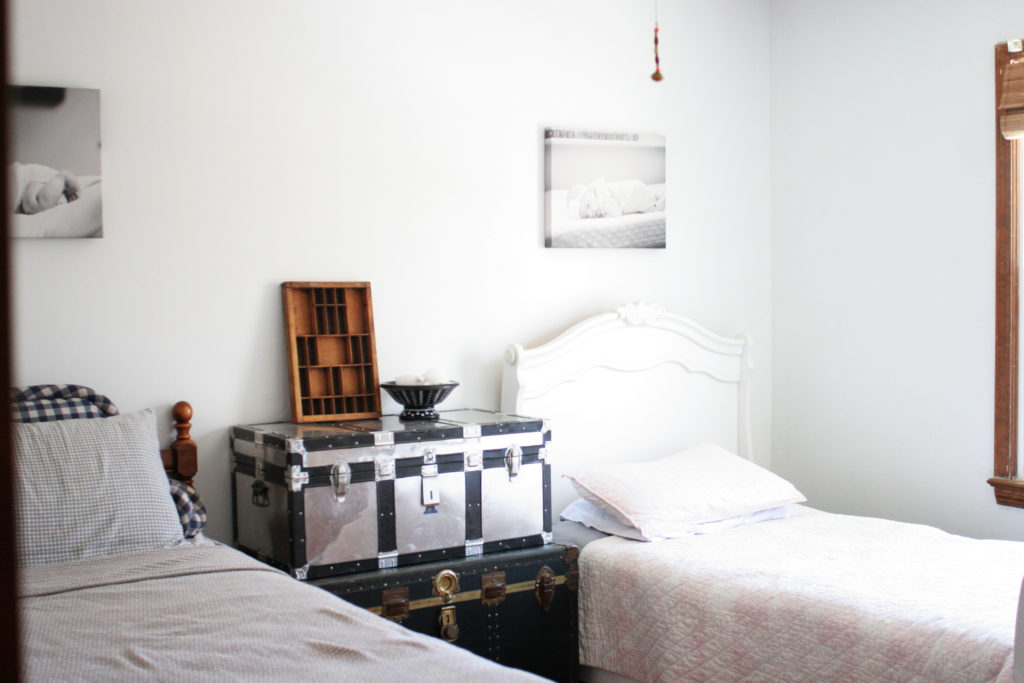 When it was time to split them up, my daughter immediately knew what she wanted for her space – "I want a pink bedroom." While she doesn't get everything she asked for (her second request was a purple bed), I was happy to deliver on a pink girl's room.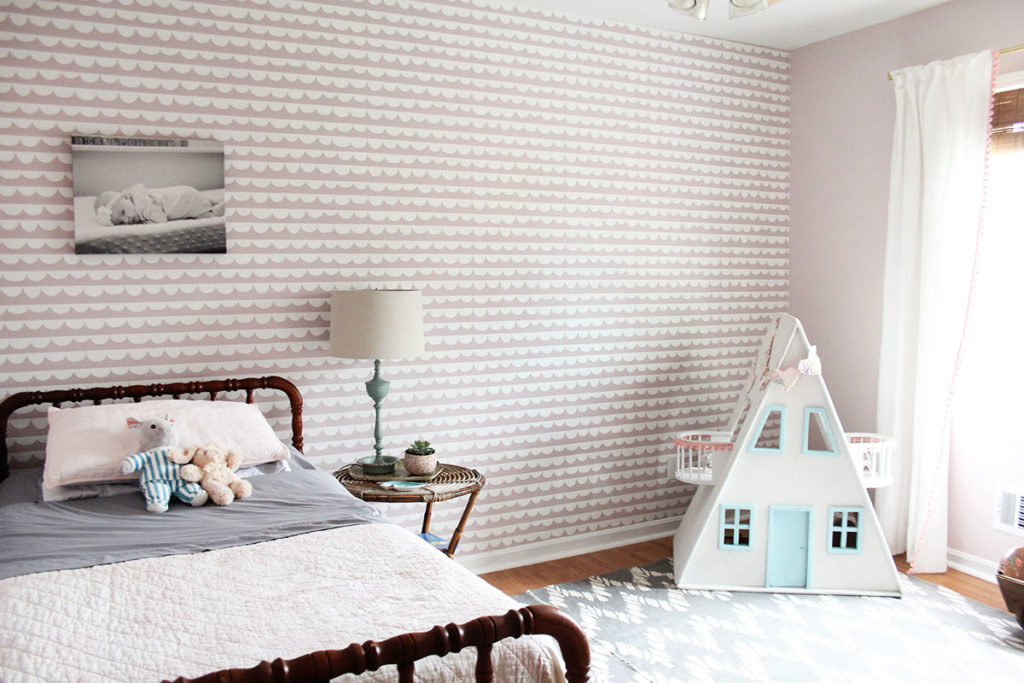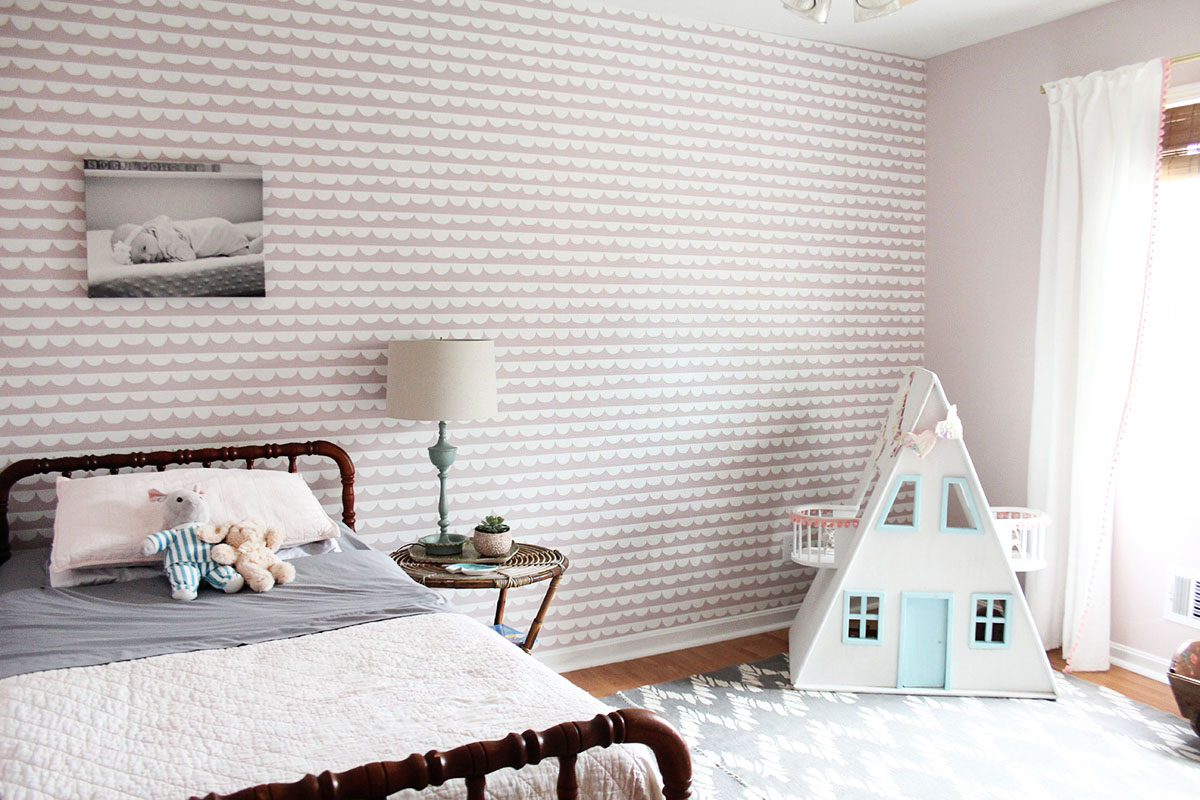 Let's take a look at all the details!
Little Girl Bedroom Ideas
1. Modern Wallpaper
Once we settled on a pink bedroom, I tracked down a mauve pink wallpaper that could grow with her. It's sweet enough for a child and chic enough for a teen.
A modern take on waves, it feels vibrant and youthful, even though the color palette is muted.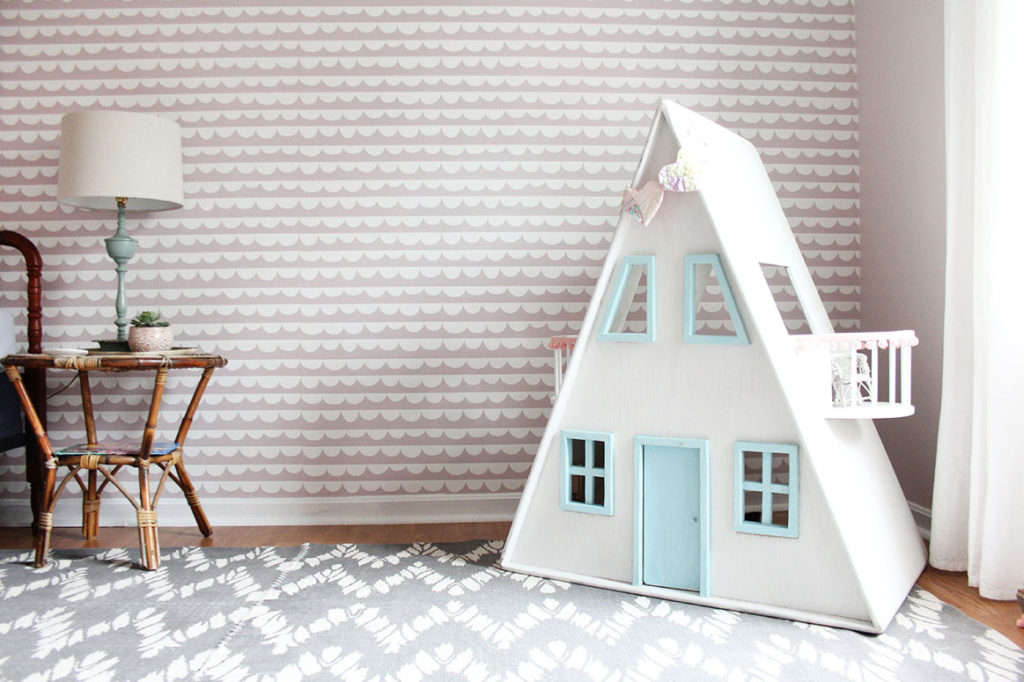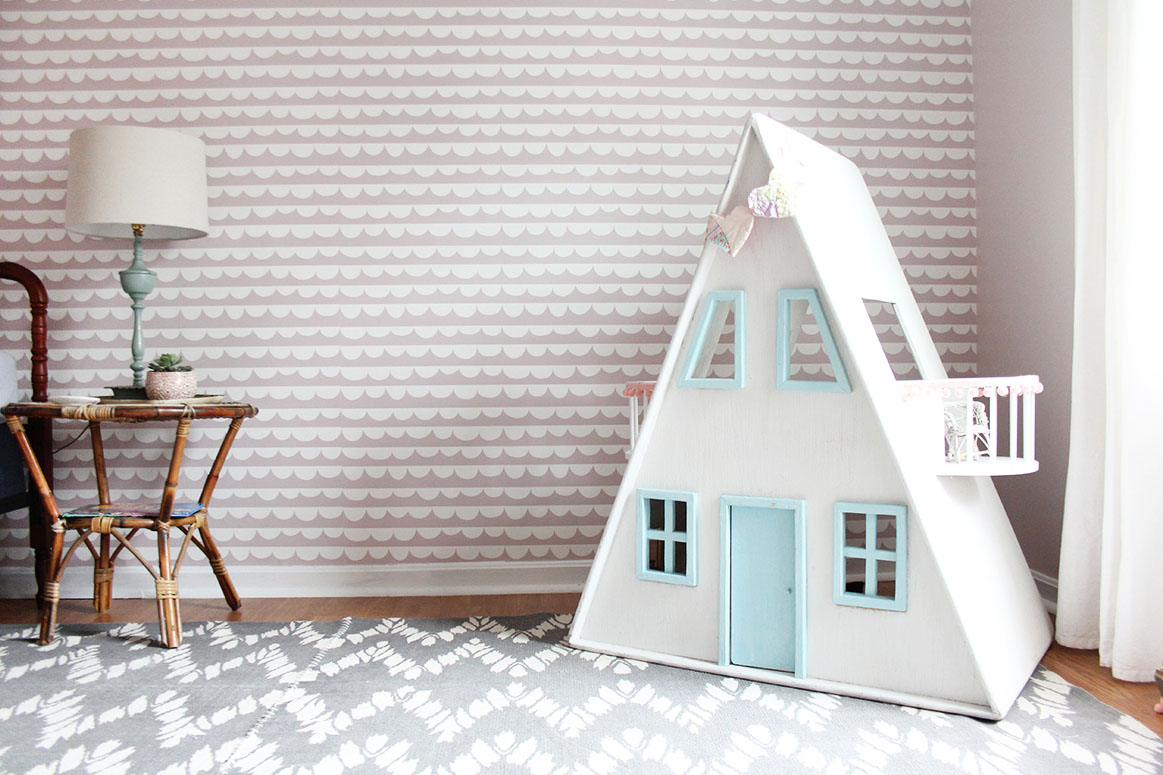 2. Antique Bed
If you've been around a while, you know I love to mix old and new. The modern pink wallpaper sets the stage for this combo. An antique Jenny Lind bed in dark stain is the focal point when you walk into the room.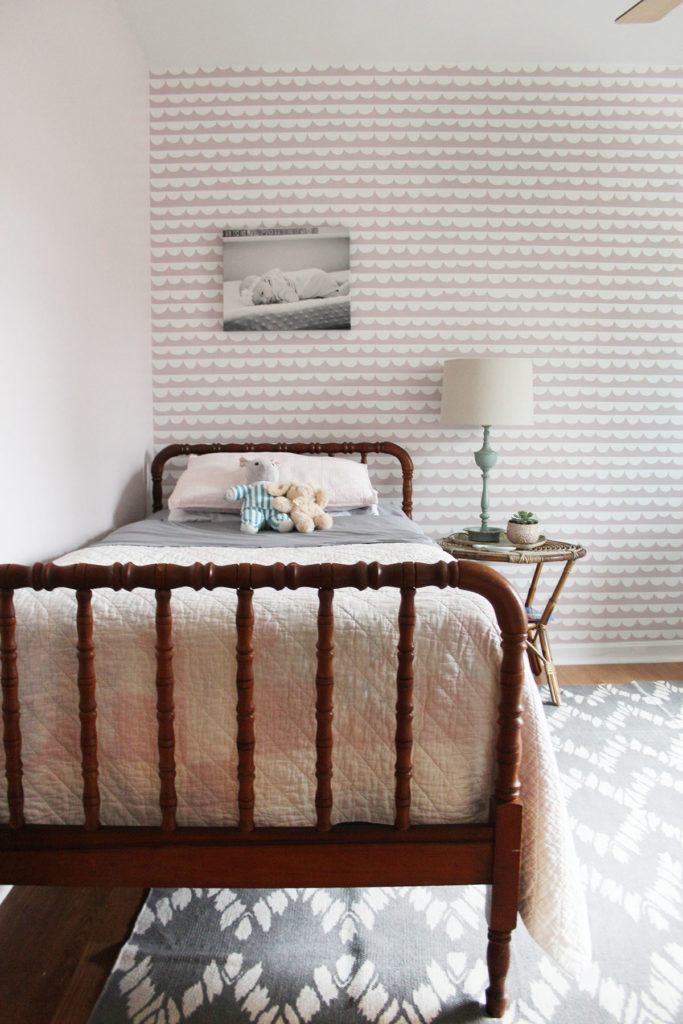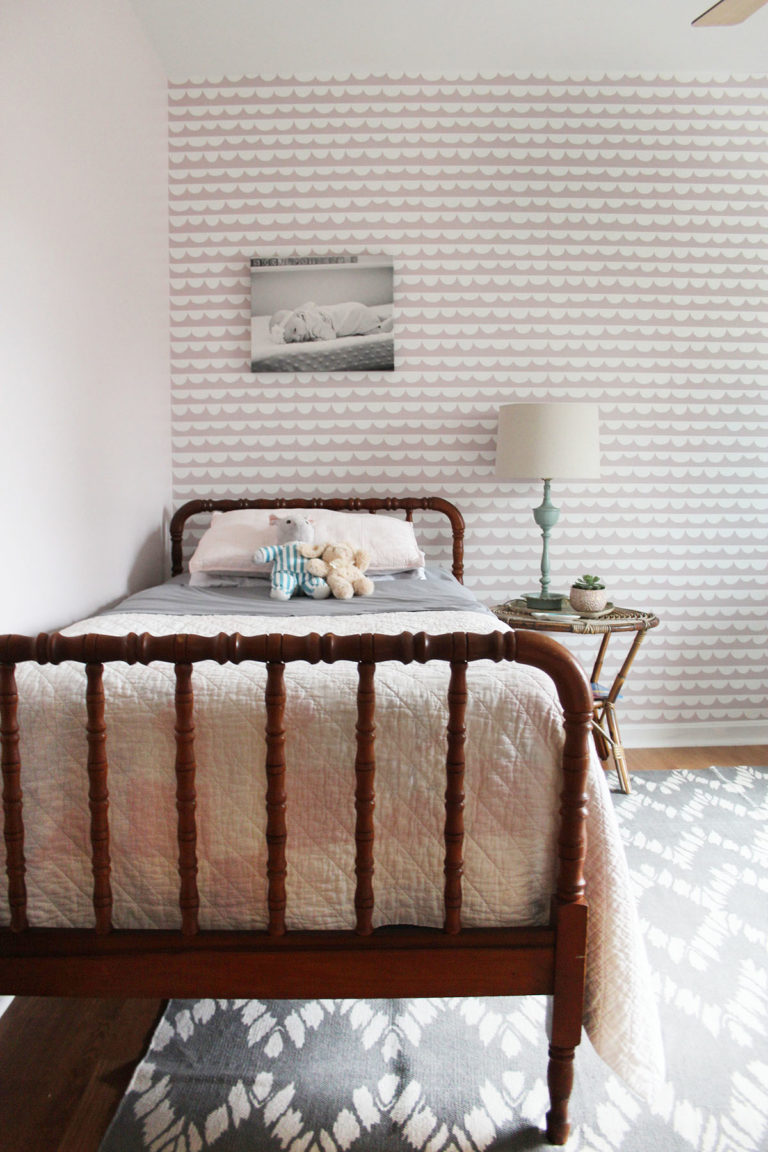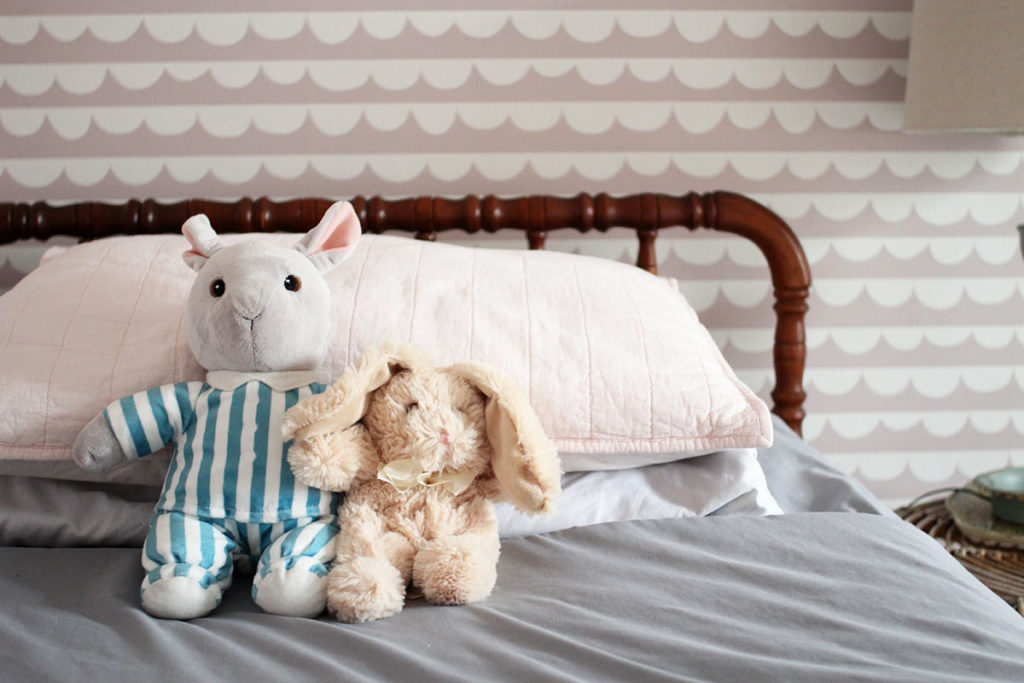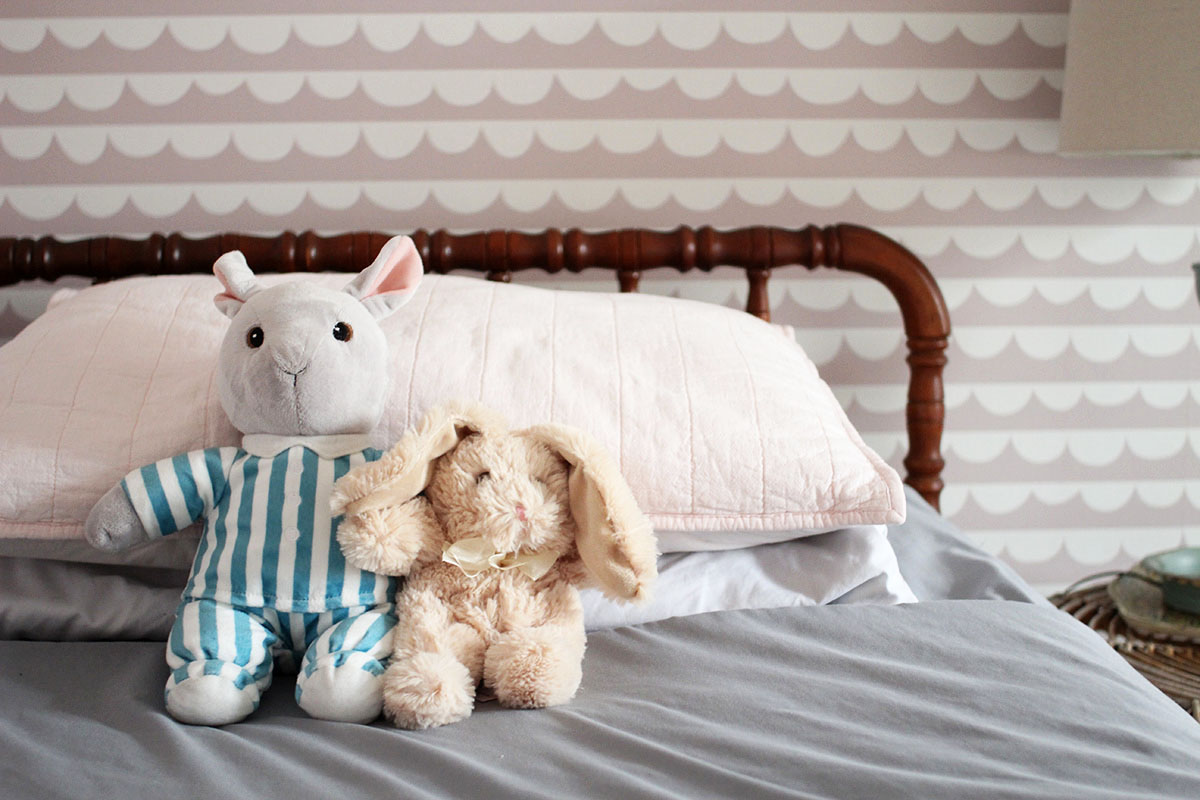 3. Flatweave Rug
The only "new" items in this room are the bed, wallpaper, and the curtain rod – everything else was from around our house (or still in storage from the move).
A flatweave rug is perfect for kids' rooms because it adds a soft space to play, yet it's easy to clean. Previously, it was in our navy master bedroom (and, yes, it's actually two inexpensive 5×7 rugs sewn together).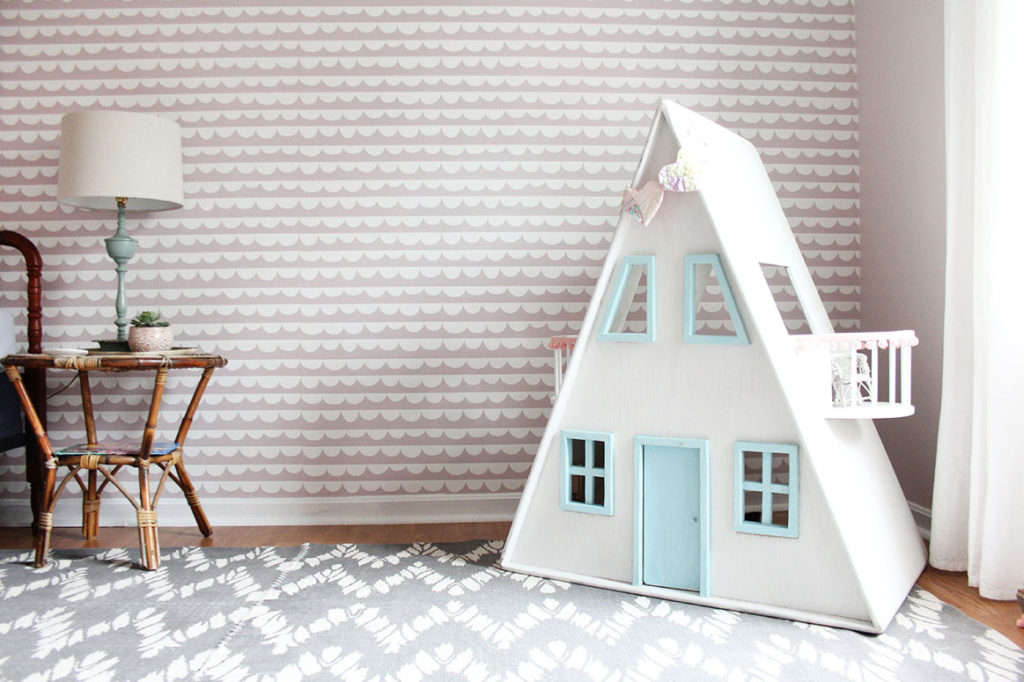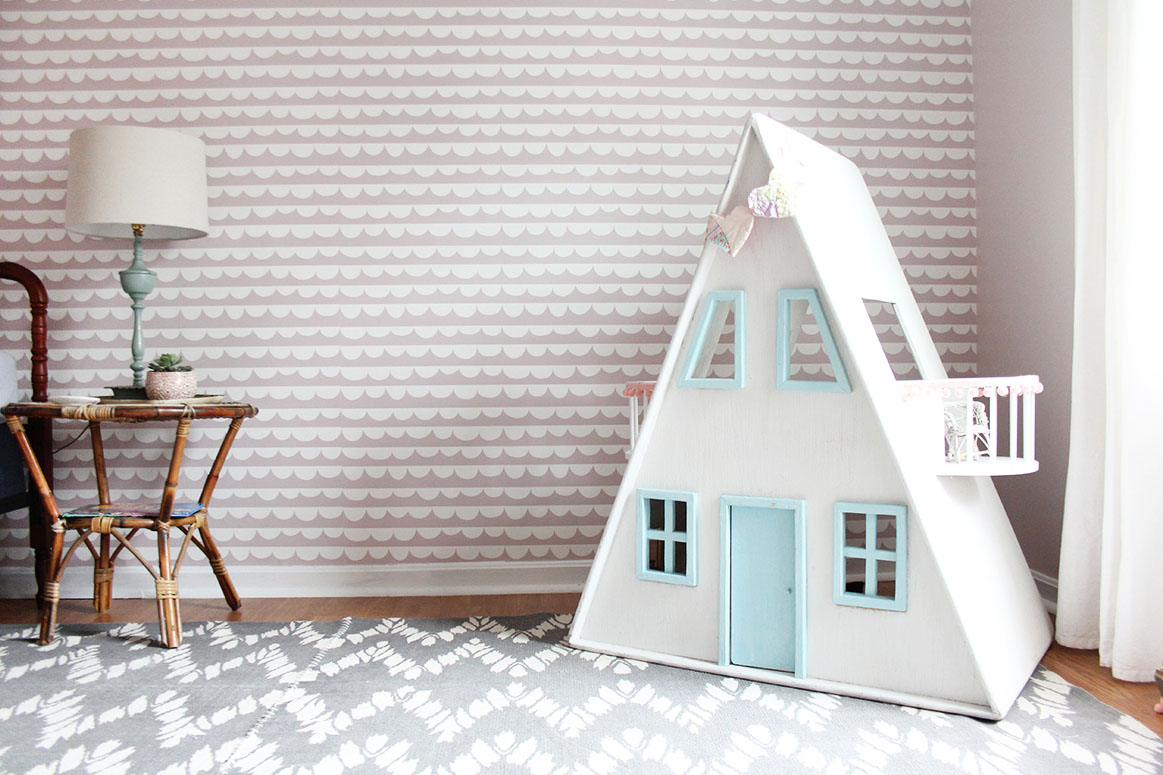 4. Vintage Rocker
If you've got the space, incorporate a small chair or floor pillow for a child to read. This vintage wood rocker was a gift from a sweet friend of the family, making it a sentimental addition to her pink bedroom, too.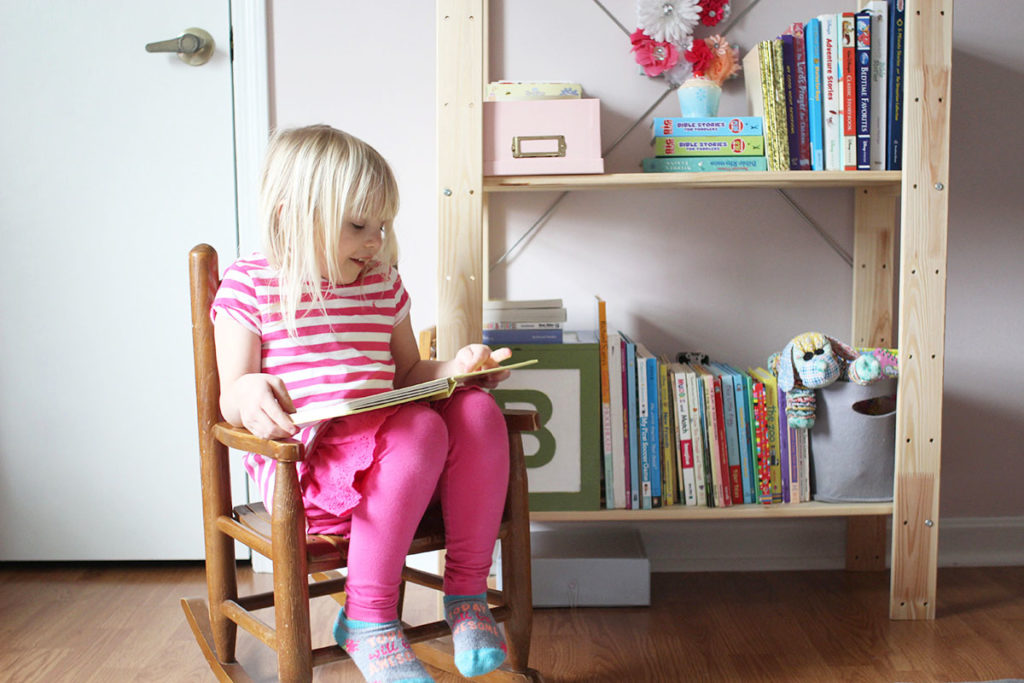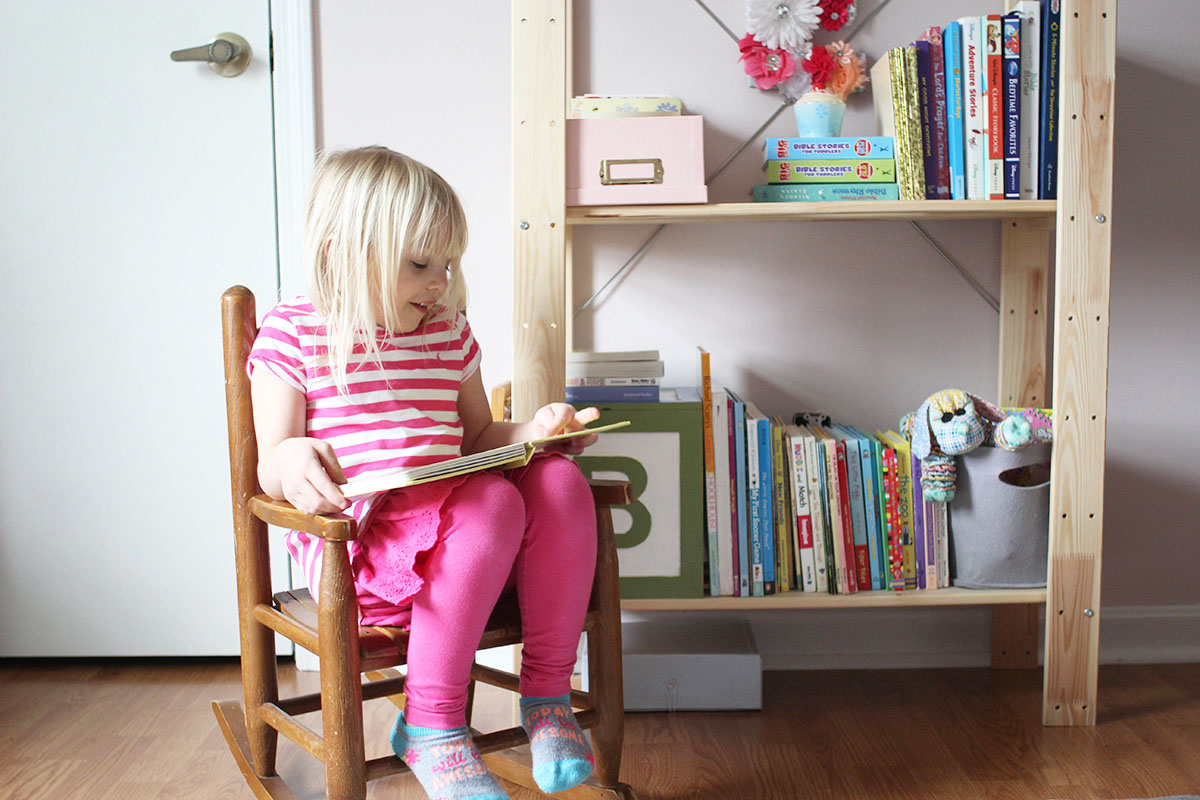 5. Hard-Working Bookshelf
We grabbed a utilitarian bookshelf from our basement to double triple the storage in the room. This basic, but hard-working, furniture is much needed to hold all of her books and some small toys.
Adding color through accessories gives an otherwise boring shelf plenty of personality.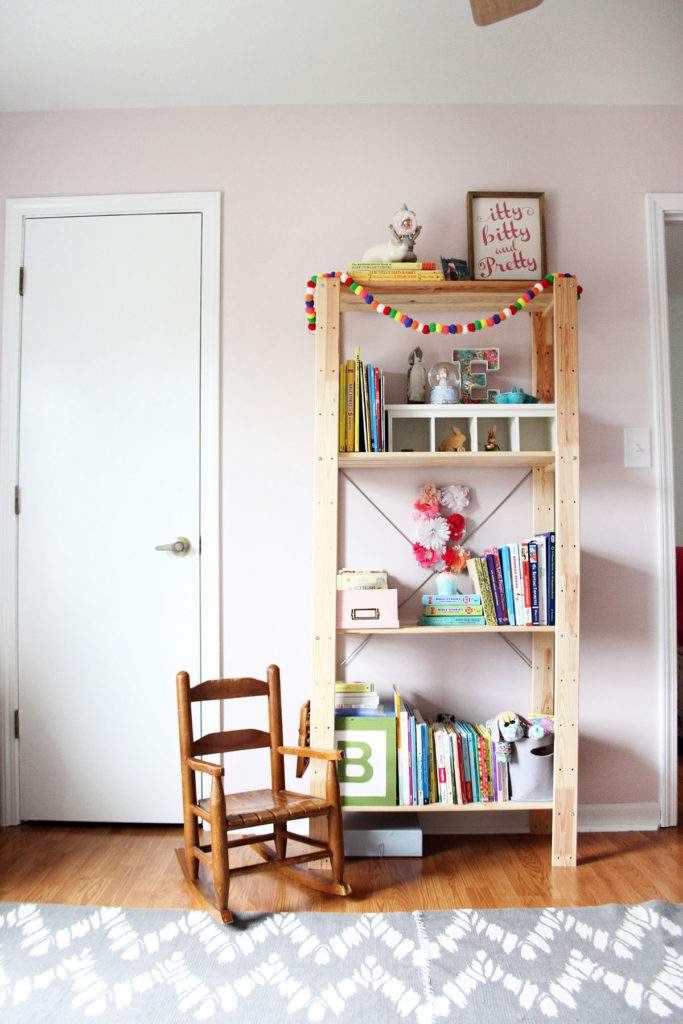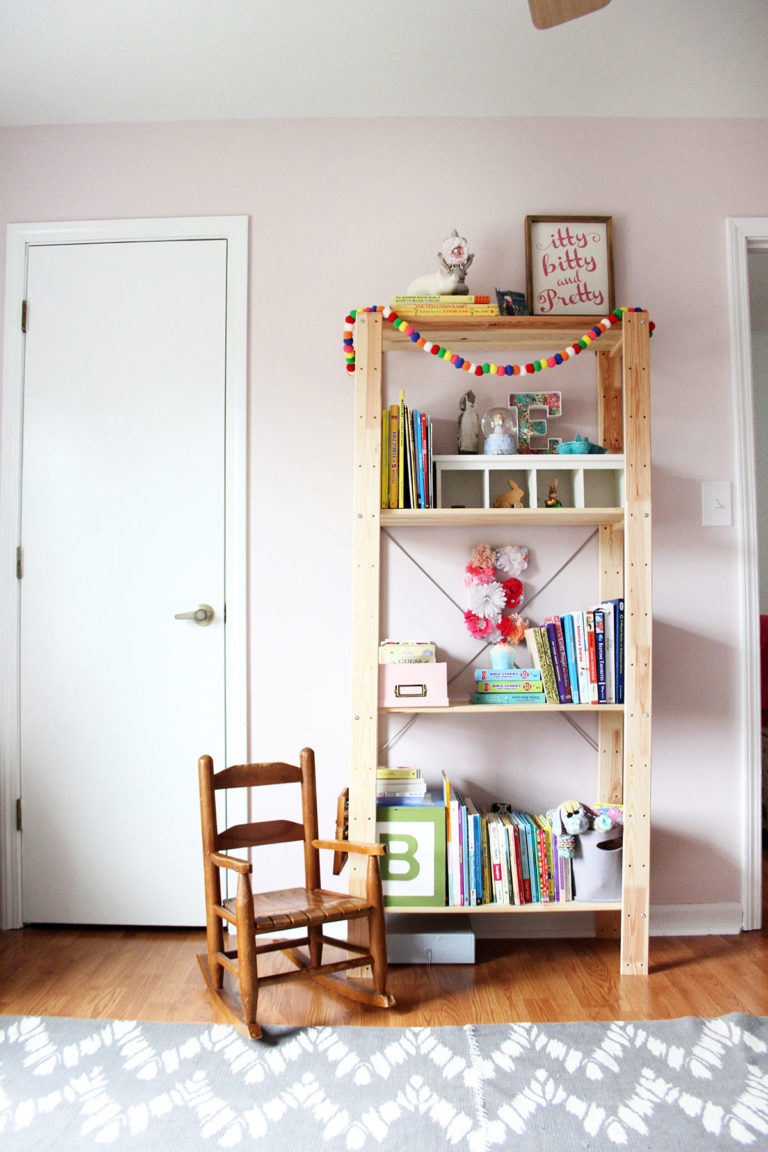 6. Big Baskets and Bins
In order to keep cleanup quick, big baskets and bins hold toys. Easily tucked into the corner, they add a bit of color and texture while hiding bunches of toys.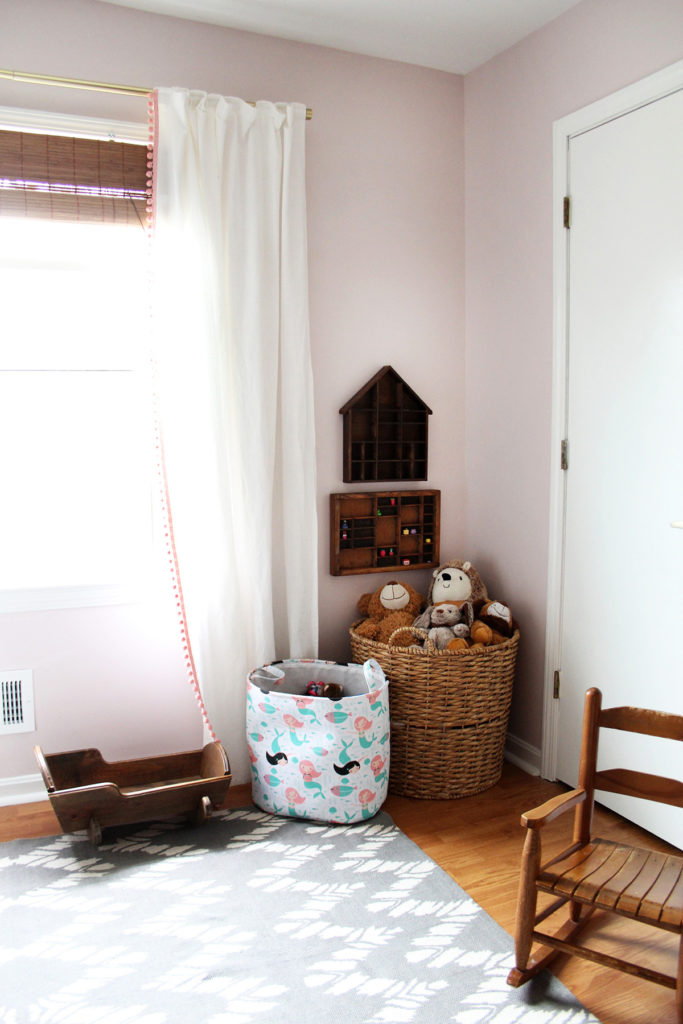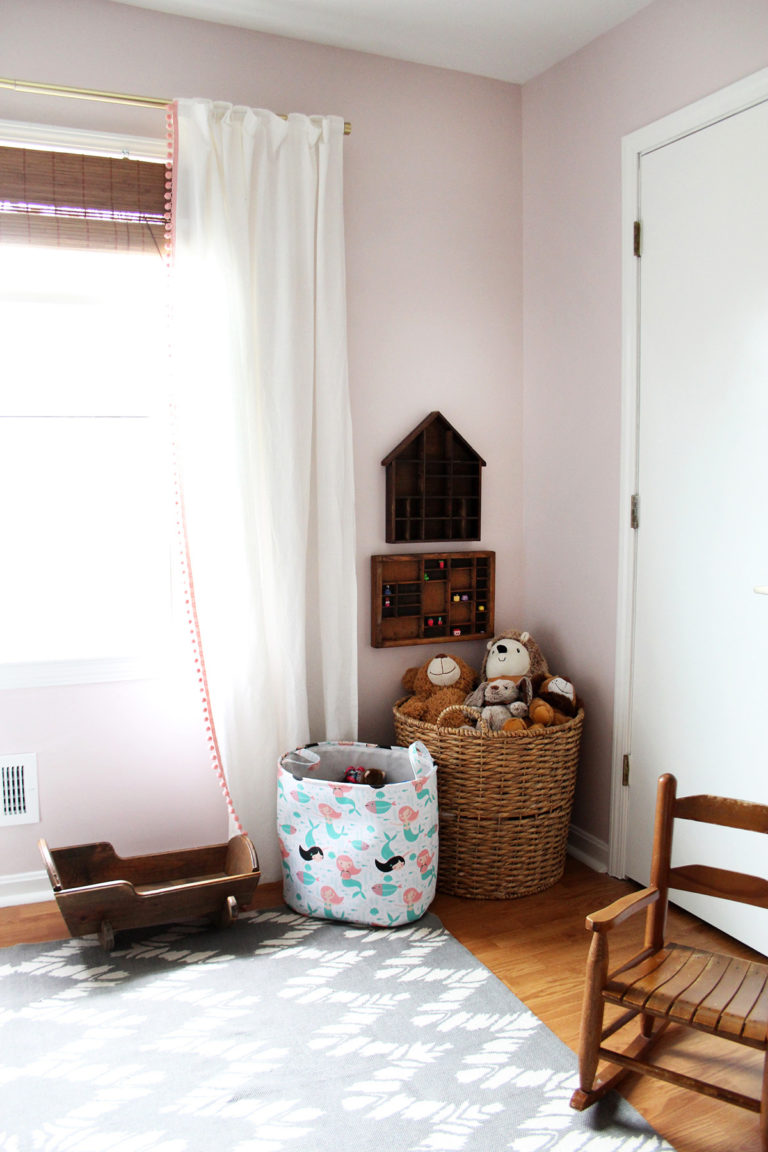 7. Shadowbox or Letterpress Drawer
I've been on a bit of a letterpress drawer kick lately, and this room is no exception. Her Shopkins are in a typeset drawer and the house-shaped shadowbox is hung, ready for more miniatures.
This is one of my favorite ideas for a girl's bedroom (or a boy's room!) since kids love to collect and arrange tiny toys.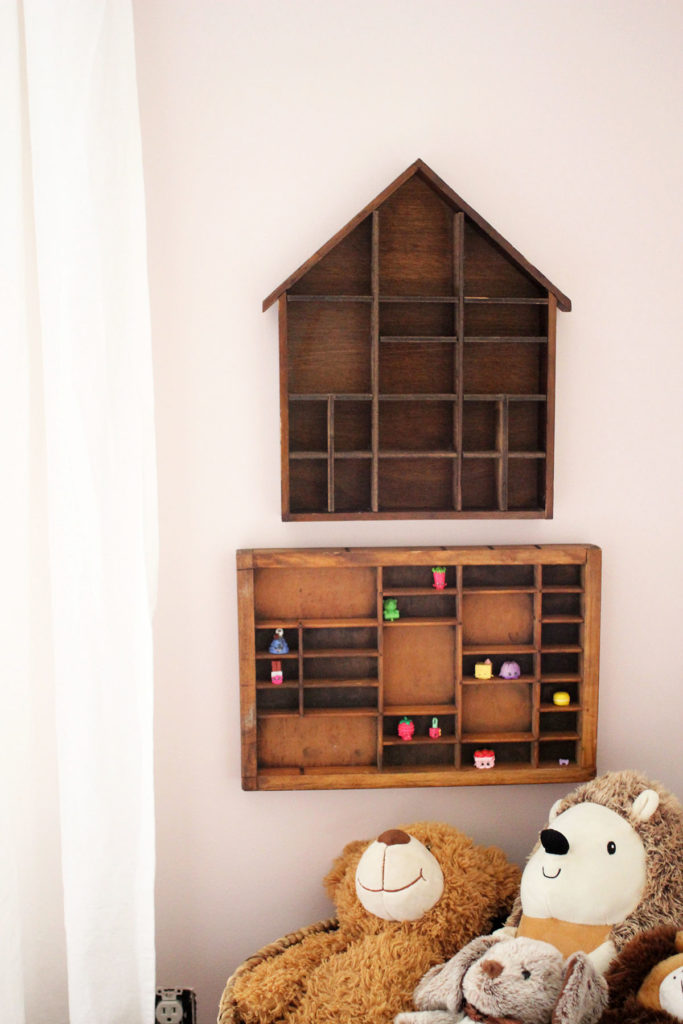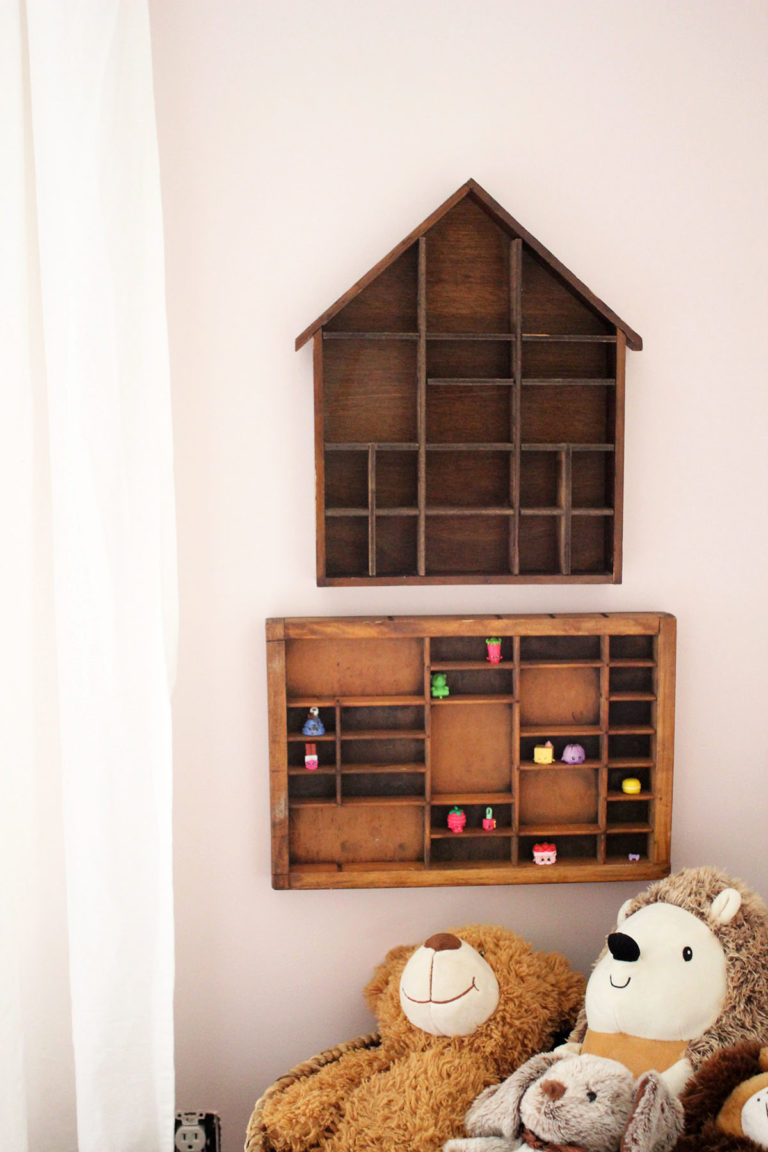 8. Newborn Photo
I started this "tradition" of sorts with my oldest's gender-neutral vintage nursery design. In each of their bedrooms, I include a large black and white print of a favorite newborn photo. You can see the canvas prints in their shared bedroom and her boho nursery in our last home.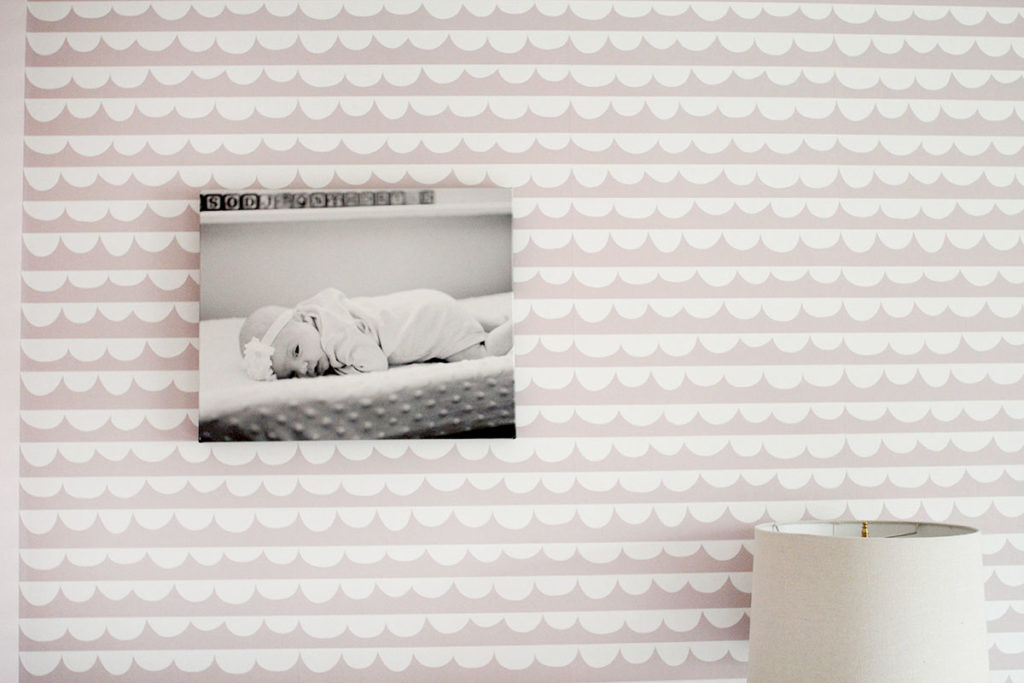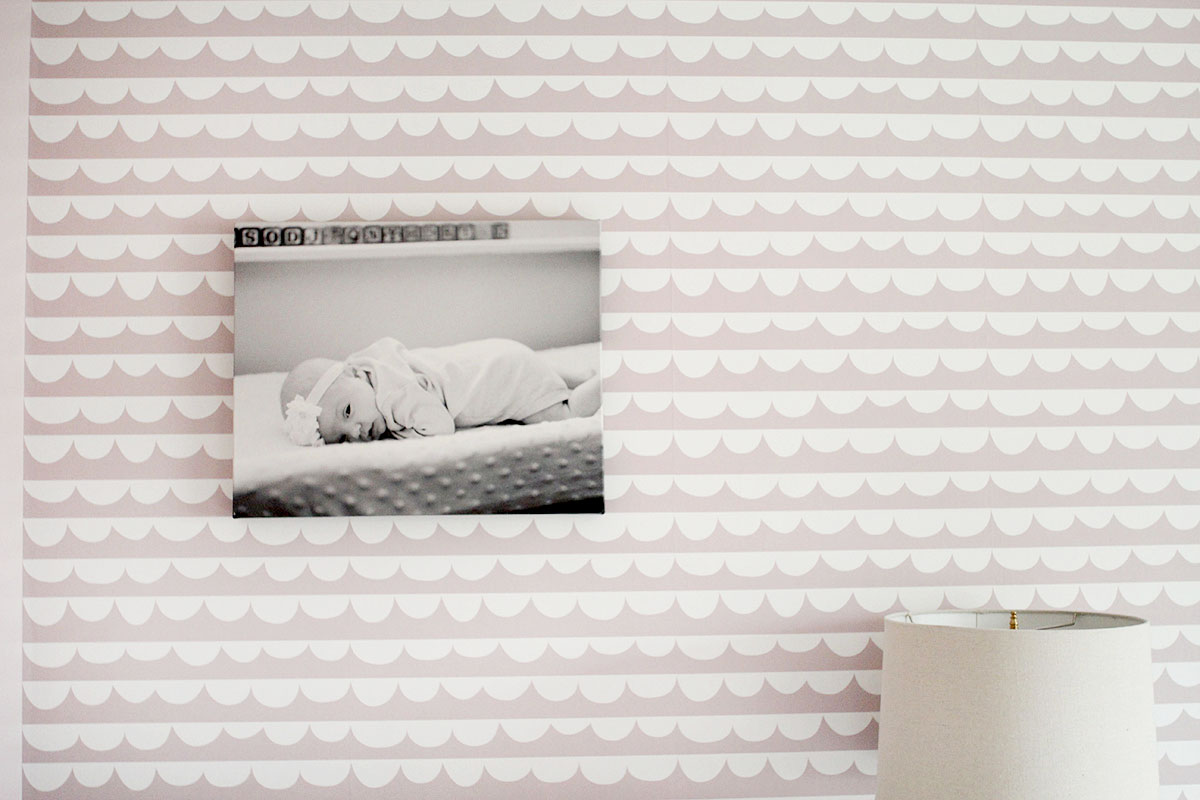 9. Pom Poms
Pom poms make everything more fun, right?! To be honest, I cringed when my daughter requested this colorful strand of poms. My designer mind thought "…but, it doesn't match…".
Well, it turns out, the vibrant color is unexpected and fun, making the many colors on the bookshelf cohesive. Sometimes, something slightly "off" brings everything together. It keeps decor feeling natural, and not forced.
So I'm glad I listened to her little voice, it seems she has an eye for design.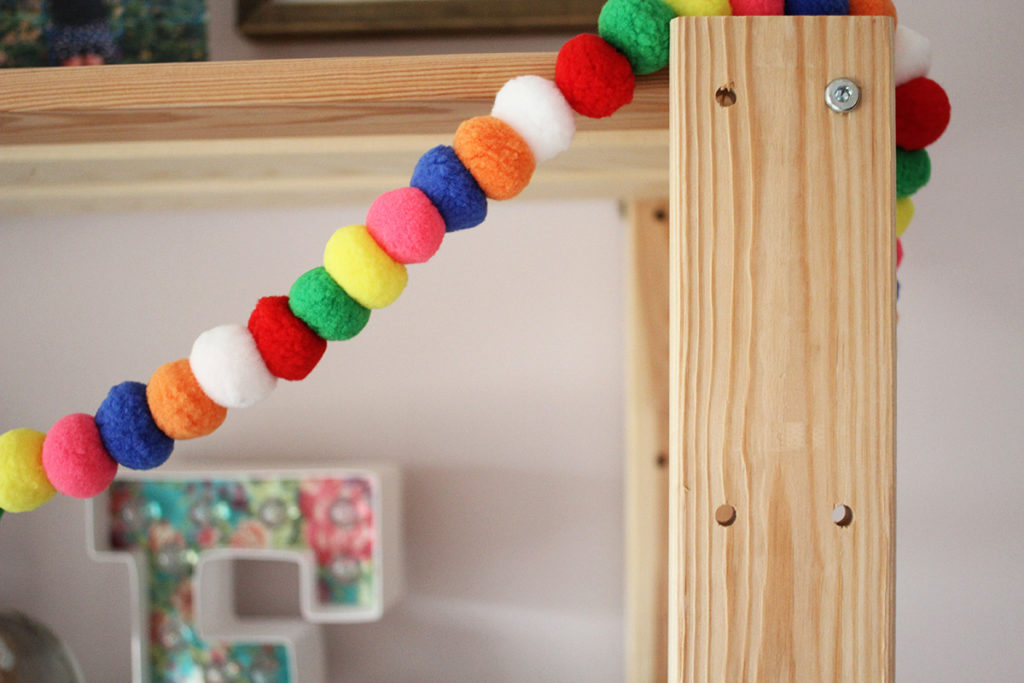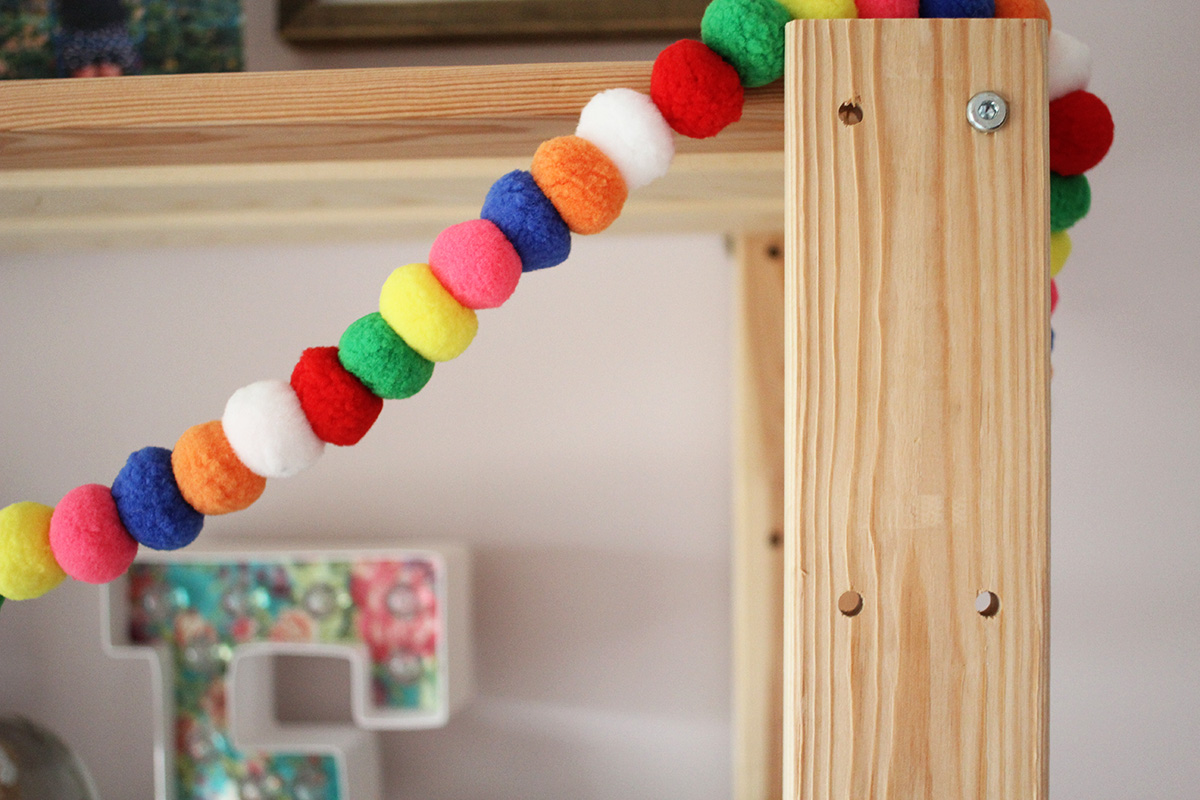 In addition to the garland, her curtains are trimmed in pom-poms too. Adding trim is an affordable way to make basic curtains feel fancy.
10. Display Space
I'm no knick-knack collector and I try to limit them in the kids' rooms, too. After all, someone has to dust around those things! Still, every child needs some space to display special mementos.
Whether your child wants to show off keepsakes, trophies, or pictures, include a wall shelf – or allocate space on a bookshelf – for display.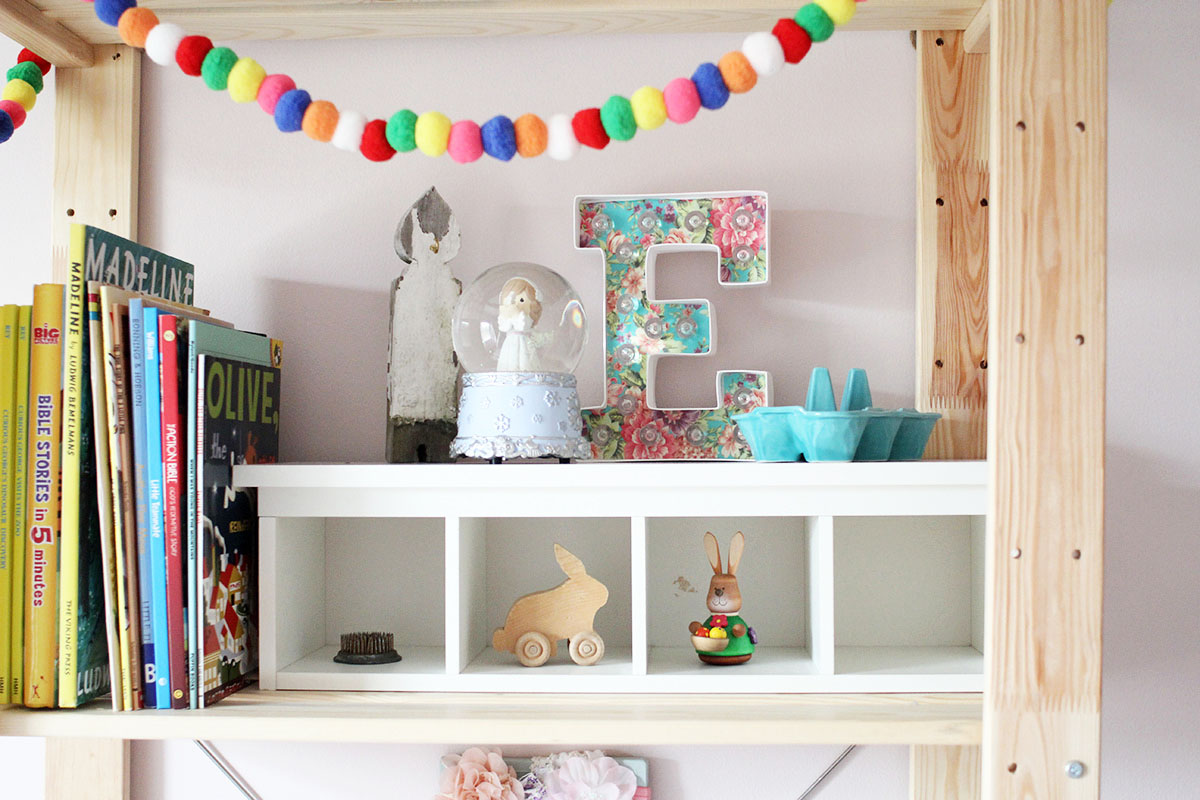 11. Her Initial
Another one of my favorite little girl bedroom ideas, include her initial in the decor. We've actually got several "Es" in her pink bedroom, but my favorite is the initial covered in her baby hair bands.
Yes! That floral monogram is an easy craft project, that shows off her sweet baby mementos, too.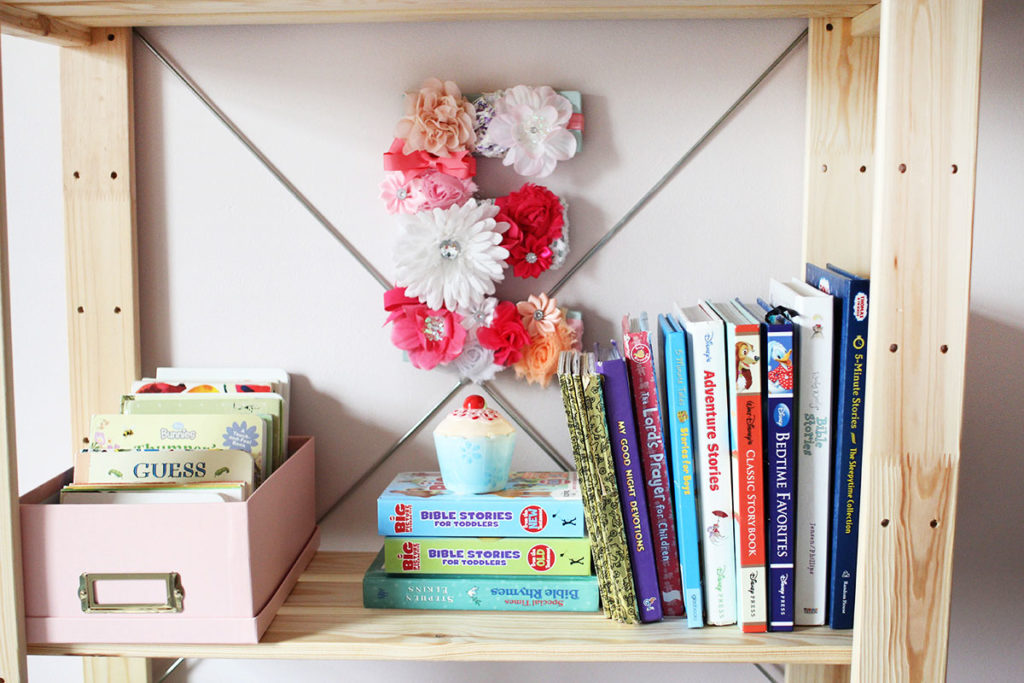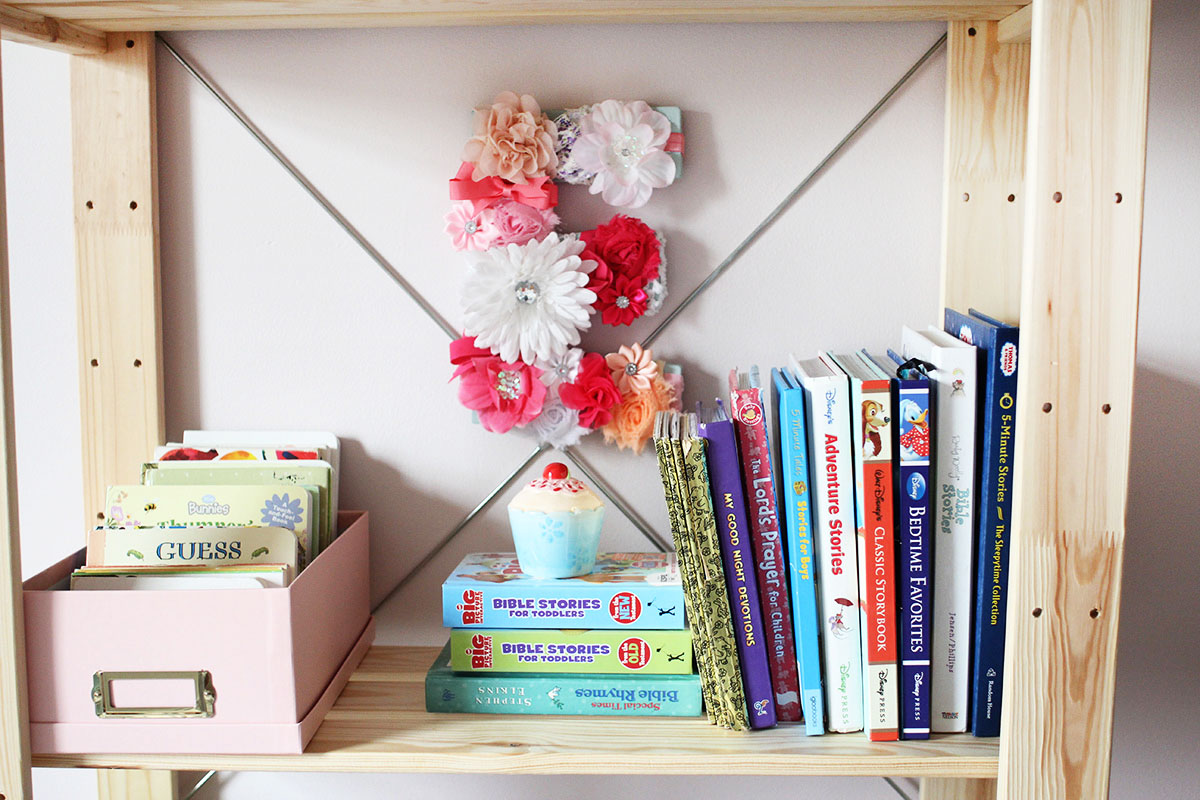 12. Natural Textures
A bit of natural texture goes a long way to complete a room. Bamboo shades (learn how to make inexpensive bamboo shades), rattan tables, wicker baskets, rustic wood furniture, etc. are a few ways to incorporate texture into a bedroom.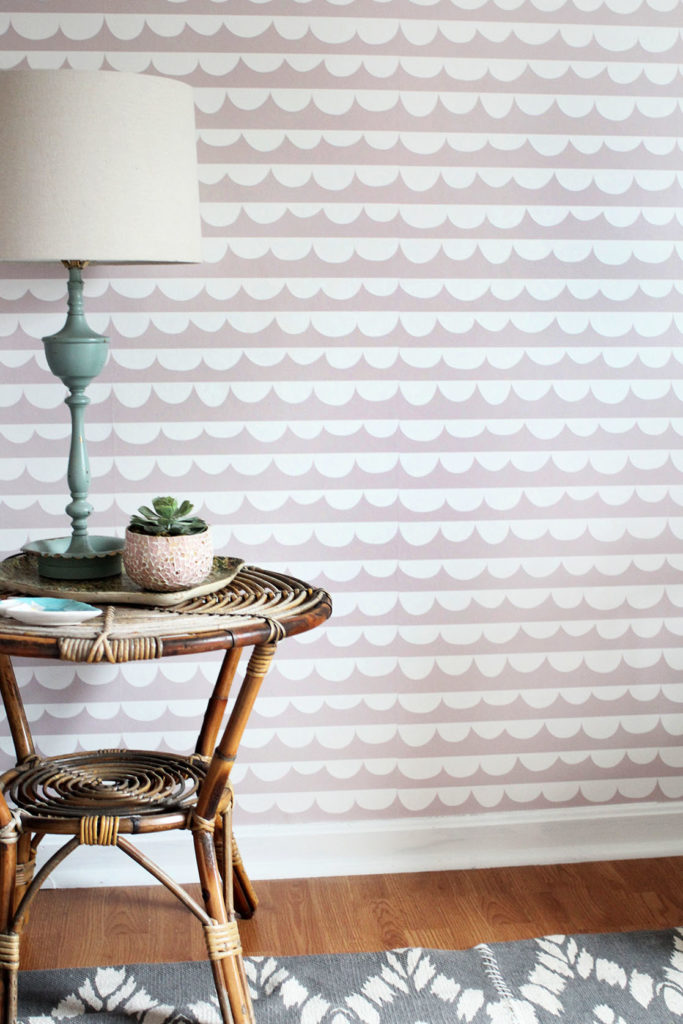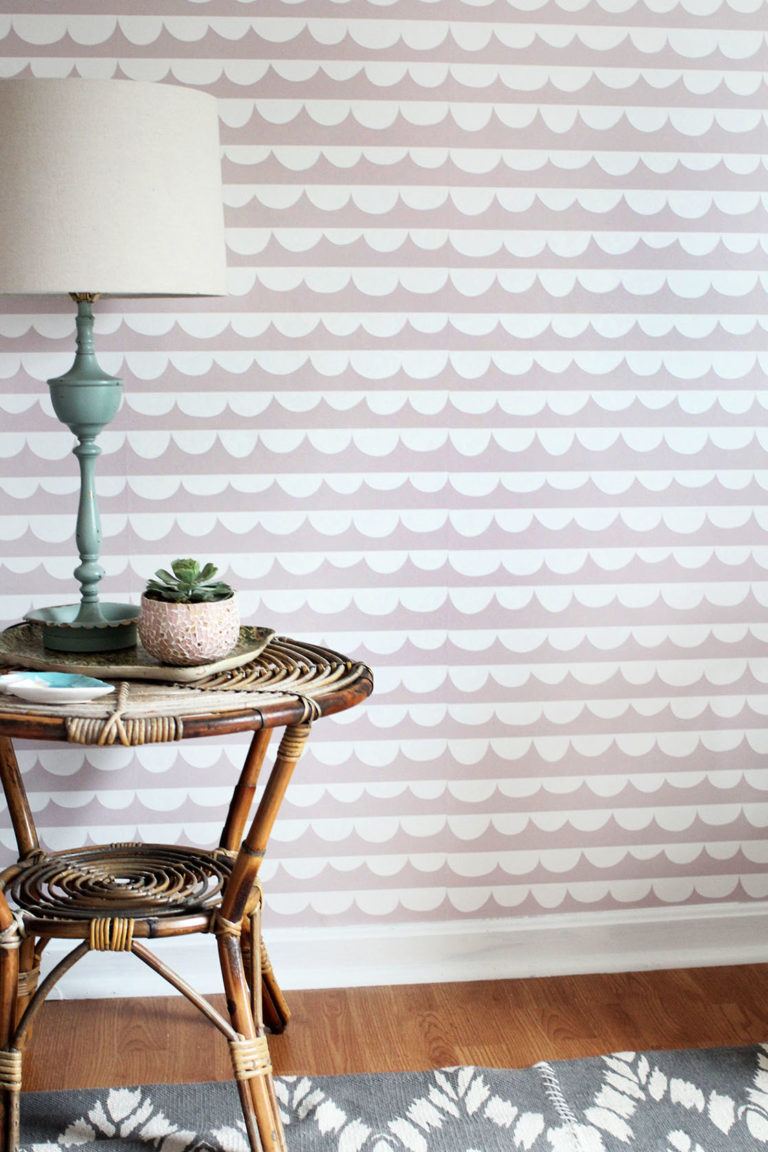 13. Stuffed Animals
Ok, so maybe this really isn't a little girl's bedroom idea… I just needed an excuse to include this photo.
I mean. How cute are these little guys?!!!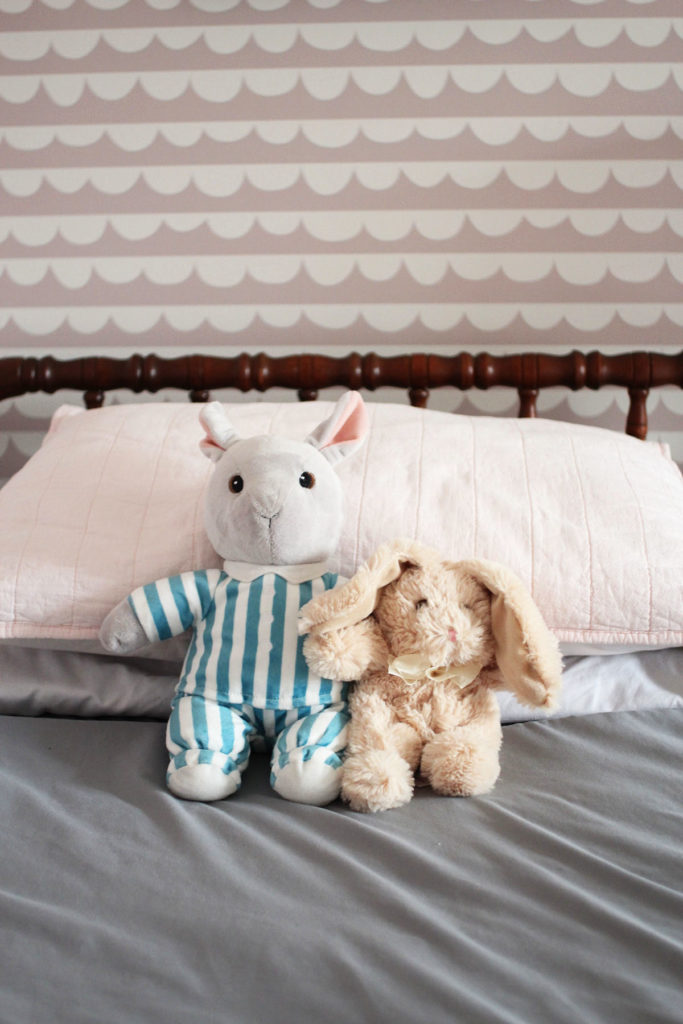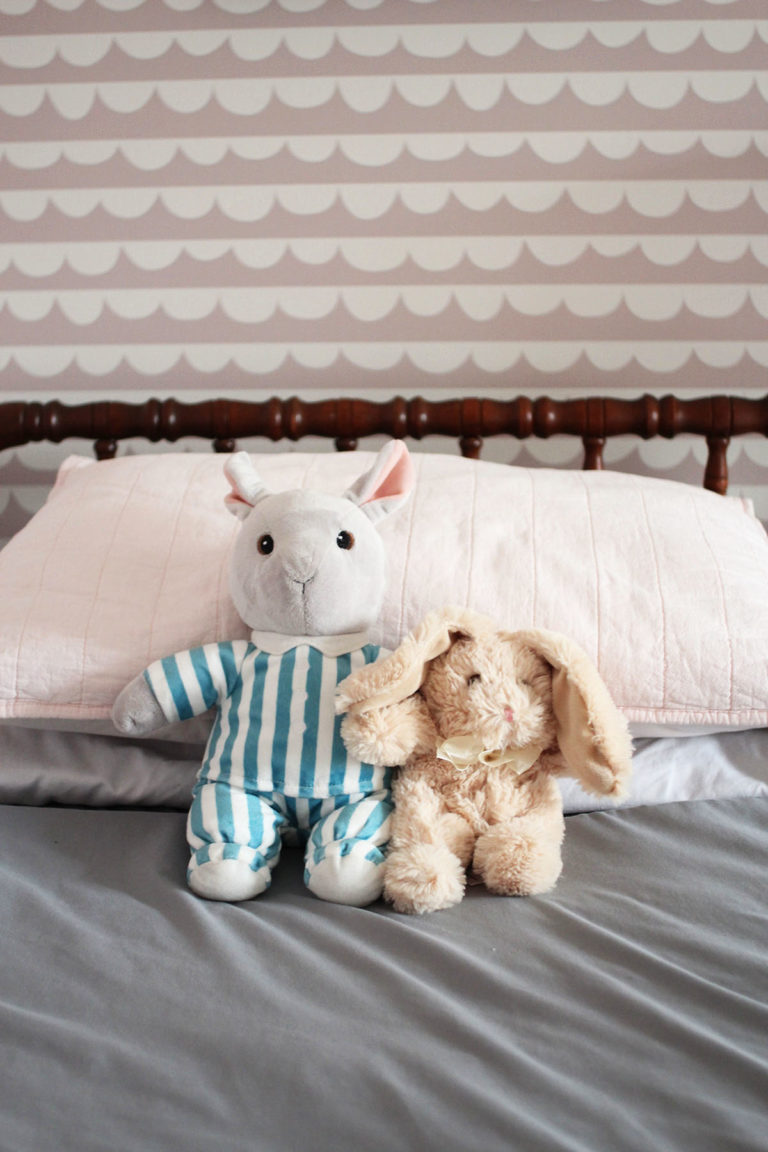 14. Something Green
Even if it's faux, include something green. This succulent isn't real, but it's quite convincing. Moss covering the dirt further adds to the authenticity.
Like natural textures, plants help complete a room.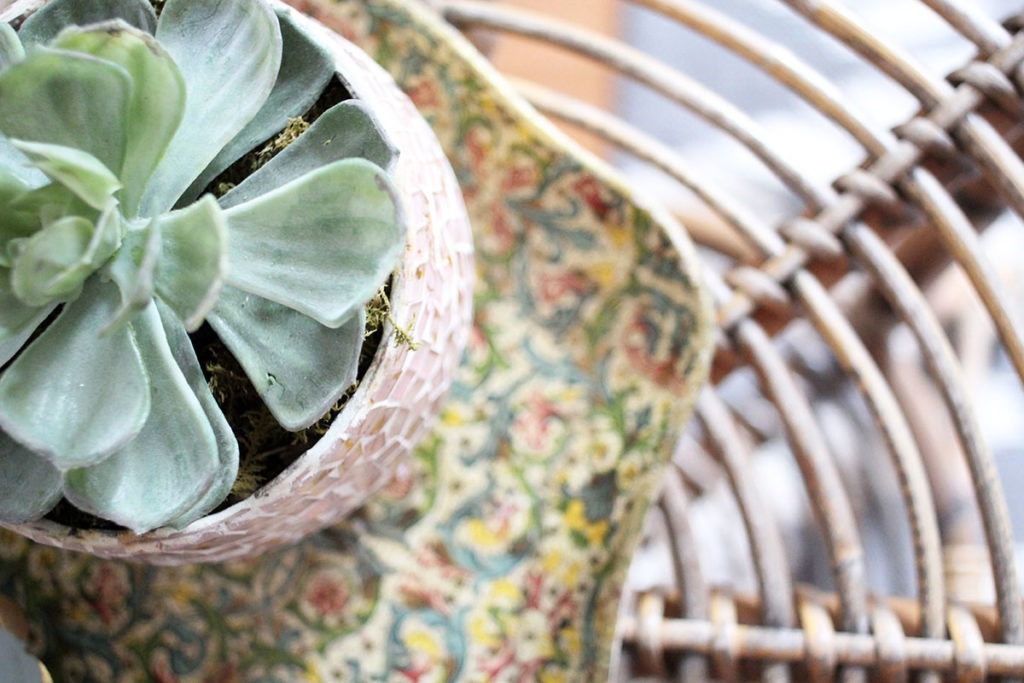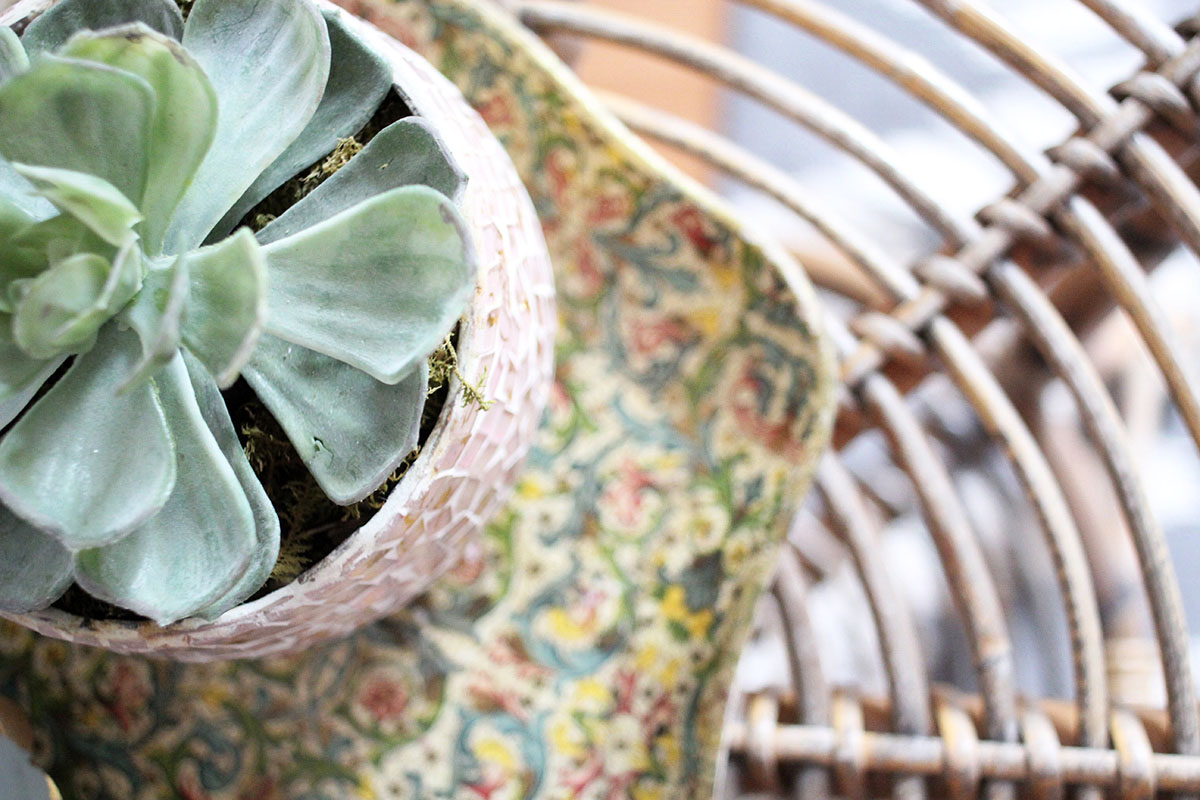 15. Dollhouse
Finally, what little girl's bedroom is complete without a dollhouse? This handmade dollhouse was mine as a child. So special to see her play with it, enjoying it as I did for years.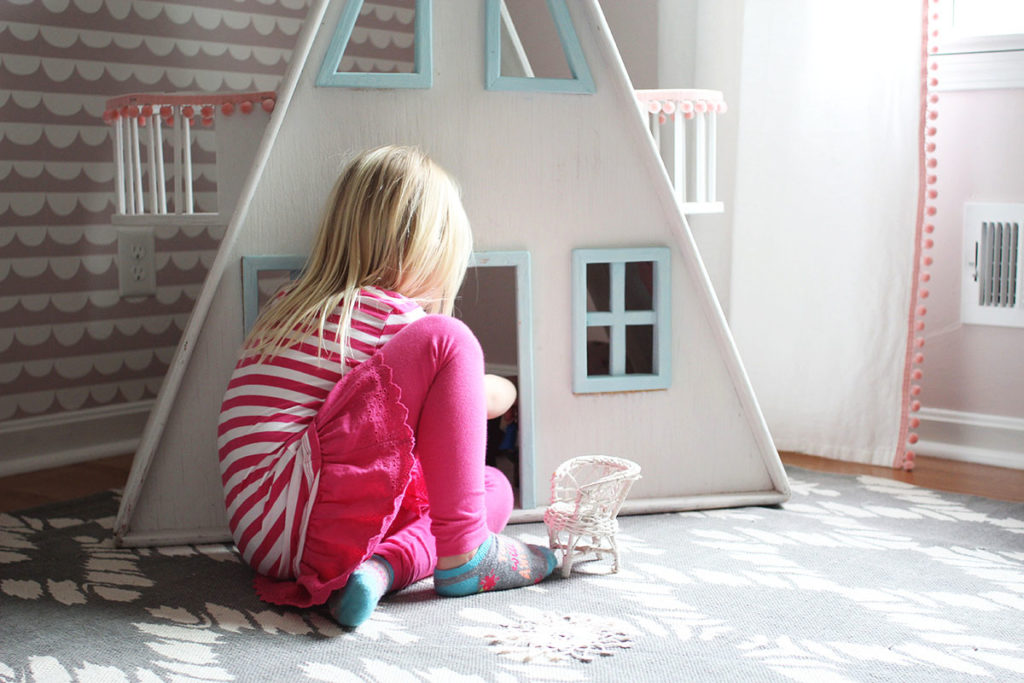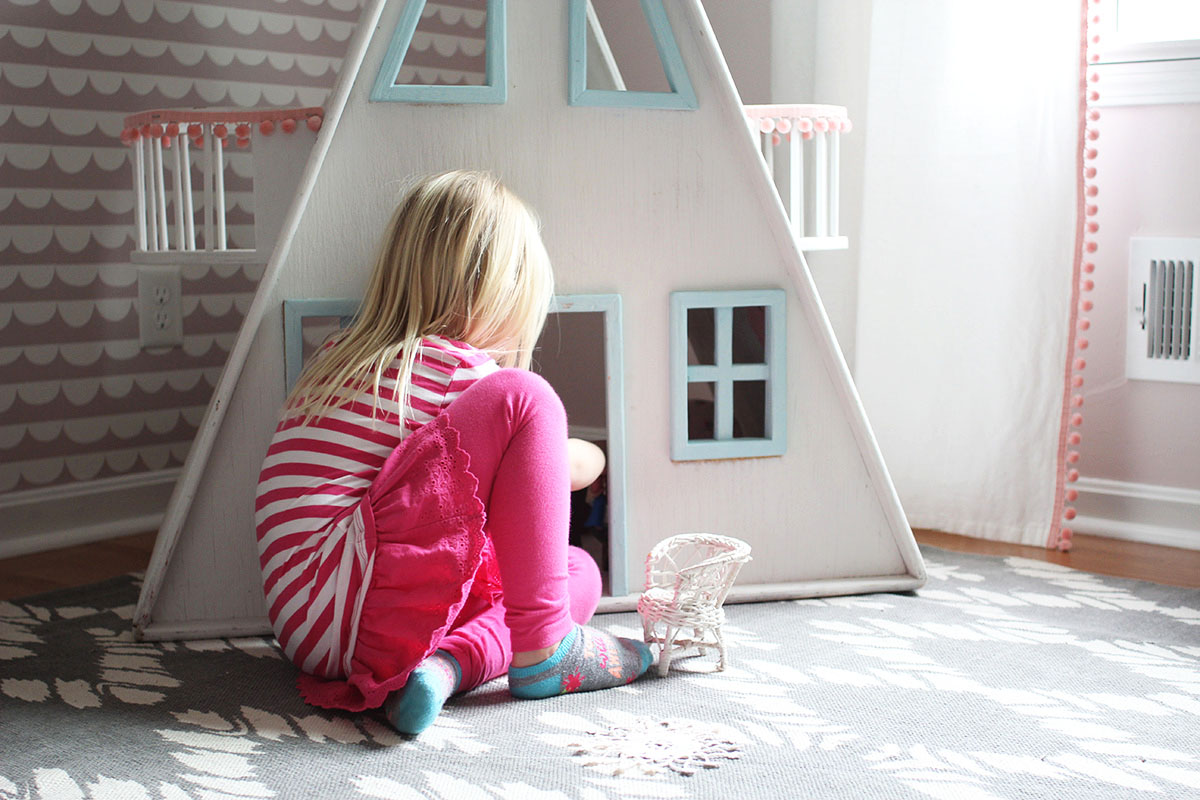 We painted it white, added pom-pom garland (because, idea #9!), strung quilted hearts from the roof, and trimmed out the windows and doors in a soft blue.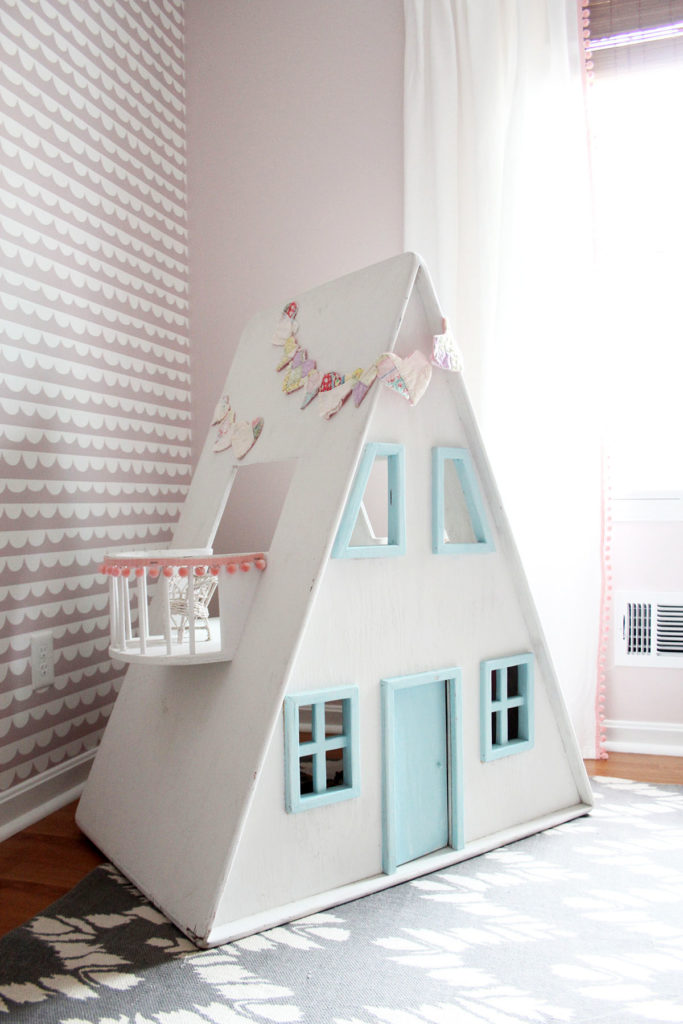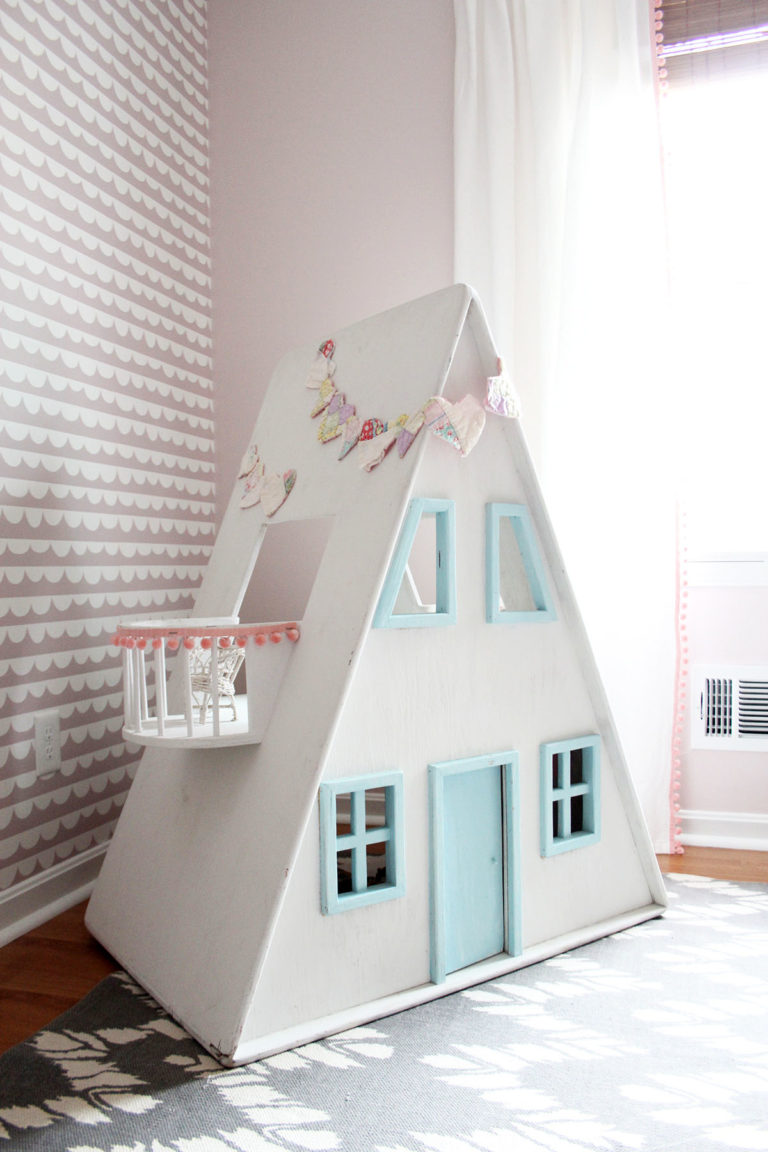 Did you like this room makeover? You might also like: