Learn how to make a DIY dollhouse fireplace for your little one. Save money on doll furniture by making your own wood dollhouse fireplace.
Just like my tutorial for dollhouse kitchen cabinets and a dollhouse refrigerator, creativity is key to this DIY project. This is a a cost-effective way to create the perfect DIY dollhouse fireplace, but you'll have to think outside of the "box" at the craft store.
With a few items from your local craft store, you can create a simple fireplace for you child's dollhouse living room. Dollhouse furniture is a great gift idea for your child. Or, you can make doll furniture with your child's help – they'll love helping create their own toys!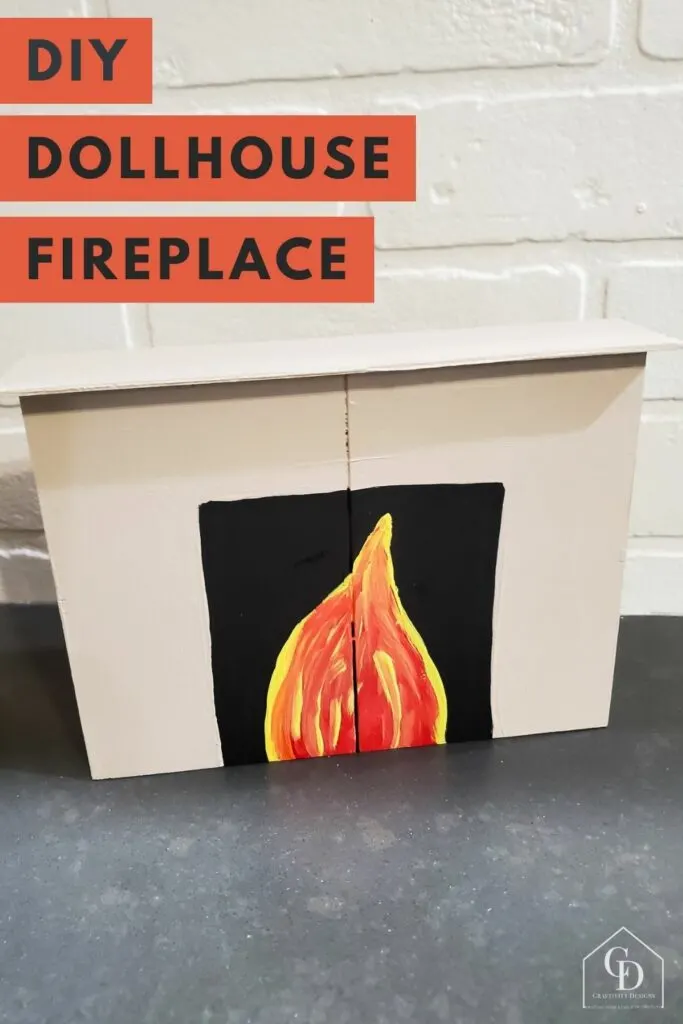 Disclosure: This page includes affiliate links.
My daughter's handmade wood dollhouse sits in the corner of her pink bedroom. The white paint and light blue trim ties in well with the decor in her sweet, little girl's bedroom. But, the inside hasn't received any love and it's time to build some handmade dollhouse furniture.
In the living room, she's requested a fireplace and a TV (she already has a couch and chair). I'm hoping to tackle the TV soon, so today we'll focus on the fireplace.
How to Make a DIY Dollhouse Fireplace with Mantel
Before you begin this project, be sure to measure your dollhouse space and doll height to figure out the dimensions you'll need for the fireplace. Then, head to your local craft store and look for suitable boxes and wood supplies!
Keep in mind that each craft store carries different unfinished wood supplies and the selection online can be spotty, at best. However, most craft stores do carry some variety of wood boxes, dowel rods, etc. Like I said… you'll just have to think outside of the "box." *wink*
Trays or Blocks for a Doll Fireplace
For the fireplace, you'll want to shop for unfinished wood trays (like this or this) or blocks (like this or scrap wood). These are the same trays we used for my daughter's dollhouse kitchen and Barbie bunk beds. I've found that most local craft stores will have at least 2-3 options in various sizes.
I don't know why, but scrap wood didn't even occur to me when I made my daughter's fireplace. However, it would be a great option since you could cut it to the exact desired size.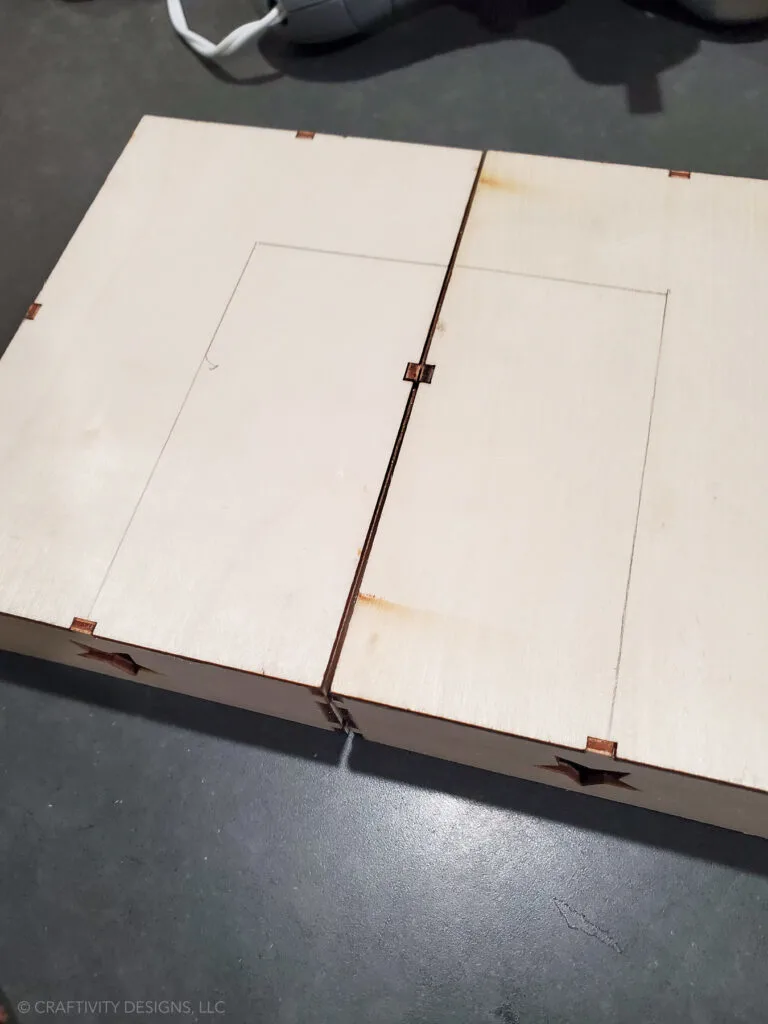 Dollhouse Fireplace Design
Be creative when designing decor and furniture for your child's dollhouse! They'll enjoy fun colors (like teal kitchen cabinets), but they'll also enjoy having miniature versions of things found in their own home.
For my daughter's dollhouse, we often use decor in our real home as inspiration, such as:
And, the fireplace is no exception. We chose to paint it all white like our last home's painted brick fireplace.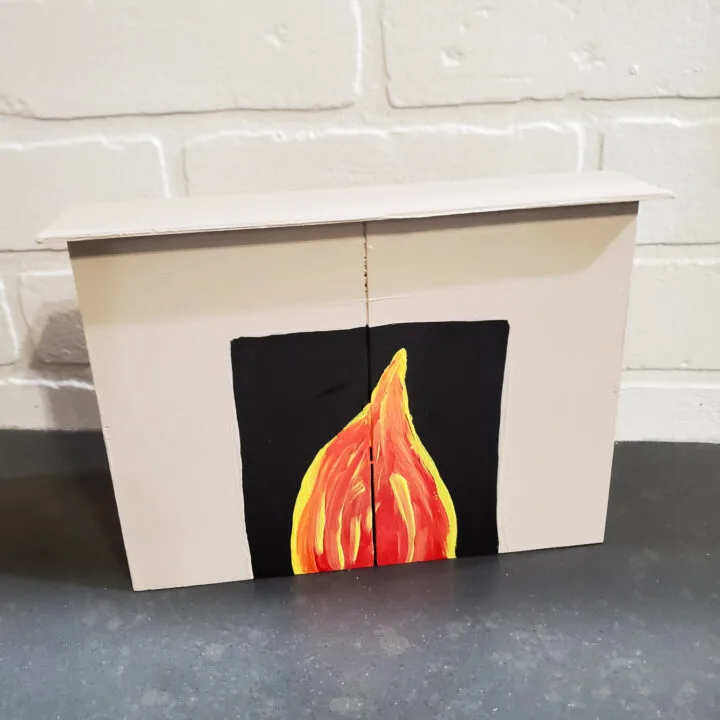 DIY Dollhouse Fireplace and Mantel
Learn how to make a DIY dollhouse fireplace for your little one. Save money on dollhouse furniture by making your own wood dollhouse fireplace.
Tools
Ruler
Pencil
Utility Knife
Instructions
Create the fireplace shape with a single wood tray (or block). If you are using multiple trays in order to achieve the correct dimensions, hot glue them together.
Mark, in pencil, the outline of the firebox.
Paint the firebox with a foam brush and black craft paint.
Measure for the mantel. It should be slightly wider than the fireplace, creating a overhang. Mark thin balsa wood plank with pencil and cut with a utility knife. Glue it to the top of the fireplace.
Starting with yellow craft paint, create the shape of a flame with a paint brush. Then layer in reds, oranges, and yellows over the original yellow flame, blending them slightly.
Paint the rest of the fireplace and the mantel with craft paint.
If you liked this craft for kids, you might also like:
Want to save this DIY dollhouse kitchen idea? Pin it!