A green front door can act as a neutral or bold touch of color. These homes include brick and siding exteriors with a variety of green front door colors – from mossy to lime!
Would you like to freshen up your exterior? Try a green front door. Green is a versatile color that can act as a neutral or a bold punch of color – depending on which shade you pick.
Hopefully, these 12 examples of homes with green front doors will help you envision this earthy shade on the exterior of your home – whether it is a brick, siding, or stone home.
I've sought out homes in a variety of exterior finishes. In the mix we have homes with siding (several different siding colors and styles) and homes with brick. Hopefully, you can find a home that is similar to your exterior.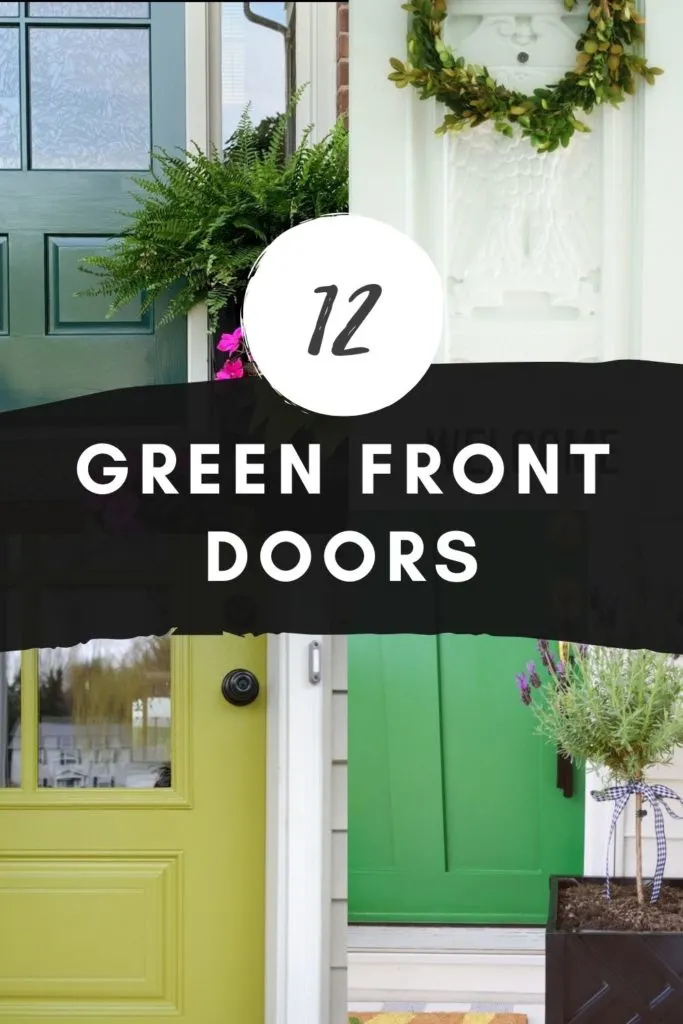 Disclosure: This page includes affiliate links.
Porches with Green Front Doors
Once you've decided on green, you might want to give your porch a facelift. In this post about mint green front door ideas, you'll find more examples of green doors paired with coordinating accessories (everything from porch lights to door mats).
You might also like: 10 Home Interiors with Green Trim or Woodwork
Maybe you'd like to flank each side of the door with planters? Check out this post with over 20 front door ideas – every example includes a set of matching planters on each side of a beautifully painted front door.
Finally, don't forget to update your house numbers. Find the perfect set of modern house numbers to accent your freshly painted yellow door. Or, try your hand at making a DIY house number sign (this bourbon barrel lid house number sign is what I chose for our exterior).
12 Homes with Green Front Doors
Alright, let's get down to business! We'll take a look at 12 examples of homes with green doors — then let me know your favorites in the comment section. Personally, I'm a sucker for the dark green with brick exteriors, like Emily's front entry.
12 Homes with a Green Front Door
Would you paint your front door green? If so, which shade would you choose? While my favorite is the dark greens, I also really love the look of the bright green doors — though that color feels way out of my comfort zone.
Speaking of out of my comfort zone, how pretty are these 20 homes with yellow front doors? I rarely use yellow, but when I do (like my son's yellow dresser with leather drawer pulls), I love the impact and warmth of the color.
If you liked this decor idea, you might also like:
Want to save this exterior decor idea? Pin it!