Learn how to remove paint from aluminum without damaging the finish. If you have paint drips, overspray, or paint splatters on your aluminum siding, try this simple 5-step process to remove it safely.
Recently, I updated our small porch and made a mess in the process. When I peeled off the painter's tape, I found paint all over my aluminum siding (ugh!). My newly finished project seemed ruined, and I was anxious to figure out how to remove paint from aluminum.
This isn't my first run-in with paint splatters on aluminum siding. And, unfortunately, my previous experience taught me how NOT to remove paint from aluminum. I'll share more details of that fiasco, and this article will cover the right way to remove paint so that aluminum siding is not damaged.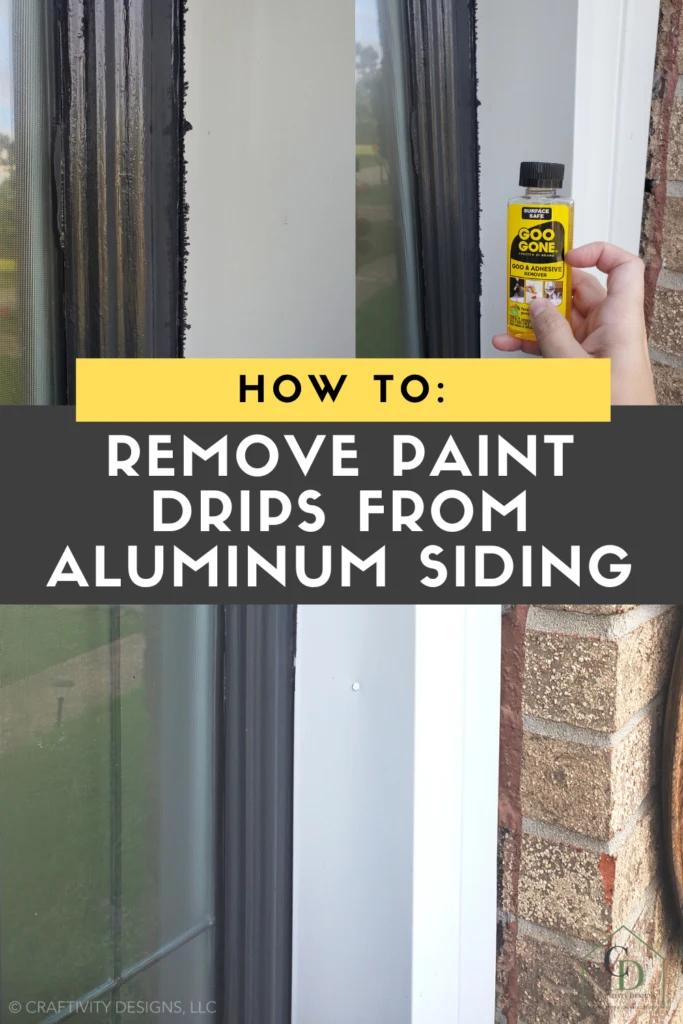 Disclosure: This page includes affiliate links.
Paint Drips, Splatters, or Overspray on Aluminum Siding
Did you get paint on your aluminum siding? It's easy to do. In fact, we've dealt with this issue twice.
The first time we got paint splatters on aluminum siding, it was from contractors staining our deck. The contractors sprayed the deck balusters and didn't properly protect our home from overspray (yes, I was pretty upset – thankfully, they fixed the damage and replaced several pieces of board and batten siding).
The second time we got paint drips on aluminum siding, it was from painting the front door. I used painter's tape around the door, but the tape did not seal well. I'm not sure why the painter's tape didn't work correctly (it is the type I always use)… possibly due to the humidity outside?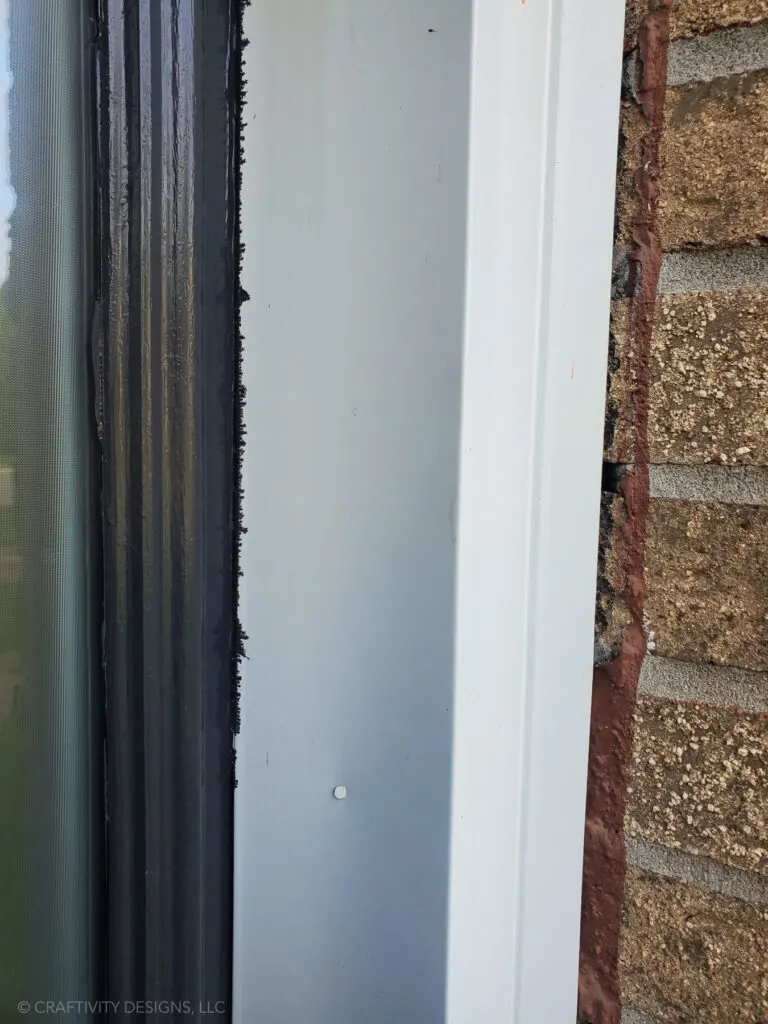 Anyhow, in both cases, the splatters were black on white aluminum siding. So, the black paint drips were very obvious and had to go!
Note: I've also figured out how to remove grease splatter from vinyl siding and how to repair holes in siding. If you've got old and damaged exterior siding, check out those tutorials, too!
Before and After: Removing Paint Splatters from Aluminum Siding
The good news? This tutorial works.
Yes, it was no fun tackling this project (or finding the mess when I pulled back the tape), but the end result turned out beautifully. Our freshly-painted front door looks lovely and there is no evidence of the mishap.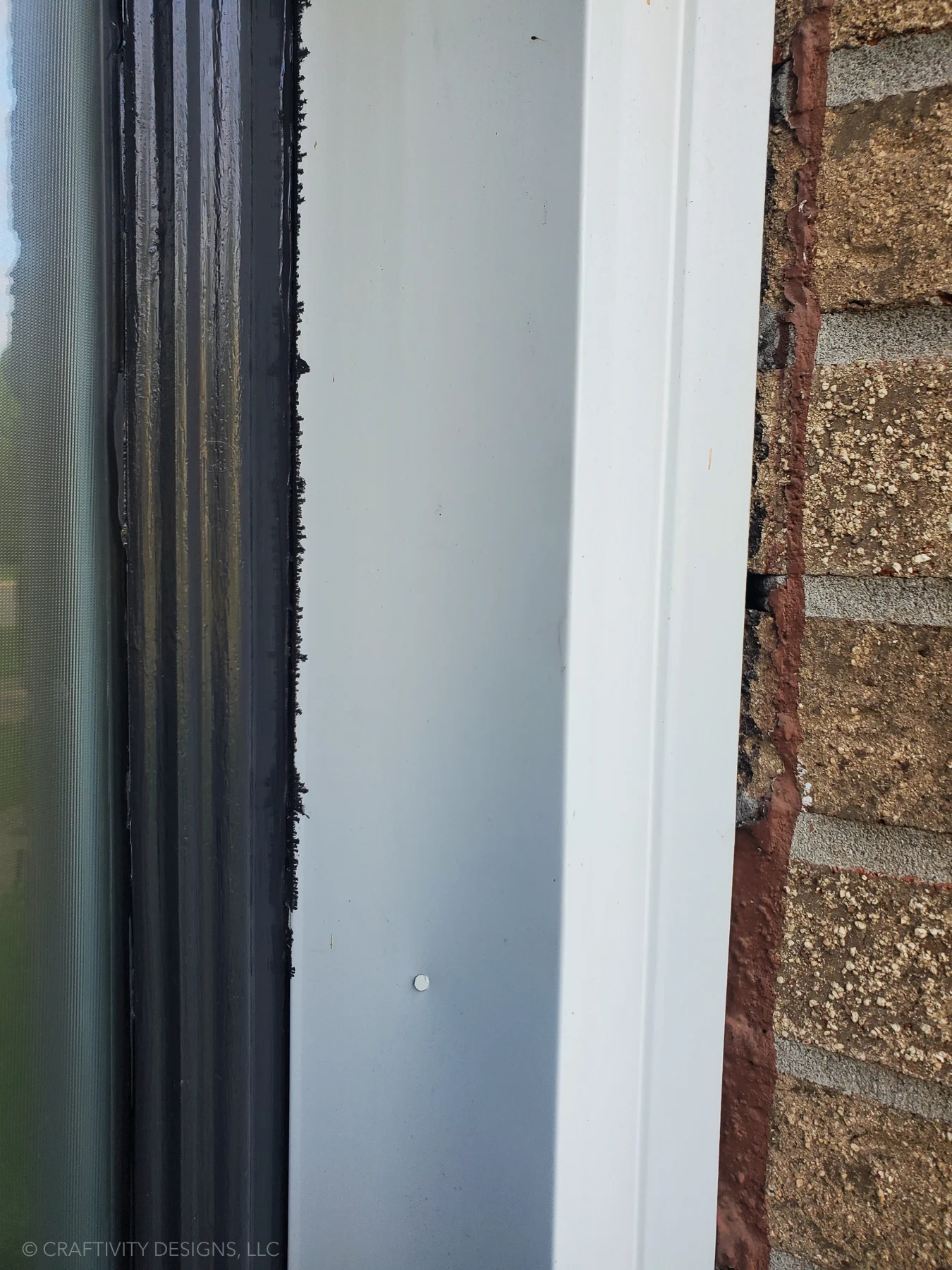 FAQs
Can I use paint stripper to remove paint splatters from aluminum siding?
No! Paint stripper will remove both the splatter AND the original finish on the aluminum siding. You will be left with raw metal, as shown in the image below (this is our back porch).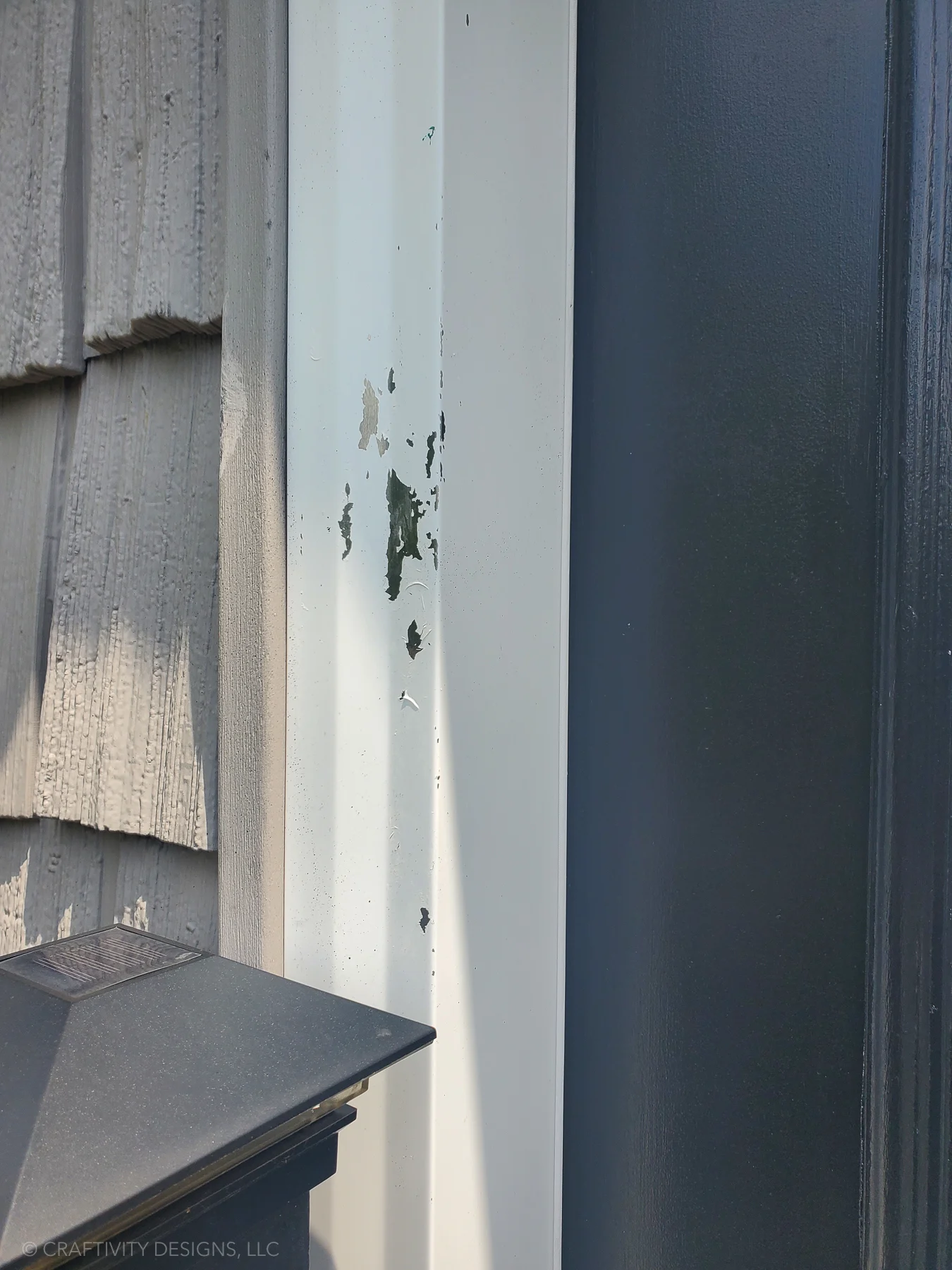 Will this method remove acrylic paint from aluminum siding?
This method has been tested on latex paint and latex stain only.
What is the difference between Goo Gone and Goof Off?
Goo Gone is a mild cleaner while Goof Off is acetone-based (source). The bottles (and labels) are very similar, so make sure you select the correct product.
How to Remove Paint from Aluminum Siding
So, how do you remove paint from aluminum siding? It is a simple process, but does require some patience and care.
I'd recommend tackling the cleanup of splattered paint on a day that you won't feel rushed. For me, I chose a free evening, turned on a podcast for entertainment, and got to work.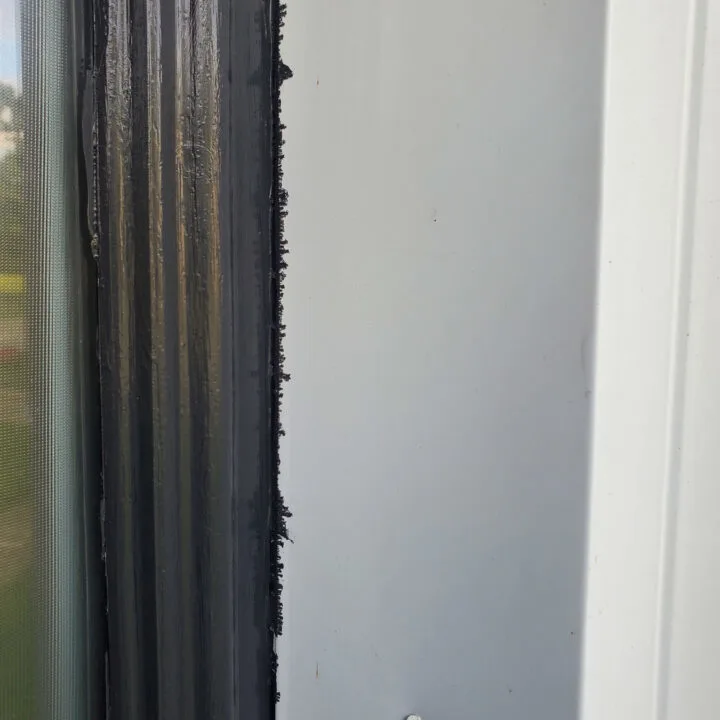 How to Remove Paint Splatters from Aluminum Siding
Learn how to remove paint from aluminum siding without causing damage. This simple step-by-step tutorial will show you how to remove latex* paint drips or overspray from aluminum siding.
Tools
Instructions
First, use a paper towel to generously apply goo gone to the paint splatters, drips, or overspray.
Let the goo gone sit and soak on the paint for 5 minutes.
Once 5 minutes has passed, start scraping. Gently scrape the splatters with the multi-point tool. Do NOT press hard.
Continue scraping until the paint splatters start to come off.
Wipe the area with a paper towel to remove loose splatters.
Repeat steps 4 and 5 until the paint is removed, leaving a clean paint line.
Notes
*This method has not been tested on oil-based paint.
If you liked this exterior idea, you might also like:
Want to save this exterior tip? Pin it!