25+ Handmade Gift Ideas that are simple. The holidays are busy, so homemade gifts should be easy and practical!
The holidays are tough. High expectations. Busy calendars. Tight pocketbooks. Over the years, I've found that having a few handmade gift ideas to make is a sweet spot for me in terms of holiday preparation.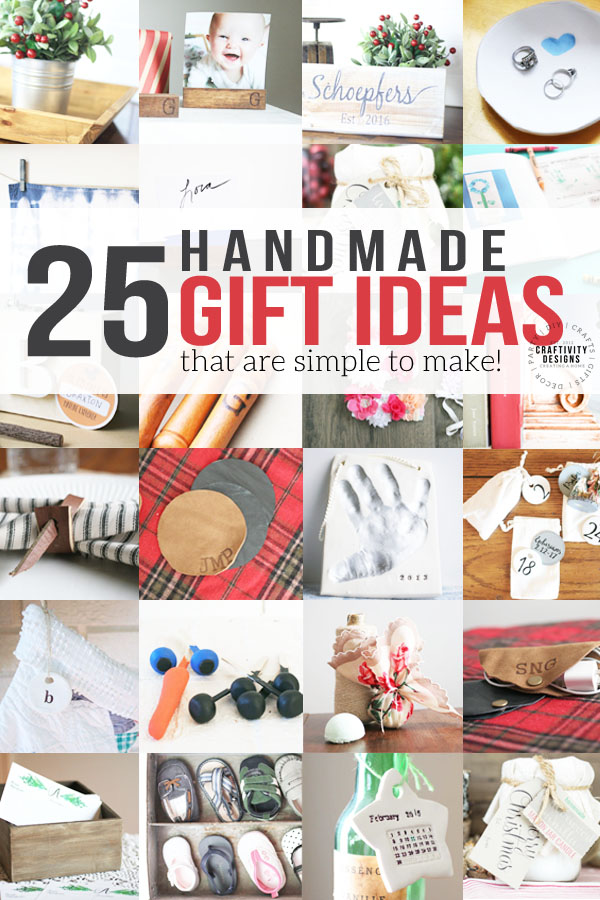 …Why? For several reasons… making handmade gifts:
brings me joy (meets those high expectations),
isn't overly demanding (fits into our busy calendars),
and saves us money (helps ease those tight pocketbooks).
If the handmade gift is simple to make (and all of these are!), I'd venture to guess that I could easily spend as much time shopping for gifts as making something with my own hands.
So, as someone who loves to make, part of my holiday enjoyment is creating for my friends and family. If that's you, I hope you'll find some homemade gifts to craft this Christmas season, that fills your creative heart with joy!
As a Maker, part of the Joy of the Holidays is creating handmade gifts for my friends and family.
Wood Handmade Gifts
Not a skilled woodworker? No worries. All of these wood handmade gift ideas are simple and completely beginner-friendly.
Leather Homemade Gifts
Leather gifts can be expensive; but did you know you can make your own? With scrap leather and a few basic tools, start creating your own leather goods.
Everyone has tons of cords to wrangle these days, so wrap them in something stylish.
Say "thanks" to the hosts with a set of simple, modern, leather napkin rings.
Any wine or cocktail connoisseur will be proud to serve drinks atop a set of personalized leather coasters.
Fabric Handmade Gift Ideas
No sewing skills? That's okay! These fabric gifts are no-sew… or "sew simple" *wink* that you don't need to be a seamstress.
Bath and body products are always a gift-giving go-to. Take it up a notch with DIY Bath Bombs wrapped in beautiful vintage linens.
A set of beautiful fabric napkins are a lovely gift for the hostess, and even better when they are hand-dyed with Indigo.
Who can have too many tote bags? This neutral tote will pretty green botanicals is perfect for the farmer's market shopper.
Clay Homemade Gifts
Looking for handmade gifts that the kids can help with, too? Oven dry clay is my favorite crafting product that is kid-friendly while still yielding store-quality results.
Essential Oil Handmade Gift Ideas
Even if you aren't an essential oil convert, you likely still appreciate the lovely aromas of the oils. Grab a few classics and make a slew of handmade gifts (seriously, a slew, you'll only need a few drops per project!).
Sentimental Homemade Gifts
Finally, who is a sucker for a sentimental gift? Definitely. Me. If you love a thoughtful handmade gift idea, consider one of these sweet projects (but be warned, they might get the tears flowing!).
Once baby has outgrown all her infant headbands, make mom a keepsake wall monogram.
When the kids are too big for their baby shoes, mom and dad will still love remembering their tiny toes with this shadow box art.
Keep memories and save space with a child's very own art book.
Did you like these handmade gift ideas? Make sure to Pin It for later!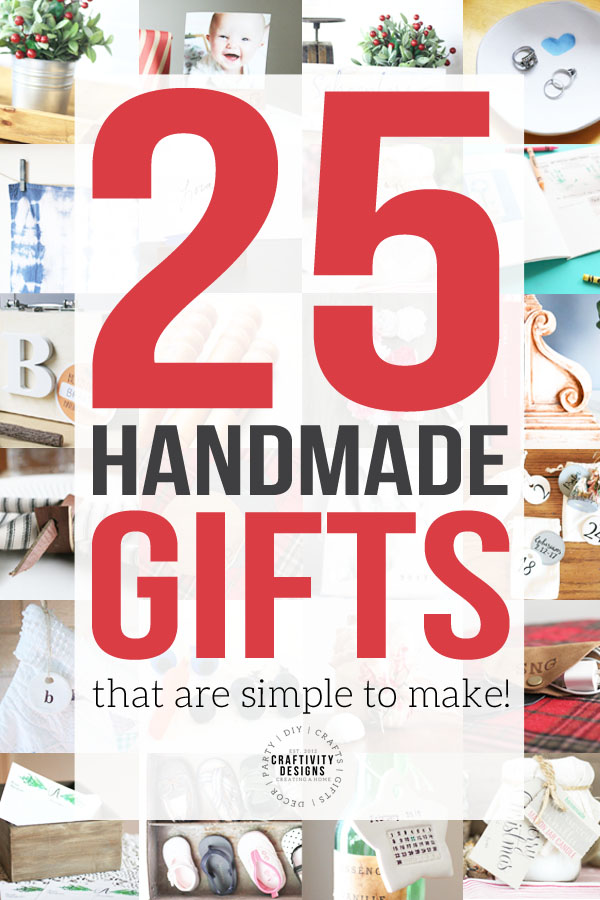 If you liked this post, you might also like: